Welcome to Card Game DB
Register now to gain access to all of our features. Once registered and logged in, you will be able to create topics, post replies to existing threads, give reputation to your fellow members, get your own private messenger, post status updates, manage your profile and so much more. If you already have an account,
login here
- otherwise
create an account
for free today!

0
Archmaester's Key: Thrones LCG Pack Review
Nov 24 2017 12:00 AM | scantrell24 in
Strategy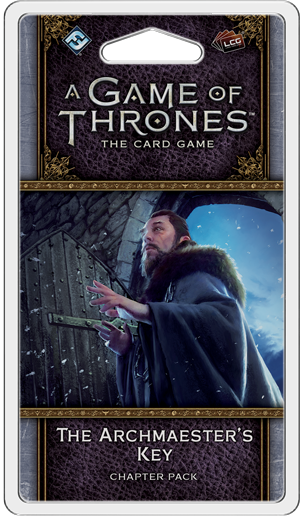 Our staff has put together a first blush analysis of the newly released "
The Archmaester's Key
" chapter pack. Answers to frequently asked rules questions can be found on the individual card pages on thronesdb.com. Cards are listed in numeric order and scored on a scale ranging from one through five, with five being the best possible score. Let us know in the comments how you feel about the cards in this pack!
Now onto the reviews, starting with....
Archmaester's Key (2.7 Average)
Barnie25 - 2 out of 5
The card can have some very strong interactions, however the fact that many of the strong events that you would like to play from your opponents discard pile probably require some extra pieces like say a Dracarys or Treachery diminishes the value of this card for me. This again falls in the category that many agot cards suffer from, horrible main deck material, but reasonable as a sideboard card. That is not a good sign for a game that does not have a sideboard..
scantrell24 - 4 out of 5
Seems good in a meta saturated with Nightmares and Hand's Judgments. There's plenty of cheap Maesters you won't mind kneeling to pay this cost, though relying on the opponent to have playable events makes the Key more a 1x tech card than a 3x engine type card.
It's difficult to rate any of the Maester tech without having the full picture, as they will continue to gain support throughout this cycle, and Maester decks (as with most trait decks) are about creating something greater than the sum of its parts.
Von Wibble - 3 out of 5
I like the idea of it, and it seems like a strong counter play to Wonder Woman as it removes their planned events for the 1 power turn, and also manipulates the bottom of their deck so they can't find the characters as easily. Outside of that, it works fine on cheap Maesters, Novice of the Citadel being the most obvious as its own effect is on kneel and he isn't a beast in challenges. However, kneeling a character is still a cost to consider in its own right if you don't find something cheap enough, and you are also depending on your opponent's playing events worth copying. You also have to pay the cost of the event, including any kneels, so Dracarys! Isn't an option unless you are running Targ yourself. Ubiquitously useful neutral events such as Hands Judgement and Nightmares seem the best shout for this, with Bara kneels and Tyrell strength pumps not being bad either. I see this as a meta call card.
Q&T Curmudgeons - 2 out of 5
An awkward card, since it requires your opponent to seed their discard pile with events; that those events are ones you can play in any deck (e.g. not Treachery); that you have enough Maesters in your deck to justify including this; and that you can afford the tempo-loss of kneeling a Maester. You also still have to actually pay the gold cost of the event, and it's telegraphed on top of that. Despite that we still like it for the solid effect advantage - the constant presence in decks of cards like Nightmares and The Iron Bank Will Have Its Due mean this should be good, when it works.
Joe From Cincinnati - 3 out of 5
A card that is obviously going to help fuel the Maester decks that will be tested after the release of House of Thorns. I don't think this card goes in any other deck. That said, in that maester deck, I could see it paying some interesting dividends over time. Putting this on a Citadel Novice gives you the ability to use an opponent's Nightmares or Hand's Judgment and also lets you scour the top card of your deck. It also potentially short circuits combo decks that use Annals of Castle Black, since you're putting the events back into their deck. I like the application, despite the likely miniscule number of decks that can use it.
OKTarg - 2 out of 5
While at times this will feel like a bomb, the number of restrictions and the awkward cost means that this will functionally see no play. However, I am excited for the increasing number of Maester cards that I can expect to be forthcoming to pair with my beloved Conclave agenda.
Dreadfort Maester (2.9 Average)
Barnie25 - 3 out of 5
The effect on this card is very potent but he pays for this by being overcosted compared to his stats. In a Lanni Harrenhall type deck this might be fun but I don't know how good it is. There are some synergies in Stark with cards like Winter is Coming but I don't foresee many people wanting to run this card in a Stark list, there are just too many better options out there.
scantrell24 - 3.5 out of 5
He slots right into my Stark Rose claim raise deck with new Garlan, Winter Is Coming, and There Is My Claim.... I've gone too far down the jank rabbit hole, haven't I?
The timing is unfortunate, as you have to trigger upon declaring the challenge (which you could then lose). Four gold cost is obviously intentional to avoid interaction with Flea Bottom, though Lanni Harrenhal is fair game thanks to the Bolton trait.
Von Wibble - 2 out of 5
Don't let the lack of red on the card fool you, this is a Lannister card, using Harrenhal to put him in, do a challenge, then raise claim on a military challenge. Out of Stark he is currently a 1 out of 5 card, as he is too expensive to use early game to raise military claim - chances are you won't be able to afford to play him out and get enough strength to win military challenges. Mid game, once they see you are running this they just need to play out 1 more claim soak guy and are fine again, they were surely already accounting for Winter is Coming. As to intrigue claim raising, trading a card and 4 gold for an opponent's card just doesn't seem worth it. Throw in subpar stats for cost and we have a card that only seems worth it in scantrells deck mentioned above and my Lanni Wolf deck.
Q&T Curmudgeons - 3 out of 5
He's overcosted, but Winter is Coming is a good card, and this is the "on-a-stick" version. Having a WiC that is expensive and telegraphed but non-loyal and usable as a warm body before the sacrifice is pretty reasonable. Throw in the possible synergies with sacrifice tech in Stark, and with Lanni Harrenhal for Bolton-dickery, and yeah, it's fine.
Joe From Cincinnati - 3 out of 5
He's expensive for what he does, but you're likely playing this character primarily out of a Harrenhal deck anyway. For those looking for the reason why he costs 4 gold, look no further than Flea Bottom. That card so heavily warped the value of sacrifice effects that I doubt we'll see effects this powerful printed on 3 cost or lower characters for a long time. The potential for 3 or even 4 claim military attacks out of Stark is there if you include this character and Winter is Coming in your deck. A bit expensive, but claim raising is very powerful. Raising intrigue claim could be interesting as well if you decide to run Core Cersei.
OKTarg 3 out of 5
He's a maester that will stay on board past first snow, which is something in itself, and a decent 4-cost INT body for Stark who often could use more options. As for the sacrifice, this will play into the hands of a player who reads the forthcoming plot reset game well. You don't mind tossing a board advantage for a hand advantage if a reset is coming, so with careful planning I think he could be quite nice.
He would hurt to get Warded, though...
At Night They Howl (2.0 Average)
Barnie25 - 1.5 out of 5
This card is so janky! Too bad that all those direwolves only have military icons, realistically I should give this card a 1 but for the sake of hyper claim potential I might give this card the benefit of the doubt. You certainly can blitz someone with this card but it forces you to play too many bad cards or go very heavy into the attachments. Someone will build a janky aggro deck with this and that person will be happy for the existence of this card, if you are not that person, leave this at home.
scantrell24 - 2.5 out of 5
There's potential here, mostly because it can stand characters with Direwolf attachments as well as actual Direwolves. Double Intimidate from Nymeria sounds good. But no matter how big the payoff, 3 gold for a one-off event effect is difficult to budget.
Von Wibble - 2.5 out of 5
In the right deck this is really powerful, and 3 gold in challenges isn't even that hard to get these days. Standing characters with direwolf attachments is particularly useful as that means bonus renown, more intimidate, and better icon utility. Powerful, but seems worth it if you build around it, I am looking forward to seeing more doggy decks.
Q&T Curmudgeons - 1 out of 5
JC slightly higher on it because the only successful Direwolf deck to date ran Littlefinger's Meddling, which gets round the obvious problem of this card. The obvious problem being that it's far too expensive. We thought the point of trait synergistic cards was that they were meant to be more efficient than the alternatives, to make up for the inherent issue of needing to combo the trait?
Joe From Cincinnati - 2.5 out of 5
Sam Braatz thinks that Wolf decks work. I'm inclined to agree with whatever he thinks. 3 cost is expensive, but if you can get 3 Grey Wind triggers out of a round (with Robb Stark standing him once, this standing him a second time) or 2 Grey Wind triggers and a big intimidate attack off, it could end up being worth it. Plus, working on characters with direwolf attachments makes it a fairly powerful renown rush strategy as well. That said, a 3 cost event is very expensive and it only goes in one deck style, so the application is limited. Looks like a fun card though

. Stand effects are extremely powerful.
OKTarg - 2 out of 5
This rating pains me, since I really want these Wolf decks to be good outside the hands of a true master. And a global stand IS good, it's just that three cost events are very difficult to pay for outside of an overwhelming board advantage which means that it might slot into the Win More category. I'd like to see a few more Direwolf attachments to help round out the flexibility of this card, or, even better, trait manipulation!
Septa Nysterica (2.3 Average)
Barnie25 - 2 out 5
Very, very strong effect however the body of this character is so fragile and useless that I don't foresee many players wanting to take the risk or the deck space for this character. I do like that it gives some more control pieces to Tyrell.
scantrell24 - 3 out of 5
I guess she's useful-ish, but we're still waiting for the coup de grâce that completes the Tyrell "stand and remove" deck. Something like
first edition's Valar Dohaeris
maybe? Or could Tyrell Watch become an option to defend The Wall again?
Von Wibble - 2.5 out of 5
I think we are starting to get a few too many useful Tyrell 3 costers to really justify her in decks, the obvious ones seem to be stall decks such as Baratheon Rose. The limitation on strength is a problem for her as it prevents a lot of possible shenanigans with your own characters, with Hot Marge looking to be the best option as she can force a defender in, then leave the challenge, only to repeat the feat. There are also possible tricks with Mirri and Dagmer. I can't see her just going into a deck without thought though.
Q&T Curmudgeons - 2 out of 5
The effect is solid, but she's so expensive for not much, given the lack of stats and having to kneel. The third card in a row that feels overpriced for no real reason.
Joe From Cincinnati - 2 out of 5
This is, what, the 5th ability they've given Tyrell that allows them to stand a character and remove them from the challenge? Seems a bit like overkill...being a 3 for 1 monocon, requiring a kneel to use the effect and having a restriction on the target isn't helping her case either. However, controlling who wins challenges, especially when rush decks seem to be all the rage right now seems like a decent thing to plug into your deck. Problem becomes which of the 5 effects doesn't make it into decks? I doubt you run them all. Looks a bit better when used with Flea Bottom though.
OKTarg - 2 out of 5
I can't see playing her, and I can't really see using her ability. That said, the ability is a strong one in the right circumstances, saving this from the one.
Oathkeeper (3.3 Average)
Barnie25 - 4 out of 5
Tutor effects are very strong, versatile tutor effects are even stronger, this makes for a perfect banner card in a faction that already has strong banner cards. I like it
scantrell24 - 4 out of 5
The +2 strength boost for any character makes Oathkeeper fantastic for setup. Lanni Rose will love this search ability for finding non-kneeling Jaime or Cersei. Tutor is extremely limited, so many combo decks will be drawn to the Rose Banner (if Gift of Arbor Red and BATMF weren't enough already).
Von Wibble - 4 out of 5
The win by 5 condition should not be too difficult to manage given this provides a +2 pump in itself, and searching for a specific character makes this a very useful piece in any deck based around 1 character. The Large Marge alliance Wolf and Lion is a good example of a deck that likes this, but any X banner Rose deck should probably throw in at least 1. Decent for setup with few restrictions on who can carry it.
Q&T Curmudgeons - 3 out of 5
Ire and JC are slightly higher, valuing the tutor more. Istaril and Drakey feel like the best non-Tyrell character a typical deck would fetch would be Varys, and that you're unlikely to win by 5 in that case. But a reasonable STR boost for the cost with a cool tutor kicker on top certainly isn't bad as such.
Joe From Cincinnati - 3 out of 5
Tutors are undeniably strong. But why the non-Tyrell qualifier? It seems unnecessary and is obviously pushing banners/being bannered. I know in the early stages of the game you were basically forced to banner another faction into your deck but, as more cards came out, mono-faction decks like Rains and Crossing decks became a lot more reliable. It's interesting to me that they seem to be trying to push players back into the days of bannering other factions by designing cards that are virtually worthless otherwise (except for neutral characters, like Varys, of course).
OKTarg - 2 out of 5
An attachment with a STR boost is never bad. But, that STR boost is outclassed by other options, including Heartsbane and Crown of Golden Roses, currently, which have a larger boost or their timing working better with Randall. However, the sacrifice effect is quite nice. It gives you one more way to anticipate the reset and fill your hand back up with characters, something increasingly valuable in the Valar Dohaeris meta we project. And, what's more, VD likely makes attachments on your characters stronger. That said, pulling a banner character or a neutral limits it quite a lot, though of course in a banner you'll have some good options and in regular decks a Littlefinger is never that bad.
Young Builder (3.3 Average)
Barnie25 - 3.5 out of 5
More draw for NW, more power monocons for NW overall I think that being able to choose between different draw options is always useful. The body of the character is nothing to write home about but then again you are not running this card for it stats.
scantrell24 - 3.5 out of 5
Maybe some Night's Watch decks forgo Messenger Ravens now? This guy has an icon and the Builder trait, but he's worse on setup and can't dodge resets like the Ravens. I'm interested to see whether he can edge out the birds, or maybe a mix of both works best.
Von Wibble - 3.5 out of 5
So, we can spend 5 gold for 3 cards (playing out the locations and attachments shouldn't be so hard!) and an otherwise "meh" character. Night's Watch aren't known for having pots of cash so the Raven, representing a slow but steady investment, probably works out better. I can't rate a card that gives draw poorly, but this just doesn't excite me.
Q&T Curmudgeons - 3 out of 5
The obvious place to look at him is the Builders deck. Early game that deck values gold over draw, and late game it will have played its locations, but in the middle there's a period where this guy's very efficient, and is basically an "if you squint" effect of pay 3 to draw 3. He should also be good in regular NW decks though, that don't have such a saturation of draw effects but still want to play locations out all the same. We approve.
Joe From Cincinnati - 3 out of 5
A fairly standard builder. However, unlike many builders, it may sneak into non builder decks as well since converting gold into draw is rarely a bad thing. The restrictions of having to play locations/attachments won't be a problem for most NW decks after all. As I said in my preview of the card, I like it. A bit boring, is all. Just more draw for the builders (like they needed it…)
OKTarg -- 3 out of 5
Night's Watch will one day face off with Greyjoy for the crown of "King of the Power Monocon." And, the Watch may take the crown...this is standard efficiency with card advantage. Great in the builders deck, probably okay in fealty, and let's move on down the road.
"The Rat Cook" (2.0 Average)
Barnie25 - 1 out of 5
If this card would trigger of builders then it would be such a different story. I don't foresee you running enough stewards for this card to make a big impact. Maybe a janky steward aggro deck likes this card so that can potentially wipe your board with more ease or make you claim a more important character. But that would mean you are playing a steward aggro deck..
scantrell24 - 2 out of 5
I smell anti-synergy. Attrition decks that want to steal dudes don't want to have loads of their own Stewards on the board. Claim-serving Maester Aemon is the only good Steward for that decktype (so far).
Rat Cook is kind of a one-trick pony that works similar to Vengeance for Elia during military challenges (steal their claim soak and use him for your claim soak). Meh.
Von Wibble - 3 out of 5
This seems really strong, allowing you to steal a decent sized character in a deck with enough stewards, lets say 4, and then sacrifice him to Mutiny at Craster's Keep to remove their biggest threat. Cards with negative text like Second Sons and Hodor will make particularly enticing targets, and there is always the option to steal a character with power on it as a finisher yourself. 1st edition had a card called Melisandre's Favour which was very similar to this, it was a very powerful effect then. Even without some of the synergies given back then, I think this is another strong steal tech card.
Q&T Curmudgeons - 1 out of 5
As a wise man once said, "We thought the point of trait synergistic cards was that they were meant to be more efficient than the alternatives, to make up for the inherent issue of needing to combo the trait?" How many Stewards do you need to make this even remotely playable, and even then is it worth playing over...well, any number of other cards? Laughable.
Joe From Cincinnati - 2 out of 5
I like the idea of using it to abuse Mag the Mighty but in order to get a truly impactful card out of it, you'll need to have a bunch of stewards out, which steal stuff decks aren't prone to have. Seems super combo-reliant and it also loses points because it is not thematic at all regarding the story of the Rat Cook that I can see (enlighten me if you feel otherwise). Good for jank, probably not so good for consistent, competitive decks.
OKTarg - 3 out of 5
I actually quite like this card, not for its efficiency but for its jank value. I remember seeing the French champion on stream at FFG worlds playing a Stewards deck, and this was at the 'cut' levels, so you know that the deck works. What's the antidote to most Wall decks? Renown characters outpacing the Wall. Stealing a character with a few power on them to jump to the win seems….great. Stealing a stealth guy so you can defend your wall and sacrificing them to MIL claim seems….fun. So, it may have a slot in jankier decks after all. SWEET art as well. Not sure where he got his motorcycle helmet, though.
Queen's Men (3.2 Average)
Barnie25 - 3 out of 5
If this card would trigger of entering play instead of marshalling then this card would become so much more interesting. As it stands now I don't know how many 3 cost characters you can run, that slot is already so packed for Bara. The effect of the card is good but I don't know if this card will help Baratheon bridge the gap that they are experiencing at this moment.
scantrell24 - 3.5 out of 5
Reasonable cost/strength/icons and a good to great ability make Queen's Men worthy of consideration for decks like Martell Stag, Greyjoy Stag (kneel a Salt Wife or Wildling Scout), and Bara Conclave (if that ever becomes a thing). You could even discard an event and then use the Key to play it.
Von Wibble - 3.5 out of 5
Another R'hllor option to aid core Mel if needed, though I think the low strength makes them not the best option. In a banner Stag deck this card particularly shines, and it can be used with a kneel package, a dom package, or a hand destruction package. I can see Martell Stag particularly liking it, combined with the Cancer Lancer this could get very frustrating for the opponent.
Q&T Curmudgeons - 3 out of 5
An inefficient body with a good one-off effect. The kneel-to-discard kicker is expensive, as Archmaester's Key was, but at least here it's optional (just looking at their hand is pretty nice, and can inform your play) and you get to choose whether there's anything worth kneeling to discard before doing so. This artwork will give 1st edition veterans a minor heart attack every time it hits the table.
Joe From Cincinnati - 3 out of 5
If there's one thing everyone hates about playing against Baratheon (other than everything), it's when they start digging through your hand with Seen in Flames. Early on in the game's life, when Baratheon were actually good, having to deal with that 2 or 3 times a game was just downright irritating. I'm glad to see they have upped that potential to 6 times a game. I am not under the illusion that this is an overpowered or unfair ability, but just the idea of Baratheon players touching my hand more often than they already do flusters me. However, once again, this forced bannering stuff comes up. Why a non-baratheon character? It just seems like a stupid design space.
OKTarg - 3 out of 5
It's okay. I like that it's a new feel to the R'Hllor stuff while not getting totally oppressive stacked with Seen in Flames. But, the non-Bara kicker to discard a card may not actually come into play that much. But it might. We'll see. I'm just glad this card doesn't trigger off of dominance!
Traitor to the Crown (3.3 Average)
Barnie25 - 4 out of 5
This card helps Baratheon accomplish both things they are trying to achieve, winning dom and winning that power challenge. Now you can't even win dom against them by keeping some of your bigger characters standing, very potent.
scantrell24 - 2 out of 5
I could blindly rate every attachment FFG ever made a 2 and be right more often than not. Poor attachments….I don't see any compelling reason to play this over something like Motley, and usually Motley gets edged out by Milk, which gets edged out by Nightmares. So we're looking at approximately a 4th tier card. Maybe you pair it with Condemned to totally shut down power challenges?
Von Wibble - 3 out of 5
Comparable to Condemned, this allows the character into a power challenge, so they can still contribute keywords and use their textboxes if those have relevant abilities, such as Maester Caleotte. To make up for this, the character doesn't contribute to dom either, making them achieve nothing at all by being on the table if they were a power monocon. Greyjoy won't like that!
Again this looks a good option for Banner decks, particularly involving Martell and Night's Watch in some form. Not so good in pure Bara though.
Q&T Curmudgeons - 4 out of 5
In comparison to Condemned this doesn't remove the icon, meaning the character can still participate for effects even if their STR doesn't count. In exchange you get the upside of their STR not counting for dominance either. We quite like Condemned, ergo we quite like this. We also like that it actually feels like a Baratheon spin on the idea rather than just a rehash of a pre-existing card.
Joe From Cincinnati - 4 out of 5
I look at this card and think "wow, that's a really powerful effect. Power challenges are the Bee's Knees to Baratheon decks (and winning games in general) and dominance is also kind of their thing." But then, when I think about it again, and I realize they already have several other negative attachments that they don't generally run I start to doubt my initial assessment of the card. I like Craven and Milk, so why wouldn't I like something that locks a character out of the game winning challenge type and the thing that the faction wants to win with over half their cards? I'm going to stick with a 4 and be fine if it's never played and I look dumb. Worst case scenario, I was just as wrong as the Curmudgeons

.
OKTarg - 3 out of 5
I think the other reviewers are right to compare this to Motley, Stinking Drunk, etc, but this has a different feel. It may indeed see play over those, since winning POW challenges is extremely important. Given that it also helps you win dominance, I think I can see this card slotting in here and there.
Maester at the Rock (2.3 Average)
Barnie25 - 2.5 out of 3
The trend with this pack seems to be strong character abilities with weak bodies.. How many are you going to run? How many do you want to run? Don't think this card will see a lot of play as it's stats are just too weak to justify the valuable deck slots.
scantrell24 - 2 out of 5
Right now, he's pretty niche, but there's potential for both decks that want to re-use generally good events like Treachery and combo decks that want Hear Me Roar or something jankier.
Von Wibble - 3 out of 5
Repeatable Treachery? This guy provides a great card quality advantage, especially if you can find some draw. His stats aren't great but given he kneels for his ability they don't matter that much. If you don't put enough draw into the deck then having the same event repeated isn't so good as you will want characters at some point however.
Q&T Curmudgeons - 2 out of 5
And we're back to Septa Nystericas. The effect is nice, but 3-gold for a card that kneels for its effect is just not a great deal unless the effect is really good. And this one is… acceptable, no more. Also, as good as events are, choking your draw of characters is often suboptimal.
Joe From Cincinnati - 2 out of 5
Repeatable treachery was a really nice thought regarding this card. And then Begging Brothers came out and made Treachery less unique, albeit more unpredictable than the brothers. Getting your jumper events back is also not a bad use for this, however. The problem becomes having to kneel a 3 cost character to get an event that you can use next turn (unless you have some mid challenge card draw handy). That's expensive.
OKTarg - 2 out of 5
He's fine. He's not card advantage, just card selection. And that's fine, but often you'll want a character instead and often you'll want to use him. He's probably an enabler for Conclave decks but not much more.
Ashemark (2.7 Average)
Barnie25 - 3 out of 5
For six gold you get a telegraphed first snow of winter. Six gold is a lot of gold but if you can plan around this card you can do some serious damage, expensive and janky, that is bound to make some people happy.
scantrell24 - 3 out of 5
A very powerful ability that takes a lot of gold and advance planning to leverage. It will sometimes turn a game on it's head, and sometimes be a dud.
Von Wibble - 4 out of 5
This card can get very expensive as bestow 1 is not really doing much. The dream is to combine this with Favours from the Crown to return all characters costing 5 or less to hand, and combining this with your own jumping characters could be very difficult to face. The potential is very high, but I think there are times you will draw this and wish it were a decent character instead, especially if facing a deck with a lot of very high cost characters. Of course, there is a card later in this pack to help with that...On potential alone this gets a strong score.
Q&T Curmudgeons - 2 out of 5
A seriously expensive card, but it's a potent effect. People are looking at this as First Snow in location form, which… yeah, it kind of is, but we like some of the more out-there possibilities, like bouncing weenies at the start of plots then flipping Marched to the Wall. It's a shame the bestow only goes up to 3 - it could've been fun to give this potential to be more expensive and crazy.
Joe From Cincinnati - 2 out of 5
Lannister player: "I spend 6 gold to First Snow of Winter you a second time!"
Opponent: "If that's what you really want to do with your gold, be my guest…"
Lannister player: "...I may need to rethink what I'm doing with my life…"
Of course, as Q&TC mention, there are a few more interesting uses for it, but having to pre-plan for it is inconvenient, plus the fact that anything you're doing to your opponent's board, you're doing to your own board as well. So a janky high impact Marched to the Wall also hits one of your higher cost characters as well (unless your Ashemark is clearing your board, if you even had a board to begin with.)
If you're looking for ultra jank, you can combine this with Favors from the Crown and Unbridled Generosity for some serious board clearing action.
OKTarg - 2 out of 5
This seems a lot scarier than it is, I think. Then again, when it hits, it will really hurt. The tempo loss that this incurs is actually a thing, though.
Acolyte of the Waves (4.5 Average)
Barnie25 - 5 out of 5
This might be the best chud in the game as it literally helps you get closer to victory with just being there
and you are even able to recur this card every round if you can both win dominance and kill this with core Damphair around
. Giving power rush tools to a faction that already doesn't really have trouble closing is scary.
scantrell24 - 3.5 out of 5
Interesting chud who begins to make the Drowned God tech look coherent. If Greyjoy ever gets an effect that kills their own characters as a cost then Acolyte of the Waves will be the perfect candidate (there's actually a neutral card later in this pack that fits the bill).
Von Wibble - 4.5 out of 5
At last, a power monocon!
Wait!
I of course meant, at last, a card making sense of the Drowned God tech given to Greyjoy so far. With Greyjoy starting to get ways to cheat this guy back into play, military challenges against Greyjoy will start to feel even less of an option. A deck with a couple of these and Benjen Stark can win the game on 11 power just by using Valar Morghulis. In any kind of rush deck these seem too good not to take.
Q&T Curmudgeons - 5 out of 5
Rare unanimity amongst the Curmudgeons (cause for concern?). Power-gain is how you win the game. Weenies are played to die anyway. Greyjoy decks tend to run Valar. Drowned God synergises with the dead pile, as we've seen on four cards now. Put aside the "lol power monocon" complaint for a moment and look at this for what it is, which is a staple chud for Greyjoy. Also, it looks like he's about to give that wave a great big hug! Still... "lol, another power monocon in GJ".
Joe From Cincinnati - 5 out of 5
I'm going to jump on board the Drowned God hype train for this review. The fact that the power goes on your faction card instead of another drowned god character makes this some of the most robust power gain available. 2 gold to gain a power and a claim soak that can come back and die all over again with the apostle (who then comes back to life via Aeron after you win dominance using Nagga's Ribs!) Richard Walker is going to make this deck a thing, I already know. As a Night's Watch player, I love using Valar and Wildfire to kill Benjen for the plot phase win and this card does a similar thing for drowned god decks

.
OKTarg - 4 out of 5
Chuds that do something when they die are great. I'm thinking of Bastard Daughter here, who hits on her way out. But I ask you, do you still play/fear the Bastard Daughter? Not really, right? She's a fine card. And here, we see the same. A non-impactful body with a good trait and a value-add upon being killed. Very good. 2 or 3x in a lot of decks. But I don't think it's 5/5 good. (And I truly hope I'm not wrong!)
Nagga's Ribs (3.4 Average)
Barnie25 - 3 out of 5
This card just screams jank, which we all know makes the hearts of many agot players beat faster. This fuels the drowned god dominance deck, good to see that theme expending. For now I don't think this card will see play, but maybe when the strategy is flushed out further.
scantrell24 - 4 out of 5
Not for every deck, but does a lot of work when combined with Core Aeron. Potential to backfire if you discard a character, move it to the dead pile, and then fail to retrieve him.
Von Wibble - 4 out of 5
Already the Baratheon players are getting jealous. Giving Greyjoy a decent chance to win dominance to go with their decent rush abilities is nice. Having a way to move discarded characters to the dead pile has plenty of utility, whether it be using Aeron to then get them into play, or even running a low reserve plot, discarding someone like Euron in Taxation, then revealing Ghosts of Harrenhal. Just watch out for Slaver's Bay Ports!
Q&T Curmudgeons - 3 out of 5
Unlike the Acolyte above, this is only going in very specific decks. It is, however, pretty good in those decks, both as a source of bodies to bring back and as a way of ensuring you can win dominance (i.e. the thing that triggers 2 of the 3 "bring back" effects). All the Drowned God theme needs is a way of actually getting stuff in the dead pile reliably against decks that don't want to play ball, and we may actually be onto something...
Joe From Cincinnati - 3.5 out of 5
A bit more combo reliant than the Acolyte, but it works well with the whole Core Aeron/Drowned God's Apostle/Acolyte of the Waves/Drowned Disciple combo deck. I am looking forward to seeing this deck style take shape.
OKTarg - 3 out of 5
I'm glad that this Drowned God theme is getting some toys. I look forward to using them, even though they are not as efficient as some other options. With Core Aeron, Old Wyk, and the like, this could be fun!
Daario Naharis (3.6 Average)
Barnie25 - 3.5 out of 5
Big beefy renown characters with interesting effects are never bad or at least that was before we lived in the world of Valar Doharis. With Valar Doharis being a thing I dont know how strong this character will be, you can stand your own character with this card, that is what makes it interesting for me, if this card would have been released 12 months ago, I would have rated Daario probably higher.
scantrell24 - 4 out of 5
Targ has a really strong top end of the curve now, between Drogo, Dany, Mirri, Grey Worm and Daario. Half of the time, he's "just" a 6 strength renown bicon, and then maybe half the time you'll snag or stand someone, which could be a decent swing in board state.
Von Wibble - 5 out of 5
Renown on a 6 strength bicon is decent enough, and that ability can create a big swing in games. Stealing a reducer before claim is applied will be a fairly common thing, made even more useful if you are going first and can therefore use the stolen character as claim soak.
Note, if you are more ambitious, options to steal include Grey Worm, Irri, Jorah, Syrio, Salt Wife, Hodor, Highgarden Courtier, Littlefinger, Oldtown Informer, Roose, Orphan of the Greenblood, Ricasso, Janos, and Second Sons.
Finally, the fact you stand the character means you get to use them in challenges also, or get double use out of one of your own cards (a lot of my list above are Targaryen) if nothing is worth taking. Daario doesn't even have a condition to use this ability beyond winning the challenge!
Q&T Curmudgeons - 3 out of 5
He's strong, but you get what you pay for, and you pay for quite a lot. Good STR, strong keyword, and an ability that you can build for - note that you can stand your own Allies/Companions/Mercenaries, so sometimes he'll be stand, sometimes he'll be steal, and sometimes he'll be stand and steal. To get a truly high rating he'd need to be hitting the level of a Bob/Tywin/Renly though, and he just doesn't, does he?
Joe From Cincinnati - 3 out of 5
7 gold is very expensive for a guy that, depending on the board state, may just be a standard 6 strength bicon with renown. Granted, there are plenty of companions, allies and mercenaries in the game, so your opponent will likely have at least one at any given time...problem is none of them are particularly high impact. Claim soak will be what he steals most of the time, I imagine (prior to the claim of his military attack, which is nice). You can stand your own characters as well, which is probably the more common use for him. A good card to build around. The question becomes is he worth building around with the card pool as it is now? If only he could stand himself...
OKTarg - 3 out of 5
Honestly, the best part of this may be his renown. When Grey Worm came out, I thought he was an auto-play at multiples, and he hasn't proven quite to be that. This guy is likely as good sometimes, worse sometimes, and better at others….so I think he's safe here at the 3. I'll be trying him, for sure, and hoping that lots of great things happen. But I'm not cutting Drogo or Dany for him, that's for sure.
Bloody Arakh (3.5 Average)
Barnie25 - 3 out of 5
This is a telegraphed event that you can only trigger if you win the challenge with a Dothraki. It fuels the hyper claim Dothraki deck, which isn't really a thing at the moment and I don't think this card will push it over the hump.
scantrell24 - 4.5 out of 5
This attachment just begs for the return of the Smash Bros (Targ Lion with Drogo and Jaime if you weren't around during the Core set only days). Relentless Assault is an option as well for a little redundancy if you want to go all-in on the military pressure strategy. "Dothraki only" keeps it from a perfect 5.
Von Wibble - 4 out of 5
Looks like Targ win the pack again. The only thing preventing me from giving this a higher rating is that aggro decks just aren't that strong at the moment thanks to there being so many saves around. Even then, few boards will survive you pulling off 3 claim 2 military challenges with Drogo and Bloody Arakh, particularly if Drogo dual wields this with his own Arakh.
Q&T Curmudgeons - 3 out of 5
Calling this an attachment feels like cheating, given it does nothing until you sacrifice it - it's more an event you can setup but have to telegraph. That said, it's decent, so we'll take what we can get? It's quite situational (trait restriction, have to win the challenge with that character), but has potential for brutality. Feels like a nod to/rehash of (you decide) the first edition
Blood-Crazed Screamer
.
Joe From Cincinnati - 3.5 out of 5
I like the idea of a Dothraki deck that does 3 or 4 military attacks per round. That said, this card doesn't help you win those military attacks. So unless your board is just stacked enough to already win that many military challenges in a round, this card won't do all that much for you. I've had games where my opponent has had Drogo out and had to use the first military attack to kneel my defenders just to hope he can get the second one through. And then I just kneel Maester Aemon... So adding another military attack on top of that may seem like a pipe dream. But I'm sure it can be done eventually.
OKTarg - 3 out of 5
Did you guys see the Crossing deck that Jim Hansen played at worlds? It used Warrior's Braid to add renown, and if you could get that on Barristan and then play one of these as a bit of Drogo redundancy, I think you'd have something! So, good in a specific setting, but not amazing in all decks.
Dorea Sand (3.8 Average)
Barnie25 - 4 out of 5
Chuds with upside are always interesting, in the worst case you bounce a reducer, in the best case you bounce their Tywin. That is a lot of upside for a 2 cost character.
scantrell24 - 3.5 out of 5
She's a perfectly reasonable tempo play, but how many 1 strength mono-cons does Martell have room for?
Von Wibble - 3.5 out of 5
We are just a couple of Sand Snakes away from Harmen becoming a thing! Having enough in the deck to make X = 2 when Dorea is played isn't too difficult, just requiring Nymeria, Obara, or a Bastard Daughter, all of whom see enough play. I'd say paying 1 for a character + 1 for an "event" that removes a 2 cost character (you are going second, right?) is decent enough.
Q&T Curmudgeons - 4 out of 5
As a wise man once said, "we thought the poi-" wait, this trait-synergy card is actually good? Nevermind! Even if you're just bouncing a chud, making your military claim or Marched bite more is very solid, and even just the tempo hit of making the opponent pay again isn't bad. Throw in the high ceiling of bouncing some pretty high-costing characters, plus the janky synergy with bouncing your own enters/leaves play cards or bestow cards you want to top up, and she's just efficient and versatile. Enters play rather than marshal allows for tricks with Harmen/Arianne/Flea Bottom, too.
Joe From Cincinnati - 4 out of 5
Bouncing out chuds is great. Bouncing out bigger guys because you're playing a bunch of sand snakes seems even better. Another card that Flea Bottom can abuse seems like a wonderful addition to the other Martell cards that you can abuse with Flea Bottom. I think they may need 1 more cheap non unique sand snake to really make this deck pop, but in the meantime having 2 bastard daughters and Nymeria when this card enters play seems like a reasonable goal that can bounce a 4 cost character. Start there and build over time

.
OKTarg - 4 out of 5
I feel like this card is quite good. You're playing Sand Snakes anyway, and this one works well even on its own. Yeah, a 2 for 1 monocon isn't amazing, but the whole point of Martell seems to be chud removal to make your big effects bite and this fits right in there.
The Water Gardens (4.8 Average)
Barnie25 - 5 out of 5
This card is a big reason to want to play Martell, non limited economy is scary, sustained burst economy is even scarier, this will enable Martel to really bully in the late game.
scantrell24 - 4 out of 5
Non-limited economy that's great on setup is always worth considering, and Martell has plenty of targets. Shame it's loyal so won't see Water Gardens reducing Marriage Pact for example.
Von Wibble - 4.5 out of 5
Usually a card with an effect based on plot cards in your used pile is one you want to see around plot 3+, but this is also not terrible for setup thanks to the low cost. Paying 1 for a reduction of 1 in plot 2 is cost neutral as this isn't limited, and after that it just gets better. Venomous Blade is the card that leaps out to me, but Areo and Southron Messenger are also good in house options. Out of house I want to give Martell Wolf a go, with Ward and Harrenhal. In short, this is non limited economy with a lot of potential, but doesn't quite get full marks as you have to build around it to an extent.
Q&T Curmudgeons - 5 out of 5
Bad in draft. Otherwise though, this is a very potent card. Venomous Blade is probably the biggest draw here, but the higher costing events aren't bad backup either. Simply put, this is very versatile non-limited economy - compare to Tourney Grounds, a perfectly respectable card, and marvel at how much better this is.
Joe From Cincinnati - 5 out of 5
Economy is lovely. This is some really powerful economy that further facilitates things like Prince's Plan and a few other high cost events Martell has (Like Vengeance, for example) . Seems like a good idea. The non character part limits its flexibility, but Martell has plenty of locations and events that it doesn't mind popping in for cheap.
OKTarg - 5 out of 5
This is GREAT. In my Martell decks, I've been really squeezed for economy lately, so much so that I've been cutting Vengeance for Burning just to alleviate the cost pressure in the Challenges phase. This card really helps with that cost-choke, and I can't wait to try it out. Economy is …. Everything, really, so getting more makes me feel happy.
Mag the Mighty (3.4 Average)
Barnie25 - 3 out of 5
Just like with Daario, this card comes too late, in the Valar Doharis meta I don't think this card is very interesting. The effect is very cool and he is a very big body, some decks might like some Mag the Mighty in their lives, overall a good addition to the card pool I'd say.
scantrell24 - 3.5 out of 5
I love that he's one strength better than the Mountain. Remember when every Lanni deck ran Put to the Sword because Gregor made it so easy to trigger? There are a variety of fun ways to leverage this ability that I look forward to exploring, though the reaction being forced rather than optional knocks Mag down slightly in my estimation.
Von Wibble - 4 out of 5
To start with, I struggle to see why he is allowed weapons. Think about the size of him, then think about the size of, say, Dragonglass Dagger. It seems giving him a weapon others can use is about equivalent to expecting the Knight of Flowers to gain a strength pump from a Rolled-Up Newspaper!
On the card itself, he looks a good option in a Brotherhood deck, where his strength allows intimidate to really shine. The ability has a number of applications, whether it simply be trading your chump for +1 claim, or trading your chump lord for Large Marge's latest crush (plus +1 claim). Unsurprisingly he works well with Last of the Giants too, where the aforementioned intimidate can again play a part, and he can be chosen to die for the forced reaction. You can then play Lord Renly's Ride on your next challenge to complete the combo!
He is like the Mountain, but more predictable, slightly stronger, and harder for Martell to control thanks to not having any prisons that can hold him. I think he is comparable, maybe slightly weaker. That still makes for a good card.
Q&T Curmudgeons - 3 out of 5
The effect is quite win-more, but it's also strong, and more importantly funny. The total annihilation Mag can cause is something to behold. Also as Gregor has proven, just having a large number and Renown on a big body is not to be underestimated. Istaril thinks we're bonkers for giving this higher than a 1, for what it's worth.
Joe From Cincinnati - 4 out of 5
I am really, really excited to test this character in a Night's Watch steal stuff deck. First you Recruit their Viserion, then you win a military challenge, then you kill the Viserion, then you make them kill something, then they take military claim. Add in Qhorin for some extra fun. I don't think it'll see play in many decks but when the Mountain first came out I remember people kind of laughed off how viable a one note character could be. This character has the added synergy of working with The Last of the Giants, which a lot of decks are running for Varys anyway...Hell, you can even kill Mag with its own ability, since it'd be going away at the end of the phase anyway if you used the Giants event for it. 2 gold for 11 military strength + intimidate + additional kill + claim...I won't complain about that.
OKTarg - 3 out of 5
I don't really have anything extra to say about it, but I'm glad the card exists! I have looked forward to the Last of the Giants being a true challenge phase tool and not a Varys enabler, and we're getting closer and closer and closer! Last Giants Mag, the Ghost of Harrenhal!
The Iron Bank (3.5 Average)
Barnie25 - 3 out of 5
I don't really know how to properly evaluate this card, early this card is awful, late game this card can allow you to really push with aggressive plots. I don't know how effective this card will be, that is why I am giving it a middle of the road grade.
scantrell24 - 3.5 out of 5
It's poor on setup, as you can't Bestow anything then, but I'm glad to see more Bestow cards that scale up in efficiency with extra gold because I love Unbridled Generosity and Favors from the Crown.
Von Wibble - 4 out of 5
Flavourwise this card nails the idea of a bank, as you are rewarded the longer you keep your investment for. If you play it out and bestow for 1, then 3 turns later you will have +8 on your plot, making for an average of just under +2 gold per turn. That isn't bad for a 1 cost non limited location, especially as having control of when to use the gold makes you all the more powerful when using or defending resets. Sea ***** and Nightmares are both massive threats to this on such turns however.
In general this feels like quite a high skill level card as you really have to plan ahead to get the most out of it. The rating is high based on how a better player than me would use it!
Q&T Curmudgeons - 3 out of 5
The early tempo loss will sting you, as you're paying 2 gold for a location you can't get any kind of return on for 2 turns. If you can wait 2 or even 3 rounds though, this becomes a fantastic economy location. We're really not sure on its power level at all, so we're staying in the middle. Absolutely hilarious to take and empty it with Sea *****.
Joe From Cincinnati - 3.5 out of 5
So you play it for 1 gold, put 1 gold on it. Don't use it. Next turn, it has 2 gold. Next turn it has 4 gold. Combine with Favors from the Crown to amp up its gold production more quickly...Probably only useful when played very early, but economy is good. I appreciate a card that rewards patience and planning.
OKTarg - 4 out of 5
This will be nice in Martell, who seeks the Long Game. It won't be great in houses who want early pressure. I think it will be very nice in Targ Burn, for instance, and at times it will feel overpowered. But I don't think it is….we'll see.
Valar Dohaeris (4.7 Average)
Barnie25 - 5 out of 5
The new flavor of the month, just like when First Snow hit, this card will probably force people to build their decks differently. The renown spam that Greyjoy or Tyrell can do is now punished much harder than with Valar as this cannot be saved against. However those character are not actually dead so that is definitely a big negative aspect of this card. I feel like we are getting to a point where you can really build board control decks out of the plot deck alone where we might see real control decks popping up. I am afraid this card will empower the NPE decks the most, the dom style decks. I am very happy to have this release valve in the meta and it should in theory have some ripple effects on the meta.
scantrell24 - 5 out of 5
Tyrell renown decks get wrecked hard, as this prevents them from using saves or keeping more than two big dudes. This plot will shift the meta drastically for a while as everyone tries it themselves or builds to counter it, and then slowly it will taper down much like First Snow because it's less effective when everyone is ready for it. I'm glad we have more options for reset plots, but this one might be a little too good. We'll see.
Von Wibble - 5 out of 5
I believe this will define the meta more than the new Tyrell box did as a lot of decks will fold to this plot. The cannot be saved clause is what makes it, as a lot of decks are relying on having 3 6+ costers out and using them to wreck the opponent's game. Knowing that after this is played they will be unlikely to have more than 2 character out at those costs (assuming they play 1 out) can really help to change the game. Like Wildfire Assault, it does suffer from the fact it will do nothing to boards that are just relying on 1 big guy to get all the power and not being too worried about what else happens, for example Fat Cat and Mace. The fact it provides a different attack on the board state to other resets means that people have to consider it when deckbuilding, and it seems it will be really nasty with First Snow in the same plot deck, to discourage opponents from just swamping the board with 2-3 costers.
My biggest concern is that Builder decks will get stronger with this. Like they need it!
Q&T Curmudgeons - 4 out of 5
Istaril is sticking his neck on the line and rating this far lower. With Flea bottom and larger location bases, a (partial) character reset matters less, especially since you have fewer ways to leverage it (e.g. saves) for a blowout. When is the last time you saw Wildfire outside of Rains recently? He guesses it's more of a better Duel. The rest of us, albeit slightly wary that we're getting yet another reset, think this is pretty damn good. This represents an ideal reset option for decks that want to run cheap characters but not Valar M - Wildfire Assault and First Snow of Winter did not exactly hit the spot in that regard. Now your more chud-swarmy decks have a reset they can actually leverage, which should make a difference in the meta. We all agree that regardless of how much play it actually sees, it's a card you have to consider when building. Which is nice?
Joe From Cincinnati - 4 out of 5
God, I wish this came out like...18 months ago...Would have been a 5 back then, when First Snow of Winter was abusing poor bastards like me who were running Wall decks in the middle of that horrid meta...
Punishes big guy decks which will slow down a lot of rush decks. Also rewards running low cost decks, which makes this even more abusable with Flea Bottom. On the other side of that coin, isn't nearly as effective against other Flea Bottom centric decks. So will it define the meta? I'm not sure. You still get to keep the most important pieces on the board when your opponent plays this, so it'll be like a better Wildfire most games it's played.
OKTarg - 5 out of 5
Is this the reset we need, or the reset we deserve? This is like a better Wildfire with a Duel effect tacked on...and both of those are marginal-to-good plots. It's got great initiative and gold for a reset, so I think you'll see it everywhere for awhile and then backed away from as decks find ways to both play around and leverage it.
One nice knock-on that I'm looking forward to is the boost it gives to positive attachments. If you can only keep X gold of characters, towering up one or two of them suddenly looks more enticing. Mother of Dragons, is it your time? (no)
Total Pack Average:
3.26
Top Cards:
Water Gardens 4.8
Valar Dohaeris 4.7
Acoylte of the Waves 4.5
Bottom Cards:
At Night They Howl 2.0
"Rat Cook" 2.0
Septa Nysterica 2.3
Maester at the Rock 2.3
If you're hungry more content, check out the library of podcasts, articles, game video and more in
the Community FAQ
. Let us know in the comments how you feel about the cards in this box, and we'll see you again soon to discuss either Journey to Oldtown.
Article: Archmaester's Key: Thrones LCG Pack Review