Welcome to Card Game DB
Register now to gain access to all of our features. Once registered and logged in, you will be able to create topics, post replies to existing threads, give reputation to your fellow members, get your own private messenger, post status updates, manage your profile and so much more. If you already have an account,
login here
- otherwise
create an account
for free today!

0
Brotherhood Without Banners: Thrones LCG Pack Review
Sep 21 2017 11:00 AM | scantrell24 in
Strategy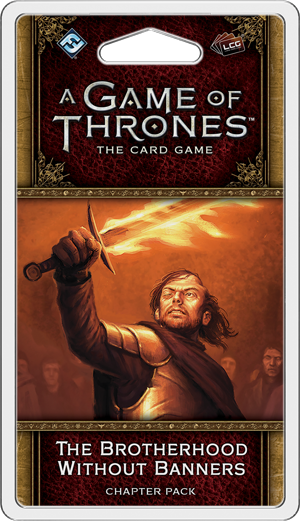 Our staff has put together a first blush analysis of the newly released "Brotherhood Without Banners" chapter pack. Answers to frequently asked rules questions can be found on the individual card pages on thronesdb.com. Cards are listed in numeric order and scored on a scale ranging from one through five, with five being the best possible score. Going forward, we'll provide an average score for each card rather than a total. Let us know in the comments how you feel about the cards in this pack!
Now onto the reviews, starting with....
Sansa's Maid (1.5 Average)
OKTarg - 1 out of 5
I tried pretty hard to think of a reason why I would want to run her. I mean, the effect isn't awful, but Stark has a pretty solid low-end anyway so they're not hurting for options there. And, being mostly blank when there aren't other ladies on the table…..I'll just pass on her.
Barnie25 - 1 out of 5
Situational and a monocon? No thank you. I can see some janky deck where this can have potential but then again, you are building a deck around a 2 cost monocon..
Q&TR (-jc+flo) 1 out of 5
Even at her best, she's sub-optimal. There are already cards that do a better job of supporting wider boards (e.g. Septa Mordane, Winterfell), so without a niche, she's clearly maid for the binder.
scantrell24 - 2 out of 5
Chuds don't stick around for long, so why would you invest in one? Also, could the designers think of nothing more interesting for Ladies than a strength buff? This seems like a wasted opportunity.
VonWibble - 2.5 out of 5
The obvious place for this is a Tyrell Wolf deck, where you can fairly consistently have 3 or more Ladies out. Even a +1 strength for this many characters on your board is a decent effect at chud prices, becoming all the more powerful for the fact that this Maid is non unique. In mono Stark she is tougher to include as she has so much competition, most of which is either able to wield Ice effectively or is a Direwolf. But with 4 ladies already seeing play, maybe there's a deck there too.
Northern Keep (3.6 Average)
OKTarg - 4 out of 5
This is a tough one to rate, since Stark really could use the economy. And, Winter plots are among the best times to get the extra gold since they're generally high-impact, low gold sort of options. Unfortunately, Summer plots are pretty common right now so you can't get it on demand. I think this is a mid-pack econ location, behind the Martell and Targ ones, about even with the Bara one, but ahead of the Greyjoy one. (I haven't tried the Tyrell one yet and I don't want to spoil the Lanni one! I also try not to speak of Night's Watch if I don't have to…..)
Barnie25 - 3 out of 5
From all the econ locations I feel that this might be one of the weaker ones. For heavy Stark winter decks this is potentially interesting but I feel that many Stark decks will run many non winter plots making this location fairly weak.
Q&TR (-jc+flo) 4 out of 5
Gold, for lack of a better word, is good. Better than the Tyrell version for many reasons (Stark lacks the Arbor, winter plots inherently have less gold), but aside from the A Time for Wolves you're already running, the other plot choices aren't as obvious in the current card pool.
scantrell24 - 3.5 out of 5
Even a dedicated Winter deck has room for only 4 or 5 Winter plots at most, because they aren't versatile enough to fulfill the full range of needs that a plot deck usually meets. And with Summer plots like Time of Plenty, Summer Harvest, and Late Summer Feast prevalent in the current meta, Northern Keep might only be active half the time. On the plus side, Barring the Gates is suddenly serviceable with Flea Bottom everywhere.
VonWibble - 3.5 out of 5
Disappointingly this is probably the economy location where its user has the least control over getting the full 2 gold, as Summer plots are popular choices, with Close Call in particular being one that is harder to predict. That said, there are a good number of Winter plots that Stark can make use of, and this is an important piece in a winter choke build that also uses Passing the Black Gate for gold.
Highgarden MInstrel (2.1 Average)
OKTarg - 1 out of 5
I think this card is pretty bad. I mean, econ is nothing to sneeze at, but I just don't think you're going out of your way to include Songs because of this effect. If you're already at 6+ songs, then fine, but nobody is….
Barnie25 - 3 out of 5
Unlike the previous two drop we just saw, this one at least has two icons which is nice. Realistically, this can fuel a combo-esque deck, allowing them to chain events.
Q&TR (-jc+flo) - 4 out of 5
This isn't a 4 for efficiency, but for her contribution to one very specific kind of deck; a Hyper-Viper style, Annals-based deck. Outside of that sort of build, even with a high density of Songs, don't expect her to even pay for herself.
scantrell24 - 1 out of 5
Blood of the Dragon has permanently scared me away from 1 strength characters. And this one isn't particularly good anyways.
VonWibble - 1.5 out of 5
Not many songs in the game at the moment, but all except Wolf in the Night (and the forthcoming Rat Cook) are available in mono Tyrell. If you can reliably trigger her on the turn she is played then she is undoubtedly good value, but do Tyrell really need to jump through hoops to get basically a free 1 strength chud? This card is my candidate for the Hot Pie prize of the cycle, getting a bonus point simply because she is only a couple of strong songs away from being usable. In melee add a bit because Dornishman's Wife sees play.
Horn Hill (4.2 Average)
OKTarg - 5 out of 5
Whoaaaaaa! Astapor's friendlier cousin will definitely see lots of play. I would compare to Renly's Pavilion: Even at the same cost, you're getting a higher potential upside (losing the important HFK synergy) but you can bestow this on up. You'll never be sad to see this, except for setup

Barnie25 - 3.5 out of 5
The effect is strong, but unlike Astapor, this location doesn't necessarily fuel the faction's ability to erase characters. I have trouble seeing what type of Tyrell decks want this and have space for it. It feels like a lynch pin type card for decks that want to push challenges but Tyrell already want to run several locations. Combined with the fact that location hate is on the rise I am doubting about this one.
Q&TR (-jc+flo) - 3 out of 5
Half our reviewers mentioned fleabottom driving location hate's rise. More of the same for Tyrell, and unlikely to replace Renly's Pavilion as your first pick for a STR manipulator, but potent enough to ensure a challenge win, and efficient enough with even 1g to earn its keep.
scantrell24 - 4.5 out of 5
Yes, please. A strong 1x in most Tyrell non-banner decks for so many reasons. Countering burn, triggering win by 5 effects, forcing opponents to overcommit, simply pushing through a key challenge….. There's a lot of application for a 2-3 gold location.
VonWibble - 5 out of 5
Comparing to Astapor, Horn Hill can't cause terminal effects, or even make a challenge fizzle, but it can affect multiple characters. Certainly not as strong a card. But that doesn't make it bad at all, as I feel even a bestow of 1-2 is effective, as this still lets you stand Randyll, gain renown for Ser Jon Fossoway, and pump a challenge by a good number in a low curve renown knight rush deck. Reach-traited as well if you still run that core army. What, none of you?
Donal Noye (3.0 Average)
OKTarg - 3 out of 5
4 for 4 bicon alone is solid, giving him the three here. The ability is gravy, and I guess you are probably already using Dragonglass Daggers? The surprise pump is nice, but you're not going out of your way to build around that, are you? He has some more fun, niche uses in banners, but those don't seem competitive to me just yet.
Barnie25 - 3 out of 5
Reasonable body with a potentially interesting effect, this can be very cool in banner decks but I suspect that this card will either become a one off or a non-off for most NW decks.
Q&TR (-jc+flo) - 2 out of 5
That's a decent body, with a situationally useful ability, and some fun applications (dropping 1g Venomous Blades in all sorts of phases is tempting). Ultimately it's mostly a small econ payoff that requires you to draw the right cards at the right time to justify any bestow investment, and most Weapons aren't a big enough deal to warrant it.
scantrell24 - 3.5 out of 5
Donal Noye has a cost/stength/icon pairing that Night's Watch players wanted badly in the post-First Snow meta. Body aside, his effect looks niche because you'll need to build around it, other than Dragonglass Daggers or Practice Blades which are already included. Here's a fun scenario: Flea Bottom a sacrifice chud like Wildling Scout or Salt Wife. When your opponent attacks, discard 1 gold for a surprise Catapult on the Wall and murder something. Then when the chud leaves play, Catapult returns to hand. You could potentially do this multiple times per phase.
VonWibble - 3.5 out of 5
Salladhor Saan is looking green with envy. As long as Donal is protected enough to make use of all his bestow gold, (very likely as Aemon is a thing!), you can pull off some very nice tricks. Ice in a Stark banner Watch, and King Robert's Warhammer in Baratheon banner Watch both look particularly appealing. In a pure Night's Watch deck he isn't so strong as a discount on Practise Blades or surprise Dragonglass Dagger/Ranger's Bow is as good as it gets. Nice bicon though.
Ranger's Bow (2.1 Average)
OKTarg - 3 out of 5
I feel like this should cost 1.5 gold. Two is a lot for a positive attachment, and while STR boost is nothing to sneeze at, I think overall the dragonglass dagger is stronger. It's nice to toss around the extra boost, especially as burn protection, but I think you're generally going to find this not quite making your final list.
Barnie25 - 1 out of 5
I feel that this card should have had ambus and potentially a price decrease. We have come to the point where the card pool is big enough that cards like these won't see play in constructed. In draft however I don't mind this card, but yeah, these reviews are constructed only, hence the rating.
Q&TR (-jc+flo) - 1 out of 5
It gives the NW more of what it's already good at, and not in a particularly interesting or useful way.
scantrell24 - 2.5 out of 5
A touch expensive, as OKTarg points out, and it only works on defense, but Wall decks have better options already. Maybe in a NW Rains deck you can deter your opponent from ever initiating an intrigue challenge?
VonWibble - 3 out of 5
Strength pumps, even visible ones, are useful as they make opponents overcommit. This is a dull card, but not a weak one.
Patchface (1.7 Average)
OKTarg - 2 out of 5
This is a cute card….lots of fun. But, Fools don't see a ton of play (are they even 1x in those decks anymore? Pour one out for Bara….been awhile since we've seen you guys!) I guess you can Motley up some of their guys for extra fun (and Motley is assuredly an underrated card) but I can see a cheeky one-of at most.
Barnie25 - 1 out of 5
It feels like the designers are trolling us, why would you ever run this card? Ignore and move on is my advice, binder fodder.
Q&TR (-jc+flo) - 1 out of 5
Its awful. Instead of a review, we mostly spouted Patchface quotes at one another. Don't bother mentioning motley. On the other hand, what if 2 patchfaces are on the board and you also control a fool with an intrigue icon - if that third fool leaves play, do both Patchfaces retain their gained icon? These are the kind of deep riddles Patchface is asking us! I know, I know, oh, oh oh.
scantrell24 - 2 out of 5
Sure, he only belongs in a deck with 3 Motely, but Motley is a great card, so that's not a problem. I'm excited to build a Patchface voltron deck.
VonWibble - 2.5 out of 5
This is surely the most Shagga card in the pack, and fairly limited as all other Fools are loyal. Put Motley on their (or your) characters for more options - Renly and Robert Baratheon are the best options. I like the thought of Patchface having intimidate!
King's Blood (2.9 Average)
OKTarg - 4 out of 5
This seems a hard one to rate. It will feed so bad when your opponent stalls you out to give their Table/Chair more time. But, they will also feel bad investing gold into cards that only stall the game. The trait limitation is also more narrow than it may appear at first glance….but then I think that Cancer Lancer loves getting two cards in one (Orphan/Lancer) for half the price. So….who knows.
Barnie25 - 2 out of 5
I won't write off this card quite yet, it certainly has the potential to be very annoying but will you really put this in your deck? Most of the time I don't think so, the delayed trigger is what makes this card less interesting for me. I don't want to wait an entire turn to trigger this card, also the cost of doing so is so high that if somehow it gets cancelled, you are very behind.
Q&TR (-jc+flo) - 1 out of 5
With Istaril as the only dissenting opinion, the general consensus was that the art is descriptive of the purpose of the card.
scantrell24 - 4 out of 5
There's a lot of potential for abuse here if the cost ends up being manageable. Non-terminal means you can setup King's Blood, then re-marshal it later, which helps a bit.
VonWibble - 3.5 out of 5
Why? Having to lose 2+ power in a plot phase is not a pleasant thing at all, especially given the existence of the Cancer Lancer stall deck. Said deck is Martell Stag, and therefore has access to a lot of Bastards if needed. There may even be a use for Ellaria here in standing your Bastard afterwards. Overall this nonetheless doesn't seem that strong in joust, simply because of the Bastard restriction (or kneeling a king, which is worse!) In melee this could get very ugly though.
Genna Frey (2.6 Average)
OKTarg 4 out of 5
I like her. 5 cost is a bit of an odd slot in Lanni (it's not like you're cutting her Favorite Nephew for her) but the effect fits what they do. She'll be great with Cersei in play (either version) so I would say slot one and see how it works!
Barnie25 - 1.5 out of 5
The body is not impressive, doesn't have any key words and has a very conditional effect. When you are able to trigger this card, you are probably already ahead and even in those situations you probably still wished this card was core cersei instead.
Q&TR (-jc+flo) - 1 out of 5
Istaril likes Frey. He likes that this is a Lanni-Frey, and likes that it's effect feels lannister. But none of us are paying 5 for a core-cersei body with a far, far worse effect.
scantrell24 - 3.5 out of 5
Por que no los dos? Run Genna and Cersei together. Cersei does the intrigue challenge, Genna does the power challenge, and suddenly your opponent has 3 less cards in hand. She's not fantastic because the cost/strength ratio is below average, but the ability is worthwhile.
VonWibble - 3 out of 5
Even without an extra Frey in the, er, fray, she is decent enough, acting as a weird alternate core Cersei. Lannister don't struggle that much to make 3 challenges thanks to so many bounce shenanigans. A few more effects like hers and the cards in the Lannister box that require the opponents to have no cards in hand will be so much stronger. Her problem is simple, so much competition in Lannister at the 5+ cost slot.
The Goldroad (5.0 Average)
OKTarg - 5 out of 5
Two gold, always. You just have to spend one on events or ambush. That seems easy enough, and I'll take three in every deck thankyouverymuch. I have a dream, and that dream is to play Clansmen Tyrion over Core Tyrion as the correct choice. This card helps fuel that dream.
Barnie25 - 5 out ouf 5
This is one of the best econ locations in the game I feel. Lannister have many ways of interacting during the challenges phase making the gold useful. This is the only location of all new econ locations that does not have to be turned on, instead, you always are able to get the 2 gold out of it. Yes please.
Q&TR (-jc+flo) - 5 out of 5
Gold, for lack of a… wait, we've done that one. And all the other econ locations. This one is good, and jumpers are well poised in this cheaper-character meta. There is something a bit sad that our highest rated cards are the up-jumped equivalents of MTG lands, though, no?
scantrell24 - 5 out of 5
Let's be honest, that challenge phase gold is paying for Flea Bottom, not events.
VonWibble - 5 out of 5
As long as you run ambush cards or events costing gold, or even just have core Tywin, you will get a use out of the effect. You get 2 gold out of this location every time, making it arguably the best card of its type.
Stony Shore Raider (2.8 Average)
OKTarg - 3 out of 5
More location control! Yes please! I sure do wish it could kneel the wall, but what can you do. I'm not sure Greyjoy will find space for this, but maybe at the expense of the Shipwright since this can kneel your stuff and then do a challenge? It's more expensive and less repeatable, but it probably bears fiddling around with.
Barnie25 - 3 out of 5
This card feels like a sideboard card for a sideboard that this game does not have. If you want more control in your deck then this card can provide that control barring the added investment. Most likely this card won't see tons of play but it's a good addition to the pool I guess.
Q&TR (-jc+flo) - 3 out of 5
Some things differentiate her from the Shipwright (not kneeling, a point of STR), and while in most situations she's worse, she's likely got enough going for her to see use - probably moreso with a Red Door on the horizon.
scantrell24 - 3.5 out of 5
Nothing crazy, but it's good to have more options in the location control department.
VonWibble - 1.5 out of 5
A Salty Navigator with a worse icon and limited number of uses, each costing you gold. Yes, you get to use him in challenges, but chances are it is just to defend and die, as your high costers should be doing the attacking. Yes, you get to kneel a 3 cost location at all times, not just as first player, but that is still pretty niche.
Pay the Iron Price (1.9 Average)
OKTarg - 2 out of 5
I don't like cards like this that scale depending on factors beyond your control. Sure, it would be great to pull a Crown or a Locked Away or a Marriage Pact from your opponent's discard pile, but what if it is like the increasing number of decks that run no attachments? You've now got a dead card, and nobody wants that! So, more variance and I don't love that….
Barnie25 - 1.5 out of 5
The event is both expensive and in many cases absolutely a dead card. Again, this would be awesome in a sideboard as you want it against some decks but not against others. When this card works, it's probably very good, but for the many cases that it doesn't you will probably not run this card.
Q&TR (-jc+flo) - 2 out of 5
Even though we like the potent, mill-based effect, it requires your opponent to play (or rather build) along. They're under no obligation (or even particular incentivized to) run attachments, so unless you're calling the meta perfectly, the risk of this being a dead card is a significant drawback.
scantrell24 - 2 out of 5
Situational and expensive. I'm fine with it being in the card pool, but won't ever have room to Pay the Iron Price.
VonWibble - 2 out of 5
Well, Crown of Gold is now a much scarier card for Targ players to include in their decks, and it's another strike against Locked Away. But in general, with Milk being less popular and Night's Watch largely being immune to Craven, how many uses will you really get out of this?
Freedmen (2.4 Average)
OKTarg - 2 out of 5
I love the idea of this card, but it seems like I'll have trouble finding a slot for it. It's pretty low-impact while in play, and while it helps fuel Plaza and Breaker, I think I will stick with more high-impact cards there. Flea Bottom basically does for any card what this does for itself, and that allows me to drag tons better cards into play. I mean, would you rather have Infinite Second Sons or a Freedmen??
Barnie25 - 3 out of 5
A solid chud with a cool interaction with plaza of pride. This might be interesting for Tyrell banner of the Dragon decks more so than Targ decks because this dies to Blood of the Dragon and I don't think you have space for this guy.
Q&TR (-jc+flo) - 3 out of 5
Unanimity. Not going in your Blood of the Dragon deck, but can't find anything to fault it. Well, Drakey can, of course; "A very 2.0-y dude".
scantrell24 - 2 out of 5
Definitely Plaza fodder. But is that really worth the deck space? I could see one copy if you run Marched and/or Fallen from Favor.
VonWibble - 2 out of 5
It's a great card to discard for Marched or Plaza of Pride, and getting all 3 out of the discard pile at once seems like it will be fun, especially with a Breaker of Chains character out. However, that's where the positives end. A 1 strength character is rarely appealing out of Targaryen as Blood of the Dragon kills them straightaway, and if you are winning challenges by 5, given Targ have a decent icon spread in general, do you really need another +1?
Warrior's Braid (3.0 Average)
OKTarg - 3 out of 5
Renown is great. Extra STR is good. Positive attachments are a tough sell. This one is fun in a bloodrider deck and likely will add some much-needed speed, but overall I think it won't make the cut. Better in melee, surely.
Barnie25 - 3 out of 5
Renown is so valuable, if only this would also have provided the military icon to go alongside with it. This is fairly strong on Aggo. This is a card for a Targ deck that currently doesn't really exist. I am confident however that this will find a home in some type of military focused aggro deck.
Q&TR (-jc+flo) - 3 out of 5
And there goes our convergence of reviews. Istaril sings the praises of getting unconditional renown in the faction with stand, Florian is skeptical, and Ire and Drakey don't think the card has a place in Targ's current gameplan. This may have more to do with Istaril playing a Targ Knights Rush deck than any real inherent value in the card.
scantrell24 - 3 out of 5
We're still waiting on a general-use renown-granting attachment. Warrior's Braid is restricted to Targ characters only, much like Longclaw only works with Night's Watch characters. I guess it's decent on Aggo or Barristan, or really anything if you're making a final push to close, because Targ can stand most any character.
VonWibble - 3 out of 5
In melee, any card granting renown can't be ignored. The bonus strength is gravy in either format to be honest. I see Rakharo as a good target for this as he already gains power when claim is applied, so adding more on just means you only have to protect 1 guy. Aggo and Barristan are also good alternatives as they can participate in multiple challenges - ideally multiple military challenges with Drogo out.
Dornish Spy (3.6 Average)
OKTarg - 3 out of 5
Yet again it feels like Martell gets their ambush overcosted by one, but with flea bottom, Iron Bank, Arianne, etc. there are increasing ways to cheat around that. Even played out blank she seems okay, and I'll for sure be trying this out!
Barnie25 - 4 out of 5
This card does everything you want in Martell with a reasonable body with two icons. You can make hot plays with this in combination with either core Tyrion or Arianne.
Q&TR (-jc+flo) - 4 out of 5
An easy card to slot a pair of in a Martell attrition-based list. Better str than most ambush 4 cards, a fine pairing with flea bottom, and a card you won't be too sad to be forced to marshal.
scantrell24 - 3.5 out of 5
Decent, especially with Iron Bank and Flea Bottom in addition to Arriane now for multiple avenues to ambush. Best in a deck that keeps the board small, or maybe Greyjoy Sun to create unopposed opportunities (one of my old favorites).
VonWibble - 3.5 out of 5
Ambush 4 may seem steep, but I see it as 3 gold for a 3 strength bicon, which is not unreasonable, and 1 gold for an event removing an icon, which is usually going to result in you winning an extra challenge. On top of this, there is a decent amount of synergy with other Martell cards. Arianne helps "lower" the cost. If she ambushes in when the Red Viper has challenged a bicon, you get unopposed. Flea Bottom lets you cheat her in for less. She is decent on her own, really good with other combo pieces.
Locked Away (3.0 Average)
OKTarg - 4 out of 5
This is a "Must Answer" card, but there are, fortunately, a ton of ways to answer it. I remember underselling Marriage Pact when it came out, and I think Locked Away has similar power level. I'll be building something soon to try to take advantage of it!
Barnie25 - 2 out of 5
Some games this will blow you out of the water, most times than now however it won't. The card is expensive and is a condition. I probably won't bank on this card, the saving grace might be that Martell has the ability to spam the board with attachments making the card a bit more save but still don't bank on that as well.
Q&TR (-jc+flo) - 2 out of 5
Our rating is higher than our reviews would indicate. That's unusual. It's a bad card, practically dead against some factions (and in this meta), and even when the stars align, it's hardly worth the effort. We'd all rather run Venomous Blades.
scantrell24 - 3.5 out of 5
Situational and can't be setup, which caps Locked Away's ceiling, but at times this could really swing a game, especially with the cannot be saved text neutering dupes. There's a deck or two out there that want this.
VonWibble - 3.5 out of 5
Seems really annoying, but your opponent has a plot phase in which to deal with it. Confiscation is an obvious answer, but Fallen from Favour and Marched are both really popular choices at the moment, and both at least grant some compensation for losing a key character. The Iron Bank is also an easy counter to this card, making the Martell player look particularly silly if the gold gained lets the opponent get something else out instead. Having said all that, all of these answers bar Confiscation still result in the character at minimum losing all power and dupes, so it's still not too big a loss, especially in an attachment heavy deck.
Beric Dondarrion (3.9 Average)
OKTarg - 4 out of 5
Jakob is one of my best "Thrones Friends" and I'm happy to see his card in print! I think it's an awesome, Nedly card that will beat you down if you don't have an answer to it. If you do, though, he folds fast. I'm interested to see how many decks he can crack his way into. I think it's similar to Jaqen in power level, going in decks that want some stability and renown rather than removal. Looking forward to rolling this out there!
Barnie25 - 4 out of 5
Unless you are packing the answers for this guy, which many decks will, this guy will be very irritating to deal with. Blanking him will render him useless and in Targ decks, will kill him, for non Targ decks, blanking should do just fine.
Q&TR (-jc+flo) - 4 out of 5
Think of him like Superman; amazing until someone brings kryptonite along, and then a 4 year old girl could kick his ass. This variance in how he plays out will keep some players from considering him for a slot, which is good, because he'd otherwise be an auto-include. If you don't bring some milk/nightmares along, though, Beric will, (and I quote Drakey here) "sit on your face".
scantrell24 - 4 out of 5
The traits alone make him playable in several completely different archetypes. Beric looks solid but maybe too much of a good stuff generalist, so at risk of being the 62nd card that just misses the cut in decks.
VonWibble - 3.5 out of 5
I don't particularly like him.However, I can see he is tough to deal with if you don't have any answers. The fact he really folds to Nightmares and Milk makes him very easy to beat, and as such, variance can become a large factor in games featuring him. If running him, you need good attachment control, and probably want to run The Iron Bank for when he does get short on lives.
Unbridled Generosity (1.4 Average)
OKTarg - 1 out of 5
Mmmmm no thanks. My event slots are always tighter than I want, and if I can't fit things like Iron Bank and Hand's Judgment I'm not slotting this.
Barnie25 - 1 out of 5
I understand they wanted to push a new mechanic, but this card will never see play. Let's move on.
Q&TR (-jc+flo) - 1 out of 5
The situational gold and ability to "break" Bestow limits don't justify its inclusion when Bestow hasn't proven itself to be a major player. Even if the next cycle does bring Bestow out to the forefront, we have trouble imagining this card doing anything. Drakey actually used the words "wet fart" to describe Bestow - possibly because Beric's still sitting on his face?
scantrell24 - 2 out of 5
Yeah it's terrible, but that doesn't mean I won't try to build a deck with as many Bestow cards as possible.
VonWibble - 2 out of 5
Any faction that is happy to increase the bestow limit of even a single card should consider this. The obvious candidates for this would be Ricasso and Astapor. However, these are not without risk, as Ricasso has few saves and Astapor can be stolen. Until we get decks that are running 12+ bestow cards I think this isn't doing enough, I prefer the plot below.
The Brotherhood Without Banners (2.8 Average)
OKTarg - 3 out of 5
I'm looking forward to building with it. Perhaps the best one here is Insight, helping compensate for all the loyal cards you lose. I think it is more a 'fun' agenda for now, but I think it will be worth trying!
Barnie25 - 3 out of 5
Very restrictive but also very powerful. This agenda is mostly a lot of fun. I will be curious to see how this agenda will be used.
Q&TR (-jc+flo) - 3 out of 5
The deckbuilding restriction really sparks some creative juices, but no matter how much we might like the design (the restriction, the faction kneel, the timing), it doesn't look well poised to compete with, say, Rains in terms of raw power level. It'll take some work to get enough mileage out of neutral characters to really justify the agenda choice, but it will be fun to try.
scantrell24 - 3 out of 5
Losing all loyal characters is a big downside because they tend to be strong, efficient, and synergistic for each faction, as well as a main source of draw or card advantage (Daenerys, Starfall Cavalry, Blackfish, Messenger Raven, etc.). For the Brotherhood agenda to be "worth it" in terms of losing loyal characters and the opportunity cost of other agendas, we need to really leverage the flex keyword every round. In the current cardpool, I don't see many great options. Many voltron-builder abilities are restricted to faction-specific characters, like Stark box Jon Snow's stand.
Targ might work because there's a stand package so the buffed character can participate in multiple challenges, especially if it's a Lord or Lady like Walder Frey. Tyrell, Greyjoy, Martell and Baratheon at least have good draw besides loyal characters (Pleasure Barge, Great Kraken, Secret Schemes and Red Keep) so those factions are possibilities. Overall, the flex keyword looks good on paper and may inspire some creative builds, but this agenda won't be tournament worthy.
VonWibble - 2 out of 5
I might be missing something here, but how is this good? Losing loyal characters is a big deal in any deck. Replacing those bombs with neutral equivalents is obviously necessary there. But my bigger problem is that the reaction is at the start of challenges. If my opponent has an "unexpected" trick, such as challenge phase kneel or a strength pump, I am probably wasting my agenda. Now, Begging Brother helps, but that is still a risk.
Generally I think I'd want my keyword character participating in multiple challenges, which makes Targ an obvious choice with its stand. The other faction I'd consider is Martell, as they don't really rely on bombs in the same way and have good locations for control, plus Prince's Plans to ensure your icon spread is still at the right level.
Rather like Alliance, I want to like this, but it is nowhere near there yet. It should improve at a faster rate than Alliance however as each neutral card released increases options for sure.
Favors from the Crown (2.1 Average)
OKTarg - 1 out of 5
No thanks. Plot slots are super important, and while the stats are pretty good, I don't think I want this over the top-edge, useful plots.
Barnie25 - 2 out of 5
Unlike with the event, with this card you have more control over when you will use it, for heavy bestow deck this might be something. This card might become better over time as more bestow cards get released. For now I wouldn't want to use it. The stats on the plot are reasonable enough to have it be useful when the correct amount of bestow cards get released.
Q&TR (-jc+flo) - 2 out of 5
Once again, Bestow is just lacking enough presence and impact to make this a 'reliable' econ plot. The plot isn't inherently bad and does have some neat applications in breaking bestow caps or using FSOW to recharge your Bestows, but it does suffer from being an economy plot you can't use to really increase your board presence. The next cycle *could* push this card up a fair bit.
scantrell24 - 2 out of 5
Too niche. If the reserve or initiative were a little higher it could at least claim stats as a redeeming factor, but alas, they're average.
VonWibble - 3.5 out of 5
Similarly to Unbridled Generosity, I'd want to be building a deck with 12+ bestow cards to look at including this. However, assuming you get 2 bestow cards out, or 1 big bestow, you could squint at this plot and see 7 gold, which is never a bad thing, and 4 initiative, which is usually good enough to win initiative plot 1. This score is assuming the theory we will get stronger bestow cards next cycle is true...
Total Pack Average: 2.78Top Cards:
The Goldroad 5.0
Horn Hill 4.2
Beric Dondarrion 3.9
Bottom Cards:
Unbridled Generosity 1.4
Sansa's Maid 1.5
Patchface 1.7
If you're hungry more content, check out the library of podcasts, articles, game video and more in
the Community FAQ
. Let us know in the comments how you feel about the cards in this box, and we'll see you again soon to discuss either The Archmaester's Key, or House of Thorns, whichever drops first.
Article: Brotherhood Without Banners: Thrones LCG Pack Review