Welcome to Card Game DB
Register now to gain access to all of our features. Once registered and logged in, you will be able to create topics, post replies to existing threads, give reputation to your fellow members, get your own private messenger, post status updates, manage your profile and so much more. If you already have an account,
login here
- otherwise
create an account
for free today!

0
Called to Arms: AGoT Pack Review
Aug 18 2016 12:00 AM | scantrell24 in
Strategy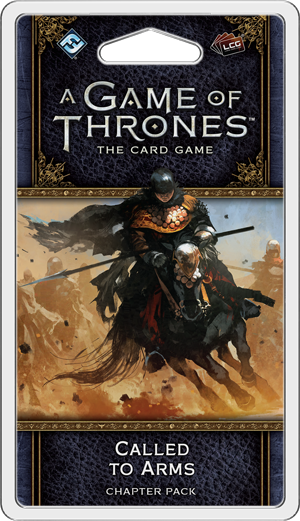 The war had raged for close to a year. Lords great and small had flocked to Robert's banners; others had remained loyal to Targaryen. The mighty Lannisters of Casterly Rock, the Wardens of the West, had remained aloof from the struggle, ignoring calls to arms from both rebels and royalists. Aerys Targaryen must have thought that his gods had answered his prayers when Lord Tywin Lannister appeared before the gates of King's Landing with an army twelve thousand strong, professing loyalty. So the mad king had ordered his last mad act. He had opened his city to the lions at the gate.
Our staff has put together a first blush analysis of the newly released "Called to Arms", the second chapter pack in the War of Five Kings cycle. Cards are listed in numeric order and scored on a scale ranging from one through five, with five being the best possible score. We have 5 reviewers this time around, so the maximum score per card is 25 points.
Now onto the reviews, starting with....
Donella Hornwood (15 Total Points)
Barnie25 - 3 out of 5
Solid, yet boring. She has the icons that Stark needs and is immune to First Snow. A 1x until she rotates out probably.
Kidohearts - 3 out of 5
The best Stark deck at the moment is Fealty with many Loyal cards like Robb, Blackfish, Grey Wind, Catelyn and Ice. An INT icon at the valuable 4 gold cost in Stark can't be overlooked. All these things make Donella a solid 1x in Stark Fealty. And she's not loyal herself so she could belong in a Wolf Banner package.
Scantrell24 - 3 out of 5
Lady Hornwood gives Stark Fealty more economy and another intrigue icon, but that deck is already fine in both departments. She'll see play and be good-ish.
JoefromCincinnati - 3 out of 5
This card checks all the boxes required for a 1x slot in the typical deck. Free Winter is Coming will also be nice. On the flip side, not including her does not hurt you at all, so will totally be preference.
PatrickHaynes - 3 out of 5
A perpetual 1 of in Stark fealty and probably some banner Wolf decks.
Fear Cuts Deeper Than Swords (12 Total Points)
Barnie25 - 2 out of 5
The existence of this card is a good thing. It gives Stark options to deal with things like Mirri but due to the stupid ruling of how Tears works the value of the card goes down quite considerably in my book.
Kidohearts - 2 out of 5
I find this a very interesting card. It's loyal so it can be 1 cost with Fealty. It's yet another card to shut down what you want to do against Stark. But I just don't think he shuts down enough as Thrones can be tricky with the wording. It has to be something that says "choose". Don't think it will make the cut.
Scantrell24 - 2 out of 5
I don't like potentially dead cards. In probably 20-40% of matchups your opponent won't trigger any abilities that Fear Cuts Deeper can interrupt. By comparison, interrupts like Hand's Judgement, Treachery, and Iron Mines trigger almost always.
JoefromCincinnati - 3 out of 5
Fear Cuts Deeper has a lot of positives. It's only the second card in the game that can cancel abilities printed on characters and locations (Treachery being the other). It is 2 gold, so expensive for an opponent to cancel with Hand's Judgment. And to top it all off, it has a stand added onto the end (but you can still trigger Fear to protect an already standing character). I'm giving it a 3 because any time you interrupt your opponent's plans, it is a good thing. But the conditions (Stark character only, only one target, 2 gold cost) may be a bit too prohibitive. We'll have to see.
PatrickHaynes - 3 out of 5
Really tough call on this one. I think this card will end up being either a two or a four so I'm gonna split the difference (though my gut says it should be a two). Firstly, this is a very strong effect, canceling Mirri, Put to the Sword, Mel, Raiding longship, etc. is incredibly good. The problems are that it's two cost, which is quite prohibitive for Stark, and that Stark was probably already shutting all of that nonsense down anyway. I mean really, between Bran, Winterfell, Cat, and Robb (countering kneel effects specifically), how many annoying effects was your opponent really getting through? I have a feeling that this card may become redundant, in which case it's a two. But then again, maybe it will turn out that running all the denial is good, in which case it's a four. Either way, it can NOT stop Tears of Lys or Tyene Sand and as someone who doesn't play Stark, I think that's funny.
Knight of Summer (15 Total Points)
Barnie25 - 3 out of 5
Good icons with upside, being able to become a beefy renown character is very solid. Helps the Tyrell Knight deck that seems like it will be viable in the future. But in a regular Tyrell deck I don't see it finding a true home.
Kidohearts - 2 out of 5
I think he's decent and will see play, but I'm not sure if he's better than the Armies, mostly the Wardens. What I like about them over him is the No attachments. It seems like Ward is being played either in Stark or banner Wolf. It would suck to get like 2-3 power on him and lose in Marshalling when he gets taken. Also you have to have MORE Summer than Winter so with the new agenda there will be tons of Winter plots for some time.
Scantrell24 - 4 out of 5
Yet another 4 gold Mil Pow character for Tyrell…. When will it end!? Renown is good though, and depending on how the Summer vs Winter dynamic shakes out, Knights of Summer could be an improvement of Wardens and Roseroad Patrol. He might be even better in a year or two when newer Agendas have pushed Winter out of the meta. Also, in Melee he's a rockstar.
JoefromCincinnati - 3 out of 5
A good solid body that will work wonderfully in Summer decks. Since Bitterbridge Encampment is out and wants Tyrell to use Summer plots anyway, the Knight of Summer will fit right in. On Summer plot turns (assuming there is no Winter plot revealed), he's a 4 for 5 bicon knight with renown. Efficient, useful and strong. His overall impact will depend on how rampant winter plots are. Lots of winter plots means this character will rarely get the strength and renown, and that would make it a bad card.
PatrickHaynes - 3 out of 5
I'm sensing a pattern in this pack so far...He's a pretty solid dude, Tyrell Knights like Summer plots and they like renown so they'll probably like him. He's still terrible against the Wintery choke that is the hard counter to that deck though so he's nothing to write home about. Pro-tip: rip up all of your opponent's copies of Ward before playing this card.
There Is My Claim (5 Total Points)
Barnie25 - 1 out of 5
Why does this card exist? Why do you need to reveal 4 characters for such a small advantage. This card is a joke, or at least it's very very difficult to justify running this card. The idea behind the card is good, but this is not the way how to push this theme, 4 characters is way too much.
Kidohearts - 1 out of 5
I just can't see this card getting played. Hello binder/spokes. Tyrell does have good card draw, but having 4 characters left back in your hand is quite a lot. And Tyrell is almost exclusively being played out of Fealty or Crossing. I think the best chance to see this get played is someone who makes a Summer deck and use it in the 1st or 2nd round when you hit your opponent with an unexpected M claim. The problem is you have to find a deck spot for this card.
Scantrell24 - 1 out of 5
I just cannot fathom what happened in playtesting with this card. Four characters is simply too many. Even at a hypothetical cost of 3 characters, this event would be good but not great, because you're giving away quite a lot of information. I suppose it does have potential if Tyrell receives supporting effects in the future (more draw and search!), so it's not necessarily binder fodder forever.
JoefromCincinnati - 1 out of 5
Ugh. I don't give 1s very often, but this just seems horrendous. First, it's 0 gold, so it's easy to cancel. Second, you have to reveal 4 cards from your hand to use it. Third, you actually need to have 4 characters in your hand to use it. Fourth, after giving your opponent this information of what's in your hand, they can then choose to cancel it. Fifth, this requires you start the challenges phase with at least 5 cards in hand, otherwise this is a worthless card. Drawing this late game when you have a smaller hand (or no hand) could mean you lose the game. All for what? 1 more claim? For 1 challenge? I am struggling to see anything good about this card. You can play it on a First Snow of Winter turn, I guess? Poor Tyrell...
PatrickHaynes - 1 out of 5
Yay we broke the pattern! What an abysmal card. Good job kicking a faction while they're down FFG...I guess I just have to hold out hope that Renly Baratheon will save us. #thebombthatwaspromised
Dolorous Edd (20 Total Points)
Barnie25 - 4 out of 5
This card is very very good, non loyal free characters are tasty. This and Craven will make for a good banner package.
Kidohearts - 4 out of 5
I rate this guy so high because of his versatility. He can go in any deck that you're playing NW. Actually I'm not sure "can go in" is right, I believe he "will" go in every and all NW decks. He would have been a beautiful add in my NW/Kraken deck. I think a card that is at least a one of in every deck is a 4 at the least. Strong card.
Scantrell24 - 4 out of 5
Yup, he's good. The question might be whether to run 1 copy or 2.
JoefromCincinnati - 4 out of 5
I know. I'm biased. But this is just a rock solid card. Lannister has proven that Ambush is amazing. Being able to bring Dolorous Edd into battle for just a faction card kneel is great, especially when the Night's Watch only have one other faction card kneel in their faction (Ser Alliser Thorne), so it won't be a problem of multiple cards overlapping on the cost. Being able to return him to hand is great for Wildfire protection, Varys protection and any other reset protection, similar to Arry. If you go into a challenges phase with your faction card unknelt and 4 gold, you can, possibly, bring a character into play from your hand when they declare a military challenge (Alliser), an intrigue challenge (Edd) or just because you want to (Arry). Now, we just need a Grenn or Pyp that comes into play when a power challenge is declared and we'll be the kings of making your opponent wonder about what challenges they should initiate.
PatrickHaynes - 4 out of 5
Super solid card for every NW deck. Just a really good card for all of the reasons Joe said. Play him.
Craven (22 Total Points)
Barnie25 - 4 out of 5
I don't know whether this card is amazing or if its application is too narrow. This game is centered around offensive characters for the most part, for the defense deck this will obviously be a very strong card but I am not yet convinced this card has a home in a good stuff deck.
Kidohearts - 4 out of 5
The reason I give this a 4 and not higher is that I think it has a specialty: Defense deck. It is a 5 out of 5 for that deck and I know that most of the NW decks are defense builds, but because some of us like to get creative, and they are not all defensive. And even though it would fit in those decks too, I don't think you would want to drop something else for it. Real nice on a FSOW turn.
Scantrell24 - 4 out of 5
Interestingly, you COULD play Craven on your own character during setup to see an extra card. I'm just here to point out edge cases, not give useful information.

In all seriousness though, this card will helps both the Defense archetype and the Choke (economy denial) archetype.
JoefromCincinnati - 5 out of 5
Pretty simple really. This card is incredible. Like...game changingly incredible. And not just in defensive decks. So many characters are built to attack. This card becomes even better than Milk of the Poppy in a lot of circumstances. Absolutely neuters Tyene, Mirri, Jaime, Cersei, Balon (both versions), Dagmer (Lol), Fishwhiskers, Jhogo, Rodrik Cassel, Blackfish and KoF as well as just...being great in general to put on any character you don't want attacking you. Especially in a faction like Night's Watch that doesn't need to attack back, so a character that can't attack against a faction that doesn't need to attack you makes that character essentially useless in challenges. Call this a 3x in every defensive Wall deck until it cycles out. It may make Banner of the Watch worth considering all by itself.
PatrickHaynes - 5 out of 5
Holy nuts this card is just bonkers good. It's obviously 3x in every defense deck until it cycles out but it should also be 3x in any other deck that can legally play it. It single handedly makes banner of the Watch a viable thing, and not just as a defensive banner. Playing a high pressure deck with three of these bad boys and the efficient monsters that are the ranging party is really good. It turns out if your opponent doesn't have a lot of dudes, not being able to attack with their best one is pretty damn crippling. You know what else stops people from having a lot of dudes and thus making this really powerful? Choke, which Night's watch is also good at. So basically this should go in every Night's watch or banner of the watch deck at 3x until it cycles out, period.
Maester Pylos (13 Total Points)
Barnie25 - 2 out of 5
This card has the trouble of being in a tough spot cost wise. Bara has enough 3 cost characters it wants to run. Being a monocon isn't all that hot either but stealth is still stealth.
Kidohearts - 3 out of 5
Solid card, nothing special right now. 3 for 3 and stealth is good efficency and I hear Bara likes power challenges. He can help Bob bypass a big power icon character and then intimidate it. Also gives Bara another Maester for the search plot. I believe there will be more Maester tech down the road too.
Scantrell24 - 2 out of 5
In the current meta, with First Snow and Ser Ilyn Payne still prevalent, I'm not impressed by Maester Pylos. Mono-cons are also easily neutered by Nymeria and Martell's icon-stripping attachments. So he's on the border between deck and binder, but there's potential for improvement based on the trait.
JoefromCincinnati - 3 out of 5
A Baratheon version of Maester Wendamyr in a faction that doesn't treasure stealth as much as Greyjoy. This card confuses me. Is Baratheon hurting for stealth? I guess he's not a bad mid-cost character, as power challenges are the challenge Baratheon cares about most. Still. Why make a virtual copy of an existing card in a different faction? And at 3 cost, he is sporting the worst cost slot in the entire game.
PatrickHaynes - 3 out of 5
A perpetual 1x in decks. When power is the only challenge you care about, a power icon with stealth is pretty darn solid. Plus he lets you sleep more soundly if you play Here to Serve in mono-bara.
The Stone Drum (15 Total Points)
Barnie25 - 3 out of 5
I think that you can easily run 5 Kingdom plots in Bara, this card can potentially be very interesting as it's the only zero cost non limited econ location in the game.
Kidohearts - 3 out of 5
Helps counter the Winter agenda. Nice thing is you can set it up with a Roseroad or reducer. Just a solid card bringing a bit more income that's not limited and will be a 1 of.
Scantrell24 - 3 out of 5
Free, non-limited economy sounds great on setup and in the early game. But it's difficult to rate when it's released alongside agendas and plots that will decrease the % of Kingdom plots in the meta. Stone Drumm will likely fluctuate between a 2 and 4.
JoefromCincinnati - 3 out of 5
There are plenty of kingdom plots. A Noble Cause, Building Orders, Calling the Banners, Counting Coppers, Summons and Trading with the Pentoshi being the most played among them. You can, realistically, build a plot deck with 3 to 4 kingdom plots easily. That makes this card behave very similarly to a non-limited Rose Road. Considering the fact that it doesn't have to be your kingdom plot, you have a pretty good chance of this card producing 1 additional gold for you almost every single round. Oddly enough, this is released at the same time that winter and summer plots are starting to become the attractive options, possibly reducing its effectiveness.
PatrickHaynes - 3 out of 5
Perpetual 1x part 2: the wrath of Kingdom plots.
Shae (11 Total Points)
Barnie25 - 3 out of 5
This card is very interesting for a Crossing build, I don't know yet if the stand is impactful enough to warrant playing a 3 cost character but the idea is solid. Also more power icons is a good thing for Lanni.
Kidohearts - 2 out of 5
I just don't see the point. Spending a gold to stand a 2 str character? Lannister has better ways to spend their gold during challenges. She would have been fantastic and thematic if it said: Pay 1 gold to stand Shae or Tyrion, limit once per phase. Too bad, because she is an awesome character in the books.
Scantrell24 - 2 out of 5
Shagga players will find Shae Interesting for her future Voltron potential. You can even fetch her with Street of Silk! (Nobody plays Street of Silk) She's like a worse Osha with mediocre artwork.
JoefromCincinnati - 2 out of 5
Shae's okay. Stand is good. If only you were standing a good character. The only real use I can think of is in a NW Lion deck, where having a 2 strength bicon character standing is actually a good thing. Still gets bounced by First Snow of Winter though...
PatrickHaynes - 2 out of 5
She's fine, but there are better cards to play and better uses for your gold.
The Boy King (15 Total Points)
Barnie25 - 3 out of 5
This is the kind of quirky grab that is interesting for a shagga player. Probably Melee material but I expect some people to try and break this for Joust as well.
Kidohearts - 3 out of 5
This could be a really cool card that people aren't ready for. Nothing wrong with an extra power per turn. Most people kill their chuds and Payne helps with that. There's nothing like winning in Marshalling! Also it's not loyal and not Lannister only so any characters who have abilities that are associated with power on them will enjoy this (Blackfish).
Scantrell24 - 3 out of 5
In most other factions, Boy King would not make the cut in the usual control/aggro tournament decks. "Lord only" is pretty restrictive, but Lannister has plenty of good targets, and Treachery can help protect power stored on characters from Mirri and Ice. Lord of the Crossing already demonstrated the huge impact of an extra power per turn, so maybe there's potential in a Kraken build with Iron Mines as an extra protection for that power. Also, Melee is still a format that FFG sorta kinda supports.
JoefromCincinnati - 3 out of 5
Best applications are probably the "Boy King" Tywin, the "Boy King" Jaime and the "Boy King" Tyrion...Essentially, additional renown in Lannister...yaaaaay...Is Valar Morghulis here yet?
It'll be interesting to see if Lannister players even find this card to be necessary. Unless the King trait becomes a thing, this may be overkill. But hey...the goal is to get 15 power so you never know...Turns all your claim soak and all your opponent's claim soak into relatively safe power. Safe for now anyway...
PatrickHaynes - 3 out of 5
Seems like Lanni decks probably won't play this until they need an answer to obnoxious King tech and then they'll slot it in and be totally fine with it.
Balon Greyjoy (10 Total Points)
Barnie25 - 2 out of 5
This card exemplifies some of the problems I have with Thrones. Balon is very strong on the surface, has renown, can usually participate in multiple challenges and buffs your team? Great. But seeing how Greyjoy is a one dimensional, one-trick-pony faction, this card will never see a lot of play. He doesn't help you get UO and without UO triggers Greyjoy is a very lackluster main faction. Greyjoy is a banner faction, not a main faction for most people.
Kidohearts - 2 out of 5
I find this guy interesting, but the low rating is because there is a core set Balon. I just can't see people playing this version over that one.
Scantrell24 - 2 out of 5
It's a testament to the absurd power level of Core set Balon that's he's rendered a non-kneeling renown character nearly unplayable. If new-Balon had another keyword or icon, I'd reconsider.
JoefromCincinnati - 2 out of 5
As a character, this card is a 3 or maybe a 4. Not kneeling to attack is wonderful (see Jaime) and getting two opportunities for renown per challenges phase is really nice. The action is also potentially a very strong effect that could make win by 5 or more challenges easy to trigger and also make winning challenges, in general, easier. His biggest weakness, by far, is his name. I don't think any Greyjoy player is taking Core Balon out of their deck until Greyjoy gets a viable win condition other than the unopposed shenanigans deck type.
PatrickHaynes - 2 out of 5
He's okay but his name is Balon so you probably won't play him. To elaborate: if your opponent isn't playing a king he's basically Jaime with a power icon instead of an intrigue who can occasionally give some strength, which is good. But core Balon is one of the best 6 cost characters in the game.
Ours is the Old Way (8 Total Points)
Barnie25- 1 out of 5
Why does this card cost 4? This card seems reasonable in a Melee deck but in Joust you just won't play this card. Imagine drawing this turn one, I would kill myself. Overcosted for being too versatile, more focused cards with competitive price points please.
Kidohearts - 2 out of 5
Maybe there will be a time where someone gets this card to work amazingly, but I just don't see it. I was tempted to give this a 1. I can only really see this being run with Tyrion as 4 gold and not loyal is a steep cost to pay. Maybe a one of to close the game?, but I doubt it.
Scantrell24 - 2 out of 5
I've said before that Greyjoy needs a way to remove opposing stealth…. but not this abomination. Old Way costs too much to be reliable or surprising (any Greyjoy player sitting on four gold telegraphs this event hard).
JoefromCincinnati - 2 out of 5
This is also an extremely difficult card to rate. The effect can be powerful. There's no doubt about that. But is it necessary? Especially in a faction that isn't exactly rich. The best use for this card is probably on a Rise of the Kraken turn, but then you don't have enough gold to play it without Rose Roads, Tourney Grounds or Tyrion. Maybe it would work in a Greyjoy Banner of the Lion deck, but then you're diluting your target pool. All that said, when you get it off, you could conceivably get 3 unopposed challenges in a single phase and we all know that Greyjoy can easily rack up 10 power in a single round with just 2 unopposed challenges. It's important to note that it removes stealth from your non-Greyjoy characters as well.
PatrickHaynes - 1 out of 5
This is a bad card. First of all, it's a four cost event, which is bad, secondly it's effect is not even that good when you do get it off. If you take away stealth from all of your opponent's non-greyjoy characters you are probably taking away 2-3 instances of stealth top, which is okay? And might net you one unopposed challenge, but you paid FOUR freaking gold for it. If you give all of your guys stealth you should be able to stealth basically everyone who doesn't have stealth which, depending on your opponent's faction, will probably net you one maybe two unopposed challenges, but you paid FOUR FREAKING gold for it. So, in summary, please do not play this card, unless you are playing against me in a major tournament. In which case, go nuts.

Doreah (20 Total Points)
Barnie25- 4 out of 5
Good icons, insight potential and being a companion is another Street of Silk target.
Kidohearts - 4 out of 5
A character that helps you draw that isn't Daenerys is well needed for Targ. I know she's conditional as she needs a Lord or Lady, but I hear there are some good ones in Targ or any Lord or Lady. She's cheap, efficient, and 2 icons. Very nice.
Scantrell24 - 4 out of 5
A solid 1x forever, especially in Fealty and Banner decks.
JoefromCincinnati - 4 out of 5
Card draw is good. Especially with Valar Morghulis coming very soon. Send her into a fight with Dany or Drogo and grab some additional cards. There aren't a ton of lords and ladies in Targaryen yet though. Will be good in Targ Lion, with Jaime, Tyrion or in Targ Kraken with Asha, Theon, Aeron, Newly Made Lord and even Alannys. 2 cost and 2 strength is a great cost slot and strength ratio as well. Conditional, but still powerful. Tag along insight is a thing in 2.0 (see Samwell, Maester Pycelle, Butterbumps and Moon Boy).
PatrickHaynes - 4 out of 5
Super solid card, should be slotted into any Targ deck that plays lords and ladies, which is most of them.
Beggar King (12 Total Points)
Barnie25 - 1 out of 5
Why would you play this card? I just don't get it, sure it can be economy but going through all these hoops and play a suboptimal card is not worth it. Don't waste your deck slots on bad cards. I hope that I am wrong on this card.
Kidohearts - 2 out of 5
Maybe this should be another 1 out of 5, as I just don't see it having a spot. Maybe trying to counter a Winter choke deck as this would probably give you 2 gold there, but tough.
Scantrell24 - 3 out of 5
To trigger Beggar King consistently, you're probably building your plot deck with multiple low-gold plots. Maybe a Dothraki Aggro deck with Blood of the Dragon or Famine, Winds of Winter, and Counting Coppers. It's possible.
JoefromCincinnati - 3 out of 5
You can craft a plot deck that takes advantage of this card. Summer Harvest just came out as another low printed cost plot that will look good in a Targ deck. But I wonder how often you will trigger this other than the obvious Counting Coppers and Summer Harvest turns. The other plots Targaryen typically run are 4 gold or higher and having a lower gold on your plot than your opponent would happen purely by chance. Again, if the king trait becomes a thing this will see play. Otherwise, if no kings are ever played, this could still potentially see play because then you're getting 2 gold instead of 1.
PatrickHaynes - 3 out of 5
This one kind of fills the same roll as the Lanni one for me. If Kings become a thing, Targ will probably be fine slotting this in, if they don't, they'll leave it in the binder. It's nice that it doesn't have to go on a Lord.
Starfall Cavalry (15 Total Points)
Barnie25 - 3 out of 5
Drawing 3 cards is very strong, but the body is not interesting. I don't think you can play multiple 6-costers that have so little board impact strength/icons wise. Hopefully Starfall Cavalry will prove to be a monster and I am wrong.
Kidohearts - 3 out of 5
Really torn on the rating for this card. I'd like to give it a 3.5. I think it is a very good card and fits "like a glove" in Martell. Martell likes to play the long game and starts a bit behind with a push late game. So now you can use Counting Coppers early game and then drop this turn 4 to refill. Nice job on FFG not making it 5 cost, because then it would be insanely good.
Scantrell24 - 3 out of 5
He's a poor man's Viper's Bannermen from 1st edition that pushes the Martell delayed rush theme even further. Hopefully one day we see more Army-trait support like See Who Is Stronger.
JoefromCincinnati - 3 out of 5
What is up with Martell and 6 cost characters? I consider this the "Arianne tax." Every character with a significantly strong ability has to be 6 cost for Martell because, if they were 5 cost, Arianne would just dump them into play for free. The effect is undoubtedly strong, but the stats leave a lot to be desired. Very strong late game, early game it's kind of disappointing. I'd expect this card to be a 1x for a while. So many 6 costers need to fit into that deck, I wonder if this card makes you pick between, say, Quentyn and Harmen. Or Doran...Or Tyene...
PatrickHaynes - 3 out of 5
I really want to like this card more than I do...Card draw is really good, but six cost is a lot for Martell, especially when Doran, Tyene, Harmen, and Quentyn exist. I'm sure there will be decks that love this dude, but there will also be a lot that pass on him.C
Venomous Blade (17 Total Points)
Barnie25 - 3 out of 5
This card will get a lot of love because of the 1.0 memories of the old version. The card is a bit expensive for what it does and the characters it hits isn't all that interesting but its a good piece in the Martell puzzle.
Kidohearts - 3 out of 5
I'm sure i'm wrong on this and its more like a 4 or 4.5, but I'm going with a 3 because of space. There are so many good Martell cards and if you banner then it may be hard to find the room for it. I think of it like this, if your playing this for 3, what are you not playing. But on the other hand, if you build for it, it's going to be nuts and more towards the 5 rating. There will be a serious control build with this in it.
Scantrell24 - 4 out of 5
I'm interested to see whether Venomous Blade has staying power in the meta. It's the first high-cost attachment besides Seal of the Hand, and there's been less Confiscation but more Rattleshirt's Raiders lately. I'd have liked VB more with printed cost of 2 and Ambush 3 to force a choice between marshaling or ambushing.
JoefromCincinnati - 4 out of 5
I was very unimpressed when this card was first spoiled, but then someone pointed something out to me: It's not terminal. Nor is it unique. So you can play this on a claim soak character during the marshalling phase, kill a character with it then, if they declare a military challenge, you let them win and kill the character holding it. Next turn, rinse and repeat. If they stop doing military challenges, then you get to keep your board state. Or, you can march to get it back and do it again. Killing claim soak outside of military claim is very powerful. There's way too much kill in the game right now, but it is definitely important. The ambush is just gravy. Hell, you can even kill your own Bastard Daughters to drain their hand if you really want to.
PatrickHaynes - 3 out of 5
Pressure decks will love this card, others can probably skip it. Three is pretty expensive for an attachment. If we keep getting characters like Janos with low printed strength though, this will continue to be good.
Kings of Summer (14 Total Points)
Barnie25 - 3 out of 5
If they will print more high gold summer plots and / or summer plots that facilitate draw I can see this agenda doing something for a few factions but for the most part this agenda is not interesting for most. If you are not looking for specific Summer interactions, better leave this agenda at home.
Kidohearts - 2 out of 5
I just don't think this one is as good as the Kings of Winter. There are some very good and meta defining plots that are Winter plots. You get 1 gold if your opponent doesn't have a winter plot. For me I'd rather play Crossing.
Scantrell24 - 3 out of 5
In this game's long history, gaining something yourself if usually less good than denying that same thing (in this case, gold) to your opponent. Obviously a lot depends on the Summer support in the rest of the cycle, but currently I think Summer needs more help to be competitive than Winter.
JoefromCincinnati - 3 out of 5
This pack is just chock full of cards that could be great or could be nonexistent in the meta. And here is another one. I am of the opinion that Summer plots are still a little weak. We'll have to see what plots come around in the near future. I know they will be focusing on them during this cycle so I expect them to improve. That said, this agenda seems like, at best, a mild upgrade over Fealty. The other plus sides are the reserve, the fact that you now don't have to kneel your faction card for economy and the fact that this agenda has no limits on neutral slots. We'll have to see how much those additions incentivize the use of this agenda. But, as a penalty, you can't play winter plots, which could end up being a big deal. I know that I will be so happy every time I see this agenda sitting across from me (No First Snow of Winter!).
PatrickHaynes - 3 out of 5
I feel very meh about this agenda currently. I think the value of it will really depend on the summer plots that we get. The better the plots, the better the agenda. If you're playing a deck that likes when it's summer or a deck that just likes money, this is definitely an agenda to consider. One of the best things about it is that it is an excellent counter to choke. It's pretty close for a lot of factions which is better between this or fealty, but I think that more often than not fealty has it currently, mostly due to the lack of summer plots.
Kings of Winter (16 Total Points)
Barnie25 - 3 out of 5
Winter plots don't have enough gold value to support the current style of decks. Therefore I don't think that this will be a good stuff agenda. I don't know how good choke will be, they will be irritating but I don't know if KoW decks will be extremely dominant.
Kidohearts 3 out of 5
I do think this is better than Kings of Summer. Again, there are very good Winter plots that affect the game. There are a few choke decks now and some houses that make choke become more real. With an emphasis on high cost characters each gold you get in Marshalling is important and losing at least one a turn could be significant.
Scantrell24 - 4 out of 5
Deckbuilding without choking yourself as well as your opponent will be the challenge.
JoefromCincinnati - 3 out of 5
I'm sticking with a 3 on both of these agendas. The advantages and disadvantages for each are significant, but not groundbreaking and most factions will not require either agenda to play and place well. That said, this agenda actually opens an entirely new way to play the game (at least in this edition). Choooooke. Night's Watch will have a very interesting deck when it plays this agenda. Wraiths in Their Midst will decrease the opponent's reserve by 3 when paired with this agenda. If they play Trading with the Pentoshi vs your Wraiths, they will only have 9 gold and will have to discard down to 2 cards. That will be amazing. In addition, pairing this with White Tree and Meager Contribution will decrease your opponent's gold pool by 3 and increase yours by 2. I think, early on, Kings of Winter will impact the meta more than Kings of Summer. But both have their niches and uses without being wildly overpowered or applicable. The perfect description of a 3 out of 5 card.
PatrickHaynes - 3 out of 5
I think that on average this agenda will be worse than Kings of Summer but has a higher ceiling. Most decks shouldn't play this. The reserve choke on yourself is really brutal and you need to be getting a lot of benefit out of it or have a lot of reserve boosting effects (looking at you Night's Watch). Normally the reserve on winter plots is pretty rough (4-5 usually) but with this agenda your reserve is gonna be 3-4. That's not a lot of cards. If you have a lot of choke effects, either gold wise or reserve wise, this could be very strong, but be it will need a lot of them to actually be good. Furthermore, I think the KoS deck wins the heads up match. All KoW wants to do is choke, while Kings of summer likes more money, but can operate fine without it usually. A choke deck that can't get it's choke lock down will not win.
Summer Harvest (20 Total Points)
Barnie25 - 5 out of 5
I might be a bit high on this card but for me this card does everything, decent initiative, good gold potential, Summer and good reserve. Almost always better than Calm over Westeros in my book.
Kidohearts - 4 out of 5
Not much to say about this. Very good plot, almost always going to get you at least 5 gold. Excellent opening plot to win initiative and will more times than not get you 6-7 gold. Can have 2 in your plots.
Scantrell24 - 3 out of 5
I'll never play Summer Harvest outside of Summer decks because Calling the Banners has higher initiative. The trait does all the heavy lifting here.
JoefromCincinnati - 4 out of 5
Hitting a Trading with the Pentoshi and getting 15 gold is obviously the dream. But worst case scenario, other than hitting another Summer Harvest (in which you'd each get 2 gold), is getting 4 gold (unless they play Reinforcements…). So this card is a bit variable, but on average you should get 6 to 7 gold out of it. People will be playing it for the splash but, at the end of the day, it'll be mostly equivalent to a Noble Cause with better initiative. But in a Kings of Summer deck, this will be very strong. It'll also be great in melee, as you can choose which opponent you trigger off of.
PatrickHaynes - 4 out of 5
This is a very strong plot that I think will see a lot of play. It's a solid plot that is immune to naval and will usually net you quite a bit of gold. Better than average initiative means it's a real good shout.
Winter Festival (19 Total Points)
Barnie25 - 4 out of 5
Very strong closing potential, with Feast for Crows you can now have 3 power claiming plots that don't require you to do anything. Potentially very interesting for dominance decks.
Kidohearts - 3 out of 5
Can have 2 in your plots. Gold is good even if you miss. Fits right into the Kings of Winter agenda. And getting 2 power twice for flipping a plot can make your deck a bit rushy. It's a bit more conditional, but a nice effect with no drawback.
Scantrell24 - 4 out of 5
Winter Festival works similarly to Feast for Crows, which doesn't see much play outside of Baratheon (although that's partly due to the low reserve). But 5 gold for Winter decks feels like a fortune relative to Famine, First Snow, Winds, and Ranger's Cache. It's a serious candidate to be doubled up in Winter plot decks.
JoefromCincinnati - 4 out of 5
Power gain is good. Winter plots are good. The stats are good. There still aren't a ton of summer plots in the game, so this should see play until Summer decks start to get a foothold in the meta. When this was first revealed, one of the first thoughts that came to mind was a deck with 2 Winter Festivals and a Feast for Crows. 6 power from my plots? Yes please. Conversely to Summer Harvest, this plot is significantly weaker in melee, as there is 3x the chance of a summer plot being revealed and negating this plot.
PatrickHaynes - 4 out of 5
Another really good plot. Five gold, can't be hit by Naval, and gets you closer to victory. I can see a lot of decks wanting to play this card. If you have a rush deck, you're definitely gonna want to slot this in, if you're playing a slow deck, it's really a pretty solid include to speed you up. Medium speed decks? Why not, give it a try, turns out gaining power is pretty good in this game.
Total Pack Score:
59.4% (297 out of 500 possible points)
Top Cards:
Craven 22
Dolorous Edd 20
Doreah 20
Summer Harvest 20
Bottom Cards:
There Is My Claim 5
Ours is the Old Way 8
Balon Greyjoy 10
If you're hungry more content, check out the list of podcasts, articles, game video and more in the
Community FAQ
. Let us know in the comments how you feel about the cards in this pack, and we'll see you again in a few weeks to review For Family Honor (or maybe Casterly Rock!).
JCWamma, VonWibble and Zouavez like this
Article: Called to Arms: AGoT Pack Review