Welcome to Card Game DB
Register now to gain access to all of our features. Once registered and logged in, you will be able to create topics, post replies to existing threads, give reputation to your fellow members, get your own private messenger, post status updates, manage your profile and so much more. If you already have an account,
login here
- otherwise
create an account
for free today!

2
Calm Over Westeros: AGoT Pack Review
Apr 20 2016 08:00 AM | scantrell24 in
Strategy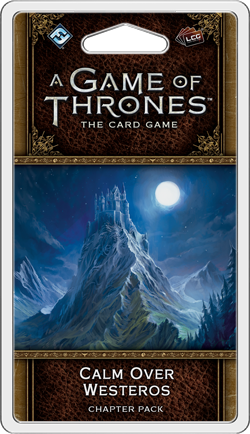 It was very dark right now, she realized. She hugged her bare knees tight against her chest and shivered. She would wait quietly and count to ten thousand. By then it would be safe for her to come creeping back out and find her way home.By the time she had reached eighty-seven, the room had begun to lighten as her eyes adjusted to the blackness. Slowly the shapes around her took on form. Huge empty eyes stared at her hungrily through the gloom, and dimly she saw the jagged shadows of long teeth. She had lost the count. She closed her eyes and bit her lip and sent the fear away. When she looked again, the monsters would be gone. Would never have been. She pretended that Syrio was beside her in the dark, whispering in her ear. Calm as still water, she told herself. Strong as a bear. Fierce as a wolverine. She opened her eyes again.The monsters were still there, but the fear was gone.
Our staff has put together a first blush analysis of the newly released "Calm Over Westeros" chapter pack. Cards are listed in numeric order and scored on a scale ranging from one through five, with five being the best possible score. We have 5 reviewers this time around, so the maximum overall score is 25 points.
You may notice a few familiar faces missing in action. We've decided to rotate reviewers to accommodate everyone who wants to participate, while also slimming the article to a more reasonable length.
Now onto the reviews, starting with....
Greatjon's Vanguard (16 Total Points)
Barnie25 - 3 out of 5
For joust his stats are just mediocre in most games. If you draw him out of order and get him late he doesn't do a lot compared to other 5 costers in stark. The upside is there that this card will still see play though.
emptyrepublic - 3 out of 5
I think we need more time for second edition to finish shaking out how the economy works. For turns 1-3 he's great. The earlier you get them out the better. Turns 4-6 you have an expensive bi-con. What's needed is for tech to bring in characters more quickly, even on a temporary basis, outside of Lannister.
OKTarg - 4 out of 5
First, let me give a shout-out to the CGDB review haters. You guys make doing this worthwhile! I can't wait to see which card you feel we criminally underrated by a point based on its situational usage.

Now, as to the card, I quite like him in melee, where I would rate him probably a 5, but in Joust I think he's a 3 to a 3.5, so I give him 4 overall. Stark's box gave them a pretty significant power-rush sub-theme, one in which the Vanguard will fit pretty well. The main problem is how to pay for all these 5+ characters...but in a Rush deck, the 'downside' doesn't ever hit, so I think it's worth testing out.
PatrickHaynes - 3 out of 5
This guy could be really solid in a rush deck or in Melee. In normal stark decks however the 5+ cost slots are already pretty tight and this guy really doesn't make the cut. Renown is always good, but late game you'll probably be sad to see this guy.
Quill & Tankard Curmudgeons - 3 out of 5
Most games are decided in the first couple of turns... and at that point the Vanguard is a beefy, efficient body. In Joust the Renown is gravy, while in Melee it's a sweet reward in-and-of-itself. The Vanguard is a somewhat poor topdeck later on - although even then, say hello to Stark's first 5-cost power icon, and all the accolades that doubtless brings.
Winterfell Crypts (24 Total Points)
Barnie25 - 5 out of 5
This card will change the way players play against Stark, the impact of trading a big guy from Stark on demand for a big guy of yours is very key if the character is being removed has lots of power on it. This card really excites me to build new decks.
emptyrepublic - 4 out of 5
The only thing that saves from the effect is a duplicate. It doesn't really matter that this doesn't kill or sacrifice. What matters is getting Randyll or Tywin and all their power off the board. Going back into the deck at least means it's unlikely they can replay the character on the next turn. The printed STR condition is both good and bad in that burn doesn't hurt you and boosts don't help them; it takes a big character on your side to bounce a big character on their side.
OKTarg - 5 out of 5
Removal is good, I've heard, and with on-demand sacrifice through things like Jon Snow, the "Stark Sack" deck is getting better and better. This is one of a very few ways to remove without a character needing to be participating nor must you win a challenge to fire it off. Even something like "Sac some chud to stand Fat Cat, trigger Sacrifice Arya, Trigger Crypts, win a MIL challenge, then Marched" sounds pretty favorable to me. Oh and it costs one. LOL.
PatrickHaynes - 5 out of 5
This card is a bomb, Stark loves to sac things and this lets you do it without giving yourself a board disadvantage, which is currently one of the biggest risks to using that archetype. Shuffling a character into your opponent's deck may seems lack luster but sometimes it can be better than putting them in the dead or discard pile. They can't be recurred by cards like Aeron, Summer, or Reinforcements. This is exactly what Stark sacrifice needed.
Quill & Tankard Curmudgeons - 5 out of 5
For a one gold investment, you can target-remove a big character without even having to win a challenge? Even ignoring the excellent synergies (making your sacrifice effects cost your opponents characters; using STR-efficient bodies like Hodor, Sansa or Shaggydog to snipe larger characters) this is a fantastic card. Not too dissimilar from another bona fide 5/5 card - Ghaston Grey!
Roseroad Patrol (13 Total Points)
Barnie25 - 3 out of 5
If you can trigger this consistently then the card is really strong. I think this will have a play in banner decks, having Tywin, Gregor or Robert you can probably trigger this quite consistently. The body is quite decent and it is an army, all in all a decent card.
emptyrepublic - 2 out of 5
In joust there may be space for this guy somewhere. I'm not sure about melee. The problem is that during the challenges phase STR math can adjust constantly especially if Tyrell/Targ is around. So it's an ability that genuinely takes effort to track and might make you do wonky decisions in order to make activate.
OKTarg - 3 out of 5
Stealth matters a LOT right now, as anyone facing down Gregor can attest to. However, Gregor won't be stealthed by these guys due to the conditional gain of the keyword….but in non-Lanni matchups I'm a fan. The "Army" trait is vaguely interesting with Muster, but I don't think it's a top-tier Tyrell card or anything. (~It's no House Florent Knight, amirite)
PatrickHaynes - 2 out of 5
Really meh, he's playable but even if he had permanent stealth he would only be okay. He survives first snow which is cool but so do most of Tyrell's other good characters. If Tyrell didn't already have one of the best 4-cost armies in the game I might be more interested, as it is, he's probably going to the binder.
Quill & Tankard Curmudgeons - 3 out of 5
If you squint, this is a 4-for-3 bicon with stealth, which is very good! That's not quite what this is though, is it? There's a lot of of big characters around at the moment (Gregor, Tywin, Bob, Wolves Catelyn, Wolves Eddard) giving Tyrell some competition in the STR race. At the same time, there are upsides here, like the Patrol being in the sweet spot for First Snow and not being able to take Ward (released in the next pack). Overall they fall into the "solid but not spectacular" category.
Pulling the Strings (21 Total Points)
Barnie25 - 5 out of 5
The traits and base stats on the card are very decent. Having the ability to get wicked amount of value out of the card, yes please.
emptyrepublic - 5 out of 5
I will be willing to admit later on that I might be overrating this. However, in melee there are lots of potential juicy targets for this: Building Orders, Calling the Banners, Counting Coppers, Heads on Spikes, etc. In joust it might be only a 4 out of 5 but I struggle to see how this doesn't go into nearly every main faction Tyrell deck from this point on.
PatrickHaynes - 5 out of 5
I really like this card, there are just so many options for things you can copy, having a five gold Summons or Counting coppers is incredible. Marched or Confiscation can be really strong as well. The only downside is you can't open with it.
OKTarg - 4 out of 5
Five gold for counting coppers? Yep, that'll do.
Quill & Tankard Curmudgeons - 2 out of 5
Ire and JC wanted to rate this a 3/5, but unsurprisingly for an inter-Curmudgeons argument, our habitual pessimism won out. In some part to attempt to counter-balance the… somewhat inflated opinion our compatriots seem to have here. Since others have covered the positives, we'll cover the negatives: it's a guaranteed blank plot on round 1; you're completely at the whim of your opponent in the subsequent rounds; several decks open with either an economy plot or a plot of a different trait to dodge Naval Superiority, meaning you're unlikely to get an impact with this until round three at the earliest; there are dangers that you get stuck copying a horrible effect like Fallen from Favour; even if you do get a nice effect, you have very little control over it being something you actually want; and the plot gets worse in the not-too-distant future when the Summer/Winter decks come to the fore. It's not a bad plot, per se, but as a "5 gold non-Navalable plot with, on average, a somewhat-helpful effect", why not just play something you can rely on, like A Song of Summer or Calm Over Westeros?
Chett (8 Total Points)
Barnie25 - 1 out of 5
This card is badly designed... why did it have to be a dominance action? Why is he a terrible monocon? I really hope that the designer either remove NW from the game or start giving them good cards because most NW cards are underpowered compared to the rest of the field.
emptyrepublic - 2 out of 5
The only trick that comes to mind is tossing your ravens away during Taxation if you are above the Reserve limit; then on the next turn activating him to get the raven back, but only marshall again on the following turn? Since he's non-loyal maybe he finds his niche bannered into Stark to get back the puppies thrown into the sacrifice engine.
OKTarg - 2 out of 5
He's fine, I guess, and I like that he's limited by his trait rather than requiring just himself to kneel. But he's not actually "good," so therein lies the rub. Maybe in a Stark-To-Watch wolf sac deck? (That seems like a bad deck)
PatrickHaynes - 1 out of 5
Chett seems really bad to me. Unless you are playing Stark sacrifice and are sacrificing Summer to abuse his ability I really don't see the potential. Add on to that he's a monocon and gets bounced by First Snow.... If it said dead or discard, or there was a Raven you could sac to do something I'd be way more into it.
Quill & Tankard Curmudgeons - 2 out of 5
The Finns deludedly wanted to rate this a 3 - obviously there's some sort of connection between Fried Baltic Herring and enjoying recursion - but again pessimism won out. Joins the long line of Night's Watch characters who feel disproportionately vulnerable to First Snow, but without the challenge-phase application shared by the likes of Ser Waymar Royce, Unsworn Apprentice and Veteran Builder. A typical Wall deck may find Chett too much of a luxury card. Of course, for less-stereotypical decks, perhaps this card advantage engine will find a home somewhere down the line.
Northern Rookery (8 Total Points)
Barnie25 - 1 out of 5
At the moment this card does nothing to me. The reserve seeding is quite reasonable down the road assuming that it will actually do something. This card is overcosted by 1 gold at the very least.
emptyrepublic - 2 out of 5
A unique two gold location that lets you draw one card but only when you marshall it? NW's economy is something I still haven't quite worked out myself but it strikes me this doesn't work well at all for it. The +1 to reserve is okay but hardly impressive.
PatrickHaynes - 2 out of 5
Sorry Night's Watch, this was not a good pack for you guys. This card might be fine in the future if we get a lot of reserve-related cards and/or location reducing or utilization like Halder. Until then it's just a poor man's Iron Throne that replaces itself.
OKTarg - 1 out of 5
If Patrick had changed "Pack" to "Cycle," I think he would have been closer

The card isn't useless, it's just that the Iron Throne does this so much better and it's not going to crowd out the other, really good NW locations. I think way back when I sort of defended this card on the forums, for which I apologize!
Quill & Tankard Curmudgeons - 2 out of 5
Drakey likes this card more, because of the reserve boost - we're not sure if he's noticed the Iron Throne, which gets you a power most rounds instead of a card one round. Or maybe he just wants both & all the cards? Who knows what goes behind that beard... In a parallel universe where the Watch have easy access to economy, this location is solid. In this universe it's far more questionable, however.
Kingswood (15 Total Points)
Barnie25 - 3 out of 5
This is a very interesting card. This card is very high risk, high reward. In a dedicated Bara Sun deck I think that this card can make waves in the future just be prepared to to lose this card in a pinch.
emptyrepublic - 3 out of 5
I'm of two minds on this card. It's cheap, non-limited, non-unique, so it's great for set up. If you can get all three out at once the math during power challenges becomes hilarious for your opponents; however one loss on the offensive and they are all gone -- which is also why it's probably not so great for melee.
OKTarg - 3 out of 5
This is the kind of card that I won't run because it has a significant drawback, but then my opponent will run it and own me with it. I hate those kind of cards. This would be great in a defend the Keep/Wall dominance deck, and I suspect it will see play.
PatrickHaynes - 4 out of 5
This card will be risky, but if you're going for power denial this could be a nightmare for your opponent. I played a bit with proxy Kingsroads last night and blocking a power challenge with Maester Cressen and winning vs Unsullied and Viserion feels pretty sweet. There's obvious synergy with the Red Keep and it's solid for set-up.
Quill & Tankard Curmudgeons - 2 out of 5
Right now, this is a straight up 1 out of 5. In short, the meta is distinctly unsuited to "hurt lots of little guys a bit" defensive tech, with First Snow and Blood of the Dragon flying around every which way… We give it a 2 in expectation (wishful thinking?) that such won't always be the case, and cuter control cards like this will get their day in the proverbial sun.
Stinking Drunk (18 Total Points)
Barnie25 - 4 out of 5
This card is very interesting to me, this is a very good kneel card to me for setting up a big turn.
emptyrepublic - 3 out of 5
The fact this is zero cost makes it's perfectly usable in the right deck. If the environment had more attachment recycling then I think it's relative value will go up. At a minimum it helps stall your opponent, but I don't think it's a strong trick unless your deck can take advantage of it.
OKTarg - 4 out of 5
Anything that kneels Tywin or Gregor is OK by me, but I prefer more flexible, challenge-based kneel. It's good; whoever figures out the right mix for their effects in Bara will have a leg up since they're already pretty strong!
PatrickHaynes - 3 out of 5
This card is solidly okay. It's effectively a delayed kneel that can sit on the table for as long as you want. It seems like a reasonable card, but I think there are better choices for Bara right now.
Quill & Tankard Curmudgeons - 4 out of 5
Yes it's telegraphed and one-shot card-disadvantage, but this is the only way to kneel out a large-STR character for free. It also doesn't require any synergy. A strong tempo play before some sort of character reduction plot like First Snow or Wildfire, combos wonderfully with Stannis to achieve a near-complete lockdown, and particularly potent in the dominance-centric decks.
Bronn (14 Total Points)
Barnie25 - 3 out of 5
This is a very difficult card to rate. I expect a lot of players to missplay this card and I am looking forward to get a Bronn from my opponent for a turn and go to town. I am still on the fence about this card, time will tell.
emptyrepublic - 2 out of 5
I'm rating with melee in mind, though he could be a 4 out of 5 in joust. Jumping Lannisters will like Bronn a lot. If his ability could be activated in any phase then things would be more interesting. In joust his ability is more manageable I think; in melee it could be a silly game to see who wastes the most gold.
OKTarg - 4 out of 5
I used to not like Bronn; now I like Bronn. I just keep looking at the 5 STR with a MIL icon and thinking if he can get me one PTTS off then I'm totally fine with him dying or being marched. And that setup…..oh that setup.
PatrickHaynes - 2 out of 5
Given the reaction most people had to this card when it was spoiled I'm gonna guess that I'll catch some flak for this one. I'm really not sold on Bronn, while he is highly efficient and gives you more options for the Tywin chud set-up that every Lannister player dreams of, he can potentially backfire hard. While Lanni is always considered to have economic dominance they really only have two good econ generating cards, Tywin and Tyrion, of those two only Tywin will help in this situation. Furthermore, as the person who plays Bronn initially it is going to be on you to hang on to him during the first turn you play him, if you're going first this means you have to hold back enough gold to potentially win the gold battle between yourself and your opponent which they can then decide not to play and leave you high and dry. Now, being a Lannister player you can probably find other uses for that gold but it still prevented you from dropping other bodies. Just remember, all it takes is a smart opponent or one who happened to strike a lot of econ to turn Bronn into an excellent defender from all of your Lanni shenanigans.
Quill & Tankard Curmudgeons - 3 out of 5
Istaril was out-voted here and wanted to give it a 4. He's likely right, but we'll be damned if the rest of us will give him the satisfaction of having us admit that! He puts a lot of economic pressure on each player, and unless Lanni already has Tywin on the table, there's no guarantee it goes their way. It makes initiative critical, since if the first player wants to keep Bronn (s)he'll have to save enough gold to reliably outbid his/her opponent(s)...potentially for nothing. However, at the end of the day Bronn is still a unique 1-cost 5 STR character who's a military beatstick on attack and a tricon on defense, that's happy to be dropped in with Hear me Roar or INBAMF. If things go south, you can use First Snow to recover him. We can't rate any lower, since even if he's only in the deck to give you another way to play Tywin on setup without worrying about Marched to the Wall, he's probably worth it…
Trial By Combat (19 Total Points)
Barnie25 - 4 out of 5
This card gives Lannister the ability to really push a game. I foresee Lannister being able to wipe boards much more than before. I a lot of situations this card might not have any value but for the that one turn each game where this card will be golden, it will prove its worth.
emptyrepublic - 4 out of 5
Real strong, though I think I would only slot it into particular deck types. With Cersei on a claim 2 plot and multiple intrigue challenges I can see potential devastating scenarios. Downside is that the target from Tears is known by the point claim is applied so there's a bit of anti-synergy there. Nonetheless, it's a super strong effect for Lannister builds that want to clear the board.
OKTarg - 4 out of 5
Maybe I'm underrating it a tick, but I think it's worse than Put to the Sword. It's a cool way to keep on making "intrigue count" for Lannister, but I think it's being rated highly because of the House that it's in. Like if this was in Night's Watch, would we think it was so good? No, because they lack the rest of the removal that Lanni does. I agree that it's more of a 'straw that broke the camel's back' type of a thing, but that doesn't mean that THIS card in particular is a five. (full disclosure: I wrote this BEFORE Alex ranted on Beyond the Wall, so who scooped whom?)
PatrickHaynes - 4 out of 5
This card on the other hand is very good. This allows Lanni to exploit two claim in an very powerful way. It is the perfect cost to bluff a PttS to force your opponent to overcommit to military while you slip in with Cersei for a multi-claim formerly intrigue now second military challenge. In Lanni aggro this card will be madness.
Quill & Tankard Curmudgeons - 3 out of 5
When this works, o gods, the attrition. It won't always work though. Lanni event slots are tight, and making room for a 2-cost event that is in most cases card disadvantage (even if it is board advantage) will be a tough sell - it's not like Lanni lack for military STR, so why wouldn't you just run Put to the Sword, and/or Tears of Lys? It has a spot in Fealty at least, and of course, the best (worst?)-case scenario of having Cersei to raise claim and Tyrion to cough up the gold dragons paints a truly hellish picture...
Raider from Pyke (13 Total Points)
Barnie25 - 3 out of 5
Giving Greyjoy the ability to fake that Throwing Axe is very interesting. On that merit alone, I am giving this card a 3 instead of 2.
emptyrepublic - 3 out of 5
He's good for the few attachments that have reactions to winning a challenge. Though if you have this guy on the board and gold available there is some telegraphing occurring (or maybe you can bluff). Nonetheless, his value will likely go up as we get more interesting attachments in the future.
OKTarg - 2 out of 5
I don't think this sees much play, honestly. It's a "fun deck" card not an actually good card. I mean, how many weapons are you running?
PatrickHaynes - 3 out of 5
Seems like a solid body with an interesting effect. The most obvious use is to dump in a Throwing Axe in a challenge you're going to win to kill a defender but seeing as it's non-loyal there is also the possibility of dropping in Ice of King Robert's Warhammer for some surprise kill / kneel respectively. It can also turn Heartsbane into a stronger Widow's Wail.
Quill & Tankard Curmudgeons - 2 out of 5
People are picturing the best-case scenario with this guy. Let's paint the more realistic picture: you never get a proper "killer timing" out of ambushing in a Weapon - if you even happen to have one in your hand while this guy's in play - before you end up using him for claim. It's not like Greyjoy has enough intrigue presence to even defend their hand and wait for that ideal timing… He might see play for now, simply because Greyjoy doesn't have a better option in the cost/icon slot yet, but except for janky theme decks, he'll fade away the moment better options come along.
Iron Mines (25 Total Points)
Barnie25 - 5 out of 5
Saves for everybody is good right? The Kraken banner will be very potent.
emptyrepublic - 5 out of 5
Now everyone has access to a solid unconditional save. There are opportunity costs, of course, for bannering Kraken but if you are built around key centerpiece characters an important tool is now available. At one gold it's great. There isn't much recursion tech now but I imagine there will be more one day only making this better.
OKTarg - 5 out of 5
This card is stupid. I get that they're trying to make big characters matter, but now they're the ONLY thing that matters. So I can Banner Kraken to get 3x Tywin with 3x one-cost saves? Yes please!
PatrickHaynes - 5 out of 5
Non-house specific saves should never be underestimated, with all the targeted kill floating around keeping Balon alive is getting harder and harder and this helps significantly.
Quill & Tankard Curmudgeons - 5 out of 5
Between this and Newly Made Lord, Banner of the Kraken may be the default agenda of choice for the 'good stuff' deck. You don't need us to tell you why a bodyguard that isn't vulnerable to attachment-hate and can be used on any character is a good deal. Do you? If you do, that might be a bigger problem…
Mirri Maz Duur (22 Total Points)
Barnie25 - 5 out of 5
What does a 7 coster needs to do? It needs to impact the game and make you re-evaluate the way you play the game. If you sleep on Mirri she will literally kill every character you care about. Like Patrick says, prepare accordingly!
emptyrepublic - 3 out of 5
Mirri has a strong effect but she might need a bit of help depending on your opponent's board. I'm not sure things are in place yet to make her work right given the attack alone condition. As Targ-specific characters go I still think Danny has more impact overall. I'm rating low because I'm not convinced at the moment but I'm willing to be proved wrong.
OKTarg - 4 out of 5
Seven cost is a lot. But kill matters. Pyat Pree had this similar effect in first ed, and he was a monster the entire life of the game….I think I'll like Mirri.
PatrickHaynes -
4 out of 5
5 out of 5
Just like saves, targeted kill should never be underestimated. She's expensive for sure but getting her to fire even once could completely shift a game. Bonus points if you play her in Greyjoy so you can target kill with the seastone chair and her.
This card is crazy good. Like Aerys Targaryen taking shots of Shade of the Evening crazy.... prepare yourselves for the reign of the Targaryens to start anew.
Quill & Tankard Curmudgeons - 5 out of 5
Like Bronn, Istaril wanted to give this a 4; however, this time he's definitely wrong. Why? List all the cards that allow you to repeatedly do freely targetable removal round-after-round (or even multiple times in one round). Nope, good try with Seastone Chair though, but there's the "no attachments" thing. Any others? Ooh, pretty close on Tower of the Hand, but that doesn't bounce 7 costers since Lanni has no 8 cost chars… Any others? And *that*, is the point here. The thing is, target-kill is very strong. There are plenty of ways to leverage Mirri, both in-faction (burn, Illyrio/Waking stand) and out (STR pumps, icon removal/kneel to create openings, having characters like The Hound bounce out before claim), and unlike with Seastone Chair, an opponent can't just block and be done with it, you don't have to kneel your faction card, attachments won't protect you… Yeah, she's expensive, but she's as high-impact as they come.
Blood Magic Ritual (9 Total Points)
Barnie25 - 2 out of 5
Saves are better than not having access to saves I guess? The save itself is quite terrible though but a save is still a save if you want it.
emptyrepublic - 1 out of 5
The perfect save for Jorah Mormont and "no attachments" characters like Dragons, but that's not a long list.
OKTarg - 2 out of 5
It's a bad save, but that's still a save. I don't see how I can justify including this over other Targ events, though it would be hilarious to save someone else's character and get a milk out of it. I'm not sure why you wouldn't just let it die, but whatever.
PatrickHaynes - 2 out of 5
If the Targ Vaes Dothrak attachment destruction deck ever becomes a thing I might look more closely at this but until then I'm not impressed, a save is still a save but milking your own character can be brutal. Sure it can save dragons with no negative effect but you should probably just play Fire and Blood.
Quill & Tankard Curmudgeons - 2 out of 5
Does lots of stuff, but doesn't really do any of those things well. JC, while accepting that this is a 2/5 on overall balance, wanted to give it a 1, questioning when this is actually going to go in a successful deck that someone builds, ever? The previous card responded: "When the sun rises in the west and sets in the east. When the seas go dry and mountains blow in the wind like leaves."
Knights of the Sun (18 Total Points)
Barnie25 - 4 out of 5
I am really happy to see this card, good traits, a good body and the ability to get renown later in the game? Sure sign me up.
emptyrepublic - 4 out of 5
I prefer these guys much more than their Stark cousins from earlier in the pack. The cost/STR/icon ration is solid out of the gate and they get renown at the stage of the game that Martell tends to be the most dangerous.
OKTarg - 3 out of 5
These guys are indeed a solid body for Martell, but would you actually play them out of any other house at all? No? So that's more an indictment on the fact that Martell's characters suck than that this guy is actually good, in my view.
PatrickHaynes - 4 out of 5
These guys are a really solid body that gets better as the game goes on. Renown is always good and it's exactly what Martell needs. They also survive first snow which Martell also needed. Very solid card.
Quill & Tankard Curmudgeons - 3 out of 5
Ire wanted to give this a 4. Clearly he likes Knights. And Sun. And stuff. To be fair, this probably is a 4 in the current meta, what with it being in the sweet spot for First Snow, not being a valid target for the upcoming Ward, and likely being an upgrade over Martell's previous effort in this category - Palace Spearman. But, say, two years from now, do you think you're still playing this thing, or will the Sun have set on these Knights?
Vengeance for Elia (25 Total Points)
Barnie25 - 5 out of 5
Vengeance for Ela will totally change the way people have to play against Martell -- even the threat of this makes it worthwhile, much like Dracarys!. I do not look forward to getting blown out by this card.
emptyrepublic - 5 out of 5
I loved Red Vengance in first edition and this is just as much fun. The mechanics for claim replacement need to be noted but the fact that this can cancel out Seastone Chair makes my heart swell. It's a 5+ in melee for genuine hilarity.
OKTarg - 5 out of 5
Red Vengeance for Elia, how we have missed you! I can't wait to reverse claim onto a Lannister deck on their Winds of Winter turn. That will make me so happy inside. No reason at all for Martell not to run this, and you'll always have to take it into account against them.
PatrickHaynes - 5 out of 5
I may be jumping the gun a bit on this one but in tight games this could be huge, switching around military claim on a first snow turn? Bananas.
Quill & Tankard Curmudgeons - 5 out of 5
Obviously great, and making your opponents hit themselves in the face never gets old. Especially in this First Snow, character-attrition meta, this is a compelling reason to play Martell. After Ghaston Grey it's the primary incentive to run Martell as your main faction in joust, and will remain a focal point until… well, until it rotates out.
Street of Steel (14 Total Points)
Barnie25 - 3 out of 5
I am looking forward to trying to get this card to work. Being able to fetch up Seal of the Hand and Lightbringer is very potent. We just need a few more good targets and this card will probably have a place in some deck.
emptyrepublic - 2 out of 5
I find this to be too narrow of a tutor effect. If it was "any" attachment then I'd be more interested. Perhaps in conjunction with the Greyjoy/ambush character there's something going on here, but then we are getting even more narrow on the use of this in builds.
OKTarg - 3 out of 5
Card draw is great, always. Since we are basically deciding as a community 6ish events are enough for Shadowblack Lane, how many attachments need to be ran to slot this? Time will tell! (I can't wait to draw my Crown of Gold a ton of different times)
PatrickHaynes - 3 out of 5
Pretty average location. Depending on your deck you may have better uses for your faction card. That being said if you have a good weapon (Ice anybody?) or a solid item (Did anybody else's head get warm all of a sudden?) then this could be pretty strong.
Quill & Tankard Curmudgeons - 3 out of 5
Conversely, Ire wanted to rate this one a 2. Clearly he doesn't want those Knights of the Sun he liked so much to actually wield any Weapons. Go figure. Due to the more niche targeting restriction this compares unfavourably to Shadowblack Lane, but at the end of the day, it's still a semi-tutorable card advantage engine - how bad can it really be?
The Eyrie (8 Total Points)
Barnie25 - 1 out of 5
Why did FFG print this card? There might come a time where it will be the cornerstone of some NPE deck but for now, the Eyrie just doesn't excite me. If you manage to keep your single character alive they will often March it anyways making the ability of the card kind of a mute point.
emptyrepublic - 2 out of 5
It's a good effect attached to a really hard to marshal location. There are no neutral cost reducers for locations. You'll need to pay 4 gold straight up to bring it into pay which will be tough. At least it's safe from Newly Made Lord and Frozen Solid.
OKTarg - 2 out of 5
It's not useless, but it is expensive. It'll be better when Valar comes out, but until then its best use is triggering in challenges and picking their worst character so they can't choose it for MIL claim. Other than that, meh.
PatrickHaynes - 1 out of 5
Way too expensive for what it does. It's not reducible by any effects in the game and comes with a hefty four gold price tag, which is often most of your budget. If you're making a Voltron deck this might be worth an include to protect that investment, otherwise, forget it. Good thing I have like 10 copies!
Quill & Tankard Curmudgeons - 2 out of 5
Voltron decks like this, especially whenever Valar eventually comes out. Can also be used strangely aggressively to prevent an opposing chud from dying to your military claim. Hilarious? Yes, but way too niche to see play in most decks.
Nightmares (20 Total Points)
Barnie25 - 4 out of 5
When I first saw Nightmares I was underwhelmed, but I got quickly convinced that it has many interesting interactions. Finding deck space for this card is a problem, but decks that are not running kill events should have room. It will be interesting to test a deck with 3 Milk and 3 Nightmares.
emptyrepublic - 5 out of 5
Not quite as strong as the first edition version (which was free and also blanked traits) but will likely still make its way into many many decks which is why I think it's 5 worthy. Why this event is so good shouldn't need much explaining. Popular targets that come to mind for this event include, but certainly not limited to: Ghaston Grey, Balon Greyjoy, Randyll Tarly, Tywinn Lannister, etc etc.
OKTarg - 4 out of 5
It's just so great. It's not the best solution for any single situation you might face over the course of a game, but it is top three for almost all situations. The flexibility Nightmares provides is unbelievable and even though it's not a 'fun' card to slot, it is a fantastic one.
PatrickHaynes - 4 out of 5
Finding space for this card will be difficult in a lot of decks but anything that is control based will probably like it. Another problem is seeing it when you need it/needing it when you see it. As good as text box blanking is, it won't get you out of overwhelmingly sticky situations and unlike milk it is always temporary. Playing this card or not really depends on what kind of deck you're playing and what your weakest matchup is. If you're bad against GJ you should give this card a try, both Balon and the Seastone chair are not fans. If you're bad against Lanni on the other hand you might be better off with milk, they don't play as many locations and Tywin cares more about milk than nightmares.
Quill & Tankard Curmudgeons - 3 out of 5
Another where the Curmudgeons were divided - JC and Ire wanted to go with a 4/5 rating, but they accepted we were on something of a negativity-train, and didn't want to ruin the rhythm. Giving it a 4 feels wrong regardless, as it implies that it'll feature in more decks than it probably will. The two changes from first edition's version (costing a gold and not blanking traits) are pretty major nerfs, particularly the former. As a card disadvantage card that provides a transient effect, this was always a tempo-play - and now we're having to save gold for it, too? That said, it's still a generally strong utility event that will see a solid amount of play in a fair few decks. Don't underestimate the power of scuppering an opponent's carefully-laid plans at an amusing time.
Famine (14 Total Points)
Barnie25 - 3 out of 5
This is the perfect post First Snow follow up. I think once we get Kings of Winter that this card can potentially become very interesting. For now it's a fine tool to have in the meta and it will probably catch some people off guard but for the most part the game is still too big guy driven for this plot to really matter.
emptyrepublic - 3 out of 5
I imagine there is a scenario where playing this at the right time can really sting. The low gold and low reserve hurt though. In melee you can really put the brakes on everyone. This can find a home in decks that can ambush or put characters into play through alternative effects.
OKTarg - 3 out of 5
Two claim! But two gold….a great Board-Lock card, similar to how Fear of Winter functioned in First Ed, but let's not be deceived--this is no Fear of Winter. This might be funny in NW with Meager Contribution, but it seems more annoying than top-tier since you'll give up a lot of flexibility to slot this into your deck.
PatrickHaynes - 2 out of 5
Meh, this card is okay but I think you'll usually be better off using Naval for the choke or Long Winter for the two claim. If your deck is rolling in money however this could hurt your opponent enough to warrant playing it. Following up a First Snow turn with this is often pretty solid if you have enough economy yourself.
Quill & Tankard Curmudgeons - 3 out of 5
Choke isn't a thing... yet. When it is, expect this to feature, but it'll probably be dormant until the Kings of Winter agenda makes an appearance. Low gold, oppressive text and high claim paints this as a plot to turn a screw with, but with several Winter plots taking that role, how many can fit into one plot deck?
Total Pack Score:
64.8% (324 out of 500 possible points)
Top Cards:
Iron Mines 25
Vengeance for Elia 25
Winterfell Crypts 24
Mirri Maz Duur 22
Bottom Cards:
Chett 8
Northern Rookery 8
The Eyrie 8
Blood Magic Ritual 9
If you're hungry more content, check out the list of podcasts, articles, game video and more in the
Community FAQ
. Let us know in the comments how you feel about the cards in this pack, and we'll see you again next month to review the final pack in this cycle, True Steel!
emptyrepublic, 14Shirt, mplain and 1 other like this
Article: Calm Over Westeros: AGoT Pack Review