Welcome to Card Game DB
Register now to gain access to all of our features. Once registered and logged in, you will be able to create topics, post replies to existing threads, give reputation to your fellow members, get your own private messenger, post status updates, manage your profile and so much more. If you already have an account,
login here
- otherwise
create an account
for free today!

1
Deckbuilding in 2.0: Initial Thoughts on the Game of Thrones Second Edition Metagame
Sep 25 2015 08:05 PM | Twn2dn in
Strategy
2.0
thrones
second edition
agot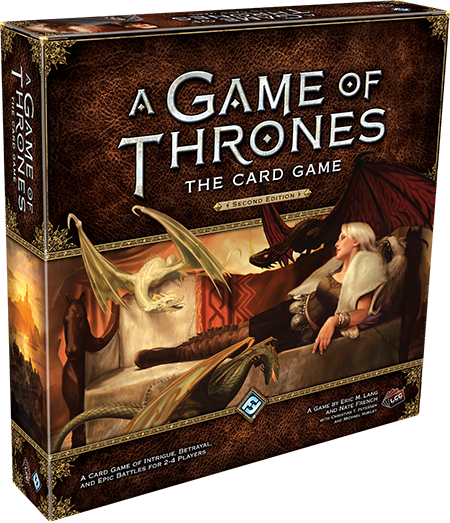 I have read a lot of reviews and tried to follow the "metagame" for A Game of Thrones Second Edition (2.0)—that is, to the extent there is a competitive metagame for a game that has not yet been fully released. I am finding that I disagree with many of the reviews posted online and discussed in podcasts, and I thought I would share a somewhat different perspective. In my view, ratings for many second edition cards, in particular, should be different from what I have experienced and what I would expect to see as the competitive environment takes shape over the next six months.
A resource-focused game, and the implications
With only the Core Set cards, the pace of nearly every 2.0 game feels largely dictated by resources (gold and cost reducers), or a lack thereof. To be sure, this doesn't necessarily mean that the player who has the most resources on setup or in the first few rounds of the game will win. However, it is rare that a player has the ability to marshal 2-3 (or more) characters every round, as is common in 1.0. There are several consequences of a resource-constrained game. Some of the more obvious include:
High-claim military is high impact.
Akin to the LCG draft format, multi-claim military puts significant pressure on an opponent. This contrasts somewhat with the 1.0 constructed environment, in which high-claim military is frequently more of a "nice to have" than a "need to have."
Large, high-cost characters are dominant.
FFG worked hard to ensure that the central characters to the Ice & Fire story are the dominant characters in the Core Set. Because it is difficult to marshal multiple characters per round, and because character removal effects (kill, discard, return to hand, etc.) are still somewhat limited or difficult to trigger, each character plays a greater role in maintaining board position. Controlling a 6+ gold character becomes a major advantage. Tywin Lannister, Robert Baratheon and their counterparts in other factions can rapidly alter the game state. This, of course, results in other interesting metagame dynamics. For example, cards such as Hand of the King and Milk of the Poppy, which are best when used with or against powerful characters, are seeing more play in 2.0 than they had in 1.0.
Establishing character board presence early is crucial.
Setups have always been important in A Game of Thrones, but getting
characters
into play early is more important now than it has been since Fear of Winter was an unrestricted plot choice in first edition. And yet, powerful characters can be a liability on setup, with early high-claim military challenges and Marched to the Wall in the environment.
So what does this all mean for the metagame?
I think most competitive players have come to the above-mentioned conclusions. However, my sense is the community still hasn't fully adjusted to the new playstyle. To be competitive in the future, I predict players will need to:
Optimize for the setup.
A competitive deck should setup four cards fairly consistently. This can be difficult with a limited card pool, without very deliberately building the main deck with this in mind, and there are a few things to consider. First, when bannered to another faction, consider running more than the minimum number of out-of-faction cards, and focus specifically on adding most of the 1- and 2-cost characters of the bannered faction, rather than only the most powerful effects. Second, powerful 3-5 gold characters are more important, with only a few 6+ gold characters. While less powerful (and glamorous) than their six and seven-gold counterparts, the mid-cost characters are easier to marshal. And because 3-5 gold is a smaller investment, losing such a character is typically less harming, and therefore those characters typically require less protection.
Run more aggressive plots.
A lower cost curve frees up the plot deck to do what it does best—disrupt the opponent. Many of the plot decks I've seen lately include a couple high-gold plots to support the marshalling of 7-gold characters. I won't argue that marshalling a 7-gold character is a bad thing. As noted above, such a character can significantly alter the game state and secure an advantage. However, at the point that a player devotes plot space to marshal such characters when s/he could instead be kneeling, standing, choking, or killing characters (i.e. high-claim), that player is making the deck less consistent and more prone to disruption. Given the limited number of targeted character removal choices in the Core Set, plot effects can be timed when needed them to ensure board advantage.
Leverage powerful effects more effectively.
The goal should not simply be to kill, discard or in some other way remove an opponent's problematic character. Use "tricks" to push through challenges that maintain pressure on the opponent. Get ahead early with the faster setup, and stay ahead with disruptive effects and high-claim plots.
I realize the above suggestions will work more effectively in some houses than in others, at least until the card pool expands. Nevertheless, I hope these suggestions prompt some thought or even conversation around what others are seeing. With that, I'll end on a question…
What do you find to be the most effective, consistent approach to deck building in second edition?
WWDrakey, Amuk, scantrell24 and 15 others like this
Article: Deckbuilding in 2.0: Initial Thoughts on the Game of Thrones Second Edition Metagame