Welcome to Card Game DB
Register now to gain access to all of our features. Once registered and logged in, you will be able to create topics, post replies to existing threads, give reputation to your fellow members, get your own private messenger, post status updates, manage your profile and so much more. If you already have an account,
login here
- otherwise
create an account
for free today!

0
Favor of the Old Gods Pack Review: Thrones LCG
Feb 15 2018 12:00 AM | scantrell24 in
Strategy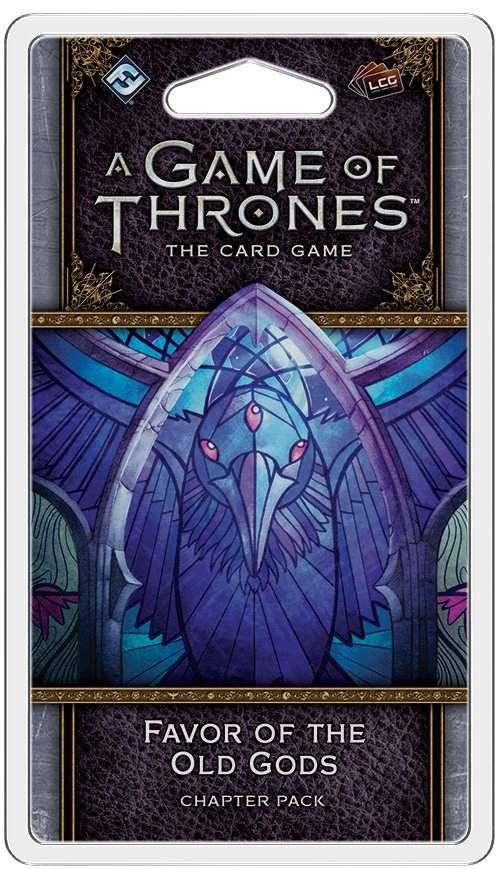 Our staff has put together a first blush analysis of the newly released "Favor of the Old Gods" chapter pack. Answers to frequently asked rules questions can be found on the individual card pages on thronesdb.com. Cards are listed in numeric order and scored on a scale ranging from one through five, with five being the best possible score. Let us know in the comments how you feel about the cards in this pack!
Now onto the reviews, starting with....
Nymeria (4.2 Average)
OKTarg - 4 out of 5
I've been playing a lot of Stark lately (some would say too much, and they'd be not wrong!) and basically Stark needs more draw, more solid econ, and more oomph through the middle part of their character base cost curve. This beauty helps the latter problem--Stark can still have trouble going wide enough and staying there to get the dream of "Tri-con with renown" to feel like you're not lying to yourself, but she certainly will make most Stark decks for a while.
scantrell24 - 4 out of 5
I'm a Nymeria fan. Rains decks can threaten a sudden surge of strength after defenders are declared to win by 5+ strength and trigger the agenda. The threat of activation will cause a lot of problems for opponents, especially when paired with Intimidate.
Von Wibble - 4 out of 5
Pretty much amounts to intimidate on a tri-con, and provides an extra option in the intrigue challenge for Stark Direwolves. Nymeria may not be hugely exciting, but she is efficient and will be hard to turn down as a 1 of in most Stark decks to come.
SerJoker - 4 out of 5
Repeatable Wardens of the North with Intimidate! Intimidate wins games and so will Nymeria. The flexibility this card provides will be great in many decks, especially Rains. I think this will be a 1x minimum for quite a while.
The Q&T Curmudgeons - 5 out of 5
Great by itself, supports Direwolf decks, efficient at a good cost-slot, and the art is lovely. Top marks, although it might be getting extra love from us for being a Direwolf that actually feels worthwhile.
Favor of the Old Gods (1.4 Average)
OKTarg - 1 out of 5
This card isn't that good. Seal of the Hand is more broadly applicable and barely sees play; the Wolf King is similar to this effect and barely sees play, and the main problem with Stark is economy and you want me to get rid of my neutral options? Pass.
scantrell24 - 2 out of 5
Losing Roseroads, Kingsroads, and or Great Halls is a big ask, but otherwise the Stark-only restriction is doable, so maybe Favor of the Old Gods works in a deck that only needs Heart Tree Grove and Passing the Black Gate for economy.
Stand can be very strong, but right now Stark doesn't have any "wow" targets that can dominate a game if you use them twice. Direwolf Bran and Fast Eddie are the closest candidates.
Von Wibble - 1 out of 5
Most Stark characters worth standing can either have a Seal of the Hand for 1 more gold, or have the military icon so can be made into a Wolf King for a similar effect at the same cost. Whilst it may be possible to envisage a winter deck relying on Bear Island, Northern Keep and Passing the Black Gate as replacements for the Great Halls and Roseroads you won't be running, it is a bit tougher to replace non economic power-house cards such as Milk of the Poppy, Littlefinger, and Flea Bottom, and the reward is too small to justify it.
SerJoker - 1 out of 5
WOW this card is hot garbage. Too restrictive from a deckbuilding standpoint and overcosted to boot, it's not even loyal for crying out loud…. It would be easier to include if Stark had a decent in-house 2 cost economy location. Hard pass on this folder fodder.
The Q&T Curmudgeons - 2 out of 5
Not usable yet, we'll need to wait until Stark gets more in-faction econ, the plot choices shift more towards winter, or the Old Gods trait does something. If one or more of those aligns, this will become pretty good, being both cheaper than Seal of the Hand and not trait-restricted.
Hightower Spy (3.4 Average)
OKTarg - 3 out of 5
When it hits Randall or a courtier is lurking, this will feel like a 5. But, I don't think it can jam its way into enough Tyrell decks to feel like it really deserves that ranking. Maybe this is too low, but I think I'd rather have an Olenna's Informant?
scantrell24 - 3.5 out of 5
Hightower Spy's ability works well with Mace, Flea Bottom, and Oldtown, plus ambush is always useful, so she's worth a look. More strength pumps are always welcome to combat Targ's burn, which recently got even nastier (see Consuming Flames, Stormcrows, and Yunkai).
Von Wibble - 3.5 out of 5
With Courtiers and Randyll around this ambush effect can easily stand an important character, as well as providing the small boost needed to push through a challenge. If you really need more than a +1 then Tyrell has the tools to manipulate the top card of your deck. A nicely versatile card.
SerJoker - 4 out of 5
So is Flea Bottom still a thing? This card is definitely playable with our without Flea Bottom considering the ambush cost is the printed cost as well. I'm not a huge fan of revealing anything in my deck, but Tyrell typically doesn't have too many surprises. Even if the effect doesn't trigger it's still worth popping it in with ambush just for a 2 STR bicon.
The Q&T Curmudgeons - 3 out of 5
Efficient, but unexciting, and in a slot for Tyrell that is overcrowded (i.e. cheap comes into play effect intrigue characters). Good with Oldtown to 'fix' your guess, at least. Maybe the Spy trait will give her an angle to stand out in the future?
Blessed by the Maiden (1.8 Average)
OKTarg - 2 out of 5
I guess you keep Large Marge milk-free and such; cleaning Cravens is nice as well. It's probably about like Arya's Gift--you won't play it, but you wouldn't laugh at someone who chose to.
scantrell24 - 1 out of 5
FFG loves to release cards that synergize together in separate packs so that part A is basically useless until part B arrives. It's weird. Granted, even with its counterpart available (the Faith Militant agenda in the next pack), this attachment doesn't appear to deliver much bang for your 2 gold dragons. The silver bullet counter to negative attachments isn't useful enough either.
Von Wibble - 1.5 out of 5
Gaining the "The Seven" trait doesn't provide much right now, but we know it will allow the character to gain power once the forthcoming agenda is released. The fact that you can put this on a character to make all their negative attachments such as Milk and Craven fall off is a much bigger thing, but I am concerned that most decent characters in Tyrell like to have at least a Bodyguard. Large Marge seems the best bet for this as she can at least take Ladies in Waiting instead. I'm not sure it merits the deck slots yet however.
SerJoker - 1.5 out of 5
This could potentially work in a dedicated Seven deck, but outside of that this is just a counter to Milk, Craven or Crown. Definitely feel this card is overpriced and think it should have been neutral rather than Tyrell. I doubt we'll ever see this card in play.
The Q&T Curmudgeons - 3 out of 5
Giving The Seven is all well and good, but let's not kid ourselves, the playability of this is most likely linked to the playability of negative attachments generally - sometimes it will be worth the slot, other times it won't, hence the middle rating. We like that it feels like a Tyrell-esque, constructive solution to problem cards.
Garrison on the Wall (2.4 Average)
OKTarg - 2 out of 5
The power level is there, but Watch seems to have cheaper, more flexible options to do the same thing as this does (defend twice). Maybe in a crazy Banner Something Sworn to the Watch deck. I wonder if there is a vidcast out there who can look into this sort of thing….
scantrell24 - 2 out of 5
I would much rather spend 2 less gold for a Ranging Party. Maybe he makes sense if you're playing the style of NW that wants to actually win defensive challenges, not merely oppose them to keep the Wall standing.
Von Wibble - 2 out of 5
There is nothing wrong as such with a strength 6 bicon that can oppose 2 challenges, but I feel that Rangers and Builders between them have the ability to get enough strength in both challenge areas anyway. For 6 cost this just feels underwhelming, especially when compared to the huge draw potential of Bowen or the renown and kill potential of Qhorin.
SerJoker - 3 out of 5
Standing cards for repeatable challenges is a good thing. Kneeling another character to do it? Not necessarily a good thing, especially if it has to be non NW. This seems like it could work fairly well in a NW defense deck, but those are typically mono NW considering the faction requirements of Castle Black and the Wall.
The Q&T Curmudgeons - 3 out of 5
It's efficient (and not just for defensive decks), but it is also telegraphed and requires cheap neutrals in abundance or very specific banner decks, making for this being a generous 3 based more on the raw power of the card than how it will play in reality. If only it would see more play, we would be looking forward to the inevitable questions on whether you can kneel your opponent's characters for it. Good in draft.
Obsidian Arrows (2.0 Average)
OKTarg - 2 out of 5
When your whole faction is built around defense, the offensive/aggro stuff has to be wonky so as to not be OP.. It's a good card, but I don't know if it really has a place in decks as currently constructed.
scantrell24 - 3 out of 5
It's another Weapon, and zero cost on setup, so that's cool. It's strangely similar to the Weirwood Bow, which makes me wonder if someone at FFG forgot that card already existed. I'll try a couple copies in my Haunted Forest Scout rush deck to help push through challenges.
Von Wibble - 2 out of 5
Clearly this is not a card for a Wall defense deck, but as a Rains enabler and a general threat of activation, even with bestow 1, its decent enough. However, when compared to a Practise Blade or Dragonglass Dagger, I'm not sure it makes the cut.
SerJoker - 2 out of 5
This is somewhat more usable in a NW agro deck that has a banner, but I still feel Weirwood Bow is a better call. This seems to be a bit of a waste of a bestow action, unless we have some upcoming cards that affects all characters with gold on them. Pass.
The Q&T Curmudgeons - 1 out of 5
You know that Weirwood Bow, that card you never play? Well, here's a less efficient, overly-cluttered version! It's not even particularly thematic. A failure on about every level, don't waste a slot on it.
Selyse Baratheon (3.5 Average)
OKTarg - 3 out of 5
So Bara doesn't have a lot fighting for the house card kneel, but Selyse's WOW bumps up against the uncontrollability of her efficiency. She'll make NW decks very sad (Great news!) but against Asha, Margaery, Cat, etc she doesn't do anything. I still think she's much-needed in this house so I am looking forward to trying her!
scantrell24 - 4 out of 5
The faction kneel is probably specifically to prevent shenanigans with TIBWHID. I'm curious to see how many copies Baratheon players decide to run. Is Selyse a build-around 3x? Do you try and March or Fallen from Favor her to play another copy?
Von Wibble - 3.5 out of 5
Whilst this may look like an even kneel-out of both players, you are generally marshalling Selyse if you go second, and should be doing so either with a board full of ladies yourself, (not too difficult a feat with banner of the Wolf or Rose), or with so much money you can marshal another couple of characters afterwards. I can see Selyse being a key piece of an updated Core Stannis control deck, and I can't say I'm looking forward to facing it. There are disadvantages to Selyse too, however. Core Selyse is a very versatile character who can really shore up Baratheon's intrigue weakness by providing characters like Selmy and Robert intrigue icons. Selyse also will achieve little against decks that themselves are heavy on ladies.
SerJoker - 4 out of 5
As much as I dislike Baratheon mechanics as a whole, this is a great card for the kneel deck. R'hllor trait can also kneel any troublesome ladies on the opposite side of the board as long as Ms. Mel is on the board. The only reason this card doesn't earn a 5 is due to the cost / str ratio in addition to the faction kneel requirement.
The Q&T Curmudgeons - 3 out of 5
We were tempted to go to 4 just because it's something cool for Bara - and make no mistake, mass-kneel is a very, very powerful effect, and a pretty easy one to leverage at that. The cost, the low STR, and the fact that there are several powerful ladies around at the moment that you'll be sad not to kneel, all keep her pegged at 3 though.
Dragonstone Castle (4.1 Average)
OKTarg - 5 out of 5
I feel like this card is great. If we judge by how often it's included in decks, I can't see a Bara deck ever not wanting this, right? I can keep your Euron pinned all game? Yes please. I can keep Dany down, costing you a card and the STR loss? Yep. I realize that there are things that stand, but you are negating at least one use of the character….a very good thing.
scantrell24 - 4.5 out of 5
From a certain perspective, you're paying 3 gold to negate the use of an opponent's (likely) 5+ gold character, so that's an economic advantage. This feels like a strong card, but a balanced one, as there are certainly ways to counter or play around the lockdown.
Von Wibble - 4 out of 5
Against some decks this is a powerful lockdown effect, used in standing to ensure your opponent permanently loses the ability to enter challenges with their best character. However, with stand being more prevalent thanks to Robb and Jon, Plaza of Pride, and even Shandystone now, it may become more common to use the ability in challenges to ensure your opponent only gets 1 challenge with their best character. It's still a very good card, and could be worth a main slot in a Red Door deck, but is not one without answers.
SerJoker - 2 out of 5
More oppressive kneel for Baratheon. Yay. This can be most effective in a Core Stannis deck, but I think the cost will likely keep this from seeing play considering the Red Keep is the same cost. Red door Dragonstone Castle might bring this card out of the folder occasionally though.
The Q&T Curmudgeons - 5 out of 5
Our only real complaints about this card are that Flea Bottom gets round it and it's not evergreen. This is, essentially, an extra kneel effect every single round. Against a Randyll or similar it can be even more than that, stopping his stand entirely rather than just being a single kneel effect.
Ser Balon Swann (2.5 Average)
OKTarg - 2 out of 5
He's just an expensive Kingsroad, really. I mean, that sells him short I realize, but at the same time, it's an economy card at its heart and Lannister has better options in that respect. It also really only works in Banners and with Hedge Knights…..and he's not enough to make those decks worth pursuing.
scantrell24 - 2 out of 5
He's a wannabe Tyrion that costs too much, and I don't think a deck for him exists right now anyways. The Kingsguard trait could become relevant later.
Von Wibble - 3 out of 5
The 6 gold tag is slightly artificial in that Balon really should only be in decks where you can reliably get his ability to trigger at least once per round, at which point he will pay his own price off pretty quickly. The best place for him looks to be in Lannister Sun where Arianne can cheat knights in to use his ability for challenge phase gold. I am particularly looking forward to getting Arys Oakheart into play and then using Balon's money to trigger the ability to discard an ally.
SerJoker - 3.5 out of 5
6 cost is a hard slot to fill with Ser Balon in a Lannister deck, but not necessarily in a dedicated knights deck. Kingsguard Jaime can also make this dude into a tricon (we need more Kingsguard). This guy lives in banner decks and I think a visit to Highgarden is right up his alley. Semi-false banner Lion / Rose with Ser Jaime and Ser Balon with lots of "joust tech".
The Q&T Curmudgeons - 2 out of 5
Trigger it once and it's a 4-for-4 renown bicon, which is...standard, we suppose. And this is worse for Setup/Duel/Valar-D. You need to be pretty dedicated to non-Lanni knights to really get value out of him, and he doesn't play nicely with Kettleblack-style jumping either. A middling card for a deck that doesn't really exist yet… and won't necessarily even make the cut if it ever does.
Sweet Cersei (3.7 Average)
OKTarg - 4 out of 5
I really like this card. It's sort of a later game gold bank for you to use alongside some impact plots instead of a midgame gold refill like Trade Routes. Great on setup; horrible to topdeck late. We'll see! Money Talks!
scantrell24 - 4 out of 5
Non-limited economy that's great on setup can win games, especially in Rains mirror matches, which are often very snowbally. Any early advantage helps. Most Lanni decks with a strong intrigue presence should have 1x Sweet Cersei.
Von Wibble - 3.5 out of 5
This card gives you long term gold for doing what Lannister should generally be doing well anyway - winning intrigue challenges. It works on attack or defense, and Lannister do not lack for challenge phase tricks - at worst you can ambush in Burned Men or threaten Tears with no gold. My only reservation about this card is the lack of room for it in a deck.
SerJoker - 5 out of 5
Seems like Lannister REALLY likes gold in the challenges phase and this adds fuel to the fire. I would easily pay 2 gold for this location in a Lanni Rains deck. The gold stays during taxation as well! Not much more to say……1x minimum forever.
The Q&T Curmudgeons - 2 out of 5
In a non-Lanni faction, maybe? But this is one to throw on the pile of "wow, Core Tyrion sure is busted" cards. Try not to get lost amongst Crossroads Sellsword and Levies At The Rock!
Coastal Reaver (2.1 Average)
OKTarg - 2 out of 5
This is a good card, but Greyjoy has better options at the low end of the curve. I have one caveat though: have you ever played Dominion? Remember when Seaside came out and Ghost Ship seemed like a garbage card? And then it is sooooo brutal? (Ghost Ship made your opponents put cards from their hand on their deck) If this clogs your opponent from looking for answers, it may see more play than I anticipate here. But 3/3 monocon in Greyjoy….pass.
scantrell24 - 2.5 out of 5
3 gold monocons are rarely good, and while this guy's effect is better than it looks as OKTarg mentions, he doesn't really fit anywhere in particular. Maybe between Queenscrown, Isle of Ravens and Coastal Reaver there's a theme developing of diluting an opponent's deck, but I doubt it.
Von Wibble - 2 out of 5
If this card were Martell or Lannister I'd like it a lot more, as either of these factions can punish your opponent's hand, playing out this guy when they are down to just what they top-deck - maybe having just forced them to only draw 1 card with Early Frost. Banner of the Kaken feels an unlikely choice for a deck using this strategy though, and Greyjoy certainly aren't in a position to. I get that you will be pillaging their card, but the fact they choose it makes it hurt them a lot less, in fact it can lower the odds of your Crown and Corpse Lake hitting the card types they need.
SerJoker - 1 out of 5
3 cost 3 STR (non-ironborn) military monocon? Seems like a bad idea. Can't even put King of Salt and Rock on this guy! His "enter play" effect should have been an "after you win" effect and should have been a random card. At risk of looking foolish in the future, this appears to be bad design all around.
The Q&T Curmudgeons - 3 out of 5
Enters play effects are always good, especially when the body they're attached to doesn't suck and the character costs 3-or-lower for Flea Bottom. That said, the card advantage effect is about as weak as they come - although at least it's a military monocon instead of a power one!
Support of Harlaw (3.6 Average)
OKTarg 3 out of 5
I think this card is good, but I also think positive attachments are bad. Not that they're bad, but that they compete for deck space devoted to your control cards. That said, keyword granting is really good (we have a whole agenda for it!) so this might see play….I don't know. Talk to a greyjoy player instead haha
scantrell24 - 4 out of 5
It's almost like another Brotherhood agenda, except any character can take Support of Harlaw -- not just Greyjoys, not just Ironborns, so there's lot of potential to leverage those keywords.Banner Kraken looks pretty good right now between this and Sea *****.
Von Wibble - 4 out of 5
Greyjoy already have a decent number of warships that don't actually need to kneel to do anything, and I can only see that number increasing, so the cost isn't too bad at all. Gaining stealth and/or renown for a full phase is a very big effect for 1 gold, even on a character who is only making 1 challenge. If they can make 2 in the same phase, either through their own text (Core Asha) or from stand effects (Plaza of Pride), then those extra 2 stealth targets and that couple of renown will make an impact. Stealth and renown on Threeon in particular seems strong. Note also that this doesn't have to go onto a Greyjoy character - someone like a Green Apple Knight or Jamie Lannister could happily use the stealth in 2 challenges!
SerJoker - 3 out of 5
Cost is great and there are 4 Greyjoy Warships that can kneel and still be fully effective. Stealth and Renown are very welcome in a Greyjoy deck anytime. This will definitely see some play in my Greyjoy decks, especially now that Black Wind is essentially an auto-include.
The Q&T Curmudgeons - 4 out of 5
We're quite pleasantly surprised to see such a good (and fun!) positive attachment. This isn't a 5 primarily due to the lack of options for boats - Iron Fleet Scout and Sea ***** you can probably make room for, but past that your deck is having to do a specific thing. And even there the Iron Fleet Scout doesn't quite mesh optimally.
Wise Master (1.8 Average)
OKTarg - 1 out of 5
It's not good. It won't work with neutrals, and pretty much any house you banner with/to is going to have worse events and attachments than Targ does. So….while his power level is probably fairly strong, I'm not sure the type of deck you're building warrants this.
Though I did have a great idea for a Targ/Rose lately. Maybe we'll try him in there!
scantrell24 - 2.5 out of 5
Wise Master will always be around incase a Banner option arises with a broken event or attachment, but in normal cases he's average at best. Right now Banner Wolf with Frozen Solid and Ward is relevant.
Maybe try Martell for repeatable Ghaston Grey and Scorched Desert, but that sounds expensive.
Von Wibble - 2.5 out of 5
I want to like this card a lot, but given that neutral cards are not considered to be out of faction, and given that most decent Targ targets are loyal, ruling out banner of the Dragon decks, that leaves Targ banner X decks as the choice for him. To be fair, that does provide some decent targets, with Ward, all Martell icon strippers, Craven, Confinement, Treachery just some of many possibilities, and his stats are OK for the cost, with not too much competition at the cost slot within Targ, especially if you aren't running Dragons. The limit once per round restriction really doesn't help him though, and chances are you are only going to bestow for 1 if you do include him.
SerJoker - 2 out of 5
Considering neutral isn't considered to be in faction or out of faction, that takes some wind out of the wise master sails. I could see some use in a Banner Watch or Banner Sun decks, but beyond that not too much functionality. I'm also getting pretty burned out on the bestow mechanic. We need something fresh FFG (i.e. shadows)!
The Q&T Curmudgeons - 1 out of 5
We almost gave this a pity point for having reasonable enough numbers, but...nah. Targ don't lack for efficient chuds, they lack for good card advantage, and this is a swing-and-a-miss there. Only being able to get banner cards (this does NOT work on Neutrals) and being limited once-per-round shuts off any fun combo decks, and just leaves behind an inefficient card that failed to realise its purpose.
Yunkai (2.4 Average)
OKTarg - 3 out of 5
I like this. I'll play it. My location base is getting pretty crowded, but for one gold this guy can help you sweep a challenge phase and close quickly. It may be even better than Astapor in Crossing (okay let's not get carried away). I think I'm higher than some of my co-reviewers here and lower than Kyle from TWB podcast.
scantrell24 - 3 out of 5
Targ likely doesn't have space for Yunkai. It only works when you attack (maybe the biggest knock as Targ wants to deter opponents from attacking), doesn't threaten terminal burn, can't be setup, and is a risk against any deck with location control if you make a large investment only to see it blanked, stolen, or discarded.
Granted, I'm sure to lose multiple games to Yunkai, and Atlanta's Targ enthusiast (hey Rich) will find that hilarious. Threat of activation abilities like Yunkia that can sit there and influence challenges without actually triggering, causing opponents to let challenges through unopposed that they should have defended, etc.
Von Wibble - 1 out of 5
This just seems like Astapor's much weaker little brother, even if it does potentially hit multiple characters and isn't Contested. Astapor threatens a kill more effectively and works on defense. I'm also not convinced Targ has room for both with Flea Bottom, both Plazas, and possibly Shadowblack Lane and Isle of Ravens all other locations fighting for places in a deck. A shame as I do like the art.
SerJoker - 2 out of 5
Yunkai has some potential, but I would rather just drop the bestow gold on Astapor. Also, removal from challenges doesn't work too well with the burn mechanic. This feels a bit clunky. However, I do like the ability to build gold back up on the location for later use.
The Q&T Curmudgeons - 3 out of 5
Only working on attack hurts it, as does the sheer level of competition in the location front (after you've put in Targ's econ, Plaza of Pride, Flea Bottom, Astapor, maybe a Plaza of Punishment too, how much space do you really have?). That said, the design of being able to re-use it appeals to us, and we like how it actually uses bestow inventively. An if-you-squint repeatable Quaithe of the Shadows effect is pretty solid, all-in-all, though far from spectacular.
Planky Town Trader (2.9 Average)
OKTarg - 2.5 out of 5
Are people still playing the one-drop reducers automatically? This guy is great on setup and is cheap claim and in a pinch or when you have extra gold, he acts as an ambush guy. I think I'll fiddle about with him!
scantrell24 - 2.5 out of 5
There's potential here in theory but too often that potential will go unrealized in actual games unless you make an effort to build around him (Favors from the Crown into Fallen from Favor would be quite Nedly). Planky Town Trader could sit there and never leave play, or be Milked/Nightmaresd if you invest too much. Also he's really only viable in a Banner deck, and Martell currently plays best alone other than Martell Wolf.
Von Wibble - 3.5 out of 5
As a setup card its decent enough, and the effect has a lot of potential. The main places I see it being used are in challenges, when you kill the Trader for claim, where you can then get a free play of a character knowing what your opponent's icons are, and in the plot phase to mitigate the effects of a reset. The Trader does require a fair bit of investment to begin with however as the bestowed money is doing nothing for you until the Trader leaves play.
SerJoker - 2 out of 5
This effect seems like it has some jank train potential, but it would require some deck building dedication to pull it off. I'm also not a huge fan of the "non-Martell" requirement. I give it an extra .5 just for setup-ability.
The Q&T Curmudgeons - 4 out of 5
Very tricksy card this, allowing for some interesting combos (bouncing it back at a time of your choosing with Patience or Orphan of the Greenblood; using it with the neutral bestow-boosting cards as a source of econ; HOUSE FLORENT KNIGHT; etc.) as well as just being a very solid tool to recover from Valar. And it's a 1-coster, so unlike several bestow cards you're quite happy to set it up. Thumbs up. The "leaves play" wording is interesting, and we look forward to finding ways to break it (for instance, using To The Rose Banner to get gold without having to sacrifice the character).
Shandystone (4.4 Average)
OKTarg - 4 out of 5
Great great great. This is what Ellaria wanted to be and never could. Stand is great, even if all you get is a slowing down of their unopposed power--after all, isn't slowing people down what Martell wants? I should just change my screenname to CAMart and be done with it.
scantrell24 - 4 out of 5
After the Martell box comes out next month, you could easily have 7 or 8 triggers after losing a challenge. I'm tempted to build a deck just to try and get 10 or 12 at once. Anyways, stand is good, and it helps that the character you stand did not have to participate, so Shandystone counters Bara kneel nicely.
Von Wibble - 4 out of 5
There will be times where having this on the board makes your opponent reluctant to do any challenges as the attacker, especially if they are going first. A simple use of this for example is to defend with Caleotte, remove an icon for losing, then stand Caleotte ready to defend again. This also acts as a nice counter to Besieged which I seem to be facing more and more.
SerJoker - 5 out of 5
Big fan of this card. Boards getting smaller due to heavy reset decks and Valar D makes re-usability of characters a big value. Martell can generally go second fairly easily and this slows down the opponent's unopposed power gain to make the game go a bit longer as Martell gets stronger.
The Q&T Curmudgeons - 5 out of 5
So it's near-enough a guaranteed stand every round with no cost? Seems legit. Better going first where you can kneel out the exact character you want to stand, but still not bad going second, as at worst it's providing a 'free' opposing of a challenge, and if we get more characters like Maester Caleotte who want to participate and lose, it could be a nightmarish card.
Warrior's Sons (2.3 Average)
OKTarg - 2 out of 5
Bland trait-based Vanilla card? Sure. maybe it will be good in a Faith Militant deck; maybe we won't ever play Militant decks. Who knows?
scantrell24 - 1 out of 5
It's hard to be excited by big dumb dudes with marginal abilities and traits that aren't yet relevant.
Von Wibble - 2 out of 5
As mentioned above the "the Seven" trait will be more relevant in a few packs time. For the moment, you get decent stats and icons for the cost, with an ability that is going to certainly be more useful in some matchups than others. Against Targ it is very nice, especially as they are outside of Dracarys! Range unless Daenerys is also out. You can put them in a challenge with your tempting target to bait out that Drac, and at least gain a power if you do get burnt. A lot of the time though it will simply adjust the timing of their events, whilst you can't control when you use Put to the Sword, you can control when Nightmares is used for example. As a result I don't see where the room in the deck is for these.
SerJoker - 2.5 out of 5
Solid meh card. Good str / cost ratio, but unfortunately this army will likely only see play after The Faith Militant releases. Seems like it would be a 2-3x in that deck. Still pretty vanilla IMHO.
The Q&T Curmudgeons - 4 out of 5
The art is really nice here. Harkens back to first edition Northern Patriarch, only it's...you know, not ridiculously OP. The effect is more middling than it first seems - it's still great against burn and the like, but only working while they participate means your opponent can stealth them, Nightmares them before a challenge, play their events in the challenges he's not in, etc. - but he wins points back for a soon-to-be-relevant trait and a perfectly respectable statline.
Seized by the Guard (2.2 Average)
OKTarg - 1 out of 5
This is too expensive. Why not just Put to the Torch? Or nightmares? I think pretty much any house will be happier with a different option.
scantrell24 - 3 out of 5
I'm confused by the massive hype surrounding this card on the FB group. Maybe if it weren't Terminal I'd be impressed, but Seized by the Guard is kinda like a rent-to-own wannabe-Nightmares/FroSo, and even in a rich + location dominated meta I'm iffy on the economic viability here. I guess it's nice that every faction has access to this incase they feel so inclined.
Von Wibble - 3 out of 5
Neutral location control that has no cost restriction! This is potentially very expensive, but as an answer to cards like The Wall, The Hightower, and Winterfell, in addition to still being effective against all the natural targets for Frozen Solid, I think this sees play. Bestowing for 2 is probably sufficient as your opponent will probably have used attachment control on it by the end of a longer life cycle anyway.
SerJoker - 1 out of 5
This is just a more expensive & less permanent frozen solid. Sure it can blank a 4 cost location, but only enough to be worth it if you draw into it turn one and are willing to drop big bestow gold to blank it for more than 1 turn. Big tempo hit. There is better options for location control out there. Folder fodder.
The Q&T Curmudgeons - 3 out of 5
We may be feeling bitten from our 5 out of 5 rating for Lay Siege here, but this is similarly competing with Nightmares for the job of "neutral non-setup location hate card". Right now we're in quite a location-heavy meta, and so this will probably overperform in the immediacy; but meta-correction will occur and this will probably fall into the role of "niche answer card", popping up again whenever a location-heavy deck rises to prominence. The design is really cool though, so points for that.
Greensight (2.4 Average)
OKTarg - 2 out of 5
Yeah, it's not amazing, but I don't think it's bad either. I used Jojen Reed recently (humblebrag) and his ability is pretty nice to keep your opponent from drawing into their answers. I mean, wouldn't you be happy to toss Dracarys into the discard? Or some Flea Bottom fodder into your own? The house card kneel is indeed steep, but I just don't see this as the complete trash some others do. That said, I did give it a 2 so what can you do.
scantrell24 - 2 out of 5
It's a draw filter with mill potential, but is that really worth the opportunity cost of Rains, Crossing, or even Fealty? I don't see Greensight elevating any of the tier 2 strategies it's supposed to help (Greyjoy Mill and NW steal stuff).
Von Wibble - 2 out of 5
I really don't know what to think here. You can use the agenda to fuel Flea Bottom, seed the discard pile for Greyjoy's Markets and Triss, provide yourself more characters to steal as Night's Watch, and slightly speed up a deck designed to completely mill your opponent out. That's about all I can think of. All of these benefits feel somewhat mitigated by the opportunity cost of losing Fealty or a banner. I am just not inspired by this agenda.
SerJoker - 2 out of 5
Faction kneel is fairly valuable in today's card pool, but if you don't have any use for it (or you aren't running Fealty) you could consider using this agenda. Could see some use in the Night's Watch character stealing mechanic, but outside of that you're only revealing your plans to the enemy.
The Q&T Curmudgeons - 4 out of 5
We're quite high on this, both for the obvious combos (it goes excellently with Tywin Lannister (LotR), and the utility with Pillage, Steal Stuff, and jankier Crone of Vaes Dothrak decks is all pretty good), and for use in general decks. The latter is one of those things where more skillful players can leverage it particularly well - with only you able to determine whether the cards are discarded, weighing up who's getting the better deal versus who could potentially get the better deal from a different random card instead… it should be a lot of fun. Whether you prefer to spend your faction kneel on this or just the econ from Fealty will be interesting, though probably most people will do better choosing the latter.
The King in the North (4.4 Average)
OKTarg - 5 out of 5
I love this card. It's a great effect, much needed in the game. Happy for Jakob, a great player and a great guy! I can't wait to play against him when he has a souped up Beric that I use King in the North to block his saves!
scantrell24 - 4 out of 5
Anything that shuts down Flea Bottom, Astapor and Plaza of Pride is good in my book. I also love the flavor, and hope for more King and Queen-reliant abilities.
Von Wibble - 4 out of 5
So, it turns out Jakob hates Martell and Night's Watch! In any other faction you can make good use of this plot (maybe not so much for Targ as the high gold makes Beggar King a weaker call), and the effect is massively powerful, as a choke effect as much as hitting their characters and locations in challenges. Baratheon are probably the easiest faction to get good use from this as they can fairly reliably have the King out to get around the downside themselves, but if you run a deck where your economy is just gold boosts (Tyrell), or where your characters are happy to just use strength and keywords then even with no King you will do OK out of this. If it really becomes a big thing in the meta there's always the option for a cheeky Mance…
SerJoker - 4 out of 5
This plot will definitely see play, especially in Stark Nope Decks. I could also see Greyjoy using this with King Balon or King of Salt and Rock for a bit of a tempo advantage. I'm sure there are some upset players out there with combo / reset decks that this plot is neutralizing. Oh well, I for one enjoy challenges.
The Q&T Curmudgeons - 5 out of 5
Burning Bridges was an always-powerful, often-underappreciated first edition plot. With so many key decks at the moment relying on on-the-board triggers, plus all of the 2-cost limited economy from last cycle being triggered effects too, this can only be extremely important, and may genuinely promote more King tech just to handle it. Now, whether the game actually needed this effect to be added, that's another question entirely.
Total Pack Average: 2.9 (slightly below average, but this pack has a lot of good cards and a lot of poor cards with not much in the middle)
Top Cards:
King in the North 4.4
Shandystone 4.4
Nymeria 4.2
Dragonstone Castle 4.1
Bottom Cards:
Favor of the Old Gods 1.4
Blessed by the Maiden 1.8
Wise Master 1.8
If you're hungry more content, check out the library of podcasts, articles, game video and more in
the Community FAQ
. Let us know in the comments how you feel about the cards in this box, and we'll see you again soon to discuss the Sands of Dorne deluxe box!
Article: Favor of the Old Gods Pack Review: Thrones LCG