Welcome to Card Game DB
Register now to gain access to all of our features. Once registered and logged in, you will be able to create topics, post replies to existing threads, give reputation to your fellow members, get your own private messenger, post status updates, manage your profile and so much more. If you already have an account,
login here
- otherwise
create an account
for free today!

2
"For Family Honor" AGoT Pack Review
Oct 06 2016 12:00 AM | scantrell24 in
Strategy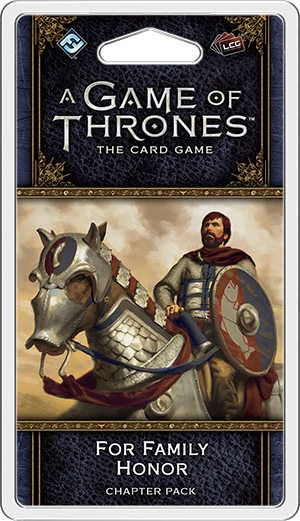 "Yes," Catelyn agreed. The words gave her a chill, as they always did. The Stark words. Every noble house had its words. Family mottoes, touchstones, prayers of sorts, they boasted of honor and glory, promised loyalty and truth, swore faith and courage. All but the Starks. Winter is coming, said the Stark words. Not for the first time, she reflected on what a strange people these northerners were.
Our staff has put together a first blush analysis of the newly released "For Family Honor", the third chapter pack in the War of Five Kings cycle. Cards are listed in numeric order and scored on a scale ranging from one through five, with five being the best possible score. We have 4 reviewers this time around, so the maximum score per card is 20 points.
Now onto the reviews, starting with....
Ser Edmure Tully (19 Total Points)
OKTarg - 5 out of 5
He's just great. Riverrun boosts him, but he has so many applications on his own. One of the best is that you can take power from your opponent's characters! Another is helping the Blackfish boost up faster. A third is moving power onto Fat Cat for extra STR. He's a nice addition to any Stark deck.
Q&TR Curmudgeons - 4 out of 5
In the current "lots of dudes, gaining power" meta, Edmure does one of two things: either he reduces the amount of power an opponent gains from characters by 1 while gaining 1 for his side; or he stops the opponent's characters from gaining any power (as the opponent can simply choose not to take power for renown). Both are powerful stall tools. The rush element is neat but somewhat overstated, as it requires cooperation from your opponent, or some other incentive like Riverrun or The Blackfish. In future metas where "power on dudes!" is less how to win the game, his value may diminish slightly.
scantrell24 - 5 out of 5
Edmure ticks all the boxes as both a Shagga and Jaime card. I'm tempted to build a Stark/Rose Knights and Ladies deck, but my concern is that several House Tully characters you would move the stolen power to are vulnerable (no intrigue icon, not able to take Bodyguard, etc).
VonWibble - 5 out of 5
In the short term I think he's a 5, once we get a larger set of cards and more competition it becomes 4. Strong ability, if you go second in the turn it makes your opponent unlikely to trigger renown (rush builds that expect to get 3+ triggers aside). Obvious synergy with Catelyn and Blackfish is great. The ability to move power from your more vulnerable characters to someone who you don't want to lose as claim soak is also great, for example Wolves Sansa can gain renown with Septa Mordane but isn't likely to stick around for long after Valar. Non loyal, so you could even consider him in a Targ deck trying to run dominance Viserys. Finally, a 5 coster who can wield Ice is actually quite rare in Stark.
Bear Island (18 Total Points)
OKTarg - 5 out of 5
Economy is everything, especially for houses who want to spam out top-edge characters like Stark does. Having economy that triggers off of things you want to do anyway, like playing cards, is amazing. This makes the Tower of the Sun look distinctly sad by comparison, doesn't it?
Q&TR Curmudgeons - 5 out of 5
Non-limited economy that's repeatable, seems like a fair trade to us. And yes, it triggers off itself. Make no mistake, this will go in every Stark Fealty deck for the time-being, and probably most other Stark decks too as long as they have a healthy number of loyal cards - which, with the likes of Robb and Blackfish at the top end, Catelyn and Winterfell in the middle end, and Summer, Ice and the like at the lower end, they presumably will. Note that, despite our 5 rating, it may not be quite as good as it looks - but since it looks amazing, that's OK!
scantrell24 - 4 out of 5
I've learned not to underestimate economy in 2nd edition. Like the Arbor, it's better in Fealty but still playable as 1x elsewhere.
VonWibble - 4 out of 5
Much needed economy. The cost of 3 is slightly deceptive as it can trigger off itself. I have found my Stark Fealty deck commonly has just enough gold to marshal what I need, making it hard to bluff events (or afford stuff in Winter). I can happily have 1 of these in a deck with enough loyal cards for sure. I can't give 5 because there are plenty of great Stark cards that aren't loyal so it does limit some deckbuilding decisions, but it is an easy include in Fealty for sure.
Renly Baratheon (20 Total Points)
OKTarg - 5 out of 5
Renown, Draw, and Challenge wins seems good. He's not Tywin, but no other cards are, and he compares very favorably to the other 7's in the game. Is he enough alone to boost Tyrell to playability? I aim to find out!
Q&TR Curmudgeons - 5 out of 5
Make no mistake, Renly is a 5. "But he's not as good as Tywin!" Neither are most cards. Also, in the future game where economy is not the be-all, end-all, he might actually be that good, maybe better. "OK, but a 7-cost, 6 STR renown tricon who can gain you a card each round, that's what Euron does, and he can be saved while Renly can't, and he doesn't always see play!" Apples and oranges. Firstly, Greyjoy's strategy is about forcing unopposed, which Euron doesn't do, so he doesn't make the cut in Greyjoy's current top decks but that certainly doesn't make him a poor card, while Renly actually plays into what Tyrell want, as a constructive body that powers you to victory; secondly, Renly will always get you a card if he wins a challenge, maybe two, while Euron will only get you a card if your opponent has a location in their discard; thirdly, the quality of Euron's card is likely to be far lower, while Renly's card he fetches is going to be one you actually want - you put it in your deck, after all! "Fine, I'll stop with comparing him to other cards, but why the 'cannot be saved'? Why take this card and give it a drawback, unlike the other Kings?!" Because the drawback is factored into his power level, obviously. Losing a positive effect when facing another King and gaining a negative one are ultimately two sides of the same coin. And let's be honest, you don't save your big guys as often as you think you save your big guys. Just don't dupe him if you're worried about the opponent running a King, include Close Call in your plot deck (your Tyrell deck probably wants this anyway), and run Renly 3x without looking back. You'll thank us for it after you win more games than you otherwise would.
Drakey: Best way to identify a good Tyrell card is to use a ruler to measure the length of a review written by JC. Some of us would've been fine with "Good dude that gains power & cards - 5/5".
Istaril: You don't remember JC's Left (Core) review, do you?
Drakey: Still sees a fair bit of play, no? (Doesn't mean JC needs to like it personally!)
scantrell24 - 5 out of 5
The Bomb That Was Promised arrives, finally giving Tyrell a legitimate 3rd high-end option besides Loras and Randyll. Tyrell already had draw (Pleasure Barge, etc) and renown (Knights of Summer, etc.) but redundancy is key to defeating variance issues during long tournaments.
VonWibble - 5 out of 5
Tyrell have needed this card for a long time, being commonly in a position where they have loads of cards and resources, but nothing powerful to actually use. A tricon with renown is already powerful. 6 strength is important as it beats a lot of characters on defense and survives a Dracarys! with standing Daenerys. Insight is always nice, but especially on a tricon as you gain so many options to actually trigger it. Potential double insight is clearly even better. The drawback is fairly conditional and simply encourages you to think of him as not being the voltron part of the deck but a useful extra. Not as good as Tywin, that's for sure. But still a 5/5 card, showing just how powerful Tywin is.
Crown of Golden Roses (10 Total Points)
OKTarg - 2 out of 5
This is like a second version of Heartsbane for your deck, which I was likely running, but I think the Core card is almost strictly better.
Q&TR Curmudgeons - 3 out of 5
Card disadvantage for STR pumps makes this a poor-man's Growing Strong in a vacuum (and if you had to look up what Growing Strong did just then, we rest our case that this card is mediocre). Except it doesn't exist in a vacuum, it exists in a world where it is ace on Randyll Tarly, helps you trigger the Mander, helps you with the new Rains of Castamere agenda on the horizon… and the thing is, you may not even need to discard cards to get the benefit. Threat of activation is key, here. Yet, for all that, it is still a positive attachment without almost any direct board impact by itself...
scantrell24 - 2 out of 5
Meh. It's another strength-buffing positive attachment in the same vein as Heartsbane and Widow's Wail, but with an extra cost.
VonWibble - 3 out of 5
I want to like this card, even if it does often read "Discard a card to stand Randyll Tarly". Greyjoy had these kind of mechanics in 1st edition, and the bluffing aspect of it is very appealing to me. If any deck can draw well it's Tyrell, often to the point where they are above reserve so the discard hurts less. The only thing I don't like is having to be careful not to seed my discard pile for my Night's Watch opponent. As a 1 of to supplement Heartsbane, I think it's a decent choice.
Thoren Smallwood (16 Total Points)
OKTarg - 4 out of 5
I hate Night's Watch, I've decided. Their distinctly un-interactive style of play isn't my cup of tea, either for or against, and Thoren helps cement that. A First Snow-proof character is always welcome for them, as is a Ranger for Watchers on the Wall. Passive power gain without initiating challenges also is what they're looking to do, so this is a solid card for them. That makes me sad, I think

Q&TR Curmudgeons - 4 out of 5
A fantastic cog for defensive decks. If you want to make the Wall kneel for unopposed, you can't rely on chump challenges to open possibilities as long as Thoren is on the board. He also helps the Watch maintain a board presence after First Snow, making him somewhat invaluable currently.
scantrell24 - 4 out of 5
Between Thoren, Shadow Tower and Sword in the Darkness, Night's Watch decks can make the opponent pay for initiating weak challenges. Now they just need a few more surprise effects like Dolorous Edd, Alliser Thorne, and Watcher on the Walls to turn losses into successful defenses.
VonWibble - 4 out of 5
Defensive Night's Watch just gained another big deterrent to chump attacks. Unfortunately, they also gained a monocon, and in military too, which is not really an icon they lack. For his cost Thoren doesn't do that much to help you actually win the challenge on defense, and as such is not a great card to see early game when you set up your defense.
Night Gathers… (13 Total Points)
OKTarg - 3 out of 5
It's not broken yet nor am I really convinced that most decks will run this. I think we can all see the top-edge applications, but what about the 'normal' case? Card advantage to marshal their reducers? Is that good?
Q&TR Curmudgeons - 3 out of 5
The potential for this card is very high, but it's not quite the ideal gift for the watch that it first seems. You need higher reserve, which is trivial most of the time but can bite you when you really need this; you need the economy to be able to muster multiple characters (if you only muster one then this might as well have just been a character); and you need to get characters in the discard pile to truly be able to leverage this. Sure, right now Marched and Varys are all the rage, but with Valar on the horizon you can't rely on characters to naturally find their way there, you need to actually make it happen. You also are inherently relying on your opponent to provide what you need, and if they're running a top-heavy build then you're out of luck, friend. We were tempted to push to a 4 simply because this card is at least interesting.
scantrell24 - 3 out of 5
Maybe someday, but right now it's awfully janky. Lots of work required for a moderate benefit. First you must create good targets via Varys, Marched, Seen In Flames, Viper Eyes, or intrigue claim. Then you need both high reserve and enough economy to make the ability worthwhile. I think most decks pass on Night Gathers, but a few specialized decks will put it to good-ish use.
VonWibble - 4 out of 5
I am already concerned this card could be broken long term. That said, the best reserve plots tend to be the ones with the least gold to actually take advantage of this effect, and they thankfully made this card loyal so you can't use the Long Plan to help. Varys' Riddle and Fallen from Favour will be very popular with the Watch though, and Ranger's Cache will set things up nicely also. Throw in the reserve boost from Sam and maybe even a Rookery and you have a big threat. I'm hedging my bets here, some decks with this are going to be nasty!
Since I seem to be very high in my score for this card I'll also add 1 more thing - I am already not looking forward to having my Bran stolen! Jorah will also be a very tempting target, reunited with his dad at last. Well, if anyone ever plays him

Asshai Priestess (17 Total Points)
OKTarg - 4 out of 5
Kneeling dudes that don't matter doesn't matter that much. However, another R'Hllor card is nice and Bara can be INT light at the low end of the curve. She's super playable, but not putting Bara up a fresh tier or anything.
Q&TR Curmudgeons - 4 out of 5
There are some very juicy targets for this effect; there are also games where it does nothing. The cost point it sits at is also unfortunate, and the icon spread is...subpar, shall we say. Still though, another non-unique R'hllor card means Melisandre is basically guaranteed a trigger every round, and in that sense this card makes for an important tipping point. This card did split the Curmudgeon vote somewhat, with both JC & Ire wanting to give the card a 5/5, and Drakey being his usually downer self with a 3, while complaining about the card helping further build Baratheon into a hole with First Snow of Winter and just not impacting board positions enough...
scantrell24 - 4 out of 5
Bara certainly needs more intrigue icons, but not another First Snow-vulnerable character that you'd rather not setup. Most kneel decks probably want 2 copies. Ally hate isn't truly a thing yet, so the negative trait doesn't drag down my score.
VonWibble - 5 out of 5
Easy pick for a Rh'llor deck, and another kneel trick. The intrigue icon is useful in Bara too, as they really lack it on 3 or lower cost characters.
Visited by Shadows (5 Total Points)
OKTarg - 1 out of 5
Not good. Sorry. I want to say that because it's zero cost that helps it, but I think I'll just keep playing the zero cost stinking drunk, thankyouverymuch.
Q&TR Curmudgeons - 2 out of 5
This card is not unplayabad, just not suited to the current meta. With Baratheon having a STR-removal theme (The Kingswood, the upcoming King Stannis, plus cards like Consolidation of Power and the above Priestess that need low STR on the other side for targets), a 0-cost non-terminal attachment that plays into it really isn't that bad… when your opponent's side of the board isn't filled with beef that's 5+ STR, or no attachments except weapon characters. Put it in your binder for now, but don't set fire to it just yet.
scantrell24 - 1 out of 5
Motley and Stinking Drunk are better, and those aren't even seeing much play. Setups matter too much to waste non-setup slots on paper cut abilities.
VonWibble - 1 out of 5
Maybe a deck will come finding a use for this with the Kingswood and other Bara burn-but-not-burn tech. I wanted to give a 2 on this basis, but judging on the here and now it's just not playable.
Ser Amory Lorch (15 Total Points)
OKTarg - 4 out of 5
4/4 bicon with conditional renown reminds me a lot of the Knights of the Sun, which are an amazing card. With boards set to be ever smaller after Valar, I think he's super playable, if not amazing. Another Never Bet target for jumpers and the rich keep getting richer.
Q&TR Curmudgeons - 4 out of 5
Conditional 4-for-4 renowns get played. This is one of those. QED. #wardbait
scantrell24 - 4 out of 5
An efficient 1x in Lanni decks until rotation, most likely. However, he's missing the important "No attachments" keyword that makes Knights of the Sun and Ranging Party so good.
VonWibble - 3 out of 5
Assuming he has renown, he's an efficient French vanilla character with a good trait. Without renown he is still passable but Lanni can do better, especially as this condition is way harder to trigger than most, and makes for a win-more card. He'd be a 4 out of 5 in a lot of houses though.
Harrenhal (18 Total Points)
OKTarg - 5 out of 5
Permanent jumping is amazing. The one thing that keeps jumpers down is having to draw all those events into your hand as well as your characters, but this...you draw it once and you're set. Lots of 'return to hand' tech exists, such as Tower of the Hand, and with more and more characters you want in your deck like Amory, killing them almost doesn't matter that much. So, yeah, this card is good.
Q&TR Curmudgeons - 4 out of 5
The possibilities of this card only end when you run out of "dudes" to put into play with it. It pushes combos with The Hound, with Tower of the Hand, with the upcoming Roose Bolton and Lions Tyrion; it effectively turns military claim into a sort of intrigue claim (of the "I drop in this chud I don't care about to die" variety); most importantly, it allows you make powerful tempo plays. While the thought of letting your Jaime die might make you wince in the current meta, in the future where you have several different characters that are all doing a job in the 6+ cost slot and you don't feel obliged to run multiples of them, you may be more willing to only get a single challenge phase's use out of him if he wins you multiple challenges and effectively reduces your opponent's military claim by one when he's done… JC wanted a 5 here, but the others had this weird issue with it being a card-disadvantage engine for a somewhat draw-light faction that is only amazing if you build around it and thus won't go in loads of Lanni decks.
scantrell24 - 4 out of 5
Expensive initially but quite good long term, and even better if Lanni sees more "return to hand" tricks like Tower of the Hand. The threat of activation alone creates problems for opponent's Nymeria triggers, challenge math, etc., as long as you have enough cards in hand to realistically threaten a jump.
VonWibble - 5 out of 5
Lanni were already running the Hound, and already had cards like Burned Men that could bounce in for claim soak. Harrenhal is at worst giving you those Burned Men without paying (beyond the initial cost). With Tower of the Hand providing a possible way to get your "dead" character back to hand, and with strong synergy with cards in the Lanni box to come (Daring Rescue for example) it is hard not to see this location in a Lanni deck. I mentioned Night Gathers is potentially broken long term, this if anything is worse. Strongest card in the pack for sure.
Lordsport Fisherman (12 Total Points)
OKTarg - 3 out of 5
Draw is always good, but this seems a bit expensive for what it does. I have no idea why you draw your bottom card...that seems odd.
Q&TR Curmudgeons - 3 out of 5
A more nautical Greenblood Trader, in slightly less lucrative waters. Now, those Traders are a shoe-in for any Martell deck, so not that bad of a deal for a Faction struggling with cards. Obviously we're not quite yet in a Meta where this card can pull it's full weight, but that's something one can easily glimpse on the horizon.
scantrell24 - 3 out of 5
Meh.
Like with Asshai Priestess, I don't like 3 gold characters right now, and especially not mono-cons that you'd rather not setup . Maybe a cheeky single copy makes sense for when the cards run dry.
VonWibble - 3 out of 5
Draw = win, but Greyjoy monocon for cost 3 doesn't. The extra cost over, say, Greenblood Trader makes a difference. I'm hedging my bets again on this one.
King of Salt and Rock (13 Total Points)
OKTarg - 3 out of 5
Power gain is good, for sure, but pillage….eh. I guess the price is right, and the King trait 'could' matter someday. But how many times have we prognosticators say "this trait will matter in the future" and then we grow old waiting for Small Council synergy or some such. So I'm not holding my breath waiting for King stuff

Q&TR Curmudgeons - 4 out of 5
"Lol Pillage", we imagine you saying. But look at the lack of limits on that power grab. That's any Pillage, at any time, by anyone, as many times as possible.. The potential ceiling for power grab here is downright scary in short. So what's stopping this from being a straight 5/5? Your opponent needs to co-operate, both in allowing you those Challenge victories... or having a deck with suitable cards to trigger from - what if they're running light on locations and attachments and don't run any Pillage themselves? Then again, a Melee table with several decks building around this will be a very quick affair!
scantrell24 - 3 out of 5
Hooray for effects that make Pillage matter! But booo for extra randomness swinging game results. In any case, power gain is good, especially in Melee (where this deserves a 4 rating). "Ironborn only" restricts the available targets, which I'm not thrilled about.
VonWibble - 3 out of 5
This card may seem innocuous, but there is no limit on how many times you can trigger it, so you could fairly comfortably get a couple of extra power a turn with this. If only it worked off pillaging more common cards I'd give it 4. Also, with Gregor out as well its win/win on the pillage roulette wheel! Or an event discarded (which suits me fine!).
Devoted Bloodrider (13 Total Points)
OKTarg - 4 out of 5
He's very good in the deck you play him in. You probably don't play him otherwise. But Targ with Fire and Blood, Blood of my Blood, and the stand events actually has quite a few 'tricks.' This guy makes Blood of my Blood and the Bloodriders much more reliable and therefore playable. No longer do you just play around Dracarys for the win; you may have to actually react to something surprising and impactful!
Q&TR Curmudgeons - 3 out of 5
We don't know how good a Dothraki/Bloodrider deck will ultimately be, but while this may be a 3x character in said deck, it's not one you're particularly excited to include. It certainly isn't going anywhere else (unlike the likes of Jhogo and Aggo), let's put it that way.
scantrell24 - 3 out of 5
Again, 3 gold characters have a tough time right now. He's also lacking an icon compared to Priest of the Drowned God, but the Bloodriders synergize with each other more than Ironborn. At the very least, trait-themed decks are usually fun with upside under the right circumstances.
VonWibble - 3 out of 5
In a Bloodrider deck, this is just what was needed to improve all 3 guys and gets 5/5. However, he isn't worth it elsewhere, so I'm averaging the 2 ratings.
Blood of My Blood (14 Total Points)
OKTarg - 4 out of 5
Looking at the Lanni jumper events makes me wish this costed two. But, it's not pure card disadvantage like they are either. A surprise STR buff, or extra stealth, or surprise Intimidate from Rakharo could all be good. And we all know Rakharo has been waiting for his time to strike for a LONG time now!!!
Q&TR Curmudgeons - 4 out of 5
While Devoted Bloodrider is a "necessary evil" sort of include for a Bloodrider deck, Blood of My Blood is a reason to run that deck in the first place. Tutor is the best kind of card advantage you can get, and given the Bloodrider theme requires synergy to be effective? Letting you search out the one you want, mid-challenge, and cantripping by putting the character back to your hand instead of being discarded for good measure, is very powerful. Still not going outside that deck though, is it now.
scantrell24 - 3 out of 5
I'd like this event more if it was Loyal (reducible by Fealty) because keeping 2 gold is more feasible than keeping 3 (and it also threatens Put to the Sword). Pseudo-ambush is a powerful effect, and the character dodges Wildfire & Valar, which is nice.
VonWibble -3 out of 5
Search and draw is powerful. Search, put into play, do a free challenge and provide a bonus keyword to your other characters is better. Getting the character back in your hand could even work out in your favour if you like your resets. Obviously you need Bloodriders to make it work, hence the similar rating to the Devoted Bloodrider, but I do really like this.
Spearmaiden (11 Total Points)
OKTarg - 2 out of 5
I don't think I like this. Martell doesn't like these narrow application offense cards, and I think the 'play around' visibility factor hinders this as well. It may serve as a deterrent against offense from your opponent when you go second, and I think it's worth at least trying to see, but I'm not convinced.
Q&TR Curmudgeons - 3 out of 5
A somewhat weak body. The effect is strong, though. Martell are not primarily an aggro faction, so giving them a strong aggro effect confuses us somewhat… Is their best route to victory really jumping on the bandwagon of everyone else? The Arianne combo is as potent as it is obvious.
scantrell24 - 3 out of 5
Spearmaiden represents another potent "jump in with Arianne" option, and Martell has options to help win military by 5 (Hotah, Imprisoned, Crossing, etc.) but if you can't trigger the target kill then you've seriously overpaid for a 4 strength monocon. I like a couple copies in the right deck, but not all Martell decks want them.
VonWibble - 3 out of 5
With icon manipulation and the possibility of a big guy like Gregor helping out, this is a strong effect that can be pulled off. The fact you have to declare it when doing the challenge is interesting as your opponent knows you need to win by 5 or more, but this could allow you to create some traps and make them overcommit on defense. There could be some good mind games combining this with Put to the Sword as well. Hard to ignore its a 5 cost monocon ally though, and hard to ignore the fact she can't trigger herself if she goes into a challenge on her own.
Scorpion's Sting (9 Total Points)
OKTarg - 3 out of 5
This card seems okay. It will certainly be fun, and I love decks that try to "jump" to a close. However, it's yet another late game card that does nothing early game. We'll see if it makes decks or if we all just wish that it would!
Q&TR Curmudgeons - 1 out of 5
The marriage of art, theme and effect bothers us here. The scorpion...makes random Martell chuds renowned, somehow? "Psst, you see that non-descript Trader? Well I hear she's buddies with a scorpion, so you'd better give her the power and respect she deserves even if you did already beat them once." We're focusing on the theme because the effect is pretty pants. If you want a 1-cost event that gets you a power for every plot card in your used pile, why not use Doran's Game? That one only requires you to win a single challenge, rather than lose a challenge with a strong enough board presence to be able to have enough characters standing and able to participate in winning challenges to get that power later on. If you want a 4th copy of the Game then maybe? But we're guessing you don't, since you're not even running that to begin with...
scantrell24 - 2 out of 5
It's difficult to create the right conditions, at least relative to Doran's Game. You have to either play second, or swing with a chump challenge first and hope your opponent defends. Martell does benefit from Scorpion's Sting being in the card pool (even if they don't play it), because now they can threaten multiple different game-ending kill shots.
VonWibble - 3 out of 5
Better than Doran's Game for now, though that may change when we have Rains of Castemere. It's a nice card, but the fact it works only on Martell characters prevents a lot of possible shenanigans.
Hot Pie (15 Total Points)
OKTarg - 3 out of 5
He's good, and people have been screaming for non-limited economy since the Core. But I'm not sure he's efficient enough to really worry about as a huge impact on the game. I guess we'll see...
Q&TR Curmudgeons - 4 out of 5
Non-limited economy is very good. This single-handedly pays for itself in two rounds, but also can die for claim if you'd rather use the body for that reason, and if you have other Companions lying around he can generate you economy even quicker still. He'll be an oft-seen card in a lot of decks for a while, without ever actually making you that happy when you draw him.
scantrell24 - 4 out of 5
Good but unexciting. How many times will you draw Hot Pie and wish he had challenge icons?
VonWibble - 4 out of 5
Sadly he is a better version of Lannisport Moneylender. As non limited economy, and as a neutral 2 cost claim soak, he is going to see a lot of play. I am therefore rating him slightly lower than I would an in faction reducer.
The God's Eye (11 Total Points)
OKTarg - 3 out of 5
It seems like a lot to pay for this effect, but I can think of all the times I ignored reserve to my own peril. It's sort of like the iron throne, but still not quite….I think I like it and will play with it. So we'll see what happens!
Q&TR Curmudgeons - 3 out of 5
Non-limited economy is very good. This represents a bigger tempo hit than Hot Pie, but also improves your reserve. Since few decks care about reserve unless confronted with the problem head-on (these Kings of Winter decks with their Wraths in their Midsts and whatnot), it won't be the easy include the little chubby kid is, but you'll see it around.
scantrell24 - 2 out of 5
I'm only playing God's Eye if I'm desperate for the reserve bonus (and are any decks that desperate?). Sure it's nice on setup, but after about the first round it's likely a dead card.
VonWibble - 3 out of 5
Some factions want this more than others. Non limited economy is nice, but late game I'd argue seeing this is worse than seeing either a Kingsroad or Roseroad. Night's Watch like the reserve.
Dissension (12 Total Points)
OKTarg - 3 out of 5
We don't yet have tons of impactful allies, so this is very matchup dependant. I think it's one of those cards that's more important to exist than it is to actually play it.
Q&TR Curmudgeons - 3 out of 5
Let's see how many Allies people are running before we decide to include it in any decks, because this swings on the pendulum from useless to amazing depending on the answer. As the answer won't remain static over time, we'll leave this rating in the middle.
scantrell24 - 2 out of 5
Maybe a single copy in pressure-oriented decks with Tyrion $$ or the upcoming Littlefinger's Meddling. Otherwise, too expensive and event spots are better used elsewhere (Tears and Sword are still the first removal options while Nightmares is more versatile).
VonWibble - 4 out of 5
2 gold is expensive, but discarding the guy your opponent intended to be claim soak can leave them open to a lot of damage from military, and if they had a second claim soak, killing that in military leaves them open to being Marched to the Wall. Decks that like to keep opponent character count low should use a cheeky copy of this card. And this is without considering the chances of hitting something big, like the forthcoming Ja'qen, Theon Greyjoy, Littlefinger, or Spearmaiden, to name a few.
Battle of Oxcross (12 Total Points)
OKTarg - 2 out of 5
Three gold plots are really, really tough to swallow. I'm not sure this is enough to make me play it. I can see it in a Stark Crossing/King Robb style deck, maybe, or to try to catch them out on a First Snow turn. But….? I think there's better options.
Q&TR Curmudgeons - 3 out of 5
It has woeful stats. We appreciate the attempt to offer an anti-First Snow plot, but a 'standard' deck cannot afford the space for this. The Finns in particular found the number on the yellow circle thingy on the top left corner way too small for what the box thingy with all the words "says". It has some application in a Rains of Castamere deck though, where it can quite handily let you force through that intrigue challenge then change into a more potent plot mid-challenge…
scantrell24 - 3 out of 5
I love the ability for a variety of reasons, but weak stats (low gold and reserve) push down my score and make Battle of Oxcross inferior to other options (Clash of Kings for a closer or Filthy Accusations for negating big dudes).
VonWibble - 4 out of 5
A generous 4 that would be a solid one if only it had 4 gold. Anti First Snow tech, as your opponent will probably lose initiative and can't defend your challenge short of ambushers. I can't see Night's Watch wanting to face this either. A great finisher in general thanks to its high initiative and the fact you are very likely to be able to push through your big renown power challenge.
Total Pack Score:
65.8% (263 out of 400 possible points)
Top Cards:
Renly Baratheon 20
Ser Edmure Tully 19
Bear Island 18
Harrenhal 18
Bottom Cards:
Visited by Shadows 5
Scorpion's Sting 9
Crown of Golden Roses 10
If you're hungry more content, check out the list of podcasts, articles, game video and more in
the Community FAQ
. Let us know in the comments how you feel about the cards in this pack, and we'll see you again in a few weeks (fingers crossed) to review the Lannister deluxe box!
Zouavez, DeNooijer and chem2702 like this
Article: "For Family Honor" AGoT Pack Review