Welcome to Card Game DB
Register now to gain access to all of our features. Once registered and logged in, you will be able to create topics, post replies to existing threads, give reputation to your fellow members, get your own private messenger, post status updates, manage your profile and so much more. If you already have an account,
login here
- otherwise
create an account
for free today!

1
Oberyn's Revenge AGoT LCG Pack Review
Aug 17 2017 09:00 AM | scantrell24 in
Strategy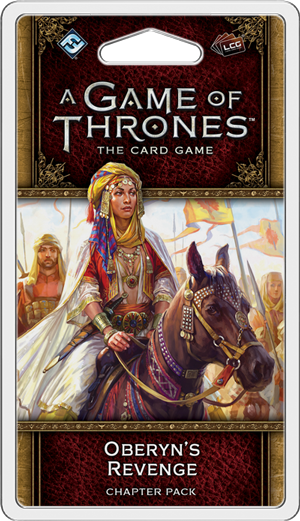 Our staff has put together a first blush analysis of the newly released "Oberyn's Revenge" chapter pack. You can find answers to frequently asked rules questions on the individual card pages on thronesdb.com. Cards are listed in numeric order and scored on a scale ranging from one through five, with five being the best possible score. Going forward, we'll provide an average score for each card rather than a total. Let us know in the comments how you feel about the cards in this pack!
Now onto the reviews, starting with....
Bran Stark (2.75 Average)
OKTarg: 3/5
I want him to be good, since I really like wolf decks. But, wolf decks themselves aren't good and this Bran isn't good enough to make them so on his own. I've actually tried him a bit on The Iron Throne, with the idea of using Grey Wind, Wolves of the North and Roaming Wolfpacks, but I found kneeling him usually means you can stand...Summer. Not that amazing. STill--a very fun and nedly card.
Quill & Tankard Curmudgeons - 2 out of 5
We like this card as an enabler for a lesser-played theme; unfortunately no serious Stark deck can justify leaving out Core Bran right now (especially after this pack), so you'll be left admiring the art of this one when you flick past it in your binder.
scantrell24 - 3/5
Bran is loyal and Direwolf decks probably use the Fealty agenda (unless Bran's icon-granting is enough to make Rains or Crossing viable?) so he's basically 2 cost. I like this ability, and it will help patch key problems facing Wolves decks, but not quite enough for competitive play.
Von Wibble - 3/5
Starting with the obvious, I'm docking a point because core Bran is so difficult to pass up in any deck with Stark cards in, even if you could theoretically run both. Having access to The Pack Survives helps a lot to be fair. This version of Bran is clearly going into 1 deck type only, even if he is a very easy pick for that deck. Getting to nobble 2 characters with hungry hungry hippo Grey Wind, or having a strength 8 intimidate on intrigue, or indeed double use of Wolves of the North to let Grey Wind eat an very large character - all very potent uses. The cost is that the Direwolf deck simply isn't there yet. More cards like this will certainly help, and if a couple more key pieces are released this guy's rating goes up.
Passing the Black Gate (3.0 Average)
OKTarg 2/5
It really does seem like these events SHOULD be good, but In Doran's Name has taught us that they just aren't. Reduction like this helps you when you want to spam out cheap characters and go wide, but in a House vulnerable to Valar like Stark, you usually want to build upwards with dupes and bodyguards. That, coupled with Stark's less-than-average draw, makes these types of cards a tough sell. So, a clever idea, but I can't see it being amazing.
Quill & Tankard Curmudgeons - 4 out of 5
Istaril thinks we're massively overrating this, comparing it to the rarely-seen In Doran's Name. The value for the rest of us comes from its ability in the early game to flood wide (with this Stark can actually keep up with Tyrell!), and provides a hint at the sort of deck Stark will need to fall back to after Valar Dohaeris comes out and kills its A game.
scantrell24 - 2/5
FFG is still trying to make event-based economy a thing. Only Meager Contribution has ever seen play, and that's not really comparable because it's choke/denial as well, not just revenue. I suppose it's nice to have different economy options, but limited locations are generally superior. Maybe there's a Stark deck that doesn't want Great Hall or Kingsroad for some reason?
Von Wibble - 4/5
I like this. Stark have always felt like they take a bit too long to set up, and too long to recover from resets. This card gets around both of these weaknesses. Cards like this will help to make Stark Winter a thing, opening with a winter 2 claim plot and still getting a decent board of your own. The only negatives are that a pesky Hand's Judgement can cancel it even if your opponent goes second, and that you need at least 2 characters in hand to really gain from the discount - though not really any more than this as a net saving of 2 is as good as you get from a Kingsroad - and this is non-limited to boot.
Ser Garlan Tyrell (4.0 Average)
OKTarg - 4/5
This guy is perfect use of Bestow, in my opinion. He's a bit vanilla but still solid with no gold on him, but scalable up to being a beast. No matter if you draw him on setup or late game, he can usually perform the type of function that you want him to. Very flexible, very solid. Tyrell is getting pretty crowded with these quality uniques….but this one does everything you want. We'll be seeing a lot of Garlan.
Quill & Tankard Curmudgeons - 4 out of 5
There are only so many ways to write "efficient card that goes 1x in many decks".
scantrell24 - 4/5
Renown keyword plus Knight and Lord traits at 4 gold is an excellent value. The potential for strength boosting ala Margaery and Wildling Horde is nice too. Opponent's will have to overcommit defenders to guarantee challenge wins and/or prevent win by X triggers.
Von Wibble - 4/5
A cost 4 renown guy with good traits is never a bad thing. On the other extreme a cost 7 strength 6 renown guy with poor man's Sultry Marge abilities thrown in is nice too. I like that he is a good option with any amount of bestowed gold - a shame that design doesn't apply to many of the bestow cards. The only thing that hurts him a bit is that he can only buff Tyrell cards, and not characters like Core Viper, Core Balon, or Roose Bolton. Still, a very likely auto-include in almost all Tyrell decks (maybe not Night's Watch banner of the Arbor).
Olenna's Machinations (3.75 Average)
OKTarg - 4 out of 5
I like this card a LOT. It's probably a one-of in your deck, but it helps you close out quickly! Tyrell should have no trouble recurring it either, so you'll need to be wary of Tyrell closing even faster than they can now. Randyll, or even a Seal of the Hand, can help add renown to these challenges--adding in Informants for extra fun!
I don't think this is in every Tyrell deck, but the speed and flexibility that four challenges offer means that it'll be in quite a few.
Quill & Tankard Curmudgeons - 4 out of 5
We think more often than not you'd rather have Olenna's Informant, especially with the two champ cards in this pack; however, for particularly fast rush (and Melee in particular), why not both?
scantrell24 - 3.5/5
The problem with extra power challenges in the early game is that your opponent may not have enough power on his faction card to steal, so event's like Superior Claim can be better in those situations. We also don't have a non-kneeling power challenge attacker yet (like Jaime in military or Cersei in intrigue). If Tyrell ever gets one, then watch out for Clash of Kings + Olenna's Informant + Relentless Assault doing major work.
Von Wibble - 3.5/5
Cheeky extra power challenge for 2 gold? This is strong for sure, and combined with Informants and maybe Relentless Assault could enable some very fast wins. It's not like Tyrell lack the gold to afford both in a turn after all, and in Randyll they have a character capable of taking advantage and actually winning both challenges. Even if you are more conservative and don't have the strength to get a challenge through, you can use Highgarden to recall your guy and then this to challenge their empty board. The condition to return the event to hand isn't too bad either, bearing in mind all those strength pumps Tyrell have. At least opponents are forewarned that you have this once it is returned to hand. The only reasons I am docking points are the cost of 2 compared to the other options mentioned above, and the fact that Tyrell have lots of other good events competing for space.
Defender of the Wall (2.0 Average)
OKTarg - 2 out of 5
He's not good, IMO. Well, he's fine, but he's not as good as Lost Ranger or Old Forest Hunter. So, he won't be played, which makes him not good. What does this guy do for you that the others don't do better? Maybe I should have given a one…..
Quill & Tankard Curmudgeons - 1 out of 5
Torn between a 1 (JC and Ire) and a 2 (Drakey and Istaril), so pessimism wins out as should always be the case. Either way it's not a glowing recommendation. It's not that he's actively bad, it's just… when are you ever playing him over the other options NW already has?
scantrell24 - 2.5/5
A vanilla title for a vanilla card. If your Night's Watch deck cares more about winning challenges than only blocking them, he's an option to replace Old Forest Hunter.
Von Wibble - 2.5/5
A cheap and efficient ranger. He has 1 job and does it well. Not much more to say, put it in your rangers deck or your Watch rangers banner package, and generally profit. I am less sure about what he replaces in a general Wall defense deck though, where winning military challenges is no more a priority than simply putting a body in the way.
Mutiny at Craster's Keep (4.75 Average)
OKTarg - 4 out of 5
Every so often we see a card enter Thrones that causes people to lose their minds. I, for one, was guilty of giving the memorable Lhoralu Martell location in 1.0 5/5 when I should have said that five people in all time would play it. Here in 2.0, I can remember the fuss Bear Island caused us, but I haven't seen that played since….I tried it in my Fealty deck two weeks ago and ended up cutting it again. So, some caution.
But, at the same time, this card scares me. I really don't like the style that the WAtch brings, nor the pressure it gives to the competitive meta. Having to take a deck that can beat a house that only wants to play half the game isn't fun to me. Now, giving the watch a tool to overcome the main way that they can be defeated (big guys and renown)....and let's be honest this isn't their first tool in the shed….doesn't strike me as all that great for the game. But at the same time, i don't think this is OP Restrict level of good. Who plays Take the Black? Nobody? And I get that this is very different, but I wonder if it will end up turning out that way. I sure hope so because I hate the Watch.
Quill & Tankard Curmudgeons - 5 out of 5
Despite our rating, it's not as insane as it looks at first glance; unless you topdeck it off a Bird or whathaveyou, you have to deal with the tempo hit of drawing a card that does nothing in marshaling or challenges, successfully keep it in hand for the entire challenges phase, then hope to high heaven that it isn't cancelled. But the spot-removal of any character that might be troubling you makes it a clear power-card either way - an in-faction event that might even be good enough to have a chance of seeing play over Nightmares!
scantrell24 - 5/5
Duplicates and bodyguards on big guys just became even more important (variance of how soon you draw them will determine more matches, yuck). Mutiny slots right into a Night's Watch pressure deck with new Aemon and Recruiter for the Watch. Hell, it slots right into most Watch banner decks because IT'S NON-LOYAL.
Von Wibble - 5/5
So, your Stark banner of the Watch deck has more ways to get Fat Cat and Core Robb working? Or your Night's Watch deck, running a typically low curve, can just laugh if their opponent plays out 3 chuds plus powerful guy plot 1, as you kill 1 to military, steal 1 with your Recruiter, and remove the big guy with this in dominance. Sure, you lose a guy, but for a low curve deck that matters little.
Stannis's Cavalry (3.5 Average)
OKTarg - 4/5
It seems, to me, that cards which stagnate the board state aren't as fun as those that keep it constantly changing. In that respect, the Cavalry is fun since it's one of the few cards that lets you tweak its bestow after you invest in it. But, its ability is unfun since it creates stagnant, locked board states.
I do think it's powerful, though. 4-drop efficient no attachment armies are solid cards in all houses, so this will for sure see play.
Quill & Tankard Curmudgeons - 3 out of 5
It's fine, but difficult to get excited about. A relatively rare cost/STR/icon slot for Baratheon, so might see play in decks that don't want Gendry?
scantrell24 - 3.5/5
I see potential in this ability, and even without investing any extra gold you still have a solid no attachments Army.
Von Wibble - 3.5/5
Very important to note that the standing framework action happens before this standing action can, so if you want something to stay knelt you have to bestow the exact amount. This card is strong, with no attachments able to disrupt its ability, and Nightmares not really affecting it (other than to allow Milk in marshalling). 2 or 3 seems the sweet spot for bestowing in general, but the fact you can add to this as the game goes on only improves its power. Interesting that it is not loyal, I can see a lot of potential for this card with Martell, Greyjoy or Night's Watch.
Northern Encampment (4.25 Average)
OKTarg - 5/ 5
This card is great. It is guaranteed to pay for itself the turn it enters play, and guaranteed to give you two gold every turn you fire it off. In that respect, it is easy to predict and plan for. Have you ever had an opponent play Close Call to get their dead pile to 3 characters the same turn you were hoping to get two gold from your Slavers Bay Ports? Or have you had the opponent make you first player as Martell to squeeze your econ a bit? That won't happen here! Even if the downside goes off, you can at least plan for that in the plot phase. Great card. It likely goes without saying that you wouldn't include this if you didn't include the dominance package but….why would you not include the dom package?
Quill & Tankard Curmudgeons - 4 out of 5
It's a shame that in the world of "having good econ" Bara's way of playing the game is now tied to a boring, uninteractive theme, and we're not thrilled about snowball economy either. But... it's good, anyone can see that.
scantrell24 - 4/5
Unlike it's cousins, Northern Encampment is "all or nothing", which is great when you're winning dom, but poor when you're unable to do so. Table/Chair decks might become even more prevalent, which is obnoxious.
Von Wibble - 4/5
I faced a deck with this card proxied, and because both of us were running table and chair, and I had seen more of my control package, it did little, simply paying for itself. Facing decks that don't bother as much with dominance, this card is arguably the best of the conditional 2 for 2 economy cards.
Kayce Mechant (1.625 Average)
OKTarg - 1/5
Is this the harvest that Lannister is reaping for having a very strong Core, first two cycles, and an early box? Because….why would you play this card? There are at least two INT monocons alone I would take over this, let alone at least six cards in this cost slot in Lannister I would consider before picking this up.
Quill & Tankard Curmudgeons - 1 out of 5
Spoons. We see the idea of this thing, but Lannisport Treasury sees very little play, and this is a lot more fragile than that is. It's cute - which is, of course, not even close to meaning good.
scantrell24 - 2/5
Chuds don't stick around for multiple turns.
Von Wibble - 2.5/5
She definitely has a 1 track mind as far as her cutlery sales go - unless she already sold out of knives and forks? It is very odd to have a long term ability on a 2 for 2 chud. That said, if I already have claim soak out and don't expect Valar next turn I could bestow her for 1. That way I am getting a strong economy boost next turn and could justify playing a low gold high impact plot. A low curve deck built around such plots definitely has such a use for her so Baratheon or Martell decks might like her. Also it should be noted that most of the 2 cost alternatives in Lannister aren't really much better in challenges, only the Tickler and Burned Men stick out as clear must-takes over this.
A Task for Every Tool (1.875 Average)
OKTarg - 1/ 5
I like jumpers, so more jumpy stuff seems good. But it is not hard to find a way to jump in a more impactful card in this house. So I can't really see it working out too much. And this from someone who runs the Jank Tank!
Quill & Tankard Curmudgeons - 2 out of 5
Hear that, weenies? You're tools, the lotofya! There's potential in the future for this card, but Lanni just don't have the cards to make it worth playing right now.
scantrell24 - 2/5
Now it's like the Burned Men have ambush! Oh wait…. There's some utility here, but less utility than Treachery, Nightmares, Hand's Judgment and even Hear Me Roar. If we see more 2 cost characters with come-into-play abilities, then I'll reconsider.
Von Wibble - 2.5/5
How appropriate that one of the biggest tools in Game of Thrones should be on the artwork. A surprise challenge for 1 is fine, especially if it is done with Janos, who this card is so clearly made for. I could also see some shenanigans with Tommen arriving to switch off Myrcella or King Balon. Nice card on a Valar turn where resources are so crucial. But in this type of deck, Never Bet and Hear Me Roar are probably being chosen first.
Nute the Barber (3.25 Average)
OKTarg - 3 out of 5
I like him. He's a fun way of adding more card advantage to Greyjoy with a drawback, but I like that the drawback is mitigated both by letting you choose the card to hand to your opponent and by triggering off any other pillage. He's not super amazing or anything, but I can see one copy getting slotted in quite often. Remember Lannisport Guard and how we thought equal draw was bad? Or Time of Plenty? Well, this effect is almost strictly better than those when it fires so I think it'll work out for ol' Nute.
Quill & Tankard Curmudgeons - 3 out of 5
We're fans of Nute - the idea of posing questions to the player regarding whether you want to gamble on a random card from your deck being better than the worst card in your opponent's discard pile is an interesting one. For his playability's sake though, we wish he had an extra point of STR. Thank the Drowned God for the limit 3 though - it of course would have been totally op if a player managed to win with 4 pillage characters and trigger it 4 times.
scantrell24 - 4/5
Really cool reaction, but his cost/strength ratio leaves something to be desired. The generous trigger limit (three times per phase) pushes Nute into consideration for every Greyjoy deck, not just Pillage-focused ones. All you need is Euron or Silence's Crew alongside Nute to create a potent draw engine.
Von Wibble - 3/5
Card draw in Greyjoy is good, and pillage meaning something is also good - note that Nute doesn't have to be the one doing the pillaging to benefit. There are 2 clear problems though, firstly that the cost of 5 for a 4 strength bicon is nothing amazing, considering that Asha and the Reader are competition here. Secondly, giving your opponent cards back is a tough one. Yes, you can give them dead characters, and Roseroads are an option too if they already have an economy base. But at some point you may have to give them a decent card, at which point Nute might as well be blank. Nute being loyal is a shame too as you can't combo him with fun Tywin.
Iron Victory (3.25 Average)
OKTarg - 3/ 5
I agree with the team here, really--it's a good card, but its "goodness" is tamped down by space concerns and that it doesn't really add anything on its own but rather rewards you for doing things you're already doing. Great when you have Victarion out, for sure (which you often will) but mediocre otherwise. I can see this often being considered but most often being cut.
Quill & Tankard Curmudgeons - 4 out of 5
2-cost power gain locations seem to be a thing, increasingly - this can be thrown on the pile with your Riverruns, Honeywines and whathaveyou - but we rate this higher because it can 'lock' boardstates, putting your opponent in "well, I can't military because then they'll just win" positions. And the Victarion part is just gravy.
scantrell24 - 3/5
Melee, anyone? I've heard power grab is good in the forgotten format.
The strength buff is nice for an Intimidate character, and you can theoretically save Victarion every round with his ability (discard 2 power, get 1 back from Iron Victory and 1 back from renown). It opens the door to offensive Valar insta-wins for Greyjoy.
Von Wibble - 3/5
Works really well with Victarion, how nedly. Given that Greyjoy decks tend to include him, and also tend to include saves, seems a solid choice. This is also another warship, and a location that doesn't kneel to activate its ability, so King Balon has another strength pump on the board.
Irri (4.125 Average)
OKTarg - 5/ 5
Perhaps this is a bit high, but a flexible bicon with a great ability is what every house wants! And, the cheap INT/POW combo in Targ can't be underestimated. Great with Flea Bottom and great with the top-end characters in this house.
One rule of thumb on Bestow cards as I evaluate them is "how sad am I if I play this blank?" I'm not that sad to play her out blank so that's great!
Quill & Tankard Curmudgeons - 3 out of 5
Torn between 3 and 4, with JC's pessimism dragging us down. She's obviously a very solid chud, not terrible even if you can't bestow her; but her stand isn't too exciting simply because Targ already has such good stand cards. Probably a 1x?
scantrell24 - 4.5/5
Stupidly efficient. 1x in every Targ deck. Bara players weep.
Von Wibble - 4/5
Easy 1 of in any Targ deck. Like Doreah, she is good even with a blank textbox, unlike Doreah she is also Dothraki. The fact she stands lords as well as ladies makes her strong too, as Drogo doesn't need his Arakh to do 2 military challenges by himself now.
Overthrowing the Masters (2.5 Average)
OKTarg - 2/ 5
I think that Scantrell is correct in thinking this adds a touch of "terminal" burn out of house, but I just can't see fitting it in a regular Targ deck. I'll have to try it, but what are you cutting? Nightmares? Surely not Dracarys or Fire and Blood….then again, often Targ is lacking for ways to control high value, high STR targets late game, so it may be an option there. I just don't think it's consistent enough.
Quill & Tankard Curmudgeons - 2 out of 5
Drakey and Ire dragging up JC and Istaril's dismissiveness, in some freaky-friday situation. The comparison point is the rarely-played Kraken's Grasp - on the one hand, Targaryen has fewer stealth/unopposed tricks, making this have more comparative value; but on the other, they also have more strong in-faction events for this to compete for space with.
scantrell24 - 3/5
"Remove from a challenge" should stay in Tyrell and Martell. I don't understand this from a design perspective. Overthrow might see play occasionally as a tool for pushing through important challenges, maybe more in Banner Targ decks than Targ main faction.
Von Wibble - 3/5
Given how quickly Slaver's Bay Ports can activate, it shouldn't take long for this to be able to remove even key characters like Brienne from challenges. Even with X = 2 you can remove Threeon and Caleotte - and the ability to remove most Maesters will become more and more useful if the Conclave gets momentum. A Dragon is No Slave has a similar, albeit more flexible, impact to this for 1 more cost. I can see this one making the board, both in Targ and banner Dragon.
Red Viper (3.625 Average)
OKTarg - 3/ 5
He's good, for sure. Renown Tricons are great! I also like that he can create space for himself with icon removal, even midchallenge. But, his cost is awkward and what he does seems more fit for a goodstuff deck than what Martell has heretofore been successful with. So I'm not sure how much play he'll see. His upside is worth trying out, though, so he'll at least see some!
Quill & Tankard Curmudgeons - 4 out of 5
Another "we were divided and went with the lower number" card. We're put off by the high cost and lack of support icon control has still (it's basically Nymeria, maybe the attachments depending on the meta, and then a range of inefficient triggers); however, what we really like about the Viper is his ability to 'unlock' large boards, poking holes where others cannot and allowing the opportunity for nuanced play. Also he's a big stompy renown tricon, booyah!
scantrell24 - 3.5/5
The Red Viper can't catch a break. This version shows up just when the Core version is finally getting some love. He's a Renly wannabe without the Insight keyword, which isn't bad. I might put 1x in Martell Fealty as a closer, but does the attrition-based deck with Varys, Venomous Blade, etc. want to invest in a 6-gold renown character? It is easy to get renown every turn with tricons because there's generally at least one challenge they can win. This Viper may see more play as Martell gets more icon removal tools (with their deluxe box?).
Von Wibble - 4/5
Renly at -1 str and no insight, but -1 cost. The ability is however better, as a pseudo stealth. I particularly like that it makes Oberyn beat Gregor when attacking, very appropriate. With the spoiled spy next pack, and cards like Confinement and Nymeria, you could get some easy unopposed here. I hear Martell like Kraken as a banner to provide additional stealth too. His competition by name is core Viper, and it has been shown that guy can win games, but has to be built around to a greater degree. Martell also tend to favour lower curves, so this Viper won't fit into all Martell decks. Nonetheless, a solid card with decent stats and printed renown, something Martell have needed for a long time.
Dornish Revenge (3.25 Average)
OKTarg - 3/ 5
This is a flexible event, with a high upside. Most often, this will be used as a pseudo-kneel effect--all the better to trigger Caleotte, long plan, or Boneway! At times, though, this will be a huge kill event. Will that modulation be enough to earn this a slot? I think I could see it in a Crossing-style deck or a more midrange tempo deck, but the heavy-reset style decks won't want it.
And….now I see that I've stolen Scantrell's exact envisioning of this card.

Quill & Tankard Curmudgeons - 2 out of 5
The scenario where this card fires on all cylinders is pretty niche, though it'll be "vaguely useful" often enough that you probably won't hate it if you run it. One-part "worse Winter is Coming", one-part "worse Dornish Paramour". Interesting, at least.
scantrell24 - 4/5
But Martell already has so many good events! The classic problem from first edition is back. I can see this going into Rains and Crossing, but maybe not Fealty.
Von Wibble - 4/5
A lot of people are hating on this because the defender only has to add a chud to the challenge and then your Revenge has little impact. Or they complain that adding a defender than winning by 5 is trying to do too much. I don't see it that way. For me, this card is either a 1 cost kneel on a chud challenge you aren't bothered with, (allowing a Caleotte or Maester trigger into the bargain), or it is a 1 cost kill event if you are going second and enough of their board is knelt out. Either way, that is strong. As with the Viper above, it isn't going into every Martell deck, and I think some building around this card is required to really make it shine.
Begging Brother (3.25 Average)
OKTarg - 3/ 5
I do not like cancel. I think it stagnates things and is a frustrating decktype to play against. It is unfun. Therefore, I do not like this card. Perhaps the cost required upfront makes this reasonable in the meta, but I don't really enjoy what this is bringing to the table.
Quill & Tankard Curmudgeons - 3 out of 5
JC and Istaril wanted to go higher, but back on the pessimism train go the Finns. It's a meta-impact card that might have more of an impact from the binder than from play, once Varys players learn to adapt. In the meantime though, in that new magic cost slot (see the next card for more details) and with a pretty reasonable STR/cost/icon spread, it's in that "never bad, sometimes vital, often solid" category.
scantrell24 - 4/5
First edition's Harrenhal
is back with legs! Every deck will have the option to tech in character ability cancel if they feel the need. Nice option to have when the meta warrants. Even 1 gold can be huge, as opponent's won't know whether or not you'll cancel a character ability that they're relying on when planning challenges, etc.
Von Wibble - 3/5
More The Seven tech! Expensive for sure, but cancelling triggered effects, even when that cancel is visible, is powerful - look at Treachery after all. 6 cost for a bestow 3 on a non unique that can only be saved from Valar by Healing Expertise, Aemon, or Iron Mines? I'll usually pass, unless I have the gold to spare and the board position to make Valar a bad idea for the opponent (and at that point I've already won!). But a single bestow seems solid, and decks that fall apart to single triggered effects, like Night's Watch Wall, could look at this. I am already looking forward to the turf wars that will ensue when these hit the table on opposite sides.
Flea Bottom (5.0 Average)
OKTarg - 5 out of 5
Greg is a friend of mine so I'm happy to see his original vision for this card finally come into play! But, as a 2.0 player, I worry that the ubiquity that we might be seeing this card will lead to more stagnation in board states and a general dampening of options. This is, at worst, repeatable claim soak a la aemon, but for all houses. At best, it's a Summer cycling engine, it's a surprise Dracarys!, it's a Olenna's Informant (standing), it's a permanent Second Sons, and so on. That makes the card fun (and it will eventually run out of gas), but I don't like autoinclude neturals as a rule.
But you can bet your socks I'll be playing it!
Quill & Tankard Curmudgeons - 5 out of 5
JC is shouting from the skies about how this is a stupid card, but the others are a bit more down to earth with the thing. They're looking forward to actually playing it, while JC's bemoaning the number of interactions it breaks. Istaril even only gave it a 4!
scantrell24 - 5/5
Cheap, repeatable, and effective for a lot of decks. I assume Greg had some input on this new design, in which case, props for an interesting one!
Von Wibble - 5/5
I see the
random mooning guy
is removed from the art! Rules wise this is totally different to the previous incarnations of this card. The combo with Veteran Builder is hugely powerful (a free stand of the Wall each turn!), and you can provide fuel for this effect simply by playing a low reserve opener. It might not go into every deck, but when it hits the table it is going to have an effect.
The Iron Bank Will Have Its Due (4.5 Average)
OKTarg - 5/ 5
I'll drink enough Kool-Aid for both Scantrell and myself! Dodging resets, clearing negative attachments, amping up jumpers, giving me enough gold for whatever event I need...so many fun applications. It's not for every deck, but it's AMAZING in the ones that want it. So, a 5/ 5--perhaps the best kind of 5/ 5.
Quill & Tankard Curmudgeons - 5 out of 5
This one we're unanimous on the silliness of. It has so many applications, and most of those applications don't even care whether it's cancelled or not! So good we want to break the ratings scale for it.
scantrell24 - 3/5
On first reading, I was underwhelmed. After reading some of the discussion and combos available, I'm a little less underwhelmed, but still not chugging the koolaid -- maybe sipping it. Dodging Valar or Varys might be the most frequent play, which is useful, I guess. Nightmares and Hand's Judgment are better right now in most decks.
Von Wibble - 5/5
This card has a lot of applications. It allows you to repeat enters play effects in the next round, to Martell and Baratheon want it. It allows you to fund expensive events in the challenge phase, so Frey tech decks want it. It allows you to dodge Valar and remove Milk from your characters. Targ want this to put Viserys back to hand, which removes their attachments to allow your Plaza or Punishment to burn them, as well as giving the needed gold for Dracarys!. Whilst each application of this card may be considered niche, the fact there are so many of them means that the niche cases will crop up during the game. Like Nightmares, you should consider this card in any first draft of a deck, even if you do end up cutting it.
Wheels Within Wheels (3.875 Average)
OKTarg - 4 /5
This is a great plot when searching for an event, or when seeking to combo with Annals on a future turn. It's not quite statted highly enough to make it autoinclude, but I think if you're running a deck featuring mainly Event Answers, you might want this. Very good in Rains, too, let's not forget. Sometimes that turn One rains trigger isn't super impactful and this is always good. If it diversifies the Scheme deck, that in itself is a good thing!
Quill & Tankard Curmudgeons - 4 out of 5
We're not sure it goes in 'normal' builds, but we like it a lot - words like "fun" and "cool" were used in our impressions, which is quite rare for us. It's a perfect 5th scheme for Rains decks, and obviously a dream for Annals combo decks - Istaril wants to emphasise he didn't know this card was coming when he designed Annals, and takes it as proof that Danny loves him.
scantrell24 - 4/5
Wheels could help event-heavy combo decks be even more consistent, but is this better than Counting Coppers for them? It's a fun plot that enables jank, and could also see play in any deck with strong events (Dracarys!) or situational events that can solve a pressing problem (Nightmares, Hand's Judgment, Treachery, Lay Siege, etc.). I like it.
Von Wibble - 3.5/5
A nice effect, but also a niche effect. Event heavy decks should consider this, and builds out of Targ, Bara, Martell and Lanni have already seen success in regionals after all. That said, I agree with Scantrell that Coppers may do more for them, as the combo decks do after all need to find their characters and locations as well. As a Scheme it's not a bad flex plot for Rains decks, letting you try to find a Tears for example.
Total Pack Average:
3.41
Top Cards:
Flea Bottom 5.0
Mutiny at Craster's Keep 4.75
The Iron Bank Will Have It's Due 4.5
Northern Encampment 4.25
Irri 4.125
Bottom Cards:
Kayce Merchant 1.675
A Task for Every Tool 1.875
Defender at the Wall 2.0
If you're hungry more content, check out the library of podcasts, articles, game video and more in
the Community FAQ
. Let us know in the comments how you feel about the cards in this box, and we'll see you again soon to discuss the next pack, The Brotherhood Without Banners!
istaril and OzmafaNop like this
Article: Oberyn's Revenge AGoT LCG Pack Review