Welcome to Card Game DB
Register now to gain access to all of our features. Once registered and logged in, you will be able to create topics, post replies to existing threads, give reputation to your fellow members, get your own private messenger, post status updates, manage your profile and so much more. If you already have an account,
login here
- otherwise
create an account
for free today!

0
Sands of Dorne Review Part 2: A Game of Thrones LCG Deluxe Expansion
Mar 31 2018 12:00 AM | scantrell24 in
Strategy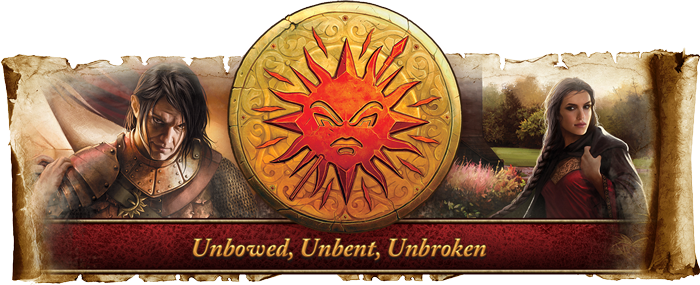 "These little wars are no more than a scuffle of children before what is to come. The one whose name may not be spoken is marshaling his power, Davos Seaworth, a power fell and evil and strong beyond measure. Soon comes the cold, and the night that never ends."
Now onto the reviews, starting with....
Ser Cortnay Penrose - 3.9 Average
Quill & Tankard Curmudgeons - 4 out of 5
Bara badly needed some efficient stand beef, and while he's got a whiff of 1.0 Penrose about him we're still glad to see him. He doesn't play well with the new Selyse, but Core Stannis likes him, and there are other combos out in the weeds - or just play him as a curve-filling 1-of where he'll perform admirably.
Von Wibble - 3.5 out of 5
On the one hand, you can look at this compared to Greatjon Umber below and be a bit sad - after all you lose a keyword and a strength for being 1 cheaper. That said, Cortnay is a solid 4 for 4 with a good trait and decent ability, especially in a faction that likes The Withering Cold. Not bad, but not inspiring either. Not a good Nedly hit that he works well with either Stannis...
Cameron D - 4 out of 5
He's a bit of the vanilla side of things but he has solid stats for the cost, a useful trait, and a reaction that can ensure you're able to do more than just defend your Red Keep. There's no real downside here but I'm knocking a point because there's also no "wow" factor. He's a fantastic one of, at the very least.
Florian - 4 out of 5
Pretty much the definition of a solid filler dude that I would play a copy of in almost every Baratheon deck. Not much else to say here, really.
Sea Dragon Tower - 2.5 Average
Quill & Tankard Curmudgeons - 3 out of 5
Not exciting, but a more solid card than first glance would suggest. Obviously it plays a role in countering this wave of new orange cards, but for a power-centric faction Bara - very few R'hllor cards or Smuggler cards have the icon. Throw in its value in a banner (although Greyjoy can probably do without) and it's a pretty reasonable little location.
Von Wibble - 2.5 out of 5
Given that most Baratheon cards have power icons, this is very much a banner card for factions lacking them, as the removal of power icons by Martell is still not going to be common enough to warrant including a location that does little for the Baratheon player in general. Lannister don't have a great spread of power icons outside their bigs (and Jaime and Gregor both like to get them where they can), and Martell lack icons on their Bastards - conveniently a theme Baratheon can support as well.
Cameron D - 1.5 out of 5
Useful on a few select Smuggler and R'hllor cards, but outside of that you're going to be looking at other factions to get some use out of it. It's a very niche card that just needed a touch more in order to see regular play.
Florian - 3 out of 5
1-cost locations are great for setup, especially since you might need one to protect your larger locations from Nothing Burns Like The Cold, so I won't complain about another addition to the arsenal. The effect is nothing to write home about but it's also not really competing against anything else in Baratheon. And it's not a bad 12th card in your Banner of the Stag deck either, so I'm confident that it'll find its use.
Fleet from Pyke - 1.3 Average
Quill & Tankard Curmudgeons - 2 out of 5
What on earth did you pillage to gain intrigue? A tome on how to be devious? With Euron and Asha, Pillage doesn't lack for intrigue. If you're desperate for more Pillage and are already running the auto-includes and Black Wind's Crew, these might fit the bill.
Von Wibble - 1 out of 5
As with Cortnay, a bit lacklustre. The potential for an intrigue icon is all very well, but given the probability of hitting your target isn't that high, is this really the best option? The potential to replace lost icons is a lot more niche as mentioned above? And on top of that the card is strength 3 for cost 4. Not great - I'm struggling to see what deck this goes in.
Cameron D - 1 out of 5
This card is pretty bad. I wish it gave intrigue icons to other Greyjoy characters instead, that could've been something interesting at least. You might briefly consider this in a Greyjoy Rains of Castamere deck, but then you'll read the card again, look at the stats, and put it back in the binder where it belongs. As a part-time raider myself, this wasted potential bums me out.
Florian - 1 out of 5
Okay, I think Danny only put this in here to demonstrate that istaril would rate any card with the pillage keyword 5/5. How else would the curmudgeons above get to a score of 2 out of 5?
Plundered - 2.1 Average
Quill & Tankard Curmudgeons - 2 out of 5
A generous point for the possibility that Greyjoy have better challenge phase gold sinks in the future - maybe with Shadows incoming? For now though, it's like the fourth-best location control card Greyjoy have, with an inconsequential econ-kicker, so don't bother slotting it in.
Von Wibble - 2 out of 5
This feels like a niche card. Generally if you use this on a decent challenges phase location like Flea Bottom, they will just trigger it during that challenge. I accept that this can lead to suboptimal plays, and may merit its place in a deck just so you can control when the Tyrell player uses Oldtown or Highgarden, or your Stark opponent triggers Winterfell. It does also work nicely against the Wall or Chamber of the Painted Table. Unfortunately I don't think these uses justify its general inclusion in a deck. I am also struggling to see what Greyjoy want to spend that 3 gold on, and other factions using this as a banner card that need this gold probably have better ways to get it in faction.
Cameron D - 1.5 out of 5
Plundered comes across as a pretty half-baked kind of card. It's like they weren't sure what else to do with it so they slapped the "sacrifice to gain 3 gold" at the end and called it a day. I get the idea behind it but as a card, I don't think It'll make the cut. It would've have been significantly stronger if there wasn't a "defending player" stipulation. Greyjoy has a ton of great events, locations, (and even a couple decent attachments) already competing for your deck space.
Florian - 3 out of 5
Plundered compares unfavorably to pretty much any location control in the game, which should tip you off about how good that part of the effect is. So the kicker has to be the gold generation, which is most aptly used to trigger "reaction to winning" events like Put to the Sword or -sigh- Frey Hospitality from your hand. The threat of such an event being played even if you don't currently have enough gold might give your opponents something to think about, so I wouldn't go and call Plundered unplayable right off the bat. However, I feel like we need a couple more (good) effects that turn 3 potential gold from 'somewhat threatening' into 'extremely threatening' before I would recommend putting Plundered in your deck.
Myrcella Baratheon - 4.0 Average
Quill & Tankard Curmudgeons - 4 out of 5
At least Lanni's efficient curve-filling power icon still requires an intrigue focus to properly leverage. Dynamite in Crossing decks, solid elsewhere.
Von Wibble - 3 out of 5
I like the parallel between this and the Martell version. Lannister are good at ensuring they have more cards than most opponents so Myrcella will often not kneel in the right deck. Lannister are also starting to get enough ladies for a Tyrell Lion deck based around Ladies and Knights (or just Ladies) to be an option.
Cameron D - 4 out of 5
Her only downside (and it's a small one) is that she's First Snow bait. Otherwise what's not to love? She sports an uncommon power icon for Lannister and with Cersei, Jaime, and even Shae, you can do a number of attacks and still have everyone standing for defense afterwards. I have to say though, it will feel a little weird getting beat up on by a tiny little girl.
Florian - 5 out of 5
Awwww, she's adorable. And she does that cute impression of her mother, where she doesn't kneel to attack. And she's much livelier when she's around Cersei. And the flavor text reflects that perfectly? Alright, alright, take your 5 and don't ask where I found the last point.
Extortion - 1.6 Average
Quill & Tankard Curmudgeons - 1 out of 5
We've all read reviews on this card before. Look back to the other gold-gaining effects since Core Tyrion; or bring up pretty much any Lanni event from the past couple of cycles and compare it to Treachery asking where you find the event slot for it. This is not a card you play if you care much about winning.
Von Wibble - 2.5 out of 5
This card has the potential to do a lot of damage to decks that like their ambush tricks, or indeed just wanted to hold onto that 1 gold for Flea Bottom. Targ, Martell and Tyrell in particular will dislike this. At 0 cost this is a great example of a card where the threat can cause suboptimal plays too. Whether this gets into decks over Treachery or Tears I am less sure.
Cameron D - 2 out of 5
I'm having Levies at the Rock flashbacks, although this card seems a little better but not by much. It could mess with your opponent's plans a bit, but chances are they already used Flea Bottom, Nightmares, or ambushed whatever they had in hand. And if not, there's still ways of gaining gold or paying for stuff mid-challenges like Fealty, The Water Gardens, Tyrion, The Goldroad, Paxter Redwyne, Highgarden Minstrel, Donella Hornwood, Tourney Grounds, and all of those mediocre Greyjoy cards in your binder! I think Extortion might find some play in a few select Lannister decks, but like most events it will be hard to slot this one in over others.
Florian - 1 out of 5
Virtually everything in Lannister produces gold before or during the challenge phase, why would I need a shoddy event for that?
Spare Boot - 3.3 Average
Quill & Tankard Curmudgeons - 4 out of 5
Excellent for protecting Jon Snow, and also good with Halder pumps. As a cherry on top, sometimes you'll have Catapult at the Wall, and that'll be fun. Neat little card without ever being extraordinary.
Von Wibble - 3 out of 5
Not a good card for a typical Wall defense deck as so many of their characters can't take attachments anyway. However, in a Rains or Crossing deck involving 7 cost Jon Snow, Spare Boot can make sure that Milk doesn't ruin your day. There are also niche uses involving multiple challenges with weapon attachments in a turn, and using TIBWHID to clean Spare Boot up after he has drunk all the Milk, then play him out again next round.
Cameron D - 3 out 5
Boot! Boot! Boot! At worst Spare Boot is a two cost chud with a power icon. Somehow he makes Halder even more annoying than he already is. Not that one more +1 STR is that significant, but it's something you're opponent will have to track and anticipate if there are attachments out there. Thanks to the "No Attachments" keyword, Night's Watch generally does not have issues with negative attachments but for the few characters who can take them, Spare Boot will make sure they stay clean.
Florian - 3 out 5
Since my coreviewers have already pointed out all the relevant applications for Spare Boot, I'll just make sure to mention that I like the composition of the artwork. The slightly slanted angle makes it as dynamic as the depiction of a guy with a wooden leg has any right to be and puts the center of gravity in the bottom right corner, where the only red light source is placed. Is it spectacular? No. But somehow I find unspectacular things that are still finely crafted astounding.
Turncloak - 2.4 Average
Quill & Tankard Curmudgeons - 2 out of 5
Steal effects are strong, but this isn't the first and certainly not the strongest. Threat of activation might be its main home, which is...ok? In practice its lack of versatility (not a card you want to draw when behind) will probably keep it in the binder.
Von Wibble - 3 out of 5
Joe Habes has written about this card at length, and I have to completely agree with his view that in general this is basically a 2 cost Craven that hits non loyal characters only, as they are unlikely to risk attacking if there is even a remote threat of losing. The main use I see for this card is in combination with HoT Marge, as you can control which challenges the character enters and then win them. Besieged is also an option to force them to attempt a defense. I am going to go generous on the rating as I am sure people will find other ways to get this to work.
Cameron D - 3.5 out of 5
Here's another piece of the puzzle for the nasty Night's Watch / Wolf deck that I often hate to see. At the very least, Turncloak will at least enable some unopposed challenges. But if you're more ambitious, it shouldn't be too challenging to get that reaction to trigger. Besieged comes to mind as an in-faction option. You'll be seeing this card around, and it's going to making your life difficult.
Florian - 1 out of 5
Here's a short list of hurdles you have to dodge before Turncloak becomes good: (1) your opponent's deck contains legitimate targets (Targ and NW probably won't), (2) your opponent doesn't have a way to discard Turncloak within a turn or two (Confiscation, Viserys, NBLTC, TIBWHID etc.), (3) you get to actually trigger the effect (Treachery, Winterfell, Catelyn), (4) you're in a position where your opponent can't simply March or kill off or refrain from using the character (i.e. you're even on board or already winning, and your opponent doesn't have tinder Marge), and (5) you can actually win a challenge in which attached character is participating (which becomes more difficult the better the attached character is). So yeah.
Greatjon Umber - 4.8 Average
Quill & Tankard Curmudgeons - 5 out of 5
Ultra-efficient beefy standy Intimidate, yowza.
Von Wibble - 4.5 out of 5
As I said, he makes Cortnay look decidedly weak. Intimidate on a character capable of multiple challenges is really powerful, and his strength for the cost is really good given this. An efficient card that Stark players will not be sad to see on the flop, only let down by the lack of any ability later in the game.
Cameron D - 5 out of 5
With Greatjon leading the charge, your Starks are guaranteed to be causing some mayhem early on in the game. But even if he doesn't show up at the party until later, he's still a very good card with Intimidate and strong stats to back him. I wrote about Greatjon, Taste for Flesh, and other Stark cards you should be playing in my recent article called
Sparring Lessons with Rodrik Cassell
.
Florian - 5 out of 5
He's going into every Stark deck as a 3-of, at least every Stark deck I build. Greatjon plus Last Hearth alone is enough to keep your opponent busy if you're going first on turn 1. And once his reaction ability is turned off you'll likely have Robb or Jon Snow around to stand him and continue the intimidate shenanigans. Win!
Taste for Flesh - 4.8 Average
Quill & Tankard Curmudgeons - 4 out of 5
A potent card for the Direwolf subtheme. The 0-cost keeps this a constant danger that you'll have to keep in mind playing against a board with an attacking Direwolf on it. Fun, evocative, and best of all it didn't even get the usual "trait-synergy markup" cards inexplicably get in this game.
Von Wibble - 5 out of 5
As with so many 0 cost events, the threat of this card is as important as the card itself. Losing a character to this, plus paying claim (which might be boosted by Winter is Coming) will hurt. This becomes much nastier after the next pack when the new Arya will ensure that dupes, Iron Mines and Bodyguards can't even help mitigate this. On top of that, if people don't defend, chances are that if a Direwolf is in the challenge there will be an Intimidate going on somewhere. Nasty.
Cameron D - 5 out of 5
Taste for Flesh is a card that you will have to consider in every match against Stark now. If you don't anticipate this as a threat then prepare to have your defending characters die whether they're big or small. Of course, you could always avoid the threat of this card entirely by not defending but then you're giving a faction loaded with Renown and Intimidate an unopposed challenge, and that's very bad news for you too. Either way, games against Stark are about to get a lot more bloody and doggy.
Florian - 5 out of 5
Now that GJ is an intrigue faction, why not have Stark be the unopposed faction? I wonder what's gonna happen next. Will they make Baratheon the playable faction?
Missandei - X Average
Quill & Tankard Curmudgeons - 4 out of 5
Not very impactful, but turning a discard cost into a free character is consistently nice. We're at odds on how many you run though, 1 or 3.
Von Wibble - 5 out of 5
Although a 2 for 2 bicon is nothing special, the fact it turns a recent cost for Targaryen cards into a freebie cannot be ignored. I can see people happily discarding 1 card to put Missandei and Qotho into play for example. Reserve and pillage are also ways to cheat her in. I can't see how you wouldn't include at least 1 copy in every Targ or banner of the dragon deck.
Cameron D - 4.5 out of 5
On paper, Missandei isn't as good as Obella Sand. But as we all know, Targ has multitude of ways to discard to pay for a multitude of effects, except this time you're getting something else in addition for the "cost" you're paying. That in-house synergy makes this card's value skyrocket. Missandei is great, and fits into the current competitive Targaryen decks perfectly.
Florian - 5 out of 5
Missandei is exactly what Targaryen wanted. In fact, the value is so good that I'd consider running two copies of her. Even though she's a unique chud! I don't think I have to explain why Consuming Flames is much better when instead of discarding a card you get a free character.
Qarth - 1.4 Average
Quill & Tankard Curmudgeons - 1 out of 5
Vaes Dothrak also does nothing, but differently. And for less. Sigh.
Von Wibble - 2 out of 5
There will be some games where this will be an invaluable card as you try to remove the Cravens and Milks from your best attacking characters. However, in Targ you probably are going to just rely on Viserys with Flea Bottom to do this job, and other factions using the banner are probably not going to have room for this. 3 cost to remove the first attachment is expensive after all.
Cameron D - 1.5 out of 5
On-demand attachment control seems good, but it's unfortunately in a faction that already deals with attachments quite well. Qarth will be a dead card against some decks that don't even bother with attachments. I suppose if you really wanted to play King Viserys and were worried about attachments on your big guys, you could play this.
Florian - 1 out of 5
Putting Frozen Solid on Qarth is serious irony. So if you're up for nonsense, go ahead. Otherwise, play Viserys.
Leyton Hightower - 3.9 Average
Quill & Tankard Curmudgeons - 3 out of 5
Obviously a lovely addition to the Mace/Hightower list. Past that, he evokes first edition Flea Bottom with the "very efficient economy but brings it in knelt" angle, and the ability to bring in non-characters in unusual phases (say, The Honeywine or the next card in this box) is interesting. The cost of kneeling both him and the target is steep though, and will probably keep him relegated to those aforementioned Mace/Hightower decks.
Von Wibble - 4 out of 5
Leyton provides a lot for Tyrell decks - a lord for Margaery to swipe, and some powerful economy advantage on top. The action is any phase, so you can use Leyton to win dominance then use the action at that point. There are also some Tyrell cards that don't kneel to use their effect, such as the Hightower (surely the best card to use this on, not a coincidence I think), or a surprise Crown of Golden Roses on Randyll. However, in a lot of cases you will lose tempo for this ability, making it powerful but not excessive for now.
Cameron D - 4.5 out of 5
On his own his ability is pretty solid, but with Mace Tyrell he's just silly. As long as you have targets for Leyton in your hand, that (easy to achieve) combo can get out of hand pretty fast. Thankfully there are resets that can manage the board before it gets out of control but locations tend to be harder to manage. Dumping in Hightower followed by Highgarden or Renly's Pavillion for free in the same round seems pretty good. He also can dump in any of the ambush characters and trigger their abilities immediately. Juicy.
Florian - 4 out of 5
Besides Mace/Hightower deck, where he slots right in, Leyton Hightower is also a solid one-of in your run-off-the-mill Tyrell deck. He cheats all of the sweet ambushy goodness into play for free, providing you with claim soak and card filtering / extra challenges / event recursion / unreliable strength buffs if you so desire. And if that's not good enough for you anymore, you can always make Marge swipe left.
Beacon of the South - 2.3 Average
Quill & Tankard Curmudgeons - 3 out of 5
This brings home the bacon. It's one of those "sort of" cards, in that it "sort of" gives the attached character renown, but only on attack, and you have to win by 5, but it triggers sooner and can effectively give a character 'double' renown. We're not convinced it's significantly better than Warrior's Braid or Longclaw, but due to the constructive nature of the faction it's in it will doubtless be more impactful, and may well have 4 or more power on it while a rush deck wins turn 2.
Von Wibble - 3.5 out of 5
Conditional renown for 1 gold has a lot of potential, and if any house can win by 5 I'd have said it was Tyrell. This on Randyll provides a lot of power rush for sure.
Cameron D - 1.5 out of 5
Are you tired of losing when you know that deep down, you're a winner? Well, if winning challenges by 5 STR and gaining power faster excites you then look no further than Beacon of the South, my friend! You (yes, you!) can become the head of House Hightower and gain this illustrious title for yourself! Grow stronger* than ever before with the most Tyrell card ever printed! It's time to seize your destiny, claim your birthright, win your battles**, and become the Beacon of the South today for just one gold!*** The power is yours!
(*doesn't actually make you stronger)
(**may not actually help you win)
(***deck space still required)
Florian - 1 out of 5
As Cameron points out above, winning by 5 to gain a power has pretty much attained meme status at this point. But to reiterate: Playing cards that help you win challenges is usually a better idea than playing cards that trigger when you win them by a lot. In joust, that is. So here's a joust rating for ya.
Val - 3.0 Average
Quill & Tankard Curmudgeons - 3 out of 5
Kind of like Leyton before, only more pigeonholed, more expensive and no abusive deck to slot her into. Still, she does add the character to the attack at least, so Rattleshirt's Raiders become better with her. Until Wildlings proves itself a coherent deck though (and Val doesn't do that), it's all for naught.
Von Wibble - 3.5 out of 5
This ability has a lot of long term potential. Unfortunately, the only wildlings currently worth putting in are a surprise Rattleshirt's Raiders or a free Ygritte - the other options are generally cheap enough that you gain less by the ability. As more Wildlings come out this will get better though, and an intrigue icon at decent strength on a Wildling is always welcome.
Cameron D - 3.5 out of 5
Here's a card the makes me immediately want to build a deck, so I crack open my binder and start to try and piece it together but give up because it's still missing pieces. Val's a great card but she is unfortunately lacking the support right now from other Wildlings. I really hope that it all comes together soon. It's worth noting that Val sports some of the best art in the game. I love that FFG has already turned it into a playmat, so now I don't have to ask!
Florian - 2 out of 5
Val probably would've been playable during the core/first cycle era, simply because people actually had to play cards like Rattleshirt Raiders. But we have to face the truths of our time here and admit that wildlings just kinda suck. And the ones that don't cost more than 4 gold. So we need way more playable, cheap wildlings and way less Dracarys flying around before Val can pass the wall that separates my decks from my binder.
Septon Meribald - 2.0 Average
Quill & Tankard Curmudgeons - 2 out of 5
There are cards you can 'cheat' boost with this like Silent Sisters or Beric Dondarrion, but building for that feels like a trap and more likely he's a combo piece without the combo. He gets a charity point because it's theoretically possible he becomes powerful in the future, although we're mixed in our opinions of how likely that is.
Von Wibble - 2 out of 5
Meribald has potential. In Stark, you could get 2 stealth challenges out of Jojen Reed, standing Jeyne Westerling to get 3 challenges out of Fast Eddie, and getting lots of extra renown from using Hoster Tully in attack and defense. In Greyjoy your Shipwrights could kneel 6 locations in 1 marshaling phase! In Tyrell the Green Apple Knights that knelt to defend can now attack too!
However, being realistic, it will have to be a serious Shagga deck to really get anything more than a reducer and 1 other character stood. I like the card but can't rate it that high really.
Cameron D - 2 out of 5
He gets along famously with Silent Sisters, who have 1 printed STR and The Seven trait. There's also a lot of solid targets in Tyrell as well between all of the cheap knights, Highgarden Courtiers, Septa Nysterica, Maester Ballabar, and so on. But I'm not sure if you should be encouraged to run a bunch of 1-2 STR characters just to get use out of Meribald in a meta where Targaryen is a big threat. I'm sure you'll see him make an appearance in decks every now and then but that cost and single icon combination will be prohibitive for most decks.
Florian - 2 out of 5
AGoT LCG fanfiction writing prompt: Septon Meribald is a monocon that's neither merry nor bald with just enough strength that you would consider doing a challenge with him but not feel very excited about it. He also has a weird ability that you would consider triggering it but not feel very excited about doing so. The twist: He has a purple ass.
Oldtown Scholar - 3.1 Average
Quill & Tankard Curmudgeons - 3 out of 5
Most decks draw at least a card a round, and at that point he either reads "kneel to draw a card", which is solid, or "keep standing to discourage your opponent's draw", which is also good. The Conclave synergy (stack your deck then draw with him) is nice, and also works with his meta-call nature - you're likely going to know early on in the game whether he's worth grabbing from your Conclave stack or not. And of course, the Counting Coppers bonanza is fun.
Von Wibble - 2.5 out of 5
If you draw even 1 card from this guy I'd say it's a decent enough play. Most decks run draw of some kind, and only a small amount of this can be used in the draw phase. Kneeling the Scholar for even 1 card each round seems perfectly good to me, however in rounds where draw effects are not used the icon spread becomes more important ,and this is not so good. I would therefore consider this card in 2 types of deck - Conclave, where the trait is helpful, and as a meta call if Targ with 2 x Coppers or Martell with Secret Schemes are big.
Cameron D - 3 out of 5
This is an option for factions struggling to maintain draw equality with other factions. He will be nice to have on the table in Martell matchups when they try to hatch some Secret Schemes. But that's best-case scenario. Some other good hits are Counting Coppers, Red Keep, Littlefinger, and Pleasure Barge, but most of the time you're just going to be drawing one at a time with him. Late Summer Feast isn't as bad with him around, and now with Dragon's Tail you draw four! Oh man, now I suddenly want to build a stupid deck with three of these idiots. The only real downside is that he has to kneel for the draw. The trick will be to keep him around and getting couple cards out of him before a reset wipes him out.
Florian - 4 out of 5
I actually really like Oldtown Scholar. He seems like a fine inclusion in decks that care about the intrigue icon and traditionally lack draw. So basically Targ and GJ Rains. To be fair, his ability is somewhat meta-dependent, but with the high prevalence of Tyrell right now and Counting Coppers making an appearance in almost every deck I'm not too worried. Still, I think you should make sure that his icon is at least somewhat relevant in case you play against someone who relies on Oldtown Scholars for draw.
Jade Sea Dromond - 3.5 Average
Quill & Tankard Curmudgeons - 3 out of 5
It's a bad econ card, and not a great location hate card (although it expands the options most factions have); but its ability to flip between the two grants it a versatility that should keep it playable. Throw in the warship trait to encourage some jank on the side, and we quite like this, muddying of the colour pie aside.
Von Wibble - 4 out of 5
Whilst a 2 for 1 limited card is generally weak, the fact this gives the option of neutral location control means I think some factions may consider this.
Cameron D - 4 out of 5
This is a great, flexible card. I feel like the Dromond will be everywhere for a while but will start to taper off when people begin to miss their more cost-effective economy cards too much, or when other efficient economy cards begin to roll out. Losing out on economy during the game can be a big deal as well so it will take some careful decision making and planning in order to use these warships effectively. Still, easy to use location control like this cannot be undervalued.
Florian - 3 out of 5
Good in factions that already have excellent economy but lack location control and thoroughly mediocre anywhere else. Martell should theoretically like Jade Sea Dromond most out of all factions because Water Gardens can reduce its cost and them not caring as much about the slight tempo hit, so I guess it'll see play as one- or two-ofs there.
Brother's Robes - 2.8 Average
Quill & Tankard Curmudgeons - 2 out of 5
This is a hedge between 3 (if The Seven takes off as a theme) and a 1 (if it doesn't) - we're divided on which way that cookie crumbles. It's an interesting card in-and-of-itself, as the effect might often not be too powerful but it's pretty unique in the game, being the first way of binning location attachments (once they lose the "attach to a location" text they're illegally attached and fall off) and having utility on the side. And you can put it on an opponent's The Seven character, which is fun.
Von Wibble - 3 out of 5
There are some cards this is very effective against, such as the Wall, and as with Plundered this can also cause your opponent to make suboptimal plays. However, there is a very limited amount of characters this can be attached to, and many times you will be relying on going first and getting a challenge in with the character before they have a chance to use the card you want to blank. This is a good option in a deck using The Seven tech but I wouldn't say an auto-include even there.
Cameron D - 3 out of 5
Make no mistake, the ability to blank cards is super strong. If "The Seven" is ever going to become a thing, this is going to be one of the key cards that will help it get there. But until we get The Faith Militant agenda, and at least a handful more characters with The Seven trait, that deck (and this card) eludes us for now.
Florian - 3 out of 5
Brother's Robes doesn't specify non-limited, so I'm sure someone (me) will attempt to choke people out with these things. Unfortunately there's currently only one The Seven character that can kneel by its own volition during the marshaling phase (hint: he has a purple ass), so we'll have to wait and see what the future holds in store for us.
"Off to Gulltown" - 2.6 Average
Quill & Tankard Curmudgeons - 2 out of 5
If we get the Dark Wings Dark Words agenda reprinted any time in the future, this will be solid there; but until then, it's so situational. It's good for combo (if such a concept exists in this post-FAQ world of ours), but unless you're absolutely swimming in gold and are also petrified of icon removal, we can't imagine running this in a normal deck.
Von Wibble - 4 out of 5
This is a really flexible event, providing lots of options whether you are facing icon control or not. Any non kneeling character will like this, and Gregor always likes icons. On top of that, you get a card - I would have probably paid 1 just for the icons to be honest! This isn't quite up there with staples like Nightmares, but it isn't far away.
Cameron D - 2.5 out of 5
If House of the Red Door / Starfall becomes a rampant tier 1 deck (which it might) we will need this event in spades. But until then I think it's just going to be difficult to find room in decks for this card. Most of the time I think you'll be better off working with what icons you have and playing other events. I do like that it replaces itself though and I feel like we should see some more niche events like this with a cantrip effect.
Florian - 2 out of 5
I can't imagine anyone playing "Off to Gulltown" at face value. The effect is just not worth a deck slot on its own, even if it replaces itself. So there has to be something else going on before this becomes good. Maybe one of your characters doesn't kneel on attack or defense. Off to Gulltown! Maybe you're comboing off with Song events. Off to Gulltown! Maybe everyone at your local game store is just a little bit too excited about Martell right now. Off to Gulltown!
The Wars to Come - 4.3 Average
Quill & Tankard Curmudgeons - 3 out of 5
We like that this is different, and we accept that the toolboxy-ness of having 10 plot slots will be nice. Don't underestimate the drawback of delaying your ability to cycle back to some key plots. That said, there some unequivocally good stuff here, and it's that "2 copies of 2 plots" bit. It allows for some truly unique decks, all while having space for the usual array of GoodStuff plots. Oh, and something something used plot pile, although… meh.
Von Wibble - 5 out of 5
Whilst Martell probably gain most from this, it's a great agenda for any deck. It allows more inclusion of resets as its a bit safer given you will take longer before having to play a given plot. It allows more use of niche plots that can be great but need to be timed well, and it allows factions to take plots that they normally don't have room for, such as Marched to the Wall. There is a real drawback outside of the opportunity cost however - any 1 per deck plots can't be used for a longer amount of the game and your opponent can plan around this. Nonetheless I can see this being a very popular agenda, especially as we inevitably get stronger economy to make Fealty less of a necessity.
Cameron D - 5 out of 5
<insert Shaquille O'Neal shimmy gif here>
I'm a big toolbox plot kind of guy, so I couldn't be happier with this agenda. However, I've already learned that getting down to 10 plots can still be very challenging. You're not doubling the size of your plot deck, you're only adding three plots, so tough decisions on which to include will still have to be made. To add to that, timing your plots carefully will be more important than ever since chances are you won't be able to cycle your plots. Still, an additional three plots can absolutely devastating for your opponent - allowing you options you never had previously before. You're also allowed more time for resets, and more options for comebacks and finishers. I cannot wait to get my hands on this. By the way, are we calling these "Wars" decks? Like... Night's Watch Wars? Sounds funny, but okay!
Florian - 4 out of 5
The drawback on the agenda should've been that you have to run two copies of Now It Comes To War. Memes aside though, the agenda is a solid hit, even if it isn't outstanding. It's the kind of agenda I like to see in an evergreen box. By the way, having access to more plots is a serious advantage in long tournaments with diverse fields. So while The Wars To Come might not look like much on the surface, I wouldn't be surprised to see it perform well as the regional and national season progresses.
Peace and Prosperity - 1.6 Average
Quill & Tankard Curmudgeons - 1 out of 5
The standard set for econ plots is 7, and this caps at 8! ...But only if the stars align or you build a very, very specific deck, and even then you'll need some luck. One of the worst econ plots in the game.
Von Wibble - 1 out of 5
The best case scenario for this is that it is an 8 gold plot, and this is by no means guaranteed. For an opener I'd rather use Late Summer Feast or even stick to Time of Plenty (probably 1 gold less but 1 more reserve). For a later game plot I'd rather use Trade Routes. I'm struggling to see where this fits.
Cameron D - 3.5 out of 5
I like this plot quite a bit, it's a great counter to Summer Harvest openers and Varys's Riddle also has nothing to do here. If you run a few attachments and fair amount of locations in your deck, you may want to consider it as a good opening plot for yourself. Even if you don't use use the attachment reduction of 1, it's a seven gold plot essentially on par with A Noble Cause but with much better initiative and without the Lord/Lady reduction restriction. I think it will find a happy home in some decks.
Florian - 1 out of 5
Meh, I prefer Ranger's Cache as counter to Summer Harvest and Varys's Riddle.
Forced March - 3.1 Average
Quill & Tankard Curmudgeons - 3 out of 5
It's a touch niche, but it's very playable with good numbers, especially for kneel, and an effect that's begging to be leveraged. If you think of this as a way to push mil claim, keep in mind they'll probably just kill the knelt stuff. Scaling up in Melee is good too, though it'll be diminishing returns if your opponents have different numbers of mil icons.
Von Wibble - 4 out of 5
In a deck running plenty of military chuds this can do a lot of damage. Facing a deck with a lot of military chuds this does very little. In general if your deck has the former you probably should run this, and the initiative makes it a very attractive alternative to Filthy Accusations, especially if you can keep their board down.
Cameron D - 2.5 out of 5
Forced March is cool and all but I think it will have limited use. There's plenty of decks that have few military icons in general and this plot just isn't going to pull its weight against boards like that. Meanwhile you've been marshalling and playing with a bunch of chuds with military icons, and now you have to swallow 5 reserve. This one is likely going to be hit and miss.
Florian - 3 out of 5
The high initiative is what sells Forced March for me, since the decks that tend to care for this kind of effect usually want to go second. That doesn't come for free though, since those decks also tend to care the most about reserve. Overall, a solid choice in Baratheon and Martell I imagine. Kneeling a lancer for additional cancer sounds marvellous.
Beyond Reproach - 2.1 Average
Quill & Tankard Curmudgeons - 3 out of 5
A tad dull, but it's always good to have these "release valve" plots in the meta - if we ever get swarmed with negative attachments, Beyond Reproach will be there to bring them to heel, a sledgehammer to complement the scalpel that is Confiscation. Shame it doesn't also hit attachments on locations too, but c'est la vie.
Von Wibble - 2.5 out of 5
An alternative way to remove negative attachments is welcome, and this has 2 key advantages over Confiscation - the higher gold, and the fact it hits multiple attachments. However, the reserve of 4 is a big hit, and the fact it does nothing to Ward or positive attachments makes it very much a meta call, and probably one that loses out to Weapons at the Door unless you are running positive attachments yourself.
Cameron D - 2 out of 5
Good effect and gold, but too bad about that reserve. If negative attachments from factions like Martell and Night's Watch begin to run wild in the meta suddenly then I could see it getting played, sure. But until then, eh.
Florian - 1 out of 5
Yikes, reserve 4 is not what I want to see on my generic answer plot. What if they swamp me with Cravens and Turncloaks on turn 1 and I still have a full hand? The other problem with this card is that it's only good against very specific decks and thus a crappy economy plot without text in a high percentage of your matches. Confiscation, NBLTC or Weapons at the Door might not win you the game immediately against an attachment heavy deck, but at least they're useful in almost every game. Even if it's just because the have good initiative.
Breaking Ties - 5.0 Average
Quill & Tankard Curmudgeons - 5 out of 5
Like with Shadow City Bastard, let's put a pin in the Flea Bottom interaction for a moment. The freedom over the timing - an any phase action, rather than a reaction or limited to a single phase - gives it a big boost in power. This is a high tempo plot but one with a non-trivial element of card disadvantage. You get to take ~5-6 gold off the board in an instant, at the cost of ~2 gold on your side, but also a card. A typical deck won't run more than 5 or 6 cheap loyal characters, and sacrificing an expensive loyal character just to bounce something doesn't have quite the same bite to it, so if you want to truly leverage this plot, you need to warp your deck around it, which seems fair…
...until we take the pin out of Flea Bottom's interaction. At the risk of being histrionic, how many more effects need to be warped by a cheap neutral location before something is done? Oh, and it has high initiative, which only makes it better as you can use the character in a conventional way before sac'ing them to the plot. Should be good fun, at least.
Von Wibble - 5 out of 5
Whilst not every faction can take advantage of this effect, it is undeniably very powerful. The effect can be used to adjust strength in challenges as well as simply removing an expensive character. Some factions like Greyjoy aren't as badly hit as many of their most effective characters are loyal, but in general the tempo hit provided by this plot is huge. Stark and Lannister seem the strongest factions for this as both have a good number of cheap loyal cards that see play, with Summer in particular being a strong choice. Night's Watch also look good with Yoren and Messenger Ravens both being very good calls. However, the reserve on this plot does ensure that it still needs some careful timing, and is certainly a big risk to play as an opener.
Cameron D - 5 out of 5
There will be faction envy for factions like Martell, Targaryen, and Stark whom all can properly leverage this plot to its fullest potential. Unfortunately for those factions who can't, you'll just have to endure being on the other end of Breaking Ties until you receive cheaper loyal characters. I love cards that play around with loyalty like this. If this sees as much play as I think it will, people may have to reevaluate which pricier non-loyal cards they want to include in their decks. Point and click (twice!) removal is terrifying stuff. Ned, I hate to say it buddy… but your days might be numbered.
Florian - 5 out of 5
This card has excellent flavor because Luiz won his final melee table at Stahleck on a three-way tie. The effect is somewhat mediocre but I feel compelled to give it a 5 out of 5 anyway because it just tastes so good.
The Grand Melee - 3.0 Average
Quill & Tankard Curmudgeons - 5 out of 5
We're very high on this - a pet favourite of ours in first edition was the similar
Lead By Example
, and this is even better - if you can remove a character mid-challenge, neither one will count their STR. It's a huge card for control decks - you no longer need to control every character with a specific icon to prevent a challenge of that type, just all but one - and has aggressive applications with non-kneelers too. Could also be a potent Melee plot, although beware, you only need one character in the challenge for the Title to still count its STR!
Von Wibble - 4 out of 5
Any faction that can remove participating characters is going to give this a look, and Martell icon control just got another boost for sure. Tyrell can also use Highgarden to win/fizzle a challenge if only 2 characters are declared. This also stops characters that rely on attacking alone to get their effects, whether the Knight of Flowers, Mirri, or just a knight who wants Lady Sansa's Rose. One to consider.
Cameron D - 1 out of 5
You don't have room for a cute plot like this in your deck. No, not even in The Wars to Come. Sorry.
Florian - 2 out of 5
Is it epic? Is it garbage? Is it epic garbage? At first I thought Grand Melee was a control plot, but control wants to oppose challenges and initiate chump challenges, so I guess that's not it. Unless you somehow managed to build a completely characterless control deck, which doesn't seem feasible right now. So where does Grand Melee find a home then? Maybe Tyrell, where you can easily have two characters in each challenge? But I don't wanna give up on my Jousting Knights, they're good value. And also, there are so many better plots for Tyrell that I can't even be arsed to list them all. Huh, I should stop writing now before I give this a 1.
False Spring - 2.6 Average
Quill & Tankard Curmudgeons - 3 out of 5
Firstly, beware your opponent having 2 or fewer cards in hand, because due to the wording the plot won't fire off. It's a perfectly reasonable statline, and not just getting to discard a card but getting knowledge of another 2 isn't bad. It's just… also not that outstanding, either. All those crazy cards and we're ending the review on "welp, OK I guess".
Von Wibble - 3 out of 5
Any hand destruction deck should consider this, and combined with Heads on Spikes the damage can mount up. Winter decks will also look at this as a good lead up to Early Frost, as well as having a decent amount of gold. Timing this well will be important though as you ideally want your opponent to have 3 or 4 cards in hand to maximise the effect.
Cameron D - 3.5 out of 5
Wraiths in their Midst followed by False Spring can be pretty nasty. There's a good chance you'll be look at whatever they have left in hand and then toss the best card out. I think this is one of the better winter plots we've had in some time, but it still doesn't go into many decks.
Florian - 1 out of 5
An okay economy plot for a winter deck with a decent but not very exciting effect. If Winter Festival and Barring the Gates didn't exist, I'd consider giving False Spring a 3. But these two are serious contenders for the same plot slot and False Spring is just so damn mediocre that I can't bring myself to rate this any higher than 2. Sadly, the plot is also bland as sin, making it impossible to end the review with a joke, and thus further detracting from the score.
Total Non-Martell Average: 3.0
Top Cards:
Breaking Ties 5.0
Greatjon Umber 4.8
Taste for Flesh 4.8
Missandei 4.6
Wars to Come 4.3
Bottom Cards:
Fleet from Pyke 1.3
Qarth 1.4
Peace and Prosperity 1.6
Extortion 1.6
Plundered 2.1
Beyond Reproach 2.1
If you're hungry more content, check out the library of podcasts, articles, game video and more in
the Community FAQ
. Let us know in the comments how you feel about the cards in this box, and we'll see you again soon to discuss The Faith Militant.
Article: Sands of Dorne Review Part 2: A Game of Thrones LCG Deluxe Expansion