Welcome to Card Game DB
Register now to gain access to all of our features. Once registered and logged in, you will be able to create topics, post replies to existing threads, give reputation to your fellow members, get your own private messenger, post status updates, manage your profile and so much more. If you already have an account,
login here
- otherwise
create an account
for free today!

2
Taking the Black: AGoT LCG Chapter Pack Review
Nov 11 2015 10:00 AM | scantrell24 in
Strategy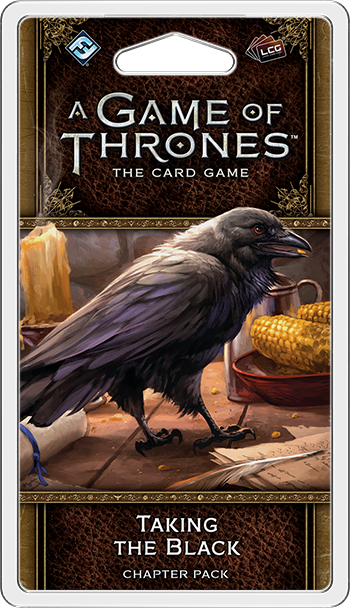 Our staff has put together a first blush analysis of the newly released "Taking the Black" chapter pack. Cards are listed in numeric order and scored on a scale ranging from one through five, with five being the best possible score. We have eight reviewers this time around, so the maximum overall score is 40 points. Now please extend a warm welcome to our new reviewers, who will briefly introduce themselves before we score the cards.
Alexfrog
Hi, many of you may know me from my Netrunner articles on Stimhack.com and for many boardgame strategy articles on Boardgamegeek. I love to analyze game strategy for a wide variety of games, and then write about my findings. I started playing Game of Thrones with 2.0. I enjoy playing all houses to try and figure out what are the best decks and to get experience with all of the cards, and to try to build the best possible deck of each faction as a way to better understand the game. I will try to focus my ratings as a bell curve around 3/5, with about as many 1 ratings as 5 ratings. Note that all my ratings will be exclusively for 2 player games, not melee.
Barnie25
Good day people. I am Ruben, one of the few European players on this panel. I am a proud citizen of The Netherlands and live in Arnhem. I am fairly new to Thrones as I just started late August, however I have played competitive M:tG for many years. Being introduced to Thrones a little over a year ago by local veterans I was told to wait to buy in till the new edition was released. Since I got my hands on the cards I have gone off the deep end. I rely on my analytical skills to get an edge in most games and seeing how 2.0 is totally fresh, it gave me a good opportunity to establish myself as such. I am typically a player that likes decks with decision points. I don't like pure aggro or pure control. Decks that have toolbox options or hybrids are usually my cup of tea. I have no specific faction that I cater to but if I had to chose I would say that I gravitate towards Tyrell the most for their ability to create that toolbox as I mentioned earlier. I rate my cards usually in a vacuum and adjust my opinion later when taking into account the context. In doing so cards go up and down in value as the context changes and for people that care about player archetypes I would be Jaime banner of the Shagga!
Habesjn
Hello, my name is Joe and I live in Cincinnati, OH, USA. I'm relatively new to the message boards in general. I think I joined right around September, when AGOT 2nd edition was in full swing, since the release at Gencon. I've never played an FFG game, or really any LCGs, seriously prior to AGOT 2nd edition. But I love the books, I love the show and I just really got into the game. I love the strategy, the mind games and the decision making capabilities that can win or lose games. I have a lot of experience in a CCG called Legend of the 5 Rings (L5R) which was recently purchased by FFG and will be made into a LCG in 2017, so I'm pretty pumped about that. That is my main competitive card gaming experience.
My rating system is pretty simple: 5 - Got to play it. 4 - Should play it. 3 - Good, but ultimately replaceable as time goes on. 2 - Playable, but most decks won't need/have room for it. 1 - Shouldn't play it, unless more cards are released that develop it further.
My preferred house is Night's Watch, followed by Tyrell. Both factions allow me to play mind games as well as force my opponent to do challenge math and derive my intentions behind the challenges I make. I am very much a defensive player, so I naturally gravitate towards defensive minded deck themes and strategies.
In terms of my position on the Ned – Jaime – Shagga scale, I am very Nedly, somewhat Jaime and a dose of Shagga. A very popular deck that people play that drives me absolutely crazy is Targaryen/Lannister. Yes, I get that Jaime works great with Drogo. But the Lannisters sacked King's Landing and raped/murdered the remaining Targaryens! They would never ever fight together. At least not in the timeline of the books.
Redviper187
Hey guys! I'm Patrick from Madison, WI USA and I've been playing Thrones for about two and half years now. I started in 1.0 and was super stoked when they announced the reboot. I've been playing a lot since Gencon and absolutely love the game. My current favorite factions are probably: 1. Greyjoy, been playing Greyjoy for about a month now and they're definitely my favorite so far. Stealth, unopposed challenge shenanigans, looks or crushing despair on your opponent's face, what more could a Jaime player want? 2. Lannister, probably my second most played faction as well as my second favorite. Sure it might not crush people into oblivion like Greyjoy but they're nice and consistent with great big guys. 3. Baratheon, Yeah yeah I know kneel sucks and Bara is the worst, but I've always liked kneel as an archetype and Bara was one of my favorite factions in 1st edition. My view on them as a faction are explained in detail in the "Bara Fealty Deck Thread".
My rating system is based on the overall card pool and how effective I think a card is/will be. Depending on the pack my ratings may skew a bit higher or lower but I try to be as fair as I can. I also consider how strong certain factions when assessing the rating of cards within that faction. For example, a Martell card might have a higher rating than the card would have if it were in a stronger house. In general a five is a card that you want to use in most builds in a particular house, a four is a good card that should definitely see play but won't blow anyone's mind, a three is a solid average card that will be in a lot of decks to fill holes in the cost curve or to patch weaknesses or just to have a solid body, a two is a less than optimal card that I typically wouldn't play unless there was some combo or build that needed it, and a one is a card that should pretty much never be played.
Now onto the reviews, starting with....
Will (28 Total Points)(70%)
Alexfrog - 3 out of 5
The upside is enormous but there is potential downside as well, he is high variance. I would rate him higher if the decks I expect to be the top decks didn't have good ways to punish his downside, but they do. Baratheon can kneel out your characters of one icon type and try to get in unopposed that way, Greyjoy can stealth, and Targ can surprise you with a Dracarys on your blocker to kill a character and leave the challenge unopposed, killing Will as well. That said I think he is a card you put in your deck for sure, and he is a target to be built around. It's quite possible that decks will manage to avoid his downside and use him well and that he will end up deserving a 4/5 rating instead.
Barnie25 - 4 out of 5
This is the type of card that I love. Instead of going for a safe and boring card they chose to push the envelop with this one and create a card that has really strong keywords and good icons making for one hell of a card. His downside can be mitigated, I expect this card to be better in a proactive strategy, getting the most out of his stealth and insight. The only downside now is that most rangers are mid level characters that you don't really want to sacrifice expect Ser Waymar Royce perhaps. If cheaper rangers come up this card will be the nutter butter.
The Quill & Tankard Curmudgeons (JCWamma, Ire & WWDrakey) - 3 out of 5
[Since we often have a hivemind on cards, we've decided to combine our reviews to make room for some of this filthy young blood that's been infecting the place like a swarm as of late.]
Oh wow, Stealth AND Insight, that's awesome! Wait, the moment you fall behind even the slightest bit you'll need to off him quick or start eating extra military claim on challenges regularly, nevermind. Still, that extra card you draw once first might be nice. Guess if you're dead set on The Wall, he fits.
emptyrepublic - 2 out of 5
Remember I review from the melee perspective most often, and from that perspective the forced reaction is really hard to get by. On paper he looks vulnerable in a 3+ player game. If you have Benjen out then maybe it's not so bad (no stealth bypass), but the dearth of intrigue in Night's Watch so far makes Will vulnerable in my opinion. In joust he's a 3, maybe a 4.
Habesjn - 4 out of 5
Love this guy. As a Night's Watch player, I can tell you that the biggest weakness in the deck is stealth. Having this guy out will make it significantly easier to defend against the likes of Varys, Tyrion or a Little Birded Greyjoy character. Yes, the forced reaction is rough, but once you get your board set to defend the wall, he is a very good card. I don't think he'll ever be a 3x, because you really don't want to see him in the early game, but I think he'll be a 1x or 2x for quite a while, until Night's Watch gets some better anti-stealth tech. The Insight is just gravy, and what I think pulls him up from a 3 to a 4.
OKTarg - 4 out of 5
Stealth and Insight on a well-costed bicon seems pretty good. The drawback is real, but you are usually trying to avoid that situation anyway as the Watch. This may make him harder to play turn one (it's hard to oppose 3 challenges; probably you will have to give offense of your own) but he is still solid. Don't forget you can block and win on defense for his Insight.
Redviper187 - 4 out of 5
Opposing all three challenges can be rather difficult a lot of the time. However, with the Wall being one of the primary power grabbing cards for Night's Watch at the moment, Will seems like he'll be one of those cards that's really good when you're doing what you want to be doing in the faction (in this case, opposing challenges) but pretty bad if you're not. There are only five rangers right now (including Will) and you two of them have abilities that key off of them being killed. But I suppose, worst case scenario you'll just have to discard Will for his own drawback which is not tragic if you've gotten a card or two out of him. Overall, the stealth and insight vastly outweigh his drawback, which will only get less harmful the more cheap rangers and/or methods of opposing challenges that we get.
scantrell24 - 4 out of 5
A stealthy bi-con is exactly what the Night's Watch needs, but if you draw Will when you're already falling behind in board position and losing unopposed challenges, he's a liability. Also, he's countered by the stealthy Greyjoys, who should be popular after this pack's release.
The Watch Has Need (19 Total Points)(48%)
Alexfrog - 2 out of 5
At present I don't think this is very reliable card draw. I expect about 7 cards to be looked at. If you go fealty and stack about 17 cards of the same type, then you would expect to draw 2 cards. 17 of one type is more than I am seeing in most Night's Watch decks I am looking at ,so unless you play this on a Counting Coppers turn, or in combination with Bear and the Maiden Fair, I expect this to net you under 2 cards on average. That's not enough to really justify the card + gold, and weakening your setup by playing more events. However, this card does have future combo potential, which could make it worth playing, it just seems not quite worth it to me at present. It's probably a 1 right now that will improve over time.
Barnie25 - 1 out of 5
In the current cardpool this card is unplayable in my opinion. If NW's wouldn't have access to draw I would reconsider but as it stands they have 2 insight characters and a repeatable draw engine. At the moment there aren't enough characters of a single type to reliably find that card you are looking for or end up with a dupe, which is not bad but still not impacting the board as much. You have the possibility to get your card back when you run high reserve plots but are still risking missing a fair amount of the time. If they will push the trait distribution to a point where you can have a critical mass of a single type or two this card becomes worth looking at but for now, no thank you.
Curmudgeons - 3 out of 5
Night's Watch continues its impression of a first edition house. If, in the future, one can make an "all-Ranger/Steward/Builder" deck, this will be an excellent lynch-pin card. Until then, paying 1 gold for a lucky dip that, without some exceptional reserve value will likely get you only 1 card, ain't all that. We like the card, but expect this to be a slow-burner as the card pool expands... unless a single OP bomb character emerges, and this turns into a tutor for it and it's dupes.
emptyrepublic - 3 out of 5
The typical reserve value is in the 5-6 range so it's a reasonable tutor effect. Clearly an event that's only useful with a well thought out distribution of characters with the appropriate traits. Perfectly fine event, but only useful for the right sorts of builds. Will get better with time.
Habesjn - 2 out of 5
This card will likely be a 3 out of 5 once more builders and stewards come out, but as it stands now, there is one builder (and one previewed) and just four stewards right now (in faction, anyway). One of those stewards you'll be using Here to Serve to pull out of your deck, Maester Aemon. Until more character diversity comes out, most NW decks will have other priorities to worry about than possibly fetching some characters if they guess correctly what is at the top of their deck.
OKTarg - 3 out of 5
This card trades what Night's Watch needs more of (economy) to get what they already have lots of (card advantage). For that reason, I'd call it a 1 or a 2 in the current pool. When the cardpool expands, it will be super-reliable and I project more efficient income by then. So, look out!
Redviper187 - 3 out of 5
My rating is a little skewed towards how useful this card will be in the future. The more Night's Watch characters we get with trait, the easier it will be to build decks that specialize in one of them. At the moment it's a little less reliable, but still solid. Since each trait corresponds to a specific icon the card allows you to dig for what you need most. If your board is getting hit, go get a ranger, if your hand is getting hit, find yourself a steward, if you need to stop the opponent from winning quickly, go grab a builder. If Night's Watch ever wants to be able to defend all three challenges or, God forbid, satisfy their overly demanding leader and win every challenge, they need a way to patch holes in their defenses and this event could be it.
scantrell24 - 2 out of 5
Not yet, but maybe someday. I wish this event stuck with the "search top 10" formula we've seen on Summons and Building Orders.
Maester Luwin (21 Total Points)(53%)
Alexfrog - 3 out of 5
I expect Stark decks to play 1 copy and tutor for him sometimes with the Maester plot. Because he is tutorable at a time of your choice based on playing a plot, you can use him to buff a specific character that you want to buff at the time you want to do it. Therefore he doesn't really 'require a combo' as much as give you an option of buffing certain characters at any time you choose to do so, which is pretty good. He isn't as strong as some of the other Maesters however.
Barnie25 - 2 out of 5
Maester Luwin fills a void that Stark decks have in the intrigue department which is certainly good. However the only character I find him interesting with at the moment is Robb, giving him insight is certainly something but the variance on the card is a bit high for me. The chance you get them both together on the board are not that high unless you are actively looking for it and running multiple copies of Luwin, which you probably don't want to do. The card has good upside but is situational.
Curmudgeons - 2 out of 5
As Nedly as anything (although why he encourages little boys to Pillage, is beyond us). Is it any good? The most valuable parts here are the trait (see the end of the pack), Insight for Robb and the intrigue icon in Stark. If a Stark deck wants to build around Robb he will be a key component, playing the role of on-demand draw; otherwise he'll be on that list of cards that don't quite make the cut after a few packs.
emptyrepublic - 2 out of 5
I could be underrating but I'm not feeling it. Given Robb insight is perhaps the most useful aspect but beyond that I'm not sure. At least he's not expensive. Could definitely turn out to be one of those characters that don't work in the current card pool but become highly useful in a future expansion cycle.
Habesjn - 3 out of 5
A good solid card. This, in combination with the new plot, Here to Serve, will make giving Robb insight an on demand move. Card draw is never bad. The ability to make Luwin a 1x and still get him whenever you want, via the plot, makes it even better for deck building. It also gives Jon Snow stealth, which makes it a good card in both a NW Stark deck or a Stark NW deck. I want to point out, however, that giving Jon stealth does NOT mean he gives stealth to every challenge he is participating in. Only the challenges that he declares for, which is when he actually kneels for an intrigue attack. The main purpose of that stealth will be so that he can not be stealthed by Tyrion, Varys, stealth characters with the Little Bird attachment and enemy Wills on defense, allowing him to better defend the Wall. Giving Bran immunity to plot effects is nice, but Wildfire Assault and Fortified Position are the only two plots that he'll realistically be exposed to until some new plots, like First Snow of Winter, come out.. I'm fine with Pillage going to Rickon, whenever he comes out, but something about an 11 year old with Pillage doesn't sit right with my Nedly heart. I mean, yea, he has a temper. But 11 year olds with tempers don't burn villages, kill the children and rape the women. They just throw their plate of vegetables against the wall and storm off to their room to play World of Warcraft all night...
OKTarg - 3 out of 5
Tutorable with Here to Serve, Luwin scores 5/5 for Nedli-ness but needing other characters in play to really make him sing knocks him down a peg on the efficiency scale. You can certainly do a lot worse in Stark, though.
Redviper187 - 3 out of 5
The most important of his abilities by far is giving Robb insight. Stark is seriously suffering for draw right now and anyway to fix that is just fabulous. Keeping Bran around alter Wildfire seems good too. The problem is that by himself he's pretty underwhelming. Running one of him, a banner maester, and Here to Serve seems like a pretty solid addition to most Stark decks.
scantrell24 - 3 out of 5
He's a cheap, much-needed intrigue icon that occasionally improves your other characters. Worth a single copy for now.
Lady (28 Total Points)(70%)
Alexfrog - 4 out of 5
I really love this card. I think it's quite strong and gives amazing combat tricks if you have money. Simply the threat to move Lady and add +2 to a challenge is going to impact your opponents plays and force them to overcommit to win challenges, even if you don't end up spending any more to use her. She also becomes a Widow's Wail with Wolfswood, which might get better later with more direwolf support, and is good with Tyrion money (and Stark/Lanni is a deck that is working quite well for me currently!) I think this card is extremely strong and I expect people to be surprised by how much impact it has on what they can do in challenges.
Initially I misunderstood how the once per phase limit worked ,and thought it was just on standing Sansa, not moving Lady around. It seemed like a 5/5 card if you could move it around to a character you had participating in every challenge! Still, it's quite good even limited to one move.
Barnie25 - 4 out of 5
Strength pumps are really strong in 2.0, getting to buff that weenie is a good way to leverage your board position and give your opponent a choice between what character to focus on. Combine this with the fact that the card can be switched around with spare gold is gravy. If more direwolf cards come out then Direwolf Pup might not totally suck. The terminal on the card is a downside but has some Nedly implications that I don't mind seeing, just make sure to switch Lady to a different character before you kill the previous owner.
Curmudgeons - 4 out of 5
As long as you have a gold spare, this is essentially giving 2 separate characters +2 STR. Now that's exceptionally efficient. The Sansa synergy is cute but not the deal here. The only drawback is the T word, making Lady less reliable than your Widow's Wails and the like - but then you can just move her onto the characters you intend to keep, anyway, making this largely irrelevant unless you're staring down Varys or a reset of his ilk.
emptyrepublic - 4 out of 5
A transferable +2 is good especially when it's on a terminal attachment. Obviously has a nice synergy with core Sansa. It isn't loyal so yet another fun way to get Randyll Tarly to keep standing.
Habesjn - 3 out of 5
1 gold for 2 strength. 1 more gold to move it, once per turn. It gives you options and can help you win with challenge math. Wolfswood, an admittedly bad card, can give this card ambush, which makes it basically a transferable Widow's Wail among your Stark characters. Terminal hurts it. Limit once per phase really hurts it. Probably a 1x or maybe 2x in most Stark decks.
OKTarg - 3 out of 5
This is a weird card and I feel like I can't properly evaluate it with my extensive 1.0 prejudices. STR bump seems good, especially a transferable one. Not sure how good......maybe 1x in your deck good?
Redviper187 - 3 out of 5
If Like Warm Rain said Direwolf card this would be a 4. As it is it's pretty solid. If Direwolves become a competitive theme and Wolfswood is actually good this basically becomes a Stark only Widow's Wail. As it is now it's a transferable strength pump that will mess with your opponent's challenge math. Probably a 1x unless Direwolves get really amazing.
scantrell24 - 3 out of 5
I cannot wait to abuse Lady in my Stark/Lanni deck with free Tyrion money. The limit once per phase restriction tempers my enthusiasm though.
Arbor Knight (30 Total Points)(75%)
Alexfrog - 3 out of 5
He seems just okay to me actually, but we have already had some Knight boosting cards spoiled like Hedge Knight and the plot to give all Knights Renown, so I expect him to be played in that deck. Still on its own I would actually prefer Left and Right. Even though they have significant drawbacks, they have good upside potential when you get both early, and pretty much the only time I have played against Tyrell and been at risk of losing is when Tyrell got them both turn 1. I don't think I'll ever be afraid of a turn 1 Arbor Knight, he just doesn't have the upside potential. He is pretty good with Tyrion money, but Tyrion money makes everything better, so that's more about Tyrion being amazing. I think the only way this guy really is a 4/5 is if Knights become a really big deal. Otherwise he is just a pretty generic 2 cost bicon guy, similar to other generic 2 cost guys. That said, maybe Knights will actually become a really big deal and he will be very important.
Barnie25 - 4 out of 5
I won't lie, I was stoked to see this card being released. It does everything you want in a chud and perfectly fits the Left and Right sized hole Tyrell has in their weenie line up. Now you have a non unique character with the icons that is able to impact the board. Sure his strength is on the low end but the Tyrell's have shown that they can grow big fast. When more House Redwyne characters come out the card goes up in value. For now I will happily run three of them in all my Tyrell decks.
Curmudgeons - 4 out of 5
That art is gorgeous, and the rest of the card is fine too. Firstly Tyrell get a military weenie that is neither Left, nor Right; secondly, two icons for cheap is always nice; and thirdly, we know there's a "Knights gain renown" plot coming out in a couple of cycles. The ability is just icing, but could prove valuable if Tyrell gets economy in the future.
emptyrepublic - 4 out of 5
I think the cost, icon, STR ratio is what makes this guy good. The ability is certainly good too though I think the +1/gold make for obvious synergy (again) with Randyll. It's a decent cheap chud and in the melee space you need bodies on the table in order to get by.
Habesjn - 3 out of 5
It is just what the doctor ordered for Tyrell. Claim soak. That said, I cannot give a claim soak more than a 3 out of 5. As more cards with better abilities get printed on the lower side of the curve, he will be pretty easy to take out of the deck. Mil/Int is a relatively rare bicon so far, so it does offer a little more in terms of challenge flexibility.
OKTarg - 4 out of 5
House strengths often rise and fall on how good your cheapie characters are, so it's nice to get more curve-filler for the Rose. I will immediately chuck Left and Right in favor of these guys (don't tell James I was running them at all!)
Redviper187 - 4 out of 5
Tyrell really really needed this guy. He's a solid body that gets really good if you have extra gold lying around. A lot of the Tyrell tricks involve having some leftover gold and this guy is another option for what to spend that gold on. However, the biggest reason why he's so good is because Left and Right are so bad. Tyrell fealty decks can breath a little easier, and some banners should consider him as well.
scantrell24 - 4 out of 5
Under normal circumstances, a chud like Arbor Knight would earn 3 stars without question, but this simple character fills a gaping hole in Tyrell's lineup.
Pleasure Barge (37 Total Points)(93%)
Alexfrog - 4 out of 5
It's good late in the game, but bad for the first half. In the end, you will net +2 cards but have a drawback for the rest of the game. Its great lategame. Its really hard for me to tell without experiencing this card how often I am going to be annoyed by drawing this early on, versus how often I'll be excited to see this lategame. It's stronger in rushy decks that expect short games.
Barnie25 - 5 out of 5
This card is bananas, it basically does everything you want in a card. It's cheap and draws you cards. For Rush decks this will be a easy 3 off. Tyrell is also one of the two houses that has in house gold producing characters which mitigates the downside. If you run a Tyrell Lanni deck you have access to even more gold producing characters. In almost all games more draw equals win and this card certainly draws you a lot of cards.
Curmudgeons - 5 out of 5
Pleasure!
That is what you are
You're my golden barge
And if you could make my wish come true
Let me draw another you!
(something something draw is good something enable rush as an archetype something something)
Note from Drakey: Due to being one of the Flower People, JC seems to have gone a bit bananas here. However, since we agree on the broad strokes of this being a bloody excellent Rush card, we'll just enjoy the show.
emptyrepublic - 4 out of 5
I detract only because it's anti-setup. The -1 gold isn't really a big deal because it's a location that easily helps you offset periods in the game when you're getting too much economy. If you don't need it just keep it in order hand as intrigue fodder. Otherwise it's great. You should always be riding the edge of the reserve limit.
Habesjn - 4 out of 5
Great late game card or rush card, depending on your deck build. You will hate seeing it in your hand on set up and you'll probably hate drawing it before turn 3 or 4. I think it'll be a 2x for a while though. Card draw cannot be understated. The negative gold hurts but, if you play it past turn 3 or 4, you'll likely be sitting on gold each turn regardless.
OKTarg - 5 out of 5
What? I've overrated them? No....you've UNDERRATED it! Practically free draw is amazing! Draw gives you options, and the odds that you will immediately grab an econ location with this free burst of cards are pretty strong. This will be a staple Tyrell card for years. Hilarious pro-play: Treachery somebody's Barge. lolololol
Redviper 187 - 5 out of 5
I'm really torn on this card because one the one hand, free draw during marshalling is bonkers good. On the other hand, Tyrell really really likes gold. Once Tyrell gets a little bit more economy this will be amazing. Definitely worth an include if Tyrell is your main house.
Nevermind, just played with this card and it is absolutely amazing, easy five for me. The economy deficit is easy to overcome and nothing can beat the acceleration provided by this card. You should play it in basically every Tyrell main house deck for a long time.
scantrell24 - 5 out of 5
Draw = win, and Tyrell now features two potent draw locations. Pro-tip: don't play the Barge on setup.
Renly Baratheon (15 Total Points)(38%)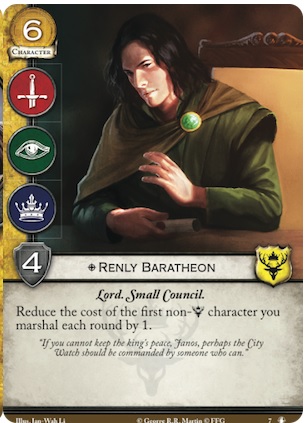 Alexfrog - 1 out of 5
I cannot give the weakest 6 cost character in the entire game even a 2 rating. I am aware that you can use his ability the turn you marshall him and give 1 free gold, but this actually is not the same as 'making him cost 5'. If you play him it is probably in a Banner of the Stag deck, not main Bara, and so he isn't going to be reducible by as many locations or 1 cost economy characters. This means that playing him requires your big economy plot (Noble Cause, etc), and when I play Noble Cause to bring out my hard-to-play out-of-faction character, I want Jaime Lannister, not this guy. He simply does not compare well to other characters of his cost. He needs to cost 5 instead to be playable. This is the most overrated card in the pack imo, in that others seem to think it has any use at all, when in reality it should not even be considered for any deck.
Barnie25 - 2 out of 5
I like that FFG is trying to push the banner agenda's and doing so in a Nedly manner. The card is a tri-con that potentially reduces your main faction cards but his cost to strength ratio is horrible. Still it is a solid one off and as the only neutral card reducer he has some potential.
Curmudgeons - 2 out of 5
Renly isn't great, but he's better than a 1. He compares unfavourably to the likes of Littlefinger and Tywin, sure, but they're 2 of the best cards of the core set. Think of it less as competing, and more as complementing. A tricon is pretty rare at this point, and non-limited economy is exceptionally sparse. Between costing 6 and being vulnerable to just about any control however, he's still not actually good either.
emptyrepublic - 2 out of 5
The anti-Baratheon synergy makes this Renly intended decks where Bara is the banner faction. Useful for houses that need strong intrigue characters (and he's not that strong either). You are looking at 6 turns in order to break even on the cost for a character with no other ability than to contribute 4 STR to one challenge a round.
Habesjn - 2 out of 5
I was on the brink of a 3 out of 5, but I couldn't justify it. When I see a new card, I typically think of all the combos I can use it in and the amazing tricks I can pull and who the card plays well with etc etc. I didn't do this with Renly. I was not excited at the prospect of finding a slot for a 6 cost guy that does not lead to my victory, whether that be through renown or some crazy effect that makes winning challenges easier (or both in the case of Balon Greyjoy). Economy is great. But there is already a guy who is very similar to Renly, and that is Littlefinger. You trade a military icon and the reducing non-baratheon character ability for drawing 1 less gold cost, 2 cards and having the gold be unconditional each turn. It's just not justifiable to play Renly as long as Littlefinger is around. I believe that Littlefinger is severely undercosted and really hinders other economy lords due to the fact that he is so ridiculously efficient but, as long as he exists, you won't have space for Renly in 95% of your decks.
OKTarg - 2 out of 5
Econ is super hard to come by. That makes even six cost income worth looking at. After looking, though, I'll look away. I think there are better Banner options than Banner of the Stag, which would be his best deck, and Bara NA doesn't seem to be a thing--you would use Renly for the neutrals there. So, he'll get better, and a tricon isn't to be scoffed at, but I'm not cutting a current Bara 5+ coster to make space.
Redviper187 - 2 out of 5
This guy is just not good. If the small council trait ever becomes relevant for an Agenda I might reevalute but for now there are zero decks that I would play him in. If Banner of the Stag didn't already have 10-12 slots filled with the kneel package in most decks he might have a home there but as it is there just isn't anyone you want to cut for him. He's probably the worst 6-coster in the game and you'd be much better of using littlefinger. (Solid Nedliness though)
scantrell24 - 2 out of 5
Over-costed by a mile. I have a hard enough time paying 6 gold for characters like Jaime that actually do work.
King Robert's Warhammer (25 Total Points)(63%)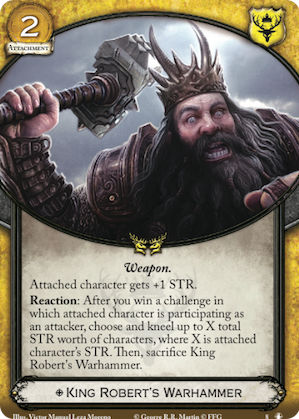 Alexfrog - 3 out of 5
Great on Robert, Balon, Red Viper with pumps, etc. I think this card does bad things for the game, so I'm not happy about its existence, but I dont think its actually super OP or anything. It's probably a 1 of in both Bara and banner of the Stag decks.
Barnie25 - 3 out of 5
On the surface the card seems very win more and not that exciting. But the Warhammer is not loyal and is a kneel source other than Mellisandre which makes the card an interesting card. I could see this card being a thing in Tyrell banner of the Stag or Greyjoy banner of the Stag, pumping your Knight of Flowers or Balon will help you win challenges, getting to kneel their board / character will help you close in a pinch.
Curmudgeons - 3 out of 5
On Bob this is a 5. On not-Bob this is exceptionally expensive for the not-a-lot it does, although being non-loyal pushes the value up here immensely. Unlike others who seem to think the sun shines out of it's hilt end, we're skeptical about a 2-cost telegraphed pseudo-event that does next to nothing until you're already winning the challenge. Still, you can help Melisandre and her like avoid the perils of Dracarys!, and it remains amazing on Bob (hooray for theme!).
emptyrepublic - 4 out of 5
The main advantage I see is in melee and distributing soft control. Winning a challenge on player A but kneeling characters belonging to player B. On big bodies that typically get STR boots (Bob, Viper, Randyll) you can be surgical and really rework the dynamics of a melee table by kneeling another big body and a few other chuds.
Habesjn - 3 out of 5
It's a solid card. Extremely synergistic with their general theme. Not specific to Baratheon, so you can even play it on your Non-bara cards. It can really win you an entire turn if you select the right challenge to use it and the right character to wield it. Obviously, putting it on Robert wins the round, as he will be big enough to kneel most anything that your opponent has. It also works great on The Red Viper, Tywin Lannister and Balon Greyjoy. It is possible that it is a 'win more' card and isn't really necessary, especially since Baratheon is already so dominant they might not even need it, but it could be an interesting add to a Banner of the Stag deck to really drive home how much you hate your opponent.
OKTarg - 3 out of 5
I think this is a bit of a semi-trap card. It's a telegraphed 2-cost event that really is only great on Robert (it's OK on a few others as well). What are you cutting to make space? This kneel works best when you are already winning challenges, and I like kneel that helps me win challenges when I couldn't before. We'll see, since there is some blowout potential, but I think this is a 1x in decks right now.
Redviper187 - 3 out of 5
If you get it on Bob, it's amazing. Even if Bob is staring down an army he can kneel a pretty sizeable portion of them if you can get some people kneeling. On Mel or Stannis, your basically paying two gold to kneel one or two solid card which isn't too bad. Right now though, Bara decks are so full of solid cards that there isn't really much that can be cut for multiple copies of this. It should probably be a 1x, maybe a 2x in a Robert centric build (which I guess is most of them right now)
scantrell24 - 3 out of 5
Here's the first intriguing card of the pack. King Robert's warhammer can be capably wielded by almost anyone in a pinch, considering the weapon itself gives +1 strength. It can also be combined with other boosts like Ice, Widow's Wail, or Castle Black. The question for me is whether 1 copy replaces 1 of the 2 Lightbringers (a valuable R'hllor card) in my Baratheon deck.
The Hound (38 Total Points)(95%)
Alexfrog - 4 out of 5
His drawback is not minor, but there are ways to get around it, such as Tyrion money, which even give you the opportunity to use him multiple times in a turn, and his Ambush is a pretty strong combat trick. The Hound is good and makes the Lannister banner even stronger by providing another solid character.
Barnie25 - 5 out of 5
Strength to cost this card is bonkers and I am not sure if his drawback is a bad thing. Ambush is probably one of the best keywords and being able to threaten a big guy such as this coming out of ambush is really good. Lannister also has the best gold production as you are probably being able to play him twice if needed. Very Nedly that he is not loyal, Nedly and convenient as many factions would love to banner him. The Lanni banner is becoming an even bigger power house banner than it already was.
Curmudgeons - 5 out of 5
Exceptional value. The Forced Reaction: looks like a downside, but he's cheap enough that it really isn't, especially with the alternative downside if you're over your reserve. Between being able to ambush him back out with Tyrion gold and being able to dodge resets, this persistent dog will be a valuable card for Lannister for a long time to come.
emptyrepublic - 5 out of 5
Given he has ambush the return to the hand forced reaction is hardly a problem. Extremely efficient for setup with potential for multiple uses during the challenge phase. The STR for cost is amazing as well. Non-loyal to boot! Has to be at least one copy anywhere where Lannister is present.
Habesjn - 5 out of 5
The first 5 out of 5 card out of this chapter pack. The bucket of stats on this guy is impressive. 3 gold 6 strength is incredible on its own, but the fact that he can be ambushed is what puts him over the edge. His forced reaction isn't terrible, and it does offer some upside. He is resistant to tears (if someone tears of Lyses him, win a challenge with him and return him to your hand), he has more strength than any 3 coster as well as many 5 and 6 costers, and he allows you to turn your card and gold advantage as Lannister into board advantage. He also synergizes very well with Tyrion. You can go into a challenges phase with no money, win a challenge with him, return him to your hand, initiate 2 intrigue challenges, gain the 4 gold from Tyrion's ability, and ambush him back into play. The amount of flexibility he gives you is nice. Plus, as the game goes on, Lannister will have plenty of gold to pay 3 for him each turn if they want to.
OKTarg - 5 out of 5
STR for cost, right out of the gate, is amazing. He helps Lanni in the sometimes-difficult MIL category, and returning to hand isn't that bad. You can ambush him in again right then, you can hop him off the board right before you reset with Varys or Wildfire or Marched, or you can just pay the card. You should be ahead in cards, and, early in the game, pitching to reserve.....coincidentally, early game is when the great STR for cost ratio matters the most!
Redviper187 - 5 out of 5
A three cost for six strength character with military icon, what more do you want in Lannister? A character that can dodge the Varys you're probably running? Well the Hound can do that too. If he's not dodging any impending board resets and you actually want to keep the Hound on the table it's a good thing Lannister has a solid amount of card advantage.
scantrell24 - 4 out of 5
Fantastic all-around. The Hound makes win-by-five effects much easier to trigger.
Cersei's Wheelhouse (27 Total Points)(68%)
Alexfrog - 3 out of 5
In general I actually prefer to go second in most decks in Game of Thrones. As a result, this doesn't fit well in many decks, except perhaps as a trick to fool your opponent into choosing you to go second. Given that it costs a card and a gold to play and lowers your initiative, and doesn't always work, it has enough drawbacks that I think it's merely okay. It'll probably end up as a 1-of in Lannister, but I wouldn't guarantee it.
Barnie25 - 4 out of 5
When thinking about Lannister decks and how they are being played now this card would seem like a wash. Sure it gives you potentially a gold or a card but you probably want to go second. This card opens up a new style of play that focusses on going first, which is better anyways with cards such as Burned Men and Gold Cloaks. I am interesting to see if a aggressive Lanni deck will be good and if it will, this card will be an instant 3 off.
Curmudgeons - 4 out of 5
Non-limited economy is great, as is cheap draw. Bay of Ice was a thing in first edition for pretty much the whole duration, and this has a similar vibe. The true power is likely in making opponents force you to play second, which can be the preferable option for Ambush builds more often than not.
emptyrepublic - 2 out of 5
Good for set up but unless you are running lots of high initiative plots you are not likely to have this go off (especially given the initiative penalty). Better for joust where your opponent might second guess making you first player. Far better in joust.
Habesjn - 2 out of 5
A fine card, but I ask myself where is a Lannister deck going to find room for this card? I think this card is more suited for making your opponent go first when s/he doesn't want to than actually gaining the benefit of the card. It's viability depends on the priorities of the player. I'd be surprised if this were more than a 1x in most Lannister decks, unless it helps incentivize a new type of Lannister deck. Lannister decks are already cutting better cards like Cersei Lannister and Lannisport just to make room for all the no agenda shenanigans, I'd be surprised if there were room for this card. Great card in theory, probably not so great in practice.
OKTarg - 4 out of 5
All draw cards, no matter how bad, deserve at least a 4 (OK, Doran is probably worse than a 4. LOL martell). This isn't bad, since it either ensures you go second, which you probably want to do (or at the very least your opponent wanted to do!), or you get gold/card option. Yes please. It's a bit weird, but the price is right.
Redviper187 - 4 out of 5
If you're going first it's awesome. Card advantage is pretty much always good and having the option to take gold instead can't hurt. Like Iron Fleet Scout, the Wheelhouse might make your opponent hesitant to let you go first, even if it would be the optimal move. The most important thing with a card like this is to not let it overly influence your decision on whether or not to go first if you have the option. Although with the way things are going, it seems like Lannister will want to go first more often than the other factions.
scantrell24 - 4 out of 5
Cersei's Wheelhouse will be interesting for sure. Jaime and Cersei both generally want to attack first, so maybe "first player" becomes an indirect Lannister theme.
The Seastone Chair (39 Total Points)(98%)
Alexfrog - 5 out of 5
Greyjoy has the best chance of getting in unopposed, especially with Balon in play, and targeted kill is strong. This changes the nature of the Greyjoy military challenges from a thing that picks off your small claim guys and hopes to potentially do something if they run you out of guys, to targeting your best characters off the bat. I'm not sure if you actually need to play multiple copies, but I am quite sure that shoving 1 of this in your Greyjoy deck is pretty automatic and will remain so for a long time, and that that copy is one of the best cards in your deck. While it does conflict with fealty, this opens you up to playing Greyjoy with a banner. Banner of the Stag is strong and helps you get unopposed challenges with kneel and another stealth )Davos), and there are other good options as well. Lannister adds Tyrion stealth and money and helps reduce your intrigue weakness, and others are also an option.
Barnie25 - 5 out of 5
The card has potential to be meta defining in the Greyjoy match up. What can hold it down however is the amount of conditions on the card, not being able to use Fealty can truely hamper the card's effectiveness. Greyjoy banner of the Sun will really love this card as icon removal works perfectly with The Seastone Chair.
Curmudgeons - 4 out of 5
A gold and a card for something that does nothing unless you're already winning unopposed, and that your opponent can play around (unless you have Balon) 9 times out of 10, and that requires a faction kneel to do anything and doesn't provide any card advantage at that point. Sounds good!
emptyrepublic - 5 out of 5
Ouch. Greyjoy unopposed has been strong out of the gate and especially strong in Melee. Not sure if I'd activate this on a 2 claim, but it's sure useful for point/click character removal that your opponent can do little about (outside of saves).
Habesjn - 5 out of 5
This card could set the tone for Greyjoy to overtake Baratheon (or, perhaps, Martell?

) as the most dominant deck in the game. There is a reason most decks run Tears of Lys or Put to the Sword or Dracarys! or Throwing axe or Ice, even though they are all events/attachments that are relatively expensive and have some sort of condition to play them. Targeted kill is supposed to be difficult. This card kind of throws that out the window and says "meh, kill whoever you want. I don't care." Add Support of the People and you have yourself a very efficient way to get this card out whenever you may need it.
OKTarg - 5 out of 5
I don't know that it's a huge meta-blowout, since usually if you were losing unopposed MIL you were hurting anyway, and it functionally takes away your ability to claim 2 cards per turn, which can in some cases be better than the choice of one claim.
That said, repeatable targeted removal for one cost? wowza.
Redviper187 - 5 out of 5
I have been advocating for the strength of Greyjoy fealty since Gencon and this card has made me want to switch to a banner. This card is just so good, the value of repeatable targeted kill cannot be overstated and having an unopposed military challenge in Greyjoy is pretty darn easy. I think fealty decks will be a lot less common after this card drops, because once you play it you pretty much never want to kneel your house card for any other reason.
scantrell24 - 5 out of 5
There's no denying it's power, but there's anti-synergy with Fealty and two-claim plots, so beware. I'm glad to see the targeting restriction "without attachments", which should be on more cards *cough*Melisandre*cough*.
Rise of the Kraken (40 Total Points)(100%)
Alexfrog - 5 out of 5
This is pretty much almost always better than Winds of Winter, and can fit in right in that slot in your plot deck. This will end games in a hurry if you get ahead and/or can stealth through. Should be played in Greyjoy for a long time, possibly forever.
Barnie25 - 5 out of 5
What is not to like? Strong stats and an even better ability, sure two gold is not a lot but its only one less than Winds of Winter and that card is pretty good. Letting your opponent go second is a great way to leverage this card midgame or use it as a closer and go first. Balon and Rise of the Kraken are a match made in heaven, if you can get two challenges off with him you can get 8 power with just him alone assuming that they are unopposed.
Curmudgeons - 5 out of 5
If there was any doubt that Greyjoy is THE Rush faction, let those doubts dissipate. A first edition staple reborn (and made even better with its gold doubled), with this and Great Kraken you can accumulate power at a terrifying speed. It also positions Greyjoy as the Baratheon of Melee.
emptyrepublic - 5 out of 5
Effectively copy/pasted from its first edition version with one extra gold. Again, unopposed in melee tends to be much easier than joust. Combined with the rival effects from certain titles you are looking at massive power gain with this plot.
Habesjn - 5 out of 5
A very good finishing plot. It doesn't really matter if you're 5 power away from winning or 10. If you can set the board that you can get 2 unopposed challenges in, this plot will win you the game. 4 power for unopposed, 2 for your power claim, 2 for Great Kraken plus whatever renown you may have. That's an easy 10 power swing in two challenges. The 8 initiative makes it so that the only 2 plots that will definitely take first turn away from you are Clash of Kings and Sneak Attack.
If you're running Winds of Winter, you may as well run this instead, as it is only 1 less gold, a bunch more initiative and the additional unopposed power. This, along with Seastone Chair and Support of the People, make Greyjoy my favorite for winners of this chapter pack.
OKTarg - 5 out of 5
Maybe it won't be a 5 forever (as my friend Steven from TC put it, maybe it has the same place as it did in 1.0....'almost' in your deck), but right now, I don't think there are 7 plots better than this for Greyjoy. The gold is low, but the initiative? And the effect? Yes please. This lets you close in a HURRY.
Redviper187 - 5 out of 5
Just what Greyjoy needed to cement their position as a Tier 1 faction. This plot is a great closer and approaches ludicrous levels of efficiency when paired with Balon. My only qualm about this plot is that it won't be legal for worlds.
scantrell24 - 5 out of 5
You literally cannot expect any better from a plot card. High claim, high initiative, and extra closing speed is a potent combination.
Merchant Prince (9 Total Points)(23%)
Alexfrog - 1 out of 5
He is quite bad. He is similar to Joffrey, but with no power gain potential, and a bit better and easier to turn on ability. Right now Targaryen literally has no in faction attachments that can go on him. If there was something useful in faction to put on him he might be better, but there isnt. Also, if you use conditions to pump him, a tutorable Maester Cressen will come out and remove them.
Barnie25 - 1 out of 5
Upon first reading the card I liked him, then I evaluated him again and realized that I probably won't have him and a Widow's Wail in every opener. Can't imagine that this card will ever become playable especially in Targ which already have strong early drops, strong and a lot. A missed opportunity.
Curmudgeons - 2 out of 5
Right now he's probably worthy of a 1, but we're being charitable and assuming Targaryen sees attachments he can actually hold. At the moment though, unless you're eagerly running... Noble Lineage? This isn't worth it. A solid enough card for the future, hopefully, perhaps, maybe.
emptyrepublic - 1 out of 5
There are maybe two attachments that he can hold that are worth him holding (assuming Targ/Neutral attachments only), and why are you spending 3 gold just have a character to hold a dinky attachment expecting him to get killed? Nothing about this guy seems to make sense.
Habesjn - 1 out of 5
What attachments are you putting on this guy? They only have 1 attachment so far, and it can only attach to dothraki characters. So that leaves you with the 3 icon addition attachments and banner faction attachments that don't specify their house, such as Dawn and Widow's Wail.
The only attachment I would want to run with him is Noble Lineage, but if you're building a deck and find room for both this guy AND noble lineage...take that deck apart and try again.
There may be some better neutral or Targaryen attachments coming that would make this guy playable, but as it stands now, there's no reason to consider playing this card.
OKTarg - 1 out of 5
Harsh? Biased? Nope, he's just bad. What attachment are you playing on this guy? (if you answered literally anything, you're doing it wrong

) Maybe he will get better with substantive positive attachments, but maybe not.
Redviper187 - 1 out of 5
Nope. Even if Targ gets some good attachments in this cycle (which I hope they will) you probably shouldn't give them to this guy. I guess if you're not running dragons for some weird reason and you decide that you need Noble Lineage in your deck I guess he is solid but otherwise you can probably skip him.
scantrell24 - 1 out of 5
Merchant Prince may improve with a larger card pool, but he's binder fodder until we have more attachments available. Even then, it will take heaps of attachment synergy to make him more than mediocre.
Vaes Dothrak (9 Total Points)(23%)
Alexfrog - 1 out of 5
I think this card will only become decent in the future if we get an attachment that returns from your discard to your hand, but for now it's pretty weak. Targaryen already has Viserys as attachment destruction. Targaryen did indeed get wrecked in this pack, but fortunately they were quite strong in core. They literally got nothing for their deck, while other good factions like Greyjoy and Bara got very large boosts. This card is build in card disadvantage until we get something printed which combos with it. It does have future combo potential however, so it could eventually become good with the right supporting cards.
Barnie25 - 1 out of 5
FFG is really trying to push a theme that is just down right terrible, the amount of card disadvantage this creates is just not fun anymore. The only scenario where this is good is where you discard a unique attachment which you already have in play to discard one of theirs and still then you are giving up a card since you had to play Vaes Dothrak first. Targ got totally hammered this chapter pack and still they are tier 1, so they will be fine.
Curmudgeons - 1 out of 5
Like the last card, but worse. We hope Targ Fealty decks liked their core cards, because they gained absolutely nothing they can really slot in here. With the only new attachments in this CP discarding themselves one way or another already, and the best attachment in the Core Set facing a Cressen-shaped threat in Here to Serve, you won't only be leaving your weapons at the door, but Vaes Dothrak in the binder. And while this effect could be good for another faction, let's face it - even if Targ ever gets a good set of attachments, this will never have the flexibility of doing tricks with Core Set Viserys.
emptyrepublic - 2 out of 5
A bump because you have more targets in melee, but are you going to discard an expensive attachment of yours to get rid of another one? Doesn't seem worth it right now, maybe later on. Right now seems like an engine to discard a Milk of the Poppy to get rid of a Milk of the Poppy on one of your own characters.
Habesjn - 1 out of 5
Will get better as more attachments come out...maybe. But right now, there's no reason to play it. There isn't even proof that Targaryen will want to run attachments. They seem to really be pushing attachments on Targaryen, so maybe they'll start getting some sort of free tutor for attachments, but even that scares me, as the current Targaryen decks do not need this little niche attachment theme to be good. Just expand on what they already have. They're already a strong faction. You don't need to reinvent the wheel here.
OKTarg - 1 out of 5
So I pay for a location that lets me trade cards 1-for-1 with my opponent, meaning I am always at least one card behind in a draw-poor house? Remind me, why don't I just play Viserys again?
I guess this could be good if attachments take over the meta, but how many are you really running in Targ right now? I don't run many since my event base is quite jammed, meaning I won't have fodder in my hand to trigger this ability. (I don't think this will ever be good)
Redviper187 - 1 out of 5
Targ really got hammered in this pack. This card is also just not very good. If Targ attachments actually becomes a thing then this will be decent just to get rid of dead cards I guess? Even then it's usually just going to be anti-milk or anti-seal tech and it's in the house that already has Viserys.
scantrell24 - 1 out of 5
Vaes Dothrak may improve with a larger card pool, but it's binder fodder until we have more attachments available. I wonder why I can only pay the cost with an attachment from my hand, but not with one I control in play. Would that be too good?
Bastard Daughter (29 Total Points)(73%)
Alexfrog - 4 out of 5
I like cheap claim dudes that punish your opponent for killing them, like Shireen, Viserys, and this. Martell's claim soak will now provide card advantage, which is pretty nice, and unlike Shireen and Viserys, its non-unique so you can play three copies without any worry.
Barnie25 - 4 out of 5
This card does everything you want a chud to do, it can oppose challenges, die and still have it trade for a card. It is a pity that Martell already has one of the best weenie line ups in the game but in a vacuum this card is great. Will this make Martell better? No, they are still borderline unplayable as a main faction (or so we thought pre-Worlds) and I would have liked FFG to have given them something more useful for the immediate future.
Curmudgeons - 4 out of 5
A cheaper, non-unique Ser Waymar Royce? Awesome, this is a Control chud that can die for days. (Note: JC wanted to rate this a 5 but was talked down by the cautious Finns.)
emptyrepublic - 4 out of 5
Was tempted to go 5 because it's great for melee. Designed to punish opponents for killing your characters. Cheap and is fodder for future Sand Snake synergy.
Habesjn - 4 out of 5
Chud that makes your opponent think twice about winning a military challenge. I wish it gave a bigger consequence for killing the Red Viper, like they have to discard 2 or 3 cards. But if you can find room for this card, it isn't a bad include. It is essentially a cheaper nonunique Ser Waymar Royce. Not a bad thing, in my opinion. They obviously want Martell to rule the Melee world.
OKTarg - 3 out of 5
This is a cool, vengeanc-y card that helps round out Martell's lower icon spread. I'll be playing it (yes I play Martell sometimes).
Redviper187 - 3 out of 5
Solid Martell chud that reinforces their low cost curve focus. I think the best part of this card is the word "each". Martell is already a solid Melee house and this will be another tool on their belt.
scantrell24 - 3 out of 5
Maybe it's just my playstyle, but if a character is only going to have a single icon , military is the one I want least. The effect is money though.
The Long Plan (24 Total Points)(60%)
Alexfrog - 3 out of 5
I was playing Martell yesterday and would've had a use for this, so I think it will get some play, but it's not amazing and competition for plot space is fierce. Expect it mostly as a combo card to combine with some heavy gold needing card that doesn't exist yet.
Barnie25 - 2 out of 5
This is the most difficult card to rate, at the moment I can't see the card doing a whole lot. This is the type of card that can be really strong in a specific type of deck, it can help you pay for a Varys while still playing a impactful plot for instance. Again this is not the card that Martell needs right now but can potentially grow into something in the future.
Curmudgeons - 3 out of 5
The plot does make one go "meh", and it's not exactly an exciting ability, but it could be argued that it might be just what Martell needed... if not what they actually wanted. Being able to bluff events in the Challenge phase before leading up to that one big turn is important - as long as Martell gets some more events to bluff with, that is! There is at least Mr Hotah for now. Control decks need a good flow to their economy, and having a plot that's perfect for a 'down' turn before letting you play out your Viper/Varys/whatever on the following turn is a key option to have.
emptyrepublic - 4 out of 5
This does double duty in my view. It acts as deterrent as opponents know they could give you gold to power events; particularly in melee as there might be more desirable targets. Also has the potential to fuel you for a power turn the next round (assuming you withstand the beatings fairly well). A good setup for Counting Coppers.
Habesjn - 3 out of 5
When I compare it to the NW specific plot we've seen in previews, the Rise of the Kraken and the Lannister plot we've seen in previews, I just shake my head. All the faction specific plots we've seen really play up to their faction's strengths, or make their win condition simpler. It irritates me that Martell got such a generic plot for their faction. At the same time, I've been talking about how important economy is in this game, and I'd feel a little hypocritical wrecking this card without waiting to see if they actually have a plan for Martell surrounding it. This is just good economy that encourages you to lose challenges. As more cards come out that really hurt your opponent for winning challenges, this card could become pretty good, but even then, it would be the punishing cards that make it worth losing challenges, not this plot. I don't think this card will have the impact that other faction specific plots do.
OKTarg - 3 out of 5
This has some interesting potential for saving gold for blowout events, pushing a high reserve for a big push, or, in the future, leading into a Valar or other significant reset. I think it's a high skill card but worth including at this time and only getting better. Don't forget the gold gain happens if you lose on either offense or defense.
Redviper187 - 3 out of 5
The eight reserve is really nice and once Martell gets more control tools this plot will be great. These are the kind of tool martell needs for it's intended victory method (control for a delayed rush) to possible. Playing this plot and saving some gold to drop a bunch of stuff on one turn seems like it could be a good way to close, especially if the plot you followed it with was WIldfire.
scantrell24 - 3 out of 5
Currently only interesting with Tyrion's money, but will be very good one day. The following turn you can reveal a powerful plot but low-gold plot (Winds of Winter, Counting Coppers, etc) and still marshall multiple threats in the same round.
Support of the People (35 Total Points)(88%)
Alexfrog - 4 out of 5
A very strong effect which tutors out some of the best cards in the game, such as The Red Keep and Great Kraken. This card helps Greyjoy and Baratheon a lot. Close to giving this a 5, but I'll save that for the cards you're using this to tutor for.
Barnie25 - 5 out of 5
There is almost never a moment where you are not happy to see this card, it either helps you find that key locations when you want or in worst case thins out your deck in bolsters your economy. This makes power challenges relevant in a huge way and I suspect this card to show up everywhere.
Curmudgeons - 4 out of 5
Lovely event, we're just not sold it's amazing. "Win by 5" is a more difficult trigger condition than many will give it credit for, until they find the event stuck in their hand for multiple turns. Much as people can easily adapt to Put to the Sword's win by 5 trigger and prevent it, so will they be able to do with Support. While there's a plethora of other good locations to fetch, there's one Faction in particular that pushes this up to 4 from 3. No, not Bara, but GJ. All their stealth & UO abilities are on P challenges making winning it by 5 quickly a breeze, and fetching Great Kraken should add a whole new level of consistency to their antics. This will be a cool event going forward.
emptyrepublic - 4 out of 5
Real good event, but with the condition that it's a bit faction specific. Clearly best for factions like Martell that want to recycle usage of Ghaston. Save your event space if Building Orders is good enough; or I, suppose, you could use this event in place of Building Orders if your plot space is more precious.
Habesjn - 4 out of 5
It'll see play in many decks. Every faction has at least one high impact location, except for Non-fealty Stark. And getting it out into play immediately is a very strong effect. The only decks I see not running it are, as I said, non-fealty Stark and defensive decks that don't often win by 5 or more. And even those decks could still use it for economy locations. It'll rarely be a dead card in your hand, unless your board state is ruined. I don't want to give it a 5, because there are conditions to it that you may struggle to meet in some games and it isn't a meta defining card, but it is still an extremely good addition to most any deck. My only wish is that it could tutor 4 gold cost locations. I'd love to grab the Wall with this card...
OKTarg - 5 out of 5
This is amazing. Deck search and economy boost, all for the low-low cost of winning a POW challenge and one gold! Yeah, you can search for your draw location, but in a pinch you can even get a Roseroad or Kingsroad (this gets around Limited). Great, great card.
Redviper187 - 5 out of 5
Every house with a three cost draw location loves this card. In addition to making it easier for those decks to get some draw which is always fun, it also makes power challenges early on way more important which is really awesome for the game in general.
scantrell24 - 4 out of 5
Opponents of Baratheon decks are now forced to contest turn 1 power challenges or risk an easy route to the Red Keep.
Street of the Sisters (29 Total Points)(73%)
Alexfrog - 3 out of 5
Similar to Superior Claim, which is getting a tiny bit of play but not a ton. You actually have to activate it three times before it becomes better, with added costs of 1 gold and kneeling your faction card each time, and also lacking surprise value. (Though it isn't counterable by The Hand's Judgement). It can be played in setup, while superior claim cannot, which is the main thing that makes it a bit better. Because of the setup benefit this will see more play than superior claim does.
Barnie25 - 4 out of 5
A repeatable power grab that you can setup? Yes please. The initial investment is low enough that you can play it without hampering your gold curve. Midgame decks and Rush decks alike will like this card, might be better in Melee then Joust.
Curmudgeons - 4 out of 5
Even in a pure rush deck, this will often not make the cut... in Joust. In Melee, whole 'nother story, this will be an auto-include in most non-Fealty decks for the time being until we see more powerful faction kneel cards.
emptyrepublic - 4 out of 5
Again, another ideal melee card given the tendency to defend less. One power per turn doesn't sound overwhelming which I think is the point. Opponents get much more jarred when you grab lots of power at once. If you can get this down early it allows you to gently boost your gain without shouting about it.
Habesjn - 3 out of 5
Good for power rush decks like Tyrell, Greyjoy and Lannister. Will be good in combination with Support of the People and Superior Claim for a surprising burst of 3 or 4 power which, in renown decks, could be enough to steal a victory at the last second. It hurts to play in a fealty deck, as it uses your house card. Power gain can never be understated, as it is the entire point of the game.
OKTarg - 3 out of 5
I'll need to see it played effectively and often before I can go higher. Cheap and non-limited for setup is about the best thing I can say about it right now!
Redviper187 - 4 out of 5
Great for set-up and is a good card for rush. Rush has always been a little underrepresented in thrones and it's nice to see support for it in the first cycle. As a rush card it seems solid, even though it's only one power per turn, it's potentially one power every turn. If you can keep up the power pressure this should help your victory acceleration pretty considerably.
scantrell24 - 4 out of 5
Street of the Sisters should be in every Melee format deck until it rotates in four years. For Joust purposes, Baratheon and Greyjoy are suitable hosts.
Muster the Realm (17 Total Points)(43%)
Alexfrog - 1 out of 5
I much prefer Winds of Winter. This is sort-of in-between Winds of Winter and Sneak Attack, but requires armies and seems weaker than either one of them overall. At present I wouldn't really consider playing it, if future printed cards provide more Army synergies then it could become playable, my rating in this case is based on the current state of the game. Plot competition is fierce, so mediocre plots just won't get played.
Barnie25 - 3 out of 5
Decent stats with upside, so that's not bad and might push decks towards running more armies. Some armies are really stellar and you don't mind seeing them early and often. Ranging Party is terrific on its own as is Wildling Horde, an offensive Tyrell NW deck could run up to 9 armies making this card interesting. As more cards are released this will go up in value.
Curmudgeons - 3 out of 5
That Army aggro deck is really starting to take shape, eh? Let's just be glad it isn't a War plot for Vanguard of the North. In the comparison to Winds of Winter, a worse trait and more conditional claim raise meets better gold, initiative and reserve... in those decks this will feature it has a slight edge, though the number of Armies is just not quite there yet.
emptyrepublic - 3 out of 5
Reasonable plot if you are running many army characters. Also, given new melee title powers I would argue the effect is a "big deal" (3-claim master of ships, 2x 2-claim hand of the king, 2-claim intrigue across the table). It's quite situational though and should be an include on well thought out decks that have lots of armies; not something to build around.
Habesjn - 1 out of 5
We love comparing cards to similar cards that already exist right? We did it with Renly and Littlefinger. We did it with Widow's Wail and Lady. We did it with Bastard Daughter and Ser Waymar Royce. It's fun.
Well, this card's comparison is Winds of Winter. I don't see 1 gold, 1 reserve and 1 initiative as a compelling reason to give up the unconditional 2 claim. Once there are enough armies to take up 20 character slots in a deck, this might become worth it, but even then, it's a tough case.
Also, it's an edict. A trait that, so far, is only a negative versus naval superiority.
I don't see a reason to play this card now or in the near future.
OKTarg - 2 out of 5
I agree with Scantrell--with more armies, I'm listening, but for right now the claim raise is too conditional. I'd rather just have Sneak Attack if I knew I needed a 2 claim MIL or Winds if I wanted to push my advantage.
Redviper187 - 2 out of 5
Eh. It's not bad but it could be better. Unless we get a deck that has a lot of good armies you're better off playing one of the actual two-claim plots.
scantrell24 - 2 out of 5
You got one more gold and one more initiative than Winds of Winter, but the claim raise is highly conditional. I can't condone making that trade until we see more effective Armies.
Here to Serve (37 Total Points)(93%)
Alexfrog - 5 out of 5
Excellent value and will see a lot of play because it is neutral and will go in many decks. I expect to see this a ton. It really buffs maesters, and faction-banner combos that give you access to two good maesters. It hurts Targ, who have no maester. Top Maesters to banner are Baratheon/Cressen, for the demilkification (did you know that was a word? I just increased your vocabulary), Nights' Watch/Aemon, for denying military claim by saving himself, and Martell/Caleotte, for giving your opponent tough decisions in challenges. This plot effectively provides 6 gold of economy and a free card, which is an amazing gain, and when you play it you know exactly what the card is that you are going to get. The plot bumps out something in a lot of decks (those with multiple Maesters). Also it should get even stronger in the future as more Maesters are printed. While at present with a max of only 2 different Maesters per deck this plot is maybe only a 4/5, it should grow stronger as more Maesters are printed and thus receives a 5 from me.
Barnie25 - 4 out of 5
At the moment the card isn't the nuts as it was in 1.0, but the fact that Cressen exists means that the card is strong. I can't see searching out other Maesters that do something stellar enough to search them out. On the other hand you will always be able to search out a fairly decent character and still have decent gold and not terrible initiative. This is a card to look out of in the future but the expanded gold curve makes the card less of a power house.
Curmudgeons - 5 out of 5
Maester Cressen laughs at your Milk. Ha ha ha, laughs Maester Cressen. Hahahaha. Card combo designed by 2010 Joust champion Alec Irwin. Long-term, this plot has some cool interactions. Lannister being able to fetch Insight, Stark being able to fetch Insight for Robb, Night's Watch being able to fetch saves, are all important plays. But right now the sound you can hear is the Milk of the Poppy-centric meta crashing down around us as Banner of the Stag becomes the go-to deck for people who want to win.
Note from Drakey: The "best before" date for this plot may be shorter than people expect, due to the cost limit coinciding with that of First Snow of Winter. Personally I think JC is overrating it, for several reasons, and I'd go with a 4/5 instead. Also, for new players, the beginning of the review above is an obscure reference to an old Champion card from 1.0. Not really funny even if you know the card. Hahahaha.
emptyrepublic - 5 out of 5
The rival of "At the Gates" from 1.0, and no less potent. A tutor plus put into play effect is crazy strong as you could essentially few this plot as 6/3/1/6 instead of 3/3/1/6. The buzz about "demilkification" on this is spot on, but we will no doubt see more maesters in the future so the long term value of this plot should remain high.
Habesjn - 5 out of 5
Say hello to my favorite card out of this chapter pack. Think of the characters available to you. You are Stark and just played Robb Stark? Go and get yourself a free insight keyword. You are Night's Watch and want to ignore military claims? Go and get yourself Maester Aemon and ignore their military challenges. You are Baratheon and Robert just got milked? Save your confiscation and just bring in Maester Cressen and bid that Milk farewell. You are Greyjoy and you need one more power stealth to really get your unopposed triggers humming? Grab Wendamyr. You are Lannister and you want some card draw? Grab your Pycelle and get some free card draw. You are Martell and you think icon removal could really help in this next battle? Grab Caleotte and rejoice. You are Tyrell? Don't run this plot, because Lomys is pointless.
Not only that, but it allows you to drop your Maester down to 1 or 2x without consequence, because you know you can go get him whenever it is that you need him. Will only get better as more maesters are printed. Will become an incredible toolbox plot. Once again, Targaryen is left out in the cold, as they do not have a Maester.
OKTarg - 4 out of 5
This plot is only as good as the Maester you get, though a functional 6 gold +1 card plot is pretty amazing. Best with Aemon or Cressen, Luwin and Caleotte are pretty OK as well. Gets better as our Maester pool gets deeper (come on, Marwyn! Where are you????)
Redviper187 - 5 out of 5
Really great plot. If you're running both your in house and banner faction Maester then this plot is really good. It's especially nice because it helps out some factions that are struggling right now. If you're playing Stark, Martell, or Night's Watch go ahead and shine that Bat signal (chain signal?) and get your Maester on the board and ready to support. Plus, once we get more Maester support this plot will be a keystone of decks that run those cards.
scantrell24 - 4 out of 5
Compared to Summons, you essentially get 2 more gold (if your Maester costs 3) and search the entire deck, so there's no risk of failure. Assuming each faction eventually gets a 2nd or 3rd Maester, you can pick the right one for the matchup. Note that Pycelle is loyal, but Luwin, Aemon and Caleotte are not, so it's already playable.
Total Pack Score:
67.0% (536 out of 800 possible points)
Top Cards:
Rise of the Kraken 100%
Seastone Chair 98%
The Hound 95%
Pleasure Barge 93%
Here to Serve 93%
Support of the People 88%
Bottom Cards:
Vaes Dothrak 23%
Merchant Prince 23%
Renly Baratheon 38%
Let us know in the comments how you feel about the cards in this pack, and we'll see you again next month on the Road to Winterfell!
KruppSteel, fozzyfosbourne, hagarrr and 1 other like this
Article: Taking the Black: AGoT LCG Chapter Pack Review