Welcome to Card Game DB
Register now to gain access to all of our features. Once registered and logged in, you will be able to create topics, post replies to existing threads, give reputation to your fellow members, get your own private messenger, post status updates, manage your profile and so much more. If you already have an account,
login here
- otherwise
create an account
for free today!

1
The Road to Winterfell: Chapter Pack Review
Jan 27 2016 02:00 AM | scantrell24 in
Strategy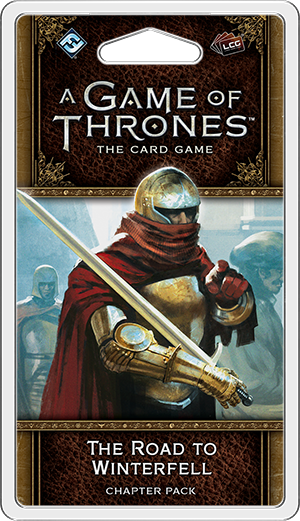 "Catelyn Stark wasted no time. 'We must ride at once. We'll want fresh mounts, and provisions for the road. You men, know that you have the eternal gratitude of House Stark. If any of you choose to help us guard our captives and get them safe to Winterfell, I promise you shall be well rewarded.' That was all it took; the fools came rushing forward. Tyrion studied their faces; they would indeed be well rewarded, he vowed to himself, but perhaps not quite as they imagined."
- A Game of Thrones
Our staff has put together a first blush analysis of the newly released "Road to Winterfell" chapter pack. Cards are listed in numeric order and scored on a scale ranging from one through five, with five being the best possible score. We have 6 reviewers this time around, so the maximum overall score is 30 points.
You may notice a few familiar faces missing in action. We've decided to rotate reviewers to accommodate everyone who wants to participate, while also slimming the article to a more reasonable length.
Now onto the reviews, starting with....
Winterfell Kennel Master (11 Points)
scantrell24 - 2 out of 5
Kinda cool thematically, and fixes the "Direwolves can't have intrigue or power icons" problem. Unfortunately, the character itself doesn't impress. Weak guys die easily to Plaza, so you don't want your strategy to revolve around them.
Habesjn - 3 out of 5
I was curious how FFG intended to make direwolves a legitimate sub-theme for Stark, as they all only have military icons and cannot hold attachments (for Nedly reasons, which I can appreciate.) This character allows direwolves and characters using Lady (and future Direwolf attachments) to jump into challenges that they typically would not be allowed to join, or even when they're stealthed around. The Direwolf theme is beginning to take form. We'll see if it gains traction.
LaurenF - 2 out of 5
No comment.
rave - 2 out of 5
There isn't really enough here yet. On paper, this is a very strong ability for a 2 gold character, and should be a worthwhile offset to his underpowered stats. The problem is, direwolves are so linear in their use right now that you aren't really going to disrupt much with this effect in the current state of the card pool. Lady isn't really enough to make use of the other cards yet. This can help strengthen Stark's intrigue weakness I guess? But that's reaching.
Alexfrog - 1 out of 5
He is terrible and will never fit into your deck. I want to kneel my direwolves to play Like Warm Rain, not to commit two characters to the same challenge using the ability of a 2 cost, 1 strength monocon.
Siroma - 1 out of 5
The restriction of being a 2 gold 1 str monocon and being forced to have both a Direwolf and another participating stark character out (for non-power challenges) is quite heavy. Direwolf decks seem like they are going to be aggressive, and this is just too slow.
Winterfell Castle (12 Points)
scantrell24 - 2 out of 5
Over-costed and unnecessary. Maybe we'll see win by 10 effects?
Habesjn - 2 out of 5
Very expensive. Other 3 gold locations include Red Keep, Plaza of Punishment, the Mander, Lannisport and the Great Kraken. This is not nearly as good as any of those. Also, it encourages Fealty so you have more Stark characters. It is very good with +5 events like Put to the Sword, though. And that could make it worthwhile in a "kill everything" Stark deck. But I've never seen those types of decks consistently work.
LaurenF - 2 out of 5
No comment.
Alexfrog - 2 out of 5
Its really only good for triggering 'win by 5' effects.
Rave - 2 out of 5
This seems to try and fix a problem that Stark really doesn't have, and at 3 gold it isn't really worth it. Not loyal though… could be fun to package Stark in with the Red Viper. (but note I said fun, not useful.)
Siroma - 2 out of 5
An inferior Red Keep. While +4 str is nothing to scoff at, 2 characters is a heavy investment and 3 gold ain't cheap either. May see some play if Stark gets more big locations and uses Support of the People.
Lady in Waiting (13 Points)
scantrell24 - 2 out of 5
Meh. Most Ladies already have intrigue icons, so you're not worried about protecting them from Tears, and they generally don't have renown, so you're not protecting the power they've accumulated either. Maybe someday.
Habesjn - 2 out of 5
Decent deck and curve filler. The problem is Tyrell only has 2 ladies and, with only 1 unknown card left in the cycle, they probably aren't getting any more. Unless your deck is already running 3 bodyguards, I'm not sure why you need this card. The Knight/Lady deck that could work with a Stark banner for Arya and Sansa is probably the only deck that uses this card for a while.
LaurenF - 2 out of 5
Duplicates are good, but if you have to set this up it's there for claim soak only. It does nothing to win challenges which is what Second Edition is all about. Probably only good in a deck that focuses on Ladies (perhaps the upcoming Tyrell/Wolf with Sansa and Arya?). Maybe a 2.5.
Rave - 3 out of 5
Interesting card, and makes me excited for the future. Will we see a strong Lady presence in Tyrell to come? I don't value strength nearly as much as icons on 2 gold characters, so I think these guys are a decent enough replacement for most 2 gold chuds that you could think of. No military icon hurts (not that it would make sense) but since these guys are just as likely ending up on characters, not a big deal.
Alexfrog - 3 out of 5
It's niche, but probably good in that niche, such as a Varys deck.
Siroma - 1 out of 5
The selection of targets is simply too narrow. Oftentimes a bodyguard would be a better alternative.
Lady Sansa's Rose (25 Points)
scantrell24 - 4 out of 5
That's a massive power gain stemming from a relatively easy-to-meet trigger.
Habesjn - 4 out of 5
KoF + Margaery just got even better. Other spoilers from future packs indicate that Knights and Ladies are going to get along quite well in a Tyrell deck. Tyrell is becoming the premier power rush faction, even as a banner faction.
LaurenF - 5 out of 5
This card obviously needs to be built around, but in the right deck it will be hard to deal with. You could play this and Superior Claim in the same challenge for 7 or more power at once. It could also see play in other factions with a Rose banner as each faction gets more Knights.
rave - 4 out of 5
Here come the rush cards.

3 power in one action is a lot, and this isn't very difficult to set up. Potentially threatening.
Alexfrog - 4 out of 5
I like the Knights and Ladies theme of Tyrell. Its non-loyal so you can splash Tyrell for knights and this card in power rush decks. Tyrell will probably be bannering stark for ladies.
Siroma - 4 out of 5
3 power is a lot, and this may make rush Tyrell viable. The option to banner it out makes it quite scary, and this is only going to get scarier as more knights and ladies come out.
Unsworn Apprentice (19 Points)
scantrell24 - 3 out of 5
Unsworn Apprentice meets a need, but he's generally underwhelming. You're paying 3 gold for a 2 strength character with, essentially, all three icons, but no other ability. In-faction synergy from The Wall and Castle Black helps, but this guy's a Companion, not a Ranger, so Benjen doesn't care about him.
Habesjn - 4 out of 5
Night's Watch are currently less competitive than others, mainly because there are many ways to get an unopposed challenge, and Night's Watch doesn't have any means to stop unopposed challenges other than flooding the board with low cost characters, which has its own inherent weaknesses. Unsworn Apprentice is an efficient character that can block any challenge. He can't be Milk'd either! Combine with Syrio to make an unstealthable quasi-tricon on defense. Very good card that may push defensive Wall decks up a notch in competitive play.
LaurenF - 4 out of 5
Very good for defending the Wall. The fact that his Action does not cost any gold makes him a good fit for resource-starved Night's Watch. Also nice: you can add his icon after stealth is declared, meaning that your opponent will have to decide whether it's worth stealthing him when he currently has no icons.
Alexfrog - 4 out of 5
He is great but not nearly enough to make Night's Watch a thing yet.
Rave - 2 out of 5
I guess I don't see it. I still don't like dedicated defense as a theme, and it seems like this is a character solely built to take advantage of The Wall. Poor strength to cost ratio for a character based around challenges.
Siroma - 2 out of 5
Sure he's alright for chump blocking for the wall, but then why not just run a few little birds? 3 gold for 2 str is not very impressive, and stealth still knocks him out of the challenge. The lack of a good trait hurts as well.
Brandon's Gift (7 Points)
scantrell24 - 1 out of 5
Hey look,
another reprint
! Except that card was inefficient, and this one's arguably worse because it only triggers after you marshal a Builder. Fantastic artwork though (most of this pack deserves recognition).
Habesjn - 1 out of 5
Brandon can keep his gift. This is the worst card in the game at this moment. No exaggeration. Practically unplayable. It costs 2 gold and will get you, at the very most, 3 gold back, as there is only one builder in the game right now with only 1 spoiled in the next 5 packs/expansions (and only 3 NW cards are unknowns at this point). Unless there is cheap or reusable builder in the future packs, this card will probably never offer enough to be worth a slot in any deck.
LaurenF - 2 out of 5
For potential future value.
Alexfrog - 1 out of 5
When they print a Builder that returns to your hand during the marshalling phase to do something useful, then this might become good, until then it is not useful.
Rave - 1 out of 5
Worth watching. But right now, pretty much unplayable.
Siroma - 1 out of 5
Too slow unless we get a bunch more draw and actual decent builders.
Royal Entourage (15 Points)
scantrell24 - 3 out of 5
Keep in mind that with our still-small cardpool, he doesn't necessarily compete with Bastard in Hiding; you can run both! Mini-curve in Bara will be viable now, for all of two months until First Snow of Winter arrives.
Habesjn - 2 out of 5
Same price but 1 more strength than the bastard in hiding, but can be forced to kneel itself? Doesn't seem worth it. It may see spot use in an aggressive deck that wants to go first and as curve filler.
LaurenF - 4 out of 5
I like this guy a lot. Baratheon is more flexible than many houses on whether to go first or second. If you go first this guy is a 2 cost, 3 STR bicon with no downside (assuming you used him in a challenge).
Alexfrog - 2 out of 5
It's good when you go first, or maybe in a deck with Lannister. But the drawback is pretty harsh, and the upside is just +1 str over a generic dude.
Rave - 2 out of 5
Bara gets far more advantage out of going second because of their kneel mechanic. Building around going first seems counter-intuitive to the house right now. Let us not forget that 2 gold characters are meant to die, and not being able to chump block with this character that doesn't do anything but participate in challenges is pretty rough.
Siroma - 2 out of 5
2 gold is pretty cheap if you can make use of this guy. Bara is however already full of mil/pow characters so even in the situations where this guy's useful he's not that much better than the other characters the faction already has.
In the Name of Your King! (25 Points)
scantrell24 - 4 out of 5
There's excellent value here. I'll gladly trade 1 gold and a card in hand to kneel one or more of my opponent's characters and prevent all kinds of "bad stuff" (to borrow from Munchkin) -- there's no satisfying claim, no unopposed bonus, no keywords like renown, and no triggers like Put to the Sword. When I play Baratheon, I value my Power and Intrigue challenges far more than my Military challenges anyways.
LaurenF - 4 out of 5
Again, if the Baratheon player is first this event is quite good. Avoiding military challenges is about more than just claim; it also avoids reactions like Put to the Sword, Great Kraken, and The Mander, as well as preventing the opponent from collecting renown.
Habesjn - 4 out of 5
Lauren covers the strengths of this card well. I also really like it in a Banner of the Watch deck. It can negate a military challenge that would otherwise go unopposed, keeping the Wall standing.
Alexfrog - 4 out of 5
In the name of your king, stop Balon from killing me with the Seastone Chair! And Stark from murdering me with their 3 claim sneak attack + winds of winter military challenge with Ice! You can even play this after the Stark player plays Winter is coming. Seems great.
Rave - 4 out of 5
I'm getting Burning on the Sand flashbacks here… Unlike Royal Entourage, this card is worth the awkward play situations it creates for you because the ability is just so good. It's brilliant when you go first, and still very good at times when you're second.
Siroma - 5 out of 5
This is an excellent card for current Baratheon decks. This allows for several turns where you can simply ignore military claim and allows you to build up your board to the important characters like Robert and Melisandre. While this isn't as good as burning on the sands, Bara right now has the ability to utilize this effect extremely well.
Brothel Madame (24 Points)
scantrell24 - 4 out of 5
Brothel Madame seems strong, but the effect doesn't stack so she's probably a 1x in my Lannister decks. Will this type of effect will become a Lannister theme? "Give me your gold or you can't do what you want?"
Habesjn - 4 out of 5
Control is a good thing. Gold is also a good thing. Not being able to declare military challenges is a bad thing for your opponent. Makes Put to the Sword a 3 gold event. There's no reason why any Lannister deck wouldn't run at least 1 of these.
Alexfrog - 4 out of 5
Play her when going second after your Greyjoy or Stark opponent played Sneak Attack and spent all 5 gold! Lannister decks often are counting on Tyrion money to play events or ambushes in the challenge and this also gives you the opportunity to play extra effects yourself. She represents more than just some economic value, the surprise value of destroying your opponent's turn by playing her when second is immense.
Rave - 5 out of 5
Bonkers. A 3 gold character that is playable enough in challenges that at worst, chokes your opponent for 1 gold each turn, (plus you get the gold.) It's not like you're going to be having them die to claim soak if your opponent can't attack you. Sad it's non-loyal so Lanni has to share

One thing to note though, Lanni is developing a bit of a monocon intrigue problem… be mindful of it. But I'm still going to let my bias carry this one to a 5

LaurenF - 4 out of 5
She's very good--the only question is how many do you run in your deck? More than 2 seems like trouble for your board position. Won't last long against Targ since she's low strength and the ability is so annoying.
Siroma - 3 out of 5
Choke mechanics aren't fully a thing yet, and though gold is important, lannister usually isn't in a position to leverage an almighty board. This feels like it'd really only be useful against a stark or a greyjoy, and 3 gold for 2 str isn't a great deal either.
Warden of the West (29 Points)
scantrell24 - 5 out of 5
I couldn't believe that effect when this plot was spoiled, and I still can't now. The reaction happens before claim, so claim will hit something good (or two somethings with Cersei).
Habesjn - 5 out of 5
Card advantage is how you win games. Card draw for yourself and discarding (or killing) your opponent's cards. This plot, paired with Cersei and Tyrion, can empty a hand awfully quick. In addition, the stat line is still really good. 5-4-1-6 plus an amazing effect. That's impressive. Imbalanced. But impressive.
LaurenF - 5 out of 5
The stats on this plot are too high for what it does. It would have been more balanced with 3 gold. With Tyrion or Tywin out you can play a good character and trigger this plot. There's currently no way to cancel plot effects, so pack some intrigue icons or get ready to eat this often.
Rave - 5 out of 5
In this state of the game, it's a 5 gold plot that does something, which is nice. Good reserve. Decent initiative. 3 cards discarded in one challenge is a lot in 2.0. Hard to not consider in your Lanni deck right now, especially with the threat of Tyrion.
Alexfrog - 4 out of 5
It's kinda like a 3 gold plot that denies the opponent 2 cards, which seems fairly balanced with Counting Coppers. There is some upside potential due to using Tyrion money to pay for it, or initiating multiple Intrigue challenges in one turn. A solid plot, Lannister will play it.
Siroma - 5 out of 5
It's kind of like having triple claim on intrigue. Tasty. The decent stats means that even if the ability doesn't go off it's still a pretty good plot.
The Reader (29 Points)
scantrell24 - 5 out of 5
Reader 2.0 costs more than the first edition iteration and lacks the naval enhancement,, but repeatable draw is worth every gold dragon. I'm not sure yet whether a second copy is more valuable than say, a third Asha, or perhaps a second Euron.
Habesjn - 5 out of 5
I think I just mentioned card advantage. And here it is again. More card draw for Greyjoy. Or, if they are so inclined, they can start to mill your deck, giving Euron more targets to steal, and possibly discarding a valuable card their opponent has been waiting for. It can also possibly thin their deck so they get that valuable card faster…But who plays Greyjoy but doesn't enjoy taking risks?
Alexfrog - 5 out of 5
He's similar to a Littlefinger that's good on setup, but requires you to get to three unopposed challenges before he matches LF's card draw. Unlike LF you can reduce the Reader's cost with Sea Tower or Fealty and pump him with Iron Fleet Scouts. He gives you redundancy if you can't find the Great Kraken, so he'll definitely see play.
Rave - 5 out of 5
He's recurring draw in a house that doesn't have much of it, without being a liability in any way.
LaurenF - 5 out of 5
He's quite good, and the 4 STR intrigue icon alone makes him worth adding to any Greyjoy deck right now. Greyjoy suffers from a lack of resiliency when its plans don't go off, and The Reader could help immensely with that by adding draw and intrigue defense.
Siroma - 4 out of 5
The Reader was a 5/5 monster in 1.0, yet 2.0 is a bit different right now. Greyjoy's strength now is in the fast game, using Balon, Iron Victory, and other renown to quickly push through unopposed challenges and use either the seastone chair to remove key targets while going for the win. 5 gold is heavy investment for a character that won't help you gain any power in a significant way. Even with the added draw the Reader provides, the krakens still can't compete in the late game compared to houses like Targaryen or Baratheon, and while the reader is certainly a strong card and provides a valuable intrigue icon, the lack of the ability to naval him into a challenge greatly reduces his flexibility. Furthermore, his draw still requires you to win an unopposed challenge, which while not difficult when one is ahead, can be a struggle if you're trying to draw back into a game.
Raiding Longship (20 Points)
scantrell24 - 4 out of 5
Like with Kraken's Grasp, I hate the design of this "first player only" restriction. FFG should let the ability work either way -- just make it less effective while I'm second player. Rant aside, this ability packs major punch. The threat of activation makes challenge math a headache for opponents.
Habesjn - 4 out of 5
Can this card effectively replace Iron Fleet Scout? The only down side is requiring you to be first player, but you can build a deck around the concept relatively easily. If a player chooses to run both this and Iron Fleet Scout, they're going to be hard to stop from getting unopposed challenges. Cards like this are the oil (or maybe the gas?) for the unopposed engine. Very scary card that may make the plot in this chapter pack, Political Catastrophe, even more attractive.
Alexfrog - 2 out of 5
The cost and requirement to go first are a bit tough, but it does help you get unopposed when it works, which is critical for Greyjoy. I think it'll be hard to fit in, but you'll probably try to get at least one in there. Based on the ratings, I think this is the most overrated card in the pack. I am betting that people are going to be disappointed in this one and then end up cutting it. But maybe I'll be really wrong on this and you can laugh at my rating later.
Rave - 3 out of 5
Not cheap, you get about what you pay for. Thankfully, there's no real downside to building around going first as a Greyjoy player.
LaurenF - 3 out of 5
Good on setup, boosts Drowned Men, negates any stealth characters on your opponent's side. We had this in 1.0 (Scouting Vessel) and it was very good. I'd probably go 2X Iron Fleet Scout 1X Raiding Longship, especially when running Greyjoy with a Banner, since Raiding Longship doesn't care if your attacker is a Greyjoy character. However, even in Greyjoy going first is not always that great, so minus 1 point.
Siroma - 4 out of 5
The ability is absolutely disgusting. Scouting vessel's biggest weakness in 1.0 was it's cost, and 2 gold here is a lot cheaper than 2 gold back then. Sure, going first isn't always ideal, but if you build the right deck this can completely shut down any way your opponent can defend against your challenges.
Rakharo (14 Points)
scantrell24 - 3 out of 5
We have the makings of a Dany-less Targ deck that just slaughters everything the normal way (military challenges).
Habesjn - 2 out of 5
Rakharo will get better as more Bloodriders are released. He could be good in an eventual Dothraki deck.There is no real reason to play him right now. 4 Strength makes him vulnerable to Confinement and Dracarys (And Crown of Gold), which isn't great either. We'll know how good he is once we see more bloodriders. Until then, he'll be safe in the binder.
Alexfrog - 2 out of 5
For now he's overcosted; he really needs more Bloodrider synergy to become useful. His ability is usually worse than Renown, because it only works on military, and there are plenty of duplicates running around, and if they prevent the claim with a bodyguard or risen from the sea or something, then you get nothing. If he had 5 strength to put him out of range of Dracarys and Crown of Gold he would be great, but as is he is just a 6 coster who dies to those cards, like Renly, but not as bad.
Rave - 2 out of 5
Dracarys bait. Playable enough, but below average at 6 gold.
LaurenF - 3 out of 5
Decent. Targ decks can be slow so this helps speed up power gain. Will be better in the future.
Siroma - 2 out of 5
Too pricy for not enough oomph. Targ already uses enough big stuff, and if all the Bloodriders come out at 6 gold I don't see a viable way of playing them all despite the bonuses they get for each other.
Crown of Gold (30 Points)
scantrell24 - 5 out of 5
Because Targaryen needed a 4th Dracarys, apparently. Stupid stupid stupid card. My opponent should have to work a little harder to kill my duped Tyrion, or my Margaery with Seal of the Hand. I guess Lanni decks now run 2x Widow's Wail by default.
Habesjn - 5 out of 5
Ordinarily, I would not give a 5 to a Limit 1 per deck card, as they can't be built around. But others make a good point that it is essentially a 4th Dracarys! You won't see it every game or even every other game, but when you do draw it, it has a lot of high priority targets. It can't be cancelled either. I'm kind of disappointed that it doesn't have any kind of synergy with Viserys, but that doesn't actually matter to anyone except Neds like me haha.
Alexfrog - 5 out of 5
Kills a ton of problematic characters that cost more than it. It's like a built in Dracarys + Dornish Companion + Dragon to kneel combo all in one. Kills Varys if you are second.
Rave - 5 out of 5
Waaooow So cool!

Insane, and has the potential to completely shift momentum upon being played.
LaurenF - 5 out of 5
Very destructive card that can't be played around as well as Dracarys. Targ is already playing Rebuilding in many cases, which means in some games you might see this more than once!
Siroma - 5 out of 5
Nothing else to say.
Nymeria Sand (30 Points)
scantrell24 - 5 out of 5
Nymeria's especially great with the Night's Watch (to help shore up a weakness) and with Greyjoy (to help create an unopposed challenge). On the flip side, she's also great against Night's Watch (to create an unopposed challenge) and against Greyjoy (to help shore up a weakness). The applications are endless.
Habesjn - 5 out of 5
Instantly in the top 5 best characters in the entire game. She makes Tywin Tears-able without needing to lose a challenge first. Obviously, my favorite application is in a Night's Watch defensive deck. Her synergy with two already good cards, Bastard Daughter and Obara Sand, just make her that much better. It's a shame that she is 4 strength, meaning she can be confined, Dracarys'd and now Crown of Golded. Pretty much can't let her into a challenge against Targ unless she's holding Dawn or Widow's Wail. Automatic 3x in any Martell deck for the foreseeable future.
Alexfrog - 5 out of 5
Nymeria is the strongest card in the pack, imo, and makes Martell far more attractive as a banner faction, and should help it gain potential as a main faction as well. Nymeria does very important things like strip the military icon from Balon so he can't Seastone Chair you, remove the Intrigue icon from the character you want to Tears, even if it's Dany or Tywin, remove Jaime's military icon, and so on. Her only flaws are that she is wrecked by Milk, and she dies to Crown of Gold. I will be trying martell banners in MANY decks to try and use her!
Rave - 5 out of 5
Obvious Tears synergy in the house that loves Tears. But very useful beyond that. Stealing a power icon is also very useful in the late game. She's a good addition to Martell banner as well, since that seems like just a character or two away from being one of the best banners.
LaurenF - 5 out of 5
In addition to what's mentioned above, she can help you win all of your power challenges in Baratheon, triggering your Red Keep, as well as helping you win by 5 or more in Tyrell. This card has a home in just about any deck and will see a ton of play.
Siroma - 5 out of 5
Very flexible and strong. Make sure that you do run confiscation in your plot deck because if she gets milked you've got an iconless character that you've dumped 5 gold on that's like a worse Edric Dayne. Make sure that when you play her you're second player or there is no threat of milk. Probably best bannered into or out of baratheon due to cressen support, seen in flames, as well as the ability to shore up Bara's intrigue weakness and secure the red keep's triggers.
In Doran's Name (12 Points)
scantrell24 - 2 out of 5
It's hard to run a card that can't be setup, and isn't even marginally useful until the third round. In that sense, it's similar to Doran's Game. I'm rating this card below-average now, but I'm cautiously optimistic that someday Martell will reach critical mass with similar effects and be able to effectively stall, stall, stall, then explode.
Habesjn - 2 out of 5
I want to like it, as economy is very strong. But its economy is strongest during the time that you typically don't need it as much. Maybe it is just my playstyle but I find myself with extra gold during the later turns relatively often. Past turn 4 or 5, I am either top decking and only playing 1 to 2 cards per turn, in which I'd hate to see this card, or I am intentionally holding characters back so that I don't expose myself to Wildfires and Varys. Will be good as an aid to recovery after a Varys, possibly paired with Counting Coppers, but I think it's a relatively niche card that is better in theory than practice.
Alexfrog - 1 out of 5
Until they print a Martell card that costs 20 and says that you win, this isn't useful. It trades cards for economy in the part of the game where you usually have plenty of economy and need more cards. It's worthless at the start. It will probably eventually be useful in some combo deck, but not now.
Rave - 2 out of 5.
The Long Plan does this better. It's funny that the only other card I can think of that I'd want crazy amounts of gold for (TTIDFL) also requires a faction kneel.
LaurenF - 2 out of 5
May see some use down the road in a combo deck. Can get at most 5 gold--is that enough to help you win?
Siroma - 3 out of 5
Doran's Game might actually have potential if we get more effects that help us stall out the game. This can be a big gold swing, and if used properly could change up the game, especially if hard resets like valar come back. Time will tell.
Syrio Forel (20 Points)
scantrell24 - 3 out of 5
Five-cost neutrals aren't easy to afford, and military challenges hardly matter half the time. However, Syrio fills a role in some decks, so he'll see play. I like the idea of jumping him into play with Arianne for a massive, surprising board swing.
Habesjn - 4 out of 5
Low strength and one icon prevents him from being a 5. But on demand stealth and adding military icons to any character cannot be understated. Stealth makes challenges go through more easily. This can be used to force through a power challenge to stop the Red Keep, or can be used by Greyjoy to ensure an unopposed challenge, as he essentially turns off two characters. Another card that works great with Night's Watch and Martell for defending and retaliating.
Alexfrog - 3 out of 5
Like Nymeria, Syrio is hurt a lot by Milk. ( I wonder if that card will see a resurgence now?) A pretty strong ability, seems most useful in decks with The Wall, or small Intrigue characters that need to find a way to get in. He is competing against characters like Littlefinger for your 5 gold slot, so I think only decks that really need his effect will play him.
Rave - 3 out of 5
That's a lot of gold for a mono-con. Even with stealth. Ability doesn't seem to be enough of an impact to offset his sub-par challenge stats. Cool art though.
LaurenF - 4 out of 5
He's not for every deck but will make a big impact in the decks that need him. Note that he can take attachments, so if you're running Little Birds in your deck anyway he's a great target for one.
Siroma - 3 out of 5
The double stealth is nice, but the houses that really want to push through challenges using it are rare. Being expensive and weak on the defense makes him very punishable.
Shadowblack Lane (23 Points)
scantrell24 - 3 out of 5
Once some factions reach the "3 solid events" threshold, Shadowblack will see play. Greyjoy is there already, but they struggle to win intrigue challenges. Targaryen might find Shadowblack worthwhile to search for Waking, Dracarys, or Fire and Blood. Lanni and Bara are close. The downsides are that you have to wait to use a Marshalling phase event like Consolidation of power, and your opponent knows you have the event, so Dracarys and Treachery aren't surprising.
Habesjn - 4 out of 5
Will be extremely good in some decks. As the card pool grows, it will become even better. Right now, I think Lannister will love it, Martell will love it, Tyrell may love it and Targ will love it.
Alexfrog - 4 out of 5
Niche, but very good in the decks that can use it. Targaryen banner decks didn't have any good way to utilize their faction card before, but now they do. You might think that you need to use it twice before it generates card advantage, but actually you are at an advantage as soon as you draw 1 Dracarys with it.

Rave - 4 out of 5
Limited sort of card draw for the decks that can use it. Pretty strong, but the reveal hurts the impact of a lot of the cards that it can grab, like Dracarys or TTIDFL for example.
LaurenF - 4 out of 5
There are a ton of solid in-house events, so Shadowblack will be useful for a long time (and only get better as the card pool grows). You should be playing as if your opponent has a Dracarys or Treachery in hand anyway, so the reveal isn't that bad. Also, a 1 cost location is excellent for setup!
Siroma - 4 out of 5
This will only get better as the game goes on, and it's not too shabby in houses like Targaryen and Martell.
Trading With the Pentoshi (20 Points)
scantrell24 - 2 out of 5
If you can attack your opponent's hand, and hold back a few power cards, then flip Trading and flood the board, you probably win. Otherwise I'm not sure when you'd want this plot. Turn 1? Seems awfully risky. By comparison, Calling the Banners regularly nets around 8 gold. Trading gives you 2 more, but also helps your opponent.
Habesjn - 3 out of 5
I think this is a trap card, but the sheer economy is hard to resist. It'll probably see play. The question is should it? I am not sure at this point. Heavily meta dependent. If your meta runs Naval, stay as far away from this plot as possible.
Alexfrog - 4 out of 5
It has the obvious vulnerability to that card which might cause a resurgence of Naval Superiority. If Naval starts getting played a lot then it's very bad. I think I'll be opening with a lot of Calm over Westeros or Sneak Attack for the next month. You can think of this card like a Noble Cause with slightly better initiative and no Lord/Lady restriction (so you can use it in Night's Watch!), which also gives both players a bonus $3. It could be very strong after destroying your opponent's hand. Another great play: play this while your opponent opens Noble Cause. Choose to go second. Your opponent empties all their characters onto the board, and you spend your 10 gold on Varys and locations.

I might be wrong on this one though, giving your opponent $3 is scary.
Rave - 4 out of 5
Big drawback, but 10 gold. 10 gold! You play it when you need it. It's not guaranteed your opponent will. Good card when you are behind, but yeah, as said, watch for Naval Superiority.
LaurenF - 3 out of 5
This is a card that will reward good players and burn the bad ones. Gold is an extremely limited resource, and sometimes the reason you win is that you had more that your opponent. (The art on this card is gorgeous!)
Siroma - 4 out of 5
If naval superiority ever becomes a thing, this becomes a 1 out of 5. However, in most circumstances this will give you a huge gold advantage and even if your opponent plays noble cause, you've evened it up at 10-10 AND you have better initiative. May see play in decks like Night's Watch or ones that rely on having combo pieces out like Targ.
Political Disaster (16 Points)
scantrell24 - 2 out of 5
Catastrophe will be strong someday, but not yet. It deals a slight blow to Night's Watch, Baratheon, Greyjoy,and maybe Tyrell, but doesn't phase the other factions at all.
Habesjn - 3 out of 5
It will become more prominent as more locations come out. Right now, the fact that it can absolutely wreck Baratheon and Greyjoy makes it an interesting plot that could see play immediately.
Alexfrog - 3 out of 5
Doesn't kill the really important location like Red Keep, mostly just kills cards your opponent can live without.
Rave - 2 out of 5
Not there yet. Low impact in the current card pool and even lower reserve.
Siroma - 3 out of 5
Like fleeing to the wall from 1.0, this will come and go depending on the meta. There aren't enough good locations to make use of this yet, but this will likely be a staple in the future.
LaurenF - 3 out of 5
There's not much reason to run this right now unless you're regularly getting trounced by Night's Watch or Baratheon decks (and I think their play numbers right now mean it's not worth it), but if location-heavy decks ever become a thing, this plot will become a necessity. The 4 reserve will be particularly harsh if you haven't prepared for it.
Total Pack Score:
65.7% (394 out of 600 possible points)
Top Cards:
Crown of Gold (100%)
Nymeria Sand (100%)
The Reader (97%)
Warden of the West (97%)
Bottom Cards:
Brandon's Gift (23%)
Kennel Master (37%)
Winterfell Castle (40%)
In Doran's Name (40%)
Let us know in the comments how you feel about the cards in this pack, and we'll see you again next month as we keep The King's Peace!
JCWamma, kizerman86, Jensen22 and 2 others like this
Article: The Road to Winterfell: Chapter Pack Review