Welcome to Card Game DB
Register now to gain access to all of our features. Once registered and logged in, you will be able to create topics, post replies to existing threads, give reputation to your fellow members, get your own private messenger, post status updates, manage your profile and so much more. If you already have an account,
login here
- otherwise
create an account
for free today!

1
There Is My Claim: Thrones Pack Review
Dec 02 2016 12:00 AM | scantrell24 in
Strategy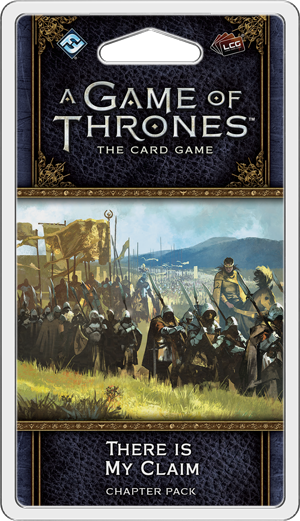 "Robb is only a boy," Ned said, aghast."A boy with an army," Varys said. "Yet only a boy, as you say. The king's brothers are the ones giving Cersei sleepless nights … Lord Stannis in particular. His claim is the true one, he is known for his prowess as a battle commander, and he is utterly without mercy. There is no creature on earth half so terrifying as a truly just man. No one knows what Stannis has been doing on Dragonstone, but I will wager you that he's gathered more swords than seashells. So here is Cersei's nightmare: while her father and brother spend their power battling Starks and Tullys, Lord Stannis will land, proclaim himself king, and lop off her son's curly blond head … and her own in the bargain, though I truly believe she cares more about the boy.""Stannis Baratheon is Robert's true heir," Ned said. "The throne is his by rights. I would welcome his ascent."
Our staff has put together a first blush analysis of the newly released "There Is My Claim" chapter pack. Cards are listed in numeric order and scored on a scale ranging from one through five, with five being the best possible score. We have 5 reviewers this time around, so the maximum score per card is 25 points.
Now onto the reviews, starting with....
Jojen Reed (16 Total Points)
Barnie25 - 4 out of 5
The 3 gold slot was deemed unplayable after we were introduced to First Snow of Winter but having stealth on both power and intrigue is just too good to pass up. That single strength is a bummer but Stark has enough ways of making up for that. His draw ability can come in handy but thats more of an added bonus rather than a main draw.
Joe From Cincinnati - 3 out of 5
Jojen delivers both card draw and another intrigue icon that Stark needs. Stealth on power challenges is amazing, since late game all Stark really needs to do is push through that power challenge to gain 3 to 4 renown each round, and stealth on intrigue is rare right now.
However, he's only 1 strength and susceptible to Blood of the Dragon, etc.. Jojen's cost, 3 gold, is the worst cost slot in the game due to First Snow, Ilyn Payne, etc.. In order to gain a card, you need to give your opponent a card as well. Granted, you can do this only if the card you would draw is better than the card your opponent would draw. But then, if you reveal a card you really want but they do as well, that could hurt. Imagine flipping Robb, who you've been digging for all game, but your opponent flips Tyrion or Tywin.
scantrell24 - 3 out of 5
At a different gold cost I'd probably run 1 copy, but at 3 gold Jojen straddles the borderline between deck and binder fodder. He's competing with a crowded field: Septa Mordane, Maester Luwin, Osha, etc.
PatrickHaynes - 2 out of 5
The stealth is really nice, especially on a power icon, but his effect is not particularly good. Sometimes it will work out in your favor, but it feels too risky. I think the playability of this card is entirely dependent on the popularity of First Snow and Blood of the Dragon. If First snow remains popular and Targ continues to surge in popularity, this guy belongs in the binder.
Quill & Tankard Curmudgeons - 4 out of 5
As a 3-coster with only 1 STR, the downsides here are striking. But two icons, especially intrigue in Stark, with Stealth for *that* cheap… We were wavering between 3 and 4, with the ability (thematically a cute combo with Green Dreams, mechanically just "ok") barely pushing it up to 4.
The Wolf King (18 Total Points)
Barnie25 - 4 out of 5
For me the potential of this card is sky high, doing double challenges is very very potent and when you combine this with 2 claim plots and kill effects you can easily run away with a game. You can put it on non uniques as well as unique characters which helps but most of the time you want to put this on an Eddard type character. I might overrate this card but I have a feeling this is the key card Stark Murder was missing. Very potent.
Joe From Cincinnati - 4 out of 5
King Balon, Jaime and Cersei Lannister are the only characters in the game that have the ability to attack without kneeling right now (Khal Drogo, Vanguard of the North and Blackfish in certain circumstances as well). And that is because it is such a strong ability that it is hard to give it to characters without quickly overpowering them. For a long time, there was a deck built around Jaime and Drogo because of Jaime's ability to attack without kneeling and Drogo giving a second military attack (nicknamed Smash Bros). You could do something very similar with this card, except you could also put it on Fast Eddy and get 4 renown in one turn out of him. Or, put it on the Blackfish to get him to 4 power quicker and engage his ability to never kneel when attacking. Giving the character the king trait is just gravy for this attachment.
scantrell24 - 3 out of 5
A powerful ability, but positive attachments in general don't see much play because they're often worse than drawing another character. Eddard is indeed an amazing target, but the other options aren't nearly as brilliant.
PatrickHaynes - 4 out of 5
This card is really strong, the lack of the "Lord" or even "unique character" restriction makes this crown more playable than most of the other ones. Furthermore, the effect is quite powerful, not kneeling to attack is one of the strongest abilities in the game, especially when the not kneeling character has renown. Bob with Lightbringer is a game winning combo that needs to be answered, I have a feeling Wolf King Eddard will be the same way.
Quill & Tankard Curmudgeons - 3 out of 5
Seal of the Hand would probably be a 3 out of 5, fitting some decks but not others. This is less flexible than Seal, but cheaper (that 1g can oft' be the difference between getting to play your big hitter & the stand for 'em… or not)... so pretty even change.
King Renly's Host (15 Total Points)
Barnie25 - 3 out of 5
I think Tyrell might have gotten the card they needed to break To The Rose Banner… or did they? Its a cute interaction letting you get 8 gold back on a turn when you need the gold or just use both cards to gain 2 gold. That is probably not what you are doing. Its a very strong body in a summer deck most of the turns, the cost slot is a bit of a problem but no attachments and intimidate are two good things to have. This card might proof to be a sleeper or it might be a total bust, I am still undecided.
Joe From Cincinnati - 3 out of 5
On the one hand, being an 8 strength body is extremely, well, intimidating. But you need to gear your deck for him. It isn't difficult for Tyrell, who already love Summer plots for a variety of reasons, but the fact that a winter plot completely shuts this character down, offensively, is a bit of an inconvenience. There are a lot of very good Winter plots out there and they're bound to see even more play now that a certain plot is coming out that is going to make boards extremely small most of the time. With Valar being a full board reset, 2 claim plots are going to be even stronger as a follow up to the Valar to really squelch any attempt at a comeback. So, in short, this character will be amazing or horrendous depending on the match up and the meta. Classic 3 out of 5

.
scantrell24 - 3 out of 5
In my Tyrell Summer, this Army does a lot of work, but to make room (and to re-work the deck for Valar), I had to cut Ser Horras and Ser Hobber. Even with a Winter plot in play, King Renly's Host is a giant shield that can defend against Tywin, Balon, Robert, etc.
PatrickHaynes - 2 out of 5
At face value this card looks pretty solid, Tyrell likes summer plots and Intimidate is a strong keyword. The more you look at it though, the less appealing it becomes. First of all, Winter plots are quite popular in the current meta. Lanni Winter is a strong deck, Night's Watch Winter is growing in popularity, and even non-winter decks frequently run First Snow or Winter Festival. Needless to say, a winter plot against this guy is really crippling, and even if you have a Summer plot, he's just a beefy defender. In addition to this already significant drawback, this guy is a 6+ cost character that doesn't have renown which is a pretty difficult space to be for a Tyrell character. The decks that will probably want this guy the most are the Tyrell pressure decks which are, unfortunately for Renly's host, almost always winter decks.
Quill & Tankard Curmudgeons - 4 out of 5
This 4 assumes you're building with Summer in mind (duh). Big efficient cha-… dudes are how you win the game, or so we've heard. Even against Winter it's still a hefty Wall for an opponent to get round, and Intimidate offers an interesting new angle for Tyrell. While it's something of a shame that it's non-loyal while Robb's host was loyal, we appreciate the thematic nod, in that after Renly's demise most of his army went over to Stannis - and Baratheon sure does like bannering to non-loyal Intimidate.
Caswell's Keep (11 Total Points)
Barnie25 - 2 out of 5
This card isn't bad per se but I don't understand what this card is trying to do? It's more deck selection / filter for Tyrell which is repeatable. Might prove to be useful in a combo deck someday but right now, better put this in your binder.
Joe From Cincinnati - 3 out of 5
Another card quality improver for Tyrell...You'd think eventually FFG would start expanding their horizons with Tyrell. That said, this is a good card. It's a location so it is not a 1 time use like Bear and the Maiden Fair or A Rose of Gold. A good 1x that, if you draw it, you play it and put it to work. If you don't draw it, it doesn't negatively impact your game too much. If you're running Tyrell Rains of Castamere, you can use it to filter your draw after triggering Rains prior to your insight with Renly to increase your chances of seeing a loyal card as well!
scantrell24 - 2 out of 5
A niche card that isn't great even when correctly utilized.
PatrickHaynes - 2 out of 5
This card basically boils down to, if you're playing Rains of Castamere, you play this card, if you aren't, you don't. In that deck it's pretty solid, as you can sometimes trigger it twice in the same round (on both yourself and your opponent). In other decks it is probably not worth the slot or the cost.
Quill & Tankard Curmudgeons - 2 out of 5
Fun with Rains (a cheeky second trigger and the synergy between stacking & discard). It's a cool card that we like a lot (you know what's coming, eh?)... however, we're not convinced that currently Tyrell would rather run it than, say, a second Highgarden. How're you fitting them all in?
Shadow Tower Mason (25 Total Points)
Barnie25 - 5 out of 5
This is one of the more boring cards out there. Not difficult to power up if you play the defense deck and in that deck he is just amazing. Boring and efficient, everything you want out of your 2 drop.
Joe From Cincinnati - 5 out of 5
The hits keep coming for the Night's Watch! This rating is based mostly on mono faction Wall decks. In aggro decks or banner of the Watch decks, he's more like a 3 / 5. A 2 for 2 power icon alone is a pretty good card. But then, with the slightest of conditions, he becomes a tricon! And there are so many locations and attachments to work with, this condition could be fulfilled by the end of the first turn easy. You got 3 Cravens, 2 to 3 Practice Blades, 3 Walls, 2 to 3 Castle Blacks, 1 to 2 Shadow Towers, 1 to 2 Haunted Forests (we'll get to that in a second!), maybe a Bridge of Skulls (will become better at the end of the cycle when Qhorin comes out)...Every single one of those cards you want to get out on the board anyway, so you're not going out of your way to activate this guy.. Honestly, I can't think of many better chuds in the game right now. He can block any challenge and declare any challenge. Hell, he may even make Jon Snow and Brandon's Gift playable (Okay, maybe I'm getting a little over excited on those...)! Practice Blade even makes for a "surprise!" to trigger his condition mid challenge, which could really help win on defense unexpectedly, especially in intrigue challenges. I think this will be a 2 to 3x for quite a while for NW Fealty and may have a place in banner decks, depending on how many NW locations/attachments are being run.
scantrell24 - 5 out of 5
I'm a little worried about NW defense becoming too reliable. A tricon for 2 gold is insane value.
PatrickHaynes - 5 out of 5
I think Joe covered it on this one. You probably play this guy in every Night's Watch deck from now until it rotates out. I think you even play this guy in aggro decks because let's face it, you're still playing Cravens, Castle Black, probably Practice Blades, and White Tree so there's a good chance he'll still be on and a 2 for 2 tricon is just really efficient.
Quill & Tankard Curmudgeons - 5 out of 5
We were tempted to go 4 because it's 'just' a chud, but as the most efficient one in the game... let's give it the recognition it deserves.
The Haunted Forest (25 Total Points)
Barnie25 - 5 out of 5
Why did this card need to be printed? This card can be very NPE if you are Greyjoy. It's making Greyjoy UO even worse than it already is. When you combine this card with some elements of control, say in a Bara Watch or NW Stag deck this card is just miserable. This card + The Wall just makes defending it so much easier. Time will tell if my glooming over this card was justified.
Joe From Cincinnati - 5 out of 5
Another unbelievable card for the Night's Watch! It's starting to feel like I don't even have room in my deck for all the incredible cards they are printing for this faction. In my first drafts of my fealty deck with this card available, I've been running with 2 copies. We'll see if I have to make room for a 3rd. I can't write too much about it or Steven will yell at me, but this location basically guarantees the first challenge against you cannot be unopposed. So your opponent will have to use all of their "unopposed tech" (such as stealth, Raiding Longships, Dracarys! etc) in that first challenge just to ensure they win the challenge and kneel the Forest. Otherwise, they'll have to do it again in the second challenge, which will also not be unopposed if this card is still standing. So...does your opponent have enough strength and tricks to win the first challenge and then also win the second or third challenge unopposed? Not likely. And, if they are...then you got problems anyway. This also makes Shadow Tower, Thoren and Qhorin better. Everything that wants to win on defense loves this card. It's even another thing for your opponent to forget about when doing challenge math! Combine this card with For the Watch! And you basically only care about that 3rd and final challenge in regards to protecting the Wall...Talk about hampering your opponent's options. And, to top it all off, it's non unique, so you could have up to 3 out at the same time.
scantrell24 - 5 out of 5
Spooky. I'll probably start with 2 copies and adjust from there. For balance, the game really needs a playable location control plot…. the designers screwed up by giving Political Disaster such awful stats.
PatrickHaynes - 5 out of 5
Joe has it right that it's a five, but is wrong about the number. This card is a three of in every single wall deck. For all of the reasons he listed, this card is amazing and just gets better the more of them you have out. Plus they're good for Shadow Tower Mason, and any other builders going forward that rely on having lots of Night's Watch locations out.
Quill & Tankard Curmudgeons - 5 out of 5
Somewhat difficult to underrate this card, as the Watch can effectively not bother opposing the first challenge they don't want to win. Even if you can still win unopposed afterward, that's one less power per round from unopposed, minimum. In the awkward Greyjoy matchup it skirts round Balon, too. Two questions then spring to mind: I) Could this be the step that pushes the Watch into the hallowed grounds of NPE? II) Is this the best characterless/lite card the game has received so far?
Stannis Baratheon (15 Total Points)
Barnie25 - 4 out of 5
He is the cornerstone of the dominance deck. A very strong ability with good strength. I never liked the old Stannis and never ran him so this card is a good 2 off in a dominance deck. He is a very strong role player and therefore doesn't deserve a perfect rating. He might also be a bit snowbally as the game gets easier when you get to trigger him and that you are probably doing when you are ahead. If you are in a bad spot this card doesn't necessarily help you get out of it and that is my main problem with this 7 coster. Also Bara now has 3 seven costers which is difficult to fit into your deck if you want to run them all but that's a luxurious problem to have.
Joe From Cincinnati - 4 out of 5
Great stats at 7 for 6 and two icons. Baratheon has so many tools at their disposal to win dominance, the reaction shouldn't be too difficult to trigger. And then, once you do, he behaves essentially as a Filthy Accusations for their best non loyal character each turn. That last piece is the only reason he isn't a 5 out of 5. Typically, the best characters in the game are loyal: Tywin, Robert, Balon, Renly, Catelyn, Butterbumps etc, but there are plenty of strong non loyals, such as the Hound, the Mountain, Tyrion, Maester Aemon, Qhorin etc.
scantrell24 - 2 out of 5
This version of Stannis tries to accomplish something different than Core Stannis, so he's appreciated for presenting an alternate approach, but he's not especially powerful…. yet.
PatrickHaynes - 3 out of 5
Really solid card in the decks he is good in, which are all-in dominance decks and complete power challenge denial decks. In power rush decks, you probably can't afford a 7-coster that doesn't have renown and the hyper kneel decks really like Core Stannis. I like this guy for what he is, but he doesn't blow me away.
Quill & Tankard Curmudgeons - 2 out of 5
The dominance reaction is a powerful effect, but is it worth paying 7g for? The other effect suffers for being double-edged, and is relatively insignificant in a meta lacking for 1 STR power icons (except for the reducers) but swarmed with big STR dudes. The idea of pairing it with The Red Keep and The Kingswood is cute, but it's not there yet as a decktype. That leaves this guy in very solidly 'meh' territory.
Red God's Blessing (6 Total Points)
Barnie25 - 1 out of 5
This card does nothing to me, it's expensive and not impactful. Binder and move on please.
Joe From Cincinnati - 1 out of 5
At first thought, this didn't look all that bad. It's a R'hllor card and makes the character R'hllor. If you have a lot of R'hllor characters, you could make a character as much as +4 strength, which isn't bad. But, upon further inspection, I question whether this card will ever see play. There is only so much space in a typical deck for positive attachments and Baratheon already has Lightbringer which is much better for their key cards, such as Stannis and Robert. Also, a 2 cost attachment is a steep cost for just a strength boost. Baratheon already has another 2 cost that doesn't see much play in King Robert's Warhammer. If King Robert's Warhammer can't fit into a deck, despite having a board state altering ability that can basically take over a game, I don't know how you can find room for this card. If a character having the R'hllor trait becomes extremely important for Baratheon decks in the future, this may become relevant. But, for now, I would be surprised if it ever left the binder.
scantrell24 - 2 out of 5
There's something missing. If the character gained an intrigue icon or Insight as well then we'd have a serious contender. Right now, it's basically jank that supplements Melisandre (more R'hllor triggers) and Robert (voltron!).
PatrickHaynes - 1 out of 5
Honestly, this card isn't actually that bad. It's got the R'hllor trait which Bara likes and it can give a reasonably sized strength pump. That said, it's not nearly good enough to make the cut, especially with the expanding and improving card pool.
Quill & Tankard Curmudgeons - 1 out of 5
Well this one's just bad. Unless... wait, nope, just bad. A 2 cost positive attachment pretty much always has to give action advantage to see play, not just a humble STR boost. See all the 2-cost (or higher) attachments other than Wolf King, Seal of the Hand and Lightbringer for evidence of this. Having the R'hllor trait and giving the R'hllor trait might mean something more in the future, but sadly for poor Bara, this is several levels more "meh" than Stannis was.
Tanda Stokeworth (10 Total Points)
Barnie25 - 2 out of 5
The icon and strength is quite important for Lannister, her cost slot is a bit of a pain but they have ways of getting her onto the field in different manners. Her ability does nothing for me however.
Joe From Cincinnati - 2 out of 5
A 3 for 3 power icon isn't awful, especially in a faction like Lanni that does lack power icons. She pays for herself immediately, but you're giving your opponent gold. Trading with the Pentoshi is great because, even though it gives your opponent 3 gold, it gives you freaking 10 gold. That is worth giving your opponent something in the right circumstances. But this character...once she hits the table, she's a blank monocon with the Lady trait. Joffrey has the same stats plus has additional text once he's played and he doesn't see play in many Lannister decks.
scantrell24 - 1 out of 5
I can't think of any good reasons to run Tanda Stokeworth. Waste of good pie artwork.
PatrickHaynes - 2 out of 5
Really not great. Giving your opponent gold just to get effectively a 0 for 3 power icon probably isn't worth it. That said, Lanni is really hurting for power icons so if The Hound ever gets restricted, she might see a bit of play.
Quill & Tankard Curmudgeons - 3 out of 5
Intensely unexciting? Sure. But functionally free if you have 3 gold as starting capital, and a free (or at least cheap) power icon for Lannister. "But you have to give your opponent(s) three gold!" Trading with the Pentoshi has the same downside, yet as we recall that saw, and continues to see, lots of play. Tanda probably will too. Note that it's also not a forced reaction, for extra flexibility.
Without His Beard (18 Total Points)
Barnie25 - 4 out of 5
I am in love with this card. People will hold back specific cards in a valar meta, e.g. characters and this will punish that. In a deck that has some control over the card in your opponents hand be it new Tywin or Seen in Flames, you can really time this card to perfection. It also is just a discard effect that trades with a card of your opponent. Very strong for the right decks, also running this in a Night Gathers deck is very fun, helping that discard pile fill up just so you can scavenge it later.
Joe From Cincinnati - 4 out of 5
Easy to trigger event that costs 0 gold. If your opponent has 3 to 5 cards in their hand, this could potentially remove the cards they were hoping to play the following turn. Plus, this is very strong when you have knowledge of what's in their hand. If you know, for example, that they just used Summons to go get a Khal Drogo but couldn't afford it this turn, this card is a great way to eliminate that card. And, since you're discarding 3 cards and giving them back only 2 cards, before you take your intrigue claim, that means you are causing their hand size to decrease by 2 cards. It's also another trigger for LoCR Cersei to gain power from. It won't go in every deck. There is no space in the good stuff decks like Lanni Dragon (unless they are running the Crone of Vaes Dothrak. That could be interesting

), but in dedicated intrigue decks, such as the LoCR Cersei deck type, I think this card can be very powerful.
scantrell24 - 3 out of 5
An interesting card that's sometimes amazing, but sometimes detrimental depending on what you hit and what the opponent redraws. I'll try a couple copies in a hand control deck with non-kneeling Cersei and Casterly Rock.
PatrickHaynes - 4 out of 5
I actually really like this card. Any Lanni deck that is focused on hand destruction, be it a Cersei power grab deck or an actual hand emptying deck this card is quite strong. In addition to giving your opponent a net -1 card (provided they have at least three cards in hand) it will often get rid of any cards your opponents might be holding back which is only going to be more relevant post valar.
Quill & Tankard Curmudgeons - 3 out of 5
A one-for-one trade on card quantity, for free, that can mess with the hand of an opponent and grant you triggers off the discard (See: Cersei Lannister (LoCR)). If you're doing the hand destruction thing it might have value, but otherwise Lannister lacks the card-intake for one-for-one trades to be a good deal in the 'GoodStuff' decks.
Aeron Damphair (19 Total Points)
Barnie25 - 3 out of 5
I am probably one of the few guys that finds this card not extremely amazing. Sure his ability is very strong in a heavy saves meta but I am not sure if enough decks will run saves for this card to be impactful.
Joe From Cincinnati - 4 out of 5
With Valar coming out in this chapter pack, Aeron is looking like a wonderful combo piece to control the board. If you're playing against a deck with a lot of saves, Valar acts as a mass kneel for all the characters they save. Or, if they have a duped character, you can use Seastone chair to claim them, then if/when your opponent saves them with the duplicate, you can just kneel them. Alternatively, you can claim your knelt characters, use Risen from the Sea and Iron Mines to save them and then stand them.
scantrell24 - 4 out of 5
At 6 gold and only 4 strength, Aeron's stats are underwhelming so you'll want to really leverage his dual-use ability, both offensively and defensively. Thankfully Greyjoy has the tools to do just that. The intrigue icon is icing.
PatrickHaynes - 4 out of 5
In the immediately post valar meta when saves are abundant, I think this guy will be really strong. Going forward, he is a bit of a meta call. If your opponent is running a lot of saves he is pretty strong, if they aren't he is considerably weaker. His cost to strength ratio and icons are acceptable, but nothing to write home about and he doesn't have a keyword. If you don't find any of your saves and your opponent doesn't run many, he is going to be really underwhelming. For now, definitely a strong card.
Quill & Tankard Curmudgeons - 4 out of 5
The first of two 6 cost 4 STR bicons in the pack to cause disagreement among the Curmudgeons, with JC wanting a 5 and Istaril playing an unusually pessimistic role in seeking a 3. The case for: the ability to nullify an opponent's tempo against Valar Morghulis is huge, and there are interesting opportunities to trigger him in the challenges phase too for extra utility. He also slots into the burgeoning Bara/Greyjoy builds very nicely. The case against: he does nothing by himself, and doesn't play into Greyjoy's own saves unless they spend them outside of the Valar window (or have knelt characters in the plot phase), which is a very awkward place for a 6 gold character to occupy. Since both were resolute in their opinion we've gone for the "nobody's happy" compromise rating. (In case you're wondering about Drakey & Ire - Finns are never happy, it's kind of their thing.)
King Balon's Solar (18 Total Points)
Barnie25 - 4 out of 5
Non limited econ is strong, Greyjoy have the tools to make sure that they are winning initiative and therefore this card fits perfectly in their strategy.
Joe From Cincinnati - 3 out of 5
Zero cost locations are great. Greyjoy enjoys winning initiative anyway. Free gold is also great. It isn't a game changer, but it's a card that improves set ups and acts as a nice little econ boost. Very similar to the Stone Drum from CP 2 of this cycle. Good 1x card for non-limited econ that you'll get, on average, half the time. Probably not worth your time in a melee deck though.
scantrell24 - 4 out of 5
Not for every deck, but definitely worth a copy in most as long as your plots have average initiative or better. I like the design move towards winning initiative and away from being first player for Greyjoy.
PatrickHaynes - 3 out of 5
Similar to Stone Drum, but not quite as strong. If you flip a kingdom plot, you're guaranteed to get Stone Drum. If you flip a high initiative plot with this, you're likely to get it, but it isn't guaranteed. That said, I think a lot of Greyjoy decks will run it as a 1-of.
Quill & Tankard Curmudgeons - 4 out of 5
A lot more agreement this time - efficient non-limited economy with a fairly easy trigger condition (and unlike most Greyjoy tech you don't have to be gung ho and go first, you just have to win initiative). It won't change the Kraken's life or anything, but it's a solid and welcome addition to make them more consistent, i.e. better.
Pyat Pree (12 Total Points)
Barnie25 - 3 out of 5
I really like what the card does but don't like the costslot and strength ratio. This card can be very potent and if someone can break this card it can reach NPE levels. But I am not sure if that will ever be accomplished, reusing Dracarys and Crowns seems fun right?
Joe From Cincinnati - 2 out of 5
I like the idea of being able to search for your Dracaryses and the 1 Crown of Gold in your deck after winning a challenge. But this guy encourages overcommitting to challenges. At 6 cost for 4 strength and no keywords, he is just a search bot that does not improve your board all that much. When you're winning, he'll help you win more. When you're losing, he won't help you all that much to re-establish board presence. Fun card that can turn good wins into devastating wins. But I don't know how many losses he turns into wins and, at this point in the game, that's what you're looking for when you add new cards into a deck that you're not going to build the deck around. I'd rather run Shadowblack Lane.
scantrell24 - 3 out of 5
In the post-Valar meta, I like the ability to dig for Funeral Pyre, Fire and Blood, and Dracarys! But there aren't enough worthy Targ attachments yet to make Pyat Pree truly enticing, so Shadowblack Lane likely does the same job more efficiently.
PatrickHaynes - 2 out of 5
I'm honestly not sure where this card will end up. Targ really likes putting the pressure on their opponents in the early game and he is another great tool to keep up that pressure, but I don't know if he'll be impactful enough for his cost.
Quill & Tankard Curmudgeons - 2 out of 5
The second disagreement card, although this time Istaril is resuming his normal optimistic position with wanting to go higher, and Drakey resumes his VERY familiar position of wanting us to rate lower. Mr Pree looks like a fetcher of combo pieces, but the entire point of combo is that it circumvents the need to win challenges by X STR - if we could do that, why weren't we just playing the normal, good cards? If he's going in a normal deck, how many events/attachments are you running that you can consistently find them? If you ever overcommit to a challenge just to win by more STR for his trigger, he's pretty much actively making your deck worse. Istaril would argue Crossing, but he's not the one writing this so we'll stick with "just plain bad" and up our rating to 2 as recompense so we look like schizophrenic hypocrites.
Vaes Tolorro (14 Total Points)
Barnie25 - 2 out of 5
This card is more of a melee card I would say, for joust it can be interesting and janky but not reliable. Having more opponents helps this card.
Joe From Cincinnati - 3 out of 5
When you Dracarys! A character with power, you can move up to 2 power to this location (for a net power swing of 4). If you just plain kill them, you can take 1 power. If one of your characters with power is killed, you can salvage some of the power. This makes King Viserys a little bit more playable (but still not very much). It's kind of a win more location since, if you're killing power off their board you're probably doing pretty well already but, still, gaining 15 power is how you win the game. Saving power on a relatively safe card like a location will help when things start going wrong for you. Don't bother against Greyjoy though.
scantrell24 - 2 out of 5
Reeks of "win more" in joust. It's only worth considering in heavy burn decks, but even there I'm skeptical.
PatrickHaynes - 2 out of 5
I'm not sold on this card making the cut in most Targ decks. The effect is pretty solid, but even in a heavy burn deck I have a feeling you're going to prioritize burn cards and ways to find them rather than playing this.
Quill & Tankard Curmudgeons - 5 out of 5
Against Drakey's protestations that this should only be 3, we give this a 5 because it goes probably 2x in every Targ or Banner Dragon Melee deck from now until it rotates out. In Joust it's far too niche to see play, but as the saying goes, "lol Joust".
Elia Sand (20 Total Points)
Barnie25 - 4 out of 5
The vengeance feel on this card is very nice. Going second was never so tempting with this card, do you really want to have your opponent gain multiple stealthers? Often I wouldn't want that to happen. This card is very interesting.
Joe From Cincinnati - 4 out of 5
Stats are fine, at 3 for 3 and an intrigue icon. Another character that Harmen Uller can ambush into play for a surprise stealth when you're going to lose a challenge anyway. Intentionally losing challenges in order to stockpile some stealth for The One ChallengeTM with The Red Viper makes this character very strong. A good chud that benefits from Nymeria's icon stealing, she'll see play.
scantrell24 - 4 out of 5
Greyjoy Sun has never been more obvious. Three is a crowded slot in that deck though, between Caleotte, Dornish Paramour, and now Elia Sand.
PatrickHaynes - 4 out of 5
Elia is a very solid card that should not be underestimated. Giving out potentially two instances of stealth per turn is incredibly good no matter what deck you're playing. If you're going second, she is incredible. There is a pretty solid chance you're opponent will be doing at least two challenges which means you can pick up two instances stealth, especially if you're behind. She can pretty easily turn into a syrio that is giving out double the stealth, costs two less, and can easily have two icons if you can find Nymeria. She should be a 1x in almost every Martell and banner sun deck.
Quill & Tankard Curmudgeons - 4 out of 5
A repeatable stealth-granter that doesn't even need to participate is very good, and on a small board she can trigger before dying for claim, which is a nice parting gift. She's so efficient we were tempted to go 5, but she's a monocon at an awkward cost slot that needs to stay on the table for a prolonged time to offer truly good value.
Burning on the Sand (14 Total Points)
Barnie25 - 3 out of 5
There are too many triggers out there that you don't want to have happen for this card to be consistently good, PTTS, Rains, Speermaiden, Support that leaving a challenge UO isn't always an option.
Joe From Cincinnati - 3 out of 5
Really good against high claim winter plots. It is a zero cost event so it is not predictable (like Vengeance for Elia is), but that also means it can be cancelled for zero gold. So, if you let a 2 claim military attack through with the expectation of playing this card, I hope you also have a Hand's Judgment in hand. The question will become: How many of these and how many Vengeance? It'll require testing.
scantrell24 - 2 out of 5
It's a decent safety valve to prevent blowouts from high claim military challenges. If aggro decks are prevalent in the meta, then some Martell decks may want a couple copies. However, compared to keywords, the unopposed bonus, and reactions to winning, claim is often the least concerning part of any challenge win.
PatrickHaynes - 3 out of 5
The playability of this card really depends on the prominence of event cancel in the meta. I have personally seen Hand's Judgment being cut from a lot of decks so this might be a good call right now but if this is cancelled you just gave away an unopposed challenge for nothing. I think long term Vengeance for Elia will see play more consistently than this one. That said, it's a good one for Martell decks that are non-fealty, summer, or lion and have trouble affording vengeance for elia.
Quill & Tankard Curmudgeons - 3 out of 5
A far cry from the first edition Burning, but "not as good as a perma-restricted card" leaves a fair amount of wiggle room. Claim is only one small aspect of losing a challenge; on the flipside, turning your Valar Morghulis into a Calm Over Westeros as a surprise challenge phase effect is not to be sniffed at.
Jaqen H'ghar (13 Total Points)
Barnie25 - 2 out of 5
Such an icon character and so poor. I would have liked for this character to have some kind of key word, now he is just a poor man's Mirri. I like his icon but not his cost. Very narrow in what he does, looks very cool and shiny but in practice won't amount to much. If you draw him early he is a dud, if you draw him late, you won't win a challenge alone.
Joe From Cincinnati - 2 out of 5
Targeted kill is good. My issue with Jaqen is he is very inflexible targeted kill. His biggest weakness is that who he can kill is limited to who is on the board when he enters the field. That makes him relatively weak if played too early. And even if you target 2 or 3 really good targets, a bodyguard or dupe on those characters makes his ability less meaningful. Once his targets are placed, they cannot be moved, which makes him significantly weaker than his closest comparison, Mirri. Mirri can kill based on the situation. He can't, really. For that reason, Jaqen's sweet spot will be immediately post Valar. You just cleared the board and your opponent played 1 or 2 characters to re-fill their board. Then you play a high initiative plot, let them play another big character and then drop Jaqen and, hopefully, that either paralyzes their attacks of they leave an opening for Jaqen to get through and kill a high priority target. That's a pretty narrow use, if you ask me. The fact that he's 7 cost (as a neutral, unless you're running Ocean Road, that can be steep), and an ally is a major weakness. There are two cards that outright beat allies: Dissension released in the previous chapter pack and then Ser Arys Oakheart, coming out in CP6. I'm not impressed with this character.
scantrell24 - 3 out of 5
Like Mirri, Jaqen needs to win while attacking alone. We have a several tools, like adding stealth (Pyke, Syrio, etc) or boosting strength (Widow's Wail, Margaery) to help accomplish that feat, so in the right deck it's not that difficult. But when you factor in Jaqen's high cost, Ally trait, and wonky restriction on who he can target kill (only uniques, etc.) he's about average.
PatrickHaynes - 3 out of 5
Really lackluster guy in my opinion, but I'm wary of underestimating him. Currently I have seen very few decks that play dissension, the prevalence of which is obviously the biggest factor in your decision to play this guy or leave him in the binder. While he is limited to characters in play, that is not meaningless if you use him at the right time. A lot of people thought Mirri was going to be terrible when she first came out, and look how that turned out...
Quill & Tankard Curmudgeons - 3 out of 5
JC's turn to be the pessimist, as he wanted a 2, citing the lack of flexibility (the characters he marks for death have to be on the table when he enters play). However, Jaqen is still a killing machine who can unlock a board state and open up a path to victory, even if only triggered once. And we hear winning is good. He may be a poor man's Mirri, but not everyone wants a Dragon banner, y'know?
Isle of Ravens (14 Total Points)
Barnie25 - 3 out of 5
Very useful for decks that like to search their deck for events or want to reuse cards. Solid but you are never running enough copies to have this consistently impact your gameplan probably.
Joe From Cincinnati - 3 out of 5
I really like this card. There's a lot of cards I would love to recycle back into my deck. A King's Road after I use it, in order to stop Euron from stealing it every turn. Craven, Dracarys, Milk of the Poppy, any 1x copy character you run etc. I don't think it'll be played in every deck but some decks will really enjoy this card.
scantrell24 - 2 out of 5
Finally, an answer to the overpowered Pillage decks.
PatrickHaynes - 3 out of 5
Interesting card that I think might see play in some niche decks. Targ really likes it, especially if they're playing Shadowblack lane, as does Lanni Jumper. Plenty of decks will be running lots of dupes and bodyguards going forward and getting some of those saves back into the mix might be pretty solid.
Quill & Tankard Curmudgeons - 3 out of 5
We're not sure if this warrants being rated higher than Caswell's Keep, but it's very much 'our' kind of card - must be something to do with the name... In the short-term, Targaryen will certainly welcome a card to shuffle their Dracarys! and Crown of Gold back into their deck to find again with Shadowblack Lane, and it'll be a fine tool for combo from this point onward.
King Beyond the Wall (10 Total Points)
Barnie25 - 2 out of 5
The effect sure is strong but the amount of characters that can currently wield it are not so numerous and if you are ahead the card isn't that great. Time will tell what this card will do.
Joe From Cincinnati - 2 out of 5
A 2 cost attachment that can only be attached to Wildling characters that gives the King trait and may not do anything if you have a small lead (leading 10 power to 9? This card does nothing for you). Why could this not be 1 gold? Would that have made it too strong? I don't think so...
scantrell24 - 2 out of 5
Too expensive for a positive attachment, but it does help prevent getting snowballed. Maybe worth reconsidering once there's a non-kneeling attacker or trait manipulation to grant the Wildling trait, but it's mediocre now.
PatrickHaynes - 2 out of 5
I have a feeling this card will be really bad until one day it isn't. Once we get a dedicated wildling deck, this could be pretty strong. With a plot deck full of Winter plots for Mance Rayder, they could spend the first few turns laying down economy and getting Mance ready, then first snow, followed up with some two claim and you're looking at a pretty good chance of a board wipe.
Quill & Tankard Curmudgeons - 2 out of 5
The effect is strong, but it's also only for very niche decks, and useless unless you're losing (but not by enough to stop a higher claim challenge getting you back into it) even then. Is Martell Wildlings a thing?
Valar Morghulis (24 Total Points)
Barnie25 - 5 out of 5
The sheer existence of this card will change the game forever. But then again the stats on this card are extremely poor and you can easily lose a game just from the tempo hit of flipping this too early or at the wrong moment. I expect this card to see play in roughly 40 to 60% of the decks and it will see the same type of effect as First Snow had on the meta. People will adapt to the plot and because of this the plot will become less impactful and fall out of favor, then people will stop running anti valar deck because they are not seeing it as much anymore and then valar will rise again, just like Wildfire did. Or this might not happen, forecasting is very difficult but the fact that this card will change the way you build your deck or consider building your deck makes it a 5 hands down.
Joe From Cincinnati - 5 out of 5
You may think this is overrating it. A lot of people have said the stats are too low to make it a viable option for most decks but, honestly, I'm rating this based on the impact it's going to make on the game as a whole. Even if this card is never used, people are still going to have to account for it both during deck building and during the game itself. Going wide is now more dangerous than ever and power on unprotected characters goes way down in value. That said, I think this card will be played. There are way too many decks that try to renown rush to the end, such as Stark Fealty. By decreasing the value of renown, this plot will allow for slower builds, such as control and choke, to hold up much better and it makes comebacks possible. And that's not even getting into the offensive potential of Valar, which is enormous if setup correctly.
scantrell24 - 4 out of 5
I'm being slightly cheeky here with this rating, but I do believe Valar will be far less prevalent than in 1st edition. Why, you ask? Awful stats. Limited usefulness outside of Greyjoy main faction, Kraken banner, or Lanni jumpers. More likely to backfire than it was in first edition because "big guys" still drive the meta, so if you don't see your saves then you're in trouble.
PatrickHaynes - 5 out of 5
It's a plot that will have a huge impact on the game as a whole (hopefully a positive one) though I think it is too subpar stats wise to see long term play in more than 1/3-1/2 of competitive decks. There will be plenty of ways to use this, and like First Snow you will have to be prepared to handle it, but most decks will probably end up skipping it long term unless they are heavy control or choke. My first thought is that this is the perfect place for this plot to be. I don't want to game to go back to the first edition system of 9/10 decks playing valar, nor do I want it to be unplayable. I think this is a solid medium, though I do wish it had reserve 6...
Quill & Tankard Curmudgeons - 5 out of 5
This is overhyped, overblown, and won't change the game the way some people think it will. But it's still obviously a 5 out of 5. It's just revolutionary for some factions, even if the wheel will keep turning for others.
Total Pack Score:
63.4% (317 out of 500 possible points)
Top Cards:
Shadow Tower Mason
The Haunted Forest
Valar Morghulis
Bottom Cards:
Red God's Blessing
Tanda Stokeworth
The King Beyond the Wall
If you're hungry more content, check out the list of podcasts, articles, game video and more in
the Community FAQ
. Let us know in the comments how you feel about the cards in this box, and we'll see you again in a few weeks to review "Ghost of Harrenhal".
Ratatoskr, JCWamma, Zouavez and 2 others like this
Article: There Is My Claim: Thrones Pack Review