Welcome to Card Game DB
Register now to gain access to all of our features. Once registered and logged in, you will be able to create topics, post replies to existing threads, give reputation to your fellow members, get your own private messenger, post status updates, manage your profile and so much more. If you already have an account,
login here
- otherwise
create an account
for free today!

2
Watchers on the Wall Review: Part 1
Apr 06 2017 08:00 AM | scantrell24 in
Strategy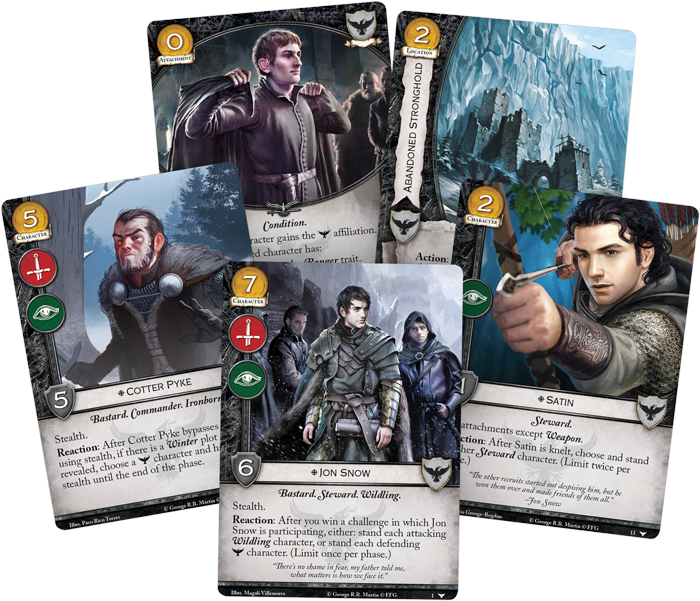 "Hear my words, and bear witness to my vow," they recited, their voices filling the twilit grove.
"Night gathers, and now my watch begins. It shall not end until my death. I shall take no wife, hold no lands, father no children. I shall wear no crowns and win no glory. I shall live and die at my post. I am the sword in the darkness. I am the watcher on the walls. I am the fire that burns against the cold, the light that brings the dawn, the horn that wakes the sleepers, the shield that guards the realms of men. I pledge my life and honor to the Night's Watch, for this night and all the nights to come."
Our staff has put together a first blush analysis of the newly released "Watchers on the Wall", the third deluxe box following Wolves of the North and Lions of Casterly Rock. We cover the Night's Watch cards here in part 1, and you can find the neutral and other faction's cards in part 2. Cards are listed in numeric order and scored on a scale ranging from one through five, with five being the best possible score. We have 5 reviewers this time around, so the maximum score per card is 25 points.
Please extend a warm welcome to our two guest reviewers, Scott and Daye.
Scott began playing Thrones with the release of 2nd edition after souring on Netrunner. He competes in New York (one of the world's most prestigious metas and home to the reigning World champ) and won a Store champ with Night's Watch Fealty this spring.
Daye is a Night's Watch aficionado from Bristol with two Store championship victories to his credit. He enjoys deckbuilding, especially jank, and shares his creative ideas on the Decklist and Chill podcast.
You can check out the
rules FAQ for these cards here
, and on the individual card pages on thronesdb.com as usual. Now onto the reviews, starting with....
Jon Snow
(19 Total Points)
Joe From Cincinnati - 4 out of 5
Jon Snow will be excellent in decks that want to utilize Wildlings for aggressive attacks and he will also see some spot use in Wall decks that are built to win challenges on defense (Shadow Tower, Thoren, Qhorin, Sword in the Darkness etc). The one thing I do not want to happen is committing several defenders to win a challenge (or several Wildling attackers), expecting to stand them all after I win, only to have a Nightmares or even Treachery keep all my characters knelt. I know it's a weakness you could apply to just about any card but overcommitment to challenges is especially punishing in this game and walking into a trap like that can easily become a game losing move. That said, the sheer versatility of the card cannot be ignored and he will be a strong building block for decks.
Q&T Curmudgeons - 4 out of 5
Firstly an apology - though his opinions have been taken on board, WWDrakey hasn't had the chance to weigh in on the words in our reviews this time round due to time constraints. This may have the unpleasant side effect of making our reviews read… less cynically. There's a very real danger our glasses will be half full this time round - still, I guess it's just more for us to down afterwards. Krhm, anyway, on with the review…
A stealthy 6 STR character who can stand himself gets a thumbs up from us. There's potential for him to be a centrepiece, though we suspect that he costs too much for a defense deck, while Wildlings may favour other factions more. But he doesn't need to take that role on to be good. Ultimately he's quite average for a 7-coster, but we're bumping him up to a 4 rating because Night's Watch didn't have one of them before now.
Scott - 3 out of 5
I won't jump on the idea that a Wildling deck works until I see it. They aren't lords / ladies so they don't get the positive benefits provided by that trait for the big guys (Noble Cause / Body Guard). And the little guys are more situational and used to fill up holes in other decks. So Jon has to be judged as a NW defense stander and a big body with stealth for aggro decks. The problem for NW defense decks is their cost curve usually cannot afford a 7 coster like this. He is certainly a nice to have in those and will be able to defend two challenges on his own with his stand. Also, most NW characters are immune to negative attachments so he will end up getting a lot of them. Some decks will certainly want a 1 or 2 of, but for such a pivotal character I wish he was more of a standout card.
Daye Kaniel - 4 out of 5
A 7 coster that the Watch can be proud of, and a balanced one at that. He's a combo piece of a larger ensemble, but alongside the other cards the Watch is getting in this box, there's more than one build out there with this guy. While his stats are good (a strength 6 bicon with stealth is nothing to sniff at), it's his effect which you'll be taking him for. This is a card you'll have to build around to get the most out of him. His effect is a powerful one though - the rewards for leveraging it will be great for any cunning deck builder that can maximise its use. Perhaps most notably, he gives serious teeth to a Night's Watch/Crossing build that up until now has not had the pieces it needs to be effective. He's not perfect - he can be controlled by the usual suspects (Milk/Craven/Kneel/Nightmares/Treachery etc), and you'll almost certainly want to be running core Aemon or the new Ghost (attachment) alongside him to help keep him alive. But, in a combo deck that's greater than the sum of it's parts, Jon Snow is the linchpin that the deck revolves around.
Patrick Haynes - 4 out of 5
I'm being slightly optimistic with this one as he is a very versatile character. He will especially shine in the crossing builds that want to be able to defend and swing back for all three challenges. It's still unclear which way the steward build will go between aggro and defense but either way Jon will probably find a home there. He isn't the best Jon we could hope for (fingers crossed they're saving that one for Lord Commander Jon) but he's significantly better than the core version.
Bowen Marsh
(17 Total Points)
Joe From Cincinnati - 3.5 out of 5
Let me first say that Bowen is the Night's Watch one and only printed Intrigue/Power bicon! *fireworks*
That alone makes him an easy 1x in many Night's Watch decks, as he becomes a tricon with just a practice blade! In addition to that, he has card draw attached to him (perhaps massive card draw in the right circumstances) and even adds to your reserve, which is becoming very relevant with cards like Eastwatch-by-the-Sea, The Watch has Need and Fist of the First Men, as well as always being helpful against Winter decks and helping with the Messenger Ravens. He's loyal, so he can be reduced with Fealty, lessening the con of being a 6 cost for 4 strength character. There will be some very good decks built around Bowen, Eastwatch-by-the-Sea, Messenger Ravens and The New Gift to provide nearly endless card draw. On defense, Intrigue challenges are actually the easiest to win because of Dolorous Edd and Arry, so that definitely helps too.
Q&T Curmudgeons - 3 out of 5
6-for-4 characters have generally had a rough time of things in the game so far, and we're not convinced Bowen will prove the exception… but he has a very strong upside. He's Rodrik Cassel, who sees next-to-no play - but with +1 reserve, an ability that requires controlling more than just him, and far less competition for the spot. We'll see.
Scott - 4 out of 5
Draw is good. Potential to draw A LOT since there are a lot of stewards is good. The fact that this gives the core set reducer insight is insanity. Only reason this isn't an instant 5/5 is because Messenger Raven is already IMO the best draw card in the game and in faction. But at least 1x in every NW deck. They have the reserve boosts to support drawing A LOT.
Daye Kaniel - 3.5 out of 5
Almost a 4, but not quite. While there is no doubt that it's a great card (it is, for all the reasons Joe mentioned) I feel it's more of a "1 of auto include" in most NW decks rather than a card you can truly build around. His icons are the main thing you're taking him for, with the obvious perk of number 1 target for Practice Blade synergy and the fact he's Loyal for Fealty, but everything else about him screams "enhancer" rather than "enabler". There's nothing wrong with that - more card draw is always good, as is the reserve that allows you hold those extra cards. I just don't see myself putting him at a x3 in any deck just yet, even with all the other great new Steward cards in the box. Still, the reason I've rated him a 4 and not a 3 is because the enhancement he offers to your deck is very strong indeed.
Patrick Haynes - 3 out of 5
A very solid card to be sure. No question he fits into the steward builds, but in other decks he is both expensive and only useful if you can afford to win an intrigue challenge. In defense decks, that is sometimes a very tall order as your opponents will likely not throw them at you if they know you can win it, especially with Bowen on the field, and you might have to keep your board standing for defense/dom and not be able to send anyone back to attack. Given the plethora of draw nights watch already has, I wouldn't call him an auto-include, but if you can afford him he's a great 1-of.
Old Bear Mormont
(18.5 Total Points)
Joe From Cincinnati - 3.5 out of 5
Old Bear Mormont is going in exactly one deck. The Varys/Night Gathers deck of old. If it weren't for Queenscrown, I would have probably given him a 2 or maybe 3. Before Queenscrown, there were only so many ways of getting characters (let alone non-unique characters) into a discard pile. Varys, Marched to the Wall, random pillage or intrigue claim, Baratheon's Seen in Flames or Martell's His Viper Eyes. But now that Queenscrown is out? That makes it a whole lot easier. Even still, I think the people who hate that this card exists underestimate how uncommon non uniques are right now. There are some factions that run a good number of them, notably Night's Watch and Martell. Baratheon runs a gaggle of non uniques typically to trigger Melisandre. Other than that, you may be sorely disappointed. If you're facing Stark, Tyrell, Lannister or Targaryen, there's a chance the only non-uniques they are even running are their reducers with maybe a Knight of Summer or Unsullied thrown in occasionally...I learned that during my Qhorin testing. He'll be a fun card that will be strong in a very specific deck (of which he won't even be the star) but most Night's Watch decks will skip right over him.
Q&T Curmudgeons - 3 out of 5
We're giving him the benefit of the doubt here - he probably exists slightly lower, but we're allowing for those times when the meta shifts to a place he'll really shine. He's just a touch too expensive to be an oftentimes-blank 5 STR bicon - but much better than his core counterpart, at least!
Scott - 5 out of 5
This card shouldn't have been printed. The strength / cost ratio is a bit below the curve, but the reaction is insane. Sure, this goes in decks with Varys and Yoren. It also goes in decks with choke. It also goes in decks with seen in flames / viper eyes / some good intrigue presence. Even if not...still put one in. Hugely impactful.
Daye Kaniel - 3 out of 5
Another big Night's Watch character to build a deck around. This guy further enables the viability of the steal stuff deck archetype, providing both a sturdy body to support your challenges with and "Take the Black"s steal effect all in one. On paper he looks fantastic. The reason why I'm not as excited about this card as some others are are his limitations. As anyone that's played extensively with Qhorin Halfhand will tell you, the targeting restriction of "non-uniques only" is more severe than it appears. Admittedly, the new Queenscrown location does a lot for his effect, by fishing non-uniques out of your opponent's deck before they hit the table and become Military claim soak. However, certain factions are at the point where the number of non-uniques they run is very low, and in those matchups he will simply be bad. Versus Stark, Lannister and now arguably even Tyrell as well, he has very few targets, making him an inefficient keywordless bicon. He also suffers from the same problem as new Jon Snow and old Old Bear - he's negative attachment bait in a faction that prefers to leave Confiscation at home. My prediciton for this card is that there'll certain matchups he'll seem OP restrict, and others where he sits there being controlled, expensive and ultimately quite useless. The jury's definitely still out on this one, but my gut tells me he won't be as impactful as people expect, and certainly not broken.
Patrick Haynes - 4 out of 5
He only goes in one deck, but he is very strong in that deck. While the non-unique restriction is limiting especially in certain matchups, he can still grab some great characters like Ranging Party, Unsullied, etc. and all he has to do is win a challenge. Add to all of this the fact that the discard deck is probably winter/choke based your opponent will likely be over reserve a lot of the time and non-uniques are typically the first characters to get pitched.
Cotter Pyke
(16 Total Points)
Joe From Cincinnati - 3 out of 5
A good strength to cost ratio, good icons, good synergy with winter plots that Night's Watch Kings of Winter and attrition decks already want to run. Stealth to push through challenges. Yep, this guy checks all the boxes of a solid character in a good number of decks. He probably doesn't make the cut in Wall decks but that's more of a symptom of the deck building considerations required when building that deck type rather than the usefulness of Cotter in the deck. Rather vanilla, but still plenty strong.
Q&T Curmudgeons - 4 out of 5
Something something winter reaction who cares. 5-for-5 stealth bicon, you say? He might not be
quite
as efficient as he looks at first glance, given he's on the expensive side for 'GoodStuff' builds and lacks real synergy with any specific Night's Watch theme.
Scott - 3 out of 5
Good strength to cost ratio, works with winter decks well. Stealth is good. If you are going aggro, at least 1 X in your deck. This pushes the way we see NW now. He is not for defense decks. But if an aggro deck is out there with cards like Ghost, Stonesnake, Halfhand, etc., he slots right in there
Daye Kaniel - 3 out of 5
An efficient bicon with stealth in a faction with several potent aggro builds. What's not to like here? Obviously he's most at home in Winter decks or decks that run more than 1-2 Winter plots, but even without that he's strong enough to warrant himself as a 1 of in most builds. If and when the "Ironborn" trait becomes ultra synergistic I'm sure we'll be seeing him pop up in more than a few Kraken themed decks as well. Other than that, his biggest appeal to me is his cost-to-strength ratio and having both Stealth and an Intrigue icon, something still fairly uncommon in this game. Decks running the new Old Bear Mormont/steal stuff tech are going to love him for that last factor.
Patrick Haynes - 3 out of 5
Nothing much to say here that hasn't already been said. Very solid character in any deck that likes to attack, especially the winter variety.
Maester Aemon
(18.5 Total Points)
Joe From Cincinnati - 4 out of 5
Ooooh man. This card is extremely exciting to me. Imagine a deck that runs this, as well as Bridge of Skulls and Martell icon removal tech. Pair that combination with classic attrition cards like Qhorin, 2 claim plots and maybe throw in some win on defense tech like Thoren and you have got a deck that makes your opponent do stuff they don't want to do nearly all the time. Not only are you making your opponent do challenges they don't necessarily want to do in order to avoid that claim coming back on them (especially when you have a 2 claim plot out), but you may also be winning challenges on defense and gaining power with Thoren to boot! The obvious weaknesses are that he cannot be searched for or brought into play with Here to Serve and that you cannot have Core Aemon out alongside him. This card may be the answer to the eternal question "What am I supposed to do against these stupid passive power gain decks?"
Q&T Curmudgeons - 3 out of 5
This rating might be higher than he warrants, given that he's expensive
and
is competing with one of the best cheap efficient characters in the game. But we're excited to build with that effect, the scourge of stalling decks everywhere.
Scott - 3.5 out of 5
First of all, this card is awesome. It's great. But...it's named Maester Aemon. Giving up that other core set Aemon is a tough pill to swallow. There may be decks that are willing to make that sacrifice...but most won't. Could potentially be great in a banner of the sun deck with icon removal and lose-to-win cards.
Daye Kaniel - 4 out of 5
This card makes me very, very excited. I agree with both Scott and Joe here - the hardest thing to swallow is the loss of other Aemon and the Here to Serve synergy, and for that reason he's a tougher sell than he should be. I sure as hell don't see him going in the Wall deck. That aside, this card is the kind of card that inspires new deck archetypes. I see this guy spearheading a "Retaliation" (hint hint) type build that forces its opponent to choose between committing to challenges and punishing them for it/leaving them open to a devastating counter or simply doing nothing at all. Banner Sun has some obvious, fun looking synergy to offer that deck if built correctly (Nymeria is this guy's best friend 4 life), but there are also plenty of in-faction options available to get the most out of him. As time goes on, and dependence on core Aemon wanes I see this guy popping up in more and more decks, even if only as a 1 of. Just watch out for pesky Targaryen players and their propensity for King making...
Patrick Haynes - 4 out of 5
Very interesting and strong card especially against stall decks. The choke aggro builds will love this guy as your opponent will rarely have enough characters to make all three challenges and especially not if they want to try to defend your military challenge. If you have a few two claim plots (which that deck certainly does) he will be incredibly powerful. Obviously his biggest downside is his name, giving up core Aemon is huge and is probably infeasible for Wall decks.
Grizzled Miner
(14 Total Points)
Joe From Cincinnati - 3 out of 5
Bad for set up. Great later in the game. Immune to First Snow of Winter but often cheap enough that you can get him out for 1 to 3 gold by turn 2 or 3. Is he exciting? No. Is he efficient? Definitely. He also is an important part of the All builder Wall deck, which I think has the potential to be extremely good if the icon balance is right.
Q&T Curmudgeons - 3 out of 5
Unlike several cards so far, we actually see this being a regular fixture in decks. (Often-)cheap, a good trait, survives First Snow - it's a good package. So why is it rated the same as cards we don't expect to see as much? ...Because it's nothing special at all. You'll cringe when you mulligan into two of'em.
Scott - 3 out of 5
Can be a biggie for cheap, but later in the game. Awkward early in the game. While this a good card for most faction, not sure if this fills in a slot that NW needs.
Daye Kaniel - 2 out of 5
What an exciting card. Seriously though, how many Power icon monocons can you justifiably fit into a deck? We've just had the Eastwatch Carpenter, which is a great little economy card for location heavy decks and offers a potential alternative to the Old Forest Hunter in a Builder centric deck. In the same box as this guy, we're also getting the Castle Black Mason, who can tutor for locations and attachments as long as you have the builders for it. We've already got the Veteran Builder and the Sworn brother, and the amazing Halder as well, who are all arguably making the cut over this guy. For what it's worth, mid to late game the Grizzled Miner is incredibly efficient and therefore not a total write off, but he's a tough sell at the minute. Icon distribution in the Builder deck is already looking to be a problem, and so far we only have Practice Blades and Ser Alliser Thorne to give out bicon status to our Power monocons. He's probably 1-2 of in the Builder deck, but outside of that I can't see him seeing much play.
Patrick Haynes - 3 out of 5
Strong card for the all builder deck. He usually costs 1-2 and is another builder for contributing to abandoned stronghold. He is a power monocon which is not ideal, but he's not returned to hand by first snow which is still important.
Ser Denys Mallister
(13 Total Points)
Joe From Cincinnati - 3 out of 5
The epitome of an alright card. Good icons and good cost at 4 for 4. Defensive renown is interesting. The problem is he has no relevant traits for most Night's Watch decks (knight tech isn't a thing for the Watch and Commander, so far, means nothing), he can be warded and given other negative attachments. He will see play as a 1x as kind of a faux 4th Ranging Party, but, overall, rather disappointing. Winning on defense will get better for builder decks though, since Abandoned Stronghold is so amazing...
Q&T Curmudgeons - 3 out of 5
Night's Watch's entry into the "4-cost, 4 STR renown character" competition is somewhat mediocre, honestly...except in the defensive build. He's borderline-4 for that build, but borderline-2 otherwise (he'll struggle to get power when your opponent has to attack into him). Averages to a 3. May also see play in the role of "4th, worse Ranging Party" for decks that want to flatten their curve at the 4-cost slot.
Scott - 2 out of 5
Meh. 1X in most defense decks. Renown on defense they'd like. Icons are fine. He's fine.
Daye Kaniel - 2 out of 5
He's fine. Slots nicely into the pre-existing Wall deck as a slightly worse Ranging Party that will sometimes have Renown. The biggest use I see for this guy is trying to bait out one of your opponent's Milks that could've been used on Benjen/Craster instead. Joe's already accurately covered what's wrong with him, so I'll spare you the repetition.
Patrick Haynes - 3 out of 5
Really solid 1-of in my opinion. Power gain is exactly what Night's Watch needs, especially against rush decks which are proving to be difficult for them to handle, especially the builders variety. Wall decks rarely attack anyway so he basically just has renown which is pretty strong on a four for four.
Ser Jaremy Rykker
(18 Total Points)
Joe From Cincinnati - 4 out of 5
I really like this character. Not only does he make the Lost Rangers ridiculously efficient, but he also fills the biggest weakness of the Old Forest Hunters, Stonesnake, Grenn, Pyp and Thoren. I also really like how Jaremy can be comboed with Sworn to the Watch to give any character with a military icon that can receive attachments a power icon (Sworn to the Watch makes them a ranger, Jaremy gives all rangers a power icon). I joked about making Ygritte a Tricon with stealth and all 3 traits that can't be knelt using this combination during Thronerunner's review of the last chapter pack, but the concept actually isn't all that janky.
Q&T Curmudgeons - 3 out of 5
We like to see tribal effects, but this is very one-dimensional. With most Rangers at cost 3 or higher already having a power icon his role is anti-icon removal or chud swarm. He has room to grow; on the flipside he does
need
to grow, we think.
Scott - 3 out of 5
Fixes those mono-con rangers like Old Forest, Stonesnake, Grenn and Pyp. Not ideal stat-line for cost. But if you have all those mono-cons in your deck, Rykker probably deserves a deck slot too.
Daye Kaniel - 4 out of 5
Honestly, I want to give this guy a 5 out of 5, but his strength to cost ratio just about nips that sentiment in the bud. Why do I love this guy so much? Icon distribution is
huge
, especially on smaller boards that are much more prevalent in the Valar meta, and moreso for a faction which contains a butt ton of Military monocons in desperate need of a Power icon. What really gets me excited about Jaremy though, is the combo with the new attachment in the box - Sworn to the Watch. On the surface that combo appears janky, but it's not. Night's Watch have fantastic draw and tutor options in excess as of this box, so it's entirely conceivable that you could end up bestowing Power icons on some already potent characters to make them next level crazy good. Simply put, this guy has a slot in any deck that runs 6 cards or more Military monocon cards, and there's a strong argument for him to be at a x3 in builds that use him to leverage icon and trait distribution as well. As an added bonus, he's No Attachments and Knight-traited, for what that's worth.
Patrick Haynes - 4 out of 5
Really strong card for any ranger build most of which will be aggro/choke decks. They don't need the icon spread as much as the Wall decks, but they also really don't want to play any of the builders so they have pretty few power icons. His cost to strength ratio isn't great but the text makes him worth it.
Castle Black Mason
(17 Total Points)
Joe From Cincinnati - 4 out of 5
An on demand Building Orders that you can do every single turn? This is game breaking right!?
Well...maybe. The cost of kneeling two builders could be extremely restrictive. It will depend heavily on your deck build. This isn't a drop in your deck and run with it kind of card, it'll require a bit of building around to get a consistent effect. We already know that builders likely want a wide board based on the Abandoned Stronghold also in this box. However, maintaining a board state that wide could be tricky, especially with Valar Morghulis running around and Varys slowly making a comeback (Craster will be a necessity in this deck). I will say the new Builder at the Wall that was recently spoiled definitely eases my concerns about having 2 builders available to kneel though!
Q&T Curmudgeons - 2 out of 5
We were close to giving this a 3, but ultimately decided its loyalty counted against it too much - pigeonholes the card, you understand. We like that it's repeatable and enables combo, but it's expensive both in gold-cost and in what you kneel. Will be very niche.
Scott - 4 out of 5
On demand Building Orders is super powerful. Kneeling 2 characters can be a bit restrictive, but would you do so to find a Craven for the Mountain? Yes, for sure. Builder decks are going to become a thing.
Daye Kaniel - 3 out of 5
An incredibly powerful action which I love, balanced by a prohibitive cost on a monocon body. Due to the nature of his action, he's obviously going to be best in decks that run lots of Builders, and probably not worth it in decks that don't. The problem with that deck is the icon spread between your characters, and board destruction tech like Valar, Varys and Wildfire. The Watch, of course, have ways of dealing with all of this, but the success of the Builder deck will depend on how well they are able to weather the storm of challenges early on while they get setup. If you can get this guy firing every turn, enjoy the look of horror on your opponent's face as you repeatedly fish out Cravens, Milks, Practice Blades, Haunted Forests and the myriad of other control locations from your deck to make their life a nightmare. I have a feeling the Build-a-Wall deck will become the hot new Night's Watch defence build, and this guy is an essential component of it
Patrick Haynes - 4 out of 5
Very strong effect that isn't too difficult to pull off if you can get all of your builders setup. The fact that it's just an action means that you can use this guy after you've already won dominance with your standing builders. While it isn't nearly as relevant as it used to be, he is also immune to first snow. He is however, another power monocon. In general I think power monocons are the best monocon to have as the power challenge is typically the most important one for Night's Watch to actually win.
Grenn
(19 Total Points)
Joe From Cincinnati - 4 out of 5
I'm giving this a 4 for the sole reason that it has a chance of making Core Jon Snow not a complete waste of a card! Probably not...but maybe. He's an interesting combination of King Robb's Host and Fast Eddy at a much more affordable price. The fact that his power gain doubles when attacking with a standing character makes him the perfect partner for Jon Snow, which is satisfyingly Nedly. Yes, there will be edge cases where you may Sworn to the Watch Jaime or stand a character mid challenge with the new Targaryen location, Plaza of Pride...but mostly it'll be Jon. It works with the new Jon from this box as well (albeit not as well), since he can react to stand himself and then you can react with Grenn for the double power gain.
Q&T Curmudgeons - 4 out of 5
King Robb's Host, meet a 5 gold discount. For non-defensive decks, Grenn is on the level of the very good 3-costers - your Caleottes and the like. Obviously the effect is designed to work with Jon Snow (either version), but he's good and efficient enough to belong outside those decks too for sure.
Scott - 4 out of 5
For you Shagga players - he is part of the core set Jon Snow dream team. Also in an aggro weenie type deck, he is quite good. Power grab is good and he facilitates that. While First Snow isn't really in the meta, he is quite good.
Daye Kaniel - 3 out of 5
Another combo piece for the Jon Snow deck. Obviously Grenn is designed to work with both versions of Jon Snow, but he also works very well as a banner card for rush decks… I can think of one or two Lords with non-kneel or stand that might find use for him as a tag-a-long buddy. Outside of that application, he's a 3 cost monocon with no tricks, so he's fairly worthless if there's no one for him to buddy with.
Patrick Haynes - 4 out of 5
Now there is obviously the synergy with Jon Snow but I'm gonna gloss over that as it has already been covered and also I still think Jon Snow is largely garbage. I think Grenn can really shine without either version of Jon in a Ranger mini-curve deck. That deck is obviously going to be strongest in military challenges and Grenn will allow them to effectively win a power challenge every time they win a military challenge which is really incredible, especially given that they can also do a power challenge on top of this.
Pyp
(13 Total Points)
Joe From Cincinnati - 2 out of 5
Pyp is undeniably the third wheel of the Jon-Grenn combo. Card draw is always great but there are only so many military monocons you can fit into a deck. Whereas Jon and Grenn could easily be 3x in a deck focused around that combo, Pyp is probably stuck at 1x. The good news is that the insight lasts until the end of the phase, so the sooner you win a challenge with Pyp and Jon, the more insight you can potentially get out of Jon.
Q&T Curmudgeons - 3 out of 5
Far more niche than Grenn. The Watch have several good card draw outlets, and compared to Pycelle or core Samwell he just isn't too efficient. That said, the ceiling of 'passing on' Insight to a multiple challenge character (say, Jon) gives him a lifeline - unlike Grenn we don't expect to see him outside of that one deck, but he definitely belongs there.
Scott - 3 out of 5
The other section of the Jon Snow and friends dream team. Think of him as the draw a card side of a Great Kraken, while Grenn is the power side. Depending on the game state / deck, one is more worthwhile than the other.
Daye Kaniel - 2 out of 5
Another military monocon… Ser Jaremy Rykker just keeps looking better and better. Jon's other BFF, this time with the perk of card draw instead of power. I personally can't see myself ever running him as more than a 1 of, as he's essentially a more expensive Fool character, this time with Night's Watch flavour. Even then, I'm not mad on him, mainly because you don't even get the card draw unless you're attacking with two characters minimum. Deck slots in the Watch come at a premium, and filling a precious character slot with a 3 cost military monocon that might sometimes draw you a card hardly seems like the best use. He goes with Jon and maybe sometimes with Jaremy, otherwise you're probably leaving him behind.
Patrick Haynes - 3 out of 5
Night's Watch already has a lot of draw and a lot of military monocons so this guy might have trouble making the cut in anything other than a Jon Snow build. That said, the Ranger aggro deck might not be able to play Bowen or Eastwatch so more draw might be fine for them. He's probably a 1-of in the decks that he makes it into.
Samwell Tarly
(11 Total Points)
Joe From Cincinnati - 2 out of 5
Blanking non stewards is certainly beneficial. Giving Sam a practice blade will be awfully nice because then he can defend and blank characters in two different challenges. It helps not only against keywords, as seen with Sweet Donnel Hill, but also against game text such as Core Balon, Core Catelyn, both Cerseis, Chella/Rains/Wildfire chicanery... But being a 3 cost character hurts and he's non-loyal, so you can't reduce him with Fealty. Just in testing this card, I've found he sits in my hand for turns at a time...until there's a character I need to blank. Then he's fantastic haha. He'll see play, especially in decks that are running Bowen Marsh, as the insight you lost on Core Sam comes back when Bowen is around. Core Sam is the default setting, this Sam may supplant him if you're running a bunch of stewards.
Q&T Curmudgeons - 1 out of 5
There's a chance he surprises us, as an annoying ability like that can be put to good use in what will doubtless be a very boring deck. That said, Sweet Donnel Hill sees little-to-no play, and this is like if Sweet Donnel Hill also had another version that was one of the better cards in the core set.
Scott - 3 out of 5
I think he's a meta decision. I am hesitant to include most 3 cost monocons. But the ability to basically milk any non-steward in the challenge is clearly appealing. Core Cat and either Cersei are great targets for same, for instance. Core Sam in most cases is the better call though.
Daye Kaniel - 3 out of 5
I like this version of Sam. Personally, I see use of core set Samwell dropping off slightly once the box lands (outside of Night Gathers decks), as the new character Satin competes for his cost slot. If that happens, this version of Sam is good enough to warrant playing in the majority of Night's Watch decks. He's naturally built to go with both of Jon Snow's iterations, and with a Practice Blade on him (which really is looking like 2 of minimum in a good few Night's Watch deck types after this box) he's blanking a significant number of character text boxes on either attack or defence. Even without the Practice Blade, he's taking care of nasty Intrigue character effects like Danaerys or core Cersei, or stopping the Red Viper triggering etc. You get the picture. Meanwhile, Sweet Donnel Hill is looking very sorry indeed, eternally confined to the binder.
Patrick Haynes - 2 out of 5
I feel the same way about this Sam that I felt about Sweet Donnel Hill, when he's good, he's good but otherwise he's garbage and that's not the kind of card I want to play. Without a practice blade he is effectively only good against Lannister (maybe Stark? I guess if you want to win the intrigue and need to trigger an Edd or a Castle Black while Cat is being annoying) and with a practice blade he is good against Stark and, yep, Lannister again. So unless you're struggling against Lanni (which as far as I can tell is one of Night's Watches easiest matchups) then I think you leave this guy at home.
Satin
(21.5 Total Points)
Joe From Cincinnati - 4 out of 5
I LOVE satin.
This character isn't half bad either. He synergizes perfectly (and I mean
perfectly
)
with the New Gift, but he also can potentially give you dual use out of Maester Aemon's save or Bowen Marsh's awesome icons. If your opponent kneels Core Jon Snow, you can use Satin to stand him, making him not as awful against Baratheon! Stand is awesome and this character is as well.
Q&T Curmudgeons - 5 out of 5
Very cheap and offering tremendous action economy, Satin'll create headaches for your opponent whether he's supporting Jon Snow (and he's core Jon's best friend), letting Aemon save multiple characters, utilising the New Gift or simply enabling characters to participate in multiple challenges. Silky.
Scott - 4 out of 5
Flexibility in a cheap weenie. Stand is great. 1X in most NW decks.
Daye Kaniel - 4.5 out of 5
I want to give this guy a 5, but he's just a bit too fragile for that. Nevertheless, he's fantastic. He stands your Stewards - so that's your core Aemon, your Jon Snow (both versions), your Bowen Marsh, your reducer chuds, anything with an Intrigue icon and Sworn to the Watch attached to it, Dolorous Edd... He can also be used to trigger the New Gift while doing this. Speaking of the New Gift, with Satin and a single Steward at the Wall you can essentially get either 3 gold (kneel Steward for 1g, Satin for 2g standing the Steward, then kneel the Steward again for reduction) in the Marshalling Phase, or 2 cards for the price of one kneel. He's amazing. He'll be a 1 of in every Night's Watch deck at least, and there's justification to run him as a x2.
Patrick Haynes - 4 out of 5
Very solid chud, but I'm not nearly as big on him as the other reviewers (so my four may seem deceptive). Like a lot of the traited cards in this box, I think he is only really good in the build that he is meant for. If you aren't playing a lot of Stewards and the New Gift, or I guess unless you're playing Jon, then you'll want to leave this guy at home. If you're playing the Stewards deck however, he is incredible and is absolutely a card you'll love to see.
Lost Ranger
(16 Total Points)
Joe From Cincinnati - 3 out of 5
The 'Grizzled Miner' of any Ranger centric deck. Just pure efficiency. The forced sacrifice isn't that bad because, if there ever comes a time where he's the only ranger on the board, you could always just use him as military claim. And he is made even more incredible by Jaremy Rykker. I don't think he goes in many Wall decks, as they probably don't have much room for more military monocons in their icon spread, but aggro decks will love him.
Q&T Curmudgeons - 5 out of 5
This competes for being the most efficient NW card in the whole box - the timing of the downside makes the worst case scenario simply that he opposes military then gets taken for claim. The upside is peachy. We
were
very tempted to knock the rating down to 4 though, on the grounds that the art shouldn't've had the Ranger on it.
Scott - 2 out of 5
Extremely efficient, clearly. I generally try to avoid cards with such big downsides as this card (Fickle Bannerman also comes to mind) outside of very specific decks.
Daye Kaniel - 2 out of 5.
A very efficient chud. His downside is a slight cause for concern, but if you build to accommodate that you shouldn't have to worry too much. The reason for the low score is because of the cost slot he finds himself in. The 2 cost slot for Night's Watch is already a fairly bloated one; he's competing with the likes of the Old Forest Hunter, core Samwell Tarly, Shadow Tower Mason and the Sworn Brother. With the box, there's also Satin and potentially Wildlings to fill those slots with as well. Still, he'll see play, as I imagine there's a Ranger based aggro build that will want to run this guy.
Patrick Haynes - 4 out of 5
Well again, this guy will only see play in a very specific deck, but once again he is exactly what that deck wants. He's cheap and incredibly efficient. With Ryker on the table he's at Hound level cost-strength efficiency which you just can't overlook. In the ranger deck he fits in you shouldn't have any problem with his interrupt and he's the perfect cost to play on a famine turn.
Seasoned Woodsman
(6 Total Points)
Joe From Cincinnati - 1 out of 5
I'm not impressed by this character at all. Maybe there will be a time in the future when I'm running 8 to 10 attachments and the prospect of piling attachments onto this guy makes for some incredible gold/draw...As it stands right now, I run 2 to 3 practice blades and I'm not waiting to draw this guy just to play those. You know, unless I want to waste a Craven on him for some reason.
Q&T Curmudgeons - 2 out of 5
We have images of throwing pepper and mixed herbs on this guy. We guess his job is probably for the Jon Snow decks, letting you dump all the good equipment on him and get closer to drawing Jon in the process, then bin him off to get the toys back to hand? Otherwise we don't know if the decks run enough positive attachments to justify him. Needs more seasoning.
Daye Kaniel - 1 out of 5
I've just scored the Lost Ranger at ⅖ as an efficient chud that's found itself in a bloated cost slot, and he's definitely better than the Seasoned Woodsman. Yes, you can attach a Practice Blade to him and get your money back, or draw a card. Big whoop. The Night's Watch have got a bounty of other ways to draw cards and get gold, and more than enough (much better) Power icon monocons. I'll pass thanks.
Patrick Haynes - 1 out of 5
Unlike the other guys in this box there isn't one specific deck that this guy shines in because there are no decks whatsoever that this guy shines in. He is kind of like a slightly less garbage Merchant Prince which means I will not be taking him out of the binder.
Scott - 1 out of 5
They try to push cards like this and they will never work. I suppose he is better than Merchant Prince, but not worth playing. Also seems a bit faction bleedy, since Targ seems to be the attachment house.
Builder at the Wall
(21 Total Points)
Joe From Cincinnati - 4 out of 5
First of all, I love this art. Is this where Santa is hiding during the other 11 months?! It's a shame he only has 1 strength because this guy looks like he could beat anyone in an arm wrestling match. On top of that, he's a reducer for locations and attachments. He's a Sworn Brother at half the cost who also covers attachments. Sure, you have to kneel him to get the reduction. Fine. But still. He'll probably go mostly in the builder decks, but being able to reduce the Wall by 1 is often invaluable. Especially since Here to Serve is 3 gold and Counting Coppers is 2 gold. Drawing the Wall on either of those turns usually means it sits in hand, but not with these guys

. This also makes Abandoned Stronghold and Castle Black Mason even stronger.
Q&T Curmudgeons - 5 out of 5
So he's an econ chud for the cards the Watch
really
care about, and a 1-cost Builder for the burgeoning Builder theme to boot? Yeah, probably quite good.
Scott - 5 out of 5
I would give this 6 out of 5 if the math worked right. He has a positive trait in builder for some decks. But he is another reducer chud (and not an Ally to boot). NW has all the draw and got a reducer for their locations (their favorite toys). Probably shouldn't have been printed. Will remove Sworn Brothers from decks.
Daye Kaniel - 3 out of 5
A Power icon reducer chud for the Night's Watch, woo! Except, this guy takes care of attachments and locations rather than characters. Cool! Though, he's pretty much in direct competition with the Sworn Brother, who's slot in the Builder deck (or indeed any deck) now looks to be in jeopardy. Oh well. In any case, more 1 cost characters are always welcome - more chaff for the meat grinder is never a bad thing, and he makes cards like Castle Black Mason and even I Shall Win No Glory more viable
Patrick Haynes - 4 out of 5
Easily one of the best cards in this box for the builder deck. Fantastic with basically all of their synergy cards like Abandoned Stronghold, he's great for setup, and he enables you to get all of your locations out faster. Dare I say it? He might even make Brandon's Gift playable.
The New Gift
(23 Total Points)
Joe From Cincinnati - 5 out of 5
Alright, this card is unbelievable. It's a 2 cost location (1 cost with fealty) that synergizes wonderfully with Satin and also, along with Builder at the Wall, solves the age old problem of "Man, I only have 3 gold. I wish I could use my reducers to play the Wall!" In addition, once the challenges phase begins wrapping up, if you have any stewards standing, you can just kneel them for some free card draw (dominance and challenge defense/attack obviously taken into account). It's important to note, however, that if you're first player and you were planning on passing action windows until after your opponent initiates their third challenge in order to ensure all your defenders were standing, the second player can choose to skip their final challenge, which would immediately end the challenges phase without an action window to use this. In addition, you can kneel it with Halder. It just has everything you could possibly want out of a Night's Watch location. Economy, Draw and Halder trigger all wrapped up into one.
Q&T Curmudgeons - 3 out of 5
Kinda like Chataya's Brothel, only on a Limited draw location? This is the NW card we perhaps find most interesting in the box. We're not quite sold how good it is yet, but we're looking forward to building around it to find out.
Scott - 5 out of 5
Flexibility for whatever. Now your reducer chuds can get you gold OR cards instead of simply reducing the next character. And you can trigger Satin with this. Only downside is it's limited, but oh so worth it.
Daye Kaniel - 5 out of 5
Quite simply, the best new Night's Watch card in the whole box, and that's saying something as this new box has a lot of strong cards. A super versatile location that enhances your draw and adds flexibility to your economy, becomes absolutely immense with Satin on the table, can be reduced with Fealty and can be used with Halder and still work. Erm, yes please. This goes in every Night's Watch deck to some degree, unless you're literally not running Stewards. Even then, you should probably go put some Stewards in your deck and run this card. It's amazing.
Patrick Haynes - 5 out of 5
Unquestionably great in the stewards build and probably solid in some of the other decks as well. Arguably the best Night's Watch card in the box namely for its flexibility. Being able to provide up to two gold or two cards per round is very strong especially given that Night's Watch has a lot of cheap stewards that they don't care about kneeling.
Abandoned Stronghold
(19 Total Points)
Joe From Cincinnati - 5 out of 5
Typically, I wouldn't give a 5 to a card that will basically only see play in one deck; the heavy builder deck. But this card has the potential to be so good in that deck, that I believe it deserves special recognition. This is another non-unique location, which allows you to have multiple copies on the board at once and makes it easier to achieve special triggers like reducing the Grizzled Miner's cost, getting the Shadow Tower Mason activated and having more locations for whatever other cards NW eventually get that love having a bunch of locations out. The action could really deadlock your opponent's challenges as well. If you have enough builders out, let's say you have 3 to 4 on average, you're looking at boosting any challenge by as much as 9 to 12 strength if you have all 3 out. You will be able to dictate to your opponent which challenges they win or lose. And this will happen every single turn. It's not a new concept, but challenge math tricks always cause problems for your opponent, especially ones with this high of potential. Add in Craster, who will protect your board from resets, and you could easily have a huge board of 5 to 6 builders. Suddenly, it's essentially impossible for your opponent to beat you in almost any challenge. Not too shabby.
Q&T Curmudgeons - 1 out of 5
We might be underrating this card, but so be it. It's a non-unique Castle Black, but it doesn't stand the character and you have to build for it and there's a limit to how many of these effects you want in the first place. Most importantly though, it's
boring as sin
.
Scott - 4 out of 5
This is the card that is going to make builder decks a thing. The boost potentials here are crazy -- especially that this is a non-unique. It will easily make the Shadow Tower Mason a big, bad tricon.
Daye Kaniel - 4 out of 5
That Builder-Wall deck is starting to look pretty sweet, right? The Abandoned Stronghold is the second non-unique Night's Watch location to grace the Watch, this time providing a strength boost on defence relative to the amount of Builders you control. Best friends with the now-starting-to-look-a-bit-too-good Shadow Tower Mason, and another component alongside Halder, the Haunted Forest et al to make challenge maths a nightmare for your opponent. Needless to say, it's very good, though It loses a point because it only goes in one style of one type of deck.
Patrick Haynes - 5 out of 5
I agree with Joe that although this only goes in one deck it essentially makes that deck the best Wall deck in my opinion. Everybody has basically already said everything I could about why this card is great so all I can say is go try it out.
Queenscrown
(23 Total Points)
Joe From Cincinnati - 5 out of 5
Guys...This is another one of those deck defining locations! You got defense decks and the Wall, Choke decks and the White Tree and now you have steal stuff decks and Queenscrown. 1 cost is super cheap for this effect, great on set up, and it gives you the ability to manipulate your opponent's deck. Statistically speaking, you're looking at an ~88% chance of hitting at least one character as long as your opponent's remaining deck is at least half characters. If you have 2 gold and Now My Watch Begins, just take a gander at the top 3 cards of their deck. Tyrion, Nymeria or Benjen there? Well, they're yours now! If not, just throw an applicable character in their discard pile for Old Bear or Yoren to retrieve later. This solves one of the biggest problems with that deck type, which was getting characters into your opponent discard pile. Now it's super easy! To be honest, from a meta balance standpoint, I'm concerned about this card. This design has been tried in other games and really hurt both the fun and the balance of those games as well.
Q&T Curmudgeons - 3 out of 5
One of our favourites in the box. A fine combo card, yet essentially useless outside of combo (moving three cards off the top of the deck does nothing beyond give you a sliver of information unless the deck was previously stacked or gets shuffled). But those combos are really cool. We're also happy this isn't loyal or artificially tied down to the Watch in some way - not for any specific deck (though Greyjoy of course won't mind it), but simply because too many combo pieces are restrictive in how you can play them, for our liking.
Scott - 5 out of 5
Steal-stuff decks will run 3x. Some control or choke decks will run this depending on the meta to control opponents from getting their weenies. Maybe even a mill deck will run this one day. If mill is ever viable, it will be out of GJ and perhaps it will banner to the watch. That is more shagga...but steal stuff decks will become a thing.
Daye Kaniel - 5 out of 5
Eurgh. This card. I didn't want to give it a 5 out of 5, but I kind of had to. It's just grotesquely strong. It will undoubtedly become the linchpin of the steal-stuff decks, providing an alternative and much more reliable way to deposit those coveted characters firmly in the discard pile. Even outside of that use it has legs, serving as a both a control card and psychological weapon against your opponent. No one likes having to surrender control of their draw deck to their opponent, especially when results in you losing playable characters. It's also got potential as a fantastic little banner card with Tyrell - the synergy with The Bear and Maiden Fair and Caswell's keep being the obvious benefit. All for the meagre cost of 1 gold, or nothing if you have a Builder at the Wall or a Sworn Brother out. That all said, this card does worry me somewhat. It reeks of NPE, which is never a good thing for a game. Luckily, we seem to be getting lots of Location hate this cycle, so hopefully that will keep it in check.
Patrick Haynes - 5 out of 5
Yeah...I think the nearly 500 words above me sum it up pretty well. I think its a worth while 1-of in the builder wall deck to have more locations for the Carpenter and Miner.
Catapult on the Wall
(12 Total Points)
Joe From Cincinnati - 2 out of 5
Let's be honest. This is a Targaryen card masquerading as a Watch card. I doubt it sees much play in monofaction or typical banner Night's Watch decks. The 4 strength or less restriction is just low enough that you won't be able to hit any of their major characters most of the time. Even if they did, the turn you play this, for 3 gold, they could just choose to not attack with those characters that are targetable and then confiscate the catapult the following turn. In addition to that, Night's Watch has only one native stand action, Satin. There are other ways around it, such as Shae, Fiery Followers etc but those are combos that likely won't precipitate often enough to be worth building a deck around. The two factions in which this card may work are Targaryen and, to a lesser degree, Tyrell. Targaryen has burn effects. So your opponent attacks with a 6 strength character, you Dracarys! it and then you Catapult it. They also have Plaza of Pride and Magister Illyrio to assist in standing the character. Tyrell, on the other hand, has Renly's Pavilion, which increases the targeting range to 5 strength characters as well, which significantly improves its effectiveness. Will it be a fun card to play? Sure. Is it tournament worthy in decks outside Targaryen and possibly Tyrell? Probably not.
Q&T Curmudgeons - 4 out of 5
In 'normal' decks we don't see this justifying a spot - 3-cost and the character remaining knelt for a telegraphed kill that is restricted in choice of targets? - but it's a very enticing combo card, perhaps even moreso than Queenscrown. In Targaryen, the faction of both STR-reduction and stand effects, this card slots in perfectly. We also hear Shae can wield this pretty effectively, as can any Stark character paired with Jon and Robb, as can Randyll Tarly (particularly when paired with Renly's Pavilion). We look forward to deckbuilding with this.
Scott - 2 out of 5
Meh. Never play in just NW. If you have a way to reduce strength in a faction like Targ then this can be pretty good. Still 3 gold and requiring help of another card might be a bit much.
Daye Kaniel - 2 out of 5
I've already reviewed this card once with Joe, resulting in long Facebook thread with people telling me why my review was wrong. My mind hasn't changed on this one. It's too expensive, it's straight up bad out of the Watch where it competes with so many other, better cards, and it can be vanquished easily by the most commonly played plot in the game. Yes, there are a large amount of janky combos you could dream up that make this card playable or even a threat, but those scenarios are few and far between. Even as a lover of jank, the best case scenario I can think of for this card is as a banner card in some sort of Randyll/Pavillion build, or out of Targaryan with the new Plaza as a Dracarys! aid. But then who's stupid enough to walk into that? It does absolutely nothing vs passive power decks which are all the rage right now. I'd love to be proven wrong with this one, but I feel safe saying that this will never be seen in a tournament winning decklist outside of Store Championship level.
Patrick Haynes - 2 out of 5
Time will tell if Weirwood bow and this make Targ Night's Watch better than Targ fealty for burn but if they don't then this card will never see play. Its way too expensive, too costly in that you have to kneel your dude for two rounds, and too easy to remove.
Ghost
(14.5 Total Points)
Joe From Cincinnati - 3 out of 5
Saves are great. There are more characters in this deluxe box that can receive attachments, so your target pool in a monofaction deck expanded significantly. I think it's nedly that you can also attach him to Stark characters. I used to play a lot of NW Wolf. Maybe that build becomes viable again somewhere down the line (or the inverse, Stark Watch). It works wonderfully for the new Jon Snow. I do find it a bit sad, however, that this is just another card that Core Jon Snow can't benefit from. Poor guy…
Q&T Curmudgeons - 2 out of 5
Why did the designers make this strong Stark card have a black border? Now it can only see play in Stark Watch! (It has limited use in Night's Watch themselves because it's not a Weapon and is competing against a strong core card, in case that wasn't clear.) Still, good in Stark. Time for Wolves is now the Valar-counter that it once was in first edition - someone sound the Seefeldt Alarm?.
Daye Kaniel - 3.5 out of 5
As Joe said, saves are great, and reusable saves are even better. He's expensive, and that makes him a prime target for Confiscation, but I feel that a lot of the time players will have to choose between taking a Milk or Craven off one of their guys or taking Ghost off one of yours, which makes including him in those decks an easier choice. He also alleviates the need for core set Aemon in certain decks, which is a welcome boon for the Watch. His application is a straightforward one - he doesn't go in Wall decks, this guy is in the mix to keep your new Old Bear Mormont/new Jon Snow/Bowen Marsh/Whatever alive. The fact that he's called Ghost doesn't even matter that much either - core Ghost is usually only run as a one of, leaving him susceptible to board wipes/resets, meaning you can probably run a copy of each Ghost in a deck without it causing problems. That having been said, I prefer this new iteration as of the box, with the meta we currently find ourselves in.
Patrick Haynes - 3 out of 5
I think you rarely play this guy out of Night's Watch. There are still simply too many characters that can't take attachments to make him reliable, plus they already have core Aemon. Unless you're playing a deck with new Aemon, I think you can safely leave this guy at home. Out of Stark however, having a repeatable save for the Blackfish, Robb, or Eddard is huge. The only issue is you have to find 9-11 more Night's Watch cards to play and you dilute your Stark-ness that that faction loves so much.
Scott - 3 out of 5
If you have a combination of Stark and NW, play this. Repeatable saves are good, especially when they are available for key big, renown characters. Out of NW itself...probably not worth it.
Sworn to the Watch
(11.5 Total Points)
Joe From Cincinnati - 2.5 out of 5
Finally! A way to convert non-Night's Watch characters to Night's Watch characters, thus bringing them under the comfortable embrace of Maester Aemon and the Wall! I've already mentioned this card's synergy with Jaremy Rykker, but the ability to give out any of the three traits is great as well, since this works with Watcher on the Walls, the New Gift and Abandoned Stronghold/Castle Black Mason (assuming the attached character has the corresponding icon). Its obvious weakness is that you can't give it to characters with the 'no attachments except weapons' text. I don't think many monofaction decks will bother with it, but it has some very interesting interactions once you consider bringing in other factions' cards. Also, Halder loves attachments that he can kneel for strength pumps.
Q&T Curmudgeons - 1 out of 5
Ire
loves
this card, it's his kind of jank. The rest of us are scratching our heads something fierce at why he has such poor jank antennae. Possibly the only valid use of the card currently is to make Shae a Steward for the New Gift (second mention of her for us in this review? Combo deck incoming, clearly…), and maybe more will rise up in the future, but it needs a lot more to earn the slot in an actual competitive deck.
Scott - 1 out of 5
Can do neat tricks and synergies with cards like new gift, Jaremy Rykker, Watcher on the Walls, Abandoned Stronghold, etc….but not worth the card slot. Card slots are valuable. And it's a condition on top of everything. Maybe you can make some fun Shagga deck with this and Satin.
Daye Kaniel - 4 out of 5
I guess my score will invite some backlash here, so bring it on! I love this card. It's great for set ups, and it opens up Night's Watch/Banner X builds to all sorts of tomfoolery. All those banner/neutral cards you wish could interact with all your specific Night's Watch-only synergy now can (The Wall and Castle Black are two of the more obvious examples), also your Night's Watch specific attachments can now go on non Night's Watch characters. It's tutorable, great for setups, another trigger for Halder, non terminal and the best friend of Ser Jaremy Rykker in banner/neutral/steal stuff builds. You could definitely have some fun with this and Satin as well (standing Tyrion or Jaime? Eurgh gross). Scott's correct in that attachment slots are at a premium in the Watch, but I'm convinced this one has a staple place in clever banner builds going forward. Shagga players, UNITE!
Patrick Haynes - 3 out of 5
I might be being optimistic on this one. I'm torn between a two and a three but I think it has the potential to be very strong going forward. It will almost certainly find a place in the discard digging deck and in any Watch banner of the x decks. The only problem is that most of those decks are worse than similar mono-faction builds.
Now My Watch Begins
(23 Total Points)
Joe From Cincinnati - 5 out of 5
Queenscrown's release literally changed my entire review of this card. No longer are you relying on having to trigger Varys and hold onto 2 gold. No longer are you forced to keep 2 gold every turn just in case your intrigue challenge happens to hit a character you can take. No longer do you have to banner out to get Seen in Flames or His Viper Eyes to make this card work. No longer is this even predictable by your opponent. In fact, if you're going first, they'll almost never have the gold to stop this effect (barring things like Calling the Banners or Trading with the Pentoshi) and if they're going first, they would have to save 2 gold to even be able to cancel this effect before you marshall. So it's no longer forecastable. Now, all you have to do is...kneel Queenscrown when you have 2 gold (often at the beginning of your marshalling) then just...take whatever 5 cost or less character is in those top 3 cards. You can even combo this with Tyrell to get "The Bear and the Maiden Fair" to maximize your hit potential. This doesn't have the non unique restriction that Old Bear has, so there are more commonly used targets available, such as Melisandre, Knight of Flowers, Aggo, Arianne, Asha, Benjen, Brienne, Catelyn or Nymeria Sand. Unbelievably strong card...
Q&T Curmudgeons - 4 out of 5
So great for character discard decks - be that pillage, targeted with your Queenscrowns and the like, bannering into Seen in Flames or Viper Eyes, or just picking up the pieces after a Varys. (Or even reserve, if your revealed plot is Littlefinger's Meddling!) 2 gold for a surprise character that could cost up to 5 make this an economy card as well as a surprise body. The only problem with it is that it can be clunky to time - most ways of discarding a character require a specific window of opportunity.
Scott - 4 out of 5
Intrigue claimed Nymeria, or core Cat, or Benjen...gimme gimme. The list goes on. Varys, Marched (if you can keep some gold around from Old Forest or another mechanism)
Daye Kaniel - 5 out of 5
I originally scored this as a 4, before I saw the newly spoiled Queenscrown. That location pushes this up to a 5. This event itself is already really strong - potentially the best steal stuff Night's Watch card to date. With the added ease that the Queenscrown provides in helping your opponent's characters handily into the discard pile, it's just bonkers. The best thing about the event is the lack of targeting restriction in regards to unique characters. Lannister players might not give a toss about Old Bear Mormont (WotW), but they sure as hell should be worried about this event snatching their best cards. There are a lot of bomb cards even at the 2-3 cost slots as well as the highly coveted bomb 5 costers (Tyrion/Nymerias/Asha/Brienne etc), so chances are you're going to be stealing something good when you draw this event. This is perhaps one of the only 2 cost events I can see myself running as a x3 as standard in the decks you play it in
Patrick Haynes - 5 out of 5
Another card that is amazing in the deck that you play it in. With Queenscrown you're basically guaranteed to find a character with this and if nothing else it is basically pure economy as you can pay two for up to a five cost character. Easy 3x in the discard digging deck.
I Shall Win No Glory
(5.5 Total Points)
Joe From Cincinnati - 1 out of 5
Oh god, this card is bad. I understand the impact of ending a challenge immediately could be devastating for your opponent. If you're playing against a LotC deck and they packed all their renown into their final challenge, ending that challenge with no winner could rob them of as much as 5 to 6 power, or more depending on their triggers. The problem is that cost restriction is insane! Kneeling 3 builders, rangers or stewards is an extremely hard cost to fulfil. It would have been playable if it was kneel 3 of any of the three traits, such as 1 ranger and 2 builders or something like that. But requiring 3 of one trait all standing and all available to kneel (you still need defenders for other challenges if you're trying to defend the Wall) seems like a nearly impossible standard to hit. On top of all that, you could kneel 3 characters to stop this one big challenge and then your opponent plays Hand's Judgment for 0 gold and ruins your entire plan...and your characters remain knelt, as that was part of the cost to play the card. In a truly mono-trait deck, such as a builder deck with 20 to 30 builders, this may be possible to work with, but even still, kneeling 3 builders is a steep cost to merely end a challenge.
Q&T Curmudgeons - 1 out of 5
It shall win no deck slots. The only scenario we can think of it actually making a deck is if you're running a defense deck with an icon deficiency (most likely Builders) and relying on this and Haunted Forest to fill in the gaps. And since that deck probably sucks we'll put this straight in the binder for now, maybe forever.
Scott - 1 out of 5
Ending the challenge is really bad for the opponent. But this is pretty costly…
If Frey-style Lord of the Crossing decks become a thing, this would certainly hurt that. It is also good on a For the Watch turn, especially if you also have the Haunted Forest out. But not worth the deck slot.
Daye Kaniel - 1.5 out of 5
I feel bad for this card. On one hand, I feel it would be too powerful if it's cost was "kneel 2 X to stop X challenge". On the other hand, the fact that it requires 3 character kneels (all of the same trait) and is total Hand's Judgement bait really hurts it. You could outright lose yourself a game, say, if you knelt 3 Builders to stop a power challenge, only to have this event cancelled. On top of that, what events are you cutting for this? The Night's Watch has a plethora of amazing location and attachment cards to choose from, and generally tends to run event-light. Are you cutting your Nightmares for this? Your Hand's Judgements? Your Meagre Contributions? Your The Watch Has Needs? No? I didn't think so. To throw this card a bone, perhaps the one deck where you might consider a copy or two of this into is the Builder-centric Wall deck, which looks like it lacks Military icons and might benefit from this. Even then, it still probably doesn't make the cut.
Patrick Haynes - 1 out of 5
This card simply doesn't make the cut. In single trait wall decks the triggering condition is possible but it's only worth it in very rare situations and slots in those decks are pretty tight already. The meta has seemed to be trending away from Hand's Judgment but even so this card is hard to justify.
The Fire That Burns
(22 Total Points)
Joe From Cincinnati - 4 out of 5
We finish it off with a wonderful plot for the Night's Watch defense decks. It has good stats, with 4 gold, 6 initiative and 7 reserve. That 7 reserve, in particular, is great because it pairs well with Eastwatch-by-the-Sea and Fist of the First Men. The 0 claim kind of sucks but you're playing this card because you're playing a defensive deck, so having 0 claim doesn't hurt you too badly, as there is a decent chance you had no intention of initiating any challenges that round anyway. With the Wall decks as they are right now, I would suspect you have to pick between this card and For the Watch! There may be a time when you can run both, but I think 4 gold is just a bit too low to have both of these, as well as Building Orders/Counting Coppers and Here to Serve in your deck. That's a lot of low gold plots. So, in the case that you do have to pick between the two, which is more impactful? Ignoring your opponent's first challenge, or not having to kneel to defend challenges? There are legitimate arguments for both. This also helps win dominance, after all. But, in the same token, I rarely find myself lacking in defenders except in very specific circumstances (post bad Valar, huge board wipe like Lanni Rains Wildfire). It could be amazing or it could be superfluous. Testing required.
Q&T Curmudgeons - 4 out of 5
Very solid for defensive decks, but it's not going elsewhere and it's not even a cornerstone for that deck (the Night's Watch themselves already have a better plot for it). The reason we're rating this so high is because of the high initiative and Winter trait, and we might still be overrating it even then.
Scott - 5 out of 5
Are you playing NW defense? Yes? You play this. Claim doesn't matter much for you. 4 gold is the only thing that concern you a bit, but I'd play this at 3 gold. 7 reserve is insane.
Daye Kaniel - 5 out of 5
It's an amazing plot for any Wall deck, which as of this box is slightly weaker than it was going into it (I'm not whining, this game needs more location hate, so any offerings of that are thoroughly encouraged), so it's good to have plots like this that keep it relevant. I think you can run both this and For the Watch! for a defensive double whammy, though if you only want to run one this one seems to be the better of the pair. The gold value on it is middling, but after watching the First Ranger himself (Tamas Albeck) at Batalla with his slightly unusual but brilliantly considered plot deck, I'm not convinced that Wall builds need to bother running plots over 5 gold any more, thanks to the shadow economy of the New Gift, Old Forest Hunter and Eastwatch Carpenter. Gold aside, the plot is just fantastic. As an added bonus, it has nice reserve for your Ravens as well.
Patrick Haynes - 4 out of 5
A strong plot to be sure but I don't think it is necessarily an auto-include. I think most watch builds (other than perhaps a good stuff one that runs carpenters, new gift, and old forest hunters) still need at least one econ plot and with Here to Serve, Building Orders, Counting Coppers, Winter Festival, and one reset you only have room to run either this or For the Watch! I think it really depends on your deck for which one of those is better but there are cases to be made for them both. This plot may edge it out in the end but like with For the Watch there will be times when this plot doesn't give you the kind of recovery you need and the slot would be better spent on another econ plot. If you're being choked out, or out-rushed (which I personally think are the two biggest issues for Night's Watch right now) then this plot isn't gonna do a whole lot. If you're being choked, four gold is not enough for you to recover a board and while it may give you a turn to defend all three challenges with your measly board it's not going to help in the long term and if you're being out-rushed they are either doing 0 challenge (hello IKEA decks) or they are doing one massive power challenge that you can't fully block which means it doesn't matter if you lose with all of your dudes standing or with one dude knelt.
Total Score Night's Watch Cards:
67.7% (410.5 out of 625 possible points)
Top Cards:
Queenscrown
The New Gift
No My Watch Begins
Bottom Cards:
I Shall Win No Glory
Seasoned Woodsman
Samwell Tarly
If you're hungry more content, check out the list of podcasts, articles, game video and more in
the Community FAQ
. Let us know in the comments how you feel about the cards in this box, and we'll see you again in a few weeks to review the Guarding the Realm.
VonWibble and Ironswimsuit like this
Article: Watchers on the Wall Review: Part 1