Welcome to Card Game DB
Register now to gain access to all of our features. Once registered and logged in, you will be able to create topics, post replies to existing threads, give reputation to your fellow members, get your own private messenger, post status updates, manage your profile and so much more. If you already have an account,
login here
- otherwise
create an account
for free today!

2
Wolves of the North Review Part 1
Apr 07 2016 10:00 AM | scantrell24 in
Strategy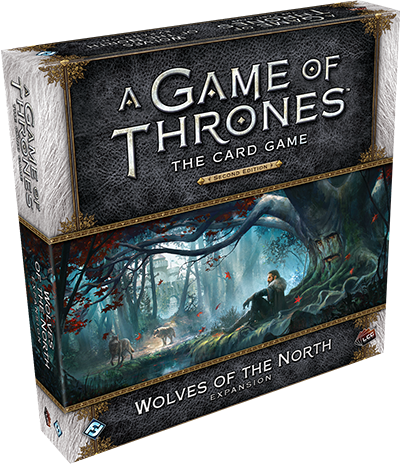 "They were the Kings in the North for thousands of years," Maester Luwin said, lifting the torch high so the light shone on the stone faces. Some were hairy and bearded, shaggy men fierce as the wolves that crouched by their feet. Others were shaved clean, their features gaunt and sharp-edged as the iron longswords across their laps.
Our staff has put together a first blush analysis of the newly released "Wolves of the North" deluxe expansion. Cards are listed in numeric order and scored on a scale ranging from one through five, with five being the best possible score. We have 6 reviewers this time around, so the maximum overall score is 30 points.
Please extend a warm welcome to our new reviewers! Cameron Davisson won three Store Championships this year with Stark Fealty, as well as The Lord Commander melee tournament in Minnesota. Chris Lavin, known as cml, won multiple store Championships in the Boston area with Lanni Crossing and Targ Sun decks. Additionally, the Curmudgeons have added Istaril to their ranks. He does a podcast I think.
Now onto the reviews, starting with....
King Robb's Host (14 Total Points)
Alexfrog - 2 out of 5
The idea that the entire army can be poisoned by a single Tears of Lys is pretty silly, and also a big reason why I don't think it's very strong. The 8-gold cost is the other reason. I'd prefer a big character with Renown and a useful ability. However, the Host does have potential, as a 4 power swing with a War plot revealed should not be scoffed at, but the cost is steep.
Cameron D. - 2 out of 5
Being able to grab power from your opponent via a military challenge is nasty but let's face it: this is too expensive for what it does. I was hoping for some kind of built-in cost reduction but it didn't happen. Personally, I rather spend my gold on Robb, The Blackfish, or the new Eddard.
cml - 2 out of 5
The effect is fine, I suppose, but if I'm paying 8 for a card that I can't reduce with Noble Cause, I want more impact than this. If Army synergy becomes a thing down the road, this card may get revisited, but until then, it's not worth the cost.
JoefromCincinnati - 2 out of 5
It has application. Storm of Swords and this card are magic together. Especially considering the new Jon Snow could stand them during that turn, so you can use it twice to get 4 power in two military challenges. But Tears of Lys still exists and, even though there is some event cancellation and saves coming out in this box, 8 gold dying to a 1 gold event makes this card extremely risky. If they weren't unique, I would give them a 1, but being able to give them dupes can help against tears.
Q&T Curmudgeons - 4 out of 5
Just to be clear, our rating here is a Melee one, where this card really shines. For Joust 8 gold is too much for a card that only offers power grab already offered by cheaper options in this box. Hilarious combo with Brynden though, so good for him. The wonkiness on defence is an amusing distraction as well, although when we get Ward in pack six of the cycle it may prove to be something more.
Rave - 2 out of 5
The highest cost character we've seen yet. The ability is interesting, but ultimately psuedo-renown most of the time, and he costs about 3 gold too much for that. Essentially non-setup-able because of the threat of Marched to the Wall. The high strength doesn't offset the cost, especially since he's bringing nothing new to the table for Stark.
Catelyn Stark (22 Total Points)
Alexfrog - 3 out of 5
She certainly doesn't have the level of impact of some other 7 cost characters such as Tywin or Daenerys. However, she has the ability to accumulate power for you in a way which might be very difficult for your opponent to stop, and because of that I think she has at least some potential. I expect there will be a power accumulation deck at some point that will use her well, but you probably won't be throwing this version of her into just any Stark deck. The other Catelyn is quite useful and well costed. Playing Wildfire for the two power to win will be fun.
Cameron D. - 3 out of 5
I'm torn. The biggest problem with Catelyn is herself, the core version. We all know how undeniably good that card is, and it's only gotten better with Wardens of the North. However, this Catelyn looks fun on paper and I'm sure she will see play in Tully-heavy decks. But the competition with herself and other costly Stark characters makes this Cat a tough sell.
cml - 3 out of 5
This Catelyn serves as one of the pieces to a Stark rush / power grab deck. Her ability is strong, but she suffers significantly from the existence of core Cat, who I view as quite possibly Stark's best character (and at a very affordable price point). Ultimately, I think Wolves Cat only goes into specific builds designed to leverage her ability, and most other Stark decks will stick with core Cat. This Catelyn might deserve a 4 on her ability and stats in a vacuum, but loses a point because of the existence of a more generally useful version.
JoefromCincinnati - 5 out of 5
This new Catelyn will define a deck type. As Cameron said, her biggest weakness is how strong her core set version is, but this one creates an interesting and potentially powerful win condition, which I think justifies the high grade.The power is relatively safe on her because of her intrigue icon and presence in a military heavy faction. You can potentially use Wildfire as a win condition, much like Benjen Stark and Joffrey Baratheon can, by killing Stark characters to gain enough power to end the game in the plot phase.
Q&T Curmudgeons - 4 out of 5
A wonderful centrepiece card. For everyone complaining about the game being too snowball-y, we implore you to play Stark decks. A strong enough character to make for a stable powerbase and a quick source of power in a pinch (is Wildfire good, Aaron?). She's the first sign in this box that we will soon see several distinct Stark builds, with an early decision point being whether to play the "good stuff" Catelyn (Core) or this version, which asks a lot from your deck construction but gives you a lot back in return.
Rave - 4 out of 5
Wow. Super Joffrey. Catelyn is definitely a survivable character with the intrigue icon and high strength. A good choice to stack dupes and bodyguards onto. She gives Stark a nice option to soak the intrigue challenge if need be. That's said, she's solid, but not an auto-include. When you need to win before your removal plot, simple renown serves better, which at this point is kind of the benchmark keyword for characters at this price point.
Eddard Stark (30 Total Points)
Alexfrog - 5 out of 5
The 6 strength is excellent, keeping him out of range of Dracarys plus one -1 str effect, and allowing him to block all the 5 strength characters out there. The double Renown effect is very strong and also synergizes with some other stark effects, such as The Blackfish. And he is non-loyal; a boon to stark banner as well as main house! This Eddard represents an upgrade over Core Eddard in most matchups excepting Baratheon.
The amount of power you can gain by attacking with Robb + Eddard, using Robb to stand the team via a sacrifice (or Grey Wind eating Rickon/Winterfell Steward), and then attacking together again, is crazy, even above Jaime/Drogo levels of power accumulation. Alternately, Eddard is amazing with Seal of the Hand (so Nedly!). You should probably give him a Little Bird, because otherwise you know Cersei is going to poison him with Tears of Lys.
Cameron D. - 5 out of 5
Here's the Ned I've been waiting for. He can get absolutely disgusting if you have any kind of standing tech like Power Behind the Throne, Seal of the Hand, Robb Stark, Jon Snow, etc. If you're able to trigger his reaction twice in one round that's four power alone and that's not including anything like claim or other characters with renown. Naturally, he gets along well with Catelyn and the Blackfish. What's not to love?
cml - 5 out of 5
Good cost to strength ratio, good keyword, ability that accelerates the game, slightly cheaper than core Ned. I love everything about this card. In Melee there's more of a choice, but I would expect this version of Eddard to see a lot more play in Joust.
JoefromCincinnati - 5 out of 5
Renown is good. Double renown is scary good. His cost to strength ratio is great (especially compared to his core set version). He and Catelyn make a good power couple, huh? His biggest weakness is you need another participating character in his challenge in order to collect the second power. Shouldn't be a huge problem for Stark though.
Q&T Curmudgeons - 5 out of 5
Combos with the likes of the darker trout aside, gaining 2 power for winning a challenge is big, and 6 STR is a deceptively large amount. Non-loyal, one would expect Eddard to make a lot of new friends going forward.
Rave - 5 out of 5
What is essentially double renown on a survivable character will always be terrifying. Eddard really sets the bar at the 6 cost slot for Stark. Good strength for the cost too. To be fair, there's more that could go wrong here than on a character with double renown in the traditional sense, but this is a formidable swing in power for one challenge. Right now, I feel that Eddard is one of the few characters that is really worth building restanding tech around. Solid, solid card.
The Blackfish (28 Total Points)
Alexfrog - 4 out of 5
His cost to strength ratio is weak, and he dies to Dracarys. However, he is essentially a Renown and Insight character with an additional ability, which is useful, but it will be tough to get 4 power on him. His faux-insight ability doesn't require him to be present in the challenge, so if you fear Dracarys you can hold him back and still get your card. At cost 6 he competes against Robb and Eddard, who are both probably stronger than him, but you might be able to fit him in as well. I think he has too much competition for his card slots to be heavily played, but he should see some play. I think it's a pretty strong card with a lot of competition at its slot from VERY strong cards. Still, you may very well end up just playing all of Eddard, Robb, and Blackfish, and even Ser Rodrik as well, since large characters are strong in the current meta. I really like this card, it's just got a lot of strong competition at this cost slot.
Cameron D. - 5 out of 5
Well, it's
The Blackfish again
. I had two copies of him in my Worlds 1.0 joust deck if that tells you anything. He's vulnerable at 4 STR but I think that was an attempt to make him more balanced since he has both Renown and quasi-draw. Still, Stark has plenty of ways to boost strength and stop shenanigans so if you play smart, The Blackfish will be your best friend.
cml - 5 out of 5
Draw is good. Renown is good. The non-kneeling for Tully is neat, but at 4 power required for it, I don't think it's going to come up that often. That's just gravy, though - the renown and card draw on him are enough to make him a 5 for me.
JoefromCincinnati - 5 out of 5
I like him. His biggest weakness is his cost slot, which already contains Core Set Robb Stark and new Eddard Stark. 4 power is also not super easy to come by. There are ways of accelerating this, like Eddard and King Robb's Host passing out power to him, and Lady Sansa's Rose if you are running Banner of the Rose. However, His true value is the card draw. He seems like a more versatile version of Rodrik Cassel.
Q&T Curmudgeons - 5 out of 5
Any other rating would feel dishonest, since half of the Stark cards in this box seem built to synergise with him. The reaction is gold, and note that unlike Insight-based draw, if you topdeck a Put to the Sword you can use it straight away. Three positive traits, renown, pseudo-insight, loyal which is super for Fealty decks. Don't be fooled into thinking he only goes in a Tully deck - that Tully synergy is icing on the cake, not the point of the card.
Istaril: "Alas poor Rodrik"
Rave - 4 out of 5
This was almost the easiest 5 I ever gave, and then I noticed the 4 STR. With recurring draw and renown, The Blackfish is almost the poster child of a 3x character. Sadly there is a liability to relying on him in this way, most obviously VS Targ, and to a lesser extent Bara and Martell. Still great though, you just have to consider if you feel the risk is worth it. Unanswered, he is a serious threat. Not a bad 1x, especially if you run Bodyguard.
Jon Snow (19 Total Points)
Alexfrog - 3 out of 5
He has strong synergy with a bunch of other Stark cards, but his base stats and icons are weak. I think he will see play in the Stark decks looking to make use of sacrifice triggers, but not in every stark deck. He is VERY good in the Stark sacrifice trigger deck. Sacrificing at will is going to be a big deal, and that deck clearly plays him. But I don't think that will be the only Stark archetype, and I don't think he will make the cut in other archetypes, which means he is good but niche.
Cameron D. - 4 out of 5
Sacrifice on demand is huge. Any experienced Stark player knows how vicious the Robb Stark / Grey Wind combo can be. Despite only having one icon, Jon Snow allows you a ton of flexibility during the challenges phase even without Robb on the board.
cml - 2 out of 5
5 cost for a 4 STR monocon in Stark's most common icon isn't ideal. Jon's ideal use is in synergy with Robb Stark, for the ability to stand all your Stark characters on demand. I think most of the time, though, you'll want to get more use out of your high cost characters than that, so unless Baratheon is a big thing in your area or becomes a very big thing overall in the meta, I think it'll be hard to fit Jon in over other characters.
JoefromCincinnati - 4 out of 5
His icons and strength aren't the best, but his true value is all the interactions for sacrificing in Stark, primarily with Catelyn, Robb, As Hard as Winter and Needle...The synergy in this box is amazing.
Q&T Curmudgeons - 3 out of 5
No slouch despite being an expensive monocon, as he is a solid engine to support Catelyn (WotN) and Robb (Core). On demand power and whole board stand should be… very interesting. In general Jon is great for giving you that last big push, and as a niche move can help you knock off a negative attachment. Unlike a lot of these other big characters though, he's only meant for certain decktypes. We love the design though, a "chasing the dragon" card that will be fun to manage. In Melee, where losing board position for short-term gain is far more preferable, he's probably a 3.5.
Rave - 3 out of 5
I'm not sold on Jon Snow. I mean… He is very nice when you are winning, and have characters to sacrifice for Robb or Eddard especially. Otherwise, without characters to sacrifice, he is a military monocon that doesn't take Bodyguard that you don't really want to chump block with because of the cost. 3 card combos with a sacrifice cost sound like a slippery slope I don't really want to get involved in. That said, there are situations when this can really turn the game around for you.
Wolves of the North (14 Total Points)
Alexfrog - 3 out of 5
I think I would rather play Syrio in most decks, but he is a direwolf, which has some advantages. Still, the strength reduction is fairly useful. If you could combine it with certain Targaryen loyal cards it would be very strong, but alas he is loyal. I think he sees play in Direwolf decks but not other Stark decks.
Cameron D. - 2 out of 5
This card plays well with Grey Wind and the new Arya but I'm afraid the high cost coupled with poor stats is going to make Wolves of the North somewhat prohibitive to play. With Syrio, Littlefinger, Jon Snow, and Grey Wind fighting over the same five cost slot it's going to be hard to justify this one.
cml - 2 out of 5
The effect is certainly nice in a deck using a lot of Direwolf cards. However, that cost to strength ratio is really bad, and the wolves suffer from the same problem that Jon does in terms of cost slot. Niche card.
JoefromCincinnati - 3 out of 5
I like the effect. Imagine a wolf deck that can use this card to lower Tywin to 2 strength (if you have this, Greywind and Summer out, with Lady on a character, that's -4 strength), Greywind can then eat Tywin if Robb Stark is on the board. Similarly, it brings middle tier characters into devouring range and makes challenge math difficult for your opponent. All that said, it'll be tough to fit into a deck that isn't dedicated to direwolves.
Q&T Curmudgeons - 2 out of 5
Thank the old gods that this is loyal and kept out of Targaryen's hands. The combo with Grey Wind is neat, but it feels expensive for what it does, and these pups have anti-synergy with the Kennel Master since their stealth (and thus their effect) will do nothing unless they feature in the initial declaration. Great on a First Snow turn at least, which Stark needed. If it was 1 cheaper it would be strong, but a 5-for-3 monocon is a tough sell.
Rave - 2 out of 5
Again, a 5 gold military monocon. You don't want to chump block with it, like Jon. Unfortunately it's almost completely dependant on initiative to go first and nullify characters, or other cards like Greywind to take advantage of the ability if going second. I feel that the 5 gold slot is where characters should start to easily shift the board by themselves as they come out, and Wolves of the North alone isn't impactful or reliable enough.
Arya Stark (15 Total Points)
Alexfrog - 3 out of 5
She's decent as a trigger for the sacrifice synergies, but competes against the previous Arya which I think is generally much stronger. This Arya faces too much competition to get used much. Like Jon Snow, she only gets played in the sacrifice trigger archetype, because every other Stark deck probably prefers the base set Arya.
Cameron D. - 3 out of 5
While The First Snow of Winter doesn't bother this Arya, core Arya's stealth can be so, so important, especially with cards like Ice and Put to the Sword around. This Arya also loses synergy with Hot Rod (she lacks a military icon) and Summer (her STR is too high). Lastly, if her reaction gets canceled, she still gets sacrificed. Bummer. For now her best place may be in a direwolf deck.
cml - 2 out of 5
Immunity to First Snow and a much-needed intrigue icon are the sum total of advantages she has over the core Arya. For most decks, that's not enough. I suppose you could use her in combination with the Wolves of the North to try and kill any character without stealth, since she does not kill printed STR, but I think there are too many conditionals and moving pieces to make that combo worth trying. Her statline is fine, but she loses one rating point for the superior alternative.
JoefromCincinnati - 3 out of 5
Like Catelyn, I think her biggest weakness is the core set version of her. Core Arya is extremely powerful, and you'd have to go full out on the sacrifice theme to make this Arya more valuable than core set Arya. However, kill is always welcome. If Stark gets more strength reductions in the future, she'll become even more powerful. She works great with Needle as well.
Q&T Curmudgeons - 2 out of 5
Could be great card parity if you're willing to trade gold/cards with an opponent (e.g. while you're ahead), and has some tempting targets (Margaery, Syrio - more with those Wolves of the North) - but pretty much relies on that opponent you're ahead of obliging you by winning mil challenges. Faces such stiff competition in Arya (Core) that she's likely to only see play in very specific decks… either for her intrigue icon or the synergy with sacrifice effects.
Rave - 2 out of 5
She is heavily overshadowed by the utility of her core set version. On this card's own merits, the effect is very expensive. Targeted kill is nice, but 3 STR is pretty low to kill anything of note by itself, and your kill will rarely shift board position enough to justify sacrificing a 4 gold character.
Jory Cassel (23 Total Points)
Alexfrog - 4 out of 5
Again, a sacrifice trigger card, but this time more valuable in normal situations, as an okay-sized body that can save any Stark character if needed. I think he's a 1-of, but a very common 1-of. Outside of the sacrifice deck he is only okay.
Cameron D. - 4 out of 5
Solid body with a solid ability. Gets along well with Hot Rod, Winterfell Castle, and Needle. Will be a one-of in many decks. More Tears of Lys defense for your heavy-hitters is never a bad thing.
cml - 3 out of 5
He's okay as a body if you need to fill out your cost curve. The ability doesn't blow me away - if I want to protect a character, there are better ways to do it (Bodyguard, dupes) - but the cost to STR ratio is fine, and he doesn't lose any points for having a better version. If you've had to use him anyway to save a character, that character potentially gaining a power is a nice fringe bonus, but not something you should plan around at all.
JoefromCincinnati - 4 out of 5
A certified "Don't tears me, Bro" card. Jory protects Eddard and King Robb's Host ( a unique army, surprisingly) from death. The best part is it doesn't kill Jory. It just sacrifices him. So you can re-play him for more event saving shenanigans, if you run more than 1 copy of him. Sacrifice synergy etc etc.
Q&T Curmudgeons - 5 out of 5
Jory is in a great cost slot where the characters he's likely to be saving are all expensive enough to justify sac'ing him for, and he survives First Snow to do it. As a sacrifice, you can safely run multiple copies of him. He's an excellent anti-snowball card (as long as you have a character you want to save), has top synergy with Catelyn, and (due to a slightly unintuitive ruling) he can effectively reduce military claim from 2 to 1, by choosing himself and the target of his save for claim, then sacrificing himself for the effect before he dies. Clearly a very Quill & Tankard-worthy card. Just beware of Treachery...
Rave - 3 out of 5
Meh. He's ok. You're still sacrificing a 4 cost character when Jory works, and by running him, you suffer the opportunity cost of not being able to play a 4 cost character that has actual presence in challenges. Probably the most entertaining Treachery play ever, but that's not to his credit. The plot effect seems negligible.
Riverrun Minstrel (18 Total Points)
Alexfrog - 3 out of 5
Buying a power is nice, but he has a limited number of good targets, basically Catelyn and Blackfish. You don't want to put the power on him or on a Tumblestone Knight that might just die, unless you are about to win. I expect a power rush deck plays some Minstrels.
Cameron D. - 3 out of 5
She makes up for the power you're losing with the House Tully Septon, directly empowers The Blackfish and Catelyn, brings a good icon pairing, and doesn't care about First Snow.
cml - 3 out of 5
Another Intrigue icon in Stark is always welcome, and the ability in niche cases to win the game during marshaling is quite nice. Not a ton to say here - just a solid body.
JoefromCincinnati - 3 out of 5
More power for Catelyn and Blackfish. 4 cost makes her an intrigue icon that actually stays on the board for Stark during a First Snow of Winter turn, which is nice. But once she hits the board, she essentially becomes a blank character. Maybe a 1 of in most Stark decks? Unless you really need that intrigue icon for Lords of the Crossing.
Q&T Curmudgeons - 3 out of 5
Perfectly serviceable. A nice icon for Stark, synergy with the two big hitters of the box, but not useless without it (although you might regret having to work to preserve a frickin' Minstrel once it's got the power). At the same time, unlikely to be confused for a spectacular stand-out card. Power gain outside of challenges pushes this to an easy 4 in melee.
Rave - 3 out of 5
I feel like 1 power to a character for the bulk of your plot gold isn't enough of an impact to do much of anything with the abilities of characters in the current card pool. Interesting choice for pure rush, but I'm not sure if that's truly viable yet, though I haven't tried or seen it. The free win at 14 power is nice and noteworthy for what it is.
Old Nan (14 Total Points)
Alexfrog - 2 out of 5
High cost for a low strength one icon character who then kneels for the ability. You have to really care about Summer/Winter status to want to play this. It will probably see a bit of play because plot seasons will matter, but it's quite niche.
Cameron D. - 2 out of 5
We probably won't see this scary lady around much until the season agendas roll out (pack 2 of the next cycle). However, simply having an intrigue icon will justify her inclusion in a number of decks.
cml - 3 out of 5
Full disclosure: this rating is a complete cop-out. I don't think there's any way to judge how strong Nan will be without knowing how effective Summer and Winter are going to be. If they have a large impact on the game, Nan's a 5/5. If they have virtually no impact, she's a 1/5. To my mind, there's no reasonable way to determine what she will be like now, so I'm throwing my hands up and putting her square in the middle.
JoefromCincinnati - 3 out of 5
I believe the Winter and Summer mechanics will play a big role in this game. You already see Fishwhiskers and how he can ignore all defenders if there are more winter plots revealed than summer plots. It would be nice to use Old Nan to stop that effect from working (assuming you both don't have winter plots revealed at the time). I expect many more interactions like that in the near future, especially with the Kings of Winter and Summer agendas coming out in the next cycle.
Q&T Curmudgeons - 2 out of 5
Right now she's almost a 1 (the power of Winterfell and her presence as a cheap intrigue icon sparing her). In the future she may be more worthwhile, although no deck is ever going to be too attached to her as an enabler - better to build your plot deck accordingly. Still, she fills a role as a "buffer" against effects that care about your plot's traits - opponent's Winterfells, Fishwhiskerseseseses, etc.
Rave - 2 out of 5
I don't see much of a reason to run Old Nan yet, but she's definitely worth watching. With what we have now, she feels almost universally outclassed. She's OK insurance if you have winter effects in your deck, but not quite a 1 rating because she is cheap enough and gives intrigue presence.
Osha (27 Total Points)
Alexfrog - 4 out of 5
I like Osha. Send her in for a low-commitment intrigue challenge, and if blocked, pull her out again. Tough on your opponent's math. Great for a Stark Lords of the Crossing deck.
Cameron D. - 5 out of 5
Hands down, Osha is one of the best cards in the box. She is a nightmare with Wardens of the North revealed and singlehandedly makes Stark Lords of the Crossing a thing if it wasn't already. She's at least a x1 in every Stark deck until AGOT 3.0 comes out.
cml - 5 out of 5
Good icon pair and a terrific ability that allows the Stark player to mess with challenge math and make bluffs in really interesting ways. This is a terrific card, and one I expect to see in Stark decks for the foreseeable future.
JoefromCincinnati - 5 out of 5
Osha is very good. More challenge math manipulation. She'll work similarly to how you can use Highgarden to bluff attacks or save attackers/defenders based on what your opponent defends with. Intrigue icon is also valuable in Stark. She gets hit by First Snow of Winter, but other than that, excellent all around.
Q&T Curmudgeons - 4 out of 5
One-of in every Stark deck for the foreseeable future. She's extremely efficient, allows for excellent bluffing games (Kenneling in a Direwolf on an intrigue challenge then removing Osha?), gives Stark extra tricks if it wants to go Lord of the Crossing, has a trait that's becoming more relevant with this box... 5 would be overstating her as it makes her seem like a bomb card when she's just a great piece of cost-curve smoothing... but she's very good at that.
Rave - 4 out of 5
Useful icon spread for Stark. Ability is nice in close games. Easy chump block if nothing else.
Bear Island Loyalist (20 Total Points)
Alexfrog - 3 out of 5
He lets you send a character into a challenge immune to Dracarys, and that's worth something, but his cost ratio isn't great and sadly his protection won't save you from Tears of Lys. He is okay, but Stark is already strong against events due to Bran. A different faction might have had a bigger need for this effect.
Cameron D. - 4 out of 5
It's Dave from the Fantasy Flight Games Center! So awesome. I really do like the design of this card - he's the guy taking one for the team. The loyalist will often draw your opponent's stealth, but better him than one of your big boys. He's great when used offensively too. Go get em, Dave!
cml - 4 out of 5
Immunity to events is an extraordinarily strong ability to pass along to other participating characters. The ability to initiate a challenge without worrying about anyone (but him) getting hit with a Dracarys!, or being able to defend a challenge with a key character to avoid being Put to the Sword is well worth including in most Stark decks.
JoefromCincinnati - 4 out of 5
Protection from events like Dracarys! on offense makes this card worthwhile on its own. But he can be used defensively as well. If your opponent is coming with a Tywin + Mountain military attack of 18 and all you have is this guy and new Eddard, you can defend with both of them, and then your opponent cannot Put Eddard to the Sword. Kind of like a limited version of core set Catelyn.
Q&T Curmudgeons - 2 out of 5
He's looking at the axe like it's wronged him. No Dave, it's not the axe, it's the design team adding the word "other" to your text box to help make sure you don't see much play.
Rave - 3 out of 5
He's ok. Overall strength is fine because of the 2 icons. Will occasionally prevent something from happening to your big characters when he isn't disabled in some way.
Sansa Stark (26 Total Points)
Alexfrog - 4 out of 5
I was going to say that new Sansa was amazing in banner decks where you play only a few Stark characters, but then I saw she was loyal (while the other version is not). Still, being loyal makes her an incredibly cheap and efficient body for Stark fealty. Even after three stark characters die she is perfectly reasonable as a character you can play for 1 with fealty who can make an intrigue attack and force a block, and once she hits zero she provides insight and could still help you trigger winterfell castle in a power challenge. Both Sansa's are good, it's hard to choose.
Cameron D. - 4 out of 5
Like Hodor, she is incredibly efficient. If you really want to get some use out of her insight you may need Grey Wind nearby to eat some chuds. With Stark's newly developed rush theme it will be interesting to see which Sansa ends up seeing the most play.
cml - 4 out of 5
The flavor / Nedliness of this card is tremendous. As her family dies around her, Sansa loses her importance and any ability to impact things around her until she finally gains some insight into the world around her when at her lowest point. Just great. From a mechanical perspective, this card is also very effective (I hear that draw is still good). Which Sansa you will use will depend on the needs of your particular deck, but I can see both versions getting played.
JoefromCincinnati - 4 out of 5
Efficient body. Gets worse as the game goes on, but then eventually gets insight, which is nice. She will be unable to use her insight alone, since you can't win a challenge with 0 strength, but she is a good tagalong character, much like Samwell Tarly in Night's Watch. However, the guaranteed power from core set Sansa makes me hesitant about this card. In Stark rush decks, how often will you have 4 dead Starks before the game is over? 1 power per turn is probably the better choice in many cases.
Q&T Curmudgeons - 5 out of 5
Yowza. Firstly let's compliment the theme. Now, with that out of the way, let's compliment the beatstick. Depending on the phase of the game she transitions from extremely efficient to "cheap enough that she's fine for what she is" to a great source of draw. She's also a loyal unique lady, with all the cards that synergise with various parts of that. And if you're really down on her during the "cheap enough that..." phase of her existence, well... JC would fortify HER position. He would also milk HER poppy. If you know what he means (to the rest of us, it sounds sketchy). Now that JC feels like he's made the world a worse place, let's close off by imploring people not to forget about Core Sansa, because she's still a great card herself, especially in Melee.
Rave - 5 out of 5
I think the only time you wouldn't want to play this Sansa is when you would want to play the other Sansa, and I feel that's a deck-based decision. Great cost to effect ratio. Always useful. You either get cheap intrigue, or can send her along on power for insight.
Shaggydog (20 Total Points)
Alexfrog - 5 out of 5
A Braided Warrior with the Direwolf trait? Yes please. And he makes Rickon useful as well. Very efficient, will work fine in any Stark deck, not just Direwolf focused decks, but obviously he is strongest there. Given the synergies I think this card is going to be a staple of Stark decks. I'm not sure how many of this card you want to play, since it's a small unique character, but the inclusion of at least the first one seems obvious. You can always play 1 Rickon and 1 Shaggydog if you want, and then if you get Rickon alone, play A Time for Wolves to find Shaggydog. The first copy of Shaggydog is pretty clearly awesome.
I was very wrong earlier on my rating of Kennel Master, who actually has a substantial impact on the combat math and really messes with your opponents. I didn't realize how strong optionally pulling additional characters into challenges was, or that you could pull them into challenges they didn't have icons for. This guy is an efficient Direwolf that can be pulled into any challenge by the Kennel Master, which essentially negates his monocon liability, and turns him into a monster of efficiency. I am making up for my Kennel Master mistake now! Go direwolves! With the release of the big box, the Direwolf theme is going to have enough support that it should be strong, and this card is a big part of it. (Everyone else seems to just think he is only okay. Therefore I nominate him as the most underrated card of the pack).
Cameron D. - 3 out of 5
Shaggydog is a cost-effective chud that gives Rickon something to do when he's not stopping search effects. Being a cheap unique, he makes Winterfell Castle slightly more effective and potentially gives you another card via Hot Rod. Shaggydog is a very good target for The Pack Survives if you have Robb out.
cml - 3 out of 5
Shaggydog is fine. Standard cost to STR ratio for a monocon, with the ability to engage in Direwolf shenanigans via the Kennel Master or other such effects. The bonus to Rickon is nice if you happen to have them both out, but nothing worth planning around.
JoefromCincinnati - 3 out of 5
Cost effective and works in a direwolf deck. The interactions with Rickon are a nice bonus. Not sure if Luwin + Rickon + Shaggy Dog is worth the trouble to try and pull off though. Cameron nails the main interactions.
Q&T Curmudgeons - 3 out of 5
In practice, Shaggydog is slightly better than a Direwolf Pup (more consistent in STR, unique for the cards that synergise with that). Rickon something-something. What was that? We were too busy finding the bottom of our pints!
Rave - 3 out of 5
Eh, at worst a 2 gold character you can chump block with. Not really remarkable.
House Tully Septon (13 Total Points)
Alexfrog - 2 out of 5
Interesting economy option for certain decks, but very niche. When it lets you play Catelyn that you otherwise couldn't it's going to feel amazing. Pretty much only playable in the Tully deck.
Cameron D. - 3 out of 5
If Direwolf Pups or Kennel Masters aren't your cup of tea, maybe give these Septons a shot. Losing a power seems bad but reducing a character by two is pretty big. If that character is loyal you can use Fealty too and you've already reduced it by three without using gold or any other kind of reducer. That seems decent to me.
cml - 2 out of 5
A 2 for 2 power monocon that lets you spend 1 power for a small economy boost once per phase does not sound appealing for me. Maybe it finds a home in a House Tully rush deck where you can trade a power on turns 1-2 to try and burst out more Renown characters. Overall though, I don't think this Septon will see much play.
JoefromCincinnati - 2 out of 5
Removing power for economy is rough, but it could swing the game. New Catelyn for 5 gold and Blackfish for 4 gold are both great deals. He's niche, but could see some play. If Eddard put a power on a low strength chud (for lack of better options), you could use it for economy, since that character probably won't survive until the end of the game anyway.
Q&T Curmudgeons - 2 out of 5
A cool card. This feels like non-limited economy "done right" as it were, where it works with a faction's core underlying themes, has a real cost, and can't be slotted into just any old deck. Unfortunately for the Septon, this game is a race to 15 power. In the future this may be nice, and there are still at least some cards where it already is (Discarding power from Jorah or earned through Consolidation of Power), but most of the time one doesn't want to lose those blue thingies on the characters. We're told they're important…
Rave - 2 out of 5
Monocon, and it's not exactly easy to get power onto characters you wouldn't mind taking it off of. Occasionally, after a bad turn, or when your economy is choked, you could dodge a bullet with this, but I don't think that is enough of a reason to run this card.
Rickon Stark (30 Total Points)
Alexfrog - 5 out of 5
In the current environment, 1 cost characters are critical to good setups. Lannister would love to play a blank 1 cost character just to allow more setups of "Tywin + 1 cost", and thus Rickon is useful simply due to his cost, even if he does nothing but die to claim. He can be made useful with Shaggydog or Syrio, so I think he sees play as a 1-of at least. Note that you can tutor for Shaggydog with "A Time for Wolves", if you get him out, so the fact that he requires a combo to be useful is less of a problem.
He counters a bunch of plots and a few other effects, including Here to Serve, A Time for Wolves, Summons, Building Orders, Support of the People, Ser Hobber, and more. In a different, future meta, where you weren't desperate for 1 cost characters to set up, he would certainly be rated lower. Also, Grey Wind will frequently eat Rickon in order to have Robb stand your team. I guarantee this will be a thing, and it's hilarious.
Cameron D. - 5 out of 5
Amazing for setup. Worst case scenario he's claim soak or food for Grey Wind. Rickon stops plenty of annoying effects and his sacrifice fuels Robb and Catelyn. For those who thought Bran was annoying, say hello to his little brother.
cml - 5 out of 5
He would probably see some play even if he was blank, just for the setup benefit. Add in the ability to disrupt an opponent's Summons or Building Orders, among others, and he becomes an auto-include.
JoefromCincinnati - 5 out of 5
Sacrifice synergy is awesome. Preventing a Summons or Building Orders is exceptional. Good for setup and changes the way your opponent plays the game. No reason not to include at least 1 copy in every Stark deck.
Q&T Curmudgeons - 5 out of 5
That interrupt is beautiful, frankly. Screwing up Summons, Building Orders, Shadowblack Lane and more (including other Rickons!) is powerful; and if the opponent doesn't have any such effects, he's a 1 cost claim soak, ideal for setups. Perfect fodder for the likes of Catelyn and Jon, too. Which kind of feels… weird, from a Nedly perspective.
Rave - 5 out of 5
He costs one gold and does something. That's nice. Setup and easy choice for claim of course.
Winterfell (21 Total Points)
Alexfrog - 4 out of 5
Better than The Wall to me, since it has a relevant ability to stop key events that kill your characters like Tears, PTTS, and Dracarys, which I prefer to an ability to gain power that can be difficult to actually trigger.
Cameron D. - 3 out of 5
The reaction is strong, even if you don't have a Winter plot out. Most of the time it will be used defensively to stop effects like Tears of Lys and Dracarys. The +1 to each Stark character you control is nothing to sneeze at either. All that said, it still sits at an unwieldy 4 cost.
cml - 3 out of 5
The strength boost is clearly great, and preventing card abilities from being triggered in a challenge is fantastic. However, the 4 gold price point is daunting, and unlike, say, The Wall, Winterfell does not directly contribute to you winning the game. The effects are good enough to try to make it work, but I suspect the cost will end up turning most people off to this location.
JoefromCincinnati - 3 out of 5
Wow, that's an expensive location. With strong winter plots running around, like Ranger's Cache, The Long Winter, (eventually) Winter Festival, First Snow of Winter and Winds of Winter, it's very possible that this card will have a blank text box for several turns of any given game (other than the strength boost, which I don't want to undermine). There may be times when you want to ensure they can't use Hand's Judgment to cancel your Put to the Sword, but unless you have a winter plot revealed, you can't play events during that challenge either. I think it has the capability to be a very strong location, but it would all depend on the meta and the strength and prominence of winter plots. I like the Wall better

.
Q&T Curmudgeons - 3/4/5 out of 5
This is clearly a card where the Curmudgeons are somewhat torn. We'll let JC start us off…
"5. I'm going big here, but I think I can justify it. There are so many great effects this just completely shuts down - Dracarys!, Put to the Sword, Seastone Chair (and any other unopposed triggers Greyjoy might have), Ours is the Fury… (Istaril steps in to cut this short). If you happen to have a Winter plot you can still hit back with your own effects, and your opponent cannot Treachery your Ice, or Hand's Judgement your event, or … (Istaril glares again). Just amazing. And don't make the mistake of underestimating the +1 STR boost either, which moves the likes of Rodrik and Blackfish out of Dracarys! range, makes Consolidation of Power a lot worse, helps offset Lord of the Crossing, Blood of the Dragon… (Tap. Tap. Tap.). Etc? (Nods) - this card works for me on every level. Expensive? Yes. Worth it? I think so."
...and then note, that WWDrakey would have given the card a solid 3, as it requires a lot from the deck and also is a huge tempo hit. Ire meanwhile, would go for a 4. Istaril is just laughing at us, for being so indecisive!
Rave - 4 out of 5
There is potential here. Easy response cancel every turn. Solid way to eat through bodyguards as well, moreso if you're building around winter. Blanket +1 STR is a nice touch, especially against Targ.
Winterfell Heart Tree (12 Total Points)
Alexfrog - 1 out of 5
Having to preemptively use it before your opponent's plot is even revealed makes this weak -- not useless, because sometimes the plot is obvious, but I honestly cannot see myself fitting this into a deck. Doesn't work on your own plots so you cannot combo with Wildfire or Valar. And it costs 1 gold to play -- not even free on setup. I think people will end up wasting it often.
Cameron D. – 3 out of 5
Heart Tree enables you to setup one big guy with confidence and it allows you to save 4 characters during a Wildfire turn. Using the Heart Tree could force your opponent to choose a less than ideal plot, which is great.
cml - 2 out of 5
You either have to guess right on what your opponent is playing or telegraph what you are going to play in order to protect one character. Plus, the Heart Tree is unique, so you can't have multiples out, which would have made it worth running. As it stands, I can't see using this in decks right now.
JoefromCincinnati - 2 out of 5
You're using up space in your deck to possibly predict what your opponent would have done if you had not used this card. It would be different if it reacted to the plots being revealed, but it does not. You have to predict the Marched or Wildfire, sacrifice this card to stop it, then your opponent can just switch what plot they want to play, then Wildfire you next turn. In some games, delaying a wildfire for one turn could result in a win, but how often does that situation occur? I am not sure. It has other limited uses, like unblanking a character during a Fortified Position turn, but as far as I know, only Wall decks run Fortified Position. And who plays Wall decks, right?
Q&T Curmudgeons - 3 out of 5
This rating is mostly for a future with Valar Morghulis, and other more deadly plots. Not being reactive hurts, as upon seeing you trigger this the opponent can adapt their plot accordingly, but sometimes that one round could be enough when used right, and at only 1 gold it's cheap enough. Pop it when not-doing so would lose you the game, like "fixing" one of those horrid 1 character setups against Marched to the Wall. In a pinch, you can even remove a constant from affecting a character (say, Fortified Position) for a key phase.
Rave - 1 out of 5
I feel that in practice this would be pretty useless. It essentially protects a single card against plots for a single turn. In every other situation, this is a dead card. What would you need to protect against so much that you add such a card that isn't going to do anything 90% of the time?
Nymeria (26 Total Points)
Alexfrog - 5 out of 5
Have it on character A, attack, intimidate, move to character B, attack, intimidate again. Scary amounts of kneel! Never underestimate intimidate appearing at will and being moveable. The first time an enemy Kennel Master pulls Grey Wind into a battle and intimidates you, you understand how strong this is. Nymeria even allows whoever you put her on to be pulled into challenges by the Kennel master!
Cameron D. - 5 out of 5
Don't let Nymeria's adorable appearance fool you. Intimidate on demand that can work twice in one phase is nasty (three uses with Arya's Gift in hand). I really love these Direwolf attachments that can move between characters, it's a great approach to the card type.
cml - 3 out of 5
Intimidate is a reasonably good effect, but 2 gold for it is a bit pricey when Stark doesn't have an inherent way to leverage it (see: Robert Baratheon). Lady shows us that moving around Direwolf attachments is good, but I'd rather have Lady than Nymeria in most situations. In fact, Stark attachments in general are one of my big problems with Nymeria; I'd rather run Ice, Lady, Frozen Solid and (soon) Ward over Nymeria, and there's only so much room to fit attachments in. The fact that she isn't loyal means that maybe there's a place for her in some Banner of the Wolf decks. Nymeria isn't bad at all, and she may have a niche, but I feel that actually getting her into decks will prove challenging.
JoefromCincinnati - 5 out of 5
I think Lady has proven how good direwolf attachments are for Stark. Intimidate is a powerful keyword that can really create problems for your opponent, especially with all the other challenge math tricks that Stark has. Keep in mind that Intimidate is the only keyword in the game that both cannot be used on defense and can only be used once total per challenge. Meaning, if you attack with the character attached with Nymeria and Greywind, you cannot kneel two characters.
Q&T Curmudgeons - 4 out of 5
While it's pricey, and getting full use out of it requires going first and emphasising valid targets for the attachment, the upside of getting several kneels per round with stand/moving it, as well as the plethora of "threat of activation" tricks this allows with triggering its effect as well as the Wardens of the North plot and the Kennel Master make this a star card of the box.
Rave - 4 out of 5
Very strong. That said, requires some setup, and isn't cheap. Useful, well costed card.
Needle (21 Total Points)
Alexfrog - 3 out of 5
Useful boost, though weaker than Widow's Wail without the ambush, but good synergies with Stark sacrifice effects.
Cameron D. - 4 out of 5
Getting another use out of Bran, Rickon, or even Jory seems pretty good. Alternatively, if you can't find Lady you can slap this on Blackfish to get him out of the burn range. It's cheap, great for setup, and strength boosts are always useful. Annoying Greyjoy with yet another attachment is just the cherry on top.
cml - 2 out of 5
+2 STR is nice, but +2 STR on one character with a narrow effect beyond that is less nice. It will have a home in a deck designed to leverage sacrifice effects, but I don't think it's worth playing in any other flavor of Stark.
JoefromCincinnati - 4 out of 5
With sacrifice being a theme, Needle provides a nice option to re-use the characters that you sacrifice. Extra points for its synergy with new Arya. Strength boost on top of it makes it even better. You can use this card to sacrifice Arya after a character is killed, kill one of their characters, react with Needle to return Arya to your hand, then use As Hard as Winter to put Arya back into play standing (If she were previously knelt).
Q&T Curmudgeons - 4 out of 5
Finally, after it not being the case for the whole of first edition, there's an Arya that goes well with a Needle! (Although the Arya that will see more play doesn't, but nevermind) The interrupt is...fine. Sometimes it will be amazing - reusing Bran, Rickon or Jory will be absolutely lovely - but unless you want to recur chuds with Jon and Needle, the effect is only ok. However, throw in the +2 STR on a weapon attachment and it's a very attractive package as a whole.
Rave - 4 out of 5
Man, so many card interactions in this box. It's tough to wrap your head around.
I like Needle. The question here I feel, is that if reusing character abilities is worth the drop in board position that sacrifice effects naturally create? Is that something that you'd really want to build around? I'm not sure, but Needle does have some attractive targets, namely Bran.
Frozen Solid (24 Total Points)
Alexfrog - 3 out of 5
As a Condition attachment, Frozen Solid can be removed by Maester Cressen, who happens to be in the faction with Red Keep, the card you most want to blank. Some decks do not have any good targets for it either. In a future meta this could become really important however, if locations become more important, and the decks that you most need it against don't have Maester Cressen.
Cameron D. – 4 out of 5
Point and click location control. Not quite as potent as
it's 1.0 counterpart
but this still deals with a number of headache-inducing locations.
cml - 5 out of 5
As locations become more common and have larger impacts, location control increases in importance as well. There's a fair number of worthwhile targets as it stands, and against Greyjoy Frozen Solid is already absolute gold. It gets better as time goes on, and it's already really good. It's not as good as its first edition predecessor for vets of that game, but it's still plenty good enough to warrant a 5/5 and a place in most Stark decks I build.
JoefromCincinnati - 4 out of 5
So many high impact locations to blank, so little time. Stop Plaza of Punishment from killing your chuds that you intend to sacrifice for effects. Stop Red Keep from drawing infinite cards etc.. You can even turn off Brandon's Gift!
My favorite part is that it does not affect the Wall. Thank you, FFG. You had a chance to screw over the Night's Watch and, for once, decided not to

.
Q&T Curmudgeons - 4 out of 5
This suffers from four strikes against it: 1) in some match-ups it will be weak (or even useless); 2) Condition is a non-trivial downside; 3) if more focal 4 gold locations come out, it won't be an "easy" panacea, and 4) Stark decks will likely be more character-heavy, and it will be tough to find room for a more generic Toolboxy card in the remaining spots. Despite all that, any 1.0 player can tell you how powerful it can be to shut down locations and most factions play extremely impactful 2-3 cost locations, making this an important card.
Rave - 4 out of 5
Not the versatile little beast it once was. Still, a very low effort answer to some very strong cards. Solid 1 of, but I'm leery about adding more.
As Hard as Winter (18 Total Points)
Alexfrog - 2 out of 5
Pretty limited scope, requiring a Winter plot, a saved gold, and a character of sufficient cost in hand to make it worth it. I think it's too conditional to deserve a spot in your deck, but there are a couple combos you can pull, such as using it with Needle. There is too much competition for deck space in the event slots that you cannot play during setup, for me to want to play this.
Cameron D. 4 out of 5
I really like how they handled the Winter condition of this card. It's nifty. As for the effect, well, dropping in another character who stays put for one gold is kind of crazy. Unlike Hear Me Roar and I Never Bet Against My Family, you don't have to discard the character at the end of the phase.
cml - 2 out of 5
This will be quite good in a sacrifice deck and will struggle to find a home in other decks. It's too conditional to rely on being able to use based on the killed part of the condition, and runs the risk of just sitting in your hand unless you have some way to trigger it on your own.
JoefromCincinnati - 4 out of 5
With so much sacrifice being introduced, replacing those characters with fresh bodies is a very nice ability to have. Acts as a pseudo stand, since you can sacrifice a kneeling character to do something like stand a character with Jon Snow, then use this to bring in another standing character who can also attack or defend.
Q&T Curmudgeons - 3 out of 5
The anti-snowball tech is cool. This is essentially an economy card, letting you bypass the pesky part of paying for the character. There's a prospect for some lovely jank here... using Arya (WotN) twice with Needle and this… Or, if that's not your thing, use Jon to sacrifice a Robb or Catelyn (WotN) who has been Milked, then use this to drop in a replacement and trigger their reaction to the original sacrifice. The surprise dropping of a character could be powerful, but the need to have already played a Winter plot could prove cumbersome and it *is* card disadvantage in a sense. This card will see some play, but it will be tough to find room for it in most decks.
Rave - 3 out of 5
Good potential, even if just to replace Military claim. Not a terribly efficient card though. You're still using a card from your hand.
The Pack Survives (20 Total Points)
Alexfrog - 2 out of 5
Outclassed by The Hand's Judgement, at least until we get some strong and heavily played high cost events. Bran plus Hand's Judgement feels like enough event cancel already, the cost to play this is very steep. If such events appear, then this could change to being useful. The effect is very strong, but the cost here seems really steep, when there is a neutral card that does the same thing, and also Bran in faction.
Cameron D. - 4 out of 5
Why play this over Hand's Judgement, you ask? Well it always costs 0 gold, and it makes Stark Fealty slightly easier to build for those who like a lot of cancel. But why you really play this is because it's a sacrifice trigger for Robb and Catelyn. Your opponent may not see Bran on the board but if there's a direwolf character in play they better think hard about playing their event. The Pack Survives is practically a must for decks packed with direwolves.
cml - 2 out of 5
The additional trigger for sacrifice effects is nice, as is the non-neutral cancel for Fealty, but it's strictly inferior to Hand's Judgment unless you can leverage the sacrificing. Probably not much room for it outside of specific niche builds.
JoefromCincinnati - 4 out of 5
I know from personal experience with The Watcher on the Walls that kneeling two characters is a pretty steep cost, even for a great effect. But it is zero gold and you can sacrifice a wolf if necessary. Cancel is always good, especially in a pinch. It'll also open up some neutral slots in your Stark fealty deck, since you may be able to cut Hand's Judgment, with this and Bran in your deck.
Q&T Curmudgeons - 5 out of 5
Lovely. The downside of The Hand's Judgement is the tempo hit of saving gold for an event you may not need to cancel, so free cancel is... beautiful. The cost looks nasty, but in practice it will be very easy for a lot more people to play than you'd think. Just, y'know, play those Pups, and keep playing Lady.
Rave - 3 out 5
This fixes a problem that Stark doesn't really have. In most cases, you are saving 1 gold by playing this card over The Hand's Judgment. I don't think it's worth kneeling 2 characters (which is a hefty cost) or sacrificing characters of any kind to avoid needing to hang onto one gold if you really feel you need it.
Arya's Gift (17 Total Points)
Alexfrog - 2 out of 5
Some of the attachments you would want to move can already be moved (direwolves). It seems best for removing negative attachments from your characters. This is mostly an anti-Milk meta card, so it will be very hard to find room for in your deck.
Cameron D. - 4 out of 5
"Crown got you down? Better Call Arya!" I anticipate many people overlooking this card but with Stark's surplus of killer attachments it offers a lot of tricks during the challenges phase. Arya's Gift is also great for getting rid of Milk of the Poppy, which Robb seems to be addicted to. This little event may let you get away with swapping Confiscation for a different plot.
cml - 2 out of 5
Another way to enable surprise shenanigans out of Stark. Moving Ice around is probably the best use for this (since you can already move Lady and Nymeria), but I don't think that's worth taking up a deck slot for, especially in place of kill effects or claim raising.
JoefromCincinnati - 4 out of 5
Stark has a bunch of attachments that would be great to move around. You can move Ice if Nymeria Sand steals the character's military icon. Move a Milk of the Poppy to a Winterfell Steward. You can get three uses out of Nymeria (the direwolf) or Lady (or two uses if you have no gold). You can even move Needle around depending on who you need to sacrifice in a given situation. All ridiculously good uses.
Q&T Curmudgeons - 3 out of 5
A pretty flexible attachment hate card - moving Milk from your Robb to your Sansa (WotN), moving your Attainted from your Catelyn to your Jon, etc. As a bonus it also allows for tricks of your own (moving those wolf attachments for free, moving Ice from a soft-controlled character to one about to win a military challenge). It'll be tough to find room for, perhaps, but if you don't run any other attachment hate and want something then... well, why not?
Rave - 2 out of 5
This is a really janky card. Unless you've packed your deck with attachments (which I don't recommend) this could easily do nothing all game. Tricks involving your attachments are tons of fun until you have no characters and are drawing off the deck for something useful. Also, if a situation pops up where you can use it, it's an easy cancel from a card that almost everyone runs. If you want to avoid Milk of the Poppy that much, there is always Confiscation.
A Time for Wolves (22 Total Points)
Alexfrog - 5 out of 5
I like it a lot, similar to Here to Serve (a card which we rated high mostly on future potential I think, the requisite number of versatile Maesters doesn't really exist yet). However, there are already more useful targets for this card to fetch. Shaggydog if you have Rickon, Summer if you have a dead stark child, or fetch out your 1-of Nymeria if you are ready to intimidate! It's like Here to Serve but with more valid targets already in existence. A plot that's worth 5 to 6 gold plus a card draw with tutor effect, and the Winter keyword is quite strong. Alternately, you can also use this plot as a Summons for Grey Wind, if you really need to do that. The fact that it's a winter plot that effectively provides a nice economy (5-6 gold + 1 card), is going to be a REALLY big deal. Both this and Here to Serve, by providing tutor effects, tend to get better as the cardpool grows.
Cameron D. - 4 out of 5
The stat line isn't super hot but if you're playing with wolves, why wouldn't you include this? Right now the best use for this card is to fetch Summer and trigger her reaction. That alone is pretty strong effect to have on demand. Still, this plot could have used maybe one more gold or slightly higher initiative.
cml - 3 out of 5
Being able to fetch a Direwolf and put it directly into play is going to be very strong under certain circumstances, but the stats on this plot are really bad otherwise. It will get better with more direwolves, but is OK at best as it stands.
JoefromCincinnati - 3 out of 5
I remember when Here to Serve came out and I rated it 5 out of 5, my favorite card from the pack. Well, I don't use that plot much anymore. Turns out, the stat line is important, even when you're fetching a character to put into play. I think this card will see play in dedicated wolf decks, but I am not sure if there's room for it in a deck that will be running the sacrifice theme. We'll have to wait and see.
Q&T Curmudgeons - 4 out of 5
An obvious shoe-in plot for one specific decktype and probably doesn't see play in any other circumstance. Ironically for a Winter plot, Summer likes this.
Rave - 3 out of 5
Good for what it does, and decks that specialize in direwolves will make good use of it. I do not feel it replaces Summons, because Summons has the dual purpose of drawing one of your core characters. I don't think the direwolf attachments are good enough to run this over Summons in typical decks.
Total Score:
68.5% (514 out of 750 possible points)
Top Cards:
Eddard Stark 100%
Rickon Stark 100%
The Blackfish 93%
Osha 90%
Sansa Stark 87%
Nymeria 87%
Bottom Cards:
Winterfell Heart Tree 40%
House Tully Septon 43%
Old Nan 47%
Wolves of the North 47%
King Robb's Host 47%
If you're hungry more content, check out the list of podcasts, articles, game video and more in the
Community FAQ
. Let us know in the comments how you feel about the cards in this box, and we'll see you again tomorrow to review the remaining cards from Wolves of the North!
14Shirt and Zouavez like this
Article: Wolves of the North Review Part 1