Welcome to Card Game DB
Register now to gain access to all of our features. Once registered and logged in, you will be able to create topics, post replies to existing threads, give reputation to your fellow members, get your own private messenger, post status updates, manage your profile and so much more. If you already have an account,
login here
- otherwise
create an account
for free today!

0
European Team Championship (ETC) 2014 Recap
AGoT LCG FFG ETC Team Event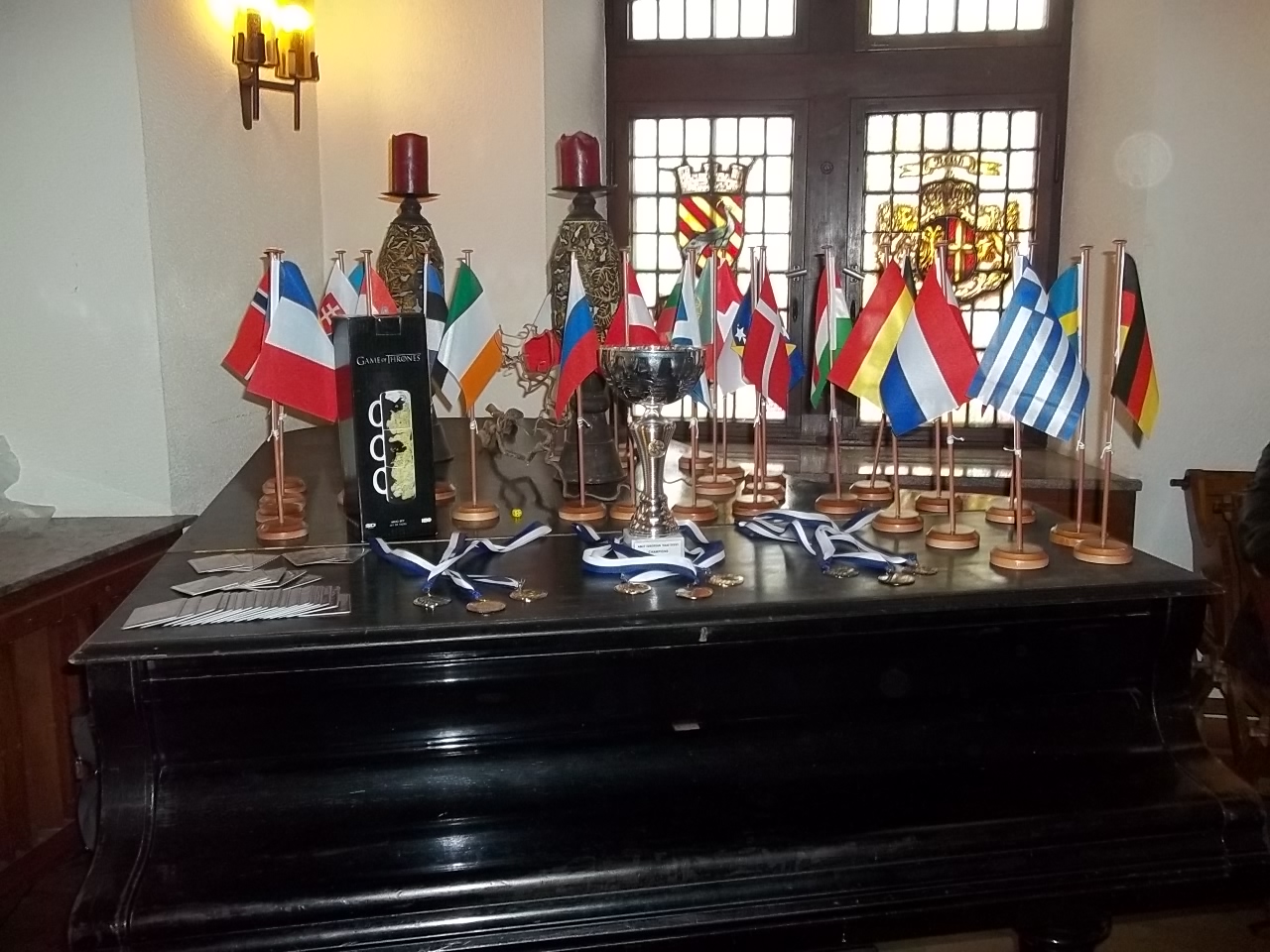 "TEAM ENGLAND"
13 Teams from all over Europe showed up to represent their countries, despite the Joust hellish marathon the previous day. All the big countries were there, with the notable absence of France, Denmark, Austria, Belgium and Switzerland. We hope next year all the countries will compete.
For all of you who don't know the rules of the Team Event, here is a quick version: Each country has 3 players who compete in Joust matches. The format was Double Elimination. The country that wins at least 2 out of 3 matches advances to the next round. Two losses eliminate you from the event.
Follow this link to see photos of the 13 teams that took part in this great event:
Teams
"Final Match England vs Greece"
8 hours of fierce competition and great atmosphere between some of the greatest players in the World. I'd like to make a brief pause and say a BIG thank you to all the people who stopped by and told us "Hey! It was a great idea, we love it!" As I said to most of you there, your thanks mean the world to us. We didn't have anything to gain from this event. We thought that playing AGoT beside your country's flag with 2 other friends against another country is something that everyone would like to do. Being chosen to represent your nation is simply the greatest feeling and the greatest honor. That's why we chose a Cup and medals for the 3 top teams of the event instead of playmats.
"Nations' Flags, Winner's Cup and Medals"
A World Cup is the next step and, hopefully, this will reach the ears of Fantasy Flight Games!
Follow this link to see photos during the event:
Competition
As the event progressed it was becoming increasingly apparent that this was not just a side event; it was a fight to win. A fight to take it home for your country! People gathered to watch the big finale between England and Greece, and a grand finale it was indeed! England came from the losers bracket to meet Greece in the final, knowing that they lose 0-1 from the begining. The English cold blood though came through and the celebrations started!
Follow this link to see the brackets and the standings of the event:
Standings & Brackets
A great tale finishes at the start, so I would like to thank all the people that made this happen.
- Wolfgang (For believing and co-sponsoring the event)
- Draculas tokens (For the 4th place gift)
- Us (Because we really worked really hard for this)
- You (Because you showed us that our hard work was appreciated)
- Fantasy Shop stores in Greece (Because they believe in LCG)
- FFG (For a great card game)
Until next time!
Follow this link to be a part of the ETC facebook group:
AGoT LCG European Team Championship
Ratatoskr, Greekguy, Rave and 6 others like this
Article: European Team Championship (ETC) 2014 Recap