Welcome to Card Game DB
Register now to gain access to all of our features. Once registered and logged in, you will be able to create topics, post replies to existing threads, give reputation to your fellow members, get your own private messenger, post status updates, manage your profile and so much more. If you already have an account,
login here
- otherwise
create an account
for free today!

0
TO's report from FLEA BOTTOM FRACAS 2013
Flea Bottom Fracas 2013
Warsaw
Tournament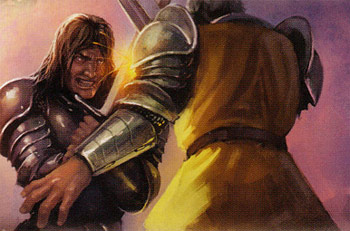 Ok... If you wan't pictures, please visit the tournament
website
. Here is the actual report
FLEA BOTTOM FRACAS 2013 REPORT by Lukasz Omasta
For me the week leading to the tournament was quite a challenge in itself. It turned out I had to prepare all of the prizes at the very last moment.
Promo house cards for all the players, boxes for TOP 8 joust/melee places and souvenirs for those who came to our events from further away.
I have prepared for around 45 people coming to joust event and finally 42 players visited us. As far as I know, the biggest LCG event to date in Poland.
First some statistics.
42 players total.
32 from Poland
4 from Italy
2 from Lithuania
2 from Germany
1 from Spain and Slovakia
The house/agenda statistics.
I must say I was a bit surprised with Targayen numbers. 10 players decided to fight their way with the house of dragons. Last FAQ was not very friendly towards Targ burn, which I think, made people reconsider maester decks be it burn or dragon flavoured.
I guess Martell show up is not a surprise considering GenCon and DC Meta's quite a remarkable result. Out of 9 decks 6 were Quentyn deck in one form or another.
The only KoHH deck driven by Wolfgang Penetsdorfer did the best job though finishing 2nd place after swiss.
A second surprise for me was only 8 decks from the fish smelling Greyjoy. I think it is not a surprise that 5 of them were based on Black Sails.
In my opinion this agenda, at least for the time being, is pretty much House Greyjoy only. Baratheon still cannot keep up with them.
Stark players showed up in every taste and flavour. 6 players and 5 agendas is an achievement in my book. I think Povilas's deck, who was representing Lithuania, was the most surprising there. He played a Night Watch 3 agenda Stark deck that all his opponents considered a very tough challenge and finished 15th after swiss.
I think this shows that, even before Kingsroad, NW might be an interesting alternative to SoW. I really liked Stefan Berger's deck (Stark TMP),which is something that was a challenge for players here. I played a few games with Direwolves/TMP decks on OCTGN and I honestly consider this to be finally a playable mechanicfor Stark house specific creatures.
House Lannister enjoys quite a following here in Poland, so I did expect a few more than 6 players. Only one TPBtT deck and 3 HoD decks (Tunnels of course) and two takes on no agenda. The wisdom of the last choice can be seen in the fact that the winner of the tournament was one of those decks.
I guess the coming winter and a very hot summer, plus maybe the latest FAQ, made Baratheon the last choice for the players.
Only KoHH deck managed to get to Top 16. Two other decks perished and I think should wait for Kingsguard pack to come to their aid.
We played 6 rounds of swiss and then TOP 16. Here are the results after swiss.
Jakub J. Targaryen KoHH
Wolfgang P. Martell KoHH
Diego S. Martell
Giuntini T. Targaryen TMP
Jakub S. Martell
Adam B. Baratheon KoHH
Stefan B. Stark TMP
Przemek L. Lannister
Michal S. "Fruszu" Lannister HoD
Lukasz O. Greyjoy Black Sails
Jerzy S. Targaryen HoD
Piotr G. Greyjoy Black Sails
Barbero V. Stark HoD
Tomasz G. Lannister HoD
Povilas Z. Stark Night Watch
Martin H. Targaryen KoHH
After playing the first round of TOP 16 we moved to the pub that was to be our host for the final games.
Unfortunately I was flattened by Przemek's deck and dead tired and didn't make it out of the first round.
After a very intensive game the final result of the tournament was.
1St Przemek Lannister No Agenda
2nd Diego Martell No Agenda
The following events should not be mentioned here, where children might be reading, but words like Valar Alcoholis and All Men Must Drink did surface the next day. Unfortunately only 24 players survive long enough to play melee and the sight of the poor souls pouring in to the school where we played was terrible.
The result of the previous night Valar was that one of the sore souls started the first game with 3 restricted cards.
A mistake fast spotted by the players and forgiven by us all.
I still cannot decide if I like the new melee scoring method. I am leaning towards no and I think that the previous method was much better. New scoring really supports rush decks and makes control so much harder in melee. I should know. I play it.
After swiss TOP 16 players were divided into 4 tables and winner of every table played the final.
These 4 players were:
Michal S. "Swider" Stark HoD
Lukasz O. Martell
Przemek L. Baratheon
Jakub B. Stark
After a superbly played game (not minding me or anyone else at the table), Michal (know simply as Swider) arrived safely at 15th power and ruled the melee game.
He played the game without even one mistake (he could close it domination phase but forgot to play his event) and won in great style.
It was especially great as last 3 tournaments he managed to win every Sansa Prize (even the day earlier becoming the first person in Poland to get the new mat and Wildfire Assault from the new GNK – special thanks to Wolfgang for bringing those).
I am very happy so many people came to Warsaw to play with us. The event was a great success and I hope even more players will come to next year's Fracas, which is also going to be part of the European Circuit. Hope to see you guys again in Stahleck.
SirDragonBane, scantrell24, JCWamma and 2 others like this
Article: TO's report from FLEA BOTTOM FRACAS 2013