Welcome to Card Game DB
Register now to gain access to all of our features. Once registered and logged in, you will be able to create topics, post replies to existing threads, give reputation to your fellow members, get your own private messenger, post status updates, manage your profile and so much more. If you already have an account,
login here
- otherwise
create an account
for free today!

1
Guarding the Realm Pack Review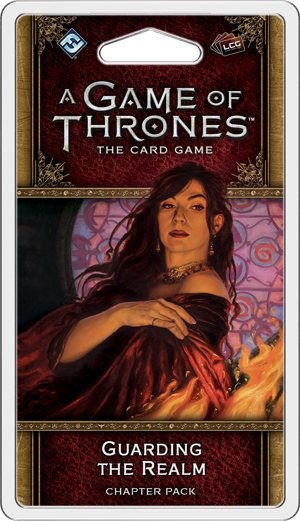 That was the first time that Jaime understood. It was not his skill with sword and lance that had won him his white cloak, nor any feats of valor he'd performed against the Kingswood Brotherhood. Aerys had chosen him to spite his father, to rob Lord Tywin of his heir.Even now, all these years later, the thought was bitter. And that day, as he'd ridden south in his new white cloak to guard an empty castle, it had been almost too much to stomach. He would have ripped the cloak off then and there if he could have, but it was too late. He had said the words whilst half the realm looked on, and a Kingsguard served for life.
Our staff has put together a first blush analysis of the newly released "Guarding the Realm" chapter pack. You can find frequently asked rules questions on the individual card pages on thronesdb.com. Cards are listed in numeric order and scored on a scale ranging from one through five, with five being the best possible score. We're going to try something new and provide an average score for each card rather than a total. Let us know in the comments how you feel about the cards in this pack!
Now onto the reviews, starting with....
Bear Island Host (2.6 Average)
emptyrepublic - 3 out of 5
As a four cost for the same strength bi-con character it's okay. Not kneeling to attack in military is very strong, perhaps even worth a gold depending on the game state. I'm not convinced that reality makes a case for this guy. Stark has a strong and deep bench he needs to compete with.
OKTarg - 3 out of 5
I'm not completely convinced by Bestow so far. I think this guy is best viewed as a 4-for-4 bicon with optional gravy in the right niche. I don't think the effect is something you're building around or seeking out. But, a 4 for 4 bicon is okay, you know, if not that exciting.
Q&T Curmudgeons - 3 out of 5
If you see this and the Greatjon's Vanguard early you'll be very happy, though without any other flashy House Mormont targets past, well, itself, we'll throw this on the pile of efficient Stark mini-curve aggro cards along with Last Hearth Scouts and… Vanguard of the North? Wait, was that even efficient? Anyway, might be tough to justify over the Scouts - unless you actually use the Bestow, mind.
Joe From Cincinnati - 2 out of 5
So you have 6 gold and this character in hand. You either already have Robb Stark, The Blackfish, Fast Eddy and perhaps Catelyn in play or you intend to play one of them this turn...or you're really pissed that you have this guy in your hand and not one of them. I don't know how you can justify spending 5 to 7 gold on this character, considering you only have so much economy in a given deck (2 to 3 economy plots, generally) and much bigger fish to fry. He's a solid 4 for 4 bicon, so he's not a bad character by any means, but I dunno what you're taking out of your deck for this character. In addition, military isn't even Stark's main challenge. It's all about power challenges for them. This guy can't even carry Ice. I could see a function down the line with Khal Drogo and/or Storm of Swords, but other than that, seems rather niche. He may be used as a curve filler though.
scantrell24 - 2 out of 5
Bear Island Hosts are inferior to Jory Cassel and Last Hearth Scouts unless you're leveraging their non-kneeling ability somehow. Maybe in Crossing decks, or to trigger "win big" effects like the upcoming Frey Hospitality? Even then, they're expensive.
Marriage Pact (3.0 Average)
emptyrepublic - 2 out of 5
I maybe too critical on this one. The strength of this card is in the phrasing of the primary effect. The 'cannot participate' ensures the character can't be forced in a challenge through effects like 'Wardens of the North' and so on. The downsides are cost and forced interrupt that your opponent could time to your disadvantage without too much trouble, depending on faction.
OKTarg - 4 out of 5
So, perhaps I have overrated this, but I see this and I think "Craven." Craven is amazing. This is even better, since it affects attack and defense both, albeit with the drawback. Then, I think about Fishing Net and worry I've overrated it. Then, I slap a 4 on it and move on with my life.
Q&T Curmudgeons - 3 out of 5
It's expensive, dead in certain match-ups, and has a non-trivial downside; but when it works, the effect is potent. May prove to be a meta call.
Joe From Cincinnati - 3 out of 5
It's a Craven + a Fishing Net for 3 gold (although loyal) that, if the attached character leaves play, you must sacrifice a character. It'll be really powerful in some match ups, such as against Tyrell hyper rush decks, and relatively unhelpful in other matchups, like against Night's Watch with multiple no attachment characters or Baratheon who eats conditions for breakfast. I think giving the opponent the option to claim the character if they don't have any attachment control in order to cause damage to your board is a pretty sound counterbalance, but it does seem like you're putting this card on a character that your opponent would not be quick to kill.
scantrell24 - 3 out of 5
In the best case scenario, you slap Marriage Pact on your opponent's bomb who already accumulated power, so your opponent doesn't want to kill the bomb, AND your opponent doesn't see his attachment control. How often will that happen? I guess it depends on the meta, and whether your deck has a weakness to bomb-centric decks that requires shoring up. Furthermore, you could try to overload on attachments so the opponent can't stop them all. Maybe a Stark Stag version of the no character deck? Marriage Pact, Ward, Motley, Milk, etc. Overall, I think this sees niche play, but not in "good stuff" decks.
Knight of the Reach (3.0 Average)
emptyrepublic - 4 out of 5
A totally competent three for three bi-con character with a good trait and useful reaction. Not game changing but with all the Tyrell effects for rapid power gain it deepens the options that faction has to rush to victory.
OKTarg - 2 out of 5
This is okay, and maybe a tad underrated by me here, but 3 cost is a bit of a tough slot, and at 3 STR it's not going to be winning alone on a regular basis. It'll likely slot into Knight decks but perhaps not much more.
Q&T Curmudgeons - 3 out of 5
We've found First Snow continuing to matter less (though it's certainly not a non-issue), allowing constructive 3-cost characters to slink back into the game on the sly. Sadly Tyrell doesn't load up in that cost-range, typically - it's unlikely to displace something more expensive like Knight of Summer, so it'll depend a lot on whether it can take the spot of Arbor Knight in Rush builds.
Joe From Cincinnati - 3 out of 5
More power rush for the fastest deck in the game. It's nice because it's a 3 coster that doesn't mind being bounced by First Snow, as the power doesn't go on this character, but on a lady, like Tinder Marge. It'll work well with the next card too.
scantrell24 - 3 out of 5
More ammo for Tyrell rush, but in Crossing decks Knights of the Reach might be crowded out by the cheaper Arbor Knights, which share the same trait and icons already. I do like a copy or two in Banner Wolf decks where Ladies abound.
Lord Renly's Ride (3.8 Average)
emptyrepublic - 4 out of 5
Non-loyal and the surprise nature of the event makes it strong in my view. Even if you didn't have a character in your dead pile to boost strength, dropping an intimidate during an undefended challenge on your opponent to muck with their characters and challenge math is worth a gold.
OKTarg - 3 out of 5
I really like surprise pumps, and while Growing Strong is more consistent, this has a higher upside with the Intimidate. Tyrell can lack a tad for character control, so I'm curious to see if this can find a place. As of the time of this writing, the art isn't spoiled, but I love all the "Song" art and am excited for this to be revealed!
UPDATE: I just saw the art and it's everything I dreamed of!
Q&T Curmudgeons - 4 out of 5
Don't sleep on this one - great in banner Rose, Tyrell Banner, or mono-faction due to the lack of loyalty or 'tribal' requirement on the character. It can prove highly efficient for both the Intimidate and the STR pump. Potency and utility, that's a nice combo in our book!
Joe From Cincinnati - 4 out of 5
I think this card is incredible. Strength bonus and Intimidate for 1 gold. And the strength bonus could be monumental, depending on what's in the dead pile. With Ghosts of Harrenhal around, everyone is making sure the top character in the dead pile is a good character, so I could see you consistently getting 4 to 5 strength out of this card during the mid game, especially post Valar. Even if you are only getting 1 or 2 strength from this, that is often enough to swing a challenge and the intimidate on top of it is great if you want to initiate a 5+ win card like Superior Claim and also kneel one of their better characters. Tyrell is getting strong really fast.
scantrell24 - 4 out of 5
Better than Growing Strong? I think so, although during the first turn of the game you might not have anyone in the dead pile yet. Intimidate lasts until the end of the phase too, so Randyl or any stand effect allows double use.
Gilly (3.2 Average)
emptyrepublic - 3 out of 5
At the moment I'm not seeing her making that big of an impact. The new Jon already has stealth and giving stealth to other Watch stewards is probably most important when you want to oppose an intrigue in a defensive deck. Out of faction I don't see the use as stewards are rare. In the end though, she's a good chud without any bestow gold.
OKTarg - 4 out of 5
So she's a bicon, which is quite good on its own for the Watch. Then, she's an INT/POW bicon, the second printed one yet. And, with the stealth granting ability? Very good overall, even if not that splashy.
Q&T Curmudgeons - 2 out of 5
The bestow effect is pretty irrelevant - Stewards are just not equipped to leverage Stealth at all. However, for NW a 2-cost bicon with an intriguing trait is not nothing. That said, if she makes the cut in a deck, it'll be out of an annoying necessity rather than delight at her worth. We suspect the artist has seen the HBO series… Anyway, now we'll shut up so Joe can write more than everyone else combined.
Joe From Cincinnati - 3 out of 5
You have here an Int/Pow bicon (the best kind of bicon) that costs 2 gold. That alone may be enough to justify a card slot in a generic Wall deck, due to the ease of making her a tricon with a practice blade. One pack later and she's already stealing Bowen Marsh's most interesting thing. Add on to that probably one of the best bestow effects available right now (despite what the Curmudgeons say). For those of you who played the Wall deck before Haunted Forest came out, you know how scary stealth was on intrigue challenges. If your opponent had a Tyrion or a Varys or, now, an Esgred, it made defending the Wall rather difficult unless you played your cards right. Now, Haunted Forest made this situation easier to handle, but there are still going to be games where you won't see your Haunted Forests (or all three get Pyromancer'd away...) and some spot stealth for your intrigue icons seems about as clutch as you can get, on both attack and defense. Who doesn't want a cheap insight win with Samwell? Whereas most bestow effects seem to be the crux of a card and they're garbage without the bestow effect (and overpriced with it), this character is good by herself and the bestow effect seems like a great situational helping tool, which is what I feel like bestow effects should be.
scantrell24 - 4 out of 5
I like 1x Gilly for defensive stealth to protect the Wall, and her cheap int/pow pairing. But I can't imagine ever paying more than 1 gold for her Bestow ability unless I have no other options in hand.
Guarding the Realm (3.2 Average)
emptyrepublic - 4 out of 5
Just barely a four. I think a recyclable 'Yoren' effect is really good especially given this one is cheaper. The reaction to get the event back is reasonable in terms of balance and likelihood of activation. There is the problem of getting stuff into the discard pile but that said there's a lot of tech out there to get stuff into the discard pile and with the recent addition of Queenscrown this event is playable.
OKTarg - 4 out of 5
You can wait patiently for Jank Tank: episode 3 where Syd and I create a "Dumpster Diving" deck in which this will prominently feature. I really like the card advantage that this can drive, along with some of the new Watchers effects like Not-as-Old Bear and Queenscrown and existing pieces like Yoren and Night Gathers. Should be fun!
Q&T Curmudgeons - 2 out of 5
Pretty much no Watch decks can consistently win on defense with leftover gold… *and* still have tech to seed discard piles with characters. Consequently, it's best to look at this as primarily a single-use event. There it compares unfavourably to Yoren (1g extra for more bodies), and while it pretends to belong in that same deck, we're not convinced the redundancy is... needed, because of the law of diminishing returns - the supply of worthwhile chuds in a discard pile is generally limited. Honestly, we'd rather just run our own, especially when the Watch have such a strong array of good 2-3 cost characters that don't eat up valuable event slots.
Joe From Cincinnati - 2 out of 5
My main problem with this card is the recycle reaction doesn't match the action at all. The deck that is digging through your opponent's discard pile isn't really trying to win challenges on defense and the decks that are built to win on defense typically aren't doing much to get characters into the opponent's discard pile. As I've said in previous articles, reviews and the like, I've learned through hundreds of games of playing a Wall deck that people generally don't initiate challenges that they can't win. Especially if you have things like this in your discard pile, or Shadow Tower, or Thoren, or Ser Denys Mallister. So the best ways to win on defense are to surprise your opponent with cards like Arry or Dolorous Edd. Maybe a surprise ambush practice blade. But those don't happen as often as you'd think. You'll trigger the recycle reaction off of Crossing decks primarily, but other than that I fear once this card hits the discard pile, it's probably staying there unless your opponent messes up. If I grade it just on the action, it's Yoren on an event, which is good for, basically, one deck. Outside of the Dumpster Diving deck, this event almost definitely stays in the binder.
scantrell24 - 4 out of 5
I guess the Varys & Queenscrown deck can diversify its event lineup between Guarding the Realm and Now My Watch Begins. Grabbing something with a come-into-play ability like Arya Stark or Greenblood Trader will be good. However, I agree with Joe that the Varys & Queenscrown deck isn't built to win on defense, so the recycling trigger is somewhat difficult to meet, on top of costing gold. Don't count using this event more than once.
Melisandre (3.6 Average)
emptyrepublic - 4 out of 5
I can see the deck that uses this new Mel along with Crones, Heads on Spikes and similar effects to do 'character' choking whereby you don't deny economy, you deny anything to play. Will that be a thing though? She's a strong character in her own right and if you don't care about kneeling stuff then she might be ideal in your build. I think she's good but in the same way that Queen of Thorns is good; good but not often used.
OKTarg - 4 out of 5
What's funny about this is that this 4 is basically slapping this with an "unplayable" rating, since I think even in dominance decks the other Melisandre is better. I'd be happy to be proven wrong, but I think the fact that the other Mel helps you win dominance while this one only benefits once you get there means you want this less than Core Mel even in a dominance deck. So….great card, great effect. Not sure where you play it.
Q&T Curmudgeons - 2 out of 5
It's a shame to confine such striking art to the binder, but it is what it is, and this is… not what Bara dominance needed. What it needed was a 4-5 cost character with a consistent control effect. Say, Core Mel? To beat her out, new Mel needs your deck to be trying to win dominance, but not stall… or just not running R'hllor, and that can also justify another 7-coster. Don't be blinded by the "dead pile" bit of the effect, incidentally - unless the character is unique and the opponent is running multiple copies and sees one of those other copies, it really isn't relevant. You might even be seeding their dead pile for Ghosts of Harrenhal...
Joe From Cincinnati - 3 out of 5
I agree with OKTarg. The ability is amazing. But Core Melisandre was (and and probably still is) one of the best characters in the entire game, especially in a dominance deck. In the past, I've graded alternate versions of characters highly (like Deluxe Box Catelyn) because they could potentially create new deck styles. Melisandre, however, seems to have both of her versions steeped in the dominance deck, which is an odd choice. Winning dominance won't be as easy once you remove your best kneel engine from your deck. If you get her to work, she is quite good though. A potential Seen in Flames each turn with 6 strength and Insight thrown in for good measure. But without Core Mel, I wonder how consistent winning dominance is for Baratheon. It could open up deck building once you don't need to run a bunch of R'hllor cards though. That'll be nice. Also, another card that can't be turned off by Nightmares... Yay...These reactions to the beginning of a phase with no action window in between need to go...I thought they learned their lesson with the Chamber...
scantrell24 - 5 out of 5
I'm in love. Insight, a strong intrigue icon, and a repeatable Seen In Flames / Heads on Spikes combo ability is card advantage heaven. I have a few deck ideas, including a Bara Winter choke deck where you target the cheap characters and leave the opponent without claim fodder.
It's a shame she's loyal and can't combine with Ghaston Grey, but there's still Things I Do for Love, Tower of the Hand and First Snow for shenanigans.
Light of the Lord (1.6 Average)
emptyrepublic - 2 out of 5
I'm being nice with 2 because it's non-unique so in theory you can have this on two big characters, like Bob and new Mel. The reality is you'll be struggling to find eligible targets for this attachment as most wouldn't be worthy given the cost.
OKTarg -- 1 out of 5
So for the low low price of 2 gold, I get to make any character into a Fiery Follower? Maybe if one day there was a character that knelt in Dominance to do something this might be worth it, but as it is, I think any of the R'Hllor characters are better….Can't see this getting slotted.
Q&T Curmudgeons - 1 out of 5
Did you like Ruby of R'hllor? How about Red God's Blessing? Then you'll love Light of the Lord! Jeez, what did the followers of the lord of light do to him to receive this many terrible positive attachments? The only scenario we can think of where this actually sees play (outside of combo jank, yes we're aware that Rituals of R'hllor exists and no we're not impressed) is if the meta is so saturated with dominance decks that even your Iron Thrones and Edric Storms aren't enough to guarantee dominance. At which point, we have other problems.
Joe From Cincinnati - 2 out of 5
So, generally, positive attachments are considered bad cards. But how many times has a Fiery Followers totally screwed you over when it stood for dominance? I know I've stopped doing challenges in the past in order to win dominance against a Bara player...and then a Fiery Followers pops up and makes me feel like an idiot. This will do the same thing, except on significantly stronger characters, like a 9 strength King Robert, which could make winning dominance against a Baratheon player basically impossible. There's a chance it may be superfluous in a dominance deck, as they seem to be pretty good at winning dominance every single turn anyway, but this does help new Mel, since you won't get the consistent kneel effect of Core Mel in that deck. That will be up to the deck builders to determine. In addition, Core Stannis decks LOVE this card as, like Fiery Followers, this character becomes a character you don't need to spend one of your 2 stands on. That said, it's still a positive attachment, so people probably won't bother with it.
scantrell24 - 2 out of 5
Meh. It's either a niche card for a mediocre deck, or a superfluous card that should miss the cut in a good deck.
Polliver (2.4 Average)
emptyrepublic - 2 out of 5
He's not useless, but there's loads of good Lannister characters in that cost/strength/icon bracket. The reaction has a fantastically narrow window of activation for an effect that isn't terribly overwhelming.
OKTarg - 2 out of 5
It's a strong 2, if that makes sense. Great in decks like Pillage Idiot, but overall this is pretty much a 3 cost blank dude. No thanks, in most cases!
Q&T Curmudgeons - 3 out of 5
Hilariously we care about this far more for Pillage than for the effect - Istaril is rolling his eyes and admiring Lions Tywin. The effect is unreliable - you have to win a challenge with Polliver, get to the keywords step, hope the opponent hasn't had opportunities to spend their gold in the meantime, and hit a character - but eh, cheap reasonably-costed pillage matters we guess. In the meantime, Polliver needs to get either a larger scabbard or a smaller sword...
Joe From Cincinnati - 2 out of 5
3 gold is still the worst cost slot in the entire game. Especially for a faction that loves to play First Snow of Winter. That said, a 3 for 3 bicon that has pillage is good. And if you hit a character, which is almost always over half of your opponent's deck, you throw 2 of their gold away. Not too shabby, considering there are a lot of things to do with gold in the challenges phase nowadays.
scantrell24 - 3 out of 5
I guess he's a cheaper Ser Gregor's Marauders (but cheaper isn't necessarily better). The reaction is actually quite good, with better than 50% chance of hitting usually.
The Hand's Solar (3.0 Average)
emptyrepublic - 3 out of 5
I see this as a location you banner for in your intrigue light builds or where you need more flexibility to distribute a green icon than Little Birds can provide. In that context I think it is a perfectly fine card to build your toolkit in a deck but nothing to crow about otherwise.
OKTarg - 2 out of 5
So this is a good effect for decks that want Clansman Tyrion or decks featuring Gregor Clegane. Generally, though, most of your heavy hitters already have an INT icon out of Lannister, and so the utility you would get here would likely be better spent on Casterly Rock. It's certainly not binder fodder, and the upside is high, but deckspace is tight and this too niche.
Q&T Curmudgeons - 4 out of 5
We're not sure the artist knows what the word "Solar" means, but we won't hold it against them. The trigger is simple but effective. Another good banner card, obviously worthwhile in Rains/Clansman decks, decent tech against icon removal… not a complicated card, but a versatile, useful one.
Joe From Cincinnati - 3 out of 5
Lannister doesn't want to spend much gold on locations. They have plenty of intrigue icons. I don't see them bothering with this. However, it could be used very effectively as a banner card for factions like Greyjoy or Night's Watch to help sure up an intrigue weakness. The fact that all it costs is a kneel, can target any character and can be done at any time (your opponent basically has to consider your strongest character to have an intrigue icon when declaring an intrigue attack) makes it flexible and interesting for deck building.
scantrell24 - 3 out of 5
Repeatable and flexible (target anyone) are two great qualities for any location. Granting an intrigue icon won't make a huge difference in most circumstances, but it will allow for more efficient challenge phases.
Wex Pyke (2.8 Average)
emptyrepublic - 2 out of 5
I like that he's cheap, that you can build up his effect incrementally, and the alternate mechanism to bypass characters. I don't like how the effect is not printed cost and lower. Dropping down 7 gold on a character this fragile is a huge gamble in order to avoid a few big characters but still having to contend with strong 5 and 6 cost characters. Risking that much in resources should confer a more powerful effect.
OKTarg - 3 out of 5
This is great use of Bestow--the Dominance action is something I hope we see more of! I like that it is "exactly X" for a lot of reasons, but at the end of the day he's a chud with an interesting ability. That said, MIL/INT bicons out of Greyjoy aren't a dime a dozen, so he'll see play.
Q&T Curmudgeons - 3 out of 5
And the award for "most likely to front a Rolling Stones cover band" goes to… Like Gilly, the bestow effect is near-meaningless, (although for what it's worth Wex's is stronger due to the ability to add the gold later) and he'd instead be played as a 2-cost bicon; unlike Gilly, the stats alone will give you satisfaction, and without tough competition in Greyjoy's cheap character slots we expect him to see a lot of play simply by default. He's alright - in fact he's a gas. We're hoping this will help House Botley rise to prominence, but, then again, you can't always get what you want.
Joe From Cincinnati - 3 out of 5
The base stats of this card are good for Greyjoy. 2 strength. 2 cost. 2 icons. House Botley. Very nice. I think the bestow effect is interesting. How much you spend will rely entirely on your opponent's characters at the time of marshalling. I think its strongest effect will be to stop your opponent from chump blocking a challenge. So, if they have a 6 cost character and a 2 cost character with an intrigue icon, you can put 2 gold on him and force them to either defend with their 6 cost character or let it go unopposed. That said, it's very conditional and may not be useful at all in many circumstances. It's probably best to start low and gradually build up over time, since there's no way to remove gold from him once placed.
scantrell24 - 3 out of 5
He's a cheap bicon that Greyjoy has been missing, with an occasionally useful ability that could result in an unopposed challenge or force an opponent to over-defend. Two gold for Bestow is probably the sweet spot, to prevent an opponent from chud blocking. It's a shame he's not an Ironborn -- Throwing Axe might never have it's day in the sun.
Iron Islands Market (4.4 Average)
emptyrepublic - 5 out of 5
So Targaryen Slavers Bay Ports are pretty insane and these are just as good. With Kings of Winter you can get the discard piles deep pretty fast. Even in other builds a copy or two would make the cut I imagine as it'll make your economy more efficient as the game progresses.
OKTarg - 5 out of 5
So I've been using Slaver's Bay a lot recently out of Targ, and it is amazing. This isn't as good as Slaver's Bay since it's a bit tougher to turn fully on, but typically Greyjoy's curve can be a tad lower than Targ's anyway. Don't be surprised if this puts the Kraken's overall efficiency up like it did for Targ.
Q&T Curmudgeons - 4 out of 5
After constant grey miserable artwork for Greyjoy, finally we get a scene that could go in Pyke's travel brochures. This is not as good as Slaver's Bay Port, not because it's any tougher to activate (both get switched on around turns 3-4) but because Greyjoy's plot gold tends to be greater than Targaryen's. Otherwise this is similar to the Port - and, in case you missed the memo, the Port is good. We also greatly appreciate a concrete pay-off for pillaging cards in Greyjoy - the first since what, Euron in the core?
Joe From Cincinnati - 4 out of 5
The effect isn't quite as strong as Slaver's Bay Port since discarding cards is not currently a central theme of Greyjoy (while killing is a central theme for Targaryen). Pillage helps, but other than Euron, who actually takes cards out of their discard pile too, pillage is mostly a nice to have kind of thing rather than something to build around. You may have to build around this more than you'd like in order to get it activated in a timely manner. Could turn on really quickly in a winter deck that focuses on reserve choke though. I will say that I really like that this card's, and Slaver's Bay Port's, additional gold, once activated, generally stays turned on for the rest of the game. We'll see if the other factions' locations have similarly reliable triggers.
scantrell24 - 4 out of 5
Iron Islands Market falls a touch below Slaver's Bay Port, because Targ can usually kill 4 characters faster than Greyjoy can force 8 discards. It will be interesting to see if the game swings away from big gold plots and towards plots with stronger effects once every faction has its new limited location.
The Second Sons (3.0 Average)
emptyrepublic - 3 out of 5
As these guys are non-unique (not a printing error I presume) they will be good for rapid expansion of your board presence when that's necessary. A single gold will keep them around for another turn and maybe that's long enough to swing a game. The drawback is pretty harsh with no ability to manipulate gold on characters at the moment.
OKTarg - 2 out of 5
This is *almost* a 4 card. I would have liked some ability to add gold to it, such as by winning a challenge or something, but as it is, the cost won't be worth the drawback given the other options in-house.
Q&T Curmudgeons - 3 out of 5
We had to double-check to make sure this wasn't Jedruszek artwork. This'll see play, most likely as a 4 gold 6 STR beatstick for two rounds. We'd like it more if the Honor Guard hadn't just come out pulling the same schtick but much better. The 'Fortified Position deck' dream is one card closer...
Joe From Cincinnati - 3 out of 5
For those of you who are following the release of the new L5R game...this is an L5R card hahaha. Brutally efficient if you only need them for 1 turn. Like a Hound that doesn't bounce. If you're looking to get a few turns out of them, however, they quickly become less efficient. I could see it played for 3 gold, using it to push through a big challenge and then being taken for military claim. In the Targaryen heavy aggro decks that run a bunch of 2 claim plots, this card will be king...for a turn or 2. Make of that what you will.
scantrell24 - 4 out of 5
Second Sons will help push through 2 claim challenges and Reactions to winning challenges, like Plaza of Punishment or Put to the Sword. They don't belong in every Targ deck, but will be right at home in the super aggressive ones.
A Dragon Is No Slave (4.2 Average)
emptyrepublic - 4 out of 5
The obvious use is to bolster burn to kill and it's going to make a lot of people miserable as 6 strength characters will be in an easy threshold for burn to kill. The recursion element is one of the easier ones to activate in comparison with the other factions but weirdly is somewhat anti-synergic with Dracarys as the activation condition is kneeling the character you need to be in a challenge which also needs to be knelt to be in the challenge. It's a card ripe for jank and will be annoying.
OKTarg - 5 out of 5
This is great great great. Recursive burn, and non-participating burn! Yay yay yay yay yay! Let's forget my small disappointment in anchoring the burn theme more firmly onto Dany and her dragons and instead rejoice at the thousands of Night's Watch chuds that we'll be killing soon.
Q&T Curmudgeons - 4 out of 5
We're overrating this now because we feel it will be an important piece of the puzzle for burn later (say, next pack?)... with Drakey grumbling something about Burn economy not working that way & muttering something arcane about trap cards. The man must be senile. For the rest of us, this is much easier to return than Guarding in the Realm was, too. And some more grumbling from Drakey in the background about economy. Now, to give the old geezer a bone, the big problem here IS going to be retaining the gold, as in terms of STR reduction to cost this is about the same deal as Dragon Sight is, and that card sees little play. Surprisingly, we agree on the separate combos with both Plazas being neat.
We also were inspired by this card to make some alternate artwork. Let us know if you like it!
Joe From Cincinnati - 4 out of 5
Just had a game where Glazer was testing this card. And damn. This card is strong. Slaver's Bay Port and Beggar King means Targ are going to often have a ton of gold laying around. These can be used to kill bigger targets in combination with a Dracarys. Or, using Blood of the Dragon, just rack up the kills on lower strength characters to make your military challenges hit harder. The fact that it hits non-participating characters is important in this regard. Burn is coming and this is another option for deck builders to optimize their decks for as much murder as possible. I like the 'without attachments' specification. It allows for counterplay, which seems less and less common in this game of ours... It's loyal, so it's another thing to spend your fealty on and the recycle is way easier than the Night's Watch's recycle reaction.
scantrell24 - 4 out of 5
During first edition, I loathed Targ burn, especially before Hatchling's Feast was restricted. Since the release of second edition, I've decided to embrace the burn, and boy is this a nice combo piece to kill big guys with the help of Dracarys! or Plaza of Punishment or Daenerys or Blood of the Dragon or Unsullied (but not Crown of Gold, unfortunately). Targ is swimming in cash right now, so the total price tag of 3 gold seems manageable.
Orphan of the Greenblood (1.4 Average)
emptyrepublic - 1 out of 5
This is a jank card through and through. It's a less than elegant way to get rid of negative attachments or fiddle with Arianne's ability but it's hard to see the value at the moment. In narrow cases 1 gold on the bestow might make for a few interesting plays but there's not enough tech in Martell to justify using this character at the moment.
OKTarg - 1 out of 5
Given that most of Martell's enter-play stuff is overcosted, I can't see paying too much for this blank guy so that I can pay extra for the ability to re-use overcosted abilities. Man, Martell really needs something better soon.
Q&T Curmudgeons - 1 out of 5
Martell does not have the gold to justify this even a little bit. The effect is interesting, but how often does Daring Rescue see play? At first we wished it was 1-for-1 rather than 2-for-2, but actually it probably needed to be 0-for-0 - unlike Gilly and Wex this one's all about the effect, and the cheaper we make the meaningless body attached to it the better. As it is, this is terminal binder fodder, and from the way she's working that barge pole we think even she doesn't know what she's supposed to be doing. Ire looks forward to petulantly giving opponents back characters he stole from them with it.
Joe From Cincinnati - 2 out of 5
I'm sure someone will find a use for this card. All I see is the ability to drop Cravens and Milks off your characters at an obscene cost (1 additional gold from this bad character + the cost of replaying said character.) They do have characters like the Southron Messenger and Areo Hotah that they'd like to return to hand and replay with Arianne, but that seems somewhat niche as well. I'll give it a 2 because of the future potential for bouncing impactful characters back to hand.
scantrell24 - 2 out of 5
These Orphans are mediocre now, with the main use being to dodge a Valar, but there's room for improvement depending on the meta, future economy, and future come-into-play abilities. I'm optimistic. I just wish there were ways to move gold to these Bestow characters because they can't use the ability on setup.
Scorching Deserts (2.4 Average)
emptyrepublic - 1 out of 5
This is offensively bad. To make this useable you must have Nymeria, Coleotte or the relevant icon removal attachments; which you might build in already. These are already fairly steep conditions for activation but then you must sacrifice the location. If it was something like 'kneel your faction card to [effect]' then we are in more reasonable territory.
OKTarg - 2 out of 5
Maybe I've even overrated this, but I think 1-drops are great for setup and are cheap enough to maybe make worth it. But, I don't know why you wouldn't just play Prince's Pass for the removal effect….and since nobody plays that, why would you use this? Testing will tell, but I think it's another "almost" card for Martell. :/
Q&T Curmudgeons - 3 out of 5
The power level of the effect isn't all that, but a cheap non-unique set-uppable card that will be quite annoying to play against is actually... quite good, who knew? The part that really sticks in our craw is that this is another step in Martell's journey to being the second House Stark of the game, with all their most reliable effects out in the open on the table - talk about off-theme. Why would you ever play Confinement over this?
Joe From Cincinnati - 2 out of 5
Ghaston Grey and Prince's Pass are both better than this most of the time when used defensively. It definitely locks cards like the Mountain out...for 1 challenge. Honestly, I'd probably rather let him win and Prince's Pass him to the discard pile or Ghaston him back to hand rather than stopping him from participating in the challenge just for him to try again the following turn. However, it can be used while attacking, so could be a "threat of activation type of thing" that would actually allow you to occasionally win a challenge that you otherwise wouldn't. A predictable Areo, if you will. Winning challenges isn't really a theme of Martell though, so it seems a bit misplaced. Will probably need help to consistently do anything, whether that help be Nymeria, attachments or any future icon removal.
scantrell24 - 4 out of 5
Scorching Deserts work on both attack and defense, giving them application in aggressive "win a huge intrigue challenge" decks with the Red Viper or Doran's Game, and in hyper control / character light decks. They're great on setup too. If Martell gets just a little more icon control, Scorching Desert will become a force to be reckoned with.
Black Walder (3.8 Average)
emptyrepublic - 4 out of 5
What's nice about this is that bestow really feels more optional as opposed to absolutely necessary in order make the card work at all, which is an issue with most other bestow cards in my view. Renown on the third challenge seems completely reasonable. All this in a neutral card that can show up in whatever deck you want.
OKTarg - 4 out of 5
This is a good card...Even without the bestow, 4 for 5 neutral renown is pretty okay, isn't it? And with the Bestow giving more flexibility, I think he'll slot into a fair few decks.
Q&T Curmudgeons - 3 out of 5
Yet another bestow card where we're not that interested in the bestow - an unfortunate pattern for this pack. But yeah, goes as a 1x in Crossing decks because cheap renown is good. Moving right along...
Joe From Cincinnati - 4 out of 5
Lord of the Crossing just got better and faster. Again. And future spoilers indicate that House Frey is going to be really good at stuff like this. Even 1 gold means he doubles LotC's strength bonus...Or just don't bestow him at all and he still gets renown during that third challenge.
scantrell24 - 4 out of 5
An efficient character that should definitely see play in Crossing decks, and anywhere else that needs more speed, like most Martell decks.
Great Hall (5.0 Average)
emptyrepublic - 5 out of 5
We'll see how things go in the long run but this might actually be the point where Kingsroads really start falling behind. This location makes running multiple 6+ cost uniques far more reasonable and I think it's fair to argue that people will approach deck design differently while this is legal in the card pool.
OKTarg - 5 out of 5
Economy is everything. And the Great Hall is very efficient, repeatable economy. The only thing not to love is that you'll want this in all of your decks so you may have to buy more copies of this CP, and that it will perhaps drive economy variance--the first person to hit their Great Hall will have a big advantage. We'll see, but I can't see a reason to not play it!
Q&T Curmudgeons - 5 out of 5
Best card in the pack by a mile and, along with the plot, will be the most impactful card for the overall meta.
Exclusive picture of what the meta will look like once this card arrives.
Joe From Cincinnati - 5 out of 5
Oh, hey. Economy. Big stupid characters just got more affordable. I was beginning to worry because those big stupid character decks definitely weren't a huge problem in the pre-valar meta.
But seriously, this is an outstanding economy card. Most decks don't have their gold producing location of the cycle yet, so in order to afford your 6+ costers you often had 2 to 3 plots that could afford them such as Summer Harvest, Time of Plenty and Noble Cause. With this location, suddenly those 6+ costers become much more affordable and less difficult to get into play. I just hope they release some anti-big guy stuff soon, because this could get out of hand real quick.
scantrell24 - 5 out of 5
It's obviously going to see ton of play. But what will the new meta look like when every faction can afford multiple beatsticks? Tyrell and Lanni stand to benefit, with all of their big renown dudes, and maybe Banners improve so decks have access to 2 factions worth of beatsticks.
"The Dornishman's Wife" (2.8 Average)
emptyrepublic - 2 out of 5
A fantastically quirky card but requires prescience that I think few people have in order to properly exploit it. I'd think more of the card if it was 0 gold. The power gain will be likely a trick that a few people will try to pull but otherwise it's hard to see what you drop to make space for this.
OKTarg - 3 out of 5
This is interesting, and one of our first 'comeback' cards, but since you can't really control when it triggers and since the payoff isn't something you can build around, I don't know that so many decks will want this. Still, yet another song art (!) and a fun effect. Glad it exists.
Q&T Curmudgeons - 5 out of 5
Istaril is shaking his head in despair at us here, thinking we're overrating this and not by a little bit. Maybe this is a touch high, but it just seems very likely to us to be a strong (not interesting, but strong) efficient card. If you get any one of those effects off then it's not bad; two or more and it's just pure efficiency. And it of course goes well with the next card, to boot. Lastly, the Dornishman clearly knows kung-fu, and we're respecting that.
Joe From Cincinnati - 2 out of 5
Undeniably an interesting card but I question where you're finding space for this card in a deck. It doesn't fall into a theme of any deck. And it doesn't accelerate or facilitate anything, really. It's just a card that says "Are you behind in some way? Here's a miniature boost." Unless you're already running 3 Nightmares and at least 2 Hand's Judgments, I don't see how you'd have space for a neutral event that doesn't significantly, and reliably, increase the efficiency of your deck.
scantrell24 - 2 out of 5
We haven't seen a card like "The Dornishman's Wife" before, so it's difficult to rate. In my experience, competition for event slots is fierce, and for an event to make the cut it should serve a particular purpose, not just be a generally good card (Nightmares is the exception). Furthermore, the effects are underwhelming. Even if all of the conditions are met, you only net 1 gold and 1 power. Generally good events do make me pine for the return of Dark Wings Dark Words though. Please FFG?
The Annals of Castle Black (3.6 Average)
emptyrepublic - 4 out of 5
Conceptually I think this is a great card and will no doubt reward a lot of creative play. It's a deterrent for people who want to recycle their events. It lets you replay rush events from a previous turn. No doubt that's just the tip of the iceberg. I don't have much else to say about it other than I'm looking forward to seeing it in action.
OKTarg - 4 out of 5
This is a fun card for sure. It encourages building around and changes the tactics of a single game turn completely. If you haven't yet, be sure that you check out Istaril's article on FFG regarding the conception and design of the card and then be sure to give this a whirl! There's nothing like playing His Viper's Eyes from the discard pile…..!
Q&T Curmudgeons - 3 out of 5
Istaril's mostly thrilled about the art here (upping his rating from a 1 to a 5). The rest of us think this is a very interesting card that will hopefully help enable some interesting new builds. In practice, this effect is sorta-kinda-like draw for every event you play, letting you get the effect without losing a card in the process, so you probably need about two more event triggers than your opponent that round to justify it in your plot deck. We're conservative with our rating here simply because events are mostly low-powered, over-costed affairs in the game at the moment - if we get any particularly juicy new ones in the future, the value of this plot goes up.
Joe From Cincinnati - 4 out of 5
I find this card to be extraordinarily interesting. It offers a new spin on the game that I think adds a dimension to deck building that we did not previously have. Prior to this card's release, events and attachments were basically the flex slots of a deck. Decks are mostly consisting of ~30 to 35 Characters, ~10 to 18 Locations and ~10-15 Attachments + Events. Is this plot enough to maybe shift deck building towards more event driven decks? Possibly. I know the no character deck (Bradley's Fault on Thronesdb) will enjoy this plot quite a bit though! I bet the Dumpster Diving Night's Watch deck will also enjoy it, with high reserve and decent initiative and gold. Kudos to Alex Hynes for a well designed and interesting card.
scantrell24 - 3 out of 5
Abusing the Annals without letting your opponent trigger his own events could be tricky. Isle of Ravens can help, or choking away the opponent's gold. Overall, I love the uniqueness of this plot, and the opportunity to get creative, but it's not tier 1 material yet.
Total Pack Average: 3.13Top Cards:
Great Hall 5.0
Iron Islands Market 4.4
A Dragon Is No Slave 4.2
Bottom Cards:
Orphan of the Greenblood 1.4
Light of the Lord 1.6
Scorching Deserts 2.4
Polliver 2.4
If you're hungry more content, check out the list of podcasts, articles, game video and more in
the Community FAQ
. Let us know in the comments how you feel about the cards in this box, and we'll see you again soon to discuss the next pack, Fall of Astapor!
Article: Guarding the Realm Pack Review