Welcome to Card Game DB
Register now to gain access to all of our features. Once registered and logged in, you will be able to create topics, post replies to existing threads, give reputation to your fellow members, get your own private messenger, post status updates, manage your profile and so much more. If you already have an account,
login here
- otherwise
create an account
for free today!
1
Much and More - FAQ Open Thread
Small Council
Much and More
ShadowcatX2000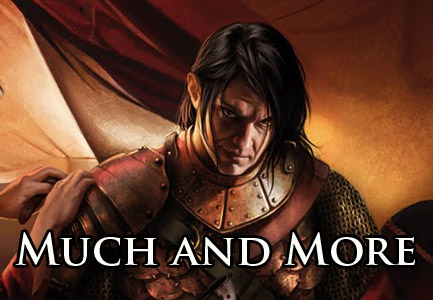 So a new FAQ came out. It is available
here
. It changes a lot. With this the meta will be vastly different next month than it was last month, and while we can make educated guesses as to how things are going to shake out the truth is the only thing that's really going to tell us is play testing.
Many cards were added to the restricted list yesterday.
Joust:
BEAR ISLAND
KINGS OF SUMMER
KINGS OF WINTER
GAME OF CYVASSE
BOLTON REFUGEE
MOUNTAIN REFUGEE
HIGHGARDEN REFUGEE
ISLAND REFUGEE
REFUGEE OF THE PLAINS
REFUGEE OF THE CITADEL
VALE REFUGEE
ROBERT BARATHEON (King's Landing)
AEGON'S HILL
KNIGHT OF FLOWERS (King's Landing)
THE HATCHLING'S FEAST
ORPHAN OF THE GREENBLOOD
RETALIATION
THE CONCLAVE
TIN LINK
MEERA REED
THE SCOURGE
NO QUARTER
PENTOSHI MANOR
THE LONG LANCES
Melee:
THE RED VIPER
HELLHOLT ENGINEER
THE SCOURGE
So by now, you're probably wondering, what wild and crazy thing is he going to tell us that's going to help us adapt to the new meta? Well, honestly, I'm not. I don't have a clue what's going to happen. Instead, I'm asking you all to help me, and help all of us here help one another.
So how can you help? Well, basically we need you to do 2 things. First, play. Play Game of Thones, test, try new things, go all out and see what works. Secondly, and this is the important part, tell us how it went for you. Talk about your games. Post blogs. Post in the forums, give us deck lists, tell us about plays that you made that went right or went wrong, tell us what other people in your meta are playing, tell us what decks you hate to sit down across the table from now, and what decks you sit down across the table from and go "Oh, that. Easy win." And tell us why you feel that way about those decks.
Now some of y'all are probably thinking, "He doesn't mean me, I'm just a casual player". Or "I'm not good enough to help people figure out what works". Or that "I haven't been playing long enough to help them out." None of that is true, honest reports will help no matter what your skill level, no matter how long you've been playing.
So as you start to experiment and adapt to the new meta let us know in the comments what you are experiencing.
Article: Much and More - FAQ Open Thread