Welcome to Card Game DB
Register now to gain access to all of our features. Once registered and logged in, you will be able to create topics, post replies to existing threads, give reputation to your fellow members, get your own private messenger, post status updates, manage your profile and so much more. If you already have an account,
login here
- otherwise
create an account
for free today!
0
Ours is the Fury - Ours is the FAQ
Small Council
Ours is the Fury
WWDrakey
Baratheon
Ours is the FAQ
Today Ours is the Fury looks backwards, in order to see forwards. Or more accurately, looks at what changes the
new FAQ and updated restricted-list
brought, and what we can learn from history, especially the pre-TMP meta, to prepare ourselves for this brave new world.
For this week I had scheduled to start a several-piece article about Baratheon
Maester
s, but of all the Baratheon decktypes
The Maester's Path
(GotC) was perhaps hit the hardest by the new restrictions. The simultaneous restriction of
Highgarden Refugee
(RoW),
The Conclave
(CbtC) and
Tin Link
(CbtC) leaves gaping holes in some of our TMP builds, and it will take a while to figure out how those decks will have to adapt. I will be returning to them after there has been enough time to have a decent assessment on those changes.
Primary changes for Baratheon post-FAQ
Baratheon Maesters lost quite a lot in efficiency
– They are not unplayable or anything like that, but their status as a clear top-tier Baratheon build is definitely more in question.
Our intrigue weakness just got larger
– Similarly to it's
House Bolton
cousin in the north,
Highgarden Refugee
(RoW) was one of the easiest intrigue-icon cards in the Baratheon arsenal. Thus it's restriction will probably lead to a value increase in cards that can mitigate that weakness.
The Laughing Storm
(GotC),
Margaery Tyrell
(ASitD),
Watcher of the Nightfire
(AHM) and
The Bastard of Nightsong
(VM) will be some of our first line of defence, together with some of the other
Asshai
Crew.
Baratheon is now Shadow -friendy
–
Knight of Flowers
(SaS) and
Robert Baratheon
(TTotH) were the two primary reasons for Baratheon to run without any Shadows, and now that they are restricted, no such reason exists. For your restricted card, there are a lot of better options than including either of these two, so it's probably best to leave them in the binders for the time being. As such, it looks like it's time for most Baratheon decks to embrace some of the control brought by cards like
Kingswood Trail
(CoS),
The Black Cells
(TftRK) or
Margaery Tyrell
(TftRK) and especially the easy recursion from
Fiery Kiss
(ODG).
We got a large chunk of our saves back
– There's an interesting double effect here. The restriction of
Tin Link
(CbtC) (and
A Game of Cyvasse
(ACoS)) will allow us to protect our characters from Burn better, while the Restricted list getting nearly doubled in volume means that
Search and Detain
(HtS) will finally stop being as common as it has been for a while now. Less
No Quarter
(TBC) won't be a bad thing either. All of these changes, combined with cheap weenies being harder to come by, tend to work in the favor of Baratheon Prevention in the form of saves finally being back on the feast menu. Not only can we start loading up on duplicates almost like we used to, we even get our trustworthy save attachments back.
Negative attachments will be on the rise – It's time to dust off the covers from
Maester Cressen
(Core), since he will once again be a staple in every Baratheon deck.
Attachments to watch out for
Now that we get to run attachments a bit more efficiently again, I thought it might be prudent to list some of the top choices available, mostly based on what was common in Tourney-worthy decks before the Secrets of Oldtown -cycle exploded the meta.
So, my list of Top 5
Old School
attachments would be (in no particular order):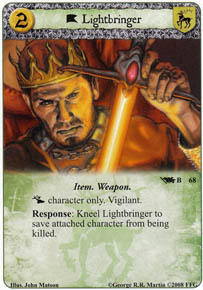 Lightbringer
(Core) - Baratheon's very own repeatable save-engine, used to be we would see 1-2x of these in almost every deck. Beneficial things to notice are that it's unique (cannot be hit by
Dragon Thief
(AE)) and as an attachment, it's slightly harder to cancel than duplicates.
Bodyguard
(Core) - With our copious number of
Lord
and
Lady
characters, this slots back in perfectly.
R'hllor's Blessing
(AKitN) - A self-replacing strength-bump, that helps you thin your deck, while simultaneously teching against Burn. Used to be, you would see 2-3 copies of this in Baratheon decks. With the currently Burn-heavy meta, I wouldn't be surprised to see them being run again.
Fanatic
(RoR) and
Bound by the Light
(DB) - The
Asshai
answers to Rush and keeping a board-presence after a
Valar Morghulis
(Core).
Motley
(Core) - When you're going second this is often one of the easiest ways of first negating an important character for a whole round, after which it will be a constant drain on one of your opponent's resources... unless they decide to off the character in question, which isn't bad for you either. It's also good to remember that duplicates are also character abilities...
No, I didn't cheat there. Exactly 5 items. Anything else is purely your imagination. Here, have some more of Robert's Strongwine.
There are also two interesting newer attachments that will need to be revisited in this current meta: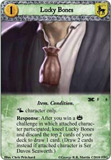 Lucky Bones
(GotC) - An attachment draw-engine, which also now feeds your
Melisandre's Scheme
(RotK). Too bad this originally came out only two CPs before
Tin Link
(CbtC)...
Banner Bearer
(THoBaW) - The double-functionality of both keyword-spreading and attachment control through your 'No Attachments' keywords can be a good Toolbox-functionality to have.
So, what does this post-FAQ world look like for Baratheon? Better than the old one, I would wager. We lost a bit of easy speed, but several of the other changes will work to our advantage. Suddenly, Old School Baratheon Nobles don't look nearly as bad as they used to, and will be a more viable competitor for
Asshai
Hand Destruction,
Knight/Wildling
Aggro and arising new
Smuggler
/Naval decks.
Antlers down, it's time to charge right into this brawl. No, you're not too fat for your armor quite yet.
Article: Ours is the Fury - Ours is the FAQ