Welcome to Card Game DB
Register now to gain access to all of our features. Once registered and logged in, you will be able to create topics, post replies to existing threads, give reputation to your fellow members, get your own private messenger, post status updates, manage your profile and so much more. If you already have an account,
login here
- otherwise
create an account
for free today!

2
Quill & Tankard Regulars - Issue 20
Small Council
Quill & Tankard Regulars
Ire
Ratatoskr
WWDrakey
Quill & Tankard Regulars – Issue 20
Horrified, the young apprentice looked at the mead dripping from the old Archmaesters beard onto the greasy floor of the Quill & Tankard. He dared even not look up to face his eyes.So. No going back now. He would never obtain that Valyrian Steel Link anymore. What's done was done. Even so, burning bridges behind you is always a risky game.
Beware The Sphinx - Burning Bridges
Beware the Sphinx is a series of articles concentrating on important cards with several peculiar, complex or unintuitive interactions. An emphasis is kept on both new and competitively relevant cards. Remember, the Sphinx is the riddle, not the riddler.
With the
Warship
s for
A Song of the Sea
still on their way to our shores, we're looking a bit backwards again this week in
Beware the Sphinx
and talking about a card that was causing a bit of confusion around the time of the World and European Championships last year. The culprit this time is the plot card Burning Bridges, and the confusion was caused by conflicting information on how it should be interpreted.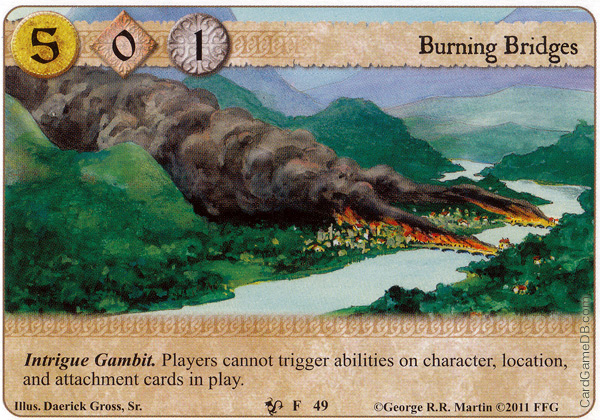 Burning Bridges is essentially a high-resource
Intrigue Gambit
plot with a powerful limiting constant effect, which states:
Players cannot trigger abilities on character, location, and attachment cards in play.
Doesn't seem all that confusing at first glance now does it? Well, the problem here is the part
triggered abilities on ... cards in play
, which in AGoT rules terminology only exclusively refers to abilities that are, well,
printed on the card
. So what's the problem then, you may ask? Well, to understand the issue a bit better, we need to have a look at
gained abilities
and what they do.
Gained Abilities
Simply put, gained abilities are abilities given to a card by a card effect. Usually gained abilities are passive abilities or keywords granted by another card like
Blood of the Viper (OSaS)
or
Dragonbone Dagger (THoBaW)
, but there are exceptions. An example of such an exception would be
Ser Parmen Crane (KotStorm)
, who grants
Lord
characters a save
Response:
. Another example of gained triggered abilities are actually duplicates, since looking at the FAQ (§4.2) we find the following description for how the
Response:
save from duplicates is treated:
Using a duplicate to save a character is considered to be a gained triggered "Response:" action. Thus, it is treated as a triggered effect and may be canceled, but because it is gained (and therefore an ability of the card attempting to use the response), a character who is "immune to triggered effects" can be saved by using a duplicate, as a card cannot be immune to its own abilities.
Now, it has been confirmed (see Rules Forum thread
here
) that gained triggered abilities are exempt from Burning Bridges, thus allowing them to actually be used when it is revealed. Seems completely reasonable, right?
However, there's a very important subset of gained abilities that we didn't discuss yet, that also fall under this ruling.
Gained triggered abilities granted by a card itself.
Look at the text on cards like
Maege Mormont (AHM)
,
Ser Gregor Clegane (LotR)
,
The Iron Throne (LotR)
,
Robert Baratheon (KotS)
or most
Brotherhood
characters for that matter. See where we're going with this? Essentially, what we end up with is the fact that
those cards can all trigger their abilities with Burning Bridges revealed!
Now that's Sphinx material, if anything.
Miscellaneous
There are also some other details that one should remember when playing with Burning Bridges. It does not affect triggered abilities on cards entering play if the ability is triggered from an out-of-play area. Examples of this would include our usual culprits
Meera Reed (TftH)
,
Bloodrider (MotA)
,
Catelyn Stark (LoW)
and
Khal Drogo (Core)
. However, cards with abilities that are triggered
after
they enter play, like
Castellan of the Rock (BoRF)
or
Long Lances (THoBaW)
, cannot be triggered with Burning Bridges revealed.
Similarly, it's good to remember that Burning Bridges does absolutely nothing to passive effects, like those on
Melisandre (RotO)
or
Bronn (LotR)
, allowing them to still take effect normally. And naturally since the effect on Burning Bridges is constant (and thus takes effect immediately after it is revealed), using a Burning Bridges against a Greyjoy player going for an offensive
Valar Morghulis (Core)
can be pretty effective, since it will stop them from using cards like
The Iron Mines (KotS)
,
The Iron Cliffs (HtS)
,
Moqorro (VD)
or
Maester Wendamyr (KotS)
.
Is Burning Bridges a true Sphinx or just a regular kitty? Feel free to discuss in the comments below.
Dear Archmaester
Dear Archmaester collects interesting, unusual and unexpected rulings from the FFG Rules forum.
Q:
Dear Archmaester,
when I play a
House of Dreams (ARotD)
deck, when exactly do I choose my HoD location? Do I always get to see which House/Agenda my opponent plays? This is important because if I plan to use
Bear Island (AE)
as my HoD location, and I see that I'm up against a Stark deck, it might be better to go for
Harrenhal (ODG)
instead.
A:
According to the Core Set rules, you randomly determine one player to be First Player at the start of the game. That player announces his House and Agenda first, then the other players follow suit, going clockwise around the table. The HoD location is chosen right after a player announces his House and Agenda. That means that if the HoD player is randomly determined to be the First Player, he has to choose his HoD location before he knows which Houses/Agendas the other players play.
Antti Korventausta (WWDrakey) is a self-proclaimed Finnish AGoT philosopher and nitpicker, who also used to practice Quantum Mechanics, but found that it paled to AGoT in both interest and complexity. As a Stahleck regular and judge, he sometimes has oddly vivid dreams of understanding portions of the game. In AGoT, he'll play anything as long as it's suitably twisted... often ending up with something that has horns on it.
Helmut Hohberger (Ratatoskr)
started playing AGoT in September 2010 and has never looked back (although his wife has, longingly). As a German, he loves rules - and I mean
*loves*
'em. Try triggering a Response at the end of a phase on his watch, and he'll probably invade your country. He has actually read the FAQ, and was made a judge at Stahleck and at various other events. He sometimes answers rules questions on boardgamegeek and the FFG rules board. Some of his answers haven't even been contradicted, corrected or expanded upon by ktom - there is no higher accolade for a rules board morlock.
Every Maester needs a Raven on his shoulder. As a Finn, Iiro Jalonen (Ire) got pulled under the waves by Krakens years ago, and has never looked back. A self-inflicted Shagga and active member of the global AGoT community, he has always strived to know the rules of the game, in order to make them do ridiculous things.
Article: Quill & Tankard Regulars - Issue 20