Welcome to Card Game DB
Register now to gain access to all of our features. Once registered and logged in, you will be able to create topics, post replies to existing threads, give reputation to your fellow members, get your own private messenger, post status updates, manage your profile and so much more. If you already have an account,
login here
- otherwise
create an account
for free today!

0
Quill & Tankard Regulars - Issue 35
Small Council
Quill & Tankard Regulars
Ire
JCWamma
Ratatoskr
WWDrakey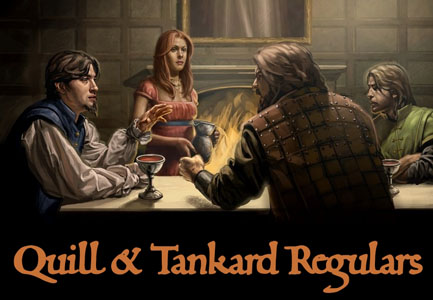 The Raven's Message
The Raven's Message exclusively reveals and discusses an up-and-coming, either mechanically or rules-wise interesting, card. The cards are from future products, and have been obtained directly via raven from the Archmaesters at the (FFG) Citadel.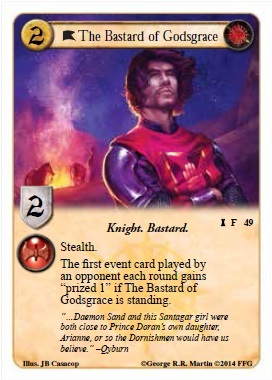 The first thing any stalwart Quill & Tankard Regular will notice about this here particular card, is that the image for it has been made at the very same place where we held our previous outing for our loyal workers. And we must *stress* that the location was chosen purely for it's picturesque desertness and starry sky, and not just because somebody spent all the gold dragons on various beverages from all over the world!
Anyway, here we have a second version of The Red Viper's loyal servant, The Bastard of Godsgrace. This version of him comes at a slightly higher cost of 2, sprouting a new
Knight
trait and a Stealth keyword. Always good to get more loyal Knights for the Realm, eh?
The really interesting part of the Bastard of Godsgrace arises from his ability, which grants the Prized 1 keyword to the first event played by an opponent each round, as long as the Bastard is standing when the event is played. Luckily, we just got a fresh new FAQ to tell us that all Prized keywords are handled separately, so if the first event played by an opponent is a Counterplot, the Martell player (and in a Melee, all other opponents of the player playing the event) will gain 3 power and 1 power, as two distinct passive effects (affecting how Infamous! will work, for example - see below).
Note that this is a constant effect, not a passive effect. Some players may mistake this effect as a passive, construe a conflict between the Bastard of Godsgrace's effect and the resolution of the Prized 1, and claim that the First Player should decide whether the Prized 1 is even gained before it resolves or some such. This is incorrect. Since the Bastard's effect is constant, the Prized 1 will always resolve if it's conditions ("first event" and "Bastard is standing") are met. If you're unsure about the distinction between passive and constant effects, see
here
.
Another interaction to consider is how he works with any kneel events... like say, Harry the Riverlands. By the time the Prized 1 would resolve (during the Passives step), the Bastard is no longer standing, so no Prized - leaving the Martells thirst for vengeance (and power) unquenched.
A Raven from the Citadel
A Raven from the Citadel discusses and explains rulings and rules clarifications made by FFG, especially FAQ updates.
The long awaited FAQ update to version 5.0 got finally published on Tuesday. This shiny new version of the FAQ can be found
here
.
In this issue we will take a look at the most important updates, and explain what they mean, from a rules viewpoint. We will steer away from going into the new FAQ's implications on strategy and deckbuilding.
Dockside Brothel
The erratum added the text "(Limit 1 limited response per round.)" that is part of the Limited Responses on other cards. Since Limited Response is explained in the Core Set rulebook, this erratum is not strictly necessary from a rules viewpoint and should probably be considered purely cosmetic.
2.2 Plot effect resolution
This is a very minor update regarding the resolution of
"When revealed..."
plot effects. The sentence in question now reads:
They are resolved (in the order determined by the first player) during the fourth framework event of the framework action window in which the plot card was revealed instead of during step 4 of the action window in which the plot card was revealed.
This update removes an ultimately inconsequential but longstanding irritation from the FAQ that has confused many generations of budding rules lawyers. Step 4 of the action window, of which the old version of this entry speaks, is the step in which passive effects resolve. But "When revealed" plot effects being resolved during the passives step is at odds with the flowchart on page 22, which details the plot phase. Here, the resolution of "When revealed" effects is shown to be a distinct framework event.
It makes no practical difference one way or the other, but the contradiction was a bit jarring for anybody who tried to really get behind the timing structure of the game. The new wording reconciles 2.2 with the flowchart. Note how the update makes the following sentence somewhat redundant:
The clarification All "when revealed" plot effects must resolve before any other passive effects initiated by the revealing of a plot card(s) are resolved is only required if "When revealed" effects resolve during the passives step.
If they resolve as a framework event, they'll happen before regular passives anyway.
2.4 Responses per trigger
This update clarifies the "each response only once per trigger" rule:
This limit applies to all cards that trigger a response from play, as well as to responses on plot cards and agenda cards. This limit does not apply to non-plot and non-agenda cards that trigger a response from an out of play state, as being out of play wipes all memory of those responses having been triggered.
This codifies a rules interpretation that has been prevalent in the community for a long time. If a response like the one on
Cately Stark LoW (not a Response!) or
Khal Drogo CS is cancelled, it can simply be triggered again. This also confirms that the same is true if the out of play area in question is not hidden information (like the hand), but open information (like the discard pile). In short, if you trigger Royal Entourage from the discard pile, and I cancel it, then you can just trigger it again. This is how the community has always played it, but this particular situation has come under discussion recently, so the FAQ making things clear once and for all is appreciated.
3.6 Triggered Effects
In order to trigger an effect, the possibility that at least some independent aspect of the effect (as opposed to the cost) is able to resolve must exist. If, given the current game state, it is impossible (aside from cancels) for at least one aspect of the effect to resolve, the effect cannot be triggered. This check is made during step "b" of an action's initiation, when all play restrictions are checked.
This is a rather important new rule. It modifies the provisions of the FAQ which stipulate that abilities
"may be triggered whether or not the effect has any result."
(page 15). The new ruling in 3.6 adds a general play restriction which determines that at least some
independent part
of an effect must be able to resolve, or the effect cannot be triggered. That means it's not possible to return Cragorn to your hand if your opponent has no gold for you to steal, or to stand Janos Slynt if you're at the draw cap. On the other hand, Frozen Outpost can still be triggered to boost the STR of a character, even if it is standing (since a part of the effect, the STR buff, can happen). It should also be noted, that this new clause only talks about
triggered effects
, and does not affect
passives
like Kingdom of Shadows (which will still happen, regardless of anything successfully occurring).
The part
"aside from cancels"
means that you *can* trigger abilities that you know will be cancelled, e.g. because of The Painted Table or Oberyn's Shield Bearer. So you can trigger Cragorn and return him to hand as a cost, even if the effect is sure to be cancelled due to Oberyn's Shield Bearer - but only if your opponent does have a gold to steal.
The part about
"step "b"
of an action's initiation" refers to the detailed overview of the action initiation step on page 18/19, under the header Action is initiated. This is an important and very helpful passage of the FAQ which is overlooked all too often. So if you're not familiar with it, we suggest you take a look at it.
In the past, we've had a few errata to specific cards to make them behave this way (To Be A Stag, To Be A Dragon, Val), which are all replaced by this blanket ruling now.
3.43 Multiple Instances of Prized
When a card has multiple instances of the Prized keyword, each instance resolves independently of all other instances, regardless of qualifying value.
This makes the Prized keyword behave a bit differently than other keywords. Well, it is the first keyword with a numerical value, so it *should* be special, right?
Usually, if a card has several instances of the same keyword, the keyword will resolve only once. If a character has two instances of Stealth, it can still only bypass one character, not two. If a character has two instances of Renown, it will still claim only one power, not two etc.
Prized is different. If a character has two instances of Prized 1, both will resolve. Since they resolve independently of each other, though, the controller of that character will claim 2x1 power for his house, not 1x2 power, which matter for effects like Infamous!.
What the FAQ is silent on is how Prized interacts with Keyword removal, so let's get into this for a bit.
So, what happens when a Prized card is hit by an effect like Men of Pride? FAQ 4.21 tells us that "lose all keywords" means "lose 1 instance of each keyword". If a card with Prized 1 is affected by Men of Pride, it loses the keyword. A card with one instance of Prized 1 and one instance of Prized 2 will lose both, because they are different keywords. A card with two instances of Prized 1, however, will lose one instance of Prized 1 and retain the other, because they are two instances of the same keyword - even if they resolve independently of each other (this interpretation has been confirmed by FFG).
Wrapping things up:
On a side note, what we'd like to see sometime, nitpickers that we are, is FFG fixing the numbering of the paragraphs in the FAQ. We have no fewer than three paragraphs numbered 3.43 now, and two numbered 3.17. On the other hand, paragraph 4.13 is missing. It's a minor issue, but as rules lawyers, we're CDO by nature, and stuff like that drives us crazy.
So, that wraps this issue up. The new FAQ brings some more updates and clarifications, but we thought them to be pretty straightforward, so we didn't go into them. If you have more questions on this FAQ update, go ahead and ask them in the comments section!
Antti Korventausta (WWDrakey) is a self-proclaimed Finnish AGoT philosopher and nitpicker, who also used to practice Quantum Mechanics, but found that it paled to AGoT in both interest and complexity. As a Stahleck regular and judge, he sometimes has oddly vivid dreams of understanding portions of the game. In AGoT, he'll play anything as long as it's suitably twisted... often ending up with something that has horns on it.

Helmut Hohberger (Ratatoskr) started playing AGoT in September 2010 and has never looked back (although his wife has, longingly). As a German, he loves rules - and I mean *loves* 'em. Try triggering a Response at the end of a phase on his watch, and he'll probably invade your country. He has actually read the FAQ, and was made a judge at Stahleck 2011 and at various other events. He sometimes answers rules questions on boardgamegeek and the FFG rules board. Some of his answers haven't even been contradicted, corrected or expanded upon by ktom - there is no higher accolade for a rules board morlock.

Every Maester needs a Raven on his shoulder. As a Finn, Iiro Jalonen (Ire) got pulled under the waves by Krakens years ago, and has never looked back. A self-inflicted Shagga and active member of the global AGoT community, he has always strived to know the rules of the game, in order to make them do ridiculous things.

James Waumsley (JCWamma) started playing Thrones in January 2012. Although he's not got many links on his collar just yet, he's a fiendishly competitive player who delights in making sure the rules are upheld, so that his opponents have no excuses (or in practice, so that he has no excuses himse
lf).
scantrell24, RemkoLooten, CobraBubbles and 1 other like this
Article: Quill & Tankard Regulars - Issue 35