Welcome to Card Game DB
Register now to gain access to all of our features. Once registered and logged in, you will be able to create topics, post replies to existing threads, give reputation to your fellow members, get your own private messenger, post status updates, manage your profile and so much more. If you already have an account,
login here
- otherwise
create an account
for free today!
3
Quill & Tankard Regulars - Issue 4
Small Council
Quill & Tankard Regulars
Ire
Ratatoskr
WWDrakey
Meera Reed
Welcome back to The Quill & Tankard. This week, in another installment of
Beware the Sphinx
, we get to spend some time with one very special
Lady
.
Beware the Sphinx - Meera Reed
Beware the Sphinx is a series of articles concentrating on important cards with several peculiar, complex or unintuitive interactions. An emphasis is kept on both new and competitively relevant cards. Remember, the Sphinx is the riddle, not the riddler.
Note:
A few changes of this article have become necessary since it was first published; these are marked in
red
.
Meera Reed, designed by Stahleck 2010 Joust winner Gualdo, is not only a very strong and versatile card with awesome art that is a staple in most Stark decks - she has also caused quite a bit of uncertainty regarding timing and specific card interactions. In this article we will try to summarize all the relevant rulings and interactions.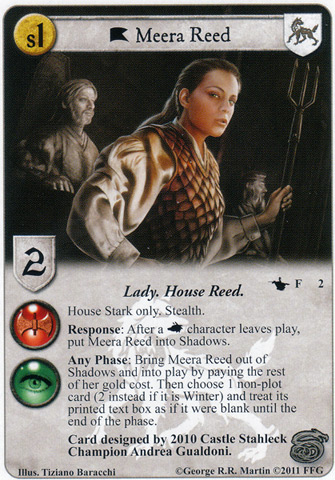 Meera Reed has two distinct effects:
Response: After a Stark character leaves play, put Meera Reed into Shadows.
Any Phase: Bring Meera Reed out of Shadows and into play by paying the rest of her gold cost. Then choose 1 non-plot card (2 instead if it is Winter) and treat its printed text box as if it were blank until end of the phase.
Huh? I don't get it. What's so bad about Meera? You pay a gold, bring her out of Shadows, and blank a card or two. If one of your Stark chars leaves play, you put her back in Shadows. What's the big deal?
The most difficult problems regarding Meera stem from the fact that
- her effect is triggered from
out of play
(Shadows is an out-of-play area), but
- the part of her effect after the
Then
initiates when she is
in play
.
We will deal with the questions that arise from this first, and once the difficult stuff is out of the way, we 'll sweep up the few remaining topics.
Whoa, I'm a bit lost now. Why does this in play and out of play stuff matter?
Bear with us. At the heart of the matter is the difference between a
triggered effect
and a
triggered ability
. Triggered effects are all effects that happen by player choice. They are prefaced by boldfaced text (like
Response
or
Any Phase
). Unless otherwise stated, players can only trigger effects on cards they control.
Triggered abilities
are a special kind of triggered effect: any triggered effect that is triggered while the card is in play is a triggered ability. If it's on a character, it's a character ability. Similarly, there are also location abilities and attachment abilities. An effect that's triggered from out of play, like
Bloodrider
(MotA),
Catelyn Stark
(LoW) or
Khal Drogo
(Core) is a triggered effect, but not a triggered ability.
Back to Meera. Her effect is twofold. The "pay 1 gold to bring Meera out of Shadows" part is triggered from out of play, so it's a triggered effect, not a triggered ability. The part after the
Then
, however, can only happen if the part before it resolved fully (that's how
Then
-effects work, you remember that from
last week's column
). In Meera's case, that means that by the time the "blank a card or two" part of her effect happens, she is in play.
Ergo this part of the effect is an ability, and because Meera is a character, it's a character ability.
With us so far?
*Whimper* Boy, do I need an Aspirin or two now. So, what you're saying is that Joffrey Baratheon (TftRK), who is immune to triggered effects, cannot be blanked by Meera - and neither can The Red Viper (PotS), who is immune to character abilities, because the blanking part of her effect resolves as a character ability, even though the effect as a whole was triggered from out of play?
That's *exactly* what we're saying. Good for you, you're getting there!
But what about Bloodrider (MotA)? He cancels triggered character abilities. Can he cancel the blanking part of Meera's effect?
Unfortunately, no. You can't cancel just part of an effect. You need to cancel the whole effect, or nothing at all. And since only the second part of Meera's effect is a character ability, while the first part is not, Bloodrider won't work. To cancel her, you'd need something that cancels triggered effects, like
To Be a Kraken
(SB),
Seasick
(KotS), or
Alannys Greyjoy
(ODG).
If I use one of those cards, what happens with Meera? Will she just stay in Shadows?
She stays in Shadows, but since costs remain paid even if the effect is canceled, your opponent will be out one gold. If he has gold left, he can just trigger her effect again, though.
And what about Death by Payne (SaS)? Can I use that one to off her?
Again, no, for the same reasons: Death by Payne can be used to kill a character that just triggered its character ability. But Meera's effect was not triggered as a character ability.
The blanking part of her effect itself is not triggered, but happens automatically if the pre-Then part of her effect resolves sucessfully. Taken by itself, the blanking part of the effect resolves as a character ability, but it is technically not a triggered character ability, because the triggering happened while Meera was out of play.
And Jeyne Poole (SaS)? She cancels triggered effects. Does she work on Meera?
She doesn't. This time, it's a timing issue. Meera's effect needs to be cancelled while she is still in Shadows. Jeyne requires the card whose effect she wants to cancel to have come out of Shadows. She works against effects that respond to cards coming out of Shadows, like
Alchemist's Guild Hall
(TBoBB) or
The Queen of Thorns
(TftRK), but not against effects like Meera's.
Boy, she's one tough customer. How about Fortified Position (LoW)? Will that stop her?
Tough luck again. The blanking effect resolves after she has entered play, but it was initiated out of play and will continue to resolve even if Meera is blanked by Fortified Position. It's the same reason why
Catelyn Stark
(LoW) or
Khal Drogo
(Core) will go back to hand even if their text boxes are blanked while they're in play.
OK, I think I got the ability vs. triggered effect stuff down now. There's still some questions left, though. Can I reduce the cost of her effect with Hidden Chambers (CoS)?
No. Hidden Chambers only reduces the cost of bringing a card out of Shadows the normal way. It doesn't apply if a card is brought out of Shadows via a card effect. The same goes for
Guardian Wolf
(TIoR) or
Ser Mandon Moore
(TBoBB). On the flip side, you don't have to pay the additional gold from
City of Shadows
(CoS) either if you bring her out of Shadows via her ability.
Hey, I got an awesome idea for a totally broken combo with Meera. I jump Catelyn Stark (LoW) in to defend INT and POW challenges, and when she goes back to hand at the end of the phase, I trigger Meera's Response to put her back in Shadows. So cool, huh?
Sounds nifty, but has one slight downside: it won't work. You can't trigger Responses at the end of a phase (cf. FAQ §2.6, p.7). It's the same reason why you can't save characters that die due to
Battle of Oxcross
(PotS).
OK, following situation: Valar Morghulis (Core) is played, Meera and a bunch of Stark characters die. Can I trigger Meera's Response and put her back in Shadows?
Tsk-tsk-tsk, you really should know better by now. When Valar resolves, all characters enter a
moribund:dead
state. It's true that all killed characters stay physically on the table until the end of the Action Window, and that you can trigger their Responses. But you've forgotten one important rule: a moribund card cannot be removed from play again, which is exactly what happens when you put a card into Shadows. However, if you somehow manage to save Meera from being killed by Valar (with a
Bodyguard
(Core) or duplicate, for example), you can naturally trigger her Response.
Speaking of duplicates: I have a copy of Meera in play and a second copy in Shadows. I bring the second copy out of Shadows. The second copy attaches itself to the original as a duplicate. But it only becomes a duplicate after it enters play, so I should be able to blank a card or two that way, no?
No. Remember that the pre-
Then
part of her effect must resolve successfully and completely for the post-
Then
part (the blanking) to happen. Remember also that duplicates have no text, traits or title. Now, when the blanking effect is about to happen, the game checks if the play restrictions of the effect are met, and it sees that a duplicate came out of Shadows, not a card named Meera Reed, so no blanking can happen.
Let's say I use Meera's effect during the Challenge phase. Then one of my Stark characters dies and Meera goes back to Shadows. Can I trigger her effect again that same Challenge phase if I have the gold?
You can trigger Meera's effect as often as you manage to put her back to Shadows and have the gold to bring her out again. It is an
Any Phase:
action, so you can trigger it during every Player Action Window in any phase.
Can I use Meera to blank an Agenda?
No. Agendas are not in play, and cards can only affect out of play cards if their text specifically says so.
On a sidenote, plots are not in play either. That means the proviso that Meera can only blank non-plot cards is actually redundant. Why the designers saw fit to include it anyway is unclear. It's probably a relict from the design process. Fact is that Meera couldn't blank plots even if her text didn't explicitly prohibit that.
That's about it. Meera's an awesome gal, have fun playing with her! If you think we missed something, please leave a comment. If you're inclined to believe ktom or Nate more than us, you might want to check out
this thread
(especially reply #48 on page 4) for their answers to some of the questions we've tackled here.
This was quite a tough one, so to reward the ones who've read it all, we've got a little quiz for you. The first person to answer all questions correctly will get an awesome prize!*
If Bloodrider (MotA) gets itself canceled, what happens?

From 1. follows that Bloodrider can be canceled. But can you do it with another Bloodrider?

Is it possible to save Jeyne Poole from being discarded via her Response? If yes, what happens?
*Disclaimer: No actual prizes will be handed out.
Antti Korventausta (
WWDrakey
) is a self-proclaimed Finnish AGoT philosopher and nitpicker, who also used to practice Quantum Mechanics, but found that it paled to AGoT in both interest and complexity. As a Stahleck regular and judge, he sometimes has oddly vivid dreams of understanding portions of the game. In AGoT, he'll play anything as long as it's suitably twisted... often ending up with something that has horns on it.
Helmut Hohberger (
Ratatoskr
)
started playing AGoT in September 2010 and has never looked back (although his wife has, longingly). As a German, he loves rules - and I mean
*loves*
'em. Try triggering a Response at the end of a phase on his watch, and he'll probably invade your country. He has actually read the FAQ, and was made a judge at Stahleck 2011 and at various other events. He sometimes answers rules questions on boardgamegeek and the FFG rules board. Some of his answers haven't even been contradicted, corrected or expanded upon by ktom - there is no higher accolade for a rules board morlock.
Every Maester needs a Raven on his shoulder. As a Finn, Iiro Jalonen (
Ire
) got pulled under the waves by Krakens years ago, and has never looked back. A self-inflicted Shagga and active member of the global AGoT community, he has always strived to know the rules of the game, in order to make them do ridiculous things.
Article: Quill & Tankard Regulars - Issue 4