Welcome to Card Game DB
Register now to gain access to all of our features. Once registered and logged in, you will be able to create topics, post replies to existing threads, give reputation to your fellow members, get your own private messenger, post status updates, manage your profile and so much more. If you already have an account,
login here
- otherwise
create an account
for free today!
0
Scheming on the Sands - Cheating Death
Small Council
Scheming on the Sands
emptyrepublic
Martell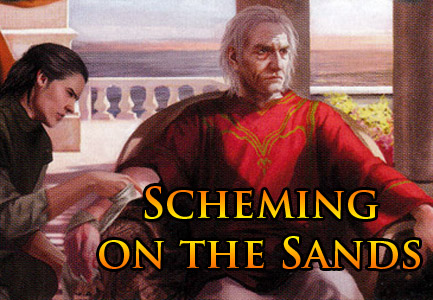 Welcome to another edition of
Scheming on the Sands
. This time we are going to see what we can do to cheat death as Martell because losing a character sucks, especially when it's a unique character.
Why Can't You Save Me!?
Of all the Great Houses of Westeros, Martell is one the weakest when it comes to saving characters. Lannister is probably the other house that suffers the most in this regard. Realistically there's no reliable unconditional way for Martell to save characters outside of duplicating unique characters; which the AGoT:LCG conventional wisdom regards as sub-optimal.
In the Martell wheelhouse there are two cards that can perform a kill/discard save beyond the usual duplicating of characters, but with significant limitations.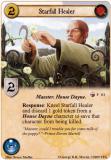 Starfall Healer
(RotO)
The major limiting factor of this character should be clear; it affects
House Dayne
characters only and only if they have a gold token on them. This is too clunky. The trait limitation narrows the ability substantially. Unfortunately it's further limited by the token cost, which means having to include another mechanism to get the gold token on the character;
Starfall
(ASitD) being the most likely with
House Dayne
. In highly specialized
House Dayne
builds this probably fine, but it's nowhere near functional enough for other Martell builds.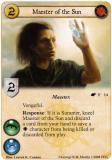 Maester of the Sun
(ASoS)
The positive is that you can save from kills and discards on any Martell character. Negative it has to be summer and you need to discard a card (thus reducing your card advantage). If you are running Martell Summer this would be a strong include. Plus it's another clever mechanism to get in a copy of
Darkstar
(PotS). This guy is more flexible than Starfall Healer, but like the healer this card only lends itself to specific builds and not to a broader base of Martell builds.
Out of house, the best option Martell has for a save is
Bodyguard
(Core). At 0 gold it's not expensive, but like the Starfall Healer it's trait limited. Even worse it's one time use though it may be worth a copy or two if you have an important noble you need to protect and you have space in your deck (if that ever happens).
Don't Cheat Death; Prevent It.
For Martell, the best way to not lose characters is to avoid having to worry about claiming/killing them to begin with. As it's said; an ounce of prevention is worth a pound of cure. The Martell toolkit is much better equipped if we consider this strategy for character preservation, so lets look at some options.
Plot
Loyalty Money Can Buy
(QoD)
Not a Martell exclusive but don't let that dissuade you from using it. Also, I can see this plot becoming more popular in many decks due to the sudden rise of cards causing claim inflation. Claim inflation aside the upshot is that the vast majority of plots are only 1 claim so chances are good that in many situations playing this plot will zero out your opponents claim. It's a good disincentive for your opponents to attack you in melee games; giving you a turn of breathing room to setup for the next round of play.
Event
Red Vengeance
(PotS)
I shouldn't have to do much explaining here. This is perhaps Martell's best death prevention mechanic. Naturally it only applies to military claim (which you will have to contend with pretty much every game). The upshot, of course, is that you redirect the kill. The best part is this card "scales" in the sense that it will always redirect all claim; so it's perfect to manage the those military challenges where the claim has been inflated. Because of that I think the relative value of this card (already high in my book) has gone up.
Burning on the Sand
(RotO)
I think the relative value of this card has gone up as well. This event provides Martell with the ability to escape from a failed challenge or bait an opponent to overcommitting in a challenge to no benefit. Since it cancels the resolution of a challenge it allows a Martell player to avoid having to deal with claim at all and does double duty by preventing "kill on win" events/abilities from being playable.
He Calls It Thinking
(PotS)
Speaking of "kill on win" effects; this card is Martell's best defense against those cards. Note that it targets only
Response:
abilities from events, characters, or locations. Generally those are the ones that are needed to be worried about as there are far fewer direct kill non-response cards in the card pool.
Character/Location
Sunspear Tourney Grounds
(ODG)
This one is a personal favorite of mine. The condition is a bit limiting but it's repeatable and has a larger scope of targets than He Calls It Thinking. Again, very good to stop those "kill on win" effects.
Broadly speaking cancels are Martell's best defense for protecting characters from effects that would kill/discard them. I've already listed some of the big ones but there are more if you dig down into the card base.
Duplicate If You Want.
I'm going to go against conventional wisdom here. When it comes to your unique characters if you feel like duplicating them is the best way to protect them then go ahead and do it. I would put two conditions on that statement though.
First, it's only worth duplicating characters that are key to your deck,
The Red Viper
(PotS) comes to mind. Toolkit uniques that aren't integral are generally not worth duplicating. Too much duplicating can choke your deck. A smart amount can provide a lot of resilience. There is no magic formula for how much and what to duplicate; only experience and practice will inform you.
Second, as with everything in this game, your meta matters. The save response from a duplicate can be canceled. I don't think I've ever had that happen to one of my characters since having started playing this game. In my experience, the psychology of AGoT generally has players saving cancel effects to prevent a negative against them or as an emergency use to prevent another player from winning. One use cancels are precious and the relative value of preventing someone else from saving a character is low compared to protecting yourself from a nasty event; the exception being if the opponent character being saved has some effect that is seriously impeding or is a sink of power tokens.
Next Time
On the next edition of
Scheming on the Sands
; Rise of the Kraken is out and the latest game mechanic, Naval Enhancement, has arrived. We'll take a look where Martell stands at the edge of the Summer Sea.
Article: Scheming on the Sands - Cheating Death