Welcome to Card Game DB
Register now to gain access to all of our features. Once registered and logged in, you will be able to create topics, post replies to existing threads, give reputation to your fellow members, get your own private messenger, post status updates, manage your profile and so much more. If you already have an account,
login here
- otherwise
create an account
for free today!
Notice!
We have scheduled maintenance windows for the following times:
Monday (5/20/2013) from 2200 EST to Tuesday (5/21/2013) at 0200 EST.
Tuesday (5/21/2013) from 2200 EST to Wednesday (5/22/2013) at 0200 EST.
Estimated Downtime 1-2 Hours total.
Follow cardgamedb on
Facebook
,
Twitter
, or
Google+
to recieve updates when we are down.
1
The Grand Melee - A Tale of Champions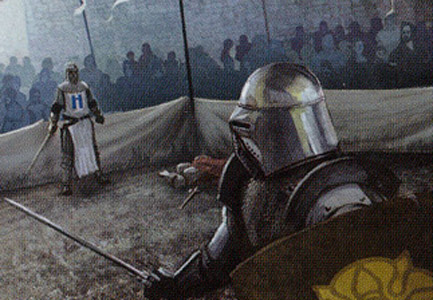 Welcome back to this new instalment of the Grand Melee! Last week I completed my House-specific cycle of melee decks. I hope you enjoyed it! But this means that this week must be something different. As we are all waiting for the next cycle of chapter packs to rock our metas and decks, I thought it would be interesting to do a retrospective on the Tale of Champions cycle from the point of view of Melee. I have also included in this retrospective the Lions of the Rock Deluxe expansion as it features some of the concepts that were introduced during the last cycle.
The first key concept that was introduced it Tales of Champions are the two new keywords,
Joust
and
Melee.
Regardless of their name, both can function very well in both Joust and Melee decks. At the core, what these keywords do is make the character having them more difficult to block.
Joust
means only one defender can be declared, while
Melee
means an extra 1-Str for each opposing character. Both have there use, but I find that
Joust
is better suited to make sure you win the challenge, especially if the character also has stealth, like the new version of
Darkstar
(TftH). These kind of characters can make sure you win the point for winning a challenge against your opposing Title.
Melee
on the other hand doesn't guarantee the win, it does however present your opponent with a difficult choice, letting you win easily, or investing many resources into defending a single challenge, leaving him very open to further attacks from you and other players. This decision can be made even tougher with characters that have abilities that depend on how many defenders were assigned, like
Arrogant Contender
(LotR).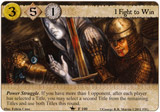 The next big thing in Tales of Champions was cards oriented specifically towards Melee. These cards are not forbidden or restricted in Joust in any way, they just are better in Melee. I am talking about cards like
Quentyn's Guard
(WLL) and
I Fight to Win
(TBC), cards that depend on the number of opponents you have or that play of Title selection. These cards created a lot of controversy when they came out, as some people do not play Melee at all and viewed them as a waste of chapter pack space. I think that as FFG's official position is to promote both Joust and Melee and that Melee games have slightly different dynamics and mechanics it makes sense to print cards that play of these mechanics. Some of these Melee-specific cards even see play in Joust, like
Myrcella Lannister
(ODG) or
Greatjon Umber
(WLL). Cards like this really make Melee stand apart as a different gaming experience, with a different set of skills involved. Also it forces you do think differently when you deckbuild for Melee and that cannot be a bad thing, both from a game and player point of view. The ones that I am sure will never see play in Melee are the Dual-House events though. Power is simply too valuable in Melee and discarding one as a cost is just too much for me.
A small sub-cycle of cards deserves mention here, the House card attachment, such
Enemy to the Crown
(ODG). These cards present great negotiation and tabletalk opportunities. I have yet to see them used efficiently though so I will reserve my judgment for now. I think that the impact they could have takes a bit long (2-3 turns) to really be worthwhile and for that reason they never quite make the cut in my decks as Melee games are just too quick for them.
The other design ideas of the Tales of Champions cycle included revolving more around unique characters and various sub-themes for each House, but these don't have a specific Melee impact, so I will not discuss them here. I will however round-off this cycle with what has become a Small Council tradition, a top 5. So here we are, Top 5 Melee cards from Tales of Champions and Lions of the Rock :
Number 5:
Ghost of High Heart
(WLL) or the GoT Bond.
What is a very jousty and controlly card doing here? Well it's simple, how many times in Melee have you heard : "He'll win the game if this goes through and he has
Superior Claim
(KotStorm) in hand!". Well now thanks to this guy you can make sure they can't win the game. Conversely you can get rid of cancels to push your game-winning events through. Being Neutral, this guy should end up in every Melee deck.
Number 4:
High Septon
(LotR) aka Military challenge immunity.
This guys really rocks! I probably should be aware by now that winning power by alternative means is golden in Melee. Well this guy does just that. Nobody will ever wnat to do a Military challenge against you while he's out and he can snatch the win when
Valar Morghulis
(Core) is flipped. The immunity and crest is just icing on the cake. His only problem is that he is a bit pricey, but I can live with that.
Number 3:
Varys
(TGM) or You appear to be lost sir, can I direct you?
It is very Nedly that Varys has a Melee ability. I'm not sure about the House Lannister only affiliation though. Nonetheless his ability is very strong. Coupled with the Crown Regent, you will have a very easy turn to live. Furthermore, the ability to ignore Title restrictions is HUGE, as it can allow you to redirect a power challenge to your direct opponent for the win, reducing his total indirectly. On top of that, this guy is hard to kill and reusable. Did I mention the power icon and stealth? Need I say more?
Number 2:
Infamous!
(LotR) or I'm too lazy to work...
This card is brilliant. Why invest the effort into winning challenge and playing cards like
Make an Example
(PotS) when three other players will do it for you? Just sit back, relax and grab the free power tokens. There is a slight problem though, because this is not a Save/Cancel, it happens after the power tokens actually arrive on the House card, so you can't prevent someone from reaching 15 with this. Nonetheless this card is a melee staple for me now.
Number 1:
Myrcella Lannister
(ODG) as The Dirty Little Girl
Yes, there are three Lannister cards in this Top 5. I even considered
Queen's Guard
(TBC) at some point as he single-handedly makes kneel come to the Melee scene. But this little princess is much more interesting from a gameplay point of view, not only can she allow you to use two Title in the same round, she can also allow you to attack someone that protected himself by having you as support or hiding behind the Crown Regent. The possibilities are endless, want to draw and have some extra money? Check! Want to get a boost in both your military and intrigue challenges? Check! Also, did you know that each Title is usable one per round per player? So if someone use the Crown Regent and you then take it with Myrcella you can use it as well! She is so good that I even use
Summoning Season
(Core) just for her!
And that's it, this concludes my review of the last cycle. I will see you soon and maybe hopefully we shall sail Beyond the Narrow Sea!
Article: The Grand Melee - A Tale of Champions