Welcome to Card Game DB
Register now to gain access to all of our features. Once registered and logged in, you will be able to create topics, post replies to existing threads, give reputation to your fellow members, get your own private messenger, post status updates, manage your profile and so much more. If you already have an account,
login here
- otherwise
create an account
for free today!

4
The John Voyage
2013 GoT Regional Report
mathlete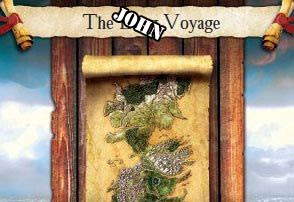 After winning the Joust Worlds in November with my House of Pain Targaryen deck, many people played varying versions of my deck in casual play and subsequent tournaments. It was great to be considered a good player, but even cooler to be considered a decent deck architect and have people compliment a deck that I built without netdecking. I've always felt more confident in my actual game play than I did in my deck design, but the fun part of winning Worlds with the Targ deck was winning with cards that people forgot about, seldom use or in general, just think are terrible. I always say "It's not the car, it's the driver" and I like to validate that statement as often as I can. After Worlds, people (like Tiny Grimes) challenged me to do something different. I told people that I would play one of the two houses that I had played very little since my return to the game, Baratheon or Lannister. Since the general belief that Baratheon is the bottom house, and The Long Voyage sucks as an Agenda, it seemed like the perfect combination to try for my first competition of Regional season.
The Regional was on Saturday, but Friday night was the Builders Tournament. In this event, each person brings a deck and each round you would play someone else's deck. I had actually planned on getting early to the convention, building my Baratheon Long Voyage deck (dubbed the "The John Voyage" by James Speck) and submitting it for this event and use the other players as my guinea pigs and ask them each round how my deck fared and make changes for the big event on Saturday. I started working on my deck and thirty minutes before the Builders Tourney, I stopped working on the deck and figured I would finish the deck Friday evening before going to bed.
So, I went into Saturday's big event with three whole test games under my belt. I didn't make any changes after those test games either. I just sleeved my 85 card beast and played it. I never expected to have the success that I did. I just wanted to have fun playing something different and was looking forward to playing a tournament while I learned about my deck as I progressed each round.
There were 26 players for the Regional. We would have 5 rounds of Swiss then a cut to a Top 8. There were a lot of players in the field who I consider to be some of the best in California, if not the game.
Round #1 vs. Ryan Jones playing Lannister (No Agenda)
I had
King Robert's Hammer (TBoBB)
and
Marya Seaworth (KotStorm)
to deal with Lannister's kneeling. I won the game in three rounds. 1-0.
Round #2 vs. Nich Prax playing Targaryen Knights of the Hollow Hill
I felt very bad about this game afterwards and I hate that this comment is going to sound like a jerk, but if you blinked, you would've missed the game. At the end of turn 1, Nich had 1 character on the table and no cards in hand. I had a great Round 1 with a lot of good characters then I played
Negotiations at the Great Sept (TPoL)
, filled my hand back up, played more good characters and won on my Challenge Phase in Round 2. 2-0
Round #3 vs. Chris Schoenthal playing Stark Siege of Winterfell
In the first round, I had three unique characters (including
Stannis Baratheon (VM)
) in play and was also able to marshal
The Red Queen's Faithful (CD)
. I also was able to put a
Banner for the Storm (CtB)
on another character and had Stannis and that character with Vigilant, so I was always going to have characters available for the Epic Phases. The first round was also pretty interesting considering Chris played the Epic Battle
War of Five Kings (RoW)
and we both won a challenge in the Epic Phase. We selected random Plots in Round 2. Chris played Burning Bridges (which stopped him from bringing Syrio out of Shadows (since he couldn't go back). My Plot was a moot The Red Wedding. The game was in my control by turn 2 and there was little doubt of the outcome by Round 3 when I played that silly little Plot,
The First Snow of Winter (ODG)
and kept Syrio hiding again. I won in Round 4. This would be my only game that made it to Round 4 all day. 3-0
Round #4 vs. Ting Grimes playing Tagaryen Knights of the Hollow Hill
Pretty much a repeat of my game vs. Nich in my second game of the tournament. If you blinked, you missed the game. Tiny had no Influence and no characters and it was over before it started. I won in Round #2. 4-0
Round #5 vs. James Speck playing Greyjoy Winter
Again, I had a flood of characters in Round 1 and controlled the early game. I won this game in Round #2 also. 5-0
So, going into the Top 8, I was the #1 seed at 5-0. I had never won any major event when I was the #1 seed going into the Single Elimination, including a few times at Gencon (and Gencon 2012). I had played five games and only needed 13 rounds for those five games. I was worried that my deck was due to crap out on me.
Round of 8 vs. Tiny Grimes playing Targaryen Knights of the Hollow Hill
Tiny had a much better opening turn and had three locations that produced two Influence or more and a Hatchling's Feast. I still had quite a bit of characters on the first turn and Tiny had some answers but not enough and unfortunately I won this game in the Round #2 again.
Semi-Finals vs. Christian Na playing Lanninster House of Dreams
The thing that I love about Christian is that he enjoys playing unconventional decks too. He selected four different unique locations throughout the day, including Queen Cersei's Chambers vs. Greyjoy Choke! Christian had a slow start and didn't have the all of the kneel to handle all of my re-standing. I won this game in Round 3.
Finals vs. Ram DeLeon playing Stark House of Dreams
I love playing Ram and I hate playing Ram. Ram is one of my best friends and one of the best players in this game. He has been in the top 8 at Gencon many times, including losing in the finals last year. He always challenges me and beats me a lot! No matter what, I would be happy with whomever won this game. Ram chose to marshal first and his very last character was an Ally. Yay! I had flopped
Varys (SaS)
into Shadows and now he was coming out Turn 1. Combined with
Melisandre (RotO)
, they helped me win pretty quickly and I won the Regional on Round 3.
I was very surprised how well this deck played. It was very fast even though I didn't build it as a rush deck. I loved the fact that I didn't have to rely on any one character to win. Whichever character I had in my hand, was a good one to play! I won my eight games on the day in only 21 rounds total! That's crazy! That was two rounds at Worlds last year with my Targ deck! I actually had one Plot in the deck that I love, but never played once all day,
Melisandre's Scheme (RotK)
. I also played without Valar or Wildfire. The only semi-rest card was The First Snow of Winter.
Thank you to Ross Thompson for establishing and running Kingdom Con. Big time kudos to John Kraus for running the Builder event (in which Ram beat me in the finals). He also ran his Maester's Challenge over the two days of the Game for Thrones tournament and this event was very popular and a big success. Also thanks go to Jonathan Benton and the "once awesome but decreasingly competitive" Matt Ley for talking through some ideas, to the "ubiquitous California netdeck" community (especially here in SoCal) that I love being a part of and get to play against. You guys truly make me a better player! Also, thank you to Damon Stone, Nate French and Kevin Tomczyk for disguising your blatant act of collusion that allowed me to win with such an OP deck that ran 85 cards and did not use the Shadows versions of Robert or The Knight of Flowers!
Like I said in a few podcasts and reports after Worlds, there is NO great, unbeatable deck. Any deck can win. Any House can win. Even with terrible cards like "Cannot be Bought, Cannot Be Bribed" (which I only played once all day and my opponent played a Paper Shield). Take a deck and make it yours! That is what makes this game fun.
Article: The John Voyage