Welcome to Card Game DB
Register now to gain access to all of our features. Once registered and logged in, you will be able to create topics, post replies to existing threads, give reputation to your fellow members, get your own private messenger, post status updates, manage your profile and so much more. If you already have an account,
login here
- otherwise
create an account
for free today!

1
The Pirates of Lys Card Reviews
Small Council
Review
The Pirates of Lys
A Song of the Sea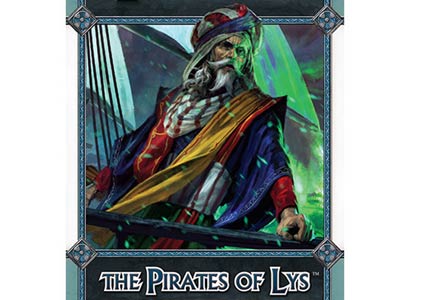 64% 515 out of 800
Our staff has put together a first blush analysis of the newly released chapter pack The Pirates of Lys. We've used a one through five scale; five being the best. The cards are listed in numeric order. Our reviewers are listed in alphabetical order. Let us know in the comments how you feel about the cards in this pack!
Lannister comes out tops this month with the top two cards, with Andrik and the new City plot not far behind. Stark isn't looking too good with both of the Stark cards getting low scores, along with the Martell and Greyjoy events in this pack.
Top 3
Cersei's Scheme 36 out of 40
Ser Lancel Lannister 35 out of 40
Negotiations at the Great Sept, Andrik the Unsmiling -tie- 34 out of 40
Bottom 3
Titan's Daughter 10 out of 40
Unbowed, Unbent, Unbroken 12 out of 40
We Do Not Sow 14 out of 40
[CRB='forums/uploads/got/med_ser-lancel-lannister-tpol.jpg']
Ser Lancel Lannister 35 out of 40
clu - 5 out of 5
For me to hand out a fiver the card needs to be an auto-include in house and playable out-of-house. He's so good that he's taking up at least two one gold slots as well with Doubting Septas. Getting a two cost for three strength and two icons is great. He strengthens Power Behind the Throne, holy builds (particularly Greyjoy due to sharing the sea), and he brings knights and lords to the yard. Oh yeah, Practical Believer is completely reasonable for Power of Faith plots with Power Behind the Throne as well.
emptyrepublic - 4 out of 5
As I've mentioned elsewhere Lannister is probably my weakest house so I'm not entirely sure how good he really is. Just going on the numbers though he's 2 gold for 3 strength as soon as he hits the board so there's value there. Good traits and two icons, in my view, make this a decent card on balance. Depending how much you love holy rushing determines how much you'll like this card.
Ire & WWDrakey - 4 out of 5
Really solid two cost character. It helps the small Holy theme Lannister have and has two useful traits. Since the ability is for every character that has the holy crest, expect this to be little bit better in melee where holy decks are used more often, than currently in Joust. His only downside is the other Lancel, which some decks might want to use to get their alpha strike and stop their opponent from defending it successfully.
jcwamma - 5 out of 5
Am I overrating this card? Possibly. But Lannister has a serious lack of cost-efficient cards - other than a couple of cards with unfortunate conditions like House Clegane Outlaw they have no cards with a cost lower than the cards strength that isn't a monocon. This is exactly the card they needed. On top of that, we've got two good traits, he has the best two icons for a holy crest, and that passive is just great. You'll consider him for out of house holy decks, and it makes Lannister Holy Rush (a deck I've experimented with myself in the past) a much, much more viable deck-type. Also, props to him for being only the third Knight in the game without a military icon (the other two? let's leave that as a trivia question for the comments

).
OKTarg - 4 out of 5
This is great. Notice that it gets a buff even if you don't control the Holy character in play. This can be crazy in melee or even against an Asshai opponent. On his own, he's solid: 2 for 3 bicon with two good traits. Autoinclude? Maybe not, but opens up a lot of options as the others have pointed out.
mathlete - 5 out of 5
A cheap, unique character with great traits, 3 STR and a Holy crest. A Lannister Holy deck? The Doubting Septa expresses her gratitude.
rave - 4 out of 5
I think this is as good as vanilla gets to be honest. He seems to be a better version of Kevan, since he always has the bicon, and Lannister gets more out of Holy than the Noble crest at this point. He also sits at 3 strength with no bad traits, which at this cost is pretty huge for Lannister. I also think with the addition of Lancel, Lannister has gotten to a point where they can start to splash in copies of Confession without needing the security blanket of influence.
ShadowcatX - 4 out of 5
Good strength to cost ratio which is bolstered by his ability and a holy crest. Also the knight trait isn't irrelevant in Lannister. Super solid character that can easily find its way into virtually every Lannister deck.
[/CRB]
[CRB='forums/uploads/got/med_the-bear-and-the-maiden-fair-tpol.jpg']
The Bear and the Maiden Fair 21 out of 40
clu - 2 out of 5
Incredibly powerful effect. Looking at it rationally who wouldn't love to add +2 to claim to any challenge. From a strictly card advantage view you give up one card to get rid of two of your opponents, also great. And yet, I can't justify this going in many decks. This card is an absolute beating on turn one, but, it feels like a "win more" effect. I think there will be a new(ish) archetype of intrigue aggro very similar to Stark murder. The deck uses this, Penny, and Confession.
emptyrepublic - 3 out of 5
This is not a bad event, but it is a bit pointless. I suppose maybe one copy might slip into some Lannister decks, but if you are winning intrigues (espcially in a PBtT deck) you don't really need this. Terminal Schemes, Wars are Won With Quills, and several other events would take priority.
Ire & WWDrakey - 3 out of 5
Very powerful effect. Unfortunately it is also highly situational. Can you win with 4? is the first question and that can usually be done, but the problems come in on how many cards your opponent has left in their hand if you are playing a Lannister with a heavy intrigue focus, possibly even PBtT. There are also specific deck types, that this can really hurt, like Targaryen KotHH builds.
jcwamma - 2 out of 5
So you use up a slot in your deck to conditionally get a card advantage of one, with the opponent getting to choose which cards are discarded. This strikes me as distinctly unimpressive - certainly not the worst event for card advantage in the pack, but if Lannister wants to splash a card advantage event, or an event for hammering home advantages after an intrigue challenge, they have better options (Insidious Ways, Terminal Schemes, Wars Are Won With Quills, etc.).
mathlete - 2 out of 5
Kinda meh. I don't want to keep this card in my hard when I could hold Terminal Schemes instead.
OKTarg - 3 out of 5
I like it, but when do you NEED it? In Power Behind the Throne builds? Well, aren't you getting across two 2-claim challenges anyway? Can other builds trigger it consistently? I'll be trying it, due to the powerful effect, but I'm a bit skeptical that it will come through the cut in my builds.
rave - 4 out of 5
This is a PBTT card hands down. In all other builds, with the card's limitation I wouldn't call it a staple by any means, but in PBTT, this is huge. It adds some bite to your 1 claim plots, it works on defense, and most of all I think it helps turn Negotiations at the Great Sept from a possible liability to a deadly weapon for the build.
ShadowcatX - 2 out of 5
The essence of Meh. PBtT shouldn't be leaving them with enough cards to really be concerned about, and really, this isn't a card you want to top deck past the first turn.
[/CRB]
[CRB='forums/uploads/got/med_cerseis-scheme-tpol.jpg']
Cersei's Scheme 36 out of 40
clu - 3 out of 5
Kneeling characters mid-phase is a lot more relevant these days with ambush and standing effects becoming more abundant. I love this initiative when paired with Power Behind the Iron Throne but it feels like a win more situation. Knights of the Hollow Hill is still fairly popular so you are not going to automatically Take Them by Surprise.
emptyrepublic - 4 out of 5
In my view this is great for PBtT decks as it provides an easy way to kneel out several characters to more easily push through military and power challenges which are harder for that deck type. Also with the high initative you'll likely be going first and really hamper your opponent's ability to counter attack for that turn.
Ire & WWDrakey - 5 out of 5
Good initiative, which can secure you to be the first player, and thusly also get to use the positive of this plot. The ability is great support for the age old Lannister kneel theme and in line with some of the newer active kneel stuff like the Kevan-Agenda and Tourney Grounds. This creates a win-win situation for the player, either your opponent is overextending with his defense and thus kneeling more of his characters or you get to choose what to kneel from them. All around solid plot to help the poor Lions.
jcwamma - 5 out of 5
This is a tremendous card for control decks to do real damage during a key round for the opponent, and it's also a tremendous card to force through challenges on weaker icon types (probably military in practice). The numbers are very good, and exactly the same as they are on a card I think this is naturally designed to counter in the form of The Power of Faith. This could be a key card in Melee in particular for exactly that reason, being able to kneel out key power-grab characters before the opponent's turn.
mathlete - 5 out of 5
I love this card in its current state. The high Initiative means I will get to go first most of the time. And, I have a chance to initiate challenges that I can't win just to force defense, then come through with the challenge that I want to win. There is no "limit once per phase" or "Intrigue challenge only". And, this can't be canceled!
OKTarg - 5 out of 5
LOVE this card. Lannister getting more non-marshalling phase kneel and even some indirect challenge control is great. I love the high initiative and the fact that it's helping Lannister's Intrigue Rush/Aggro theme. I'm actually quite scared about what Lannister can do to Hollow HIll style builds now, and those archetypes will have to re-examine their initiative and slow starts.
rave - 5 out of 5
On paper, this looks like a decent card, but I think in actual play it will really shine. 6 initiative will almost guarantee you going first, and on any challenge where your opponent can't actually commit additional characters (like with stealth), you get a free kneel. Also notice that this isn'[t limit once per round, so I don't think it will be uncommon for you to kneel out the sole defender for another challenge icon to kneel another character keeping them from attacking. This is also a solid go-to for Lannister players that want to wean off the Cache and try a more aggressive approach with Bay of Ice.
ShadowcatX - 4 out of 5
Solid plot, multiple character kneels in a single turn and a good initiative. This would be a solid 5 out of 5 with one more gold.
[/CRB]
[CRB='forums/uploads/got/med_andrik-the-unsmiling-tpol.jpg']
Andrik the Unsmiling 34 out of 40
clu – 4 out of 5
It feels like I've written this statement for the past three chapter packs. The three gold slot is awfully stacked these days and now we get another character to welcome into the fold. Andrik isn't anything special on his own rocking three cost, three strength, and two icons. What I like about his ability is that he helps himself out. He can jump into the fray to ensure of triggering his ability. The Ironborn and Lord trait are completely relevant. I hear Greyjoy is good at location removal.
emptyrepublic - 4 out of 5
More love for the Greyjoys. He's not as good as The Reader since he doesn't have quite as much utility, and you can't choose which specific location that you want. Nonetheless, being able to pick up that control location that you just burned with Newly Made Lord will sure be nice. Cost/stat/icon ratio is good too.
Ire & WWDrakey - 4 out of 5
Solid all around 3 cost character who gets a lot better in Melee, where you have a better chance of his ability giving you something that you really want. The ability is good, but what stops this card from being a 5 are the limitations on the ability, has to win by 4, has to participate, has to be the topmost location in the discard pile. On another hand, if you can somehow make him stand you could use his ability several times if your opponent has locations in his discard pile. As it is, this card's ability is really hard to rate. It looks really amazing, but are the limitations to its ability how severe? Well, thankfully the character is always great, since it is an Ironborn and Lord with naval.
jcwamma - 4 out of 5
Is 3/3/Bicon/Naval the new 3/3/Bicon/Keyword for this cycle? As I've said in previous chapter pack reviews that's a very solid base set of numbers, ignoring the text. The text in this case is very solid, conditionally amazing. There are certain builds that delight in shredding the opponents' locations. In particular, all Greyjoy builds. Newly Made Lord, Wintertime Marauders, Victarion's Reavers - most Greyjoy builds will run at least the Lords and probably at least one of the other two, and Andrik combos beautifully with them. Having to win the challenge by 4 or more strength might seem annoying until you stop and think that in practice you're wanting unopposed challenges (a fact solidified by another card for Greyjoy in this pack, spoilers!), and to add Andrik in as a naval attacker you need at least 1 strength in the challenge anyway, generally. Traits are very nice, although so many new Greyjoy cards are getting the Ironborn trait that I'm starting to get worried that all Lannister decks will be running 3x A House Divided just so that whenever a Greyjoy opponent plays any character they can bounce any character! Also as an aside, can I just say how great it is that the last two chapter packs have seen two new uniques for the house that only seems to get new versions of Victarion normally.
mathlete - 5 out of 5
Excellent character with cost vs. STR. He also has a Military Enhancement, is Ironborn (for Finger Dance) and will combo nicely with A City Besieged, Fleeing to the Wall and Newly-Made Lord.
OKTarg - 5 out of 5
GREAT card. Yeah, there's limitations placed on his ability, but Greyjoy shouldn't have too much trouble putting something good on the discard pile. His Naval icon helps you control winning by 4 or more, and pseudo-card advantage helps the oft draw-poor pirates from Pyke. Is it just me, or is Greyjoy climbing towards the #1 slot in the house rankings?
rave - 4 out of 5
Great utility here. It isn't guaranteed you're going to get anything, but that's a risk worth taking at 3 gold, decent strength, and no bad traits. It also goes without saying that this is an awesome character for Black Sails, since you probably need all the resources you can get for the early game in that build. He's also an Ironborn, which is great for Finger Dance.
ShadowcatX - 4 out of 5
Oh look, a super solid character for Greyjoy. Haven't seen that in a while. What a change. That said, he's competing with a lot of super solid characters for the 3 drop slot.
[/CRB]
[CRB='forums/uploads/got/med_we-do-not-sow-tpol.jpg']
We Do Not Sow 14 out of 40
clu - 1 out of 5
First, I will talk reasonably about this card. Right now two influence is really awkward for Greyjoy, the other options are Wendamyr and Salt Wife in house; Flood and Execution as neutral effects. Now, if you are building a flood deck already there is some nice synergy here being able to give a Captured Cogs legs. I'm pretty sure I would rather pay two gold for a character that is going to stay around. Now I will talk about this card unreasonably, getting closer FFG!!! A reason to run a characterless deck is board sweeper effects largely do not affect locations. A deck jammed with Westeros Bleeds, Valar, Archmaester Marwyn may be enough to keep the riff raff away while you power up some warships to take some power and kill off any leftover characters. If your locations get killed there is plenty of resurrection power with Iron Lore, Weathered Crew, and First Mate if you want to splash some dudes.
emptyrepublic - 3 out of 5
It's not horrible and the cost isn't super high, but I don't think it's all that great. Perhaps it's useful in a pinch situation when you have nothing else to defend with, but generally the Greyjoy warship locations are much more important for their utility than spontaneous character generation.
Ire & WWDrakey - 2 out of 5
So... by kneeling two influence or a NE guy we get a few vanilla 0-1 STR characters. The most usual Warships a Greyjoy will play are from cost 0 to 1 and if he does have something of higher cost it is highly likely that he doesn't want to use it as a 2 STR character. Its very likely that on average this will create 2 to 3 characters and we don't see a reason for a deck to be built around this, at least with the current support (the 2 is betting on there being more reasons for this later). This is also dead draw against certain houses, watch out for the Victory Dance from your Targaryen opponent, when he realizes he can start using Burn on your ships.
jcwamma - 1 out of 5
Heh. I really like the idea of this card from a Nedliness standpoint, and it's easy to forget that still matters when reviewing these cards. That said, kneeling influence is tricky for Greyjoy (in practice you'll only do it with either 2 Sunset Seas or grabbing opponents' influence locations with Andrik), and kneeling a guy with a naval enhancement, well, most of the time you're kinda wanting to use them for their enhancement. That said, in a non-Black Sails deck perhaps you could make a case for not always needing your Ironborn Marauder in the challenge. So great, what's the effect? Oh, I get a bunch of incredibly weak chuds, how utterly joyous. There are only two Warships in Greyjoy's arsenal that cost more than 1 gold AND don't kneel for an effect that's better than getting a 2 strength character. Both of those are uniques you probably wouldn't want a second copy of in the deck. So at best in practice here, you're getting what, a couple of Naval Escorts and Captured Cogs becoming 1 strengths? I don't see how this is worth giving up a deck-slot for and kneeling a character to pay a cost for. If it made them intrigue characters then maybe (although how on earth does that make the remotest lick of sense), but for the icons the house already specialises in, this is worse than meh. Also, if you play this card at all against Targaryen, especially on a Threat from the North turn, you are unambiguously an idiot and/or a sadist!
mathlete - 2 out of 5
I soooo want to love this card and have this mechanic in the game. I remember the old days when Warships could be characters, but the cost of the card doesn't do it for me.
OKTarg - 2 out of 5
This might be the most fun card in the pack, which means I'll waste an hour or two trying to make it good, but here's betting I come up short. If Greyjoy had a way to recycle this event, they might be on to something, but the cost is too high for the benefit.
rave - 2 out of 5
This seems to be a redundant card. Greyjoy isn't really lacking in Military or Power icons at all. It also runs off naval characters or influence, both of which are probably better spent elsewhere. Also, I don't predict many people adding in 2 and 3 cost warships just to use this, and those that they do add, they'll probably want to use for their effects instead.
ShadowcatX - 1 out of 5
Initially I thought this might be a decent card post valar, then I thought "Oh yeah, Greyjoy" and it dropped off. A lot.
[/CRB]
[CRB='forums/uploads/got/med_victarions-scheme-tpol.jpg']
Victarion's Scheme 28 out of 40
clu - 2 out of 5
Greyjoy has grabbed a few stealth characters lately and can make a better push towards unopposed. Wex and Scouting Vessel are pretty darn solid on their own already. I like the high initiative on this plot as well. To make a comparison we don't see Winter is Coming being played very much these days. Getting unopposed isn't all that easy, but, maybe that's the point. Play this early and see your opponent give up challenges to make sure stuff doesn't get through unopposed. Hmmm, I'm a lot more curious now!
emptyrepublic - 4 out of 5
At first this seems like it will be awful for people playing against it, but in reality it's not that bad in my view. A little bit of control goes a long way in preventing unopposed, but it's a good reward for the Greyjoy player if they can manage it. No where near as terrifying as Naval Superiority.
Ire & WWDrakey - 4 out of 5
Our rating for this card is 3 for Joust and 5 for Melee. It is a good plot, but in Joust it can be outshined by others easily and not make the cut... unless the deck is build around unopposed mechanisms or you want to use Bay of Ice for draw. Melee is where this really shines, since the high initiative there can help you a lot. This can also be utilized well in Melee by using this one turn before Rise of the Kraken, so that you get to prepare well for your attack to the victory. It is also easier to get unopposed challenges through in the Melee environment.
jcwamma - 4 out of 5
Ire and Drakey already summed up my thoughts pretty perfectly. In Melee this card is a godsend, providing a much less-conditional 2 claim plot with super high initiative that, unlike Rise of the Kraken, gives you enough gold to take realistic advantage. In Joust...meh. For aggro builds it's a very solid addition to the plot deck, and while the thing that makes aggro decks dangerous is redundancy (see the Stark Winter deck that won Gencon and a refined version of which almost won World's last year, for instance), that doesn't make the card tremendous in isolation. Unless you're dedicating your deck to unopposed challenges, this card is far from being an unconditional 2 claim. In practice I think the key part of this card is that number 7 on it, though.
mathlete - 4 out of 5
I like this card much better than Rise the Kraken because of the extra 2 gold.
OKTarg - 3 out of 5
I've cooled off on this card somewhat since my first viewing of it. It's a conditional two claim, but a 3-7-2 is amazing. You'd have to build your deck around it a bit to ensure the unopposed, but it's great for ensuring Bay of Ice and in melee much easier to trigger the condition for claim.
rave - 4 out of 5
Nothing wrong with possible 2 claim and 7 initiative. Decent gold too. I think 7 initiative is pretty much the area where you can almost guarantee going first if you need it. Another good plot to trigger Bay of Ice.
ShadowcatX - 3 out of 5
A good solid plot, but not anything super exciting or edgy, just a sometimes 2 claim plot with good initiative.
[/CRB]
[CRB='forums/uploads/got/med_salladhor-saan-tpol.jpg']
Salladhor Saan 32 out of 40
clu - 3 out of 5
Welcome back Mance! If the original location theme buster wasn't doomed I would've played him in every deck. So, how does this guy only get a three?! Opportunity cost. The four cost Saan should be an auto-include in every Bara deck. Now, this guy comes along with better stats and a newfangled enhancement. I will slot space for this guy to explore his neatness for a while. Ultimately, I will find myself going back to the ole two strength non-smuggler. And you though River Runner was playable before…
emptyrepublic - 4 out of 5
I'm expecting quite a few Baratheon Black Sails decks with this guy as one of the corner stones. There's perhaps not enough smugglers yet to make him really work, but that should be resolved by the end of the cycle. Otherwise, good cost/str/icon ratio.
Ire & WWDrakey - 4 out of 5
You should never underrate repeatable location control. Never. Ever. That said, this is no Newly Made Lord (can be cancelled and less cost-efficient), but it's definitely a great boon for Baratheon decks, allowing you to run an efficient intrigue-character, that you can 'kick' for some location control. The synergy with the whole Smuggler-trait thing will depend a lot on how the whole theme pans out, and we can still see that fall either way.
jcwamma - 4 out of 5
3/3/Bicon/Naval. Check. No crest, so boo. The response is tremendous, repeatable hard control is a simply amazing effect. That said, it is well-costed. Obviously ignoring the reducers you will likely have, you need 5 gold to be able to trigger the effect from Salladhor coming into play. You're then going to be doing well to use it once per turn from thereon out. It's not an easy cost to be able to routinely pay, but if you can do so, say hello to a tremendous card. Military/Intrigue is a nice combination for Baratheon too.
mathlete - 5 out of 5
Probably really only a "4" but I love this version of his card and love all of the fun combos that he will work well with.
OKTarg - 4 out of 5
I'm guilty of paying 5 for Newly Made Lord in Targaryen often, but would I pay 5 for the same ability in-house in Bara? This can be cancelled, but it's more repeatable. It shores up a house weakness, but how often are you coming ahead on resources? You'll likely pay 2 gold to cost your opponent 2 gold and a card. That said, if you're ditching a Lost Oasis you're probably thrilled, and repeatable location control doesn't grow on trees. I think it'll be quite solid, but hard to use well.
rave - 5 out of 5
I have high hopes for this guy. He gets rid of locations and does things at the same time, that's rare in this game. 5 gold isn't all that hard to muster in a Bara deck with a playset of Seat of Power. This guy is money for Black Sails decks, and at least great toolbox in others. He takes a little bit of effort to burn too, which is nice.
ShadowcatX - 3 out of 5
A good solid control guy in the three slot and I remain hopeful that the smuggler trait will grow into a bigger theme within the house of the stag. That said, 2 gold isn't cheap. If this guy had renown, stealth or just something he'd easily be 4, or 5 stars, but I just can't justiify that with the 3 cost. I do really like the military and intrigue pairing though. (I'm also leary of the traitor trait, something's going to happen with that trait, wait and see. . .)
[/CRB]
[CRB='forums/uploads/got/med_oakenshield-port-tpol.jpg']
Oakenshield Port 30 out of 40
clu - 2 out of 5
Huh, pretty great for a power rush deck. I'm not quite sure if it's a win more effect or it really shortens the game by a turn? If you are winning the challenges I can only assume you are winning the game, ergo, no need to claim the extra power. If it wasn't unique I'd be a lot more excited.
emptyrepublic - 3 out of 5
An alternate method for Baratheon to push their rushes given the new restricted list. Cost is reasonable but this has a massive target on it for location denial. It's good that you can activate on the offense or defense but don't expect to hold on to it for long. Might not be such a big deal if Baratheon had better location recursion.
Ire & WWDrakey - 5 out of 5
Now that's one hell of a power-gain -engine. Actually, that's pretty close to the most power you can get using a single card, in the whole game. What's more, all of the power goes on your House, so it isn't as vulnerable as it would be on your characters. There already exist some really fast Rush builds, that this could easily slot into, in order to increase the chances of first round victories via multiple power-challenges. Definitely a card to watch out for, and a total beast in Melee.
jcwamma - 5 out of 5
Anything that helps make power-rush more stable for Baratheon is a godsend. Location-hate exists, yes, but not out of every house just yet, and it seems unfair to criticise a card because it's a target for location-hate - it's a target because it's a very good location that your opponent will want to hate on! And if they don't have said hate available the turn you play this, you've probably already got a very good return. If you had to kneel it, or it was limited once per phase, this'd be less of a deal. But even if your opponent makes no challenges you can get half the power from it the turn you play it! Also, for the shaggas out there, I'm loving the thought of discarding this location and recurring it. Now if only Baratheon had just gained a new engine for discarding locations...
mathlete - 3 out of 5
I'm mixed about this card. I have a feeling that I will rate this lower after actually playing it. There are lots of location-hate effects out there. It could be awesome and really speed up a rush deck, but we'll see how it actually plays out.
OKTarg - 4 out of 5
Is anyone else starting to really get scared about the amount of Power Bara can grab now? I'm not usually a fan of spending 2 gold for a location that won't actually help me win challenges (see House of Black and White for an example) but since this is repeatable throughout the phase and with the extra Vigilant running around these days, Bara could have something VERY solid here.
rave - 4 out of 5
Wow, this is actually pretty solid. Not having a limit, or a need to kneel the location as a cost will catch a lot of people by surprise. My only issue is that 2 gold for a location is a lot to invest into for a rush deck, especially one that you can't play in setup. Otherwise, this is a great accelerator for Black Sails obviously, and a good one for all others.
ShadowcatX - 5 out of 5
This card amazes me and I'm not normally a fan of buying power. Super solid card that has the ability to make Bara rush rushy even without renown.
[/CRB]
[CRB='forums/uploads/got/med_ours-is-the-fury-tpol.jpg']
Ours is the Fury 32 out of 40
clu - 3 out of 5
What's better than winning one challenge with your uniques? Seeing as I rarely make unique centric decks and avoid cost four or higher folks this card will make me push my boundaries a little bit. I'd love to see Ours is the Fury and Vigilant Stag while running a Knights of the Hollow Hill deck, oh yeah, I started building that when I saw Lady Olenna's Guard. This card is highly playable, it won't go in every deck like Holy Hand Grenade, but, it will make players revisit power rush.
emptyrepublic - 5 out of 5
It's not as good as vigilant and only effects uniques, but does that matter when all the key Baratheon renown characters are unique already?
Ire & WWDrakey - 3 out of 5
A decent card in Joust, although better in Melee. The problems with this (compared to the normal stand events of Distinct Mastery and Obey the King) lie in it being a lot more conditional, and much harder to rely on in some matchups (especially Martell due to He Calls it Thinking). This tends to drive Baratheon more into making all or nothing gambles, which is really House-thematic, but not something competitive players will not want to rely on.
jcwamma - 4 out of 5
I really like the idea behind it. It's a win-more card which I'm usually not a fan of, but in a rush deck that's fine. That said, this is a card that encourages you to overcommit, and I can very easily see this backfiring when your opponent plays Paper Shield. However, I strongly expect this to be restricted in Melee before long, because there it is an amazing beast.
mathlete - 3 out of 5
I think this rush card, because of the opportunity to stand multiple characters, could be better in actual play than Oakenshield Port.
OKTarg - 5 out of 5
I love this card bearing the words of House Baratheon. Gamble it all on a big challenge and win; lose (get it cancelled) and go home. There's plenty of uniques I'd want to try to stand again in a phase, and maybe I'd even dust off Extra Challenge Robert to see what I can do with this. Howbout this to prepare for Epic phases? Lots of fun to be had here. Extra fun if Brienne is in the challenge, preempting the cancels from flying in.
rave - 5 out of 5
I love it. Triggering one of these as the defender will be a nice surprise for your opponent. This is a game ender for sure, and unlike most game enders we've seen so far, this one isn't all that hard to trigger. Think about this in a Noble rush deck. Dirty.
ShadowcatX - 4 out of 5
Standing one character for the cost of an event is pretty good in Baratheon. Standing that single character can be a 3 power swing. Standing every character? Ya, seems good. Still, if it does get cancelled you're kinda screwed.
[/CRB]
[CRB='forums/uploads/got/med_moreo-tumitis-tpol.jpg']
Moreo Tumitis 32 out of 40
clu - 4 out of 5
Stop giving Stark good intrigue icons!!! I understand you feel bad about restricting their best character but come on! I also get it, Stark power rush is going to be a real thing. Ok, back to actual non-ranting. Three cost, three strength, two icons, and extra text is going to automatically put this at a three which means playable in my book. The ally trait doesn't scare me as much anymore and the double naval enhancement is starting to cause headaches for the opponent. The naval stuff won't have as big an impact during challenges as folks think because you will only have so many characters on the board that you will need to use naval characters to initiate said challenges. If Stark only had a way to save unique characters to keep them in play…oh wait.
emptyrepublic - 4 out of 5
The threshold to activate the passive is pretty low especially given that White Harbor Dromon is viable for Stark naval builds. That aside 3 gold for a bi-icon with naval on each icon is good. Might have been a 5 if not for the ally trait.
Ire & WWDrakey - 4 out of 5
Seems that the supposed intrigue hole of House Stark is getting filled more and more in each chapter we get, now with conditional renown and naval on two icons (something which we have not seen yet on any other characters). This will help Stark greatly in intrigue defense, as he can ignore stealth thanks to the naval. Couple him with Frozen Outpost and your opponent will have a hard time getting that challenge through.
jcwamma - 4 out of 5
Yes, he's an ally. And yes, his renown is only conditional. But in practice, he's going in the same deck as White Harbor Dromon (which probably means 'any Stark deck'), and in Black Sails if you get one you can easily search out the other. Stark Black Sails Aggro Rush is becoming a really, really potent threat and it's because of cards like this. Also, more intrigue for Stark? Really, was that necessary?
mathlete - 4 out of 5
Excellent character, even with the Ally trait. Double-Naval, potential for Renown? Cost-efficient Intrigue in Stark? Very good charatcer.
OKTarg - 4 out of 5
Are Stark players tiring of their never-ending string of efficient yet not super exciting characters? They're surely not getting tired of seeing more and more Green Dots on their dudes. Solid all around here, IMO.
rave - 4 out of 5
I was getting worried about Stark and their naval icons for a second there. This card will be great for Black Sails decks, and not much else I think. With the threat of the agenda and the new naval/renown giving warship, this guy will add a lot to that specific build.
ShadowcatX - 4 out of 5
Solid character and more conditional renown to help accelerate non-siege decks. Stark Black Sails has a frightening amount of speed possible to it.
[/CRB]
[CRB='forums/uploads/got/med_swamps-of-the-neck-tpol.jpg']
Swamps of the Neck 18 out of 40
clu - 1 out of 5
Didn't work for Northern Cave, won't work here. Granted, there isn't a winter restriction and Osha is quite good. Stark has a location problem. They have some of the best in the game along with several that could be game breakers. I always play with one Frozen Moat and there are arguments to be made for Harrenhal and Bear Island to be considered in every Stark deck. White Harbor Dromon is making a push and a lot of folks like Frozen Outpost. The problem is not the locations; it's that most Stark decks want to run 40+ characters to keep the pressure on your opponent. There is little room to make for ancillary effects. If the location isn't better than Frozen Moat or Harrenhal, it won't make my cut for the initial build.
emptyrepublic - 4 out of 5
This allows you to make any character behave like Osha and since it's non-unique you can have several of these out. Makes the decision of having to heavily commit much easier and allows you to pull important characters out of "surprise deadly" situtations.
Ire & WWDrakey - 3 out of 5
This location is best used with characters that have stealth or deadly, as you can then get double use (or threat) from them. However, Stark has fairly small amount of naturally stealthy (or deadly) characters. So for this card, the best use might be in a deck that is utilizing the wildling set of agenda(s). Now this also has its use in BS decks where it allows for smaller attacks and enables you to trigger the agenda search effect with less character dedication. It does have some tough competition for the 1 cost location in Stark with Borderland Keep and Frozen Moat.
jcwamma - 2 out of 5
The biggest problem this card has is other Stark cards. The effect is very nice, making an army of Oshas, and it works very well with Black Sails to keep your non-Naval characters reusable. But at the end of the day, Stark has so many locations that are more directly helpful. I know it costs twice as much and only works on defense, but compare Frozen Outpost which stands the character but also keeps them in the challenge with a strength boost to boot.
mathlete - 1 out of 5
This card will never make any good Stark deck. There are so many better Stark locations. I cannot see opening a slot for this card over other ones.
OKTarg - 2 out of 5
I'm a super huge fan of Osha, and this basically gives any character her ability. Then I realized I actually like Osha in Wildling decks where her Stealth helps me punch through two challenges. I think many will underrate the card, but honestly why would you use it when you have better options available to you and so few slots for locations in Stark decks?
rave - 2 out of 5
It will have uses, but I don't think this card will turn many heads, especially since its effect is right out there on the field for your opponent to see. Annoying, but not really worth it I feel.
ShadowcatX - 3 out of 5
This is one of those cards that I think is going to have to see play to see how it really works out. It could easily be a 4 or it could end up being a 2. I'm hedging my bets with the three here.
[/CRB]
[CRB='forums/uploads/got/med_titans-daughter-tpol.jpg']
Titan's Daughter 10 out of 40
clu - 1 out of 5
Please see Swamps of the Neck. This gets an even lower score if I could because it requires you to win on defense.
emptyrepublic - 2 out of 5
It lets you declare a defender before the stealth step in a challenge and it allows you to get around joust as well as other effects that limit declaration of defenders; this is presuming your opponent declares a naval attacker in the first player action window. A bit too much uncertainty for me. The rest of the effect seems unremarkable. Gets some kudos for being cheap.
Ire & WWDrakey - 1 out of 5
Too many hoops to jump to make it viable in most decks. Most likely will end up as a dead draw very often. Maybe borderline usable in Melee as a way to funnel your opponents naval characters to other directions, but still... not worth the effort.
jcwamma - 1 out of 5
I refer to the Meadowlark conversation from the last pack. It's too focused on naval enhancements, and unless naval enhancements become a big mainstay you'll never include it in your deck because of how many decks it's useless against. When's the last time you saw Jeyne Poole played? Probably never, because Shadows cards aren't ubiquitous enough to justify it. If Naval becomes more ubiquitous than Shadows, this could be a perfectly adequate card. In that case this card could even be a centre-piece for some Melee House of Dreams Gates of Winterfell deck. I'm certainly not holding my breath, though.
mathlete - 2 out of 5
Could be good, but really is too situational. What happens when your opponent doesn't have any characters with a Naval enhancement? The only reason that I didn't give it a "1" is because of Moreo.
OKTarg - 1 out of 5
This seems like one of those cards you stick in your decks to foil that dang Black Sails deck that always beats you. But it won't work most of the time, and why would you risk a decent-ish card turning blank on you when you can just put in a better card?
rave - 1 out of 5
Narrow in its use. Really narrow. You don't even get to put the character into your hand..
ShadowcatX - 1 out of 5
Awesome effect (I love tutors) but far too difficult to trigger.
[/CRB]
[CRB='forums/uploads/got/med_hellholt-docks-tpol.jpg']
Hellholt Docks 31 out of 40
clu - 4 out of 5
Really interesting. Martell already benefits from Condemned by the Council so it's hard to imagine this guy getting extended play. However, I am a huge fan of location control. I think two of these and two Condemned are pretty much must plays. This is there first in-house location control so should be taken seriously. It's not going to help too many other houses because they already have better location control.
emptyrepublic - 4 out of 5
Some interesting location control for Martell now. First, it's cheap and non-unique so it's reasonable to have several of these in play. Second, the effect isn't opponent specific so you can take big advantage of this in melee. Even in joust you can use the marshaling phase to start removing options from your opponent in the challenge phase. I think this can be pretty potent on it's own; moreso with a Hellholt Engineer or two.
Ire & WWDrakey - 5 out of 5
What is this? Martell finally gets a location control card that is in-house. It is also non-unique. Not a permanent location answer, but a soft location control, that can easily give you breathing room in rough situations... Whether you are choking them of using resources, or kneeling their control locations... at least you're not helpless with a swarm of locations anymore. This will definitely see plenty of play.
jcwamma - 3 out of 5
Against some decks, this will be a fantastic card. However, I'm wary that not all decks use an abundance of locations that kneel, and I'm reluctant to give such a conditional card higher than a 3. I almost bumped it up to a 4 because it's non-unique, which I think could be a great boon for it.
mathlete - 4 out of 5
Very good card. I don't have to kneel to use this card. This will be a great choke card to throw into a Greyjoy deck. I will bet that after this card is played through Regional season, this will come out as a very frustrating card to play against.
OKTarg - 4 out of 5
This is some very decent location control for a house that doesn't have much else by way of options in that arena. Cheap, non-unique....I think this may turn out like Pentoshi Manor in that it is totally frustrating if your opponent has more than one out.
rave - 4 out of 5
This is bad news for heavy control. 2 of these out is going to cause a lot of problems for them, especially Targ with their lack of real location control. Even faster decks that kneel reducers will lose resources against this. I like it.
ShadowcatX - 3 out of 5
This is another card I'm not sure what to make of, its cheap so that's good, but I'm not sure that Martell really wants to dedicate card slots to cards that might just do absolutely nothing and while kneeling out a reducer isn't exactly nothing, it isn't a whole lot either (the first time you use this it pays for itself, so you need to use it twice to get a return on investment). It is also lack luster compared to many other houses location control options. That said, this does pair nicely with bay of ice ensuring you either get to draw a card every turn or you get to kneel out locations of your choice before the opponent can use it.
[/CRB]
[CRB='forums/uploads/got/med_unbowed-unbent-unbroken-tpol.jpg']
Unbowed, Unbent, Unbroken 12 out of 40
clu - 1 out of 5
Not too long ago I would've put this card as a one, for sure. I've been exploring combo type decks recently and discovered the powerful plot The Promise of Victory. This card gives you two less cards from where you started from (which is absolutely terrible) but it does garner you a discard outlet. Martell has some of the best recursion effects in the game including Prince's Plans and Open Market. Nope, I can't defend this card anymore; I talked myself out of it. Just play The Promise of Victory, trust me; it's great for combo decks.
emptyrepublic - 1 out of 5
Why? Why why why? What is the point of this card? A properly constructed deck should always have at least a few useful cards in hand. This is the worst kind of filler. On top of it all, you toss a hand that your opponents know nothing about in order to draw a new hand where they know each single card? There is no positive here. Shame that FFG uses the Martell family slogan for such a terrible card.
Ire & WWDrakey - 1 out of 5
So, the beardless Pycelle is now working for House Martell?
jcwamma - 1 out of 5
Ok, so, let me get this straight: you have to lose a challenge to trigger this card, meaning if it's military you're already losing card advantage and if it's intrigue you have to have at least 2+x cards in hand where x is the claim value and then hope this isn't discarded; you have to discard your entire hand (of which this is no longer a part); you gain a card advantage of -1 as a result; you give your opponent free information over exactly what's in your hand subsequently; it's an easy card to cancel because it's a response event with no influence cost; and if the card is cancelled you lose your entire hand without getting anything back? And you discard your entire hand at once so you can't even get the silver lining of putting Darkstar into play from it? This is so bad it's almost comical.
mathlete - 4 out of 5
I just love hand manipulation (that is not draw), even at the cost efficiency of the card. Remember when people first though Much and More sucked?
OKTarg - 2 out of 5
Here I am, putting my 1 on the line, and I see that Mathlete thinks there might be a use for the card. My main issue with the card is that Martell players won't play it and FFG wasted the sweet House Words on an event in everyone's binders. Until Mathlete wins tournaments with it and as it turns out Martell players everywhere netdeck him and pretend that they all liked the card the whole time. So I'm going with a 2 so I can say later that "Mathlete was right as usual, but at least I liked it better than those other guys did."
rave - 1 out of 5
If you have enough cards in hand -1 to get good use out of this, you shouldn't have a bad hand anyway. If you're fishing for a very specific combo, it can be nice, but that's about it.
ShadowcatX - 1 out of 5
The worst card in the game, bar none. Discard your hand, as a cost, and hope your opponent doesn't have a cancel so that you get the ability to show your opponent a new hand with less cards in it than your hand had before you played this? And you have to lose a challenge to do this because, you know, card disadvantage, giving the opponent knowledge of your hand, and risking losing the whole hand for nothing to a paper shield as an any phase action is still too good for a Martell event. No thanks.
[/CRB]
[CRB='forums/uploads/got/med_house-targaryen-loyalist-tpol.jpg']
House Targaryen Loyalist 24 out of 40
clu - 2 out of 5
I inherently enjoy the aesthetics of theme cards done elegantly. Apparently it's bad to be a traitor in the future. Currently it's a nuisance at best. A cheap Lord that can ramp up to renown fairly easily in the right build is worth a look by everyone. Heck, I have an unexplainable love for the dupe Rhaegal so he works pretty well for me! Unfortunately, not everyone is as tournament dragon centric as me. This guy will lose out to Missandei, Strong Belwas, Dragon Knight, Ser Jorah, Street Waif, and Dragon Thief for a spot at the two slot.
emptyrepublic - 3 out of 5
Some support for dragon decks here? Traitor is not as dangerous of a trait as ally or mercenary so I don't think the passive effect is that particularlly special. Renown during power challenges is nice but still nothing to get too excited about. Otherwise a decent filler for the 2 gold slot.
Ire & WWDrakey - 3 out of 5
Good 2 cost support guy for the Dragon theme that Targ has (which should be bigger). In Joust this will make it into few decks, but again, this makes the already strong Melee archetype even stronger by making the fast dragon deck even faster with its cheap renown. The Lord trait is a nice plus.
jcwamma - 3 out of 5
Very, very solid card for Dragon Rush decks. It won't see play in any other deck though, and those Dragon Rush decks are only truly deadly in Melee where 2 cost 2 strength chumps don't tend to have a long shelf-life, and where his Lord trait is actually a hindrance because of the amount of Red Weddings that happen in a Melee environment. That said, bonus points for being the first non-unique Targaryen Lord in the game.
mathlete - 2 out of 5
A so-so card that doesn't really want me to make a Dragon deck.
OKTarg - 5 out of 5
Ok, fine, he's not a five. But you know what is a 5? Me living the dream of being able to field a decent Dragon joust deck. It's almost a reality.
As for the card, cheap intrigue icons are never to be overlooked, and cheap renown is the same way. As the house with one of the best handles on trait manipulation, Targ is well-placed to take advantage of his ability even outside of 'real' dragons.
Also, I like that this card gives a small vision into a future where being a Traitor comes with some drawbacks--more than just Daario. Here's hoping for some Bastard trait-hate to come along with it.
rave - 3 out of 5
He's decent enough, but I find that 2STR characters tend not to last long enough to get use out of their renown unless it's for one final push for power. It's cool that this does open up Targ deckbuilding some. But maybe not at the competitive level.
ShadowcatX - 3 out of 5
I like this guy and I believe that the Dragon theme is much more viable now that the FAQ has removed a lot of the control cards from the environment.
[/CRB]
[CRB='forums/uploads/got/med_balerion-tpol.jpg']
Balerion 19 out of 40
clu - 1 out of 5
If you need help getting your characters ambushing in I'd suggest nearly anything else. Gaining the enhancement on the power icon is restricted to Long Lances, the dragons, and the Queen's Knight. The extra power is insignificant over the course of the game. If I haven't mentioned it as of yet, the art in this set has been rather breath taking.
emptyrepublic - 3 out of 5
Hey, was long lances not insufferable enough? Guess what! It's not clear to me if Targaryan KotHH and naval enhancement are intended to go together. Naval enhancement aside this supplements existing builds and allows ambush characters to rush more; in theory contributing to a two power swing at least.
Ire & WWDrakey - 3 out of 5
Now this one... is pretty interesting. Together with Vhagar we will already have characters being ambushed in, gaining power and grabbing an attachment from the discard pile while they are at it. The first place we would try to stick this into would again be a Melee Dragon -deck, but it's such a flexible card, that other uses may easily emerge along the way.
jcwamma - 2 out of 5
Lowering the cost to put into play using Ambush by 1 is strictly worse than having 1 influence, and given there are multiple 2 cost cards offering 2 influence, you have to look at the rest of that effect and think about how good it really is. Claiming a power is nice enough, but unless you're looking to close the game it's not vital and your character will probably face a reset anyway. The gaining of a naval enhancement is for the most part a big pile of "meh" for Targaryen at the moment, although I do really like that this means you can ambush the character in after defenders have been declared in a power challenge and still have them participate. Ultimately I think there are better options for the decks this would be considered for, though.
mathlete - 2 out of 5
Again, a card that I would not play when compared to all of the other great locations that Targaryen has available to them, especially since those other locations provide much-need influence.
OKTarg - 3 out of 5
It's not the most efficient card I've ever seen, but the ability is fun, and that counts for something for me. Yet another card to make your dragon decks go.
rave - 2 out of 5
2 gold is a lot for this. It's also unique, so I feel like it's not really worth building around. Outside of Long Lances and Dragons, it's usually fodder that gets ambushed into play, so I'm not sure the power gain is going to go a long way. May be a fun House of Dreams deck though, right guys?!
ShadowcatX - 3 out of 5
Wow, that's a lot of text. Let's slow this down a bit. First you're paying 2 gold for 1 influence that can only be used for Ambush, that's bad. But the ambushed in character gains a point of power, that's a bit better. And it gains a naval enhancement on its power challenges? Kind of meh, but can help out a black sails. (I wonder, if the character doesn't have a power icon, would it still count as a naval character, say if it were to defend a challenge against Victarion?)
[/CRB]
[CRB='forums/uploads/got/med_fire-and-blood-tpol.jpg']
Fire and Blood 21 out of 40
clu - 2 out of 5
As far as I can tell this is the first in-house pump since Dothraki Handmaiden and it's til end of phase. So, that's kinda interesting. I would like this card a lot more if it was a Response: action. Not being discarded is limited to Targ characters so there is another limitation. I just don't see this being played at all. There are some applications but not enough to make it a card you are happy to see every time you draw it.
emptyrepublic - 3 out of 5
The +2 certainly isn't bad but the "cannot be discarded" is the bigger deal. Good way to protect your mercenaries from the more typical discard effects and lets you play a few bleeds if you want an alternate reset. Otherwise the card is pretty unremarkable and I think in a KotHH deck you are already full on events anyway.
Ire & WWDrakey - 3 out of 5
A STR bump is always a nice bonus and so is an event that turns into an attachment, since it will then work as burn/S&D protection. It will also help with some of the ally hate running around in the meta. There might be some new Westeros Bleeds build that would really want to play this on a character to keep it around after the reset, and protecting 1 STR Weenies like Street Waif or Maegi Crone from Threat from the North is a nice bonus.
jcwamma - 2 out of 5
Surprise Strength boosts are fun, although generally Targaryen prefers surprise Strength knocks for opposing characters. Where this shines is in attachment form, giving key ally characters a bit more stability. However, since this is only available to use in the Challenge phase, the opposing player has already had a chance to discard them the previous marshalling phase. Could be useful for giving a card like Street Waif some immunity to Threat from the North, but then the strength boost is useless and the card's not giving you a full advantage. Basically, unless you play this card on Pyat Pree or Jorah Mormont you're not getting your money's worth! It does have some uses, but ultimately they're too narrow.
mathlete - 2 out of 5
Most of Targaryen's best characters have Ambush or "No Attachments", so I don't think I would play this event. I like playing offensive events in Targ, not defensive.
OKTarg - 3 out of 5
There are some easy-to-identify uses for this (Bleeds, Pyat Pree, Merc Hate, etc) but is it good enough to actually see play? I don't think so right now, and that's too bad for the sweet title of the card. I wish Fire and Blood was a burn card, but maybe that makes too much sense.
rave - 3 out of 5
Nice for your own Threat from the North I guess. But I'm not sure Targ gets as much out of strength buffs as other houses. They do already have access to burn. This could be a fun one to put on Pyat Pree. heh
ShadowcatX - 3 out of 5
I've said it before and I'll say it again, I don't know why Targ Bleeds isn't a deck. (Were I a targ player, it totally would be.) And this card would go wonderfully in that deck. I'm also a fan of +2 events in general, so while I might be ranking this card a bit higher than most people would, I think it is totally justifiable.
[/CRB]
[CRB='forums/uploads/got/med_torrhens-square-tpol.jpg']
Torrhen's Square 23 out of 40
clu - 3 out of 5
I can't explain to you how happy I am to see a "seed" Military Battle plot. Granted, it wards off other City plots like At the Gates but I now feel a LOT better about running To Be A Kraken and To Be A Wolf. Thank you FFG for making some cards relevant again!! Kill for Your King? Don't mind if I do!
emptyrepublic - 2 out of 5
You are using this plot for the traits. Don't be fooled by the claim raising. The issue is if you are building a city plot deck you need to play this early and in that regard the stats on the plot aren't that great. Keep in mind you can't use this with At The Gates and Manning the City Walls.
Ire & WWDrakey - 2 out of 5
Stats are ok, but the ability isn't too great. This will most likely see narrow play in decks that want one or both of the Military Battle and City traits from their plot. For others there are plots with better effects to be used.
jcwamma - 2 out of 5
If you play this early game to use the ability, you're getting 3 gold and no card advantage in the early rounds where you're likely to want to throw down as much as possible. To be able to use it in the later game that means no using At the Gates or Manning the City Walls, both better options than this because while they have low gold costs too they offset that by putting a character into play for free. Basically if you want to use this for the traits, you're stuck with a poor set of number for early game (even with 2 claim); if you want to play it later then the traits are useless really, and even then 3/4/2 isn't an outstanding set of numbers for a card with no text. This card has all the ingredients to be very playable, but somehow they just don't sit nicely together.
mathlete - 4 out of 5
Stark and Greyjoy are going to love this Plot! A new card to start the City-cycle which also gives an extra claim and an opportunity to play the "To Be A …" events.
OKTarg - 4 out of 5
I like the high claim early for Greyjoy and Stark, who magically happen to be the houses that like the traits on the card the most. I can't wait for the Clash of Arms reprints to try out the To Be cycle with cards like this. Will we see another Power Struggle in this cycle? I sure hope so.
rave - 3 out of 5
This is a nice generic Military Battle if you need one. Other than that, not much to say about it. Stark doesn't really get much from A City Besieged or the other stackable City plots.
ShadowcatX - 3 out of 5
I think this plot can be a 5 in the right deck, and the right deck, IMO, would be a Greyjoy aggro deck running To be a Kraken and the city plots (I fully plan to build this deck once I get the To Be a Krakens.) so I'm excited for it. That said, I think in pretty much every other Greyjoy / Stark deck this is, at best, a 2, and a 1 for all the other houses. Normally I'd rank such a conditional card at a 2, all around, but with how strong Greyjoy is at the moment, I think this deserves a 3.
[/CRB]
[CRB='forums/uploads/got/med_negotiations-at-the-great-sept-tpol.jpg']
Negotiations at the Great Sept 34 out of 40
clu - 2 out of 5
There are four other Intrigue Gambits I would consider along with this plot. Breaking and Entering, Forgotten Plans, and Shadows and Spiders all get the nod unless I need a two claim intrigue plot. Templating aside (you almost made this month FFG!), the effect is super great for a combo decks and terrible for decks where you plan on stripping their hand of cards (should be all decks in my opinion). It seems like the ability will get your opponent out from under your thumb in aggro builds, I think this can be outstanding in a power rush deck.
emptyrepublic - 4 out of 5
This is a much more interesting plot; like Torrhen's Square it's not so ideal in certain city plot decks. The big deal here is the free "draw". You don't discard the cards and if you time this correctly it's a great way to rebuild your hand if you are low allowing you to balance card advantage. Superior in every way to Unbowed, Unbent, Unbroken.
Ire & WWDrakey - 5 out of 5
Interesting card with good stats. Two plot traits, the City here will mostly make sure that you cannot use the other city plots well with this since it is not all that great as a beginning plot. Only time you will want to play this first turn is if you think your opponent will do the first turn RBD trick on you. This is definitely a great addition for aggro/rush decks that tend to run themselves out of steam.
jcwamma - 4 out of 5
This card could change the meta, counteracting both Rule by Decree and Valar Morghulis. It's a massive "screw you" to Lannister, who have previously relied on wrecking an opponent's hand then Valaring for the card advantage but now might do that only to find the opponent has 5 cards in hand and 2 claim. This could also be tremendous as a 'reload' for rush decks, who can dump their hand on the table on turn one then get a new set. The one danger for that strategy is that you do need to have at least one card in your hand in order to do so. That said, 3 gold is one gold too low for my liking, and 2 initiative means you can't use it to counter an opponent's turn one Rule by Decree (unless you get out 3 initiative on set-up or you're running Knights of the Hollow Hill and win the coin-toss). A very interesting card, hurt slightly by the City aspect (although less so than Torrhen's Square since the type of deck this will go in is less likely to be competing with Manning the City Walls and At the Gates).
mathlete - 5 out of 5
I love this card and its effect. Again, I love hand manipulation! I give up 1 card and get 5 back? Sure, it could potentially benefit my opponent too, but the effect, plus a new first turn City card, plus 2-claim? I like!
OKTarg - 5 out of 5
Love. It. It gives staying power to builds that run on either speed or card quality rather than on numerical card advantage. The decent gold and claim make this a fantastic option.
Rave - 5 out of 5
Absolutely amazing in Power behind the Throne. Burn out their hand, and then draw back a full one for yourself. For other decks, it could be a nice security blanket if you aren't drawing into what you need. For decks that rely on key cards, you can use this and fish for your cards when you run low on cards while still keeping decent stats.
ShadowcatX - 4 out of 5
Well, well, well. The intrigue gambit part is much less exciting than the military battle because the intrigue To Be events are, IMO, much less exciting. That aside, this has a very solid stat line. But its ability, Woah buddy! If you are running city plots, this plot alone is enough of a reason to make you question that.
[/CRB]
[CRB='forums/uploads/got/med_the-long-voyage-tpol.jpg']
The Long Voyage 29 out of 40
clu - 3 out of 5
Quick, someone math this!! Ok, I'll try a bit of it.
Provided a four card flop you will have gone through 13% of your deck. After turn one it will be 16% or 14 out of 85. After turn two 20% or 17 out of 85. After turn three 24% or 20 out of 85. After turn four 27% or 23 out of 85. After turn five 31% or 26 out of 85. This is without other draw effects.
In a 60 card deck provided a four card flop you will have gone through 18% or 11 out of 60. After turn two 22% or 13 out of 60. After turn three 25% or 15 out of 60. After turn four 28% or 17 out of 60. After turn five 32% or 19 out of 60. This is without other draw effects.
So, this isn't all that good for combo decks trying to dig for just the right card. However, running an aggro deck with lots of redundancy characters you out draw your opponent by three to two. Stark toolbox could benefit from this with the number of tutor effects they possess. Do a search of Any Phase: draw and you come up with a surprisingly short list that includes; Valyrian Steel Link, House Dayne Skirmisher, and King's Landing. Not exactly the cream of the crop but all playable. My first inclination is to run this with Martell.
emptyrepublic - 4 out of 5
The guaranteed per turn draw is good, yes. Keep in mind though you will have to increase your deck size by nearly 50%. This agenda will require to build your deck appropriately. Simply stuffing your deck with extra copies of stuff won't necessarily work. It depends on the house and it depends on the build. See the "Math of Thrones" thread in the forums where this agenda is the opening topic.
Ire & WWDrakey - 5 out of 5
The impact a single Agenda can have on the whole game is astounding, just look at what House of Dreams was able to accomplish. From this very simple reason, it's hard to really ever overrate an Agenda. Even the weakest of them have a larger effect on the game as a whole, than most other cards ever can. Case in point: both The White Book and Treaty with the South have fueled a Regionals winning deck in their time.
Now, to the actual card at hand. The Long Voyage seems to be geared at being the Agenda of choice for 'Vanilla' House Themes. Instead of having to twist your Martell Vengeance or Baratheon Power Rush deck into unseemly shapes to maintain enough draw, you can now just run the Theme in it's purest distilled form, without excess deck clutter. The increase in deck size clearly drives this point home, since you will only want to run this Agenda for decks that have enough redundancy and breadth in their effects, to offset the larger size and still maintain enough consistency.
jcwamma - 4 out of 5
For a deck focused around a few cards, this is terrible. For a deck that needs combos, this is terrible. If you were already running an agenda, this almost certainly won't dissuade you. If your deck can routinely cap itself anyway this agenda does nothing good, because the extra card still counts towards your draw cap. All that said, this is a great agenda. Any aggro deck (or any deck really) that doesn't worry about synergy and solely worries about efficiency and redundancy will get a lot of love from this agenda. Take Stark; I'm tempted to say this is strictly better than Stark Knights. They have so many amazingly efficient cards that they end up having to cut loads of great cards in a typical build, and now not only do they not have to cut those great cards, but they also don't have to bother running loads of rubbish Knights they otherwise wouldn't touch with a barge pole like Knight of the Red Fork. AND they don't have the possible downside of 1 card per turn draw. Not every type of deck can handle an 85 card pool of cards to draw from, but this is amazing for those who can. The other, less obvious downside, is the variance - the more cards in the deck, the less chance of getting a nice balance of the different types of cards you want. But I'm not going to get into that here, I have to worry about that kind of thing enough with my degree. Incidentally, on a personal note I hate this agenda with a passion. It does nothing exciting with the mechanics of the game and encourages boring redundancy, and I think the scientific analyses of it here in the review probably sums up the sheer tedium it encourages. But hey ho, dems da breaks, and I can sympathise a bit more with everyone who hates The Maester's Path now. Also, this card hates on people with small hands who can't use it in a legal deck.
mathlete - 3 out of 5
I will give it 3 out of 5 to start with until I play with it, but I think it could be a 4 or 5. This card will be an excellent replacement to the Summer Agenda and benefit Baratheon rush deck.
OKTarg - 4 out of 5
I think the card pool is in such a state that you can put 85 decent cards into a deck. They won't be really narrow in scope or tight in theme, but you can for sure find 85 good Lanni control cards, or 85 decently costed Stark chuds, and so on. My biggest problem with it is that it doesn't do anything cool. It's a boring card advantage agenda.
rave - 4 out of 5
In a deck that doesn't need any key cards, this is pretty good. If you can maintain the same ratios of control/characters/whatever and do it without a serious drop in the decks effectiveness, you have a deck with the overall same effect that is less dependant on draw. If you can survive off the 1 extra card, you also will outlast most other decks, especially Black Sails if it comes down to attrition. I think heavy control with a stalling subtheme in their plots will do well with this.
ShadowcatX - 2 out of 5
First let me point out that I love drawing cards. Love it. Ok, that established, I don't like this agenda. At all. And the reason is simple, it doesn't bring anything new and fresh to the table. Sitting across from this is going to be like sitting across from summer only without the extra gold or like sitting across from the Knights of the Realm. Compare it to Black Sails or House of Dreams, which when you sit down across from them have totally new and exciting feels, well, I just can't get excited about this. Still I love drawing cards though, so I can't give it a 1.
[/CRB]
Amuk, Zaidkw and RefrigeratedRaymond like this
Article: The Pirates of Lys Card Reviews