Welcome to Card Game DB
Register now to gain access to all of our features. Once registered and logged in, you will be able to create topics, post replies to existing threads, give reputation to your fellow members, get your own private messenger, post status updates, manage your profile and so much more. If you already have an account,
login here
- otherwise
create an account
for free today!
0
The Things I Do For Win – Greyjoy Maester Choke
Small Council
Things I Do For Win
clu
There hasn't been a more dreaded archetype during the LCG era. Choke uses Greyjoy's inherent affinity with winter and location control to restrict opponent's resources. The size of an opponent's hand become a non-issue when they have zero gold to play characters.
The White Cloak Arsenal
Burned and Pillaged
(FtC)- Arguably the defacto card that makes this archetype work
The Sparr
(APS)- Helps to reduce gold and powers winning initiative
Cragorn
(ASoSilence)- Steals a gold without the need for seasons
Maester Murenmure
(CbtC)- Stops reducers cold
White Raven
(TWoW)- Winter squeezes gold in a non-interactive way
Wintertime Marauders
(ACoS)- The best card Greyjoy has in their arsenal
Ice Fisherman
(TWoW)- As characters they don't do challenges, solely to steal gold
River Blockade
(RoR)- Another reducer canceller
Support of the Kingdom
(Core)- Allows you to steal problem locations in combo with Burned
Nightmares
(LoW)- One shot effect to stop income locations
Newly Made Lord
(TftH)- Kills locations as a non-cancelable passive
Pyromancer's Apprentice
(TBoBB)- A great use for the gold you steal
Attack from the Sea
(PotS)- Stops the flood of reducers before you exert your dominance
The deck is trying to win the game by influencing what your opponent can play in one turn. The majority of the decision making process is during the marshalling phase. You are actually playing a different game than your opponent. If they can't handle attachments or playing small ball, than you should have the game locked up.
The reason this deck isn't more popular is because it creates Negative Play Experiences (NPE). If you are a Jaime, there isn't a more desired type of game.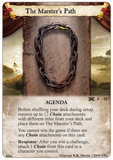 Of Maesters and Men
Because this is a form of combo and control we want to draw into our money cards as soon as possible. There isn't a better way to do this than running the maester agenda.
By stacking six chains onto
The Maester's Path
(GotC) we get cut our deck size down to 54. To further enhance our chances to draw into Burn and Pillage and White Raven we want our gold curve to be obscenely low. The more cards we can drop on the flop the more cards we get to fist up. After drawing the initial seven cards we have only 47 cards left in the deck. Every card we face down during setup allows us to get closer to choking out the opponent on turn one.
Going first is a relevant aspect to choke and the best two cards are Burned and Pillaged and The Sparr. No other cards swing the resource and initiative battle into your favor better. By going first you have first marshalling to play Burned and Pillage and The Sparr. You also have first action after the opponent counts their gold allowing you trigger Ice Fisherman and Cragorn before they have a chance to spend their gold.
To make sure we don't choke ourselves out of the game
Gold Link
(TIoR) and Pale Steel Link get workouts by playing one cost characters and attachments that we can't normally afford. Note that out of house penalties are ignored with the Pale Steel Link.
Be careful when you play White Raven. There are only a couple of cards that directly use the winter mechanic. Most of the time winter is the final nail in the coffin, not a lead off play. You have more ways to handle locations than your opponent can play. Rely on Burned and Pillaged early before transitioning. Winter is a privilege, not a right.
Card Draw
Samwell triggers off of the six ravens in the deck. Ill Tidings can also net you a card if you don't have power on your house.
Bay of Ice
(KotS) fits into the scheme of playing high initiative plots and help with the setup phase. The maesters have to do most of the work here by triggering the
Valyrian Steel Link
(HtS) and
Pale Steel Link
(FtC) to play
Pyromancer's Cache
(TWot5K). Card advantage can be gained later in the game with
Bronze Link
(FtC) if you lose an attachment or two. Recycling Burned and Pillage or White Raven goes a long way. The games are going to be long drawn out affairs if you're winning.
Character Control
This deck ignores character control for the most part. The game is lost or won by chewing up their resources. The deck leans heavily on character efficiency by playing cheap folks with big butts. The Ancient Mariner, Distinguished Boatswain, and refugees will have to hold down the fort. Hopefully your joustmate can't marshal anything bigger then you have on the board. The Iron Link gives a strength boost when you need it as well.
Location Control
Just looking at the White Cloak Arsenal should give you an accurate account of resource denial. For the most part targeting locations that give gold or influence is the correct play while dropping the Burned and Pillages on everything else. A turn one Search and Detain bounces either a costly character or Lannisport Treasury to slow their board development.
Pyromancer's Apprentice is a rockstar in this deck. Ice Fisherman and Cragorn steal the extra gold to flip shadow cards during challenges. Doesn't matter how big, limited, or unique the location is, it becomes discard bait.
Attachment Control
The
Tin Link
(CbtC) is the best attachment control in the game. Ill Tidings can be tutored up with A Time for Ravens for pesky chains or a Black Raven at the right time. Nightmares pulls double duty by blanking maesters, lords, or ladys to strip trait based attachments.
The Wolf Woods
It is important to note how few maesters you have at your disposal. Burn and Venomous Blade will keep you from pulling chains off of the agenda. Your only defense is targeting key locations like Lady Daenerys's Chambers and Red Keep early. Use Nightmares to blank Red Keep before you send it to the discard pile. Unfortunately there isn't any way around Threat From the North. Don't play all of your maesters early. Make sure you have a few in reserves to finish the game. Attack from the Sea is another meta choice. Kneeling influence producers should buy you a turn to start knocking them off.
House Greyjoy
Maester's Path
Plots
A Time for Ravens
Take Them by Surprise
At the Gates
Attack from the Sea
Schemes of the Scholar
Valar Morghulis
Search and Detain
Characters 30
Maesters
Maester Murenmure x1
Maester Wendamyr x1
Oldtown Scholar x3
The Conclave x2
Maester Aemon x1
Resource Choke
Newly Made Lord x1
The Sparr x1
Ice Fisherman x2
Pyromancer's Apprentice x2
Cragorn x1
Wintertime Marauders x2
Efficient
Carrion Bird x3
Distinguished Boatswain x3
Ancient Mariner x2
Island Refugee x3
Utility
Samwell x2
Locations 12
River Blockade x1
Bay of Ice x2
Gatehouse x3
Kingdom of Shadows x2\
Aeron's Chambers x1
Street of Sisters x1
Street of Steel x1
Flea Bottom x1
Attachments 13
Burned and Pillaged x3
White Raven x2
Pyromancer's Cache x2
Pale Steel Link x1
Tin Link x1
Valyrian Steel Link x1
Gold Link x1
Bronze Link x1
Iron Link x1
Events 5
Support of the Kingdom x2
Nightmares x2
Ill Tidings x1
Jerod Leupold started playing AGOT during the release of Flight of Dragons and declared his allegiance to Greyjoy at an early age. He cut his teeth playing in the MN, MO, and WI regionals trying to build dominant characterless or recursion decks. He has placed first in one lowly attended regional, second in four others, and top eighted in two out the four GenCons he has attended. For one year he was the number one ranked limited player. He currently resides in Iowa City and is proud to be a part of the Knights of the Corn meta.
During the years of 2005-2011 he was the owner and tournament organizer for Critical Hit Games that ran magic events on a weekly basis including being asked to host the state of Iowa championships twice. He has been a tournament player for several ccgs including 7th Sea, L5R, Spoils, and is the current King of the Hill champion of the 2011 GenCon Invasion tournament.
Article: The Things I Do For Win – Greyjoy Maester Choke