Welcome to Card Game DB
Register now to gain access to all of our features. Once registered and logged in, you will be able to create topics, post replies to existing threads, give reputation to your fellow members, get your own private messenger, post status updates, manage your profile and so much more. If you already have an account,
login here
- otherwise
create an account
for free today!

1
Valar Dohaeris Card Reviews
Small Council
Review
Valar Dohaeris
Beyond the Narrow Sea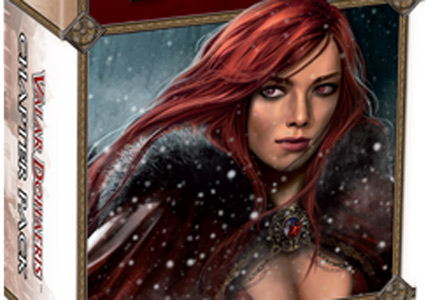 Beyond the Sea - Valar Dohaeris Staff Review
67% 573 out of 900
Our staff has put together a first blush analysis of the newly released chapter pack Valar Dohaeris. We've used a one through five scale; five being the best. The cards are listed in numeric order. Our reviewers are listed in alphabetical order. Disagree with our assessment? Let us know!
Not one but two cards get perfect scores this month, and another two come in close behind. Targaryen came out ahead with two out of the top 4 while Martell and Baratheon failed to impress. Four new river plots were introduced and two of them tied for worst card in the pack, so far this trip down the river has been a mess...
Top 4
Damon Dance-For-Me tied with
Young Griff
45 out of 45
Moqorro tied with Strong Belwas 42 out of 45
Worst 3
On Dagger Lake tied with Pulled from the Rhoyne 12 out of 45
Recruitment 17 out of 45
[CRB='/forums/uploads/got/med_damon-dance-for-me-vd.jpg']
Damon Dance-For-Me 45 out of 45
Clu - 5 out of 5
Efficiency still rules the roost (Bolton) of hotness. Odds are agendas reign supreme in your meta. A three cost three keyword three strength bi-con should make your pulse jump. Really, giving Stark another great intrigue icon?
Darksbane - 5 out of 5
This guy is a bargin at 3 gold. Well protected with the immunity and will usually have deadly and stealth. All this combined with the intrigue icon to help shore up one of Starks difficult challenges makes him close to an auto include in my book. If they keep printing characters like this running or not running an agenda could be a tough choice.
doulos2k - 5 out of 5
This is just an amazing card. You'll almost always have deadly and stealth on top of his immunity. He adds another Intrigue character (which Stark could certainly use). This card will win a LOT of challenges. You Stealth the opponent's Deadly and it's suddenly much less attractive to defend any challenge.
FireFox - 5 out of 5
This card has zero drawbacks. For its cost it has a decent strength and two icons. One of which is always useful in Stark. Throw an immunity on top of that and you get a very solid character. And that's event without considering his ability which means he will usually have at least one good keyword. This guy can both be hard to defend and net you power at the same time. Scary.
Ire & WWDrakey - 5 out of 5
Currently this is the only Stark 3 cost, bicon M,I character there is. Most of the time it will be 3 keywords as your opponent is often bound to have an agenda. It has good strength, immunity and also a good trait on top of that. If you can make competitive agendaless decks then it will get even better. The only real downside is that the stealth won't work well in defence.
jimpanda - 5 out of 5
Power Creep (n): The gradual increase in the power level of game mechanics as new cards are introduced. See also: Willas Tyrell.
Seriously though, this guy will be in every Stark deck. In truth, guys like this worry me a little bit from a power creep standpoint. Another worry is the fact that this is a game where defending is hard enough already; do most characters really have to have Stealth or Deadly now (or BOTH in this case)? Good thing you can get rid of him with an event....oh, wait, you can't.
In any event, he's ridiculous and will see play for a long time to come.
Kennon- 5 out of 5
The overall efficiency of this card is superb. He'll be attacking with stealth and deadly about 3/4 of the time according the to stats I've compiled so far and he includes the "off" icon for Stark (intrigue). Damon is far more likely to have bearing on agenda choices than Willas.
Paladin - 5 out of 5
My Stark decks are usually seem to be lacking in Intrigue, deadly, and stealth. This guy covers all three. Throw in Immune to events and only 3 gold? cost? Auto-include.
rave - 5 out of 5
Stealth and Deadly intrigue for Starks, with no bad traits and immunity. Love it. Also, he's one of the only 3+ STR Boltons to not have the side changing drawback, which means Dreadfort is one step closer to being reliable draw in a deck not based around Bolton.
[/CRB]
[CRB='/forums/uploads/got/med_bran-stark-vd.jpg']
Bran Stark 30 out of 45
Clu - 4 out of 5
The two cost for a two strength bi-con is nice considering intrigue. The lord trait feeds into a lot of synergy even outside of dire wolves. The two slot in Stark has been traditionally weak but, it's getting more and more utility characters.
Darksbane - 3 out of 5
He is a solid choice in a Direwolf deck and a little trait manipulation works wonders for him. Outside of a Direwolf deck though I don't see a reason to run him.
doulos2k - 2 out of 5
Well, he adds another Intrigue icon - certainly nice. He's a 2/2/2, so he's properly costed, but unless you're running a deck with a solid number of Direwolves, I think there are just going to be other cards you'll want to run instead. He's not horrible, but I can't think of a Stark deck in the current meta that would really gain an advantage by including him (except to chump block an Intrigue challenge).
FireFox - 4 out of 5
At first glance this guy is good but not fantastic. Then you realise that he has a standing ability. The Shaggas amongst you will already have spotted the cray tricks you will be able to pull of with this guy and a bit of trait manipulation. Even outside of a combo deck, he has good value for his Lord trait and a decent utility ability.
Ire & WWDrakey - 3 out of 5
Good icons for a 2 cost lord, the strength is decent. However, being 2-for-2 is a difficult position in the current environment. In the end, this Bran is fairly balanced, but most likely will only see play in a dedicated direwolf deck, and even in there its ability might be too situational. The flexibility of this card and the combo with Old Nan are the things which make it worthwhile.
jimpanda - 3 out of 5
His use is obviously limited to a more wolf-themed approach, but he is very strong in such a deck. Repeatable defending and attacking is powerful, but you need to kneel plenty of wolves to do it. This is a well designed card though; I like him alot from that standpoint. He meets all three basic criteria for good design: He is playable; he is flavorful, character-wise; and all of his icons/ abilities make sense.
Kennon - 4 out of 5
I give this Bran high points for being one of the most Nedly card designs that I've seen in awhile. Working off of base stats alone (cost, STR, icons) this Bran is the most flexible to slip into any Stark deck that we've seen so far. In a relatively heavy Direwolf deck, he provides another strong way to utilize your wolves if you don't yet have Greywind or Shaggydog to seal the deal.
Paladin - 3 out of 5
Stealth and deadly is nice for Stark, but the requirement of a wolf limits utility.
rave - 4 out of 5
Stark with potential deadly/stealth intrigue. All the decks that can make use of him will run him to great effect. He doesn't do enough to be a 5, but he is still quite good, especially for the 2 cost slot. Fun card for Shagga players too: A little work in a Targ/Stark deck and you have an endless loop of standing at your disposal for whatever you may need. (Lyanna, Killer of the Wounded, <trait changing card>, Bran) Maester Bran, go!
[/CRB]
[CRB='/forums/uploads/got/med_castle-battlements-vd.jpg']
Castle Battlements 21 out of 45
Clu - 1 out of 5
In any other house this would be a consideration. Attachments require a secondary card being played. If you don't have a location in play it's dead in your hand. I like the idea but I will never play this while Moat is still legal.
Darksbane - 2 out of 5
I like the card in the right deck, but it is too situational. I'm not a fan of attachments at the moment that could possibly be a dead card. They are just too easily removed to waste a card slot on one which might do you some good if your opponent is running a large focus on stealth/deadly.
doulos2k - 3 out of 5
I like this card. If you're counting on a location (such as Bear Island or Riverrun), this protects it from cards like The Price of War or Newly Made Lord. You have to be paying attention to your own non-uniques though because this card affects yours just as much as your opponents. That said, you should have enough in-house Deadly and Stealth on unique characters that this shouldn't matter much. Why only 3? It's an attachment - the meta has a LOT of attachment hate right now... this card probably won't last many turns.
FireFox - 3 out of 5
The location protecting effect is strong in itself. Think of King's Landing in a shadows deck for example. But this card has another very useful effect in the current meta. With the resurgence of Wildling decks, this card has the potential to be a game changer. It stops the free folk dead in their tracks and remove all their agenda craziness.
Ire & WWDrakey - 2 out of 5
This card is interesting. It brings good utility to more defensive Stark deck types, be it Tully or Kingsguard. This might actually even open the door for Stark NW builds. However, it is good to remember that your own non-unique characters will also lose stealth and deadly, so that ability has two edges and attachments in general are usually not worth it right now. With the current wording this card creates an infinite loop where it will simultaneously work and not work as it gives immunity to non-plot cards and is a non-plot card - ending up not granting any immunity at all (the rating is based on the wording being fixed later on). Schrödinger Castle Battlements indeed...
jimpanda - 3 out of 5
I love this card. It's well designed, very flavorful, and can augment certain strategies well. It is average as far as pure power goes, but I like what it tries to do. Going back to my earlier comment about defending being difficult, this card gives you another reason to actually attempt to defend a challenge. Sticking this on Bear Island is also a pretty good beating. I don't really feel like the meta has much attachment hate at all, and most of it is geared towards stopping Maesters (Bastard, etc.). And if my opponent decides to use Nightmares on this instead of anything else, I will consider myself lucky.
Kennon - 1 out of 5
The biggest thing holding back my rating of this card is the fact that the immunity simply doesn't work as worded. Assuming that it's fixed in the next FAQ (likely by adding the word "other") I would probably jump this up to a 3 out of 5. The defending ability isn't very exciting to me, but being able to do something like make Riverrun immune to non plot effects has some pretty big potential.
Paladin - 3 out of 5
Stealth and deadly defense in Stark. Noticing a theme here? Nice card for Stark defense decks.
Rave - 3 out of 5
Interesting card. Protecting a key location is nice, but you'll have to draw that location first. The stealth and deadly removal is neat, but not universally useful. It's hard to justify putting something in the event/attachment slot that will only matter part of the time, especially with the other choices Stark has access to. Not to mention, they can always blow up something else, or just hit your attachment first.
[/CRB]
[CRB='/forums/uploads/got/med_penny-vd.jpg']
Penny 36 out of 45
Clu - 4 out of 5
House Lannister has an incredible selection at the one gold slot. To introduce a new card that can supplant what they already have automatically makes this of worth. The ally trait is inconsequential for the cost but the up side is nuts good, it's either a kneel effect or an intrigue challenge. If your opponent doesn't have cards in hand you are winning already.
Darksbane - 4 out of 5
Cheap and a good effect. With Sorrowful Man where your opponent is trying to spend all his gold anyway so there stands a good chance that they might have no gold when they marshall the character you want to kill and can choose an option that has no effect on them. Penny gives you more control. You obviously won't target a character which is already knelt and most times your opponent will have at least one card in hand so there is little chance of letting your opponent choose an option that has no effect on them. That combined with her low cost makes her very useful.
doulos2k - 4 out of 5
What an amazing effect for such a cheap character! This has a HUGE resource advantage. They play a 5 gold character, you play this and choose to kneel it. Considering most Lanni builds already hit a hand pretty hard... this just adds to the brutality.
FireFox - 4 out of 5
This card is very solid. Yes it's an ally, but for 1 gold, who cares? It has a very decent ability that could put your opponent in front of a difficult choice, maybe even causing him to make a mistake. Overall this is a very solid card. It's only problem is the in-House competition for the 1-gold slots.
Ire & WWDrakey - 4 out of 5
The ability on this one is pure gold, but it has the scary choose word in it which means that your opponent can choose to do a thing which s/he cannot. Has a clear utility role, but its stats bring it down from 5 to 4 - negative trait, very common lannister icon and a 1-for-1 I-monocon. Considering how good utility this card can bring to the Lions, it will probably see a lot of play even when it has several negative things going for it.
jimpanda - 4 out of 5
Having only one icon and the Ally trait hurts, but as far as one drops go, I like Penny a lot. She augments Lannister's themes well and gives you another good Unique drop to accompany Tommen for good immediate game effects; in other words, she will most likely impact the game immediately, instead of having to wait for a turn (a la the +1 Gold 1 drops). She certainly makes the cut in most Lannister decks, most likely as a one of.
Kennon - 4 out of 5
I'll join the ratings bandwagon on this one. Penny is just all around solid. Giving your opponent control of the choice (ie, they'll always choose what hurts them least) does bring the effectiveness down, but being just 1 gold means that Penny's efficiency is still sky high no matter which option they choose. Lannister has amazing 1 drops to choose from, so anything that actually looks like a new auto-include in that slot for them is something to be impressed with.
Paladin - 4 out of 5
What a fun card. Plays to Lannister strengths while making an opponent pick their poison. And only 1 gold!
rave - 4 out of 5
For one gold, this is super good. Bad traits on a one cost character are pretty negligible, and with Penny, you at least get to hit their hand advantage for one extra card each round. The weird wording is kind of annoying, but the benefits you get to your setup, and support to Lannister's main themes make it well worth it.
[/CRB]
[CRB='/forums/uploads/got/med_merchants-widow-vd.jpg']
Merchant's Widow 23 out of 45
Clu - 3 out of 5
This cardboard has great potential. She falls under the aggro builds with Schemes of the Scholar to tear mitts apart. Her ability has zero chance of happening but paired with Pyromancer's Apprentice your opponent is in a no win situation.
Darksbane 2 out of 5
I'd rate this a 3 out of 5 in melee, but in joust I'm just not feeling it. Lannister isn't exactly hurting in the 2 gold slot for characters so I just am not sure that this is worth making room for. The Learned Crest could justify a slot for her in the right build but generally she's just kind of meh.
doulos2k - 3 out of 5
I'd prefer to give this 2.5 out of 5, honestly. It's right in the middle for me. I don't hate it, but I don't really love it. I don't know if I can justify its inclusion, but that's probably because my meta tends to spend all of their gold, so in most turns, there isn't any gold returned to the pool. In Melee, she is almost guaranteed to get at least 1 gold per turn (and therefore +1 strength), so definitely worthy of consideration. Cheap and just keeps getting stronger (though Venomous Blade will take her out).
FireFox - 2 out of 5
The only thing going for this card is its crest. In the right deck, with Outwit and Schemes of the Scholar she could be quite strong, but that's about it. Besides that, she is 2-cost ally with a pretty useless ability.
Ire & WWDrakey - 3 out of 5
There is a nice Nedly flavor on this one. The ability will rarely matter, the stats are ok, but what this card really has going for it is that Learned crest. Cheap crests should never be underestimated, since they will very likely have future uses... and well, Outwit sure is a nice plot.
jimpanda - 2 out of 5
Boy, is this card unexciting to me. The Learned crest is interesting, but other than that she screams generic. Her second ability has very, very little chance of happening, and while the Learned crest is neat, it doesn't have a whole lot of application at this point. She will have a hard time finding a place in most builds, especially when leftover gold is not the norm. At some point, Lannister could use a card that makes the Ally trait useful in some way, instead of a complete drawback that tons of Lannister characters share.
Kennon - 2 out of 5
Lannister has some very solid 2 drop options as well, and unlike Penny, the Merchant's Widow doesn't bring enough to the table to be competitive for a spot in the majority of decks. Though, if you're really interested in running something like Outwit, she might find a home.
Paladin - 2 out of 5
Cool concept, but a little too dependent on opponent's play decisions. Could be a little more reliable in melee.
rave - 4 out of 5
Ugh, what an ugly card. Solid though. Firstly the learned crest on a 2 cost non-unique character is a huge boost to the house. Run three of these guys, plus a few of the better maester's/learned and you can finally slot ill-tidings for your attachment removal without worrying if you'll be able to trigger it. Ill-Tidings IMO is the best attachment control card outside of Tin Link, and attachment control is one of Lannister's weaknesses. This card also helps open up Schemes of the Scholar as another viable plot without forcing you to splash in maesters that are expensive, or don't really do anything. As for the ability, any effect that you can pay gold for to cancel (like Brothel Guard or Pyromancer's Apprentice) in tandem with these guys will create some interesting situations for your opponent.
[/CRB]
[CRB='/forums/uploads/got/med_shireen-baratheon-vd.jpg']
Shireen Baratheon 26 out of 45
Clu - 2 out of 5
This is easily the most polarizing card in the chapter pack. One cost with the noble icon should live for a turn or two. The problem being she has to die to be effective. The next evolution of power rush decks requires control elements that no one will play. Can she be amazing? Absolutely. Will people continually try and shoehorn her into aggro decks? Unfortunately, yes.
Darksbane - 2 out of 5
I'm just not seeing why a power rush deck would run her. She's unkillable on your Power of Blood turns so you have to hope to get her out turn 1 or 2 and get her killed off quick. She's vulnerable to Threat from the North. At best I might run her in an Asshai deck, but she seems like the type of card that just helps you to win more when you are already winning.
doulos2k - 3 out of 5
I'm not certain this justifies running agendaless until she appears, but if you go 3-up with her and can draw her early enough, she can take that Rush deck and kick it up a notch. Again, I'm still not 100% sold on these charagendas yet.
FireFox - 2 out of 5
There multiple reasons why I dislike this card. First I am still not sure the whole charagenda concept is worth it and quick enough to setup to be really useful. Second her crest can conflict with her dying which is what you want. And finally, the other Shireen is so much better than this one.
Ire & WWDrakey - 5 out of 5
Shireen is currently the cheapest chargenda there is and Rush decks can often do without an Agenda. Her Agenda ability will help the Baratheon player to close the game faster, and she can single-handedly create new power rush deck types that are going for many P challenges a turn with renown vigilant/non-kneeling characters. Bear in mind however, that she has to be played smartly in Noble rush since that crest of hers might actually make her hard to kill.
jimpanda - 3 out of 5
Shireen is pretty good, but I'm not 100% sold on her. She takes a little bit to get moving, and rush decks want the smoothest, quickest draws possible. Also, unlike the other "Chargenda" characters, she is not powerful by herself, so running three copies to ensure you get her is more risky, as dropping another copy late is not very exciting. She also runs into a little stumbling block with Power of Blood, but she should be dead before it matters too much. Her effect is solid though, and it seems like most rush decks don't have a good Agenda to run anyway, so she will certainly see some play, but I feel that she is not as good as a first glance would tell you.
Kennon - 2 out of 5
As mentioned, her noble crest might actually make it difficult to kill her and actually turn her into an agenda. As well, you can't effectively use her ability on characters involved in that power challenge and actually get any extra power out of the deal thanks to timing issues. You'll have to win the power challenge, then make an intrigue or military (or find a way to initiate extra power challenges) in order to get any use out of it. There are bound to be more effective ways to get power.
Paladin - 3 out of 5
Her ability is fantastic, but by the time you get her played and killed, she may not matter much to a rush deck. But if you're not otherwise running an agenda, she would be good to throw in.
rave - 4 out of 5
Getting her ability active is a lot of micromanaging for a rush deck, but that ability is really good. Since the character gains the extra renown for the phase, this effect can easily get you 6+ power off of one character (depending on the revealed plot and icons) Will give some bite to a slower, less rush variant of powergrab.
[/CRB]
[CRB='/forums/uploads/got/med_dragonstone-bannerman-vd.jpg']
Dragonstone Bannerman 23 out of 45
Clu - 2 out of 5
The war crest has always been a threat in Bara but felt clunky. Adding the Ally trait feels hateful when you look at all the other playable three cost characters available. The lord trait may sneak this guy into decks he shouldn't be in but the possibility of free power will keep people from initiating challenges.
Darksbane - 2 out of 5
The Ally trait kills it for me. Although the Shagga player in me wants to run this in a Stark Alliance Baratheon deck with The Iron Throne, Melisandre (RotO), The Minstrel's Muse, and Den of the Wolf.
doulos2k - 3 out of 5
War Crest, decent stats... I dunno, I really like this character. Plus, 1 extra power every turn ain't nothing to sneeze at (providing you can win dominance). The only thing... at 3 gold, I'm not sure if it's going to replace some of the other 3 or 4 gold characters that are already in there. Again, this is probably more of a 2.5 for me as I'm split... but 3/3/2 - so, not terrible by any means.
FireFox - 3 out of 5
Baratheon has too many other good choice in the 3-gold slot meaning this guy will hardly ever make the cut. Yes, he has a war crest, but he is an Ally as well so it even out. I think his strongest asset is his Lord trait that synergises very well with other Bara cards. Finally, his ability is more of a deterrent really, but shouldn't stop people from attacking you.
Ire & WWDrakey - 3 out of 5
The ability and crest are the things that makes this Bannerman interesting. Unfortunately it has the Ally trait which is really bad for a character that is going to have a power on it. The war crest can bring possibilities to play more aggressively and the ability will most of the time bring in some extra power. The 3 gold slot is currently very full in Baratheon so this will most likely not see play in too many decks. Also:
why isn't this a Bannerman?
jimpanda - 2 out of 5
Again, this guy will just have trouble making the cut in streamlined rush decks. The fact that he isn't a Bannerman bothers the crap out of me too. These little design oversights are getting really annoying. Oh, he is also an Ally, so demerit points there, too. He is swimming in a sea of generic 3 cost characters that Baratheon is really having to pare down, and he's not going to make it.
Kennon - 3 out of 5
The Ally trait is surely a bummer, but I don't think it's anything to sneeze at that it bears the War crest and is a non-unique Lord character, which surely has some bearing on some variety of aggro deck looking to use things like the Price of War and the Rainbow Guard.
Paladin - 2 out of 5
Not a bad card, I just don't envision picking them over other, better Baratheon cards.
rave - 3 out of 5
Doesn't really do enough, not to mention that it's a 3 cost Ally that doesn't do a lot. I predict a lot of sad stories involving this guy and Varys/Arys/Jorah.
[/CRB]
[CRB='/forums/uploads/got/med_victarion-greyjoy-vd.jpg']
Victarion Greyjoy 35 out of 45
Clu - 2 out of 5
Greyjoy is finally getting top end characters to finish games. The renown keyword combined with the holy crest will be too much for folks to lay off the Power of Faith. The four cost however is still too prohibitive for him to make most good decks not centered on holy rollers.
Darksbane - 4 out of 5
I always like things that pump Greyjoy cards so I can better use Intimidate. There are some good warships to buff him with and he is resurrectable with Many Powers Long Asleep.
doulos2k - 5 out of 5
Wow. With the sheer number of kneelable Warships that tend to get played in Greyjoy, this is just an amazing card. Add the Holy Crest and suddenly those Power of Faith turns look to be all the more Brutal. I would have loved to see an Intrigue icon on him, but regardless, if you're running Longship Iron Victory and Black Wind, you're killing characters and drawing cards.
FireFox - 4 out of 5
I really like this card, just because it's different. It supplements the warship theme nicely and has a holy crest which greyjoy players could make good use of. His renown will also help them close down games which is also welcome.
Ire & WWDrakey - 4 out of 5
A holy blue Victarion with renown! Those are the things that are happening here. On a Power of Faith turn this guy turns into a real beast. Good traits and strength, all around good card. It competes for the Victarion slot with the other Victarion which isn't as deck specific as this one, since it has intimidate and a war crest. The ability on this one will rarely matter as in a holy deck you will have a lot of punching power already. 5 out of 5 if you are the person who always forgets to trigger the other Victarion's ability? The art is somewhat distracting (awful) as Victarion is usually pictured wearing a full set of armor even when on board a ship... also is that the wrong hand that is burned?
jimpanda - 4 out of 5
Now we're talking! This guy is great - nice flavor, good ability, and a theme that augments a severely underused theme: Warships. With Naval Escort this guy is a severe beating. The Holy crest is interesting too....maybe there is some good Holy Greyjoy deck on the horizon? He is four cost in a faction that is typically not very gold heavy, which prevents him from being an Asha-sized beating, but I like him.
Kennon- 3 out of 5
I won't be able to resist adding him in to my Greyjoy Holy deck as quick as humanly possible, but with an ability like that, I really would have expected his keyword to be Intimidate instead of Renown, but it's sure going to close games out regardless. Plus, it will be far easier to remember to put power on this Victarion than the first version.
Paladin - 4 out of 5
Can be quite powerful, just be sure your warships actually come into play and stick around.
Rave - 4 out of 5
This is very good. Not much to say, but he's pretty solid without needing to be built around.
[/CRB]
[CRB='/forums/uploads/got/med_moqorro-vd.jpg']
Moqorro 42 out of 45
Clu - 5 out of 5
Wendamyr is good enough to make every Greyjoy deck. Adding another save effect is starting to make this house scary good. Asshai brings nothing but opportunities with Lord of Light, Protect us adding to the Greyjoy cancel arsenal. I have a hard time convincing myself that I won't be playing Greyjoy for quite a while with multiple board sweepers.
Darksbane - 5 out of 5
This hits my sweet spot. Save, pump, AND intimidate, I love it. I think we might be on the verge of a unkillable Greyjoy deck. What is dead may never die!
doulos2k - 5 out of 5
Greyjoy does not need more saves... but there you go. What's unique about this beauty is Greyjoy now has TWO cards that save from Targ Burn (including himself, since he's unique). Targ will need to consider more carefully which cards to Burn (and in which order). Risen from the Sea is rarely played because of its singular effect, but this guy becomes a tri-con in Power of Faith turns, add in the save + intimidate and Greyjoy Holy becomes much more formidable.
FireFox - 5 out of 5
More saves for Greyjoy...boring. That said this guy is very decent in any deck. If you build around the only crest a little he can become really strong, especially with Power of Faith. Also if your opponent somehow manages to kill him he can come back with Many powers long asleep.
Ire & WWDrakey 4 out of 5
More saves for the Greyjoy. This is one of the few saves in the whole game that works on burn, but it's more like a lightning rod for burn effects as it itself has poor strength. It would be foolish of the Targ player to not burn this one first. Still the save ability is amazing, although you'll rarely get much mileage out of the Intimidate. This kind of an ability can be dangerous when playing against a Martell or GJ however, since you're tempted to choose your key character so it could get beefier... and a well placed cancel will hurt a lot.
jimpanda - 4 out of 5
The fact that he costs three is the only problem. I like him alot though. He does save from burn, and has a nice bonus of adding Intimidate as well. Again with the Holy crests, too......that deck is coming together! Between the Aeron and this guy, Greyjoy save decks should see some competitive play for sure. Add in Iron Mines, Iron Cliffs, Wendamyr, etc. and suddenly board sweepers become crazy good - kill your opponent's characters, save some of yours, and draw three cards. That's the game, folks.
Kennon - 4 out of 5
Wendamyr is already such a great repeatable save that he's an autoinclude in Greyjoy decks, and Moqorro might actually be even better. The Holy crest is nothing to sneeze at, but the biggest thing is his ability to save against Targaryen burn. Targ is getting a huge boost lately, it looks like, so a repeatable tool against them will be something to watch.
Paladin - 5 out of 5
Repeatable save alone makes him awesome. Get ready for even more immortal Grejoy decks.
rave - 5 out of 5
Hooray, more saves! Nothing bad about a reusable save with no bad traits. The ability is great too, since the saved character more than likely gets a free challenge off if you aren't going first.
[/CRB]
[CRB='/forums/uploads/got/med_quentyn-martell-vd.jpg']
Quentyn Martell 28 out of 45
Clu - 2 out of 5
Setting up a deck for the new alternate agenda characters should feed into something the house can't already do. Using card slots to kill of Quentin seems pointless. He garners a two only because he's a knight and is efficient with stealth.
Darksbane - 3 out of 5
I'm still not convinced the character agendas are worth it. There is just too much setup involved to be effective. Hopefully someone will prove me wrong but outside of Aeron Damphair I haven't seen one I care for enough to give up that houses typical agenda. Quentyn is a big investment but he does have a nice payoff if you can get him killed, and his stats are sold so if he doesn't get killed quickly he is still a decent character.
doulos2k - 5 out of 5
Martell doesn't need an agenda most of the time. Summer is great, of course, Maester's Path is famously good... but Martell is just flat out excellent and I think it can be argued that an agenda just adds some punch to an already formidable House. This guy just takes the cake. Vengeful is already an awesome keyword and being able to add it to every single unique with card draw after they stand? You'll be kneeling uniques to defend losing challenges just to draw cards. If you can run agendaless, this is the first charagenda I could see really worth looking at. The only downside? He's an expensive character to bring in with the express purpose of killing him. That said, run him 3X and you'd still have 2X of a solid Stealth character (who would also now have Vengeful!)
FireFox - 3 out of 5
As a Martell player I was really excited about this card. Now that it's here I am pretty nonplussed about it. The charagenda concept just seems too slow and clunky for me right now. Additionally Martell usually runs other agendas. However I will still play him once in my decks, because his other stats are solid. He is a Lord and a knight and has good str and icons for his cost. And if he gets to become an agenda all the better, but with in the current card meta setting him up just seems too slow and cumbersome.
Ire & WWDrakey - 4 out of 5
This is a solid unique character with a good keyword and icons that Martell is usually lacking. The traits are very useful ones as well. As an Agenda it definitely has its uses considering how Martell is finally getting more unique characters and that Vengeful is a really powerful keyword. Draw will usually come in handy as most Martell inhouse effects are based on reveal. Is it good enough to overthrow Summer/Maester builds? Time will tell. It would possibly work best in some kind of revenge themed deck.
jimpanda - 2 out of 5
Martell without Knights of the Hollow Hill or Kings of Summer is just a silly idea. He is playable on stats alone, kind of like Kevan Lannister, but I rarely see this guy being used as an Agenda in a house that relies so heavily on them. Call me crazy, but I really don't think he's all that good. Vengeful is a fine Keyword, but unlike Aeron Damphair's draw ability,, this effect is not strong enough in every situation. In the right situation (ie. losing a challenge with three knelt Vengeful guys) it's great, but it's window of opportunity for it to be game-breaking is very small.
Kennon - 3 out of 5
He's a pretty solid character on his own with great traits and stealth, but I'm not so certain about the agenda half. Vengeful is nice, but you're giving up some very strong agenda options that already fit with Martell. As well, unless you skew toward quite a few Sand Snakes, Martell just doesn't have a lot of uniques to use him with.
Paladin - 3 out of 5
A decent character, but his ability will be really nice in defense oriented Martell decks and decks that don't run KotHH.
rave - 3 out of 5
He's good, but Martell with influence is so much better. You have to draw him... then kill him... then play enough uniques to get a draw engine out of... then lose a challenge... A couple fun tricks with him might be to run 1 and: Summoning Season -> Confession (to toss your opponents big guy... should be easy with Martell influence) or, Muster if you can get enough useful knights.
[/CRB]
[CRB='/forums/uploads/got/med_spiteful-bastard-vd.jpg']
Spiteful Bastard 27 out of 45
Clu - 4 out of 5
Going second never looked so nuts. Win or lose any character that can attack and defend multiple times without a negative trait is money. Two cost and a bi-con should find him a home in many decks. The only thing keep this rock star from a five is the crowded slot at two gold in both houses.
Darksbane - 3 out of 5
I like the reverse keywords. He's nothing spectacular but he is an interesting twist on the mechanics.
doulos2k - 2 out of 5
I dunno. I like the effect, but it's backwardness worries me. It'd rather just have Vengeful personally. This card seems like a gimmick to me. There are too many other great Martell cards - I just can't see including this. Now, in Baratheon? Maybe he's a 3 out of 5.
FireFox - 3 out of 5
At first glance, this guy looks very cool. Then you look at the ability and you think Vigilant and Vengeful are better. Then you think that it becomes a little crazy if you go second and this is where this card can shine. IT might mess up with your opponent enough to make him commit mistakes. That alone makes this card reasonable. And it's also an unusual icon spread in Bara.
Ire & WWDrakey - 3 out of 5
Now, if there ever was card that oozes Nedliness it is definitely this one. It has perverted Vigilant and Vengeful... naturally, since it is a Bastard! The art honors this even more. The stats are average and the reverse keywords can really make this bastard shine. For Baratheon that I-icon is just lovely.
jimpanda - 2 out of 5
I'll give him the fact that he is very, very cool, but that's about where the liking ends. Vengeful and Vigilant are just not nearly as good when they are reversed like this, although he does get points for originality. He can certainly be a royal pain in the %$&, but I feel like he's too cute and just not good enough.
Kennon - 4 out of 5
The two cost slot is particularly crowded for Martell, but Baratheon has some more flexibility there. In either house, he's going to be a beast by faking out chump attacks to kneel characters or repeatedly boosting defensive strength. With the other challenge phase shenanigans that Martel is capable of, this is a card that I would really want to keep an eye on. You'll never be able to fully calculate what might happen during a Challenge phase.
Paladin - 3 out of 5
Another fun card. Decent cost, just remember what triggers when!
rave 3 out of 5
Weird, but no bad traits(yet). Could be useful with deadly on attack, and he's pretty much a +2 strength buff on defense if applicable.
[/CRB]
[CRB='/forums/uploads/got/med_recruitment-vd.jpg']
Recruitment out 17 of 45
Clu - 2 out of 5
Targ has the second most useful Allies in the game losing to Lanni. The theory being that if you put an Ally or Mercenary into play it's a solid character and worth replaying. However, recursion only works if you are gaining card advantage. Think of this as a character at any gold slot provided you have the influence. I'm having dreams about playing this card in a Targ charlite deck. This would be a four if you didn't need an alternate resource to power it; that's just one too many restrictions.
Darksbane 1 out of 5
Except for trick decks which try to get the most out of a card like Red Warlock this card does what other cards do, except it is less useful with more restrictions. Targ doesn't have event slots for something like this.
doulos2k - 1 out of 5
Boy, I really bounced back and forth between 1 and 2 on this. Are there Targ non-unique Mercs and Allies that there would be a solid benefit to putting back into play from your dead pile? Absolutely. No question. Is it so critical to be able to that it's worth taking up an event slot? I just can't see it. There is no way that being able to put Dragon Thief or Dragon Knight back into play is worth this to me. I'd just run Maegi's Promise - it's only 1 more Influence to recycle Thief or Knight and it provides greater flexibility for who you return (yes, this brings them into play, but I still can't justify it).
FireFox - 2 out of 5
As it stands, this card is pretty useless. The few Mercenary characters that Targ has cost a lot and you probably want to spend your influence on something else. It's only saving grace is that it's playable Any Phase, meaning you can bring in surprise characters during the Challenge Phase, triggering Illyrio as you go. Considering this, I wonder how this works with Disgruntled Mercenary. It also has good value with the new Daario, but that's about it.
Ire & WWDrakey - 2 out of 5
This was a tough call. It takes up an event slot, but it does bring the character back to the table. In the end what sealed the deal for Recruitment is that it has too many restrictions on it: you have to pay the full cost in influence, only targets Ally/Mercenary and last, but not least, the card needs to be non-unique. Now if you could bring someone like Illyrio or Jorah back with this, then its value would skyrocket.
jimpanda - 2 out of 5
The applications are kind of narrow, but this card is sweet. Maegi's Promise is probably better overall, but this card does allow for some interesting combos and plays. Time might tell here. Putting the card into play is pretty strong, and Lord knows Targaryen have no shortage of good allies to choose from. Dragon Thief is a Mercenary too, if I recall. May see some fringe play.
Paladin - 2 out of 5
If it was a gold cost, this would be a 1. Still not very good though.
Kennon - 2 out of 5
That requirement to be a non-unique is the biggest thing that kills this. If I was able to sleeve up and cherry pick any Allies and Mercenaries that I want and look for ways to cheat them into play similar to See Who Is Stronger, I'd be all over this card, but sadly, locking out uniques (and thus cards like Daario and Jorah) is just too big for me to have much interest any more.
rave 3 out of 5
Barely playable right now, but will only get better. As better 'come into play' effects come out, it will get way better.
[/CRB]
[CRB='/forums/uploads/got/med_young-griff-vd.jpg']
Young Griff 45 out of 45
Clu - 5 out of 5
Shadows trigger aside, tell me the last time you turned down a three cost, three strength, and stealth tri-con.
Darksbane - 5 out of 5
There isn't a downside to this card. I'm just trying to think of reasons why I wouldn't include him in my Targ or Shadows decks.
doulos2k - 5 out of 5
I love this card. 3/3/3 - you don't get better stats than that. In a dedicated Shadows deck, you just can't lose with this guy. Now, his stand ability? That's weird considering his Response doesn't allow you to bring him in outside of the standard Shadows window. I only see that response being helpful during the Dominance window... and then being able to bring a second card out of shadows isn't quite as cool. But... I still love this card. There are situations where his stand ability will save your bacon.
FireFox - 5 out of 5
This guy is utterly owerpowered. Ability aside he is a 3-cost tricon stealth character. Then the madness begins, He has a built-in mass-standing effect (Lannister players you can start crying now) which would be vanilla on its own. But no, the developers thought it was not enough and gave him a rule-changing ability allow you to bring out an extra shadows card. The possibilities are huge and this card is just stupid.
Ire & WWDrakey - 5 out of 5
Just by looking at Young Griffs stats, the card is very powerful. Mainly: 3-for-3, tricon and with stealth that can come as a surprise from the shadows. Now when you add to that how many things you can abuse with Young Griff coming out of shadows and standing ALL your characters... the card is just amazing.
jimpanda - 5 out of 5
See Damon Dance-For-Me. This guy is freakin' ridiculous. He also CRUSHES Lannister in the right situation, and Lord knows Lannister is the deck to beat (if you didn't pick up on the sarcasm, I'll try harder next time).
Kennon - 5 out of 5
This is far beyond the normal curve of characters with 3 cost, 3 STR, 3 icons, a crest and stealth, which makes him an almost certain auto-include as a one of just on stats. If you can find a way to abuse his ability (say, standing your characters during an extra Challenge phase or Epic phase) it's just going to be gravy.
Paladin - 5 out of 5
Yowzers. This guy is good even without his special ability, but being able to stand everyone? Dothraki and dragons, meet your new best friend.
rave - 5 out of 5
Not much to talk about, just 2 really great effects off of an already undercosted character. Nice way to get around the penalty for City of Shadows.
[/CRB]
[CRB='/forums/uploads/got/med_strong-belwas-vd.jpg']
Strong Belwas 42 out of 45
Clu - 5 out of 5
The cost for strength should already peak your interest. Saving characters out of Targ becomes impossible to pass up with Daeny, Khal Droggo, and the dragons. Oh, by the way, his keyword makes him even more powerful as a utility character.
Darksbane - 5 out of 5
Although Targ has a number of ways to get characters back from the dead, saving characters is something they don't have many options on. Strong Belwas pulls double duty since he doesn't kneel to save he can still attack or defend. Very sold card.
doulos2k - 5 out of 5
FINALLY! A Belwas I really want to play. Essentially able to save 3 uniques on his own - I wish it were Power and not Gold (a la Tarle the Thrice-Drowned), but then he'd be under-costed. If you're able to bounce him to your hand or get him discarded from play (like with Threat from the North) then you can recurse him or play him again from your hand for add'l saves. Just no downside here.
FireFox - 5 out of 5
This guy is so solid he even makes the rest of your deck more solid. He also brings something unusual to Targaryen decks which is saves and that is good. Especially when some Targ decks are built around key characters. He even saves against discard which is quite rare. His strength is higher than his cost which is always good. Finally he has an immunity that will protect him from burn. Solid.
Ire & WWDrakey - 5 out of 5
Good stats, good keywords and wow that ability is great. Something Targaryen hasn't seen since the Season Cycle Aemon (in characters at least), saves. This brings to the board something in which house Targaryen hasn't been too good before - resilience. This is a welcome sight (but not for any other house

). The only real downside is the weakness against other Targaryen players, but then again the No Attachments except Boon will keep it safe from some of their effects.
jimpanda - 4 out of 5
Very cool design, and finally a Strong Belwas worth playing. He is a 4.5 really. His ability is very good and very versatile, saving Dragons and all kinds of things. The fact that he does not have to kneel for his ability is also very strong. A single icon is really the only thing not to like here, but 3 strength for 2 gold is a great value.
Kennon - 4 out of 5
Very Nedly design, and I'm glad to see more Queensguard love. Targ already had a couple repeatable claimsoak options, but Strong Belwas does give you the chance to save some important characters like the Dragons from surprise kill.
Paladin - 4 out of 5
Belwas doing what Belwas does best, what's not to like?
rave - 5 out of 5
Doesn't get any better for 2 gold. Nice choice for your own Fear of Winter.
[/CRB]
[CRB='/forums/uploads/got/med_braavos-vd.jpg']
Braavos 25 out of 45
Clu - 3 out of 5
Another Free City makes the multi-house Lanni kneel deck stronger and stronger. Brienne, Arianne, and Melisandre all make for delightful ladies to add to your force. Bara gets the most bang for their buck followed closely by Stark. I believe these locations will be underplayed and once again Martell will lead the charge with Palace Spy.
Darksbane - 2 out of 5
It isn't a bad location and Brienne gives it a boost but it still doesn't do much for me.
doulos2k - 3 out of 5
I do really like this card. Being able to play a Stark Lady (like Core Set Arya) for, essentially, no OOH penalty is certainly attractive, plus those effects are passive and you still get the Influence you can kneel (which helps with her specific ability). That said, it has minimal utility overall, in my opinion.
FireFox - 2 out of 5
These cards can be strong in the right deck, but I believe they will be hard to play in an efficient manner. These will fill a very niche role. That said, it's good to have this kind of resources in the card pool as they enrich deck building and open new horizons.
Ire & WWDrakey - 4 out of 5
These cards are hard to rate. In right deck they work as a double resource with their reduction AND influence. Kingdom trait can be both good and bad. Alliance decks will love this. The Lady reduction will mostly matter for Stark and Baratheon.
jimpanda - 3 out of 5
I hope these cards end up opening deckbuilding up, but I have a feeling they may not be worth playing, which is a shame, because I really like them. This card is pretty nuts with Brienne, I'll give it that. At least it makes for interesting deckbuilding options, which I feel is always a plus.
Kennon - 3 out of 5
I'm really digging the new Kingdom locations. This looks like it will offer some great flexibility and some inventive builds as there are several great Ladies to use, even though the locations themselves aren't game breaking.
Paladin - 2 out of 5
Meh. Could be useful, but not for very many decks.
rave - 3 out of 5
In the decks that can get use out of either method of reduction, (or doubly, both) this is solid, especially because this is the 1 slot for locations, which tends to not be that great.
[/CRB]
[CRB='/forums/uploads/got/med_norvos-vd.jpg']
Norvos 31 out of 45
Clu - 4 out of 5
A long standing adage in my meta has been if you can't figure out how to make a deck work play house Martell to see if it's viable. I honestly don't see how a Bara power rush deck doesn't benefit from one cost Orphans. Targ gets another boon as well. I will not be surprised by Norvos times three in many decks. Oh yeah, this card powers OOH Ghaston Grey silliness.
Darksbane - 3 out of 5
This one has more potential. The Lord trait is on some very good cards and House Martell characters aren't any slouches.
doulos2k - 3 out of 5
Same thing here - I like the card. It's nice to be able to include a solid Martell Lord and remove the OOH penalty, but, again, it's very specific and if you really need this card, you're going to want to run dupes because the character would really have to be an important part of your overall strategy, I would think.
FireFox - 3 out of 5
This one gets an extra point because it makes the Red Viper a 3-cost Baratheon noble in a Treaty with the South deck. Scary. otherwise see above.
Ire & WWDrakey - 4 out of 5
Same as with the other kingdom location except this one will probably see more play as there are more Lords running in the current LCG Westeros than Ladies.
jimpanda - 3 out 5
See above, although I do think this one is slightly better, given some of Martell's fantastic characters. 1 cost Orphans are fine, and dropping Arienne in Baratheon rush is probably pretty strong.
Kennon - 4 out of 5
Even better than Braavos. There are more powerful to mid-range Lords available in the game, and Martell has one very interesting option in The Red Viper, which may be bonkers to turn up in decks out of house. Even outside of Lords, there are several Martell characters like Orphan of the Greenblood that many decks might like access to for 1 less than normal.
Paladin - 3 out of 5
Martell and Lord characters can be nice out of house.
rave - 4 out 5
More applicable than the Lady version. Otherwise, same response.
[/CRB]
[CRB='/forums/uploads/got/med_pulled-from-the-rhoyne-vd.jpg']
Pulled from the Rhoyne 12 out of 45
Clu - 1 out of 5
Keeping threats on the board is a dominant part of AGOT. Giving your opponent the same option makes this unplayable. The only bonus is if you are running the card draw river plot. Meh, keep your attackers on the board in the first place wins the game, don't rely on gimmicks.
Darksbane - 2 out of 5
Bad Stats, but I think there could be ways to maximize its usefulness. Using something like Visenya's Hill to put a crappy character on top of their dead pile could help.
doulos2k - 1 out of 5
Why on earth would I play this card? There are already far better River plots. Sure... save a character, but my opponents get to as well? No thank you. Yes, I know, you can trigger another plot, but for 2 Gold - this is definitely not going into my plot deck. Even if you were running a semi-dedicated River plot deck, this, so far, is my last choice to include.
FireFox - 1 out of 5
I want to like this card because it's a river plot, but I can't. If at least the ability was only for you... As it stands, we have a very situational plot with bad numbers that could backfire badly. No thanks.
Ire & WWDrakey - 1 out of 5
Stats for this one are horrible, 2-4-1. The ability itself is a restrictive one, as it has to be the top character in the pile. The only saving thing for this card can be the River plot that was before it, but when you have to rely on your last plot to make use of this... it just isn't worth it. Even the worst of the City-plots are miles better than this one.
jimpanda - 2 out of 5
There have to be some characters that make this playable, but even then it is a very steep price to pay. Bad stats, opponent's getting the effect too. This one is rough and borderline unplayable. The Rivers seem interesting, but man some of them are BAD.
Kennon - 1 out of 5
The stats just aren't good enough to support doing much with this plot, especially since every player will get a character back. Still, with it in the environment, everyone is going to have to pay attention to what order they put characters in the dead pile after Valar Morghulis or Wildfire Assault, just in case.
Paladin - 2 out of 5
If it didn't say "each player" this would be a little more appealing.
rave - 1 out 5
Could potentially backfire, and probably not very useful if it doesn't. 4 initiative isn't very much anymore.
[/CRB]
[CRB='/forums/uploads/got/med_under-the-bridge-of-dream-vd.jpg']
Under the Bridge of Dream 20 out of 45
Clu - 2 out of 5
Three gold, zero initiative, and one claim make for a non-playable plot. Plots are the most powerful card in your arsenal; don't hamstring yourself with an effect that adds two gold. The saving grace is that it can copy any river plot in the used pile, and there are couple good ones. Still, not as good as City of Spiders.
Darksbane - 3 out of 5
I view it mostly as a save up plot and it can activate any other river plot so that give some versitility. The stats are bad but slightly offset by getting that gold immediately to help play Shadow cards and get around choke.
doulos2k - 2 out of 5
I am not sold on the River plots, and, at first, I really thought this card was horrible... until I saw that you could recycle ANY River plot (not just the top one like the others) and it was suddenly far more interesting. It's essentially a 3-0-1 on its own and it's a +2 to the NEXT River plot you play, so - all in all - not terrible, but not great.
FireFox - 2 out of 5
City of Spiders is the obvious plot to compare this too. It seems worse, with lower stats. However, it's ability is quite sneaky and in the right deck could really be useful. Also it can trigger any other River plot, not just the previous one, making it it quite versatile. Maybe with some plot cycling effects we will see the true power of this card. For now though the bad stats seem like a hard price to pay for an effect that is not devastating.
Ire & WWDrakey - 3 out of 5
1-0-1, not too good stats. The ability will nicely pass choke and allow some shadows trickery and unlike most of river plots this one lets you trigger any river plot in your used pile. It's playable, but the stats still make you consider if you would be better off by using some other plots. River plots seem to be very tricky, if you want the best mileage out of them make sure you can reveal one next turn as well. This makes for a big weakness as it will be easier to predict what is revealed... and if you are forced to reveal a non-river plot you will be left with half the effect of your last plot still waiting for a new river plot. That said, if you're running River plots, this one will definitely be one of them.
jimpanda - 2 out of 5
It's very cool, and I can see sneaky uses for it, not to mention that it's great against Blockade. Overall, the River plots don't thrill me yet, but I'm sure they will be good with something. It does activate ANY River plot, and its effect is solid as another River plot activation, so it will average for now. Doesn't quite measure up to City of Spiders, but it might be just good enough to make a River deck or two.
Kennon - 2 out of 5
This looks a little better, but I'm not convinced. The gold ability offers some application against The Sparr and Blockade, but effectively being a 3/0/1 plot is not going to convince me of much. The ability to copy any River plot in your used pile is going to be what this hinges on. At the moment, I don't know that it will be enough to redeem this cycle as a whole.
Paladin - 2 out of 5
Terrible stats, but decent effects; will have to see River plots in action before fully judging this one.
rave - 2 out of 5
I don't get it. Based on what we've seen, I could play a 5-0-1 and get as much value on one turn as this will give me over 2, and I won't even run those usually.
[/CRB]
[CRB='/forums/uploads/got/med_on-dagger-lake-vd.jpg']
On Dagger Lake 12 out of 45
Clu - 1 out of 5
Reducing options is always a premium. Unfortunately, one gold restricts the cards you can play too much to offset this goodness.
Darksbane - 1 out of 5
Very weak. If I play a plot that is only giving me 1 gold it better do something awesome. So far there isn't much about any of the river plots that make me think they are awesome enough to offset the horrible stats most of them seem to have.
doulos2k - 1 out of 5
No thanks. What is with the River plots and the almost utter lack of gold? I have issues with plot effects that just do something other cards in the game do better. Yes, you can trigger another River plot... but, so what? I just don't get it. Unless you're actually running something that will cycle through the plots to get multiple effects - the whole River cycle has been underwhelming for me.
FireFox - 1 out of 5
Again, the stats ruin this for me. The effect can be useful and the initiative is above average, but I want something more for my money from my plots. Again maybe plot-cycling will make this better.
Ire & WWDrakey - 2 out of 5
1-6-1... Err... Hmm. Well, at least it's card advantage, sort-of? Of course the weakest kind imaginable. Oh, and it trumps Search and Detain in initiative. Still. That 1 gold... hope you are not playing against choke (or happen to have played Under the Bridge of Dream last turn).
jimpanda - 2 out of 5
Ugh. There's apparently no gold on the Rivers these days. These plots are pretty cool overall, I just don't see a whole of powerful uses coming out of these. I like discard more than most people, but the 1 income is crippling here. I wonder if it's a deliberate design move to not make overpowered plots.
Kennon - 1 out of 5
Well, at least I can say that I like the looks of the 1/6/1 numbers from an aesthetic standpoint. Unfortunately, that 1 gold keeps this from becoming what would be an otherwise pretty solid piece of the River plot cycle.
Paladin - 1 out of 5
I give up gold to make opponents discard 1 card? No thanks.
rave - 2 out of 5
Really so-so. Initiative is nice, but there have to be some more effects to this mechanic we haven't seen yet.
[/CRB]
[CRB='/forums/uploads/got/med_before-the-black-walls-vd.jpg']
Before the Black Walls 33 out of 45
Clu - 3 out of 5
Kneeling out characters lets you counter attack with free reign. The low initiative doesn't allow you that option. Control decks will love this card by locking down extra characters and Lanni will flourish using Misinformation.
Darksbane - 3 out of 5
Pretty good stats and an interesting ability. If I was going to run River plots this would definitely be one at the top of the list, I'm still not seeing much of a reason to run the River plots though. In a properly built deck that can take advantage of this it has the potential to wreck your opponents strategies for the turn.
doulos2k - 4 out of 5
Okay... now we have a River plot worth looking at. It's very specific and you need to ensure you have and can maintain board position. In Baratheon, the Vigilant keyword makes this a very interesting plot (in Martell, Vengeful can be helpful but less so... since, you know, you have to lose the challenge and all). Without standing effects or characters that don't kneel, however, this makes multi-icon characters a single icon character for one turn.
FireFox - 4 out of 5
This is a very strong control plot. It can severely limit the number of challenges your opponent can direct your way. Especially these days with decks that focus heavily on one type of challenge, like Stark Siege of Lanni PbtT. Even against other decks, the icon spread on characters is usually diverse enough that you will probably always be able to name an icon that will hinder you less or a challenge that you can afford to lose. On top of this strong ability it's a River plot, meaning the ability becomes repeatable. Very good indeed.
Ire & WWDrakey - 4 out of 5
Now what do we have here? My my, a River plot with good stats? The ability on this card has a great reward with as great a risk. This will probably become the first River plot you want to reveal if you are running them. To fully abuse the plot effect you would need to build a deck with heavy focus on different monocons, which is an interesting concept by itself. Martell and Lannister might be best suited? Targaryen will be afraid of this with all their tricons... or instead love it due to bouncing characters? To be honest, this is the first plot that could make this whole River... flow.
jimpanda - 4 out of 5
This is fantastic. I'm not sure if it's enough of a reason to slog through the other River plots, but I like it. Even if you're not playing River plots, this one seems OK. The effect can be crippling in the right circumstance. Again, time will tell, but i could definitely see some uses for this one; the effect is VERY powerful in control builds.
Kennon - 3 out of 5
Finally a River plot that with stats worth playing. Even better, it has a fantastic ability that's even worth playing without other River plots to double up on the effect. If you use this with another River plot, I'd say it probably goes up to a 4 out of 5. It might be worth it to try picking out the next best River plot to follow this up with, then Under the Bridge of Dream to keep this effect up for three turns. It's worth checking out.
Paladin - 4 out of 5
I had to look twice, because I couldn't believe that this was a River plot. Has the potential to create some interesting rounds.
rave - 4 out of 5
Lethal counter-attack anyone? This is a great plot, and its applications will be specialized, but useful. 4 gold plots don't usually do a lot, and this one definitely has some good potential.
[/CRB]
Author Bios
clu
Jerod Leupold started playing AGOT during the release of Flight of Dragons and declared his allegiance to Greyjoy at an early age. He cut his teeth playing in the MN, MO, and WI regionals trying to build dominant characterless or recursion decks. He has placed first in one lowly attended regional, second in four others, and top eighted in two out the four GenCons he has attended. For one year he was the number one ranked limited player. He currently resides in Iowa City and is proud to be a part of the Knights of the Corn meta.

During the years of 2005-2011 he was the owner and tournament organizer for Critical Hit Games that ran magic events on a weekly basis including being asked to host the state of Iowa championships twice. He has been a tournament player for several ccgs including 7th Sea, L5R, Spoils, and is the current King of the Hill champion of the 2011 GenCon Invasion tournament.

doulos2k
Larry Gross has only been playing AGoT since December 2011 but fell in love with the game almost immediately. It's his first ever strategy card game and now he's disappointed he's been missing out all these years! When he was introduced to the game, he had only heard of the book series because of the publicity surrounding the HBO show (which he'd never watched) and had no idea which house represented what nor how they fit into the overall story. He chose the Targaryen House as his primary house almost immediately because of, well, Dragons!

He's now read all five books and stuck with Targaryen... because he still loves Dragons! He recently placed Fourth in his first Regional Tournament in Tulsa, but no other glory to speak of yet, but he's a hopeful n00b!

FireFox
FireFox started playing AgoT just as the Winter edition was being translated in French. Not long after he became Night's Watch for his local store in Geneva. From then on he has never given up on the game and has nearly always been a exclusive dornishman. His studies in biology forced him to leave Geneva however and find another Meta in Lyon. This wasn't the last move either as he now lives and works in London, which doesn't house a regular playing group so he has resorted to playing inline. He still keeps regular contact with both his previous metas though and even organise tourneys for them sometimes, as one can never truly leave the Night's Watch.

His acheivements include winning the North of France Regionals in 2011, placing 3rd in the French Nationals in 2008 and 10th in Stahleck in 2010. All of these using controls decks out of his beloved House Martell. While he is mainly a Joust player himself, he enjoys playing Melee every now and then. He has also been heard to play both Lannister and Targaryen decks.
Ire
Every Maester needs a Raven on his shoulder. As a Finn, Iiro Jalonen (Ire) got pulled under the waves by Krakens years ago, and has never looked back. A self-inflicted Shagga and active member of the global AGoT community, he has always strived to know the rules of the game, in order to make them do ridiculous things.
JimPanda
Hailing from Rochester, NY, jimpanda has been playing card games forever, stretching back to the glory days of Doomtown and L5R. He has been an avid player and Tournament Organizer for a variety of titles, including Magic: the Gathering, Doomtown, Raw Deal, and A Game of Thrones and has done some design work and playtesting here and there. He enjoys the Game Thrones community greatly and wants to see it continue to grow and evolve. He also enjoys long walks on the beach and winning games with the Lannisters. KennonWill Lentz picked up the moniker Kennon in his High School days and has used it everywhere the Internet reaches. His love of A Game of Thrones started not long after that, when he read the novels the same summer that the game launched in 2002. He finally found a store that carried the game about a month after release, and has been with it ever since.

He's been a vocal member of the community practically since its inception, and has been traveling to compete since 2005. Always the bridesmaid, but never the bride, Kennon's made the elimination round in several Regional events, been the only player to make back to back top 4 placement at two consecutive years of ChiCon (the largest AGoT tournament at that date), as well as making top 8 Joust in 2008 and final table in Melee at GenCon in 2009. In 2011, he earned his first titles, winning the LCG Days Melee competition and the Missouri Regional Joust and Overall.

In 2010, he became a founding member of the 2 Champs and a Chump, the first AGOT podcast, and in 2012 became a founding member of the Small Council initiative at CGDB.com. rave
Rave has been playing AGOT since late 2002, and has placed top 8 in multiple regionals since, including a 3rd place finish at the Kublacon regional.
He is a member of the Sactown Mafia, and long time Lannister loyalist.
WWDrakey
Antti Korventausta (WWDrakey) is a self-proclaimed Finnish AGoT philosopher and nitpicker, who also used to practice Quantum Mechanics, but found that it paled to AGoT in both interest and complexity. As a Stahleck regular and judge, he sometimes has oddly vivid dreams of understanding portions of the game. In AGoT, he'll play anything as long as it's suitably twisted... often ending up with something that has horns on it.
Zaidkw, Reager and ProfessorWerewolf like this
Article: Valar Dohaeris Card Reviews