Welcome to Card Game DB
Register now to gain access to all of our features. Once registered and logged in, you will be able to create topics, post replies to existing threads, give reputation to your fellow members, get your own private messenger, post status updates, manage your profile and so much more. If you already have an account,
login here
- otherwise
create an account
for free today!

1
abUse the Force - Worlds
Nov 21 2013 06:15 AM | divinityofnumber in
Star Wars
Star Wars
abUse the Force
divinityofnumber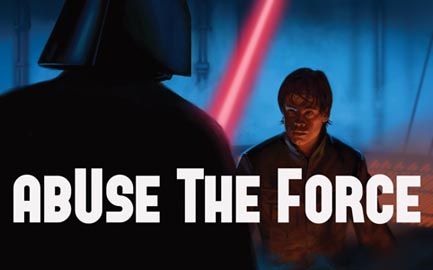 First, it was great to see so many players sign up to play Star Wars LCG at the FFG World Championship Weekend. The tournament was set to begin at 3pm, but was delayed by over one hour due to several factors: 1) a large number of people had byes from regional wins, making scheduling awkward, and 2) more people wanted to play than had been anticipated, forcing FFG staff to scramble for more tables, chairs, and station markers. The past weekend was living proof that SW LCG is in fact alive, well, and flourishing.
Seeing everyone gathered in one location and getting to meet people in person whom I had only known online was a real treat. Many of us love these great games, but spend most of our time around people who do not play them, understand them, etc. We go to our jobs everyday where there is no one to talk on and on with about game mechanics, card ideas, and our best builds. Since LCGs have not yet hit the popularity level of some of the most popular CCGs, playing them can sometimes feel isolating, leaving us wishing that there were more local playgroups, and that more people played in general. One thing that the LCGs have, that I would argue the bigger card games do not, is an amazing and closer-knit community of players. Thus, getting people together in the same place for something like FFG Worlds is invigorating, refreshing, and exciting. In fact, between rounds in the AGoT Joust event, people were sitting around waiting, talking, laughing, and a close friend said to me, "You know…this is really why people come here, for the times between games." I could not agree more. I put a lot of time into gaming, and am quite competitive. But, I have to admit that the best memories of the event are those made between games. As the weekend was winding down, and I was riding away from the Event Center, another friend (keep in mind we are both Minneapolis locals) said, "This weekend was so awesome. I wish that everyone in that building this weekend lived around here." That is what makes the LCG community a great place to be.
Star Wars Specifics
This was a big event for Sith, without a doubt. This column is dedicated to keeping a focus on Jedi and Sith affiliations, but it will be rather Sith-heavy this time around, due to the near ubiquity of Sith decks this World Championship weekend. I will address delicately a few commonly heard points below.
Are the Sith Overpowered?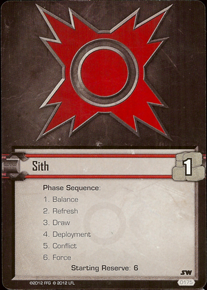 In my opinion, No. There are three dark side affiliations, and the Sith are by far the most integral to the overarching Star Wars universe. The Sith affiliation should be strong. It should be very strong. It should be difficult for LS to beat. But, it shouldn't be impossible. And, as this weekend revealed, it is indeed possible to beat Sith with various LS decks. My Sith deck did not lose a single game all afternoon, until it lost badly to a well-played Speeder deck that got decent draws. Indeed, I personally witnessed seasoned players lose with Sith to the LS Super Friends builds, which veteran players such as Mick Cipra (2nd place, FFG May the 4th Be With You Tournament, 2013) drove over Sith with all afternoon, ending up in 4th place overall. Sith can be beaten, and they can be beaten with every mainstream LS build, if piloted properly.
So, my verdict is that the Sith are not overpowered. They are powerful, but they should be. As we have seen, the right player(s) can deal with Sith effectively with a variety of LS builds. Furthermore, the SW card pool is still in its infancy. I remember when only the core set and a few packs were available for A Game of Thrones; there were houses that felt quite strong, and others that seemed to be lacking. But, things ebb and flow over the course of a game's lifespan. Give the game time to breathe.
Is Sith Holocron Too Powerful?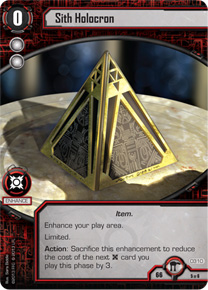 Sith Holocron is a great card. I would be tempted to run The Executor Arrives for Sith Holocron alone. It frees up resources to play a pseudo-surprise Force Lightning, lets you reduce the cost of those amazing and high-cost Sith units, and also triggers the ability on Executor itself. So, given the current card pool, The Executor Arrives is quite appealing to Sith decks. But, this will change over time, as both new LS and DS deck archetypes develop. In the first cycle of A Game of Thrones cards, some very large Army characters were introduced, whose cost could be significantly reduced if one controlled a King or a Queen character. These cards were beefy, had effects that triggered when they were played, and were often played for significantly less than their printed cost. But, they shortly fell out of favor as the card pool developed and players realized that there was more to winning a game than spamming out a character with massive strength. These units, although strong, could be worked around in many ways. And, as the 2013 World Championship for SW LCG has shown us, the Sith heavy hitters can be worked around by every dominant LS deck archetype.
Furthermore, although an amazing card, the Sith Holocron does have its downsides. First, its effect is usually only useful once (unless the deck also runs Across the Jundland Wastes). Currently, the only way to get a Holocron back out of the discard pile is via the Reaction on the Bantha (
see the note in comments regarding Bantha
). If something like that begins to happen consistently (i.e., providing essentially infinite resources), something will probably need to be done. In that case, I would much prefer an errata to the Bantha, rather than to the Sith Holocron, perhaps changing the text to read "non-Sith enhancement" or "neutral enhancement." But, for now, the Sith Holocron is mainly a single-serving treat; you use it up, and it is gone. This is much the same as the effect of
Admiral's Orders
in Capital Ships decks. Many other cards have great effects that stick around turn after turn, such as Echo Caverns, Heavy Blaster Emplacement, etc. So, the Sith Holocron is a self-limiting advantage. Second, Sith are great at winning edge battles. But, playing a Sith Holocron means one less card in hand that there would have been otherwise. Thus, the turn that it is dropped, the Sith ability to win edge battles diminishes. Thus, if you drop-and-pop a Sith Holocron to get Palpatine on the board, it is less likely that you will win that next edge battle against a unit like Luke or Han, potentially sending Palpatine down the mechanical shaft screaming before he explodes into blue Sith force death flames. As more Sith objectives are released, there will be fierce competition for slots in Sith builds. And, having seen some recent spoilers, I would say that it is likely that there will soon come a day when a pod consisting of a Executor, ISB Liaisons, Aggression, and a single Sith Holocron will be less appealing than running a pod with even more meat on its bones, a pod more dense with powerful units and events, perhaps even more efficiency, and more synergy with other Sith themes. Think about the Sith Holocron, and what it does, and then think about some of the most amazing LS cards and card effects. The Holocron is in no way broken. It is simply a solid card in a deck that chooses to run a handful of high cost units, which also has its own downsides. Its pod is popular right now, but the game and card pool are young. Take a deep breath and give it time.
Conclusion
So, let us all admit that the Sith Holocron is an amazing card, providing resource ramp of epic proportions in Sith decks that rely on a few high-cost units. Although the card may not have as many downsides as positives, it does have its disadvantages. And, as more and more cards enter the Sith cardpool, The Executor Arrives will fight for a spot among other amazing objective sets. Do we see many LS character decks without Luke? No. Do we see many LS character decks without Han? No. They tend to show up regularly because they are awesome cards. Sith has some awesome cards too, as they should. The Falcon will continue to show up in a lot of decks, and things like Sleuth Scouts, Blockade Runner, Home One, and Rebel Assault will continue to be a heavy presence in LS vehicle-heavy decks. Like other archetypes, Sith has its current staples. And, I think that is just fine. For some new players, it may be frustrating, because it seems like all someone has to do is spam out a huge unit and they win the game. But, have faith that that is not true. When I first cracked open a core set, it felt like the person who got a major unit (e.g., Vader, Luke, Emperor, Han) first won. But, after you learn the intricacies of the game's mechanics, you come to find that that is simply not the case. Keep playing, keep deck building, and you will be pleasantly surprised at how dynamic and evolving things are as the game grows and the card pool expands.
A Note on Building a Local Scene
As amazing and invigorating as Worlds was, I know that some of you out there are frustrated at the apparent lack of support and/or excitement about the SW LCG in your area. I would encourage you to reach out and connect with other local players. The first step is finding the people in your area that play. Maybe they post on CardGameDB.com, maybe they post on the FFG fora, maybe they post actively on BoardGameGeek.com, etc. Branch out and make contact with the people in your area that do play currently. Find a night of the week that works for everyone. Find a FLGS and go and play SW on a Friday night. The people playing MTG will stroll by slowly, wondering what the hell you are playing. People walk by slowly, curious about what this new game is. Trust me. I have played SW in stores while Friday Night Magic is going on. No less than 10 people approach the table and start asking about what I am playing. Then, you get to explain to them that there is an awesome new SW game that is very fun, and does not require hundreds of dollars worth of booster boxes to be competitive in. You could even go to a game shop alone, bringing a few SW decks with you, and ask around for someone to get a game with. One of the reasons that I got into card-gaming was due to the friendly communities of players. I can all but guarantee that if I were to go into a bustling game store on a Friday night all by myself, bringing with a few SW decks, I could easily gather a few people together to play some 2v2, and it would probably be an insane amount of fun. This will become especially easy after Balance of the Force is released. Then, SW can be introduced almost as a board game. If you frame the game in that way for new players, and get them playing this fun new 3v1 game where one maniacal player tries to build the Death Star while three LS opponents race to stop it, I bet that after a few play sessions they become interested in 1v1 play.
And, it is important to introduce the game in a way that is not condescending or critical of other card games, such as Magic. You could say something such as, "This Star Wars game is really fun. I love Magic dearly, and played for quite a long time, and still love it. But, sometimes I like a change of pace, and the LCG games are a nice way to play a fun and competitive game where everyone has access to the same cards. You can get the entire card pool for about 150 dollars, and the upkeep cost is insanely small. Plus, there are awesome 2v2 and 3v1 modes that are crazy amounts of fun. You guys should check it out. When are your rounds over? Do you guys play games here on other nights? You should try 3v1 Star Wars; it is awesome, and doesn't take long to learn."
If there is no one around you that plays, you can build a local scene. This game is really fun, and exciting to play. The big hurdle is getting the cards into someone's hands; the game sells itself after that. If you had a good time playing 3v1 at a local game shop, and told the players, "This game is actually relatively new, too; you can get every card in the card pool for about 150 dollars. And, you don't have to worry about buying hundreds of dollars worth of booster boxes or singles every time some new cards are released", there would surely be some interest. After all, do not forget that the LCGs pulled most of us away from other games.
If you have even a small handful of people who play in your area, push your local store to apply to host a Store Championship. Keep mentioning the Game Night Kits to your local stores. But, perhaps most importantly, connect with other players.
Step 1: Find the people near you who play. You may have to do some digging online. Good places to start are the FFG fora, CardGameDB fora and player locator resources, BoardGameGeek fora, and perhaps even the Facebook pages of popular SW groups, such as The Smuggler's Den and Team Covenant. You will likely find other people near you (unless, of course, you are quite far from any major city) who play. Exchange email addresses, friend each other on various fora, exchange phone numbers, etc. Really try to reach out and make a connection. If someone has your phone number, for example, it is easy for them to send you a quick text message and see if you are available for some games on short notice. The more connected you are to the other local players, the more SW you will be able to play.
Step 2: Find times and places that work for everyone. Start an email thread, a Facebook thread, or whatever. Make the scheduling work out. Pick a fun and bustling place that is convenient, as well as a time that works for everyone (or most people).
Step 3: Keep asking your local store(s) about Game Night Kits and Store Championships. And I mean really nag and bug them about it. If you have even a small group of local players, there is no reason that the store should not order in the Game Night Kits and apply to host a Store Championship. If a certain store is unwilling to order in the Game Night Kits or Store Championship materials, let them know that you plan on finding a store that will, and that you will be spending time and money there instead.
Step 4: Engage with the larger community. Frequent places such as CardGameDB and the FFG site for News, ideas, and to foster a general sense of connectedness between your own local group and the larger community. If there is another major city somewhat close to you, you might even be able to host a combined event once or twice a year, where two larger local groups come together and battle for the region.
Thanks again for an amazing weekend at Worlds, and thank you for continuing to read abUse the Force!
admiralacf, 4wallz, jjohnson111 and 1 other like this
Article: abUse the Force - Worlds