Welcome to Card Game DB
Register now to gain access to all of our features. Once registered and logged in, you will be able to create topics, post replies to existing threads, give reputation to your fellow members, get your own private messenger, post status updates, manage your profile and so much more. If you already have an account,
login here
- otherwise
create an account
for free today!

0
Star Wars The Card Game Review
Star Wars
Review
Kennon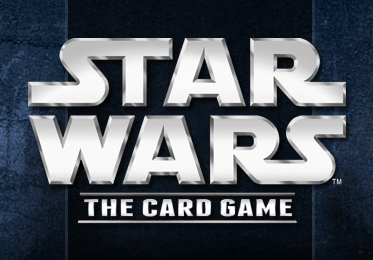 Slightly more than a week ago now at the World Championship Weekend, FFG made one of the most amazing announcements that I've ever heard at a Thrones event- the announcement that all of the players who had pre-registered for the weekend's events would receive a free copy of the Star Wars LCG. That's right, FFG flew in advance copies of an LCG core set which won't be released for quite some time. And, never fear, but the folks that hadn't pre-registered could still win a copy of the game. FFG employees and volunteers (at least, I think a couple were volunteers) spent the rest of the weekend gunslinging Star Wars demos: if you won against them, you received a copy of the game.
Now that we've got a few games under our belts, let's take a brief look at the newest addition to FFG's amazing stable of Living Card Games.
The Good:
Let's start at the top here, once you open the box, you're treated to the usual rules booklet, cards and such, but there are a couple of advancements here that I think are worth noting. There's an insert that I don't remember seeing in LCG boxes before that actually recommends that you stop right now and before trying to read the rulebook, go watch the learn to play video on the FFG website. All of the learn to play videos that I've seen FFG put out have been really solid affairs with high production values that give a very solid fundamental grasp of what's going on. The other recent change, is that all of the cards in the Core Set are actually in two small zip-lock style baggies rather than the sealed shrink wrap affair that we see in Thrones and others. To be fair, this isn't the first LCG to do so, but it's worth pointing out that they make a great way to keep the cards together more easily than before, as well as being perfect to store the many counters in once you've popped them out. As well, the art on the cards is really quite stellar overall, which is a huge boon for immersion into this universe far, far away. If you look closesly, there's even some Ralph Mcquarrie art, which is a huge nostalgic boost.
On to the gameplay itself! It's interesting that this game can seem like it plays so differently, but so obviously feels connected to the mechanics of the other LCGs. To start with, once you're up to speed with the mechanics of the turn, this is a quick game. At most, you're just going to be playing for eleven turns, barring a few card effects. This is because the Dark Side player has inevitability on their side. Once the Death Star counter ticks up to twelve, the rebels lose. This forces the Light Side player to be constantly looking for a way to put pressure on the opposing side. As the second of FFG's assymetrical LCG's, there are certain aspects that have been improved in Star Wars. While Netrunner excels at bluffing, the two sides are extremely locked in to their attack and defense roles. Star Wars manages to dodge this somewhat by two ways. First, the dark and light sides do all use the same card types and second, the Dark Side does have the opportunity to attack. This gives the Empire player the opportunity to outmaneuver a hesitant Light Side player by going on the offensive in the same manner. While destroying three objectives as the DS player won't bring a victory the same way as it will for LS, it gives that side a greater flexibility of interaction than the Corporation has available in Netrunner.
The speed that the game can be played at though, is probably quite necessary in order to allow players in a competitive environment to flip and play both sides within the necessary time limit. This is also good for casual players that want that quick fix of another attempt to keep them going. I'd say this is probably the LCG with the closest feel to Magic: The Gathering terms of the length of the game.
Combat is interesting mainly due to the edge battle mechanic, which is a sort of side battle before the battle. At the start of each combat, players essentially bid cards from their hand in an effort to win the "edge battle." The winner is determined by adding the force icons which are present, literally on the edge of the card, barring some card effects and modifiers. If you win this battle, you may strike first with one of your characters, which may entail some combination of damage to opposing characters, objectives, and/or extra focus tokens added to characters. Since this means you might kill or otherwise incapacitate opposing characters before they get to affect the outcome, winning the edge battle is quite important. Thankfully, the draw mechanic in this game consists of drawing back up to your starting hand size each turn, so the attrition on your hand size and available options on what to play is not as brutal as it might seem.
The Bad:
For all the good that there is in this new LCG, there are a few downsides as well because sadly, no product is perfect. First up is the resourcing system. Straight out of the single core set, it appears difficult to build a very powerful deck because, much like all of the LCG Core Sets, there isn't actually a full playset of many of the cards available in a single box. So, in order to build more powerful decks, it's pretty tempting to mix and match several objective sets from a couple different factions. Unfortunately, this can cause a problem when needing to resource match in order to play cards. Since the 4 objectives that you start the game choosing from are drawn randomly from the objective deck, we've already had several games where all of the 4 objectives are from one faction or the other and that player was effectively locked out of playing a large portion of their deck. This will almost certainly be addressed with future additions to the card pool, but right now, playing a dual faction deck is a very risky business.
Another aspect that's not as good as it might be, is connected to combat. While Star Wars does offer some interesting distinction between the different icons and it is nice to have that difference between unit damage and objective damage, there is a bit of cognitive dissonance when combat is being conducted between characters and vehicles. This can make sense when it happens to be ewoks versus AT-ST's, but it can be a bit disconcerting when it's Luke Skywalker versus Devastator- and that's without the use of his X-Wing!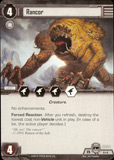 rawr
The Ugly:
Thankfully, as I said, most of the art is rock solid for the Star Wars LCG, so the ugly items aren't really that bad. Still, there is a bit of awkwardness to be had which the final jury is still out on. There are a lot of counters and tokens in the game. A lot. While there aren't that many different types (damage, shield, focus) there is a very good chance that there will be a lot on the board. So far shields don't come up all that often, but units and objectives generally have multiple hitpoints, which leads to multiple damage counters on each as the game goes on, but as well, Star Wars uses focus tokens to show which resources and units have been used rather than rotating the card like AGoT and others do. This leads to a board littered with tokens as the game goes on, and an awful lot of adding them during your turn and then clearing them all off during your next turn's refresh phase.
One last item that I'm a little uncertain of is the Edge battle. Mechanically I think that it works just fine and it's an interesting addition to the combat in this game, but something feels a little odd about it. Sure, after a moment I can grok that it's representing which side has "the edge" in a certain battle with some combination of morale, intelligence, initiative and whatnot, but since the Force icons are shown down the physical edge of the card, I surely can't be the only one that looked at the mechanic at first glance and thought "Oh wow, I can't believe they couldn't come up with a more flavorful name than literally telling us that the icons are on the edge."
So there you have it, folks, my first impressions on the Star Wars LCG. For everyone else that has a copy, what do you think so far?
Article: Star Wars The Card Game Review