Welcome to Card Game DB
Register now to gain access to all of our features. Once registered and logged in, you will be able to create topics, post replies to existing threads, give reputation to your fellow members, get your own private messenger, post status updates, manage your profile and so much more. If you already have an account,
login here
- otherwise
create an account
for free today!

0
Necrons part 3
legions of death
warpack review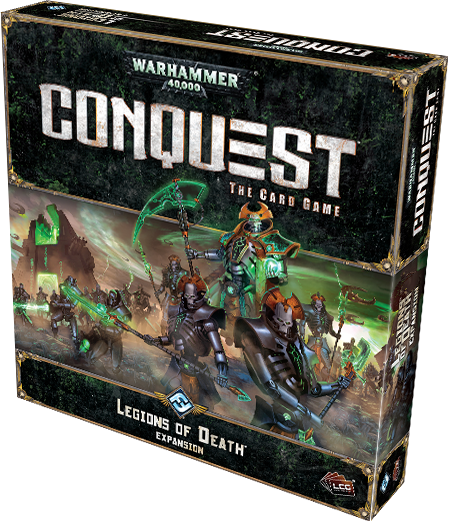 As usual I would like to thank like to thank the reviewers that submitted their initial reviews in an extremely timely fashion. This is the last of the reviews for the legion of Death box set look at the non-warlord necron cards.
I will also take a minute to get on my soapbox and encourage everyone to report all the games you play at 40kconquest.blogspot.com. The more people we have reporting games, the more accurate it is. You can also go there to see stats on games others have reported to see if anything we say in these reviews turn out to be true or not.
Synopsis:
Harbinger of Eternity 4.17
Recycle 4.17
Royal Phylactery 4.00
Warriors of Gidrim 3.83
Mind Shackle Scarab 3.83
Flayed Ones Pack 3.67
Drudgery 3.67
Decaying Warrior Squad 3.50
Reanimation Protocol 3.50
Tomb Blade Squadron 3.33
Canoptek Spyder 3.33
Praetorian Ancient 3.33
Mechanical Enhancement 3.33
Gauss Flayer 3.33
Reanimating Warriors 3.17
Immortal Legion 3.17
Lychguard Sentinel 3.17
Dread Monolith 3.00
Resurrection Orb 3.00
Average 2.91
Hyperphase Sword 2.67
Immortal Vanguard 2.50
Deathmark Assassins 2.50
Canoptek Scarab Swarm 2.33
Doomsday Ark 2.33
Extermination 2.33
Weight of the Aeons 2.33
Master Program 2.33
Mandragoran Immortals 2.17
Doom Scythe Invader 2.00
Eternity Gate 2.00
Particle Whip 2.00
Patrolling Wraith 1.67
Sautekh Complex 1.67
Timeworn Stasis-Crypt 1.50
Reviews:
Canoptek Scarb Swarm:
Whiteblade222 3/5
1 cost for a 2/2 is pretty solid, and being able to recur key units when you need it is pretty good.
Corvus – 2/5
Drawing you a card on death doesn't justify a small body that sits around with no command icons. This might be a role player to bring back self-milled units in the future, but right now the card pool is small enough that there's no reason not to run many copies of valuable units.
Kingsley - 2/5
This is one resource for a 2/2 that provides some amount of card advantage in time. Unfortunately, Necrons have better discard pile tricks, so I'm not sure this will see much play. It could become quite strong in the future if Necrons get strong in-faction Ambush options, however.
xRAVEx - 2/5
There are plenty of good points about this card: it's cheap, it has cool stats for the cost, it's drone, so is tutorable with ECT and can be used for Master Program, it brings you back the unit you wish. But I'm just not sold on it, maybe due to lack of hammer.
NecRus888 - 3/5
The lack of hammer makes me sad about this card, but its effect is quite good. It can also serve as cheap body for Gauss Flayer.
Steinerp – 2/5
Maybe someday but right now this is weenie in a faction that access to much better weenies that actually do good in command.
Warriors of Gidrim:
Whiteblade222 3/5
Again, 1 cost for a hammer is okay, and while it might be finicky to get both factions out to trigger his ability, he'll often be a two command card by the mid-end game
Corvus – 3/5
Any 1 cost 1 command unit is playable. How good you think the ability is depends on how consistent Nahumekh decks can be, and I have some reservations on that front. This guy presumably makes the cut in Nahumekh, but seems unnecessary for other warlords.
Kingsley - 4/5
This is a conditional Biel-Tan Guardians. However, being an almost strictly worse (it isn't an Ally, so there's that) version of one of the best cards in the game still ends up being very good! Most decks that run substantial allied faction presence (so all Nahumekh decks and probably many others besides) will probably want to run this guy.
xRAVEx - 4/5
1-for-1 is always welcome. 2-for-1 is super cool, but requires some other efforts. So it's definetely a no-brainer 3 in Nahumekh, but for Anrakyr (and all future Necron WLs) it will depend on your splashing strategy.
NecRus888 - 5/5
Сheap capper with potential command boost. A must for Nahumekh.
Steinerp – 4/5
A situation Biel Tan Guardian is still a very good card.
Flayed One Pack:

Whiteblade222 4/5
Not only is a 3/2 for two pretty good, his ability is great. Necrons want their cards in the discard pile for harbinger and drudgery. The forced part of this reaction could get you into trouble later on in the game.
Corvus – 3/5
Solid filler for any deck. I'd prefer a warlord groupie like Bor'kan recruits, but this is close enough. The reaction is a minor bonus, especially for Anrakyr, but will be a nuisance when you know you're running out of deck and don't want to bin Awake the Sleepers.
Kingsley - 4/5
Flayed Ones Pack has above the curve stats and a pseudo-downside that often ends up being to your advantage. Near-autoinclude for Anrakyr and will probably feature in many other decks besides.
xRAVEx - 3/5
Stats are cool for the cost, but the ability spoils its use outside of Anrakyr (or use it only as body for Gauss Flayer). For Anrakyr I'd call it one of the core cards.
NecRus888 - 4/5
Perfect unit for supporting Anrakyr. Solid stats for fair cost. Ability allows you to fill your discard with units to choose from for deploying with WL ability.
Steinerp- 4/5
Good stats and an ability that in most cases will be a positive. Only loses a point because not sure how much it will see play outside of the Traveler.
Immortal Vanguard:

Whiteblade222 2/5
You'll only really play this in Nakumekh, and even then it's a bit too comboey for my tastes. When it comes down to it, your opponent will target this first if it matters.
Corvus – 2/5
He really doesn't stand on his own merits, and having solitary command units at each planet is so common in Conquest that this should be the biggest consideration. Getting anything out of the bonus also requires you to warp your deckbuilding, outside of a few choice warriors like Snakebite, and I don't think the payoff is worth it.
Kingsley - 3/5
The Immortal Vanguard features decent stats and a strong buff to any out of faction Warriors you may have at the same planet. While you won't be excited to play this in many decks, a deck built around the synergy here might prove quite solid - there are quite a few out of faction Warriors that are worth including, many of which benefit quite a lot from this buff. What up, Incubus Warrior?
xRAVEx - 2/5
Pretty average stats for the cost. Low ATK makes it bad target for opponent's hits, but the ability is nice. It's one of the units that determines your deck structure. So no need to take it as a vanilla unit, but is a must, if you want to play around warriors units. And as it boosts non-necrons units. it's mostly for Nahumekh, in my opinion.
NecRus888 - 3/5
This unit gives significant combat boost for decks built around warrior units. In all the rest cases leave it in the binder.
Steinerp – 3/5
Nothing to complain about but nothing to write home about either.
Patrolling Wraith:

Whiteblade222 1/5
You're paying 2 for a unit that has no command, and then has an incredibly conditional ability. You're not guaranteed to hit something from their hand, and if your opponent really cares, he can shield the damage and let the unit die to something else.
Corvus – 1/5
Your opponent needs to fail to manage his hand after seeing this in play and let you land the killing blow with it. That's rarely going to happen. Think of this as a vanilla card with no text, realize how bad it is from that point of view, and move on.
Kingsley - 2/5
I see this as being much too conditional to see frequent play; in the right situation it's great, but most of the time the opponent will have shields, they won't have extra copies of the unit in hand already, etc.
xRAVEx - 2/5
Lack of hammers, ability, which is difficult to trigger (as 2 ATK is low enough to kill some unit), so I'm not sure it will see play, even if it can be used for Master Program and can be tutored by ETC.
NecRus888 - 3/5
A perfect ability with huge restriction and quite moderate stats. It's always cool to have the possibility to look at your opponent's hand so that you could see his shields and combat tricks.
Steinerp -1/5
I'm not sure I need to explain how bad this card is. No hammer, no real ability, move along.
Decaying Warrior Squad:

Whiteblade222 3/5
Being able to pull a unit back from the discard to swing at a key battle is great. The only condition is you need a way to get him into the discard, and the "trick" can be seen coming from a mile away. Still solid, bodies are always nice, and it's a great way to take advantage of a resource lead.
Corvus – 2/5
Too expensive. Two resources for a 2/2 body, even as a trick, and even without costing you a card, is not a good rate. Anrakyr in particular never has enough money thanks to his built-in card advantage, so I can't imagine why or where you'd run this guy.
Kingsley - 4/5
Decaying Warrior Squad is a decent trick that doubles as an extremely strong money sink, since it can be replayed over and over again to the same battle if necessary. Characterful and effective - they just keep getting back up!
xRAVEx - 4/5
I like this unit. It's very thematic and useful for combats!
NecRus888 - 5/5
Very cool unit! You always have reinforcements during combat, as long as you have the resources!
Steinerp – 3/5
Decent trick that is reusable but will also suck your cash dry quickly.
Deathmark Assassins:

Whiteblade222 2/5
While you're going to get something in the 1-3 range (depending on the curve of your deck) the majority of the time, the lack of ranged, 3 cost, and no command icon means this won't see much play.
Corvus – 2/5
The streak of largely unplayable units without command icons continues. I actually think the ability is quite good, having one big attack to start a fight, even if it's inconsistent, can be great. The problem is that if your opponent doesn't oblige you by showing up to fight he does nothing, and given his cost that makes him very clunky.
Kingsley - 2/5
The average cost/card in most decks is between 1 and 2. That means this card is, on average, between a 0/3/3 and a 0/4/3; neither stat line is worth playing. In a deck with many expensive cards this could be better, but even then the lack of a command icon really hurts. I think this is a weaker card, though it'll still be one the opponent needs to fear in case you hit a Monolith or whatever.
xRAVEx - 3/5
Personally I like this card, but it's all about gambling, so it's not good for consistent tournament play. For Anrakyr it's much better, as it fills your discard pile.
NecRus888 - 4/5
I adore this card. You never know the bonus ATK this unit will get, but still it can frighten your opponent or make him play around this card.
Steinerp- 2/5
I want this card to be good as it should combo with discard tricks and help fil your pile. Unfortunately I've had too many times were this guy comes out thanks to a monolith or something and doesn't get to use his ability at which point he isn't very good.
Mandragorian Immortals:

Whiteblade222 2/5
His statline isn't terrible, but realistically you won't be able to pull of the combo consistently enough for it to be good. Also the non necron requirement means it's even harder to trigger his ready ability.
Corvus – 2/5
Sacrificing a unit to ready him seems terrible unless he's rocking some killer attachments. Absent any of those in the necron card pool, and given that I'm unwilling to pile multiple bad cards into a deck in the hopes of making magic happen, I'll pass.
Kingsley - 2/5
These guys can provide a pseudo "machine gun" Ranged attack with cheap Soldiers to feed to them, but the limit once per phase puts a damper on the upside here, and the base stats are decent but not great. Ranged units with better base stats like Baleful Mandrake and Altansar Rangers don't see play anymore, so you need to get big upside from the ability for this to be a good pick, and right now I'm not seeing it.
xRAVEx - 2/5
The closest unit for comparison is Altansar rangers (which are not played, by the way): for the cost of 3 you get the body of 2/2 with hammers. Immortals have 1 less command icon, which is bad, but have the ability to possibly strike twice. Additional swing for 2 is ok, but not significant. But if you attach hyperphase sword to it, it could be devastating. But this combo looks junky (similar to hypex injector combo), as you need the unit, the attachment and applicable card in hand to make it work, so I'm not sold.
NecRus888 - 3/5
If you build your deck around cheap soldiers, this unit will be super effective. For the rest cases just do not use it.
Steinerp- 2/5
Worse stats than flash gitz, a more expensive ability and limited to 1 untap per round. Ranged is good but this is just a little underwhelming.
Tomb Blade Squadron:

Whiteblade222 3/5
Being able to murder rogue traders or void pirates (or the dream scenario, a recon drone or biel-tan guardians) and then win command is nice. It's hard to tell how often you can actually trigger the ability and get value from it, but from my experience it's not consistent enough to see play outside of niche decks.
Corvus – 2/5
An interesting command unit, although the past tells us that at 3 cost they tend to stop being good. Better if your opponent has valuable 1 HP units like Incubus Warrior. I suspect that he's not powerful enough to build a deck around, as the times when you don't have any scouts to follow up behind him he'll be painfully underwhelming.
Kingsley - 3/5
Without Scouts to support it, this card stinks; with them, it can be a giant problem for your opponent on command. Definitely a "build-around" card, but one that can potentially be very strong.
xRAVEx - 4/5
I believe in this unit. 3 HP and 2 hammers make it very cool capper, who can survive command sniping. And his ability allows you to smash your opponent's economy and even combat units (especially in combo with Gauss Flayer). No wargear is sad, as with 0 ATK it could be the best target for the flayer, but exactly that's why this restriction exists. I think it's Nahumekh only card, Anrakyr can't play around it.
NecRus888 - 5/5
Amazing command unit. His mobility and ability to insta kill opponent's cappers just by appearing at the respecting planets is amazing. In my opinion the cost is totally fair. If you have several scouts, your opponent's cappers will be wiped out.
Steinerp – 3/5
I don't think you can build a deck around this guy right now and you sort of need to. That said I haven't tried and maybe you can make it work. I'm giving it a 3 because the concept seems intriguing even the cards aren't here yet.
Reanimating Warriors:

Whiteblade222 3/5
His statline is fine for his cost, but his ability makes him hellish to actually kill. Great if you're looking to play the long game. Keep putting him on the first planet!
Corvus – 2/5
I know these guys look tempting, but after some testing I'd recommend staying away until Szeras arrives. A unit that keeps coming back isn't that great when the unit itself isn't doing much. These can't really fight warlords productively and are low-priority targets in big fights, so what are you really gaining from their ability?
Kingsley - 3/5
These guys will be a big pain for your opponent in an extended game, especially if given attachments (since they don't lose attachments when they "die" and reanimate. Three resources for a 1/2/2 is rough, but if they die and come back repeatedly it'll be well worth it.
xRAVEx - 4/5
3 resources for 1/2/2 is not good. But the same cost for 2 or even more such units is cool. Perfect planet 1 bully, as you make your opponent overdeploy to P1 every turn they want to get it.
NecRus888 - 4/5
Funny unit. Your opponent won't like to see it in the late game for sure. If the game is long enough, you can gather all at the last planet.
Steinerp – 3/5
Statline isn't worth the cost but they don't lose attachments and as a low priority target, they are likely to be around during longer combats
Canoptek Spyder:

Whiteblade222- 5/5
4/3 for 4 is fine, but his ability sells it. Being able to pitch key units into the discard to bring back later (hello decaying warrior squad) or to fire drudgery, the healing he offers is amazing. Combine this with a limit once per combat round, and you've got a stellar Necron unit that will see play for a long time.
Corvus – 3/5
The stats are poor, but come the late game it's not uncommon to have units that you'll never have a chance to play in hand, and having a way to turn each of them into 2 HP is a great way to squeeze more utility out of your deck.
Kingsley - 4/5
The stats aren't great for the cost, but that ability is very powerful. I think this will be a staple for the unreleased Illuminor Szeras, and other decks with staple Necron fighting units will have this as a strong option.
xRAVEx - 2/5
It has nice stats, it's tutorable by ECT, healing is always cool. so it's a MUST card for Szeras, but for current 2 warlords I can't justify this card, as you definitely don't want to include a lot of 4-costers, and Praetorians/Legion seem just better.
NecRus888 - 2/5
Great stats and healing effect are always welcome. The option to change useless "pirate" for a heath for your army unit is awesome. But I don't believe in this unit yet.
Steinerp – 4/5
Lots of little synergies with this card make up for the 3 HP. Good attack value and a powerful ability that help fill your discard with 6 units while healing other units. 4 cost is a lot however so be careful.
Immortal Legion:
Whiteblade222 3/5
At two command hammers, his stat line rocks. He does a good job as a fighting unit at the first planet, and if you're playing against Eldorath or Zarathur you can try and get sneaky.
Corvus – 3/5
Stats are... okay. The ability isn't great, but you'll occasionally already be on your opponent's faction for Anrakyr's deploy or Mind Shackle Scarab, so I could imagine sometimes finding yourself able to activate it and actually wanting to.
Kingsley - 3/5
Lone Wolf with a somewhat better ability and +1 to every stat, including icons. Solid, especially in decks that want to set their dial to the opponent's faction. Sometimes the text will be blank (it'll always be blank against Neurons and Tyranids), but four resources for a 2/4/4 is by no means an awful deal. One to consider.
xRAVEx - 4/5
The stats are nice, and moving ability should scary your opponent's WL a lot. It should be included in the deck along with Mind Shackle Scarab, as both requires having your opponent's faction set as enslaved.
NecRus888 - 3/5
Great stats for the cost. It can win command struggle solo and also jump into battle. It's a pity it's useless VS nids and necrons.
Steinerp- 3/5
4 cost is the worst cost right now, you cost a lot but don't get to benefit from the elite buffs. That said the ability isn't bad and 2 hammers are solid while it waits to hunt
Praetorian Ancient:
Whiteblade222 3/5
Early he sucks, but once his ability turns on he's brutal. 4 health isn't easy to kill in one swing, so often he can swing for five armor bane, hurting a warlord or killing a key unit.
Corvus – 4/5
You can pretty consistently get to 6 units in your discard by turn 3, thanks to the many playable discard and self-mill effects. Not getting full value out of a 4-cost unit until turn 3 or so isn't a huge downside, since you rarely want to play them early anyways, and once this guy is fully charged he's excellent.
Kingsley - 4/5
This condition is not at all hard to fulfill for decks that care about it, so you're looking at a unit that will often be four resources for a 1/5/4 Armorbane - quite powerful indeed, though weak on command.
xRAVEx - 3/5
Definitely Anrakyr only card. And even for him it's a mid/late game card. Before boosting it's very underperforming, but after you got enough units in the discard pile it transforms into a beast. Solid HP makes it a nice target for Phylactery.
NecRus888 - 3/5
It could be very devastating in Anrakyr. For the rest WLs they're quite useless, as often you won't collect enough units in the discard pile.
Steinerp- 3/5
Again 4 cost is tough but this guy has excellent stats when powered up.
Harbinger of Eternity:
Whiteblade222 - 5/5
The best Necron card in the box, he is incredible. You can double tap your events, shield and then play your events, or play events that you pitched earlier with your discard. A 3/5 body is fine, but three command icons rock.
Corvus – 3/5
I love the idea of getting extra value out of cards I've already played but I still can't quite bring myself to like this guy. They are few interesting and cheap Necron events – most people seem to be grossly overrating Reanimation Protocol, you can only play so many Recycles, and your deck is only getting a lot out of one of Drudgery or Mechanical Enhancement.
Kingsley - 5/5
Harbinger of Eternity is maybe the best Elite unit in the game, period? The stats are quite solid, with both strong command and decent combat, and the ability is incredibly great. This is basically a 2-3x autoinclude for Anrakyr and will likely see frequent play in other decks as well.
xRAVEx - 4/5
Very solid unit. The more useful necron events are released, the better Harbinger will become. But even now you can include it just for reanimation protocol.
NecRus888 - 4/5
Amazing stats and ability. It's very useful for all the WLs. but high cost won't let you to play it often. It's cool that once the card is played from the discard pile is used, it's removed from the game.
Steinerp – 4/5
Solid card that will only get better as necrons get better events. An auto include in the Traveler and ok to play in others.
Lychguard Sentinel:
Whiteblade222 3/5
Even with his base statline he isn't bad, being a conditional ard boyz. Once his ability turns on he's a massive meat shield that can take a ton of punishment. Him needing to be ready for his defender ability means that he's hard to get value from swarms, who can out tap him.
Corvus – 3/5
If you're trying to get to 6 units for Praetorian Ancients it might be worth running a few copies of these as well. At 5 cost a defensive unit like this is much less appealing, and he's some of the biggest Klaivex bait of all time, but since Necrons have lots of ways to discard unwanted cards a situational unit like this might still be worth it.
Kingsley - 3/5
Like Praetorian Ancient, this condition isn't too hard to fulfill - but this card is more expensive than Praetorian Ancient and relies on you having other solid threats on the same planet for it to be worthwhile. Still solid, though, and a great carrier for Resurrection Orb.
xRAVEx - 2/5
Stats are a bit meh for the cost, and the effect is very difficult to maintain, as you need to have it ready, so you also need several other ready necrons to swing. Eldorath comes here, and this unit does nothing anymore.
NecRus888 - 3/5
Possibly nice defender with ability to boost its HP in the late game. High cost won't let it see much play, as well as vulnerability to exhaust effects. I doubt it will be played now, without any supporting cards.
Steinerp – 5/5
Cards that take away opponent choices are great. This does this. When he gets klaivex'ed you'll cry until you realize you have the backlash in hand. This guy more than any other elite will be targeted in an attempt to move them aware and open up the juicy targets they want to hit.
Doom Scythe Invader
Whiteblade222 2/5
The ability is solid, it's just a deck building challenge more than anything. You need to build around this card, which means it's hard to play outright. Good in the right deck.
Corvus – 2/5
I'm not quite sure what to make of this guy. Maybe you're meant to discard Assault Valkyries then get two of them for the price of 1.5. Since AM don't seem like a very interesting enslaved faction, that's not enough of a reason for me to run him.
Kingsley - 3/5
Another "build-around" card, the Invader is a "two for the price of 1.5" deal on powerful Vehicles like Assault Valkyrie. Having to put both on the same planet limits the appeal a bit, though - one 2/4/4 flyer will often win both combat and command, so putting more stuff there seems like overkill.
xRAVEx - 1/5
Without the ability it's a very bad deal. And in order to trigger the ability you need non-elite vehicles in your deck (Valkyrie, APC, Chimera seem the best options) and to have the corresponding faction set as enslaved, as without it you can't put it into play from the discard. So it's not applicable to Nahumekh, who desires to have cheap units of as many factions as possible. For Anrakyr it seems better, but currently I don't believe in such archetype. The more necron non-elite vehicles we get, the more chances Scythe will see play.
NecRus888 - 1/5
It could be a cool effect, but very situational. Also for such cost the stats are not spectacular. I'd rather choose some other elites.
Steinerp-3 /5
Maybe some day but for now this card just do it for me enough to build around.
Doomsday Ark
Whiteblade222 1/5
Expensive, conditional Area of Effect? Play tactical squad cardinas and skip this one.
Corvus – 2/5
A slightly higher variance Nightshade Interceptor. I'm skeptical, but if you can find a way to make this card work in your deck then hats off to you.
Kingsley - 2/5
At first I was very excited by this card, but I'm not at all sure that it has a place, even for Nahumekh - doesn't the new Nightshade Interceptor do a similar role with more resilience? If you can consistently get 3+ allied factions out this is of course better, but that seems quite hard. Time will tell whether this can reliably get set up enough to be strong, but I'm leaning against.
xRAVEx - 3/5
Definitely a Nahumekh-only card. What makes WL stronger, makes Ark also stronger. I also like its flexibility. Instead of AE it can hit for 5, which is tough.
NecRus888 - 4/5
I like the flexibility of this unit. Even without boosted AE it'a s 5/5 beast, that your opponent has to consider.
Steinerp – 2/5
When picking what real necrons to include in Nahumek, this won't make the cut. And when doing for everyone else it definitely won't make the cut with an AOE of 1.
Dread Monolith:
Whiteblde222 2/5
When it works, it works, but if you include 3 in your deck it'll clog up your hand, and 1-2 you might not see if often enough. Once this thing gets into play though, it can single handily win games. The downside is it can often be a dead draw, if you don't have the resources to put it out. (which is often)
Corvus – 3/5
This card does all the things necessary to make an 8 cost unit potentially, possibly, hypothetically playable. It (gradually) spreads its value over several bodies so a single controlling effect can't take care of it. It (sometimes) provides combat utility in the first round even if it comes in exhausted, which is going to happen because let's face it, Y'varn is going to responsible for a lot of these. It provides a bonus even if your opponent doesn't show up to fight it. All in all, an interesting card.
Kingsley - 3/5
The upside here is pretty huge, so I'll forgive it the giant cost. You need it to hit solid (and ideally expensive) Necron units for it to be worthwhile, and you probably need either favorable planets or economic combos to enable it in the first place - a bit too luck-oriented for my blood, though also extraordinarily scary in the right situation.
xRAVEx - 2/5
The Big Necron Boss is impressive. The closest card for reference is salvaged battlewagon, which I've never seen in play, but monolith has several advantages over it: its ability is easier to trigger, it doesn't care if you're choked on cards, and you put the unit into play at this planet, when you need it now, not at adjacent planet, where maybe you'll never need it. I think it will be included in Anrakyr decks.
NecRus888 - 4/5
The best elite card for such cost in the game, and also the best Yvarn target. It's pity it has so few hammers *lol*. But seriously, just always take it with your warlord train and make it trigger the ability. Death to everyone!
Steinerp- 4/5
If you like risk with upside this is the card for you.
Reanimation Protocol:
Whiteblade222 4/5
Being able to target warlords is great, and cheap healing to play after a big battle, or in the heat of one means this'll see a lot of play. The limit once per round restriction hurts it, but it's still incredibly strong.
Corvus – 2/5
Worse than a 2 shield card. It doesn't help at all with weak units, it's not as good against Fury of Sicarius, Crushing Blow, or Klaivex, and if you try to use them with Harbinger of Eternity the once per round restriction will start to be a pain. Better with Szeras.
Kingsley - 5/5
An iconic and perhaps faction-defining card, probably a 2-3x auto include in almost all Necron decks. Keep in mind that this can heal your warlord, provide a deploy stall, and then get played again in a later round by a Harbinger of Eternity - all for 0 resources! Outstanding.
xRAVEx - 5/5
Free event, that can heal any necron unit? I'll take all 3 for sure in every necron deck!
NecRus888 - 4/5
I really love free events. There are so few ways of healing in the game now, so the effect is very valuable, especially because of lack of shields. Deducted 1 point for "max 1 per round" restriction.
Steinerp – 1/5
I told some people when this card was previewed I would rather play with a 2 shield card that had the text "Action: You lose the game." Now since that time I have warmed slightly to it so I admit this is harsh but I'm sticking to my guns.
Recycle:
Whiteblade222 4/5
This is incredibly strong in Anrakyr, and strong in Nahumekh. You can run multipule copies of elites without worrying they'll clog up your hand, recycle them! Also allows you to pitch key stuff into the trash for later play.
Corvus – 4/5
Good in many different situations. It makes it really hard to have bad starting hands and helps Anrakyr use his ability right out of the gate. It's also invaluable later in the game, when you'll often find yourself with irrelevant cards in hand and want to dig as fast as possible to find the relevant ones.
Kingsley - 4/5
Recycle is a solid economy card with a bit of downside. Anrakyr loves it, and others may well like it as a way to get out of bad hands. Especially favorable when played from discard with Harbinger, where it provides direct card advantage.
xRAVEx - 5/5
I'm a fan of this card. For Anrakyr it's cool from the beginning. For the rest WLs it's cool to discard units/supports to draw more shields before the battle.
NecRus888 - 4/5
It's awesome in Anrakyr, as allows him to use his discard shenanigans from the start of the game. Just for 1 resource you search for the needed cards, fill the discard and draw cards!
Steinerp – 4/5
Solid card advantage that fills your discard pile for the Traveler. Not sure about in other decks.
Mechanical Enhancement:
Whiteblade222 3/5
Two shields is great, and the effect is nice. However because the Hp is conditional means it's not an incredibly powerful effect.
Corvus – 3/5
The two shields make it just good enough as a combat trick in the dedicated Necrons deck. Given that you only want to play effects like this in big fights and the scariest thing to face in big fights is Area Effect, in many ways this is better than its sister card, Battle Cry.
Kingsley - 4/5
Mechanical Enhancement is similar to the awesome Bond of Brotherhood - while it only has the weaker side of Bond and doesn't work with out of faction cards, it does have two shields and potential recursion. Like Warriors of Gidrim, this may be a weaker version of on existing card, but it's a weaker version of a card that's super great, so still ends up being quite good.
xRAVEx - 4/5
Eldar have Empower, Orks have Battle cry, now necrons have also the event like this. 2 shields mean you'll most probably find the room for it in the deck. The ability is very nice, especially for final battles, but works good only in mono-decks, so maybe Nahumekh should avoid it. Of course, bonus ATK is almost always better than bonus HP, but with all these healing effects the necrons have, bonus HP means you'll almost never be one-shot, so you'll be able to heal the damage and hit again.
NecRus888 - 3/5
A perfect card - it has 2 shields and cool battle trick. It should be played only in big battles, where you have a lot of necron units. This army becomes way more difficult to destroy, especially if we consider necron's healing effects. What's even better - it also affects your warlord. Deducted a point for almost uselessness in Nahumekh (it makes sense only for boosting your WL's hp), as it affects only necron units, but you still want to include more 2-shielders.
Steinerp – 3/5
Two shields are good but odds of playing this card for ability is fairly low. It will get better in time and with the new warlord but for now, it is just a good card, nothing special.
Drudgery:
Whiteblade222 5/5
A limited gift of isha that lets me pull anywhere from my discard? Sign me up. Super strong effect that can win key battles. Blood Angel Veterans and snakebite thug are my fav targets.
Corvus – 3/5
Good in Nahumekh and a bit redundant for Anrakyr. This is no Gift of Isha despite getting to keep the unit – the single shield, Limited, and the restrictions of the enslavement dial see to that. Still, it's a combat trick, and Necrons are desperately in need of those.
Kingsley - 4/5
Drudgery is similar to awesome tricks like Gift of Isha or Drop Pod Assault, but loses a point thanks to its Limited status, reliance on the enslavement dial, and single shield. However, this will still be a staple trick for Necron decks that use non-Necron combat elements.
xRAVEx - 3/5
I'm very insecure about this card. What is cool about this card - you can choose any applicable unit in your discard pile (while Gift of Isha works only with the topmost), 3-cost is enough for solid units, especially if you took SM as allies, you'll be able to trigger "when enters play" (and maybe "when leaves play") effects (not so cool currently, but the potential is huge), you boost Nahumekh's ability and his squad. What is bad - limited, means no economy cards played this turn. Also it's almost useless in the early game. Furthermore, you can play it only if the unit belongs to the enslaved faction, so in order to use event consistently the less factions you take, the better. But it's not cool for Nahumekh! So overall, I think it's a card for the future, not for now.
NecRus888 - 3/5
Very doubtful card. On the one hand there is no phase restriction, so it can be used as combat trick. On the other hand it's limited and still complies with enslavement dial. There could some really power plays with it, but requires much consideration. The enslavement choice is not always obvious, so you can't think ahead. Otherwise, it's a shield card, only 1 shield, unfortunately.
Steinerp – 4/5
I'm not sure why I'm not giving this card a 5. It is an improved version of Gift of Isha that lets you pick and choose what unit and it stays in play. That said limited does potentially hurt it and unlike Gift it only brings back units 3 cost or less and they have to match your dial.
Extermination:
Whiteblade222 1/5
It's just.. Too conditional. 5 cost is a steep asking price, and then it kills off all your allied units, and might not even auto kill all of theirs depending on what they're running.
Corvus – 3/5
Despite being more expensive than other 'wipe out your opponent's army' effects, the fact that this can hit the first planet keeps it interesting. Given how easily Necrons can discard the situational cards that they don't need, this could see some play.
Kingsley - 3/5
This is the most one-sided of the "nukes" (Exterminatus, Doom, Warpstorm, Consumption), and one of the more versatile. The fact that it forces you to end your turn there is a nice way to rein this in a little - it'll still prove an awesome way to finish some games, often killing entire armies while leaving your core combatants at the planet unhurt.
xRAVEx - 2/5
It's cool that necrons got their own mass removal card, but it's really hard to play it. It targets all non-necron units, so Nahumekh doesn't need it. It's expensive, and you have to pass after it. If Anrakyr is able to build solid economy, then this card is welcome. But now I think it's more a card for Illuminor, who both builds mono-necron decks and able to gain a lot of resources.
NecRus888 - 2/5
Very powerful mass removal. But high cost, targeting 1 planet and obligation to pass make this card almost unplayable. I think. I'll include only 1 to deal with swarms.
Steinerp- 3/5
Very expensive and last turn action are the down side, of course the upside is you get to wipe your opponents presence at planet 1 which I hear can be a good thing.
Gauss Flayer:
Whiteblade222 3/5
1 cost for an effect like this is good. Being able to swing and then Gauss Flay to get "two attacks" in one go is nice. Also good synergy with Mandragorian immortals
Corvus – 2/5
If I knew I was going to face Honored Librarians I might be tempted to run this. This is slightly better than giving a small necron unit ranged and armorbane, but even then that doesn't seem worth a 1 cost attachment.
Kingsley - 4/5
This is one of the best combat attachments against cheaper units, given its Action speed and unshieldable nature. Especially good on units with high HP relative to their ATK, like Immortal Vanguard or Lychguard Sentinel.
xRAVEx - 4/5
This card should work amazing in all necron decks, but let me write down just some consideration. It only works with necrons, who can wear wargear. Its effect is performed instead of an attack, so you'd better choose units with low ATK. But if you want to use necron cappers, you should be sure, that your opponent can't ping this weak capper and kill it before you're able to use the flayer. So you should choose the targets carefully. Still, the effect is very strong, as currently there are almost no counters to HP deduction.
NecRus888 - 4/5
Amazing attachment. It allows you to use your weak cappers as extermination engines! Deducted a point for Necron-only restriction, but it's fair. Also, this card is almost useless vs Eldorath, as the unit with Flayer will be exhausted and killed for sure.
Steinerp- 3/5
Unshieldable, action speed damage is good, but it doesn't really scale well on bigger units as you lose their innate attack. Put it on a small unit and it dies quickly, put it on a big unit and it doesn't get to attack. Necrons have a a couple of high hp, low attack units but outside of the Sentinels (who don't want this) I don't think they will see a lot of play. Nothing to complain about but going to be hard to maximize I think.
Royal Phylactery:
Whiteblade222 4/5
The fact that this triggers off of phases and combat rounds is bananas! A corner stone of elite decks in the future for sure. Two shields is a cherry on top.
Corvus – 3/5
It's no regeneration, but it performs a similar role assuming you can find some units with lots of HP to put it on, and has two shields to boot.
Kingsley - 3/5
This effect goes great with bigger units, but needs some time to really generate big value. Two shields is two shields, but this compares very unfavorably to the similar Regeneration.
xRAVEx - 5/5
2 shields and awesome heal ability, will be in every necron deck for sure.
NecRus888 - 5/5
Low cost, cool effect and 2 shields - here is the receipt of amazing cards. You play it in deploy phase, and by the time the 1st combat round starts it will heal 3 points of damage. It's hard to estimate how much money Szeras gets with it.
Steinerp – 4/5
2 shields and your unit will almost always be at full health by the start of the next combat it is part of. However burst damage is a thing so if it can be knocked out in 1 round it doesn't do much
Hyperphase Sword:
Whiteblade222 4/5
Strong effect, and the ability to shift it around is nice. Two cost kind of sucks, but the ability makes up for it.
Corvus – 2/5
If you're not planning on passing this around then it's not that good, and if you are it'll be spending some time on small units, which your opponent can then kill for extra profit. Not unplayable given some of the combos it could enable, but very situational.
Kingsley - 2/5
I'm not that impressed by this card, really - Ion Rifle costs one, has great faction synergy, and is almost strictly better on stats (it's slightly worse in the case of three shields). You need the action to be doing work for this to work well, and I'm not sure how often that'll be reliable for you.
xRAVEx - 2/5
It's nice, but not spectacular. And nice attachment do not see play, unfortunately. This card can be a very nasty surprise for the opponent, though. But I hope that this trend will change, and we'll see this card.
NecRus888 - 3/5
Strong card for the fair cost. It has also integrated Even the odds. Nevertheless I doubt it will see much play.
Steinerp – 3/5
Shifting around is what makes this card playable. If you are able to capitalize on the units hitting your discard and hitting with multiple units with it each turn, it is high value. If you just put it on a unit and leave it, it is ok but not great.
Resurrection Orb:
Whiteblade222 3/5
Great effect, but it can take a bit of work to get it all to trigger. Two shields also helps as you can shield with it while you're trying to get the combo going.
Corvus – 2/5
Two shields. People who plan on actually playing this card more often than once in a blue moon are a bit too cavalier about the minimum 7 resource setup cost and about just how restrictive the word 'topmost' makes the effect.
Kingsley - 3/5
On one hand, this card can be preposterously good, generating multiple strong units for free; in the wrong situation, it's expensive for an attachment, conditional, and frequently doesn't do anything. I'll rate it middle of the pack for now, but I wouldn't be surprised to learn that this card was far too unreliable to see play; nor would I be surprised to learn that it ends up being a staple.
xRAVEx - 3/5
Again the card that is hard to play currently, but that should become amazing, when card pool grows. Currently you can attach it only to Harbinger or Lychguard. The latter is meh in my opinion, and harbinger is cool, but you need only 1-2 of these in the deck. Also, this card is for mono-necron decks, and it needs Eternity gate, so it's mostly Anrakyr only card.
NecRus888 - 4/5
Very cool attachment. As soon as the meta shifts towards more elites, it should perform even better. 2 shields is also always useful!
Steinerp – 3/5
Hard to use but 2 shields will keep it in decks. When people figure out discard manipulation it may become something that see a lot of play and not just shields.
Mind Shackle Scarab:
Whiteblade222 2/5
Expensive, one shield, and conditional as hell. When it works, it's great, but often it fails.
Corvus – 4/5
Stealing your opponent's stuff is great. It's a two-for-one trade. In practice, though, Scarab is a little hard to play. Commiting 3 resources and your enslavement dial to it in the deploy phase really hurts your command game, and the opponent still gets to use the shackled unit for command. Still a stellar way to turn the tide once late game fights start, but by no means a broken card.
Kingsley - 4/5
Having trouble with those stalwart Space Marine three-costers? Steal them away with the Scarab! This is conditional and often won't be played but generates huge value in the circumstances where you want it.
xRAVEx - 3/5
I saw this card played against me, it was very nasty, but I still do not believe in this card. It's expensive, it forces you to stick with peculiar faction on the enslavement dial, so you won't be able to deploy your ally units. Finally it can be played around, especially if the opponent has the initiative. And yes, again a card, that doesn't play against Nids and necrons.
NecRus888 - 5/5
A lot of players do not believe in this card due to its cost and inconvenience. But I do believe in it! Scarabs are awesome. Just a bit consideration and here you are - you have your own Starbane's Council, who can swing Starbane, and Wildrider is ready move and fight for you.
Steinerp – 5/5
Stealing stuff is great and the enslavement dial isn't big deal. The biggest issue is that a 3 cost attachment can be hard to fit into a typical deployment phase.
Timework Stasis-Crypt
Whieblade222 1/5
Won't see play just like the other in faction reducers. Okay if you see it early, and awful if you see it late.
Corvus – 2/5
Not being restricted to units make it better than every other faction's reducer support, but still not interesting enough for me to really want to play it.
Kingsley - 2/5
Everyone knows these reducers don't see much play, and while the fact that this works on attachments and supports rather than just units is nice, I don't think it's enough to get this into decks given that Promotion and Drudgery are fighting for Limited slots.
xRAVEx - 1/5
Cost-reducing supports from the core set do not see play. This support is better, as you can use its discount for all necron cards, not only units, but I'm sure it doesn't change the pattern. Also, I don't like the art.
NecRus888 - 1/5
I just hate 1-discount supports and don't believe in it.
Steinerp -2/5
It is better than the core supports but still shouldn't see play.
Weight of the Aeons:
Whiteblade222 2/5
Pitching cards is good, and if it hits something good from the opponent, bonus. The effect isn't just very impactful however, and playing a 1 cost support isn't worth it the majority of the time.
Corvus – 2/5
Even if you have reasons to want cards in your discard pile this effect isn't worth a card and a resource. There's the outside chance of decking your opponent if the game drags on but that seems like a questionable game plan.
Kingsley - 3/5
This is a decent way to feed Necron discard effects while also potentially generating some annoying mill for your opponent. I'm not sure it'll consistently get slots (barring the release of more mill options), but it has a fair bit of natural synergy, especially with Anrakyr.
xRAVEx - 2/5
Will we see milling archetype among necrons? Time will tell, but currently I don't think this card is worth any slots.
NecRus888 - 3/5
This card is situational. Nice start for Anrakyr and a way to mill the opponent. Urien would be happy to get such a card.
Steinerp -2/5
It gives you discard pile manipulation if you want to try a res orb based deck or something like that but decking for the sake of decking just isn't worth it IMO.
Eternity gate:
Whiteblade222 2/5
Only playable in Anrakyr, and the effect isn't super great, it just allows you to play around his ability a bit better.
Corvus – 1/5
Anrakyr can make the most of his ability through careful management of which units die when, and the use of Recycle and Slumbering Tomb. He also tends to have plenty of units to play and it's rarely a disaster to not use his ability on some turns. This card is just a weird set of training wheels that is totally unnecessary with even a little forward planning.
Kingsley - 3/5
A solid support that goes along with Anrakyr's ability and Resurrection Orb, with added upside for ruining people's Gift of Isha plays. This probably won't be seen in high numbers, but might be a common 1-2x bit player in Anrakyr.
xRAVEx - 2/5
Anrakyr-only card for sure. For him it's a must, though only 1-2 in the deck. The rest necron WLs don't need it. At least currently.
NecRus888 - 2/5
One more tool for Anrakyr. Allows you to choose better targets for WL's ability. Can also counter Gift of Isha.
Steinerp -2/5
Ability has use no doubt about that, but you already have tools to manipulate discards and this isn't needed enough to justify a deck slot. Maybe 1 but definitely not 3.
Sautekh Complex:
Whiteblade222 1/5
Bad reducer that is awful if seen late, and okay if seen early. Also, it won't trigger often even if seen early because you want to ally with 2-3 factions to increase your likelihood of drawing them.
Corvus – 1/5
Aun'shi can't be bothered to play Homing Beacon, and it's way more likely to trigger every turn than this monstrosity.
Kingsley - 2/5
Interesting for "rainbow" decks, and can fire more than once a turn with Staff of Command, but ultimately I think you don't want to spend a Limited slot on effects like this, especially since decks with lots of allied factions probably extra want Drudgery open.
xRAVEx - 1/5
Versatility is nice, but necrons do have better supports and better limited cards. Maybe it will see some play in Nahumekh, but still will be replaced in some time.
NecRus888 - 4/5
Cool economy card for Nahumekh. I'll be very happy to see couple of these in my starting hand. I really like its flexibility.
Steinerp – 1/5
Basically a different version of a reducer/homing beacon. And none of those makes decks either for good reason.
Master Program:
Whiteblade222 2/5
With the current warlords it's too comboy to see play, but this is a 4/5 card in Szeras
Corvus – 2/5
A powerful effect, but with essentially no worthwhile drone targets to fuel it. Sacrificed cards aren't destroyed, so it sucks the value of out Canoptek Scarab Swarm by invalidating the interrupt.
Kingsley - 3/5
This is a very strong effect that is unfortunately quite hard to trigger. I think this'll be a bit too conditional at present, but I wouldn't be surprised to see this in future combo decks - the obvious one being Resurrection Orb to repeatedly bring back Canoptek Scarab Swarm, then sacrifice it for card advantage, heals, and extra attacks.
xRAVEx - 2/5
Very useful effect, but it requires you to have drone cards in hand (which you don't want to play next deploy phase). As every support card, its effect is telegraphed compared to Standard bearer or Vengeance, but on the other hand it can be triggered every round.
NecRus888 - 2/5
Very cool effect, if your deck is based on expensive units. The best target - Lychguard Sentinel. But the unique restriction and the cost of the effect won't let us see this support often.
Steinerp – 3/5
Maybe someday as the ability can be powerful but I don't see a drone based deck going off now. The new wraithguard might make this a deck viable.
Particle Whip:
Whiteblade222 2/5
3 cost for an effect that might not even fire each turn? Not good.
Corvus – 2/5
You can bet someone's going to build a deck around it. It takes a while to get going, fires in a very awkward phase, needs the rest of your deck to be working well to be used repeatedly, and turns off some of the other synergies that reward you for filling your discard pile, so don't get your hopes too high.
Kingsley - 3/5
Three cost for a support that takes a while to charge up and only works during the HQ phase is pretty bad, but the effect saves you from milling yourself out and can provide solid damage in the right situation. I think this one might prove solid in the right context, though it likely won't be a staple.
xRAVEx - 2/5
Initially I thought it's a cool effect, so the cost is fair. But now I see several points: first of all, it will work only in a deck with discard mechanic, so basically it's an Anrakyr card. Secondly, as an alternative to shuffling units back into the deck we have Lychguard and Praetorian, that need at least 6 units in your discard pile. So actually these cards are the opposite, at least in the early game. (And praetorians are better, imo). Finally, shuffling units back into the deck means you increase the ratio of units, so decrease the chance to draw shields, which is not always cool. So now I don't want to include even 1 copy of it in my Anrakyr deck.
NecRus888 - 2/5
Nice effect, but unfavorable timing, conditions and high cost will prevent players from using it effectively. There is no much deck space, and some other supports look better.
Steinerp - 1/5
Bad timing and an abiltity that hurts your discard pile. Thanks but no thanks
Article: Necrons part 3