Welcome to Card Game DB
Register now to gain access to all of our features. Once registered and logged in, you will be able to create topics, post replies to existing threads, give reputation to your fellow members, get your own private messenger, post status updates, manage your profile and so much more. If you already have an account,
login here
- otherwise
create an account
for free today!

0
Searching for warpack review
warpack review
Searching for Truth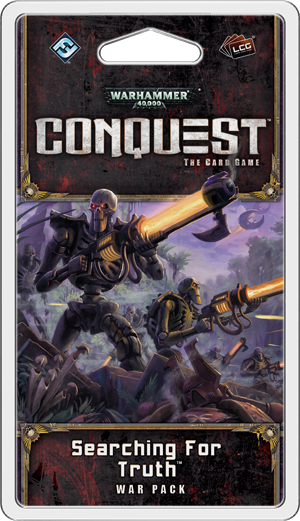 In the interest of getting this up before the next pack comes out I'm skipping everything but the actual reviews.
Illuminor Szeras
Steinerp – 3/5
A hard warlord to judge as his resource generation could be significant but it could also fizzle. He is a warlord that I see being powerful in a cycle or two but I'm not sure there are enough cards left in the cycle to get him critical mass to be consistent. Until then he is an Aun'shi style that can be very powerful or not at all depending on draw.
Eu8L1ch – 3/5
Let's start with the downsides, which are pretty severe: only one attack and 6 resource start mean the first rounds are going to be tough. On the other hand, his ability can easily spiral out of control, especially if you draw the right cards. However, his ability requiring Necron units to work, and needing those units to participate in fights and survive, is going to make playing with the Illuminor quite difficult.
Kingsley - 3/5
This warlord can theoretically generate a lot of resources over the course of a game, and his high HP coupled with Necron healing makes him very hard to bloody or kill. However, his signature squad doesn't provide answers to the main problem Necrons face - big targets - and the fact that you start down a resource is seriously annoying. Yes, sometimes you can play Augmented Warriors and then heal them, but still.
xRAVEx - 4/5
We know how Cato generates money. Now Necrons get their money-maker, who is distinct. 6 resources makes him more dependent on the starting hand, but the possible payoff of the ability is great. Also 8 hp is impressive.
Corvus – 3/5
Six starting resources, 1 ATK, and an ability that requires a heavy proportion of Necron units also leaves me doubtful that Szeras can consistently draw decent hands and start games off on the right foot. His ability makes for a three part deckbuilding challenge. You need ways to damage your units or have them survive enemy attacks, ways to heal them, and expensive payoff cards to make use of those resources. Currently I'm not convinced all the pieces fit together well. He does make some previously bad Necron cards seem interesting and could easily be the strongest Necron warlord, although to me that's not saying much.
Corvus – 2/5
Moving a single Warlord/Synapse to a planet if a battle happens there and only after initiative has been determined isn't all that useful. The thing about cards like Foresight or Kau'yon Strike is that they let you go to any planet, not just a single planet that you select in deploy and signal your interest in to your opponent. Burst Forth different from those cards in some ways, but it's not doing anything special to make up for its total inflexibility either.
Whiteblade222: 5/5
I may eat my words on this one, but in testing he has performed incredibly strong. He makes an incredible amount of money doing playing great cards already (reanimation protocol, royal phylactory). Time will tell, but I can see him being a tier one elite deck out the gate.
Augmented Warriors
Steinerp – 3/5
A decent unit and after healing is a 1/2/3 for 1 which is pretty solid but nothing to write home about.
Eu8L1ch – 3/5
Nothing special really, their main purpose is to allow Szeras to get some mileage out of his ability early on. Are they worth it? I'm not so sure.
Kingsley - 3/5
This card starts as a basic 1/2/2 for 2, but when you combo it with healing effects you "unlock" both higher stats and gain free resources from Szeras. Overall a decent unit, though it suffers from not being very strong "on its own".
xRAVEx - 3/5
1/2/2 for 2 is quite standard, 1/2/4 for 2 is amazing. Also their forced reaction can be treated not as a drawback, but as WL's ability enabler (similar to nurglings), because with 4 HP it's a nice body for Philactery
Corvus – 3/5
If you don't find a way to remove damage from them the stats are poor, but removing the damage shouldn't be too difficult. The simplest case of playing Reanimation Protocol on them yields a 1/1/2/4 for two cards, which is a good deal in a deck that can leverage high HP units.
Asklepios - 1/5
Tricks aside this is 2 for 1/2/2 blank. This is the worst 2 for 1/2/2 so far printed, and there have been some real stinkers.
Whiteblade222: 2/5
A 2/2 for 2 without an ability kind of sucks, and realistically this could get murdered easily in the first turn or two of the game.
Dissection Chamber
Steinerp – 4/5
This card will keep Void Pirates and Rogue traders out of your deck. In games where it shows up that is a big win for you as it gives your opponent a lot of dead cards in hand. Unfortunately Necrons themselves tend to use these units as cappers so not having them in the deck is probably a downside most of the time.
Eu8L1ch – 4/5
The fact it's a 1x makes it unreasonable to build your deck around it, but most decks are running 1 HP units these days anyway so it should work well even with little planning on the Illuminor's part.
Kingsley - 3/5
Against some decks, Dissection Chamber can be crushing. Unfortunately, most Necron builds themselves rely on 1 HP cappers - most notably Void Pirates and Rogue Traders to circumvent the enslavement dial - so this will be fairly double-edged. In the right matchup and with the right deck prepared, however, this can be quite strong.
xRAVEx - 5/5
Also potential enabler for Zseras's (is it even possible to pronounce?!) ability and destructor of all those pesky cappers. Want to deploy Pirate/Trader? Pay a shield! Very powerful support.
Corvus – 4/5
I'm really uneasy about this card's design. It could instantly win some matchups if you have it in your opening hand and can be close to a dead draw in the late game. The less extreme scenario of using it to pester your opponent while setting up a strong Vivisection or HP reduction play seems quite good though, so overall a strong if problematic card.
Asklepios - 2/5
If this wasn't a signature card, you could build a deck around 3 copies of this and avoiding 1HP units. As it is a 1 card in a 50 card deck, you can't reliably build around it, so it becomes dead space.
Whiteblade222: 5/5
Right up there with Forward Barracks, this support can completely change the field. Not only does it damage your own units (yay!), but it damages your opponents and can kill their command units. Game changing ability.
Vivisection
Steinerp – 4/5
Expensive but potentially pays for itself or even gains you resources while providing a reasonable powerful ability. Unfortunately 1 damage is a lot worse than warpstorms 2 and
Eu8L1ch – 5/5
I am under the impression that Szeras will generate most of its ability-based resources outside of the deploy phase:as such, you should be able to afford this more often than its price suggests, at which point you're likely to gain part, if not all, of the cost back immediately.
Kingsley - 4/5
Vivisection is a powerful nuke-like effect similar to Warp Storm, and it will often give you a bunch of money back while you're at it! Very solid IMO.
xRAVEx - 3/5
It's expensive and works only when you have many damaged necrons, while your opponent doesn't play necrons.
Corvus – 3/5
I'm pessimistic about the average number of damaged units Szeras will manage to have in a normal fight, but even doing this to heal 2 units can be quite cost effective provided the damage you're dealing is also useful, so I like the card.
Asklepios - 2/5
If this wasn't a signature card, you could build a deck around 3 copies of this and avoiding 1HP units. As it is a 1 card in a 50 card deck, you can't reliably build around it, so it becomes dead space.
Whiteblade222: 3/5
Early this event doesn't wow in a big way, but in the mid to late game you can tear armies apart and make bank with it.
Eldritch Lance
Steinerp – 5/5
Fixes his attack, heals, makes money, doesn't cost much. What more do you want in an attachment other than 3 of.
Eu8L1ch – 5/5
It allows Szeras to command snipe effectively and basically grants one additional resource every round.
Kingsley - 5/5
Play it on your warlord every time - it mitigates his main weakness (1 ATK), lets you heal the warlord if damaged, and can be used to get money as well. One of the best signature attachments overall IMO.
xRAVEx - 5/5
Cheap attachment that boosts Illuminor's poor attack and enables his ability
Corvus – 3/5
Adding attack, slowly healing, and netting you resources is a nice combination of abilities. This doesn't seem like one of the sig attachments that has earth-shattering implications when it hits the table, but it's still quite good.
Asklepios 4/5
Okay, now we're talking. A much needed attack boost that gets Szeras where he should have been to start off. And then, once per game round, gain a resource and do some mild healing. However, it's no powerhouse card, and will be far less impactful on game win chances than say, Tempest Blade, Plaguefather's Banner or even Glovodan Eagle.
Whiteblade222: 3/5
A decent attachment with a nice effect. It's better to play it for the attachment, as the +1 atk on the warlord is sorely needed, while the ability can target yourself, making you more durable.
Deathwing Terminators
Steinerp – 3/5
I'm not sure that this is the deep strike card that Vezuel needs but it definitely helps him get toward critical mass. A decent card but nothing special.
Eu8L1ch – 3/5
Their Elite trait permanently protects them from a wide range of effects, while their ability allows them to attack at least once. I'm not completely sold as Deep Strike is still hard to evaluate for me, but they'll probably be good in Vezuel.
Kingsley - 4/5
Very strong for Vezuel and worth considering for other decks as well, especially if they have readying effects. Paying 1 and later 3 for a 2/4/5 that can't be controlled by normal stuff at first seems quite strong, and if you're drawing a card or doing damage while you're at it even better!
xRAVEx - 3/5
Awesome stats for the cost and also a nice ability. Must for Vezuel, maybe OK in Cato or any SM Elite deck.
Corvus – 2/5
This might see play if Vezuel's Deep Strike synergy really comes together and the deck finds itself needing a larger body and a money sink, but taken on their own the stats here are a little less than you'd want, whichever way you play it.
Asklepios 3/5
Deep strike it, and you can't discount it with supports, nor benefit from the command. Play it conventionally, and it's weak for its cost. Sure, immunity from control tricks is a lovely thing, but it'll rarely be game decisive when it's a one-off short-duration immunity.
Whiteblade222: 2/5
Realistically I can't see who's going to play this. Space Marines have better in faction elites, and Vezual isn't in the bussiness of playing elite decks. Maybe this could carve out space for a new archtype?
Repent!
Steinerp – 1/5
Back in the day when Ice Age first came out for Magic I loved the Yeti that had a similar effect of creating a 1 v 1 fight. But the key there was I got to choose who fights. Here the card chooses for me or even worse, the opponent gets to choose. It is at least an action and sometimes just kneeling a unit will be a win for you, but sometimes it won't and the cost of 2 is just silly.
Eu8L1ch – 2/5
Very cool card, but the fact you cannot choose your targets in any way and its cost make it hard to gain some real profit out of it.
Kingsley - 3/5
This is a fairly situational card but at times it can be very useful, especially with either Dreadnought (Ultramarines or Sword Brethren). Note that this is a general action, not a combat action!
xRAVEx - 2/5
Finally we see both Elite-around card for SM and also control card for them. Its best use is to kill dangerous opponent units, while your elite is in HQ. Quite a niche card, but it'll be included in SM Elite decks
Corvus – 1/5
All the possible scenarios for this card are so bad that it's tough to piece together what its intended use may have been. Paying 2 resources, a card, exhausting your biggest unit and taking damage on the unit all to kill their biggest unit which is necessarily smaller than yours is very steep. Paying the same price but losing your unit to exhaust their biggest unit and put some damage on him is even worse.
Asklepios - 2/5
It's another option for elite decks, but circumstances won't always be right for it to be a beneficial option, and 1 shield rather than 2 limits its versatility. I can't see myself running this over the SM staple cards, or even over Rally The Charge.
Whiteblade222: 1/5
An awful control option. Elite decks aren't going to play this, as not only are you exhausting you elite, but against low curve decks you might not even get good payoff, and non elite decks won't because your opponent can choose his best possibly unit to exhaust.
Enginseer Mechanic
Steinerp – 2/5
Lots of health is a positive but is 3 resources worth a repeatable 2 shield? Probably not.
Eu8L1ch – 2/5
If a 'glass cannon' Tank, with higher attack than HP, were to be revealed this might become good. As it stands, I'm not sure acting as a 2-shield instead of attacking is going to be enough for a 3-coster, even if the HP makes it really tough.
Kingsley - 3/5
Incredibly annoying in conjunction with Steel Legion Chimera, but that requires spending 6 resources on units that don't really have much attack power. I think this guy might have been better at 2 cost but with lower stats - as it stands he's by no means unplayable, but might be a bit too combo-oriented for his own good. Quite appealing for Starblaze decks with vehicles and attachments to buff that 1 ATK, though...
xRAVEx - 2/5
6 HP is impressive, but low ATK and only 1 hammer for 3 makes it potentially useful only for Maksim. And even for him it's not justified yet, as with tanks you'll prefer low-high cost curve, and this card doesn't fit to this cost model
Corvus – 2/5
I can certainly see some uses for this card, like soaking up Smasha Gun damage or making your Steel Legion Chimeras even more annoying. I'm betting that after some testing people will pass over these guys in favor of units that do more when they're not part of some combo.
Asklepios - 3/5
This has a place in Smasha Gun decks because of the sheer amount of HP it can put out in one deploy action. However, its actual ability text is a terrible trap, seeming to synergise with Maksim, but actually taking up space that should be taken with cheap command cappers or more tanks.
Whiteblade222: 2/5
It's really good with flying vehicles, where preventing damage is more valuable. Realistically it's hard to include this over either more sheilds, or more vehicle/tank units.
Griffon Escort
Steinerp – 4/5
A reasonable tank that also makes guys. This will be popular in every AM warlord. Only draw back is it is in the awful 4 cost slot which you want to minimize.
Eu8L1ch – 5/5
The raw stats you get out of it make it very valuable, and in Worr (on a Green planet, or in Straken for slightly less value) it becomes a joke. The 'split' nature of the card circumvents one of the 4-costers' biggest issue, i.e. vulnerability to point control.
Kingsley - 4/5
Four cost units tend to be unpopular, but this one provides quite good value for its cost. The stats alone are quite strong, and when you consider the attack buffs that Worr or Straken provide - or the bodies for sacrifice with Coteaz - there's solid reason to bring this unit out.
xRAVEx - 5/5
Did anyone cry about Troop Transport? Here is another one! Yes, it's much more expensive, but you get extra body and the opponent can't prevent it. Really useful for all AM Warlords
Corvus – 3/5
Spreading this guy's value over several units comes with downsides but can be advantageous, since it protects him from single-target controlling effects like Archon's Terror, lets you allocate your own damage more precisely, gives you fodder for sacrifice effects, and triples the bonus from Worr's attack boost.
Asklepios - 3/5
Maksim would rather have had a 2 or 3 cost tank, but 2 Guardsmen plus a 1/2/4 tank is still pretty good for 4R. Expect this to displace the standard Leman Russ from his decks. Worr, meanwhile, gets a lot of hitting power for his 4R, so probably gets even more benefit. So what's new?
Whiteblade222: 3/5
It's good value, as it's better to have your damage spread out over more attacks and more units in an elite meta. Makism loves a mid range tank, and Worr likes guardsmen tokens.
Hotshot Laspistol
Steinerp – 2/5
I'll put this on the shelf right next to the lasgun for attachments that don't get used. +2 attack is nice but the damage non-removable is limited. If it stopped a warlord from healing when bloodied, it would get a much different score but sadly they heal at HQ not the planet.
Eu8L1ch – 3/5
It will make those Coteaz decks with the Cadian Mortar Team even more dangerous for factions lacking rout effects, and it also acts as a nice answer to certain decks/cards – not a fan of such a hard counter though, from a design point of view.
Kingsley - 2/5
This attachment blocks Fetid Haze, a few Necron tricks, and niche Iridial shenanigans, but I suspect that's not enough to earn a slot, especially when M35 Galaxy Lasgun (an IMO better card) doesn't see much play.
xRAVEx - 2/5
It's cheap and gives good ATK bonus, but current AM warlords do not use attachments heavily. But it can find the room in Starblaze.
Corvus – 2/5
I don't think a 2 ATK attachment alone can be justified, even with some of the effects that ready units for AM and Orks. You would need to frequently be getting some value out of the damage removal clause, and I don't foresee Szeras or Old One Eye being dominant enough to make that happen.
Asklepios - 2/5
The attack boost is the bulk of the effect, and is below Ion Rifle's boost. That card is already seeing less and less play even in the attachment-friendly Tau cardpool, so this card in the support-friendly AM cardpool seems to be barely worth it.
Whiteblade222: 3/5
The attack boost is nice, but the other ability is interesting. It's basically a silver bullet against Kugath/Necrons. If you see a lot of that in your meta or lose to it often, consider slotting this.
Blood Axe Strategist
Steinerp – 5/5
This is what ork players have been asking for. Good stats, good ability, and it is even a combat trick, even if somewhat obvious. Just think of fun when this guy marches your warlord down the entire string of planets, command sniping everyone and triggering 5 battles.
Eu8L1ch – 3/5
Interesting card, which might be waiting for just another piece to become part of a strong combo. As it stands, the most reliable use is probably retreating your WL without having to give up your attack in the process, but also moving units downstream shouldn't be too hard to accomplish. The stats are solid, especially the two icons.
Kingsley - 4/5
The Strategist has good stats for its cost coupled with a good ability and a great card title/card art combo. What's not to like? I think this will see a lot of play in Ork decks.
xRAVEx - 4/5
Very solid stats and interesting ability. For example, it can move units from the planet with Crushface to the adjacent.
Corvus – 5/5
The base stats are respectable, but giving Orks 2 command icons that just move around when you try to snipe them is huge. On top of that, he can get your Warlord to start 2 battles a round, and helps redeploy as many units as you get attacks whenever a fight is convincingly won by either player. A strong card that gives Orks way more options for interesting tactical plays.
Asklepios - 4/5
Fluffy as hell! Almost makes me want to start up Chime of Eons again. 3 for 2/2/4 is a solid start (as he can survive being sniped then move his 2 command to the next planet along), the reaction isn't forced, so we avoid the circumstances when it'd be a drawback (take note: Ku'gath's Nurglings). It's a nice trick for Zogwort, who loves to generate a snotling, but hates to stick around to be beaten up, and who loves even more to be able to start a new battle at the next planet. This card has a lot of potential.
Whiteblade222: 5/5
Man, two icons, a good stat line, AND a great ability? Hot damn. This can be used to trigger multipule battles, escape from a warlord snipe, or move elites up the line. Great unit.
'idden Base
Steinerp - 1/5
Talk to the Tau about how to make units in reserve useful.
Eu8L1ch – 2/5
One card and one resource for a 2/2 is not great value, and the fact it's not optional puts your Deep Strike cards in danger during a snipe. It might be good for when you just want to flood a planet with cheap bodies for a final battle, but in general I doubt it's worth the price.
Kingsley - 2/5
I'm not so sure about this. 1 cost 0/2/2s aren't really that worth it in general - even the 0 cost 0/2/2 Mystic Warden doesn't see that much play - and this means the enemy can remove your Deep Strike cards when you'd prefer to save them. It's possible I'm really missing something and there's a deck that can exploit this to the utmost, but I doubt it.
xRAVEx - 3/5
Getting 2/2 body for 1 resource is a good trade-off, but currently orks do not have DS cards. The more DS cards, which Orks can use, are released, the better this card is.
Corvus – 1/5
I'm all for giving Deep Strike cards more flexibility, but paying an upfront cost of one card and a resource to then turn your would-be combat tricks into 0/2/2 units at the continued price of one card and a resource is just an appallingly bad rate.
Asklepios - 3/5
Not as good as the Tau equivalent, and though non-unique has a non-stacking effect that makes it effectively so. Turns deep-strikers into optional 1 for 0/2/2, which isn't that amazing. Probably not worth running except in the most themed of decks. Likely best in a deepstrike-heavy Zarathur deck, as the overall deck shape required fits nicely with ammo depot cost curves, and keeping your commit options open.
Whiteblade222: 1/5
A 2/2 for 1 that provides no command is not a good deal, and do orks even have any deepstrike cards available?
Noise Marines Warband
Steinerp – 3/5
I'm taking a point away since he is smashing an eldar in the picture. A 3 cost tactical squad is little high but a reusable, one sided warp storm in Zara is very good. Ideally the card would be a 4 cost (it can't be 3 costed due to Gateway), deep strike for 1+1 but I can live with it as is.
Eu8L1ch – 2/5
This card's saving grace is the fact that Zarathur makes it AoE 2 for three resources (with no command), so for him it's probably a '3'. Still, swarms no longer are the only thing to beat, not to mention Chaos already has plenty of options to deal with them.
Kingsley - 3/5
Decently good for Zarathur (basically a Daring Assault Squad with an added Deep Strike deployment option), weak for everyone else. This card should probably cost 3, but of course that would make it totally broken with Infernal Gateway...
xRAVEx - 1/5
Wow, a target for Doom Siren! Really, what's the reason to pay 3-4 for weak unit with AE 1, while you can get Bloodletter for 5, and as it's Daemon and Elite there are so many ways to deploy it much cheaper!
Corvus – 1/5
Tactical Squad Cardinis is a good card. Raise the price to 3/4 resources and give them an unneeded 1 ATK boost and you have a very bad card. Throw Zarathur into the equation and you have a more situational Daring Assault Squad, which still isn't good enough to see any play.
Asklepios - 3/5
Didn't I just mention Zarathur Deep-strike heavy decks? Someone is encouraging that build! With a good mix of diverse effects on Chaos deep strike cards, this is more or less untelegraphed AoE.
Whiteblade222 3/5
AoE on a unit is really strong in any zara deck, and it's reasonably costed here. I wouldn't play this in non zara decks, but it's fairly strong in the right deck.
Ominous Wind
Steinerp – 1/5
Heldrakes are seeing play do maybe but if your big elite is a 6 coster you are only gaining 1 card and some filtering which is acceptable for 2 but not good enough to include. Once you get beyond 6 it becomes much better.
Eu8L1ch – 5/5
I like the design of this card a lot, it manages to make you want to play those ridiculously high-costed Elites. I think the target value for X will be 6 most of the times, and that's going to be a pretty good bargain, especially since Chaos players can easily turn extra cards in resources (SPA, Promise, G&P with DE alliance). The net result will probably be cycling your hand, and that's nothing to scoff at: very strong lategame card, at worst.
Kingsley - 3/5
With a 6+ cost Elite in play, this card becomes conceivably quite good. However, usually decks that want to play 6+ cost Elites need to spend a fair few slots on reliably getting those Elites into play in the first place.
xRAVEx - 2/5
Chaos got its own Recycle. It's cool there is no restriction on the faction, so if your most expensive unit is ork, it still works. Card allows you to fill your hand with shields prior to battle. I hope we'll see cards that give bonuses, when discarded or if remain in discard, or gets stronger with the increase of your discrd pile. Finally, it's a deploy stall! So I think this card has very bright future, but even now it will see play in Chaos Elite decks
Corvus – 3/5
Could see play, what with 8 cost Elites showing up in some decks. The discard part also isn't as bad as it looks – at worst you're still filtering your cards, replacing the worse ones in your hand with better ones, and at best you're getting rid of entirely useless cards like your extra STC Fragments or the Elites you don't need in your current matchup.
Asklepios - 3/5
Once again, Nurgle gets the cards that lend themselves to the best fart jokes. Clearly, this is built to help elite decks keep the card draw going, and is probably best out of Orks, who tend to have good 6 cost elites as well as an easier time getting resources / virtual resources than cards, plus who will appreciate the effective deck searching to fetch the few-in-number answer cards for a given situation.
Whiteblade222: 3/5
I have my reservations, but drawing cards and throwing away redudant uniques or unplayable elites is strong. With high cost elites seeing play in Chaos, this becomes strong.
Masked Hunter
Steinerp – 1/5
Thanks but no thanks.
Eu8L1ch - 1 /5
It has subpar stats for the cost and the timing on its reaction is unfavourable.
Kingsley - 2/5
The stats aren't good enough to justify this situational an ability IMO, especially because the timing means the opponent will have a chance to counterattack your Khymera before it gets its own swing in. Honestly, even if this were 1/3/3 instead of 1/2/3 it would seem marginal.
xRAVEx - 2/5
I see this card as an option for Kith in evolving meta of cheap units hate. Yes, it's not that efficient, but it interacts with her tokens and doesn't care about "units that costs 2 or less" effects. The timing of the ability is bad, but if all opponent's units are already exhausted, then your khymera is safe.
Corvus – 1/5
At least the compulsory unplayable DE card has lots of company in this pack. Given that most decks could take or leave a 3/1/4/3 unit, a unit that only does 4 damage if you have a Khymera handy, and then only if your opponent doesn't just kill the Khymera on his attack, is a joke.
Asklepios - 1/5
Uh, no. 3 for an inefficient 1/2/3 with an ability that is incredibly narrow, and whose timing will leave your newly moved Khymera open to the next attack. Can't see any Kith deck finding room for this, considering the existing cardpool.
Whiteblade222: 1/5
Conditional bad effect with a decent to bad statline? Must be a new Dark Eldar card.
Run Down
Steinerp - 1/5
I believe the card should be called Run Away as that is what Dark Eldar players should do from the cards in this pack.
Eu8L1ch – 2/5
Very cool card, but the non-Elite limitiation (which is welcome from a design point of view) hinders it significantly. Too situational to be good.
Kingsley - 2/5
This effect is very situational, and while hunting down an enemy AoE unit or similar can be valuable, I think it's difficult to predict when this is going to be worth using.
xRAVEx - 1/5
Well, yes, you can kill this unit from the opponent's HQ. So impressive! Currently I see no reason to play it. Maybe it'll become more useful if we either see the cards with cumulative effects like Promethium Mine-unit or vice versa - DE card that provides bonuses for each destroyed unit (hello, Cato!)
Corvus – 1/5
Lets you kill an enemy unit if you have the firepower and nothing else urgently needs to be attacked and that unit has already returned from planet 1 or retreated or been routed this round. That's really narrow, and I can't imagine it being a part of someone's game plan, so I don't see how it would end up in a deck. Good for singling out Honored Librarian and the like, though.
Asklepios - 1/5
The timing of this is just plain awful, as you can effectively only use it on a downstream planet that a battle is occurring at. So basically, you're moving in opposition to your warlord snipe. Sure, you could run down a void pirate to kill, but that's a lot of effort for that effect.
Whiteblade222: 1/5
First off, it's an awful card, don't play it. Secondly: What is with the design of Dark Eldar cards this cycle? I don't get it, they've all been pretty awful. I don't know what sort of theme or deck they're trying to push, but if they really want this whole "beast/khymra" deck to get off the ground, PRINT GOOD CARDS FOR IT.
Shrieking Exarch
Steinerp – 4/5
Good stats and if you are able to make use of the discard pile manipulation the cost is reasonable. Ability not being limited to the planet is amazing.
Eu8L1ch – 5/5
This is a big investment, but if you can protect it, the Exarch rocks. The stats are almost as good as a Leman Russ and being able to trigger the ability whenever any army unit dies is huge. Decks running higher cost curves (and Anrakyr, who doesn't mind discarding very much) will probably play this.
Kingsley - 4/5
Shrieking Exarch is one of the coolest Elites out there. Decks that can make its additional cost into an upside (so Necrons, Shadowsun, and sometimes Eldar with Isha) will find a unit with great stats for the price and a strong ability to boot.
xRAVEx - 2/5
This one is really interesting card! On the one hand if we continue assuming 1C=2R, then it's ridiculously expensive. On the other hand if you run 3 STC and other multiple uniques, you can sometimes really don't care about this extra cost. 6 HP makes it quite durable, so most probably you'll trigger the effect several times. It's a warrior, so Taleysin can find some use of it. Also it can be utilized by Shadowsun, who can both discard cards without pain and make AE attacks to kill several army units at once. If Eldar ever get their own AE, this one will be even more useful
Corvus – 4/5
The very real downside here is that it will often be tough to simply deploy this unit. The stats are okay and it does lots of little things well, like giving you Isha targets while being an amazing Isha target itself, giving you massive card advantage in big fights unless your opponent kills it first, and doing damage that can go absolutely anywhere. Potentially powerful and certainly interesting.
Asklepios - 2/5
Discard as cost is a fascinating mechanic, but for 3C5R you'd expect something truly awesome. Sure, those are okay stats and a really decent ability, but the cost is just too high. Maybe in late game you've got cards to spare (and Gift of Isha to rub salt in the wound), but at that stage, why bother with this "win more" card? This card will be a trap, as recall bias will have people remembering the awesome times when it works, but not the times it was unplayable.
Whiteblade222: 4/5
It's stats are fine, and while the discard is a painful cost both factions who want to run this can get it around it (shadowsun and gift of isha). The reaction is truly where it shines, killing command units out at other planets while murdering tokens at the first.
Steinerp – 1/5
See Dark Eldar players, other people get bads cards too. It's free but what do I really want to return? Maybe a guardian so it doesn't mess up my Gift of Isha? Eldar vehicles take spirit stones as well. Give it the ability to attach to them and you might have something with a war walker.
Eu8L1ch – 2/5
I like the idea, but I'm not sure how practical it will be, since it's quite a minor effect and deck slots tend to fill up very quickly these days. If we'll get another strong, cheap, fighty unit besides the Destructor it might be worth considering.
Kingsley - 2/5
I don't know if decks will find slots for this, but if they do the ability to recur powerful units seems potentially worth it. That said, I don't think it's the best situational Eldar card out there, and that means it'll probably have trouble finding a slot.
xRAVEx - 1/5
This card can see play, when more cards with "when enters/leaves play" are released. Current cards with such effects do not justify using Stone.
Corvus – 2/5
I don't see how spending this card to get back a specific army unit if and when your opponent chooses to kill it is really getting you anywhere. Compares unfavourably to The Emperor Protects, which was at best an inoffensive placeholder of a card.
Asklpeios - 1/5
It's like Fall Back, except you don't get to save the resource cost of the unit you saved, and a No Wargear keyword will keep it off your best elites. This is a bad pack for the Eldar.
Whiteblade222: 1/5
It's a fall back with stricter timing. You only get value from this if you pull back an elite, but with fall back you can play it if you draw it in the command phase. Not a fan.
Herald of the tau'va
Steinerp – 3/5
Mobile is a nice keyword, hard to snipe and even harder to snipe before its effect goes off. Only issue is that some of the key elites already have mobile.
Eu8L1ch – 2/5
Mobile surely is good, but many of the best Elites have Mobile anyway: protection from enemy effects is more important.
Kingsley - 2/5
The Elite units that most Tau decks want to play - Crisis Battle Guard and Wildrider Vyper - already have Mobile. There are some situations where this might be cool with a Firedrake Terminators or something, but it seems ver
xRAVEx - 1/5
Out of all Elite-supporting units this one seem to be the least useful. One advantage is his forced reaction, that allows him to survive after his ability has been used. Another advantage is that you don't need to deploy it, where the battle will take place. Deploy it to the adjacent planet, along with Elite. At least, you'll save this Alite from Starbane's ability.
Corvus – 2/5
About average for cards in this cycle. Since Eldar have plenty of mobility and Tau have some more flexible options like Tactical Withdrawal, I'm not sure where this could find a home.
Asklepios - 3/5
Mobile is a nice keyword, but once you've moved that Elite away, the keyword is then lost. You could manipulate this by committing to the planet and bouncing the Ethereal back to HQ with an attack, then next turn committing to the Elite, but by the Mon'tau, how telegraphed do you want your commits to be?!? Saving this card from utter mediocrity is the decently low cost for its stats+ability, and the positive trait.
Whiteblade222: 3/5
Being able to move your elite units forward a planet is really nice. A good average unit that will see play in elite decks.
Beleagured Garrison
Steinerp -5/5
This is card Vezuel has been looking for. And will be looking for when deciding to mulligan. Unsnipeable command is pretty good. My guess is that this is a 3 of despite being unique.
Eu8L1ch – 5/5
It transforms every one of your Deep Strike cards in a 1-for-1 in addition to its DS effect: this alone improves Vezuel's strength immensely for the games in which he'll be able to field it quickly. As for the rest of the factions, they'll probably need more (and better) DS cards to be worth it.
Kingsley - 5/5
Incredible, game-shifting card. I suspect all Vezuel decks will probably play this at 3x, and other decks that want to invest in Deep Strike will seriously consider this. The ability to turn a large chunk of your deck into one-for-one command units that can't be removed by warlord sniping is pretty incredible.
xRAVEx - 2/5
Again Tau got the card, that allows them to win command struggle in an alternative way (like war of ideas). It's usefulness fully depends on the quality and quantity of DS cards. Currently only Vezuel needs it. For him it's a no-brainer auto-include.
Corvus – 4/5
Unless the last two packs really shake things up this card is really only for Vezuel. Giving a huge chunk of your deck an additional function as unkillable 1 cost command units seems amazing. The problem is that if you cram your deck with Deep Strike and don't draw this you could easily be dead in the water. Powerful, but probably too high in variance for my own tastes.
Asklepios - 4/5
Okay, so you don't run this card unless your'e using a decent number of Deep Strike cards. But if you are, it's a no-brainer: a card in reserve becomes a 1-for-1 command capper that can't be killed by a warlord snipe. The question becomes not whether you run but how many copies you want to run. The answer, Epistolary, is 3.
Whiteblade222: 3/5
Great for Vezuel, as now all your reserve cards turn into command that cannot be sniped. Pretty unplayable outside of that deck though.
Mucolid Spores
Steinerp -2/5
Cost too much as cards that require my opponent to do something suck in a game that is already dominated by player skill.
Eu8L1ch – 3/5
It's expensive, its timing is awkward and it requires quite some manuevering to perform its effects: in other words, it's a Tyranid card.
Still, it provides non-Swarmlord 'Nid warlords with a much needed effect and can become a somewhat scary recipient for the all-star Ymgarl Factor – but beware of routing effects in that case.
This will see play, despite its clunkiness.
Kingsley - 2/5
Too expensive and weird IMO - getting Clogged with Corpses and Termagant support into your deck makes more sense to me than trying to get this working.
xRAVEx - 3/5
2 HP, flying and mobile makes this unit difficult to snipe, if you doesn't want it and easy to jump into battle if you want it. Just sad, that it triggers, when it is destroyed and not when leaves play. Nice option for nids, who doesn't produce termagants for Clogged with corpses
Corvus – 2/5
In a perfect world you win command with this, Mobile it into your opponent's Warlord, then use it to kill two valuable supports. Any time it falls short of that – whether it's not winning command, or doesn't get itself killed soon enough, or the opponent has fewer than two supports – it's overpriced. Making it run away from an opponent who wants to kill it before deploying their best supports could be hilarious though, so while I'm doubtful I hope it will see a little play.
Asklepios - 2/5
Drop this on first or second planet, and offer the opponent a hard choice: give you the planet or lose two supports. However, its still the opponent's choice, it's still 3 cost for 0 attack, and how often do you need to destroy TWO supports?
Whiteblade222:2/5
The cost does not justify the ability. Being able to blow up supports is nice, but when you face a warlord who doesn't play a bunch (or even any) supports, this will be a sad unit in hand.
Burst Forth
Steinerp – 4/5
Let's Swarmlord make guys and then make more guys, lets SWP trigger two battles. Has lots of potential but needs testing to see what the best use of it is.
Eu8L1ch – 3/5
A detailed analysis of this card would take quite a few lines, so I'll jump to the conclusions: it might be useful as a failsafe, mostly to retain initiative. It might be worth it, but it's not outstanding.
Kingsley - 4/5
Pretty great, especially since it retriggers commit abilities like Swarmlord's token spawning or various Synapse commit effects. I suspect a lot of decks will take a close look at this one!
xRAVEx - 4/5
You're almost dead and you want to survive? Use it. Opponent's warlord is almost dead, and you want to kill him? use it. You want to trigger Zoanthrope's ability twice and vipe opponent's cappers? USE IT. Very flexible card
Corvus – 2/5
Moving a single Warlord/Synapse to a planet if a battle happens there and only after initiative has been determined isn't all that useful. The thing about cards like Foresight or Kau'yon Strike is that they let you go to any planet, not just a single planet that you select in deploy and signal your interest in to your opponent. Burst Forth different from those cards in some ways, but it's not doing anything special to make up for its total inflexibility either.
Asklepios - 3/5
Surprisingly complex, this card gives you flexibility of options but is at its most efficient with Synapses that have an effect on committing. Timing means multiple battles can be triggered with the Warlord or SWP, but don't forget Venomthrope Polluter shennanigans. Just as people under-rated the subtlety of Polluter initially, expect this card to be under-rated initially.
Whiteblade222: 3/5
It's hard to analyse how good this is. You can use it to win initative and peace out, drop off units or just go fight somewhere else. A nice deepstrike card for Nids that will probably see a good chunk of play in Omega and OOE.
NecRus888, Lemonbrick, Zouavez and 2 others like this
Article: Searching for warpack review