Welcome to Card Game DB
Register now to gain access to all of our features. Once registered and logged in, you will be able to create topics, post replies to existing threads, give reputation to your fellow members, get your own private messenger, post status updates, manage your profile and so much more. If you already have an account,
login here
- otherwise
create an account
for free today!

0
The Warp Unleashed
conquest
warpack review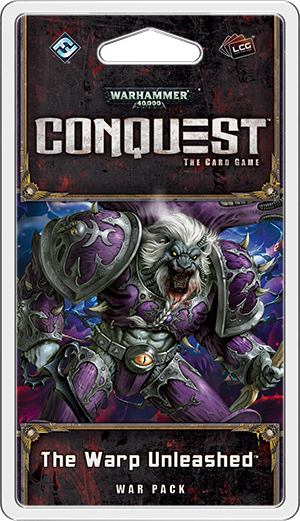 Rather than the traditional intro, I would just like to thank everyone for their input into this series and this game. Brad and the FFG team did a great job with the game and I hope to see many of you at worlds and in Sam Mann's ongoing Black Crusade league. Be on the lookout for mini-expansions coming from Brad and his team as well. So without further delays here is the final set of reviews. Thank you again to everyone involved for making this such a great game and community.
Vha'shaelhur
Kaloo – 4/5
AoE on a warlord is strong since it builds in swarm protection, but will struggle to combat other warlords and elites. The concern is that whilst the Reaction is likely to trigger a lot against swarmy decks it'll likely never trigger against an elite deck, although the signature unit along with Chaos' general affinity towards elites should make up for that. The HP value is certainly a welcome sight, however.
warfather – 4/5
AoE 1 will put in a lot of work. Having 8 HP will keep him around and you don't have to worry about him getting surprised 1 shot for the most part. Gaining a Cultist token every now and then is just frosting on the cake. His only down side is only ever being able to do 1 damage to a unit. So he can't bully / snipe every well.
Corvus – 3/5
I doubt he'll replace Ku'gath as the warlord for Chaos Elites, but he does provide an interesting alternative that should play differently. Area Effect 1 on a Warlord can be powerful, especially as the game progresses, but could be a small liability in the early game or against Elites and does mean you need to pick your fights carefully.
Steinerp – 3/5
AOE on a big bodied warlord is solid but the heavy elite meta makes him very good versus some and just plain bad vs. others. I 'm not a fan of warlords that are so swingy.
Alluring Daemonetttes
Kaloo – 4/5
Very strong ability that can't be Backlashed. Having the spare cultists to hand, however, may prove a little more challenging should the support not be on the table.
Warfather- 3/5
Stats on the best and needing to sac a cultist to use the power slows down the main purpose of cultist, which is to be sacrificed for other things. It is a great way to deal with Elites though as it can't be backlashed.
Corvus – 3/5
Similar to Sicarius' Chosen, but you're essentially paying 4 resources for the first activation. The ability to repeatedly move units and the fact that the effect isn't targeted give the Daemonettes fewer downsides and a stronger best-case scenario, though.
Steinerp- 4/5
Although the warlord won't do much vs. elites, his signature unit can by repeatedly pulling them away from the main battle. Sure you need cultists which aren't always available and have other uses but this card gets a 4 just because of how it does mitigate the main weakness of the warlord.
Tower of Worship
Kaloo – 5/5
Hard to criticise this really. It effectively refunds 1 resource for every daemon that's played, which combined with the other cost reducing options available can get silly quickly. A lot weaker late game, however
Warfather- 2/5
If you get this out turn 1 it will do some wonders, but every turn that goes by it gets worse. Need to play two daemons after it to start seeing profit.
Corvus – 3/5
Basically a fourth copy of Promise of Glory if you can get 3 Daemons out with it before the game ends. It could be better or worse than that baseline, but having more cultist generation to help with certain synergies like the Daemonettes or Master Warpsmith makes for a decent card.
Steinerp - 4/5
View this as both a reusable (but delayed) cost reducer and it is ok. View this as a way to get the cultists you need to feed your deamon abilities and it becomes much better
Daemonic Incursion
Kaloo – 3/5
ECT for Daemons, only in event form. Would have much preferred this to either be a unit or free, but at least it's likely to have a use in every game
Warfather- 1/5
Spend 1 [R] and a card to gain a card. You will most likely be using Ominous Wind which will be doing what this card does, but much better.
Corvus – 3/5
Paying a resource to find the right card is a very real cost, especially when some of your big plays are squeezing your limited resources as it is. Having said that, the Daemons in a Chaos Elites deck have very different strengths, and finding a timely Heldrake or Vicious Bloodletter can win you a game. It might not be necessary to smooth out your draws in a deck that can run Ominous Wind, but this still seems very playable.
Steinerp - 2/5
It gives you some card cycling but doesn't do as much as the other search cards like drop pod or ETC. But whatever it is a shield card that can sometimes become a unit.
Predatory Instinct
Kaloo – 5/5
Weaker Gun Drones that can go on almost anything or be used as a triple shield; hard to dislike. Making a Bloodletter an AoE 4 unit or the warlord an AoE 2 unit are both solid choices
Warfather- – 5/5
Bumping your 8 Health warlord to AoE 2 is powerful.
Covus – 5/5
Area Effect 2 is much, much scarier than Area Effect 1 on your warlord, and turns him into an army-razing beast who's very difficult for your opponent to play around or control. Also fine on a Vicious Bloodletter if you feel like reliving the Area Effect 4 attacks with Zarathur of yesteryear.
Steinerp -5/5
AOE 2 is so much better than AOE 1 that this card is almost a 5 no matter what. Add flexability to give to bloodletters or use for three shields and that confirms the score.
Iron Hands Centurion
Kaloo – 2/5
If this came out last cycle, I'd give it a 4/5. Now, it's too little too late. Sure cheap decks still exist, but they're not frequent enough to warrant such an expensive answer
Warfather- 1/5
This card doesn't fit into the mid-range SM deck and does nothing for Elite SM decks. Elites need to hit harder than 3. Ability is worthless in any meta.
Corvus – 3/5
Good against Worr, making his Barrages harder to use in particular, and reasonable against Kith assuming you have the Backlashes to protect him. Mediocre in many other matchups, but expanding the available options for a Space Marine elites deck is fine by me.
Steinerp- 3/5
It gives marines a choice in there elites. It is a choice they won't take often but had the meta continued to evolve (or as it does with the Black Crusade Expansions) this card would see play on a rotating cycle.
Land Speeder Vengeance
Kaloo – 3/5
Bloodletter with +1 cost, +1 command, -1 hp, + Flying, and without the Daemon synergy. Whilst Flying certainly helps, it'll be hard to afford this in SM decks without going all out on the vehicle build and taking Death Serves the Emperor, and even then it's a stretch. If played carefully with the right cards behind it (Indomitable, Crushing Blow, Techmarine Aspirant) it can pull off some serious work, and is still strong in isolation against cheaper decks, but can fall apart against bigger ones. Shame Gorzod can't use it
Warfather- 2/5
AoE 3 is great…on a bloodletter backed up with a teleport pad. 6 cost AoE that can't move around won't be doing a whole lot. Flying might keep it around, but with only 3 HP it's hard to say.
Corvus – 3/5
A Vicious Bloodletter of sorts in a faction with way less support for Elites, but the extra toughness and command icon make it a better-rounded card in many ways.
Steinerp – 2/5
This card will do work when it sees play but 6 cost is the killer. Marines would love their own version of a bloodletter, but without the synergies that chaos brings or being able to be added to Gorzod due to loyal or being brought with an enclave for Tau this card will sit in hand most of the time as you are better spending your resources on you mid-ranged marines.
Standard of Devastation
Kaloo – 1/5
This is a Vezuel card and has been rated as such. There simply aren't enough Dark Angels available to make this worthwhile and it's too expensive … and it's a Relic. Better off taking Iron Halos instead given they have the same cost and restriction but are more useful and have double shields.
Warfather- – 1/5
3 cost and using up a relic slot is a huge cost for the minimum effect the support gives back to you.
Corvus – 2/5
The biggest problem here is there aren't enough Dark Angels units that any single deck would be willing to play. If this is only occasionally netting you +1 ATK and only when your opponent elects to kill a Dark Angel, it really isn't paying for itself.
Steinerp – 1/5
There are better relics out there and unless you are running pure dark angels, opponent has a lot of control over this card. Marines are already turning down good cards due to deck space let alone cards like this.
Mars Alpha Exterminator
Kaloo – 4/5
"How do we fix the Leman Russ Battle Tank?"
"Let's charge 1 more for it, strip off some command, but actually give it an ability. Wouldn't that be neat? Oh, and for extra measure, let's make that ability good against a weakness of elite decks … tokens!"
"Should be make it common?"
"Nah, **** Gorzod"
Warfather- – 4/5
AM Elites decks got a nice boost with this card. Stats are a tad low, but token heavy decks watch out!
Corvus – 3/5
When the ability is essentially doing 4 unpreventable damage the card is great. The fact that the stats are seriously lacking when fighting enemy elite decks might make this too situational to see play, though.
Steinerp- 4/5
Another upgrade over the Leman Russ that would have been really good a year ago. It will still see play. That the ability is less valuable now is the only thing that is stopping Gorzad from driving the Bloodrunna over a cliff after getting left out of this and the Land Speeder
Jungle Trench
Kaloo – 2/5
Again, if Maksim came out last cycle along with this card I'd say it's a 4/5, since stripping off 1 attack from several cheap units is damn strong, even if it removes some attacks from your own side. However, given the popularity of elite decks it's just not worth it
Warfather- – 2/5
You can do it after all your range units go… but it feels like too much of an investment. AM already have so many good supports. This costs 2, a card, is telegraphed, needs to be played during a big battle with you having lots of range units, only prevents 1 damage per unit attacking you. AM units have small HP, it won't help them that much.
Corvus – 2/5
Yet another AM card that's good if your opponent is obliging you by playing small combat units and bad otherwise. Maksim would help mitigate the situational usefulness, but none of the Tank and Support help he's had this cycle overcome his inherent problems as far as I'm concerned.
Steinerp – 2/5
That is doesn't have to be triggered at the start of battle is a positive so you can swing and then trigger if you have ranged/initative, but -1 Attack isn't as good in the elite meta as it was in the weenie meta.
Follower of Gork
Kaloo – 4/5
This is an interesting one. On paper its bonkers since it flat out protects elites from damage, which is always a threat unlike the protections offered by other elite groupies (events, routing and effects, for example, are not always an issue, but every deck deals damage). It doesn't even care about the source of the damage (AoE protection). Whilst it's likely to be targeted first as a result, it's not a terrible thing given it effectively keeps an elite alive a little longer, and in Nazdreg's case can give the Follower Brutal.
Warfather- – 4/5
Blood Angel Veterans is a great card, all because he keeps preventing 1 damage. Preventing 2 will keep your ork elites alive and healthy, even from Warleader.
Corvus – 2/5
Protects your Elites from attacks while leaving them open to the usual controlling effects. It's still hard for me to find space for these units and the partial protection they offer in an Elites deck. I'm not convinced that the super-version of this cycle, a unit that just read "your opponent cannot interact with your Elite units at this planet in any way" would be too strong, since it's still only a speed bump for your opponent if he's ahead.
Steinerp – 3/5
A cheaper version of Frontline Hard Boyz that only protects elites. Not bad but it will die first most of the time, which doesn't mean it didn't do its job.
Fungal Turf
Kaloo – 3/5
HQ action makes it awfully the extra benefit you could get compared to snotling attack doesn't justify the full turn delay and conditional nature. That said if it wasn't an hq action it would be busted, I like the idea but this card just missed the mark which was a very small target to begin with.
Beastmaster Harvester
Kaloo – 2/5
It's funny, this is basically the DE version of a Griffon Escort but so much worse. I was thinking that the Griffon would have been better if it was an elite, but being a deep strike only elite that still costs 5 isn't worth it. Still, the timing gets around Plague Beasts at least and it might find a spot in Superiority Kith decks (if they're still played…)
Warfather- 3/5
Pretty expensive for what your getting. Super terrible to play straight up. With that said, when you are able to deepstrike this thing, 3 bodies are hard to deal with.
Corvus – 2/5
Well... it's not the worst Dark Eldar card we've seen this cycle. 5 resources for a 2/5 and two 2/1s just isn't a great rate unless you have a Khymera Den out, though, so this still won't see any play.
Steinerp – 2/5
Yeah, tokens. If only kith could generate tokens some other way. Too expensive to see play but ok otherwise.
Hydrae Stalker
Kaloo – 2/5
If it had a command icon and the slightly better Kabalite trait I'd consider it. As it is it's too little for its cost
Warfather- - 1/5
Stats are too low for the cost and the ability will most likely kill just a command unit. Which wont help you because the Stalker has no command himself.
Corvus – 1/5
Presumably designed by someone who was trying really hard to take all the flexibility out of the unplayable Veteran Barbrus while also making him much worse. And don't give me some song and dance about Morn. You only get one discount each deploy phase, and it's hard to image having nothing better to spend it on.
Steinerp – 2/5
Cost more than Vezuel's signature unit has +1 health, no surprise, no card return, no synergies with others, targeting restrictions (but hey it can't be backlashed), no command (which granted usually doesn't matter for the hunters). I'll pass
Scorpion Striker
Kaloo – 3/5
Yet another card for the wrong meta. Would have been great in Eldorath as a unit equivalent to Mind War without the restriction, but as it is there's just not enough of a reason for it
Warfather- – 3/5
This card is ok. Eldar have don't have many deepstrike options, so you will be able to guess what they are planning.
Corvus – 2/5
I like the reaction much more than 8th Company Assault Squad's, but Eldar and their allies have no real Deep Strike synergies worth pursuing. Having middling cards that are blank against Elites also isn't helping any deck at the moment.
Steinerp – 3/5
Not a bad card, but not good enough to see play unless elites start to die down.
Piercing Wail
Kaloo – 2/5
Potentially super strong against both an elite and a swarmy deck, but is so expensive that should you be able to afford it you've probably won already
Corvus – 2/5
A Mind War for the big game hunter that requires you to have big units of your own rather than Pskyers. If you can win two command struggles and a fight with it, or swing the decisive battle by taking two elites out of commission, the huge cost may be justified. The real risk of being unable to exhaust your opponent's most expensive units on any given turn makes me wary, though.
Warfather- 1/5
4 cost and deploy action are not a winning combination.
Steinerp- 1/5
Unlike the Scorpion, this is a bad card. Just flat out too expensive. Doom kills thing dead for the same cost and we all know the playing doom is often a trap as it causes such a huge tempo hit.
Raging Krootox
Kaloo – 2/5
Good(ish) in Aun'shi and maybe good in Starblaze (with a Clearcut?). Thing is, if you're holding onto more than 2/3 resources you're probably low on cards, which is a problem, and at 2 resources he's effectively a slightly stronger Crisis Suit only without the command or mobile. High hp is nice, but No Attachments is not. Still, if you put him opposite a Squiggoth you'll be able to Ambush Platform in an Ion Rifle, so there's that
Corvus – 1/5
Worse than an existing unplayable card – Goff Nob – unless you put a lot of effort into it. I appreciate that this works with the Kroot theme of gaining resources and that you can one-shot warlords with it some of the time, but angling to have 6-8 spare resources in the combat phase isn't an interesting game plan.
Warfather- 1/5
No command and you have to sit on way too much resources to make this unit hit for anything worthwhile.
Steinerp -2/5
No command, mediocre ability. I don't see enough resource gain to convince me this guy will be hitting for a bunch. Best in Aunshi , who has expensive combat tricks but event here won't see play.
Hunter's Ploy
Kaloo – 2/5
Very enemy deck dependent. You can hold onto it until the opportune moment, or specifically gun down their elite if they only have one, but the chances are they'll be able to benefit just as much as you
Corvus – 2/5
You can set yourself up to benefit more from this than your opponent by either having more expensive units – which isn't entirely under your control – or by choking them on cards. There are many hurdles to consistently getting an advantage out of this card, but it's not entirely worthless.
Warfather- 3/5
In the Elite meta this card will be hard to pull off with great results, but every now and then it will keep you in the lead. I don't really see it has a play from behind card.
Steinerp - 2/5
Won't see play for the same reason Y'varn doesn't get triggered much. It is just as likely to help opponent as it is you
Slavering Mawloc
Kaloo – 3/5
Very nice with the refund support, as well as being another ambush-like trick for Omega (with less dependencies). Low attack given the Keyword, but it still has its uses
Corvus – 1/5
Armorbane is strictly worse than +3 ATK, worse than +2 ATK except in the incredibly rare cases that it's crucial they don't triple-shield, and usually but not always better than +1 ATK. I'm happy to call this a better version of Attack Squig Herd, since it's Elite traited, paid on an installment plan, and slightly better on the first turn. It's not so much better that I'd actually play it, though.
Warfather- – 4/5
This is Tyranids only deepstrike card? So not much of a surprise on what's popping out of the ground, but for 4 cost you get a 3/6 armor bane. Combo with Invasion Site to gain back 6 resources. This card will be great in the Tyranids elite deck.
Steinerp - 3/5
Its an elite that doesn't make gaunts has ok stats but nothing special. But none of the Nid elites are that great so it wll be player preference I think if it sees play.
Armoured Shell
Kaloo – 2/5
It's a great effect, but it's such a set up given most Nid units have 4 or less hp. Should the wombo combo of this, regeneration and Y-factor all go out onto an elite, however, and it doesn't get routed etc, then you're in the money, but good luck affording all that
Corvus – 1/5
We've seen lots of attachments with protection effects, and none of them are particularly interesting because your opponent can often just attack something else. This is at its best in an Elites vs Elites matchup, but not good enough in general to see play.
Warfather- – 3/5
This isn't just a meta choice card. Even swarm and mid-range decks hit for 4-5 damage. This card will keep a key unit alive.
Steinerp – 3/5
A solid cards that makes your shields better and your hormaguants basically invincible so long as OOE is alive.
Dread Command Barge
Kaloo – 2/5
It's the timing of the action that gets me. I think it should have just been an "Action" rather than specifically a "Command Action" with a "limit once per phase/round" added in, especially given the discard requirement. Then it would have fit into a Doom Scythe deck quite nicely along with Quantum Shielding, but as it is it's an ok unit with an awkwardly even stat line. At least it can run right down the board should you have enough cards to throw, however
Corvus – 2/5
At 3 cost this would have been very interesting, but at 4 you're no longer getting an efficient deal on all those command icons, and the other stats are seriously lacking.
Warfather- 2/5
Expensive unit to just win command. Stats are low for 4 cost and mobile is expensive. If works to the theme of Necrons discarding cards, cause maybe they can get the back later, but that hasn't been working for them so far.
Steinerp – 3/5
I guess it is ok with a pseudo mobile ability and being a vehicle works with quantum shielding but basically it is just too expensive.
Shard of the Deceiver
Kaloo – 1/5
Editors note- Kaloo drew a very picture of two middle fingers but probably not appropriate for the forum
This is what the card does when played. One is for your opponent, the other is for you
Corvus – 1/5
Neat design, but really, really hard to use. If you deploy it normally you burn through 3 cards just to get it to attack once and at least 8 cards if you want to get use out of it on the next turn. If your opponent can afford to duck a fight, this card will probably lose you the game. At 7 resources I expect huge stats that my opponent can't easily deal with on a permanent unit, not a temporary one.
Warfather- 1/5
Fun for the theme, but not for competitive play.
Steinerp – 3/5
Will this card win worlds, no. But it will be fun for people to play with and try to work and earns a 3 for that alone. If it checked for cards in hand before you discarded it might be almost playable. If Brad overrules Ktom and says that you can discard cards in play as RAW it might even be good (you could discard itself to stop it from nuking your hand.
Article: The Warp Unleashed