Welcome to Card Game DB
Register now to gain access to all of our features. Once registered and logged in, you will be able to create topics, post replies to existing threads, give reputation to your fellow members, get your own private messenger, post status updates, manage your profile and so much more. If you already have an account,
login here
- otherwise
create an account
for free today!

1
Unforgiven Warpack review
conquest
warpack reviews
unforgiven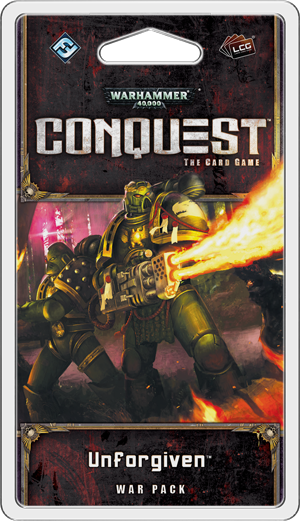 As usual I would like to thank like to thank the reviewers that submitted their initial reviews in an timely and orderly fashion.
I will also take a minute to get on my soapbox and encourage everyone to report all the games you play at 40kconquest.blogspot.com. The more people we have reporting games, the more accurate it is. You can also go there to see stats on games others have reported to see if anything we say in these reviews turn out to be true or not.
Synopsis:
Clearcut Refuge 4.25
Missile Pod 4.25
Vezuel's Hunters 4
Fulgaris 4
Infectious Nurgling 4
Epistolary Vezuel 3.75
Firstborn Battalion 3.75
Defensive Protocols 3.75
Loamy Broodhive 3.5
Mark of Slaanesh 3.25
A Thousand Cuts 3.25
Average 3.125
Unseen Strike 3
Caustic Tyrannofex 3
Great Iron Gob 2.75
Dark Angels Cruiser 2.5
Gorgul da Slaya 2.5
Seekers of Slaanesh 2.5
Hunting Acanthrites 2.5
Mandrake Cutthroat 2.25
Concealing Darkness 2.25
Grav Inhibitor Drone 2.25
Adherent Outcast 1.5
Reviews:
Epistolary Vezuel
Whiteblade222 – 3/5
His ability is nice (card draw is always good!) but the real question is how does he compare to other space marine warlords. Ultimately his strength will depend on future deep strike cards, but he isn't a bad choice right now.
Kingsley - 4/5
Like all Space Marine warlords, I think Vezuel has legs - his ability will generate large amounts of card advantage over the course of a game. One caveat, though, is that he may not be there yet. I think we may have to wait for more Deep Strike cards before this deck becomes really strong.
Asklepios - 3/5
It's hard for a Space Marine warlord to be bad because of their card pool, but card advantage conditional on deep striking is a mixed blessing, as a deep strike heavy deck is likely to suffer in the command phase. Combine this with some so-so signature cards, and I'd call this the weakest SM warlord to date.
Steinerp – 5/5
I've never given a warlord a 5 and he doesn't deserve it yet but he is getting it regardless. Drawing an extra card a turn or two already one major event (NA champs 2015). This guy does it legally and it isn't limited to 1 or 2 or 3 but however many you can deepstrike. There aren't enough deepstrike cards yet to make him excellent but we are only 2 packs into the cycle. Give him 4 more packs and this guy should be amazing. Of course give him no additional a solid 3 but I can't see that happening.
Vezuel's Hunters
Whiteblade222 – 4/5
A 2 cost 2/2 with a hammer is nice as a signature squad, and the lower cost helps off-set the cost of the space marine curve in general. Plus, it draws you a card!
Kingsley - 4/5
The inefficiency of deploying this normally is pretty substantial, but if you Deep Strike it you get a great deal, plus some synergy with the classic Crushing Blow. Further, if we see more "2 cost punishers", this unit's overpriced nature may in some respects be an upside - you'll be Deep Striking most of the time anyway!
Asklepios - 4/5
What we're looking at generally is 2 for 2/2, with the command icon materializing too late to be useful, but with strong ability text for cost and obvious synergy with warlord ability. Vezuel players will rarely be sad to draw this unit.
Steinerp – 4/5
Not a good card to deploy normally. But 2 cost for a 2/2 that does 2 damage isn't bad. Having it draw you a card makes it even better. And who knows the hammer might be useful someday.
Dark Angels Cruiser
Whiteblade222 – 3/5
As more deep strike units come out this will be stronger, and a free command stall is nice. Right now, it's just okay.
Kingsley- 3/5
This seems like an effect that is waiting for stronger synergies. Note, though, you can use this as a "safety net" to put a unit that would otherwise be killed into reserve so as to use it later.
Asklepios - 2/5
For this to have any function, the deep striking card has to have some benefit on being flipped face-up that is worth more than its deep strike cost. With Assault Squad and Scion Strike Force, that's not the case, as a lot of their deep strike cost is paying for their stats. The best thing you can say here is that it's decent for deploy delays.
Steinerp – 2/5
Where as many signature supports are overpowered. This one seems underpowered as it means there needs to be a deep strikable unit revealed at a planet further down the line. So either you moved it there somehow or a warlord triggered a battle early and you won the battle.
Unseen Strike
Whiteblade222 3/5
Having the initiative can be a great boon, especially when the enemy warlord isn't expecting. Unfortunately the timing is a little niche, and doesn't have as much impact as other signature events.
Kingsley - 3/5
Decent but not amazing, especially since the opponent will likely be considering it as an option. Still, sometimes this effect can be huge, and even if you have the initiative you can use this as a safety net in case your Warlord is elsewhere and they try to surprise you.
Asklepios - 3/5
Being a delayed "cantrip" (a term from another card game that describes a card that lets you draw a card when you play it) helps this card a lot, but 2R is a lot to spend to win initiative in a semi-telegraphed fashion.
Steinerp -3/5
A decent effect but cost of 2 is a bit high. Still gives some nice bluff options.
Fulgaris
Whiteblade222 4/5
Having a little extra attack for a fight, or deep striking as much as possible for the final fight, this signature attachment is pretty strong.
Kingsley - 4/5
Solidly good. The default case for this isn't that strong relative to some other signature attachments, but if you hit multiple Deep Strikes in a turn this effect becomes very powerful indeed.
Asklepios - 3/5
This is the minimum rating you can give any card with three shields on it. The effect text isn't wonderful, as you essentially have to meet conditions to get to the +1 attack that most 1-cost attachments give you anyway, and additional HP that goes at the end of the phase won't stop your warlord getting bloodied. Yes, it stacks for combo madness, but that's a lot of setup for a moderate bonus.
Steinerp - 5/5
You should be deep striking at least one card per turn so the basic value isn't bad but as the game goes on and you gain more and more card advantage this card really powers up.
Firstborn Battalion
Whiteblade222 3/5
This doesn't cleanly slot into every AM build, but Cortez and some different worr builds would be happy to have him. Being mobile AND ranged is nice.
Kingsley - 4/5
This unit is similar to Sacaellum's Finest, but slots best into different sorts of decks. Hitting this condition is not going to be so easy, but if you do you have an extremely strong unit to play with.
Asklepios - 4/5
Unsurprisingly this Vostroyan unit is designed with the Vostroyan warlord in mind, but most AM warlords can put together a decent support-heavy build. Non-arduous conditions make this 2/3+1/4 Mobile & Ranged for Straken or Worr, which is astounding value for 4 resources.
Steinerp -4/5
The only downside (other than needing a support heavy deck) is the 4 cost. So not protected by elite status but almost as (if not more so) expensive. Still 3 mobile ranged with 2 hammers isn't bad
Clearcut Refuge
Whiteblade222 5/5
Non loyal and 1 cost? Oh boy. This is going to skyrocket elite decks. Expect to see this a lot in ork elite decks and Maksim.
Kingsley - 4/5
Even in situations where you aren't playing big units, this card is very solid. When you have big stuff out, it becomes crazy. I expect this to see play in many decks, both for AM and their allies. Orks are especially fond of this thanks to Brutal and cards like Zogwort's Runtherders.
Asklepios - 4/5
Unique and a negative trait bring this down, but a repeatable toughness boost that is potentially sizeable and which can boost your key hitter or warlord for the final battle makes this very easy to run at 1x.
Steinerp - 4/5
A very good card that should see most AM decks but loses the final point for being unique. Not as good as Archon Palace which can justify 3 of so elite decks can't plan on it but when it shows up it very good.
Gorgul da Slaya
Whiteblade222 2/5
His ability is too niche, and orks already have two other good unique units to play.
Kingsley - 3/5
I really wish this guy came with a command icon - other than that, he has a very interesting ability. I think he's a little too matchup-dependent to be an all-comers choice, but if you hate facing Space Marines Gorgul is your man.
Asklepios - 2/5
4 cost with no command and no keywords makes this an expensive unit, though Unique helps prevent Archon's Terror. A narrow window of effect makes the ability text pretty weak too, even if it does deal with Indomitable. 2/4/5, or 0/4/5 with a keyword would have been a good card. As it is, this is a poor card.
Steinerp – 3/5
If a Stalking Lictor can get 2 command hammers for hiding in the shadows this guy should get at least 1. Good stats and an ability that is limited but affects all your orks still makes this a decent, although not great, card. He is wearing an Iron Gob, give him one built in!
Great Iron Gob
Whiteblade222 2/5
While two shields is nice, the ability is not worth the two cost, and orks aren't light on two shield cards.
Kingsley - 4/5
This is a very solid card, combining two shields with a Promotion-like effect that isn't limited! The downside, of course, is that it costs two resources, but I think in some cases that may well be worth it. Note also that this ability works while the bearer is exhausted.
Asklepios - 2/5
Two shields is good, helping win command is good too. But to get any sort of value out of this we need to be seeing at least a trio of ready units in one place, and groups like that usually end up back at HQ after a turn. Orks have great 2-shielders now, this one is no longer exciting.
Steinerp – 3/5
Two shields and good ability make this a three. But cost 2 and plethora of 2 shielders already mean this probably won't see play.
Infectious Nurgling
Whiteblade222 4/5
This will see a lot of play in Zara and a bit in Kugath. No command is a fine trade for a 2/1 armorbane with a daemon trait.
Kingsley - 4/5
Simple, but at times exactly what you want. Zarathur bumps this guy up to three damage Armorbane for 1, which is a very good value proposition against almost anything out there. Also works well with The Prince's Might.
Asklepios - 4/5
I'm probably a bit weird, in that I think 1 for 0/2/1 and a keyword is a pretty good deal (vide Sybarite Marksman). Daemon is also a positive trait, and he's a nice addition to the Infernal Gateway arsenal.
Steinerp – 4/5
Another nurgle unit for Zarathur. 3 armourbane is something opponents will need to deal with despite it only being a 1 cost unit.
Seekers of Slaanesh
Whiteblade222 2/5
Right now this is bad, really bad. In the future when the slannesh warlord releases along with its token generation this card will become better.
Kingsley - 3/5
Setting up this effect will be a little hard, but if you can get it going it can be extremely powerful, and the stats are solid for the cost. May not see huge play thanks to lots of other strong Elite options for Chaos, but it could also be a potential answer for Elite command weaknesses.
Asklepios - 3/5
Add +1 to the score if you have a Slaaneshi warlord that generates cultists. Otherwise, there's many better Chaos elites out there.
Steinerp -2/5
Becomes better after the new warlord but for now I consider him to have basically a blank text box.
Mark of Slaanesh
Whiteblade222 2/5
At this moment, not good. In the future when the elite daemon build comes together, this might see a bit more play.
Kingsley - 4/5
Move effects are very powerful in this game, and this one costs 0 - providing both a nice deploy stall and a bit of "insurance" for a key planet. Combos interestingly with sacrifice abilities, Gleeful Plague Beast, and the like.
Asklepios - 4/5
Tricksy movement powers are wonderful, and many Chaos units really love to turn up late to a battle. "Leaves play" is Zarathur-friendly phrasing as well, as it allows sacrifices to trigger it.
Steinerp – 3/5
Movement is good but other than flamers there aren't enough sacrifice effects to control the timing of this making it a little reliable than I would like.
Mandrake Cutthroat
Whiteblade222 3/5
I think this card is hard to judge, and is really a Meta call. There's a decent number of ally cards out there, and this might slot into some dark elder builds as a one of.
Kingsley - 2/5
This unit is extremely effective against the more expensive Ally units like Freeboota Kaptain, Flayed Skulls Slavers, or Reliquary Techmarine. However, those units aren't in all that many decks right now, and since you need to have a battle to Deep Strike this in it doesn't provide that good a solution to the more common Rogue Trader and his ilk.
Asklepios - 2/5
A printed 2-cost for 1/2/2 plus this ability on entering play would arguably be stronger than a split deep strike cost and this timing, because of the command implications. With a few notable exceptions, the ally trait is associated with command presence rather than combat presence, which makes Mandrake Cuthroat hard to include over other DE 2-costers.
Steinerp -2/5
The timing on this card is really bad as most allies are command based especially those that see play and if a battle is going to be triggered your warlord should kill them anyways.
A Thousand Cuts
Whiteblade222 3/5
Ignoring the Urien synergy (don't let this card fool you, he's still awful if you're not Seth Rosen) it's interesting. It's basically a 1 resource ping to trigger stuff like warleader, or get kills. It'll see some play.
Kingsley - 4/5
Great for Urien, worth looking at for Kith, Morn has better options. Overall quite an interesting design, however.
Asklepios - 2/5
Rating this purely with Urien in mind, at base a 0-cost point of damage with 2 shields and the torture trait is quite handy. However, the reshuffle is a little double-edged, keeping torture density high when you want it high, but failing to empower Soul Seizure, or clogging up your deck when you'd rather be drawing something more expensive and decisive in the late game. If this were playable as a Deploy Action, it would feed into the deploy delay game that Urien is good at. As it is, this is not a card worth running even for Urien.
Steinerp – 4/5
Great for Urien. Probably better options for the rest. But Urien needs another torture or two and this is a big step towards that.
Adherent Outcast
Whiteblade222 1/5
Yes the effect is strong, but three issues stop it from being good. Poor statline, easy to target, and in a faction that neither has a viable elite deck nor allies that have a viable elite deck.
Kingsley - 2/5
Elite units usually don't need help with having "big stats" or stat-like effects, so I'm not too impressed by this ability - it covers a weakness that isn't really there.
Asklepios - 2/5
Probably one of the worse of the cycle of Elite-enhancers, this card only has a role in Necron scout-themed decks alongside a gloriously unbreakable Lychguard. Other Elite decks will likely not want a 2-coster with no command, as deck space will be too tight.
Steinerp – 1/5
Elites need protection from effects more than they do damage and they need help with command. This unit strikes out on both counts. And one of the eldar elites already is a flyer.
Concealing Darkness
Whiteblade222 2/5
This card is okay, but Isha beats it out. Often Eldar units have a high cost, and paying a two resource premium to ambush them in isn't worth it.
Kingsley - 3/5
Another good "insurance policy" card. A lot of the time, I suspect you'll place this and not need to trigger it, but at other times it can be just what you need to prevent a surprise attack. The only reason I'm not giving this a 4/5 is because Eldar have many strong "insurance policies" already with their various move effects.
Asklepios - 2/5
Gift of Isha is a great card, because of its 2 shields, its untelegraphed combat trickery, and its efficiency in generating a unit out of the discard pile. This card is a much weaker version, gaining permanence on the unit, and allowing freedom to drop in a discounted Elite or to pick and choose the right unit for the job, but losing out with more telegraphing, more resource cost, and fewer shields. Space for Eldar events is so tight that I can't imagine running this.
Steinerp -2/5
2 cost is too high to ambush a unit or two for no discount. It will see play in casual decks as ambush is fun but not competitive decks.
Grav Inhibitor Drone
Whiteblade222 2/5
Lack of command icon and being targeted by events/warlords/higher costed units makes this not very good.
Kingsley - 2/5
4 HP for 1 cost is pretty great, but this ability isn't too impressive, since the units will just get to attack after bigger targets exhaust anyway. If it only hit the opponent, this could be great, but as it stands I'm not sure this is worth including.
Asklepios - 3/5
This card is cooler than my rating suggests, with a great trait, superb cost-to-HP ratio and a potentially disruptive passive effect. However, it will take some finesse to use, and it competes with a lot of excellent 1-cost Tau units.
Steinerp – 2/5
Like concealing darkness, this is a cool effect not a good effect. If it had a hammer its HP would at least be worth something.
Missile Pod
Whiteblade222 3/5
This is very strong in Shadowsun but weak everywhere else. It's broadcasting that you can kill a support, and if you fire it for damage then they play out the support. Recursion with shadowsun can get around this.
Kingsley - 5/5
Perhaps the best support destruction card in the game, this provides great versatility and can act as a double deploy stall. I expect Missile Pod will be a staple for Tau and Eldar decks for some time to come, and while current Space Marine decks don't have too many strong Vehicle or Pilot options, they'll want to bring this in if that changes.
Asklepios - 4/5
The limitations make this specific to a particular deckshape, but the versatility of options make this a very strong card in those decks, as it lets you run support-hate with no stress over a potential "dead card in hand". Shadowsun/eldar Elite decks just gained a very useful (and reusable) control trick. This is probably the best card in the pack, held off 5/5 only by the fact that it won't fit most Space Marine decks.
Steinerp – 5/5
Marines don't have the vehicles needed to run this but they have enough good cards already. This is the best support destruction/direct damage that Tau and Eldar have and fills a big hole for them.
Caustic Tyrannofex
Whiteblade222 3/5
While a bit comboey, the ability is really strong, and this might see play in The Swarmlord, Elite build or no elite build.
Kingsley - 3/5
This has really solid stats for the price combined with an ability that's kind of "whatever". All in all a solid option, especially for Swarmlord, but not a slam dunk - I personally like Striking Ravener a fair bit better.
Asklepios - 3/5
5 for 3/4/4 and an okay ability is okay. Can accept attachments freely, which is nice. So yeah, okay but underwhelming. Very tyranid.
Steinerp – 3/5
Good stats and ability if you are going a termagant nid build. Gets a 3 as I'm not convinced that is viable at this point. But maybe.
Loamy Broodhive
Whiteblade222 3/5
This support slots really well into Tyranid elite builds, and the low cost + easy way to trigger it makes it strong.
Kingsley - 4/5
In a Tyranid Elites deck, this can be great. I'm not sure if that deck is valid, but if it is it probably wants to run this card.
Asklepios - 3/5
Tyranid Elite decks are lagging a bit behind the elite decks of other factions because they don't have as much discounting, they start with 6/6 cards and resources and most importantly of all, they don't have access to enough 1-for-1 command cappers. That makes Loamy Broodhive a card specialised to a deck archetype that is currently subpar.
Steinerp – 4/5
A great step towards making my review of the tyrannofex out of date but I need to play it more to figure out if a nid elite deck is viable.
Hunting Acanthrites
Whiteblade222 3/5
Being a drone, it fits right into a future Szeras master program deck, but right now the ability is strong enough to see play as a one of in Necron decks.
Kingsley - 2/5
These stats are awful for the price, but the ability can be devastating in the right situation. I don't think this at all makes the grade right now, but it might do well with the upcoming Necron warlord (or at least his signature support).
Asklepios - 3/5
Intended Warlord synergy is obvious. If this had 1 command icon, it'd be a decent command play. As it is, it's a combat trick that cuts both ways. Not too impressive, though -X HP "burn" effects get better the more of them you run, so may fit in some deckshapes.
Steinerp – 2/5
Minus HP effects are good but the awful stats are awful.
Defensive Protocols
Whiteblade222 4/5
Yes, there's harbinger anti synergy, but the effect is incredibly strong. Surviving a barrage of attacks or big swings from elite units, this event is a good asset in the necron arsenal
Kingsley - 3/5
Defensive Protocols is a weird card, but it can really turn the tide of a battle under the right circumstances. That said, Mechanical Enhancement offers a similar effect with two shields and better synergy - so in the end this seems like an effect that may not make the cut unless you expect lots of Elites or want to bluff with other Deep Strike options.
Asklepios - 4/5
The great thing about Necrons right now is that they're the one faction where you can't really have any idea what their facedown card is. This card is broadly synergistic with Praetorian Ancient and with build-up cards like Monolith and Resurrection Orb. However it is anergistic with Harbinger of Eternity, and dislikes the faction dilution of Nahumekh (though benefits from his variety of deep strike cards). All in all, this is a card that will need a lot of testing to see if it is a strong one or not, but my instinct says yes.
Steinerp- 4/5
Can't be used by the harbringer which is just fine. Reducing damage to 1 instead of by 1 will really neuter some decks and make your lychguard even more invincible.
Article: Unforgiven Warpack review