Welcome to Card Game DB
Register now to gain access to all of our features. Once registered and logged in, you will be able to create topics, post replies to existing threads, give reputation to your fellow members, get your own private messenger, post status updates, manage your profile and so much more. If you already have an account,
login here
- otherwise
create an account
for free today!

0
Warpack Review: Jungles of Nectavus
warpack review
jungles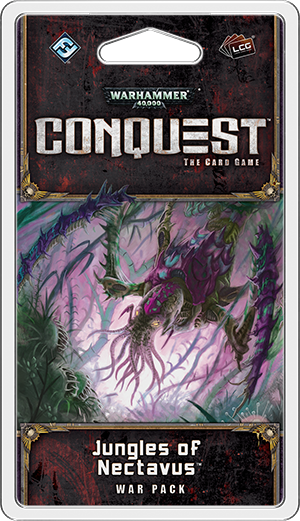 As usual I would like to thank like to thank the reviewers that submitted their initial reviews in an extremely timely fashion. And with perfect formatting to boot!
I will also take a minute to get on my soapbox and encourage everyone to report all the games you play at 40kconquest.blogspot.com. The more people we have reporting games, the more accurate it is. You can also go there to see stats on games others have reported to see if anything we say in these reviews turn out to be true or not.
Synopsis:
I may have accidentally deleted this before pasting it here and I'm too lazy to do it again. If someone wants to do it and send me the numbers I'll insert them here. Otherwise read the reviews below.

Reviews:
8th Company Assault Squad
Kingsley- 3/5
This is 3 for a 1/3/3 with a good ability. That tends to be a good formula - but the ability only works once and only from Deep Strike, limiting this unit in comparison to rivals like Blood Angels Veterans and Lone Wolf. Great if it's readying a key player that came in from HQ exhausted, but may lose out to strong competition in the 3-drop slot.
Eu8L1ch - 3/5
The effect is useful only when there is a unit coming exhausted from HQ, as such it might be very helpful but only on occasion. The unit on its own loses the comparison against the most popular SM 3-costers, so it will have a hard time making the cut - except in Vezuel, who gets to draw a card after Deepstriking it in.
Steinerp – 3/5
Staple for Vezuel when he comes out but until then not really comparable to the other 3 costers. Untapping a warlord train is always nice.
NecRus888, xRAVEx - 3/5
Cool body for battles and a nice drop pod target. Deep Strike ability helps you, when you have a warlord train or after tense negotiations. Also a counter to Starbane's ability. A must for Vezuel. For the rest WLs I'm not that confident. SM already have so many awesome cards.
Corvus – 3/5
Let's get this out of the way – Deep Strike is a bad version of Ambush. You telegraph the play and you commit your 'trick' to a single planet in the deploy phase. You really want your deep strike cards to have a unique desirable effect, a huge discount, or lots of flexibility to justify them. Assault Squad is only okay, offering very little except one additional combat trick at a late-game fight.
Whiteblade222 3/5
Being able to ready a Blood Angels Veteran or Honored Liberian coming in from HQ is a nice effect. Deep strike makes this card less powerful (Deep strike on units is kind of bad, you sacrifice their command presence) however it'll be a solid include in Space Marine decks that want to bully the first planet hard.
Valkyris Pattern Jump Pack
Kingsley- 4/5
A solid upgrade to Iron Halo or Nocturne-Ultima Storm Bolter for decks running two-shield attachments to fetch with Earth Caste Technician. You probably won't want to play this without Deep Strike all that often (compare to Hostile Environment Gear), but it can be a bluff and has some nice synergy.
Eu8L1ch - 4/5
There aren't many candidates in SM that benefit massively from flying, but for a single resource and having double shields this card's a good bargain.
Steinerp – 4/5
That this card is limited to Vezuel shows just how good the marine card pool is.
NecRus888, xRAVEx - 5/5
This attachment is a beast! Do you remember how much pain Assault Valkyrie brings? Now imagine flying BAV or even Firedrake Terminator! You'll always find someone to attach it to (just make sure there is no restriction on wargear), and it will be a bad day for your opponent. I don't know how to kill such flying SM units. SM got one more incredibly good card. Well, hope, other factions will also get their own.
Corvus – 4/5
A better 2 shield attachment than the current fare that some SM decks are still searching up with Earth Caste Technician. The average SM deck is low on interesting targets for it but if you have an Emperor's Champion or other elites it becomes more interesting.
Whiteblade222 4/5
Flying is good. Flying on a Blood Angel Veterans is great.
Vostroyan Officer
Kingsley- 3/5
A 1/3 body means the opponent doesn't really want to prioritize this, but they have to in order to use events on your Elite units. Needs Elite support to be good in battle, but strikes me as a solid combo piece.
Eu8L1ch - 4/5
The stats are a bit below the curve, missing the 2 ATK mark. However it bears the important soldier trait and the protection for it provides is probably the best one could ask for; solid.
Steinerp – 3/5
Nothing to complain about. Good traits, 4 total stats and a hammer for 2 is about right. And making elites immune to events can be big. I'm not convinced we've seen the makings of an elite heavy AM or SM deck yet. And orks already have blue paint if really needed
NecRus888, xRAVEx - 3/5
The stats are pretty standard, and the ability is very powerful in an elite deck. But the problem is that AM don't have awesome elites, so I'm sure for now we will see it only in Maxim's decks.
Corvus – 3/5
I'm not a huge fan of this cycle, since opponents will often have a way of dealing with these 1/3 bodies en route to dealing with your elites. This specific effect is in the middle of the pack in terms of protection, offering the only defense against untargeted events like Fury of Sicarius while not protecting against other common threats to elites like Klaivex.
Whiteblade222 3/5
This card is good in elite decks that may grow out of Space Marine and Orks and the eventual tank elite deck that will find a home in AM. Great ability and decent statline for the cost.
Scion Strike Force
Kingsley- 2/5
I'm not fond of Ranged units in Astra Militarum thanks to the antisynergy with Preemptive Barrage. This is no exception, and while the Deep Strike here is nice I don't think it makes up for the inefficiency, especially since Deep Striking this wastes its two icons on the first time you bring it in.
Eu8L1ch - 2/5
Ranged is a powerful keyword and it boasts two great traits, but the stats are too low for the price and if you deepstrike it you're giving up on its hammers (and any possible discounts).
Steinerp – 3/5
The two hammers are wasted but 3 ranged is good for 4. Still not where I want to see the card.
NecRus888, xRAVEx - 2/5
For the full cost it's a very bad deal. For deep strike it's better, but I consider that most deep strike units should be played to P1. And in this case 2 hammers won't be useful unless you can move this unit (Plannum/Fervor).
Corvus – 2/5
Too expensive without Deep Strike and not really good enough when thought of as a unit without command icons. AM would just as soon their biggest unit didn't have ranged since they can give it on demand with Preemptive Barrage.
Whiteblade222 2/5
Too expensive, and the ability doesn't offset the penalty of deepstrike. Besides, why not play a different unit and give it ranged with barrage?
No Surprises
Kingsley- 4/5
This is a very solid card that counters enemy Deep Strike options (several of which are already looking strong) - and if your opponent doesn't have Deep Strike stuff, it's always a shield. I expect to see this quite a lot as the cycle moves on.
Eu8L1ch - 3/5
A strong answer for specific cards, its usefulness will largely depend on the state of deepstrike in the meta. The cost is appropriate and it bears a shield icon, so it might well be playable.
Steinerp -1/5
Pay 1 to destroy a card that they paid 1 for, you don't know what it is and if they don't deepstrike, it is just a 1 shielder. If this is the anti-deepstrike tech, deepstriking has nothing to fear.
NecRus888, xRAVEx - 1/5
The usefullness of this card completely depends on the quantity and quality of Deep Strike cards. The more DS cards see play (and be MVP), the more often this event will see play. The problem is that last cycle AM got enormous quantity of perfect cards, so what's the point to include a niche mechanic counter in the deck, while you can take the cards, that are always useful?
Corvus – 3/5
Fine to play if strong Deep Strike cards start showing up in most decks. I don't think that's very likely, but having a 'silver bullet' like this is a healthy way to give players a response if things do get out of hand.
Whiteblade222 2/5
The strength of this card fluctuates wildly with the meta. In a world where deep strike is the place to be, this card shines. Currently? Hard to find a slot for.
Blitza-Bommer
Kingsley- 3/5
The stats aren't great, but they come with powerful (and flavorful!) card text which may well make up for it. Indirect damage is sometimes maligned for being easy to mitigate, but it's much harder to do so when it's 3 at once!
Eu8L1ch - 3/5
A gimmicky card. If played with the correct cards it might be rather powerful, but requires some work (readying and other indirect damage effects, mostly).
Steinerp – 4/5
Probably a 3 but I'm giving it a 4 as orks have a bunch of untapping (standard bearer, commando, bloodcrusha) and it looks just plain fun.
NecRus888, xRAVEx - 4/5
Looks like orks are switching to indirect damage. Strong elite unite with an interesting ability. 4 damage is huge! It can wipe the board and/or win battles, Take new kommandos or Standard bearers and it will be massive!
Corvus – 3/5
The body is well-suited to keeping it alive to use its reaction, and the reaction is quite strong. Possibly enough to see some sidelined readying effects for Orks show up in decks again.
Whiteblade222 3/5
A reasonably priced Ork elite with a strong ability? Sign me up. It will see play out of a theoretical Ork elite deck.
Kommando Sneakaz
Kingsley- 4/5
I like this unit a lot - it's basically an upgraded version of Standard Bearer for Ork players. Goes especially well with Brutal, but note that it can also ready a warlord or even come in to put damage on your Bad Dok. One to watch out for, especially when it's calling in air strikes from that Blitza-Bommer!
Eu8L1ch - 5/5
This is a - perhaps slightly worse - version of the Standard Bearer that promotes Ork synergy. Readying and ambush are both powerful things to have, especially considering Orks tend to reach high ATK values.
Steinerp – 5/5
A slightly better Standard Bearer in Nazdreg, a slightly worse in everyone else. That said 6 cards that ambush in and ready a unit, sold.
NecRus888, xRAVEx - 4/5
This unit doesn't have command icons, but has nice synergy with the other Ork cards. It untaps units and boosts brutal. 3 HP is enough to survive after warpstorm. It even can untap the WL, so now Gorzod is even more dangerous for the opponent's vehicles.
Corvus – 3/5
Fine as an adjunct to Blitza-Bommer. Without that synergy the effect and stats seem a little on the weak side.
Whiteblade222 3/5
Being able to ready a unit is a strong effect, and with the high atk values that Orks can put out you can dish out a lot of damage. Expect to see him out of Nazdreg where he shines.
Sathariel the Invokator
Kingsley- 4/5
Sathariel's card text is incredibly good even when you're just sending Firestorm back to your hand to reuse it as two shields - when he allows you to repeat Fetid Haze or Warpstorm it's just crazy! His stats are quite poor for the cost, especially on a non-Daemon, but Sathariel's ability is so good that it may not matter.
Eu8L1ch - 5/5
His stats are alright if you deepstrike him, but the best thing is his ability that's really powerful, being limited by trait but otherwise allowing free choice among the events in the discard pile.
Steinerp – 5/5
Reusuable shields are great. Reusable Firestorms, infernal gateways, fetid hazes, and warp anything even better.
NecRus888, xRAVEx - 4/5
It's a non-loyal (!) unique elite unit, which makes him immune to many effects. Ability allows to recur the best chaos events and use them again - either for shields, or for the main effect. Also for 4 resources you get the body 1/4/4. The Fallen trait is also interesting. Hope we'll see more cards about this trait.
Corvus – 5/5
He's small for his cost whichever way you play him, but the fact that he's constantly redrawing your 2-shield cards for as long as you can keep him alive makes up for it. The added ability to selectively bring back cards like Warpstorm, Fetid Haze or Infernal Gateway when you need them is even better. I could see him stumbling sometimes when your discard pile is empty, but more often than not he'll be a card advantage engine that your opponent needs to deal with.
Whiteblade222 4/5
A 4/4 for 4 is run of the mill, but the ability can be battle winningly strong. Even if you're just shielding with the firestorm or warp rift each round, he still brings a ton of flexibility and durability to a fight.
The Prince's Might
Kingsley- 4/5
An outstanding card for Ku'gath and the upcoming Slaanesh warlord, who will be able to beat entire armies on their own with this ability going. Zarathur isn't as fond of it, but I could easily see this ability being so good that it leads Zarathur players to come up with newer and more Daemon-heavy compositions.
Eu8L1ch - 5/5
The rating on this card depends on how much one values meta-dependant cards. However being cheap, having double shields and also potentially allowing your WL to be protected all make for a very strong card. The fact it doesn't affect tokens does not prevent it from getting full marks.
Steinerp – 3/5
Much like sowing chaos this card changes how your opponent plays, which is good. Even if the ability isn't super most of the time. A very nice match to Sathariel for Chaos deepstrikers.
NecRus888, xRAVEx - 5/5
It's a must-have in all daemon-oriented chaos decks. It will be very useful for Kugath and upcoming Slaanesh WL. It affects warlords, what is even better. This event can win you battles. And it will see much play until meta shifts to more expensive units.
Corvus – 4/5
All the best decks have either a wealth of tokens or 3+ cost units, so the protection this offers is fairly limited. However, situational 2-shielders are the best kind of situational events, and even just taking a small part of your enemy's army out of commission can be efficient for 2 resources and enough to win some battles.
Whiteblade222 5/5
Every once in a while a card comes out that warps the meta in weird and wonderful ways. This card is incredibly strong, tearing Worr's gameplan apart. Kugath and even the non daemon chaos warlord will play this and love it.
Supplicant of Pain
Kingsley- 2/5
While this ability might sometimes allow a cheeky warlord bloody, I'm much more interested in protecting Elite units than I am in buffing their attacks. After all, most Elites have big stats already. I doubt this will see much play.
Eu8L1ch - 2/5
Affecting enemy Warlords makes this a lot more appealing, but the other 'elite groupies' that provide increased protection seem more useful to me.
Steinerp – 2/5
The worst of the elite boosters that we've seen. I'll take protection over armourbane and definitely over situational armourbane. That said when a Possessed wearing 2 sets of run armour goes to attack a bloodied Barstool with 2 damage, you won't have to waste a No Mercy.
NecRus888, xRAVEx - 2/5
This unit represents the wave of units, that support elites. I'll wait for my final consideration till the end of the cycle, when we see if the meta shifted towards the elites. As far as I get it doesn't apply for AE, which is sad. It's interesting that it works against opponent's WL too. Like the Abomination trait, want to see more cards with this trait released.
Corvus – 1/5
Someone in the design team must really hate Dark Eldar. Protecting your Elites, as the other cards in this cycle do, is a worthwhile strategy. Making your Elites hit harder in weirdly specific circumstances is not. Yes, this is good for attacking warlords. No, that's not enough of a reason to run it.
Whiteblade222 1/5
It's.. So conditional, and the effect often won't make the difference in a fight.
Hunting Grounds
Kingsley- 1/5
There are no good Creature army units in Dark Eldar, so this one's pretty dead on arrival - you can't even sacrifice one Khymera to ready another! It's conceivable we'll see some really powerful Creature that justifies this (or some magic enabler for Stalking Ur-Ghul?) but right now I'm far from excited.
Eu8L1ch - 3/5
Repeatable readying is extremely powerful. Of course it remains to be seen whether we will get any new goodcreatures and, to an extent, some additional Khymera generation so I'm rating it conservatively, but it definitely has potential.
Steinerp – 1/5
What creature do I want to ready again?
NecRus888, xRAVEx - 1/5
I don't understand how to use it. Kith produces khymeras very efficiently, but the best creature is Urien's wrack, who can untap by its ability, or Grotesque, who is also better with Urien. I want Khymeras to be used not only in Kith decks. I consider this card will find its use in the future, but for now it's 1/5
Corvus – 1/5
Currently does nothing. Trust me, I checked.
Whiteblade222 1/5
What's the plan? Have a bunch of creature cards that are overpriced, and then burn your warlord ability (assuming kith, lets be optimists) on readying it? Not only conditional, but the effect isn't worth the price.
Seer Adept
Kingsley- 2/5
Like No Surprises, this is a Deep Strike counter; unlike No Surprises, Seer Adept is quite bad when not countering Deep Strike. A one-shield card is often appreciated, but a three cost unit with an inefficient stat line usually isn't. I think this will only see much play if Deep Strike becomes very prevalent indeed, though perhaps Talyesin wants it anyway.
Eu8L1ch - 2/5
Its stats are way too weak for an ability that looks to have marginal utility. It deserves a '1' as per the rating conditions, but since we're going to get a bunch of Deepstrike cards this might end up not being a complete dud.
Steinerp- 1/5
Combo this card with No Surprises and you have a bad (and illegal) combo. At least has decent stats for a seer for Taleysin.
NecRus888, xRAVEx - 1/5
Of course, the usefullness of the ability depends on the impact of the deep strike cards on the meta, but currently I rate this card below Prophetic Farseer. And the latter doesn't see play
Corvus – 2/5
Every game with facedown cards has provided effects like these, and unless they're free they're not worth it. Don't play a unit with poor stats when the effect he provides can easily be replaced by knowledge of the game and good judgement. The few times when he actually gives you an edge won't counter the many times a unit with better stats would help out more.
Whiteblade222 2/5
The effect isn't very good, but the statline is decent. This is actually okay in Talyesin as a chump psyker to trigger her battle ability.
Furious Wraithblade
Kingsley- 4/5
No command icon hurts on a three-cost unit, but the stats are otherwise good, both traits can be used to your advantage, and the ability is very strong, especially if paired with combat attachments. I suspect this will see a good deal of play.
Eu8L1ch - 4/5
It doesn't have command but it doesn't need any to be a good unit: its ability is very powerful and makes it a scary Gift of Isha target. Close to getting full marks due to the Bonesinger synergy.
Steinerp – 4/5
Good stats, good ability, no hammer = 4 points. Dream scenario of playing it for 1 thanks to choir, attacking twice, having it die, gifting it back and swinging 2 more times seems dreamy.
NecRus888, xRAVEx - 5/5
Very solid 3-drop. Traits make it tutorable with ECT and immune to Wraithknight. 3 HP should be enough to survive an ATK and swing again. But if your opponent plays heavy-hitters, you can always use Fire Warrior Elite or Dire Avengers Exarch. Maybe not for Fharenal, but the rest Eldar warlords will be glad to use it
Corvus – 4/5
A unit that attacks then still draws enemy fire is great. This is also great with Gift of Isha, since bringing it back 'resets' the Reaction. Good with attachments, so tempting for Shadowsun as well. Also gets synergies from the Drone and Spirit traits. The most interesting command-less unit in a while.
Whiteblade222 3/5
This doesn't slot everywhere, but the effect is strong. It seems decent in Shadowsun, where earth caste can search for it.
Hidden Strike Chainsword
Kingsley- 2/5
This is another take on Shuriken Catapult, and I think I prefer Shuriken Catapult. While this is more flexible in terms of targets, not being able to hit Warlords is a big minus. Might go in otherwise Deep Strike heavy decks as a niche player and potential bluff, but otherwise I'm not too excited.
Eu8L1ch - 1/5
If the 'non-Warlord' clause weren't there this would've been a lot more interesting. As it stands, I don't see it being played anytime soon: Ion Rifle and Shuriken Catapult are better choices if you are interested in playing around with attachments.
Steinerp - 3/5
Let's see what other deep strike things eldar get. Decent enough card that bluffing with it won't be a total waste and if the enemy misplays even better. However if this is the best it comes, move along.
NecRus888, xRAVEx - 4/5
This card can't be described as awesome, game-changing or at least distinct and original, but it's very solid. It's cheap and gives ATK bonus. One more option for Baharroth Hawks, who are useless without WL. I think all Eldar WL can utilize this card
Corvus – 2/5
Raw stats matter, and the small advantages in obfuscation and timing (you could attach it to an Isha target) this gives you still leave it much worse than an Ion Rifle. Also worse than Khornate Chain Axe, and if you've forgotten about that card then you've just had a glimpse into this card's future.
Whiteblade222 1/5
It's not bad, just not good enough. The effect is minor at best, and you can run better cards over it.
Kroot Guerrilla
Kingsley- 3/5
Kroot Guerrilla is a solid midrange unit, which Tau have traditionally lacked. That said, you need it to fight in more than one fight for it to be really great. Still, paying "2" for a 1/2/3 is above the curve, and you might get more than that - just be careful that the initial outlay doesn't limit your other deployments too much.
Eu8L1ch - 2/5
It's almost a support stuck onto a body but it is conditional on the unit participating in a battle, so as a result it's not as reliable. The stats are also mediocre thus, unless an effective build really hungry for resources comes out, I don't see this being played.
Steinerp- 2/5
Stats don't do much for me unless the ability is triggering more than once a turn. Maybe a way to get bodies and resources in Aunshi but that is about it and only cause I haven't built Aunshi in a long time.
NecRus888, xRAVEx - 1/5
It's like a unit with Promethium mine inside. I don't see the reason to overpay now for possible future gains. If you deploy it to P1, it can die the same turn. If you select another planet, then your commits become more predictable, as the opponent doesn't want to trigger it
Corvus – 3/5
A perfectly reasonable unit that probably won't see much play because there will always be better options. Overpriced units that refund costs later are a little worse than they look, though. The 3 resources you pay for this in deployment affect what else you can deploy, and if that affects your command then the single resource the Guerrilla gives often looks less appealing.
Whiteblade222 3/5
It's a solid body that will eventually cost 2. If it survives and makes you an extra resource, bonus.
XV8-05 Enforcer
Kingsley- 4/5
Decent stats for the price coupled with an outstanding ability, especially when paired with attachments. The 4 cost slot tends to be a bit awkward, but this one seems certainly worth testing - its pseudo-AoE effect allows it to bring the pain to multiple units.
Eu8L1ch - 3/5
This is a great ability stuck onto a card with the wrong cost, since it's inviting attachments to be played on it but can't benefit from the new protection for elites and, conversely, suffers from all the new control options that can't target elites by default. It also suffers from the fact that there are already very good 3-cost 'attachment carriers'.
Steinerp – 3/5
Gets around attack me cards like lychguard sentinel and fire drake terminators. But those aren't common enough to use this guy.
NecRus888, xRAVEx - 3/5
The stats are not perfect, but the ability is so awesome. It can kill 2 units with 1 swing. Yes, it's about gambling and checking if the opponent has enough shields, but I believe in this card. Especially if you boost his attack and make him swing more than once.
Corvus – 3/5
Attacking two units at once is strong. Shadowsun may have a use for him, but I could also see Gun Drones still being a better 'one size fits all' answer for when you want to spread your damage around.
Whiteblade222 4/5
The issue shadowsun always has is that you swing for 7 or 8 into one unit, and then because she/he has more units then you he out swings you. Being able to split your damage and kill two units is a lot of value.
Keening Maleceptor
Kingsley- 4/5
This Synapse doesn't provide the raw command strength of Stalking Lictor, but its ability is incredibly good. Infest-heavy decks may well swap over, and he's amazing in the Tyranid mirror match.
Eu8L1ch - 4/5
I've discussed this card at length in the 'Jungles' thread. Long story short, it's a solid effect that might well find its home into infestation-heavy builds and that might even become stronger if more valid infestation options appear.
Steinerp – 3/5
Triggering planets is nice but most decks don't have enough (or want more) infestation to consistently trigger. It also makes commitment of this guy easier to predict. On par with all the other synapse not named Stalking Lictor
NecRus888, xRAVEx - 2/5
It has better stats than most other synapses. The ability can be useful in the decks with strong orientation on infest, where you have several different ways of infesting. But on the other hand it makes your synapse's commits predictable.
Corvus – 2/5
A neat ability, but difficult to use consistently. The consistent edge that a Synapse like Stalking Lictor grants is one of the main ways Tyranids stay in a game, so that's a high price to pay.
Whiteblade222 3/5
You need to build around him to make him work. Triggering battle abilities mid fight is powerful, moving a unit or routing a unit is great. Not great everywhere, but when he works he works.
Crush of Sky-Slashers
Kingsley- 2/5
These stats are annoying for the price, but the ability doesn't do all that much. With a command icon, this would be amazing; without one, it seems a rather niche pick.
Eu8L1ch - 2/5
A nasty little card that punches beyond its strength. The main problem with it is that including 1-cost army units without command is difficult to justify, as this card still takes a slot despite not being able to contribute significantly either in command or combat.
Steinerp- 2/5
A nice little unit but nids really need a 1 cost command unit not a 1 cost combatty unit.
NecRus888, xRAVEx - 4/5
For 1 resource it has very cool stats. The ability is similar to Blazing Zoanthrope, but with repeated effect. And due to the low ATK it's not the first priority target for the opponent, so the ability will strike several times
Corvus – 3/5
This guy just has really good stats. Be sure to deploy him across from army units to avoid your opponent blanking his reaction by just hunting him down with a warlord.
Whiteblade222 3/5
The lack of command icon hurts, but he makes an amazing target for Ymgrl Factor. That alone will let him see play.
Immortal Loyalist
Kingsley- 2/5
Like Vostroyan Officer, this provides solid protection for your Elites against the problems that can most hamper them - those pesky control effects! However, this one is hampered substantially by Backlash playing the same role with more surprise value. I'm not sure whether this makes the cut even in an Elites deck, though it does have good synergy with Gauss Flayer.
Eu8L1ch - 4/5
While sometimes you might want to target one of your elites with a beneficial effect, I'd be more than happy to play an elite which is outright immune to triggered effects; the Loyalists makes a significant contribution towards that, so sign me in.
Steinerp – 3/5
Similar to the imperial guard version of buffing elites. This effects unit abilities as well as events but so few things actually target that it isn't as good as it first appears.
NecRus888, xRAVEx - 3/5
Nice 2-drop for necrons. It has an interesting ability, that doesn't give your elites full invincibility, but that makes your opponents play around it. So if you run enough elites, take this as well.
Corvus – 3/5
A good answer to everything except a few pesky untargeted effects that still kill Elites. Your opponent can also play around him by sequencing his effects from least to most important: exhaust your Elite with Eldorath, then rout it with Archon's Terror.
Whiteblade222 3/5
I'm not a big fan of Necron elite decks (Nids and Orks do it better) but in a theoretical Necron elite deck he does a decent job.
Shroud Cruiser
Kingsley- 3/5
A worse but more flexible Corrupt Teleportarium. That's not precisely bad, of course, especially given the wide range of Elites Necrons have access to. Seems like it'll make a solid combo piece.
Eu8L1ch - 4/5
The effect is powerful and the price is OK - even if barely. Movement abilities are especially useful on big units, this also comes at action speed. Not an autoinclude for every deck, but if you're running an elite-focused deck you most likely want this.
Steinerp – 4/5
Movement effects are good. If you have enough elites to use this it will be a valuable addition to your deck. Necron elites aren't that super but they can ally in some good ones. Nahumek is often seen with Venomous Fiends and Wildriders already and this just adds to their mobility.
NecRus888, xRAVEx - 4/5
One more support, that moves your elites. Necron elites are not as dangerous as chaos ones, but they support your armies a lot. So it's cool to have them always in battle and moving from P1 to the next one.
Corvus – 3/5
Good for the same reasons Corrupted Teleportarium can be good, but the extra cost and the adjacency restriction probably make it slightly worse overall.
Whiteblade222 2/5
It's a more predictable teleportarium. A two cost support needs to be pretty good to see play, and in this case it just doesn't cut it.
Zouavez and MrWizard like this
Article: Warpack Review: Jungles of Nectavus