Welcome to Card Game DB
Register now to gain access to all of our features. Once registered and logged in, you will be able to create topics, post replies to existing threads, give reputation to your fellow members, get your own private messenger, post status updates, manage your profile and so much more. If you already have an account,
login here
- otherwise
create an account
for free today!

0
What Lurks Below Warpack Review
warpack review
what lurks below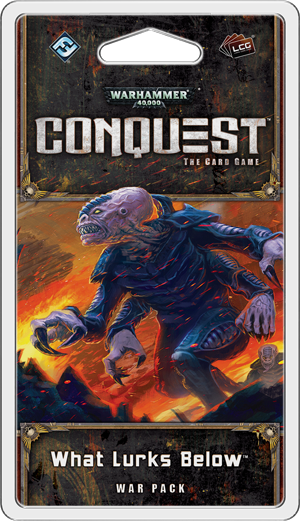 Before I get started I would like to thank like to thank the reviewers that submitted their initial reviews in an extremely timely fashion with proper formatting that makes my life much easier.
Added to the regular mix are Etaywah, who has revieweed before, and Eu8lich, who this is their first time. New blood is always welcome. If you are interested in submitting a review in the future let me know. Overall this pack score fairly well, much better than Deadly Salvage and on par with most other packs if not a little above average.
One thing to note if that you are going to take a class a class in Conquest, take it from Professor Kingsley rather than Professor Corvus if you care about your grade. Corvus gave the all but 4 cards the lowest grade in the group (often tied with other). If you really want a good grade get Etaywah to grade you as he gave all seven cards the highest grade out of the group.
I will also take a minute to get on my soapbox and encourage everyone to report all the games you play at 40kconquest.blogspot.com. The more people we have reporting games, the more accurate it is. You can also go there to see stats on games others have reported to see if anything we say in these reviews turn out to be true or not.
Ratings
The rating scale as follows was offered to reviewers:
1- Very poor - Very bad for the foreseeable future, but may become a usable card one day in the meta.
2- Bad - Not a good card to play generally, but may have its role in some very specific deck builds. Not likely to be seen in a tourney winning deck.
3- Average - Will make some tourney winning decks, but not in every deck it is eligible for. Think hard before including.
4- Strong - Almost certainly a strong include for almost every deck that is eligible to include it.
5- Excellent - A definite auto-include of exceptional strength.
For Warlord cards, we use other Warlords as point of comparison, and account for their signature cards in their strength.
For Signature cards, they are rated in isolation, as if they were a Loyal card you could choose to include or not, but at the fixed number of cards required by the Squad.
Also note, that in terms of multiples included, a card does not have to be a 3x to be a 5/5 auto-include. Some cards are clearly designed to be included fewer times, and cannot be rated less strong because of this.
Synopsis
Gene Implantation 4.6
Taurox APC 4.4
Subject: Ω-X62113 4.2
Drone Defense System 4.2
Kabalite Harriers 4
Gut and Pillage 4
Wildrider Vyper 4
Corrupted Teleportarium 3.8
Bonesinger Choir 3.8
Invasive Genestealers 3.6
Outflank'em 3.6
Master Warpsmith 3.6
Dying Sun Marauder 3.6
Overall Average 3.55
Lethal Toxin Sacs 3.4
M35 Galaxy Lasgun 3.4
Skrap Nabba 3.4
Declare the Crusade 3.2
Ruined Passages 3
Sword Brethren Dreadnought 2.8
Smasha Gun Battery 2.6
Auxiliary Overseer 2.6
Cenobyte Servitor 2.4
ReviewsSubject: Ω-X62113
Corvus – 3/5
Ambush is great for Tyranids since combat tricks are where they're most lacking. Sadly outside of the infesting units most enabling cards are questionable, and with only 9 sources of infest in your deck and 7 planets in a game this is well short of true ambush – you'll need to pick your battles very carefully, much like the planet icon-themed warlords.
Kingsley - 4/5
This warlord gives Tyranids some serious combat tricks in the form of Ambush shenanigans on infested planets and comes with a great signature squad to back him up. Infest support is still a little shaky, which gives me a bit of trepidation about how useful this ability will be under normal circumstances, but overall I like him very much and think this is a good way to add some surprises to the otherwise fairly straightforward Tyranid game plan.
Etaywah – 5/5
Tyranids enjoy a solid command game, so you can focus on command-only units then bring the army in later – that's a big advantage for them. The infestation is an easy hurdle that pairs perfectly with Zoanthrope synapse. Very strong warlord and kit. This guy is going to eat some worlds.
Eu8L1ch - 5/5
There are four things that determine the overall combat effectiveness of a given faction: raw efficiency, area of effect capabilities, options to remove units from a fight, options to add units to a fight. Until now, Tyranids could boast higher than average efficiency but only limited area of effect, non-existent (outside of signature) unit removal and absolutely no 'ambush-style' options in their cardpool, so providing ample ambush potential makes Omega a very strong Warlord.
Steinerp – 4/5
Ambush is great and infestion isn't that hard to do but right now many of the infestation cards aren't good enough. The trick will be balancing the infestation need while maintaining enough genestealers to use it. He probably deserves a 3.5 right now but I give him another genestealer and another infestation mechanic and he earns a solid 4.
Invasive Genestealers
Corvus – 3/5
Having a 3 cost signature unit can be a pain, especially given the trouble Tyranid decks currently have with their cost curve, but the instant unpreventable damage is nice.
Kingsley - 4/5
In many respects this unit can be considered a stronger but less versatile version of Sicarius's Chosen. While it doesn't move units, it is guaranteed to get the kill against a target with 1 HP left, and comes in as a 2/4 rather than a 2/3. Further, Subject Omega's ability means that this is a potent Ambush threat in close fights. Overall a very solid unit.
Etaywah – 4/5
Not the best, but clos. They will often be used to finish off units with 1 remaining HP, making them a cheaper Klaivex with similar stats, and 4x to boot. This unit is valuable during the deploy phase as well, killing off rogues or damaged units to throw off the balance of command.
Eu8L1ch- 4/5
Their reaction is strong, they are flexible and have good synergy with their WL. Costly for their stats, but ambush is an invaluable ability and the -1HP is likely to turn the combat math upside-down.
Steinerp- 3/5
-1 HP is very nice as it can't be shielded, especially when ambushed. Will cause shielding patterns similar to Crushing Blow at infested planets. The rest of the stats are nothing to write home about however
Ruined Passages
Corvus – 2/5
Combat tricks that you need to pay for upfront in the deploy phase are always quite a bit worse, both because they cut into your deploy money and they're telegraphed. This will occasionally swing a big fight, but most of the time your opponent will adapt by focusing your genestealer units first, so you won't get amazing value out of it. A poor man's For the Tau'va.
Kingsley - 3/5
A more dramatically powerful version of Awakening Caverns that only works once. Overall I'm not really that impressed, but in a big fight this can be huge - especially right after you Ambush in a unit and swing.
Etaywah – 4/5
Very powerful card, if not just for the effect alone but also for the threat-of-use. I can definitely see someone pulling out of a fight early because this is on the board, and the Omega player not even having to use it.
Eu8L1ch- 3/5
The effect is strong, but it's a one-time, costs a lot and is telegraphed. It also needs at least a couple of exhausted Genestealers to really deliver, so I think it will be somewhat difficult to time it optimally.
Steinerp – 3/5
Powerful card but with other supports becoming so strong, support destruction may be a real thing and you don't want to lose a 3 resource support right before you want to use it.
Gene Implantation
Corvus – 3/5
A cool ambush effect. You'll usually get a medium-large unit at a discount, but having to play this at a very specific time does provide a considerable downside compared to something more universal like Drop Pod Assault.
Kingsley - 5/5
I suspect Gene Implantation joins Fetid Haze and Bond of Brotherhood in the "best signature events in the game" competition. The swing produced by this card is huge, the triggering condition is fairly easy to meet, and unlike Hostile Acquisition basically every deck ever has a fair few solid targets for this ability. Outstanding card.
Etaywah – 5/5
Gene Implementation allows you to capture a unit from discard, ready, at the same planet as the current fight, without any damage on it... wow... GI allows you to capture ever sig squad, BAV, every warlord groupie, the list goes on. I believe this is the strongest signature event in the game now.
Eu8L1ch- 5/5
In the current meta, with only a handful of 4-costers and even less Elites, this will be able to target most army units in your opponent's deck. Its effectiveness depends on the amount of playable Genestealers army units will get, but I'm confident this card will prove decisive in more than a few battles.
Steinerp - 5/5
Unlike Gorzad who has a similar event, even a Dirty Dozen deck is going to have targets for this, you have lots of options to do the damage with multiple units, the unit is undamaged and the unit is readied regardless of previous state. One of the top signature events in the game.
Lethal Toxin Sacs
Corvus – 4/5
Being able to shield with your attachment then bring it back later is great. It's obviously pricey for the stats it offers but it more than makes up for it in flexibility.
Kingsley - 3/5
This is a decent attachment for threatening big damage, but the cost is rather uninspiring (compare to Ion Rifle) and you can't ambush it in from discard. Overall I'm not too excited about this one.
Etaywah – 4/5
Lethal Toxin Sacs rounds out this extremely strong kit with a reuse-able effect. 2-cost isn't exactly cheap, but it's not bad, either. Reusability is amazing considering you can use it as a shield then deploy. 4/5 for design, power, reusability and power-of-effect.
Eu8L1ch - 3/5
The good thing is that you won't have to decide between using it as a 3-shielder or deploying it. The bad thing is that the effect is overpriced.
Steinerp – 3/5
If you could ambush this in from the discard pile it would be great, you can't but it is still an ok effect and you get the 3 shields from it 9 games out of 10 where you draw it.
Sword Brethren Dreadnought
Corvus – 2/5
I really want to like him, but... 7 cost. With Mavros to activate him at will the ability is always okay and sometimes ludicrously good (imagine triggering Tarrus via Carnath every deploy phase). Outside of Mavros you can count on your opponent doing his best to kill him in one turn, so he's probably not worth it.
Kingsley - 3/5
7 is a ton of resources. Space Wolves Predator gets away with it (sometimes) because its ability usually just wins the game immediately, but even though Sword Brethren Dreadnought has an amazing ability I'm not confident its ability is amazing enough to be worth the cost. Keep in mind, though, that the upcoming Chaplain Mavros will be able to trigger this ability during the deployment phase under some circumstances.
Etaywah – 4/5
Costly, but we all know you're gonna win command or win the planet or both with this guy, so he's more like a 5 or 6 cost. Mavros triggers a planet and makes him a 6/6. I certainly wouldn't want to go toe-to-toe with this guy. Loses a point for cost, but this must be the Emperor's favorite toy.
Eu8L1ch - 2/5
For 7 cost you want something that wins battles on its own. Unfortunately, the stats here are below average, and the ability is ok but too gimmicky to justify the expense in my opinion. Still a fun card to play with.
Steinerp – 3/5
Big body, solid effect, damn expensive. Probably too much. 7 is a huge cost and requires at significant planning so this will often be a dead draw for at least 1 turn. That said give it a Back Sword and life is good.
Declare The Crusade
Corvus – 2/5
Being able to trigger it in a timely way and wanting the effect enough to pay a card and 2 resources for it are both very situational, so as cool and unique as this effect is I don't see it making it into any competitive decks.
Kingsley - 3/5
Declare the Crusade is extremely strong in the right context, but how often will that context come up? Given the way that Inspirational Fervor proved worse than people thought at first glance, I'm a little skeptical of this one as well - it feels too conditional in a similar way.
Etaywah – 5/5
What can I say about this card that has not already been said about Jack Nicholson. It's versatile, interesting, certainly unique; you won't see it everywhere, but when you do you're gonna be like "Holy crap, that was good."
Eu8L1ch- 4/5
This falls under the category 'requires some work to shine and is costly, but when it goes off it's amazing', and as such I'm rating it highly just for the sheer potency of the effect. I'm curious to see how it'll play in practice.
Steinerp -2/5
Powerful ability but too expensive and situational for me to give it a high score. And until turn 3 you will be risking the planet you are looking for being buried. Somebody like Worr or Mavros that depend on a planet colors will probably make use of it making a score of 2 look bad a year from now, but I'm sticking with it.
Cenobyte Servitor
Corvus – 3/5
The 1 HP is not close to being worth a card, but being able to ambush in Black Swords and Halos anywhere, and at a discount, is quite powerful. The fact that this card needs to be part of a 2-card synergy and that pesky 1 relic per player restriction lead me to suspect that the Servitor will ultimately be a little underwhelming.
Kingsley - 3/5
This card is an attachment that goes on a unit (probably your warlord) and lets you sacrifice it to surprise deploy Iron Halo or The Black Sword. That's decent but not really exciting - I'm not sure it'll see that much play unless we see more Relics in the future, and even then there's an awkward balancing act where putting a bunch of Relics and Relic support in your deck creates antisynergy, since you can only have one Relic.
Etaywah – 3/5
Well here's the second non-warlord-signature-attachment you can put on a warlord in the game. Making Chaplain Mavros a 2/8 while you wait for his Sig attachment or an Iron Halo or his sig attachment to come out is interesting. I don't think it will see too much play, but you will see it around. Giving Black Templars +1 health isn't exactly a bad thing.
Eu8L1ch - 1/5
So this card grants one of your Relics ambush and saves you 0-1 resources (you're paying a card and a resource anyway) - if you do have a Relic in hand - otherwise it's just useless. No thanks.
Steinerp – 2/5
Threat of ambushing in a black sword or iron halo is good and getting a HP out of it prior to use isn't bad but 1 relic per player means you won't be seeing relic decks (at best 3 black swords since they go on units that die). Still not good enough to see much play
Taurox APC
Corvus – 5/5
A huge upgrade for Gorzod – in line with the best 1 cost units in the game – and fine anywhere else.
Kingsley - 4/5
This is a very strong card for Gorzod - basically an autoinclude, in fact - and a decent versatile pick for others as well.
Etaywah – 4/5
All-around great card. 5/5 in Gorzod.
Eu8L1ch - 4/5
The moving effect is very strong and makes it possible to repel a WL snipe. The stats are very low though, so you need some form of stat-boosting for this to really work (Worr or see below). Gorzod plays this for 1, so it's auto-include for him.
Steinerp – 5/5
This is a Gorzod card. Also good in Worr as it can move to a planet where a combat round is ending and trigger Forward Barracks.
M35 Galaxy Lasgun
Corvus – 2/5
Too minor of an effect, even if it's reusable. AM are often paying 1 resource for 3 ATK, 2 HP and a command icon, and this just doesn't compare.
Kingsley - 4/5
The M35 Galaxy Lasgun isn't flashy or exciting, but it gets the job done. I think this will be a great choice for Starblaze decks thanks to Ambush Platform, and other decks may benefit from it as well. A cheap, reusable buff is quite solid, and the fact that it can also be used as a shield if the unit carrying it dies in a big fight is a nice bit of extra utility.
Etaywah – 5/5
Versatile, reusable, and can be attached to a token if needed, also non-loyal which is nice. Just like the M35 Lasgun in the lore, this is a solid, no-frills card that you will see in many decks. I can see this at a 4/5 rating, but buffing a unit by +1/+1 then returning to hand as a shield is just so nice, especially since it triggers on "leaves play" not on destroyed.
Eu8L1ch - 3/5
Being able to take it back in hand after its carrier's departure removes one of the main weaknesses of attachments. Not impressive but might come in handy, mostly in Starblaze if you have an Ambush Platform out.
Steinerp – 3/5
Reusable is good but +1/+1 isn't that special. A shrine guard costs the same and give you potentially a new 3/2 body with a hammer and at worst the same 1/1 with a hammer. If it ambushed I would approve more.
Skrap Nabba
Corvus – 2/5
This pulls ahead of Rogue Trader only if it wins you command at a red planet for at least two turns. Unlike the Trader he is protected from Ork's 1 damage effects, but whenever he isn't winning command you'll regret having put him in your deck.
Kingsley - 3/5
Skrap Nabba is just what the Dok ordered for decks that find themselves longing for extra resources, but the weak stats and Ally status make it less than amazing. I think the Skrap Nabba will see a fair bit of play but by no means be ubiquitous.
Etaywah – 4/5
The limitation on the resources is a huge knock against the card, but as my cohort Charlie (BuzzsawMF) mentioned on the Conqast – it fits right in to the Green Swarm decks you're going to start seeing in Orks. Where there's just so many one and two cost orks coming out that they can't keep up with your planets bread, allowing you to play cards like vest that abuse the deployed phase after they have passed.
Eu8L1ch- 5/5
At first sight this looks like a worse Eldar Survivalist: a card is better than a resource. However the ludicruous amount of synergy this has with the rest of the Ork pool, plus the non-zero attack, immediately make it a strong pick.
Steinerp- 3/5
It have absorb a kannon shot for you and has some attack but there are better options out there.
Outflank'em
Corvus – 2/5
If you want to take several combat turns in a row, play Preemptive Barrage. That's not an unfair dismissal of non-AM decks; there's just no way a deck built to take advantage of this card will ever compare to a well-built AM deck with Barrage.
Kingsley - 5/5
A long-needed top tier combat trick for Orks. Expect this to see tons of play - primarily in Ork decks but also in some allied factions as well.
Etaywah – 5/5
This card lets you swing immediately after a swing, no action window. There's a lot you can do with this card, including win a planet battle (or even the game) before your opponent gets a chance to react and ambush/move/event his way back into the fight. 5/5 for the WAGHH.
Eu8L1ch - 2/5
Sure, there will be situations in which this will be nice, but there aren't many in which a 2-shielder wouldn't serve you just as well. If we'll see bigger units all around this will become more useful, as of now I don't find it worth the slots.
Steinerp- 4/5
Orks continue to get the combat actions they have been begging for. The no action window is both a positive and a negative as it stops things like Flash Gitz. Will probably see use outside of orks as well.
Smasha Gun Battery
Corvus – 2/5
You can make the damage more one-sided by playing an efficient Ammo Depot deck, you can sprinkle your damage among brutal units, and you will occasionally wipe out an enemy who's been doing too well on command in the late game. None of this is enough to justify a clunky 3 cost support, though.
Kingsley - 4/5
This card will define an archetype. Whether that archetype proves to be strong or not is another question - but I suspect that for better or for worse this will prove to be a card with lasting impact.
Etaywah – 4/5
I've already tested this card with deck built around it (most with Zogwort), 13 games in fact, and 10 wins/3 losses tells me this card is going to make an impact. 3x ammo depots and letting your opponent get all the cards form command while you get all the resources then punishing them for doing so hurts. Calamity is an amazing pair with this card. The dirty-dozen style of deckbuilding is a great pair, still needs testing, but I recommend trying it. Loses a point because it certainly doesn't go in every deck, and it can and someways be played around, Also indirect damage is the weakest form of damage.
Eu8L1ch - 1/5
So it costs 3 and has a ridiculously fun effect. It will give you glorious moments, but it's just too situational to be worth playing, especially since supports don't have shields.
Steinerp – 2/5
Fun card, I think I gave Ba'ar Zul points for that same reason but not feeling it today. Very expensive. Will still be fun if you are able to get a turn 1 No Mercy bloody followed a heal using the planet but in general this is just too expensive and hard to protect to build around.
Master Warpsmith
Corvus – 3/5
This guy could be a powerhouse one day, but that's still in the future. You'd need more efficient ways to get cultists, a cost curve that still holds up when the Warpsmith isn't there, and enough elites to consistently be able to take advantage of the discount. That's asking for a lot.
Kingsley - 4/5
I wish this card had not been printed. While its power level is not huge under normal circumstances, if you are getting lucky this winds up being totally nuts very quickly. Overall I think this card is currently mediocre but may prove to be a real problem in the future as we move towards more of an Elite unit meta.
Etaywah – 5/5
Just 1 more reason you never ever trigger Y'varn against a Chaos player. If my rules-logic is correct it means a promise of glory can get you a plaguebeast for 1 resource. Overpowered if you ask me. The stats are worthy, the command presence is great, and the 4-cost investment will pay for itself on the same turn with the right hand.
Eu8L1ch - 3/5
It is overpriced by 1, stats-wise, but if you can get some mileage out of its ability it quickly pays off. Its effectiveness hinges entirely on the availability of cultist-generating options: there aren't many as of now, but as soon as we'll get more this one will raise in value.
Steinerp- 3/5
As cultist generation improves so will this guy. But until then he is just an expensive trick that will sometimes work. Still playing a promise of glory followed up by a free plaguebeast will feel good.
Corrupted Teleportarium
Corvus – 3/5
I like this quite a bit more than the original. It's cheap, it moves your most relevant units, and you only need one blue planet to be able to reach the whole board. Perhaps most importantly it helps keeps your unit safe until right before swings, which is especially nice with hard-hitters like Vicious Bloodletter. It is a completely dead card when you don't have an elite in play though, which does put a pretty strict upper bound on its rating.
Kingsley - 4/5
While it requires a combo to set up and is a bit obvious, having this and a Possessed on blue will create some very tough decisions for the opponent! Also note that this can move Gleeful Plague Beast in the command phase, which is something that I suspect people will be excited to see!
Etaywah – 3/5
Move is strong, but the restrictions are somewhat steep. At least it's cheap. I rate cards based on how often you will see them, and how often they will win you games. In the current meta, this card is still a bit out of touch. With warpsmith and other elite effects, this card will eventually become a 4/5.
Eu8L1ch - 5/5
Absurdly strong movement effect: it allows you to, for example, win command with a Prodigal Sons Disciple then move it around to fight your opponent, or to move away a big Elite from a blue FP 'à la Plannum' just before winning the battle. Same issue with all Elite/Elite support cards though: there are many strong counters.
Steinerp- 4/5
Much better than the uncorrupted version. Cheaper and less restrictive. All you need is an elite and chaos have those.
Dying Sun Marauder
Corvus – 3/5
Assuming you're paying 1 resource for him he's a good deal, and a halfway decent target for Bladed Lotus Rifle.
Kingsley - 3/5
This is a solid early combat unit for Salaine Morn, especially when paired with Bladed Lotus Rifle or this pack's Kabalite Harriers. The lack of a command icon hurts, but this unit will almost always ready after commit (since you gain a resource in command phase), and can be readied with Raid or a well-timed Ambush. Outside of Morn this looks a lot more situational, but I'm interested in seeing how it does for her.
Eu8L1ch- 3/5
It looks like this one needs some work to achieve something noteworthy, possibly a couple of attachments. Played for 1 it is an absolute bargain of course, but, the more Kabalites will make Morn decks, the less accurate will be evalueating each Kabalite as if it had -1 cost.
Etaywah – 5/5
5/5 in Salaine, 3/5 everywhere else. Readying from HQ after command is always a solid effect.
Steinerp- 4/5
A nice body that will ready regularly. Initially I thought the gain would be a game term like move, but Brad has indicated that "gain" is any increase in resources, so it will ready from winning command struggles which is nice.
Kabalite Harriers
Corvus – 3/5
Their ability is just good enough to justify their statline. Morn decks may start to get saturated with Kabalites, but keep in mind that expecting to trigger the Harrier's ability a lot means accepting that you won't be playing all of them at a discount.
Kingsley - 4/5
I expect this to be an autoinclude for Salaine Morn and probably a solid choice for other decks as well. Like Rotten Plaguebearers, this card can be used to ping low HP cappers - unlike Rotten Plaguebearers, this hits on the turn that you play it prior to command while still maintaining its icon. In many cases this also lets you convert no command Kabalites into pseudo-command by killing enemy command units.
Etaywah – 5/5
5/5 in Salaine, 3/5 everywhere else. Another staple for the Archon.
Eu8L1ch - 4/5
In Morn these guys are mean; see above for the -1 cost issue, but they look playable even for 2. Close to getting full marks.
Steinerp-4/5
Another solid addition to Morn that won't be seen elsewhere.
Gut and Pillage
Corvus – 4/5
Most decks wouldn't mind a way to turn cards into resources, and the exchange rate here is great.
Kingsley - 4/5
Another "resource injection" card. Ironically, Salaine Morn doesn't really need this, but other decks looking for some extra resources will find it a useful trick to keep in their back pocket.
Etaywah – 4/5
Easy-ish to trigger. Easy to strategize around. Pairs well with Salaine's support.
Eu8L1ch - 4/5
This is not a Morn card, since resources will hardly be her biggest problem, but it's not loyal. Three resources for a single card is a good deal and you have control on its trigger, so its timing is the only thing preventing it from being awesome.
Steinerp- 4/5
Want to play a Klaivex down the road but only have 1 resource, no problem! Fairly simple trigger and excellent return rate
Wildrider Viper
Corvus – 3/5
This is my favorite elite in quite some time. This guy can just zoom around the battlefield thanks to other mobile units, Foretell, Plannum, Wildrider Squadron, etc. A 2 command unit that hits for 5 without any help, can't be hunted down, and shows up to any fight if needed is quite scary.
Kingsley - 4/5
This is a solid and versatile card with good stats and a good ability. While it's expensive, I expect it'll see a fair bit of play regardless. The synergy with Wildrider Squadron is both fluffy and effective.
Etaywah – 4/5
Triggering off mobile and other move effects is pretty huge, especially since it has the command to mitigate it's cost. I think it's great and will go well in Baharoth, in the new Tau non-faction decks, and is in a faction with rich enough command to afford it, especially with Bonesinger Choir. The stats are great, too.
Eu8L1ch - 4/5
Stats are ok, Mobile is a powerful ability and the Reaction might come in handy in certain situations. An average card made stronger by the good amount of synergy with the rest of the cardpool.
Steinerp- 5/5
Sure it an elite and at this point elites are weak but a very solid rounded body that Eldar have been needing. Combined with the Bonesinger and Drone Defense System also in this pack we you have solid foundation to a deck.
Bonesinger Choir
Corvus – 2/5
I can see myself running at most 9 units which work with the Choir, and that's not enough to justify playing it, especially when it's competing with promotion for Limited slots, since you'll find yourself unable to exhaust a Choir twice too frequently.
Kingsley - 4/5
Double reducers are powerful, but I worry somewhat about this card's initial cost of 2 and relatively small selection of good targets. I can see this being big in the future, but I'm not sure about it right now.
Etaywah – 4/5
Solid card for the right deck. It's not loyal which is important for the Tau/Eldar decks.
Eu8L1ch - 4/5
Having to invest 2 resources in this means you'll start reaping some benefits from the subsequent round. There are few targets for its ability, and its non-uniqueness is compensated for by inability to reduce costs below 1, but it's still an interesting card for the potential savings over the course of a long game.
Steinerp- 5/5
A reduce by 2 power is great. Not unique means you will be getting great units out cheap. Cost of 2 but essentially 0 if you use it the turn it comes out.
Auxiliary Overseer
Corvus – 2/5
Just play Bork'an Recruits. Their average ATK will be much higher, certainly enough to justify one less HP.
Kingsley - 3/5
This card is very solid for decks that play many non-Tau units (especially Starblaze decks and Enclave decks). With one non-Tau unit, this is 2 for a 1/2/3, which is solid value - with more, it can be even better. However, keep in mind that if those units die mid-combat this guy gets weaker as well. It's conceivable that this deserves a 4/5, but I went with the lower rating thanks to the terrible art.
Etaywah – 3/5
There is some opportunity here. There are no allied tokens to abuse, and the average amount of non-tau units you will wind up at a planet with will be around 1-2, making this a 2 cost 1/2/3, certainly not bad stats. In Startbane this will see some use, and the solider trait is an extra bonus.
Eu8L1ch- 2/5
The price is low (but at the same time makes it susceptible to Sowing Chaos) but I don't see the Overseer getting to more than 2 ATK very often in early-mid game. In the end game having a huge swarm of units exposes you to a lot of nasty effects, so it looks like you won't get much utility out of it even at that point.
Steinerp -3/5
Not a terrible card by any means but nothing exciting here either. There are probably better cards.
Drone Defense System
Corvus – 4/5
It's not quite Area Effect, but you do get to use it at any time in the combat phase, even if there's no battle at the planet. Best on units with Mobile that can move to hunt the enemy warlord's exhausted HQ armies, defensive units that can wait to attack (Soaring Falcon), and Wildrider Squadron, since it can jump in near the end of a combat round.
Kingsley - 4/5
Is this the swarm control solution that Eldar have been longing for? It's too early to tell, but I think this card might really make waves, especially if paired with Wildrider Squadron.
Etaywah – 4/5
1-less cost than the AOE drones but doesn't take a combat swing, the problem is exhausted units so it's great on an army dragged from HQ.
Eu8L1ch - 5/5
One of its strongest features (being able to trigger it at action speed) is compensated for by the fact that you want to use it after a few units already exhausted to attack - if you're not aiming at hitting an HQ train that is, which I suspect will be its most common usage. Not too great of a card for Tau perhaps (too few Pilots/Vehicles currently seeing play and already having access to Gun Drones) but very good for Eldar.
Steinerp - 4/5
The Tau got a card printed in yellow during the first cycle, this is an Eldar card printed in orange/gold (whatever color Tau are supposed to be). Nice pseudo-AOE that will help them from hordes, will it be enough?
Majestaat and Veetek like this
Article: What Lurks Below Warpack Review