Welcome to Card Game DB
Register now to gain access to all of our features. Once registered and logged in, you will be able to create topics, post replies to existing threads, give reputation to your fellow members, get your own private messenger, post status updates, manage your profile and so much more. If you already have an account,
login here
- otherwise
create an account
for free today!

1
A Game of Thrones 2nd Edition Speculation: House Lannister
May 28 2015 05:24 PM | JCWamma in
Articles
A Game of Thrones
House Lannister
scantrell24
Second Edition
Speculation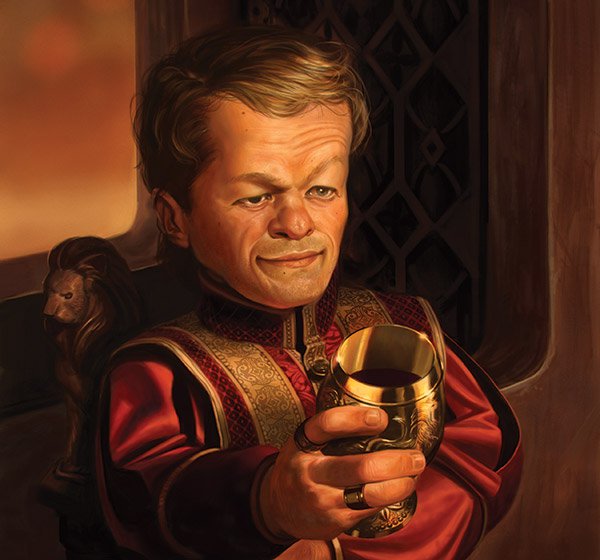 A Game of Thrones 2nd Edition Speculation: House Lannister
In part three of our eight-author series speculating on and examining our hopes for each faction in Game of Thrones 2.0, scantrell24 offers his opinions on House Lannister. Previous articles covered
House Tyrell
and
House Greyjoy
.
Note that the content of these articles are entirely speculation and wishes from players who consider themselves fans of each faction in question. Please do not take any predictions as fact. At the same time, if any of these guesses are correct, we demand all the credit.
[Spoilers through A Storm of Swords]"My brother is undoubtedly arrogant. My father is the soul of avarice, and my sweet sister Cersei lusts for power with every waking breath. I, however, am innocent as a little lamb. Shall I bleat for you?"
– Tyrion Lannister, A Game of Thrones
What We Know So Far
Three fully spoiled characters from an FFG preview article --
Cersei
,
Tywin
, and
the Tickler
-- with red/crimson sidebars and yellow/gold textbox backgrounds. Also artwork for three cards --
Cersei
(on a plot or event?),
Tyrion
and
Lannisport
-- from the original reboot announcement. And finally the name of an event, Treachery, which we glimpsed in the
short preview video
.
Background
As the novels begin, the major players of House Lannister are Tywin Lannister (Lord of Casterly Rock, Warden of the West, and Ex-Hand of the King) and his three children; Cersei Lannister, the Queen; Jaime Lannister, a Knight of the Kingsguard; and Tyrion Lannister, a drunken and disfigured dwarf. Thirty years previously the Lannisters held far less power under the guidance of Tywin's father, but their house is now in order (relatively) and King Robert is indebted to them, both literally as figuratively.
The Lannisters are rich, with most of their wealth derived from the mines beneath Casterly Rock. In the CCG era and 1
st
edition of the LCG, a many Lannister cards increased income, such as
Lannisport
and The Wealth of the Rock. Meanwhile other cards turned a large gold pool into a tangible advantage. For examples see Ser Addam Marbrand, Arbor Queen, and Sitting the Iron Throne. The +2 gold modifier on new Tywin suggests that Lannister wealth remains a defining theme in 2nd edition Thrones. However, the expanded cost curve means a gold dragon holds less purchasing power now. Hopefully the designers took that fact into account.
Card draw was another aspect of Lannister wealth. After all, heaps of gold are useless without cards on which to spend them! Golden Tooth Mines, Doubting Septa, Pyromancer's Cache and many others provided the Lannisters with a constant stream of cards that they could eventually use to overwhelm opponents. This style of play, which requires time to setup before it dominates in the late game, could be better suited to the ever-patient Martells. Instead I'd like to see Lannisters have aggressive but conditional draw effects that require paying gold, winning intrigue challenges or taking advantage of other faction strengths (rather than a slow-but-efficient passive like GTM).
The Power Behind the Throne
"Some battles are won with swords and spears, others with quills and ravens."
― Tywin Lannister, A Storm of Swords
The Lannisters play "the game" as well as anyone. Backroom bribes and manipulative lies are Lannister trademarks. We've seen these traits exemplified in two different ways before. First, there was an emphasis on intrigue challenge strength, as displayed by cards like
Cersei Lannister
and Misinformation. All three spoiled 2nd edition characters have an intrigue icon, and new Cersei raises claim during intrigue challenges, so this theme probably continues.
Secondly, the Lannisters featured potent challenge control cards like Yezzan's Grotesquerie, Pentoshi Manor, Toll Gate, Double Bluff, and Walk of Shame that could pull the rug out from underneath an unsuspecting opponent or turn a perceived strength into a sudden weakness. We don't know if or how FFG might incorporate challenge control into the Lannister faction. Perhaps we see more cards like new Tickler with multiple uses (attack or kneel to trigger), granting Lannister's flexibility in executing their control effects.
Tywin Lannister, the family's patriarch, is perhaps the most intimidating man in the realm. He never smiles, he's an apt general, and he's willing to achieve his desired ends by any means necessary (see: The Rains of Castamere and Red Wedding). These traits were exemplified previously by kneel cards such as Enemy Informer, Harry the Riverlands,
Prisoner of War
, The Westerlands, and
Court Singer
that exhausted opposing characters. Kneel has been a Lannister staple for so long that it's hard to imagine them without it, but we've already seen stand effects on 2nd edition Stark cards. Clearly the addition of two extra factions necessitated some realignment, and Lannister shouldn't have too many strengths anyways.
The Lannister-specific keyword in 1
st
edition, Infamy, was fitting for a House with so many strong personalities, but it never received a proper fleshing out. Cards like Ser Gregor's Band,
Ser Jaime Lannister
, Widow's Wail,
Qyburn
,
Red Cloaks
, and
Castamere
teased us and displayed a glimpse of what might have been. I hope that Infamy makes a comeback in 2
nd
edition with abilities that change or grow stronger with each additional power invested on an Infamous card. That way the characters "evolve" over time in the same way that characters evolve in the source material.
Finally, thanks to Tyrion Lannister's encounter with the Clansman tribes in the first book, House Lannister was home to a horde of Clansmen characters such as Shagga and Moon Brother Harriers. Clansmen ran counter to traditional Lannister playstyles. They were aggressive, weak at intrigue, and willing to sacrifice long-term card advantage for immediate bonuses. I'm guessing we won't see any Clansmen cards for a year or two. Once the standard Lannister playstyle is firmly entrenched, they'll be introduced to shake things up and let Tyrion have his time in the sun.
One challenge facing FFG is that Tywin's children, especially Cersei and Tyrion, don't get along and even undermine each other's plots at times. Furthermore, Cersei fails to control her own children, like when Ned is destined for the Wall until Joffrey takes his head instead. It will be interesting to see how the designers incorporate the Lannister family dysfunction. Maybe some versions of Cersei will be discarded or weakened if you control Tyrion and vice versa? I'm just spitballing here – let me know your own ideas in the comments!
scantrell24 learned to play A Game of Thrones in January 2012. The first deluxe expansion he purchased was
Lions of the Rock
, and the lions sunk their claws in deep.Expect another author's take on another faction in the near future. When FFG™ officially releases more information about the House Lannister faction, we'll have another look.
Article: A Game of Thrones 2nd Edition Speculation: House Lannister