Welcome to Card Game DB
Register now to gain access to all of our features. Once registered and logged in, you will be able to create topics, post replies to existing threads, give reputation to your fellow members, get your own private messenger, post status updates, manage your profile and so much more. If you already have an account,
login here
- otherwise
create an account
for free today!

0
A Game of Thrones 2nd Edition Speculation: House Greyjoy
Mar 11 2015 12:00 AM | JCWamma in
Articles
A Game of Thrones
Second Edition
Istaril
Speculation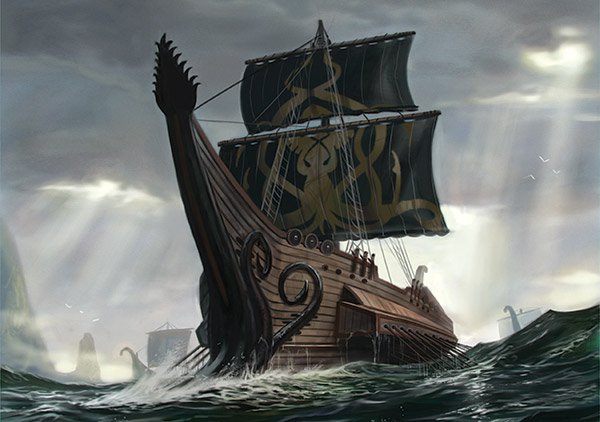 In the first of an eight-part, eight-author series speculating on and examining our hopes for each
house
faction in Game of Thrones 2.0,
Istaril
brings us his take on the House of the Kraken.
Note that the content of these articles are entirely speculation and wishes from players who consider themselves fans of each faction in question. Please do not take any predictions as fact. At the same time, if any of these guesses are correct, we demand all the credit.
[Minor spoilers through to
A Feast for Crows
]
I am the Greyjoy, Lord Reaper of Pyke, King of Salt and Rock, Son of the Sea Wind, and no man gives me a crown. I pay the iron price. I will take my crown, as Urron Redhand did five thousand years ago. –
Balon Greyjoy
, A Clash of Kings
House Colours: Should be black and gold. Since black is at a high premium (Targaryen, Baratheon & Night's Watch) I expect either an iron grey, or its traditional blue.
What we know so far: 1 piece of card art entitled "The Great Kraken".
House Greyjoy wasn't included in the initial CCG release (although they were the first faction to be subsequently introduced), nor did they make it into the Core set of the LCG™. The adaptation of Greyjoy's themes into a core environment, then, is a brand new challenge for the developers! Since iconic characters like Eddard are bound to make an appearance, it would make the most sense to tie the core set to the 'opening acts' of the books and rely primarily on material from
A Game of Thrones
. If that's the case, it would leave Greyjoy pretty barren; only Theon makes any appearance. Casting our nets back to the Greyjoy rebellion for characters just doesn't seem likely, especially if there's an aim to appeal to the fans of the HBO™ show.
So whom should we expect? Theon, obviously, and probably both Asha and Balon – especially with his warship, Great Kraken, already practically confirmed. With three of four surviving immediate family members, Alannys Harlaw might round out the complement. Personally, I'd like to see Euron, the most enigmatic Greyjoy, save his appearance for a later date. His return in the books shook things up (well, at least shook one particular bridge) and I'd love to see a nod to it by having Euron appear later than the core, bringing with him an alternate direction for the faction.
Since we're not tied to the first book, there's a lot more room to choose how to embody each of these characters. Theon, of course, should be Theon as we first meet him; an archer, skilled, cocky but soft - an ironborn in name only. In contrast, the other uniques could embody aspects from any of their appearances. As such, it's less the characters than the overall theme of the faction that I'll explore.
The Old Way
Before we leap into what to mechanics to expect from Greyjoy in 2.0, let's identify some of key mechanics, and how those tie into the theme in their current incarnation. Note that certain underlying themes, like the support of warships, military strength and aggression touch on almost all of these mechanics.
The unopposed challenge, representing the idea of surprise raids in general, and more specifically, the conquest of the North while Robb had his back turned. With both the means to generate unopposed challenges (frequently warship based [Scouting Vessel]) and abilities that profited from it [Rise of the Kraken], this was probably the most thematic and consistent Greyjoy element. That same hit-and-run/naval superiority theme has also been reinforced both with a strong focus on warship locations and with the naval icon theme, allowing them to surprise their opponent and hit them while they're weak.
Raiding. This has had two incarnations. The first, which the designers actually call "raiding", is better known as "Mill". This is the idea of discarding cards from your opponent's deck, presumably representing a destruction of their opponent's carefully prepared stores. Because of mechanical difficulties with raiding as a theme, to date this has never really paid off except as a means to trigger or activate certain other abilities [Corpse Lake]. The second take on the raiding theme seems to be the choke mechanics [Burned and Pillaged], which, by more directly impacting your opponent's resources, feel much more satisfyingly like pillaging.
The Drowned God. A religion unique to the Ironborn, its harsh precepts go hand in hand with The Old Way. The Ironborn pay more than lip service to their god – as evidenced by the tremendous respect afforded to Aeron Damphair, Tarle Thrice-Drowned and Drowned Men in general. It's central to both the Aeron and Victarion point-of-view chapters. This theme has also been interpreted in two distinct fashions: Holy Crests and saves/avoidance of death. This latter connection appears to be a contrived representation of the creed "What is dead may never die, but rises again, harder and stronger." Risen from the Sea even gives the character that little +1 STR. Cute.
Another recurring theme is that of STR pumps, typically from warships [
Longship Iron Victory
]. This is probably a literal-minded means of embodying the idea that the house's strength is in their fleet, but I don't think it's a core component of the Greyjoy experience. There should always be a feeling of naval support, but I've felt the STR pumps themselves to be only one of many ways to exhibit this. Finally, Greyjoy appears to have a cancellation sub-theme [
Seasick
], although it's never been clear to me what this was meant to represent. In the CCG, each house had some cancellation (each for different ability types), but in the LCG™ Greyjoy's cancel seem to have risen to prominence. While it complements both save and choke mechanics nicely, I can give it no less tenuous a thematic link than "Greyjoy doesn't like to play by other people's plans" – Balon's refusal to take part in Robb's rebellion, for instance. It's more likely that people just carried over Magic™ biases, expecting a 'blue' faction to have cancels.
A faction's theme isn't only defined by its strengths, but also by its shortcomings. Greyjoy has consistently had several of these: few natural resources (Draw), little to no reliance on subtleties or spies (weak intrigue), and a history of kneeling to kings (vulnerability to soft control), especially of the kind with big dragons named Balerion (burn bypasses their saves).
The Rise of the Kraken
Greyjoy is the most thematically consistent House in AGOT1.0. They've been well represented by bleak art, proud warships, hard lands, and aggressive characters. Not only has the theme been reinforced through mechanics at every opportunity, Greyjoy is almost unique in that its traditional weaknesses have remained despite the growing cardpool. Look carefully at how well the themes (if not the cards) introduced in the Kings of the Sea set have held up - five of my seven example cards are from that box! Of all the factions in 2.0, I expect Greyjoy to remain the most faithful to its current incarnation.
It will be impossible to fit all their existing themes into a maximum of 25 cards, so we shouldn't see them all at once. Since I expect the character emphasis to be on Theon's immediate family, this decreases the need to to represent the Drowned God side of things. As one of the easiest mechanics to tie to warships and the most reminiscent of Greyjoy's actions in the show, I predict the emphasis will be placed squarely on the unopposed challenges. Ideally we'd have warships that help generate unopposed challenges and characters that benefit from participating in them.
One of the great benefits of focussing on unopposed challenges is that it's a good learning experience for new players. It serves to highlight why you might want to defend challenges – even when you can't win them. The slow trickle of power from doing so isn't as visceral as Greyjoy pouncing on you for letting them slip through your defenses…
The secondary theme I'd most like to see explored is that of raiding for resources. We all know House Greyjoy Does not Sow – so let's see them Reap. This could be represented in any number of ways: the return of choke, a means of generating resources by winning unopposed challenges, or maybe even just reducing your opponent's reserve values. I think it's important to encourage the Greyjoy player to think about resources differently than other factions. There's not much arable land in the Iron Islands!
Finally, while I'd like to see cancel and "mill" abandoned entirely, there are several other themes I'd hope to see explored down the line. First among them is a less ham-fisted interpretation of the Drowned God's creed. The Drowned Men should feature prominently, but without the Holy Crest, they'll need a new way to keep them identifiable – perhaps, as the political manipulators and kingmakers, they could be Greyjoy's only intrigue presence? Or maybe generate additional challenges if you lose as an attacker, to represent Greyjoy's repeated rebellions, and the idea of trying to "rise again, harder and stronger"? That would fit nicely with Balon's "
He who kneels may rise again, blade in hand
" philosophy.
In the end, keep in mind that all of this is just my speculation. In the (overused) words of Martin: words are wind. Wind, though, might fill our sails! Where do your words lead the the Iron Fleet in 2.0?
Istaril learned to play Thrones while living on a cold and rocky island, 20 km from an iron ore mine. He has no idea why House Greyjoy appeals to him…

Expect another author's take on another faction in the near future. When FFG™ officially releases more information about the House Greyjoy faction, we'll have another look.
Bomb, Alando, emptyrepublic and 15 others like this
Article: A Game of Thrones 2nd Edition Speculation: House Greyjoy