Welcome to Card Game DB
Register now to gain access to all of our features. Once registered and logged in, you will be able to create topics, post replies to existing threads, give reputation to your fellow members, get your own private messenger, post status updates, manage your profile and so much more. If you already have an account,
login here
- otherwise
create an account
for free today!

2
Quill & Tankard Regulars - Volume II, Issue 3
Jul 02 2015 11:45 AM | WWDrakey in
Articles
Quill & Tankard Regulars
Ire
WWDrakey
Istaril
Ratatoskr
JCWamma
Small Council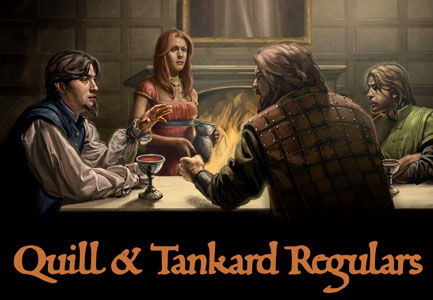 Quill & Tankard Regulars - Volume II, Issue 3
As the old scribe tried to puzzle back to how he had gotten into his current predicament, it all seemed a bit… hazy.
The evening had started like those of yore, years ago, when the Quill & Tankard still opened it's doors regularly.
There was that early phase of the evening, as people still sat in sullen silence, attempting to drink enough to help ease the headaches caused by trying to grasp too much convoluted knowledge. Well that, and then there was the squinting in badly lit rooms, of course.
As usual, next had come that phase of revelry, as academics invigorated by the refreshments of the Inn had started to gather in loud groups, wailing of this Archmaester or that Theorem.
But there was something distinctly different to this night as well. Some people had too quickly gathered into dark corners to plot, while others had directly walked to the counter asking for draught beers, without even checking the room's occupants. Still, others were being much too reserved, for the usually riotous atmosphere. Even the finger dance games had caused far fewer extremities to be cut off than usual, likely due to the improved lighting in the Inn.
To an old veteran of nights of debauchery, this slight shift in ambience had caused an unsettled feeling. Why, surely that was the reason he kept on ordering more of the Quill & Tankard's strongest swill and started boasting about his Cyvasse skills… nothing less could explain it!
Still, that did not quite explain waking up in the Citadel library, wearing nothing but his chain. Nor did it quite explain why all those ravens were staring at him… or what they were doing in the library in the first place!
Seen in Flames - Phase Structure
Seen in Flames exclusively previews rules mechanics changes for the upcoming A Game of Thrones 2nd Edition, putting them into context through a card spoiler. The rules knowledge and card examples have been graciously provided via raven by the Archmaesters at the (FFG) Citadel.
The primary aim of this article is to help players, both old and new, jump into 2nd Edition as soon as they open the box. A lot of this will be familiar to veterans, but make no mistake - there are some definite curveballs in here as well!
The Old and Familiar
So, what has stayed the same?
NOTE: If you are an old player feel free to skip this section, though as any good apprentice knows it never hurts to go over the fundamentals.
III. Marshaling Phase:
Each player, starting with the first player and moving clockwise round the table, is deemed the active player. They collect their gold at the point of becoming the active player.

Each player may take actions alternately, but only the active player can marshal cards (which is considered an action).

Once all players have passed on actions consecutively, the next player becomes the active player. Once each player has been the active player, the phase ends.
IV. Challenges Phase:
As above, each player gets a turn at being the active player.

The active player may initiate a military, intrigue and power challenge (one of each) in any order they choose.

The challenges have their own framework, as discussed in Quill & Tankard Regulars Volume II, Issue 1. Once they have initiated all the challenges they can/want to, the next player becomes active player until each player has initiated all their challenges. At this point, the phase ends.

Note that there is always an action window after the final challenge of the phase.
V. Dominance Phase:
Immediately after the dominance phase begins, there is a framework step to determine the winner of dominance.

After that, there is an action window, after which the phase ends.
VI. Standing Phase:
Immediately after the the standing phase begins, there is a framework step to stand all cards.

After that, there is then an action window, after which the phase ends.
A Stealthy Little Twist
While the structure of the challenges phase itself has remained as it was in first edition, there has been one additional change to the structure of the challenges themselves that was not mentioned in Issue 1 - that of the Stealth keyword. In first edition, the Stealth keyword was applied at the point of declaring defenders - for each attacking character with stealth, the attacking player could choose one character controlled by the defending player without stealth, and those chosen could not be declared as defenders. While how stealth is applied remains the same for 2nd Edition, what has changed is when. Stealth is now applied at the point that attackers are declared, not defenders.
For the sake of exactness, here's the full Rules Reference Guide (RRG) text:
"Stealth is a keyword ability. When a player initiates a challenge, for each character with stealth he or she declares as an attacker, that player may choose one character without stealth controlled by the defending player. Each chosen character is considered bypassed by stealth, and is not eligible to be declared as a defender for that challenge."
This means that there is no longer the opportunity for the defending player to remove a character with stealth from the challenge before their stealth is applied; however, it equally means the defending player can put a character into play (for example using the Ambush keyword) after attackers are declared, and the attacking player cannot stealth past those characters. This subtle change may take some getting used to for older Maesters - although the higher-ups at the Citadel suspect that this keyword was often misapplied by the apprentices previously anyway, and the new rule brings the keyword into line with how it was often played in practice.
The New and Shiny
While a lot of the phase structure has been retained, there were a few subtle changes. One of the first global changes was the distribution of action windows. As perceptive readers already commented last week, 1.0 had inconsistent structure with some phases allowing player actions before the phase's raison d'être, while others did not. In 2.0, the Challenges phase (as befits its importance) still has a slightly different format, but the other phases have been unified into an easy-to-remember format.
Consistency is good, and this streamlining might speed up the game a little - but the real meat is how that affects specific phases:
I. Plot Phase:
How it works:
Immediately after the plot phase begins, each player chooses a plot card. Once all players have chosen, the plots are simultaneously revealed.

Whomever wins initiative then chooses a first player.

All plots with "When Revealed: " abilities are resolved. If you are playing Melee, there is then an opportunity to select titles.

Finally, there is an action window, after which the phase ends.
​
What's new: There is no longer an action window before the first framework window.
Why you should care:
Honestly, this is probably the biggest change of the lot. The question "any pre-plot actions?" is one that is commonplace in first edition, and one that doesn't exist in second edition. No more kneeling someone pre-plot in order to play Stoic Resolve, no more playing a Nightmares to blank an Iron Mines. The only way to interact with the game between the start of the phase and the choosing of your plot is to have an effect that reacts to the beginning of the phase.
This also impacts any "Limit once per turn" actions quite severely, as they can only be triggered once after the card they are on is marshaled, before being hit by plot-based Control effects.
II. Draw phase:
How it works:
Immediately after the draw phase begins, each player draws 2 cards.

Note that if you run out of cards in your draw deck, you are immediately eliminated from the game. If multiple players are eliminated from the game in the same framework step, the first player decides the order in which they finish.

This loss condition does not only apply during the draw phase, but at any time you have zero cards remaining in your draw deck.

Finally there is an action window, after which the phase ends.
What's new: There is no longer an action window before the framework window in which you draw 2 cards. Additionally, running out of cards in your draw deck is now a loss condition.
Why you should care:
There were a few effects that interacted with this window in 1st edition. One example concerns the Knights of the Realm agenda. This card let you draw an additional card if you control more Knights than each opponent, or only one card if you control fewer. With trait manipulation effects such as Old Nan, you could change the Knight count for that framework window, gaining an extra Knight for yourself or lowering an opponent's count by one. These sorts of tricks cannot be done in second edition.
Additionally, while Mill (the act of discarding cards from an opponent's deck) was never a reliable route to victory in first edition, it should scare players quite a bit more now - assuming we have the cards to achieve it, of course. Over the years there were a lot of stories about Mill decks in 1.0 losing despite having completely milled out their opponent, something that would no longer happen. This also means that Mill decks no longer need to pay any heed to having a way of gathering power, freeing up deck space for locking their opponent down further.
This change also prevents the "self-mill" strategies that were in vogue for a time in first edition, where players would discard their own deck and then put cards of their choosing back into the deck from the discard pile. Also, cards with "discard x cards from your deck" as a cost or drawback are just that small amount more interesting.
VII. Taxation Phase:
How it works:
Immediately after the taxation phase begins, all players must return unspent gold to the treasury

Each player must then discard cards in their hand to get down to the reserve value of their revealed plot (if applicable).

This is first done by the first player, then each player clockwise from him. On a wider level this is now true of all cases where an effect requires each player to perform an action. This is different from first edition, where it was the initiator of the effect who performed an action first - for example, choosing which characters will survive a Wildfire Assault. Now, regardless of which player has revealed Wildfire Assault, it will be the first player who chooses their characters first. This was briefly mentioned in issue 1, but checking reserve is probably the most striking example of the implications.
Note: this reserve value replaces the draw cap that was present in first edition, stating that card effects outside the draw phase could only be used to draw you a maximum of three cards. Now there is no maximum number of cards you can draw - only a maximum number you can hold in your hand come the taxation phase.

If you are playing the Melee format, you must return your title to the title pool.

Finally there is then an action window, after which the phase ends.
What's new: With the introduction of reserve values, there is now a framework step immediately after that of returning gold in which you must discard any excess cards in your hand.
Why you should care:
It's important to note that you return unspent gold before discarding for reserve, so if a card were to be released with text along the lines of "Reaction: after an opponent discards a card from their hand, pay one gold to...", you would not be able to trigger this effect. Also note that, contrary to a rumour that was going around, you do still return gold to the treasury in second edition at the same point you would in the first edition.
An Eventful End
One new change, covering all of the phases, is that Interrupts can now be triggered at the end of a phase. So, with 1.0 cards there would be no more need to explain to people that they can't trigger saves in response to Battle of Oxcross.
One constant source of confusion in first edition was that of lasting effects, and when they finish - if I make my Iron Fleet Scout a character, does it still count towards the character count for Bloodthirst? In second edition, these questions are answered very literally - an effect ends immediately at the point it says it ends. If something says it lasts "until the end of the phase", it stops lasting once you reach the end of the phase - and before any interrupts that occur "at the end of the phase". And to cut you off before you ask, if an interrupt triggered at the end of a phase involves a lasting effect that would end at the end of the phase, it immediately ends without affecting the game state, and therefore fails to initiate. Don't try to get smart with us.
Bear With Us (because there's a Fair chance we've Maidenother pun)
One card that exemplifies all of these changes very well is an event card that was briefly glimpsed in an FFG preview video but that we at the Citadel would like to give more of a day in the sun to - "The Bear and the Maiden Fair".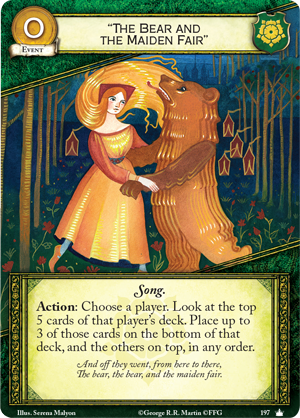 This 0-cost Tyrell event lets you choose a player, look at the top 5 cards of that player's deck, put up to 3 of those cards on the bottom of the deck and rearrange the rest. In first edition, this card would probably not make the cut. It's card disadvantage for an effect that won't do too much in practice. However, its stock should rise in second edition for a few reasons.
Firstly, it's a 0-cost effect that can be played in any action window. This makes it incredibly versatile, and easy to play first turn - a turn where you will be most likely to discard down to your reserve value due to not being able to play enough cards out of your hand. So, you may often get this effect 'for free' effectively. Additionally, in the early stages of second edition it's going to be very difficult to get consistency in a deck until the cardpool grows larger. Being able to stack your deck to gain that key resource you need - or, perhaps more pertinently, to deny an opponent a key resource they need - is a very powerful effect that players may overlook at their peril.
However, what you cannot do is use this to determine your first-round plot. In first edition you could play an effect like this immediately, look at what you were going to draw (or determine what your opponent was going to draw) and choose your plot accordingly. No such luck in second edition, where the window simply doesn't exist. However, note that you can play it after plots are chosen but before the draw phase begins, so if there's something you desperately need to get your hands on, the window is still there for you to try and make it happen.
Addendum to Volume II, Issue 2: You cannot setup attachments and then attach them to targets you do not control. It states in the 2nd Edition Rules that each attachment that is placed must be attached to an eligible target under its owner's control when the attachment is revealed in the next step.
Questions, feedback, or ideas where all those ravens came from?
Chime in, in the comments below!
Antti Korventausta (WWDrakey)
is a self-proclaimed Finnish AGoT philosopher and doomsayer hermit, who used to practice Quantum Mechanics, but found that it paled to AGoT in both interest and complexity. Having played and judged for more years than he would like to admit, he has found himself on the winning side of rules arguments more than he would expect. In any game he plays, he has a tendency of playing anything he considers to be off the beaten path, whether it makes sense to others or not.
Helmut Hohberger (Ratatoskr) started playing AGoT in September 2010 and has never looked back (although his wife has, longingly). As a German, he loves rules - and I mean *loves* 'em. He is the quintessential rules board morlock. While the others played and frolicked about outside, he sat by candlelight in a remote corner of the library and tried to get a grasp on the intricacies of the 1st edition rules. He even thought he did not do too bad at it, but then the Call of the Three-Eyed Crow drove him into the darkest depths of madness and despair. But he's all better now, honest, and looking forward to new challenges.
Iiro Jalonen (Ire) Started AGoT in 2009, got pulled under the waves by Krakens years ago, and has never looked back. While not an Oldtown local, he has often been spotted in the Quill & Tankard Inn making sure that the rules of sportsmanship are maintained with the traditional finger dance games. A self-inflicted Shagga and active member of the global AGoT community, he has always strived to know the rules of the game, in order to make them do ridiculous things.
James Waumsley (JCWamma) is a first edition veteran who has judged at multiple large tournaments including the European championship of Stahleck. A renowned loudmouth and pedant, he will shout about the rules loud enough that he can be heard by those north of the wall.
Alex Hynes (Istaril) co-hosts Beyond the Wall, writes articles for FFG, created and curates the Annals - and even tried to fill in ktom's shoes in the big ktom drought of 2013. When the Regulars asked him to be an honorary member, he, of course, refused and said he didn't have the time. Or should have, anyway. Still, how much work can being an "Honorary" member be?
scantrell24, scwont, vszeus and 2 others like this
Article: Quill & Tankard Regulars - Volume II, Issue 3