Welcome to Card Game DB
Register now to gain access to all of our features. Once registered and logged in, you will be able to create topics, post replies to existing threads, give reputation to your fellow members, get your own private messenger, post status updates, manage your profile and so much more. If you already have an account,
login here
- otherwise
create an account
for free today!

0
Quill & Tankard Regulars - Volume II, Issue 5
Oct 15 2015 09:10 AM | WWDrakey in
Articles
Q&TR
Istaril
WWDrakey
JCWamma
Ire
Ratatoskr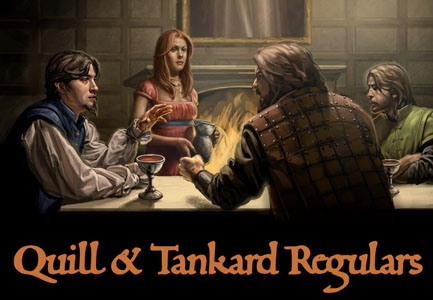 Quill & Tankard Regulars - Volume 2, Issue 5
CRACK!
The loud sound of a chair breaking echoed over all the racket in the brightly lit new taproom of the Quill & Tankard, while the treacherous seat's erstwhile occupant found his rotund frame sprawled across the well-swept floors.
This was followed by an epically eerie silence, as everybody shuffled around to gawk at what, in-fact, had happened.
Once everybody had made doubly sure that the expansive shape scrambling on the floor was indeed NOT an Archmaester, it began. First as a slight nervous tittering, but quickly escalating into roaring laughter bouncing off the walls of the Inn.
Apparently, the only person not amused by this turn of events was the young sharply dressed Maester, who seemed to be preoccupied with checking the newly polished floor for damage, grumbling something non-descript about vipers, warlocks, and having said so...
Backroom Rumours
Backroom Rumours brings up various timely topics related to current developments in the game and specifically rules matters.
For new players with Rules Questions, the

2nd Edition Rules Forum here on CGDB

is a good place to start, and especially the

Unofficial FAQ

there is something almost everybody (old players and new) playing the game should get acquainted with.

As there are no actual Tourney Rules for 2.0 out yet, prospective Tourney Organizers should look into utilizing the

A Game of Thrones First Edition Tourney Rules

as very little has changed in the game on a Tourney Organization level.

FFG has also released

Floor Rules for Android: Netrunner.

It is quite likely that a similar Rules document is being developed also for AGoT 2nd Edition. In the meantime, most of the Netrunner rules can be adapted into use in AGoT by intrepid Tourney Organizers in need of guidelines on how to handle arising issues.
The Raven's Message
The Raven's Message exclusively reveals and discusses an upcoming card that is of interest either mechanically or through rules ramifications. The cards are from future products, and have been obtained directly via raven from the Archmaesters at the (FFG) Citadel.
The very first Chapter Pack of A Game of Thrones 2nd Edition Taking the Black is on its way. Preceding it, a Raven from the Citadel has arrived, bringing a preview of its contents to the Quill & Tankard Inn. Without further ado, let's get to the salty details of that message with The Seastone Chair: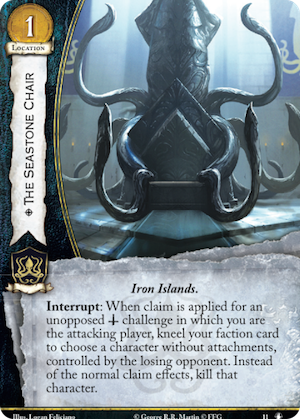 The Seastone Chair develops the Greyjoy penchant for pushing unopposed Challenges through stealth,
Throwing Axe
s and
Balon Greyjoy
into a new aggressive direction. Being able to choose the characters to be killed for your military claim is… pretty powerful, and will lead to your opponents concentrating on not letting that military pass through uncontested.
Whether it forces your opponent to over-defend to stop it from triggering, or lets you line up their big, meaty characters for a killing blow by burning away their duplicates, The Seastone Chair will often have a big board impact for a measly 1 gold. Some of us perverse old Archmaesters cannot wait to see someone place a
Milk of the Poppy
on their own star character to protect it from the Seastone Chair...
Replacement Effects
From an Archmaester's point of view, one of the most interesting elements here is the fact that The Seastone Chair is the first claim replacement effect (and second replacement effect overall) for A Game of Thrones 2nd Edition. However, the re-entry of this special class of effects was clearly paved way for in the Core Set, as the RRG (p.18) has a pretty clear and exhaustive entry on how replacement effects work:
A replacement effect is an effect (usually an interrupt) that replaces the resolution of a triggering condition with a different means of resolving that same triggering condition, but in such a manner that the triggering condition is still considered to occur. The word "instead" is frequently indicative of a such an effect. After all interrupts to the triggering condition have resolved and it is time to resolve the triggering condition itself, the replacement effect resolves instead.
Pretty straight-forward stuff. However, as usual, there's a bit more here than meets the eye. An easily missed detail is that the Seastone Chair's effect does not depend on your claim value. So, whether you're hitting your opponent with a 2-claim using Winds of Winter, or a 0-claim due to their Calm Over Westeros… the end result is the same. One character, chosen by you, is killed.
If multiple replacement effects are initiated against the same triggering condition, the most recent replacement effect is the one that is used for the resolution of the triggering condition.
This isn't relevant yet, as we have no two replacement effects replacing the same effect, but it is very important to keep in mind. If we wind up with competing "instead" effects, the order in which they are applied matters a great deal! Each "instead of normal claim" could be triggered (regardless of order), because, as replacements, neither changes the fact that from the point of view of the game, "normal claim" is still what is imminent. You could imagine a situation where if the first player uses Seastone Chair, the second will then use his (imaginary) defensive replacement effect to overwrite it entirely. However, if the first player passes in order to draw out the defensive claim replacement, he could lose the opportunity to trigger Seastone Chair if his opponent passes as well.
Claim replacements brought with them one of the most confusing aspects of first edition: figuring out that they could affect a card that was immune to the cardtype on which the effect was written. This sounds exactly as complicated as it was.
The Red Viper
(who was immune to character abilities) was not immune to
Pyat Pree
(who had a very similar effect to Seastone Chair), because the latter's ability acted on the claim, and The Red Viper wasn't immune to claim. Makes sense? Only to 1.0 veterans!
Despite the fact that the game has no released cards with an "immunity", it is covered by the Second Edition rules (see RRG p.9). So, let's see how that scenario would work out this time around. Thankfully, we don't have to dig too deeply at all - without factoring in the claim replacement ability, we already know instantly that a character that is immune to location effects would be protected from the Seastone Chair. This is because the location's ability forces us to choose a target, which the rules for immunity specifically prevent.
Faction Card Kneel
Another interesting element with the Seastone Chair is that the cost to trigger its effect is a Faction Card kneel. This is the fifth non-Agenda card so far (Wildling Horde, The Things I Do For Love, upcoming Ser Alliser Thorne, upcoming Wolf Dreams) that has this cost, and the first one for Greyjoy. Now this of course means that there's a built-in "one per turn" limitation (which is very similar to 1.0 Limited Response:s), meaning f.ex. that the location cannot be abused in combination with
A Storm of Swords
. However, the other obvious repercussion here is of course the fact that
Fealty
decks will have a harder time in including the location, or need to choose carefully between using their Faction card for the cost reduction or for their Seastone Chair.
As this is already the third Faction card kneel we've seen from the upcoming Cycle, there may very well be more headed our way…
The sharply-dressed Maester was nodding enthusiastically, "We'll have some fine new selections in a few days - I even have a special shipment coming in from the north of…"
BUUURP!
The loud, and obviously deliberate, belch stopped his eager elucidation in it's tracks.
's rubbish innit. Bug'rin mammoth 'iss innit. Three barrels o' tha cheap swill fer me!
Uncultured lout!
Antti Korventausta (WWDrakey
)
is a self-proclaimed Finnish AGoT philosopher and doomsayer hermit, who used to practice Quantum Mechanics, but found that it paled to AGoT in both interest and complexity. Having played and judged for more years than he would like to admit, he has found himself on the winning side of rules arguments more than he would expect. In any game he plays, he has a tendency of playing anything he considers to be off the beaten path, whether it makes sense to others or not.
Helmut Hohberger (Ratatoskr) started playing AGoT in September 2010 and has never looked back (although his wife has, longingly). As a German, he loves rules - and I mean *loves* 'em. He is the quintessential rules board morlock. While the others played and frolicked about outside, he sat by candlelight in a remote corner of the library and tried to get a grasp on the intricacies of the 1st edition rules. He even thought he did not do too bad at it, but then the Call of the Three-Eyed Crow drove him into the darkest depths of madness and despair. But he's all better now, honest, and looking forward to new challenges.
Iiro Jalonen (Ire) Started AGoT in 2009, got pulled under the waves by Krakens years ago, and has never looked back. While not an Oldtown local, he has often been spotted in the Quill & Tankard Inn making sure that the rules of sportsmanship are maintained with the traditional finger dance games. A self-inflicted Shagga and active member of the global AGoT community, he has always strived to know the rules of the game, in order to make them do ridiculous things.
James Waumsley (JCWamma) is a first edition veteran who has judged at multiple large tournaments including the European championship of Stahleck. A renowned loudmouth and pedant, he will shout about the rules loud enough that he can be heard by those north of the wall.
Alex Hynes (Istaril) co-hosts Beyond the Wall, writes articles for FFG, created and curates the Annals - and even tried to fill in ktom's shoes in the big ktom drought of 2013. When the Regulars asked him to be an honorary member, he, of course, refused and said he didn't have the time. Or should have, anyway. Still, how much work can being an "Honorary" member be?
Egg, scantrell24, scwont and 5 others like this
Article: Quill & Tankard Regulars - Volume II, Issue 5