Welcome to Card Game DB
Register now to gain access to all of our features. Once registered and logged in, you will be able to create topics, post replies to existing threads, give reputation to your fellow members, get your own private messenger, post status updates, manage your profile and so much more. If you already have an account,
login here
- otherwise
create an account
for free today!

1
A Roll of the Dice Card Reviews
Small Council
Review
A Roll of the Dice
Beyond the Narrow Sea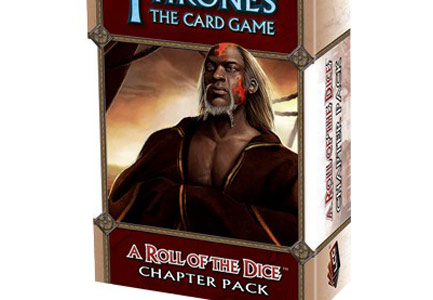 Beyond the Narrow Sea - A Roll of the Dice Staff Review
62% 706 out of 1145
Our staff has put together a first blush analysis of the newly released chapter pack A Roll of the Dice. We've used a one through five scale; five being the best. The cards are listed in numeric order. Our reviewers are listed in alphabetical order. Disagree with our assessment? Let us know!
An event takes the top spot this month with a 2011 Overall World Champion Corey Faherty's card coming in a close 2nd. For the third month in a row it was a very middle of the road pack. Nothing gets a perfect score and only a few cards came in very low.
Top 3
Little and Less 54 out of 55
House of Dreams 53 out of 55
Greenblood merchant 47 out of 60
Worst 3
Flood Waters 25 out of 60
Outfitted for War 25 out of 55
Outthought 25 out of 55
[CRB='forums/uploads/got/the-bastards-boys-arotd.jpg']
The Bastard's Boys 42 out of 60
clu - 2 out of 5 rating
Within a Bolton deck you are still going to be paying four or more to raise claim against non-Stark decks. While I like the cost efficiency this is only reasonable in a couple builds and I don't think army and Boltons are top tier decks right now.
Darksbane - 3 out of 5
Pretty expensive and the cost is unlikely to be lowered by much unless you are actually running these guys in a bolton deck. Good candidate though for Manning the City Walls though.
doulos2k - 3 out of 5
Cool card. Cool effect. IF you are running a Bolton theme, these guys can be cheap. IF you can keep control of your House Bolton characters, you can wreak havoc. And, IF you aren't in a mirror match against someone else already running their own Boltons. Great potential, but too many conditions to make them truly great, in my opinion.
emptyrepublic - 4 out of 5
I'd argue this is probably the most useful army in the Stark arsenal at this point. The response is essentially guaranteed each turn, though it's a shame it caps at 3 (no 'Winter Is Coming' on a 2 claim plot). There are plenty of cheap House Bolton characters that don't pass control that will reduce the cost on this army and won't risk you losing the response.
Ire & WWDrakey - 3 out of 5
This card is completely correctly costed, but what drags its value down is its anti-synergy. It doesn't go too well in a House Bolton deck as you will most likely want Reek there bouncing around and the use of some Dubious Loyalties as well. All of these stop the response. Some Stark army deck might be able to run this well with slight House Bolton additions like the refugees, Bastard's Elite and Roose Bolton.
Kennon - 3 out of 5
Claim raising is often a useful ability, and jumping this into play on turn 1 via Manning the City Walls in order to start off with a claim 3 turn and a 7 strength army is going to be a strong play. Strangely, however, the cost reduction on this card breaks symmetry with the other unique armies of the cycle and relies on House Bolton characters instead of uniques. While Boltons can be cheap and plentiful, the nature of their inherent drawback means that as the game goes on, you have greater and greater chances of the opponent controlling one of your House Bolton characters, which negates the claim raising ability.
OKTarg- 4 out of 5
I like all of these 7 STR armies in this cycle equally, but some are more equal than others. This is one of the more equal ones. Sure, the discount is different, but the effect is one of the strongest. Claim raising is strong, and with some of the new spoiled cards from Song of the Sea, Stark will be right at the top of high-claim stuff in the future.
Paladin - 4 out of 5
A well designed and well balanced card. The Bolton restriction keeps it from being overpowered and finding room in every Stark deck, and the obvious combo of pairing it with Manning the City Walls is tempered by being a unique and therefore having a tough choice of how many copies to include to ensure it is drawn and the plot is used. Almost a 5 though when you consider that Stark's refugees are Boltons...
Rave- 4 out of 5
Solid. The effect lasting to the end of the phase is very good. Not every Stark deck will have the Boltons to keep this efficient, which is the only reason it's not a solid 5.
SirDuck - 4 out of 5
Fairly awesome card. It lacks 2 of the main things the other armies have, the war crest and being lowered by House Stark uniques instead of boltons. If it was lowered by uniques, it would likely be a 5+. I still think this will see some play, Refugee, Damon, Roose, Reek and Bastards Elite are all playable out of most stark decks, and raising claim is always a good thing.
ShadowcatX2000- 4 out of 5 rating
A solid army with a great ability and built in reduction. I love the Bolton love. Pity there's so much anti-synergy (is that a thing?) with Reek, but c'est la vie.
Tiny Grimes - 4 out of 5 rating
Well now I definitely have crossed the threshold of having enough good armies to include the army plot. I foresee this going in most of my Stark decks along with 3 Cavalry flanks and the army plot. With the new agenda and all the Bear Island decks that are going to be floating around this card will be pretty popular. It would be amazing if it raised your mil claim by 1. It would be really good if it raised your claim by 1 after winning a challenge. But no, simply kneel this card and all your challenges are claim plus 1. This means in a heavy 2 claim plot deck every challenge will be 3 claim!! Talk about cleaning out a hand quickly or grabbing all of the power off of someone's house. The only thing holding back this army is the cost. There are a number of good Bolton's but the key to Stark is generally cheap good characters. Paying 5 for this character is going to be pricey. However, if it hits the board, it's a deal with me now or lose kind of card.
[/CRB]
[CRB='forums/uploads/got/ramsays-hunting-dogs-arotd.jpg']
Ramsay's Hunting Dogs 26 out of 60
clu - 1 out of 5 rating
This card almost scrapes out of the one score due to Setup. Setup is a huge boon to this creature (also interesting). However, attachments still aren't good unless they change the way the game is being played. A strength boost and stealth counter hardly counts as a world beater. Although, I do love the combo with Bringer of Law that won't win you games.
Darksbane - 2 out of 5
meh, not really a bad card but unless stealth is a huge problem in your meta I'm not sure that it can make the cut in most decks.
doulos2k - 3 out of 5
If it actually gave the attached character Stealth, I'd be giving this a 4. Not being bypassed is good, but not great. There are other cards that give a strength buff, but this has the Setup keyword - that alone makes it worthy of an include in my opinion (and this isn't a Condition).
emptyrepublic - 3 out of 5
I don't think it's terrible, but at the same time not all that remarkable. Perhaps useful for a defensive deck like Tully. Creature trait is interesting, but I'm not sure what it contributes aside from being thematically correct.
Ire & WWDrakey - 3 out of 5
The setup keyword is the thing that matters here, without it it would be stomped by any other great 1 cost attachment that Stark has. Now on the ability itself, it opens a lot room for defensive Stark builds such as Kingsguard and House Tully. The ability comboed together with no-claim Eddard or Core Catelyn is magnificent and since it isn't excluded to House Stark characters only, you can have a STR 5 Bringer of Law that cannot be bypassed by stealth ready for every attack your opponent makes.
Kennon - 2 out 5
It's great that this is a Setup attachment, which goes a long way toward mitigating one of the inherent weaknesses of attachments. Unfortunately, the ability just isn't fantastic enough for me to risk running it with Tin Link still as rampant as it is. Were Tin Link less popular and stealth more so, I'd raise this to a 3.
OKTarg- 2 out of 5
Setup is a great keyword on attachments, but I just don't see this doing enough to merit a deck slot. Maybe in a defensive deck, but that'd have to be it.
Paladin - 2 out of 5
Eh. Not terrible, but there are so many better choices for a Stark deck, I just don't see it getting much play. Still, if you play in a Stealth-heavy meta, then this card could be very useful.
Rave - 2 out of 5
This is really unremarkable. The Setup keyword is the only reason I would rate it above a 1. The Creature trait is interesting, but until some better effects make use of it, the card probably won't get played much.
SirDuck - 2 out of 5
This card is bad in the current meta, attachments have to be amazing to see play and this does not do anything amazing for 1 gold. The only reason I think its better than a 1 is because it is setup and it is a non condition.
ShadowcatX2000- 2 out of 5 rating
As Maesters see less play attachments will see more, but this is still asking to get a 2 for 1. Still, it is a decent return on the investment.
Tiny Grimes- 2 out of 5 rating
Did you say a non-unique attachment in a heavy maester/dragon thief environment. I can't see anyone playing this card outside of a purely defensive deck like a Riverrun deck. Even then I can't see it making any tier 1 decks. I will be using this one as cardboard for my proxies. Perhaps it will see play as a Cavalry Flank.[/CRB]
[CRB='forums/uploads/got/rhymes-with-meek-arotd.jpg']
Rhymes with Meek 37 out of 60
clu - 2 out of 5 rating
Interesting, giving House Stark a usable save. This will be an auto-include for Damphair decks. Outside of creating uber Stark dudes this card won't see enough play to warrant a higher score. A good plan for most decks is to avoid having your characters die in the first place.
Darksbane - 3 out of 5
Seems like another meta card, definitely in Greyjoy as they have access to a huge variety of saves. It will likely see more use in Stark and in metas that are burn heavy.
doulos2k - 4 out of 5
Wow - an anti-burn card for Stark! (Yes, yes, it's Greyjoy, too - but they already have those). You have to run Influence, but with this you not only get a Save, you also essentially get an "Immune to Burn" keyword.
emptyrepublic - 3 out of 5
If this card does infact save against terminal effects (and the jury seems to be out on this) then consider this a 4 instead. Why are they hurting Stark by requiring influence for this? The card already penalizes Endless Endurance, Winterfell Castle, etc there is no reason to make it difficult to use.
Ire & WWDrakey - 3 out of 4
Still unclear regarding burn. If it works against burn then 4, if it doesn't then 3. Have to wait for more rules information as it is currently contradicting.
Kennon - 3 out 5
This is, of course, assuming that the ability will save against burn in the end. The other 2C1C hosts and I feel like it probably will and was probably meant to, but we'll see how the rulings shake out in the end. Still, if it does save from burn, I see this as a pretty solid option for Stark if they happen to be in a meta that's being overrun by Targaryen. Greyjoy already has some save options against burn that don't require the influence, but this is nice new ground for Stark.
OKTarg - 3 out of 5
In this review, I will be consistently complaining about the clarity of the wording on these cards, so fasten your seatbelts. Does this save from burn or not? Ktom thinks it does, but doesn't the first part have to resolve completely to get the "then" effect? I'm sure it will be clarified, but even then, this is a nice tool especially for Stark, but the influence cost and fact that only one deck will be imperative to have the second effect keeps this from top tier. In fact, it'd be lower for me if there wasn't only two other "burn saves" in the entire environment. Assuming this is a burn save, of course.
Paladin - 4 out of 5
With the increasing power of burn decks, finding means of keeping your characters alive is going to be ever more important. This cycle kicked off with a big increase in the power of burn, so it is nice to see the cycle close with a generally useful card that also reduces the effectiveness of burn.
Rave - 3 out of 5
I'm not sold on it, but a save is a save. Against all but 1 deck type, the secondary effect will not be consistently useful, so eh...
SirDuck - 3 out of 5
I want this card to be good, and in certain decks I think that it will be awesome. Not all Stark decks use influence other than the narrow sea. In melee a surprise save on a key character against valar might be nice. The influence does prevent it from being cancelled by he calls it thinking.
ShadowcatX2000 - 3 out of 5 rating
Not super impressed, influence isn't the easiest thing to come by Stark and Greyjoy, but still, a save in Stark isn't horrible and it combats burn (which Greyjoy desperately needs) so overall a good, solid card.
Tiny Grimes - 3 out of 5 rating
If this card didn't cost an influence I would give it at least a 4, probably a 5. With Targ being such a monster right now, having a save which works against Targ is huge. However, the houses which can use this card just don't run influence often. I'm not building my deck around this card and I'm also not hoping to find and not use a sea. Events need to be strong and this one just doesn't quite make the cut.
[/CRB]
[CRB='forums/uploads/got/walk-of-shame-arotd.jpg']
Walk of Shame 35 out of 60
clu - 4 out of 5 rating
Holy direwolf feces! Between Walk of Shame and Misinformation the Power Behind the Throne agenda is infinitely playable. Games hinge upon single challenges turning the tide. What makes a good player is identifying them and stopping them. Walk of Shame adds another NPE in the Lanni control arsenal.
Darksbane - 3 out of 5
Nice little bit of control there. I could see rating this a little higher but I don't play much Lannister so I'm iffy on how it would play out in an actual game.
doulos2k - 3 out of 5
Challenge control is simply amazing - while you're losing a power for the effect, it will most likely win you the challenge and reduce their power in the process.
emptyrepublic - 3 out of 5
Great if you're doing a Lannihood deck and have the influence, otherwise I don't see this being especially great. At least it doesn't stand the character.
Ire & WWDrakey - 4 out of 5
A really powerful challenge trick. You could say it works like a kneel effect since the character will be kneeling after you use this, but this also messes with combat math. The drawback is that you will be losing one power (still you are not giving them any power advantage if you removed one from them) also we have had situations where we are giving power advantage to opponent with You Killed The Wrong Dwarf without crying about it one bit. One good thing to remember is that this can even be used after your opponent uses cards like Longship Iron Victory or Direct Assault... usually Lannister hasn't had much to do at that point any more.
Kennon - 3 out of 5
This is a solid control card that seems to be expanding on a new theme for Lannister- challenge removal. Or at least, removing characters from challenges. There are several options now, and in some cases, it's arguably better than kneel. Requiring influence out of Lannister isn't something that we see much of yet, but we've been seeing slightly more lately. I wouldn't at all be opposed to Lannister having a build or two that did want some light influence sources. Plus, that helps to avoid Paper Shield. Even the loss of power is a pretty small drawback on the card, as you're frequently going to want to remove powerful Challenge phase characters with renown anyway, meaning that the net power loss is a wash, and sometimes slowing the opponent down is more important for Lannister than speeding themselves up. Anyone trying Brotherhood out of Lannister will also love this for a backup plan to get a stray power off their house if necessary. All in all, very versatile, and possibly worth raising to a 4 pending more play and testing.
OKTarg - 2 out of 5
I feel like this might be one of those cards that seems lackluster but then actually is really good, so time will tell with testing, but the influence cost is tough on Lannister. However, with Paper Shield and such running around, it's not terrible.
Also, I really like the art.
Paladin - 2 out of 5
If not for the discarding of power, this would be a great challenge control card. But that's quite a cost on top of the influence. And while it is more versatile than other Lannister control options, it's not like the house is lacking in means of controlling challenges.
Rave - 3 out of 5
I like that the character doesn't stand, I like that it works on attack and defense, but the attachment/event slot for Lannister is pretty good now. The card is solid, but it's outclassed by the house's other options, even in decks that can run it without issue.
SirDuck - 3 out of 5
Any event that can help push through a challenge is quite good. The downside of discarding a power from your house means this event is much better early game than late game.
ShadowcatX2000 - 3 out of 5 rating
Challenge control is good, but discarding power is bad and needing influence in Lannister is bad. Still, challenge control is good.
Tiny Grimes - 2 out of 5 rating
Another control card is great. However, Lannister already has a bunch that don't require you having an influence on the table and losing a power. Moreover, this card fills the ever valuable event slot and isn't going in over about 10 different events.
[/CRB]
[CRB='forums/uploads/got/the-second-sons-arotd.jpg']
The Second Sons 30 out of 55
clu - 2 out of 5 rating
Huge intrigue icon with stealth, challenge denial, and military icon equals awesome. Cost usually above four, negative traits, and highly restrictive trigger for the challenge denial equals wasted space outside of Targ.
Darksbane - 2 out of 5
See clu's comment.
doulos2k - 2 out of 5 rating
Honestly, I'm pretty meh on this card, but maybe I'm just too Targ-biased. The -1 isn't going to get you much use except in very marginal situations.
emptyrepublic - 3 out of 5
It's alright and the response maybe more useful for Lannister than Targaryen. Stealth and a crest make it useable in my opinion. Mercenary/Traitor are a liability as usual.
Ire & WWDrakey - 3 out of 5
What this card most of the time brings to the table is a stealthy fat war crested army. Other than that the ability on it is really situational and will rarely have a difference in a game. This character also owns two negative traits so it is not without its drawbacks either.
Kennon - 3 out of 5
I'm loathe to rate a 7 strength army with stealth and a war crest any lower than this, especially considering that it can be played well below cost (especially in Lannister) but I think that the ability really won't do hardly anything much of the time. Possibly Lannister might want to use it to push through some challenges after they draw, but the lack of a terminal effect really hurts it.
OKTarg - 3 out of 5
It's OK. Stealth and 7 STR mean you will likely be winning challenges, but the ability just won't matter that much. For Targ, who could actually use the burn, you have Jhogo, Gilly, Val, Maegi Crone, or Valyrian Steel link to draw in challenges phase, of which really only Jhogo will be used with these guys with any frequency. Lannister has more effects, but the burn doesn't matter as much to them. If it were terminal, you might have something, but you're basically left with a 7 STR stealthy warcrest, which let's not forget isn't too bad.
Paladin - 3 out of 5
Not bad, not great. At first I thought it'd be neat to build a Targ/Lanni deck based around this, but it's unique. Bad traits, with Stealth and War Crest...almost too well balanced.
Rave - 3 out of 5 rating
Not the best of the bunch. Those bad traits really hurt a card that doesn't bring much to the table regardless. It's decent enough though, for Lanni and their cheap uniques, and the fact that it can't be stealthed past.
SirDuck - 3 out of 5
I am not overly impressed because the burn is not terminal. Targ does have a fair amount of cheap unique characters that can lower the cost, so this will see some play just because of the cost to strength ratio. Anyone who has been playing this game the last few months knows that Targ does not have the card draw to reliably trigger the ability. As for Lannister it could against help push through challenges, especially with stealth, but overall there are better things to include.
ShadowcatX2000 - 3 out of 5 rating
A war crest, stealth, built in reductions, no attachments, and two good icons should all add up to an amazing character, but mercenary and traitor go against it and its ability is hit or miss.
[/CRB]
[CRB='forums/uploads/got/snowed-in-arotd.jpg']
Snowed In 27 out of 55
clu - 4 out of 5 rating
Hot pie! Want to slow Lanni kneel during the marshaling phase? How about stifling some Targ shenanigans in challenges? Not only does this beating hamstring a couple of the more power archetypes in the game you can drop this baby Any Phase, coupling it with Rule by Decree turn one if you like. The Any Phase also means you can wait mid-challenge to keep those pesky response triggers from happening. You will need to play with this card to get a feel for when to play it for its optimum awesomeness.
Darksbane - 3 out of 5
This really has alot of potential to swing whole phases your way. I think Baratheons best use out of it will be to stop some of the more annoying characters who save.
doulos2k - 3 out of 5 rating
I don't like that this kills your own character abilities. You have to plan well when you're going to use this (well, I guess that's always true in a sense... but this just seems far more complicated and the downside has too big a potential to hit you).
emptyrepublic - 2 out of 5
I don't see where someone would have space for this. Why not use PoS Brienne who only affects opponents? It's also weird to get this card in the same pack as Little and Less which if played on the same turn effectively shutdowns most actions during the challenge phase.
Ire & WWDrakey - 3 out of 5
Where this card shines is in Baratheon Aggro builds like Wildlings and Knights. In these cases you want to stop your opponent from saving their characters either with duplicates or their own abilities like Maester Aemon. Unfortunately it doesn't fit well in any other Baratheon decktype. Be it a Holy or Rush build those character abilities will be really important for you and playing cards like this could be like handing your opponent the whole challenge phase.
Kennon - 2 out of 5
Like Zeiler mentioned to me, there will sometimes be situations where this is great, but most of the time, it's going to be pretty blah, particularly since it shuts down all of your own character abilities as well, of which Baratheon has quite a few that they really like to trigger. This is one of those cards that makes me wish Thrones had a sideboard like Magic. The relative value of cards like this would skyrocket.
OKTarg - 3 out of 5
This is like a surprise Burning Bridges without the five gold. However, if you are building a deck where that plot matters, you now can add Snowed In and Brienne to keep that theme going. But doesn't Bara need character abilities....like dupes?
Paladin - 2 out of 5
There are deck builds and metas in which this could be a useful card. But generally speaking, I don't see this going into most Bara decks.
Rave - 2 out of 5 rating
To be fair, this nullifies dupes. Funny though, that the house that gets this is the house that typically relies on dupes the most. Anyway, a good tool for your Baratheon Murder Deck... :/
SirDuck - 1 out of 5
I do not think this will ever make the cut in a deck. At this time there are not enough character abilities that scare me. Especially since I would have to preemptively play this against the characters with come into play abilities like Bannermen, Oakheart or Flea Bottom Scavanger. Other events are simply better.
ShadowcatX2000 - 2 out of 5 rating
A powerful control effect in a house that isn't historically very controlling. Still, in the right deck this could be a very powerful card.
[/CRB]
[CRB='forums/uploads/got/glamor-of-fire-arotd.jpg']
Glamor of Fire 30 out of 60
clu - 1 out of 5 rating
Really cool effect. Way too many variables. If you could pull from the discard pile AND the character didn't have to be put there in the same phase I would be inclined to give this another look. As it reads now, I can't think a single workable scenario where I would feature this card. Well, maybe Viper's Bannermen after a Wildfire Assualt…
Darksbane - 2 out of 5
I want to like this card but for general use it is going to require some luck and a properly built deck to have it give you an advantage, and I'm just not seeing any obvious combos in Bara to make it worthwhile.
doulos2k - 2 out of 5
Ehhh. Okay. Well, I could see that in some situations you could do something great with this card. If your deck really revolved around some specific key characters and you find that they die a lot... the maybe. Wait, scratch that - change your deck so they don't die all the time.
emptyrepublic - 4 out of 5
It's not a game changing card but it has some potential for abuse with characters like Knight of Summerhall and the bevy of cheap expendables available to Baratheon. This card could be really annoying to deal with.
Ire & WWDrakey - 2 out of 5
Don't get us wrong, this card is awesome combo material all by itself and can awake everyones inner Shagga. Now even with all the nice things you can combine with this it has a severe drawback in its cost. Since the cards cost is to kill a character it will be killed even when this event is cancelled... so you have just given your opponent easy board+card advantage. There is also a restriction in when you can bring the character from your deadpile (had to have it in play first), which reduces the flexibility of the card.
Kennon - 4 out of 5
Ok, so I'm not being as objective on this rating as I probably should be. It's no secret that my pet deck is an army recursion deck looking to abuse high cost out of house armies with See Who is Stronger. This card slots right into that deck type by letting you bring back any of those beasties that gets killed. In particular, look at King Joffrey's Guard, House Umber Berserkers, and The Viper's Bannermen. As well, it's Any Phase, which means that it slots into the deck to be reused with Robert Baratheon. Finally, that project gets a card to help it out, rather than having all the combo pieces restricted.
OKTarg - 2 out of 5
This is fine, but the cost is high and the "phase restriction" keeps it from being amazing. Bara has easier recursion, like Many Powers. And what if it gets canceled? Oops...
Paladin - 4 out of 5
An extra point for the awesome Nedliness of this card. I actually like the effect as well, and the potential to bring back characters and surprise your opponent is a great one given Bara's deep bench of top notch characters.
Rave - 2 out 5 rating
This could be funny on your Fury of the Stag turn if you get a lucky matchup, or to kill your Fiery Kiss character at the end of the phase for something permanent. Overall though, I'm not seeing any practical application for this, at least enough for this to warrant a slot.
SirDuck - 3 out of 5
This card has the potential to be amazing with a couple of cards. Fiery kiss and Knight of Summerhall both come to mind. It does not have a gold or influence cost though so if you use it you have to pay the cost of killing someone and then it can be easily cancelled by paper shield, hand's judgement or a few other things.
ShadowcatX2000 - 2 out of 5 rating
Dangerous. And slow. Only going to be really useful against targeted kill. Still, it is a thing.
Tiny Grimes - 2 out of 5 rating
When I first glanced at this card I thought it was a 5. Imagined myself killing a Hedge Knight and pulling the Knight of Flowers out of the dead pile. Then I started thinking about how often this scenario would happen. It cannot happen after a valar as it is restricted to the phase in which the death occurred. So ok if I lose someone for claim I can get them back, cool. Umm wait, why am I losing a great character to claim? So this is basically only useful against decks with targeted kill. So what we're left with is if Stark murder becomes insanely popular with the new agenda and Bear Island this card could be a great meta choice.
[/CRB]
[CRB='forums/uploads/got/outfitted-for-war-arotd.jpg']
Outfitted for War 25 out of 55
clu - 2 out of 5 rating
Love it because of the theme, hate it because it's an attachment that will only go on warships. On the plus side, there are several worthwhile warships out there but that doesn't mean you will have one available when you need one. Lots of interesting game mechanics happening, Clown Boat gets boost here. Maybe we'll finally see siege attachments for locations?
Darksbane - 2 out of 5
Perhaps a dedicated warship deck could get some good milage out of it, but I still think attachments are too vulnerable and this one has the added restriction of perhaps sitting in your hand if you don't get a warship out early.
doulos2k - 2 out of 5
While the +3 can be great in specific matchups... in most, it's just another piece of battle math. With all of the other stuff Greyjoy wants to run, I'm not seeing this slot into very many decks. But, it's not a 1 because it turns your Warship into a walking (sailing?) Lord Commander (without the redirect).
emptyrepublic - 3 out of 5
Good to protect valuable warship locations and and extra +3 during military is never bad. As usual with attachments these days is what do you get rid of to make space for this?
Ire & WWDrakey - 2 out of 5
Oh hello there Schrödinger's War Boat. The amount of protection this gives to probably one of your draw engines is great on itself, but the added bonus has also really big amount of potential. Combined with Make an Example you can get a good amount of power out of it and yeah with the plot Grand Melee you will always win M challenges that turn. It also goes well with Intimidate & Joust since your opponent can rarely place many big characters against the intimidating Ironborn individuals, and only one against the Jouster.
Kennon - 2 out of 5
Ok, so I'm again rating this on the assumption that it will gain errata to work properly. Before such errata, it's a 1. Anyway, the immunity is nice, and the overall effect is very Nedly, but it's just jumping through too many specific hoops for too little benefit.
OKTarg - 3 out of 5
You have to assume that, like Castle Battlements, this doesn't work as written. You also likely can assume that, like Castle Battlements, this will be errated. I like protecting a key location from Search and Detain (say, Foamdrinker with House of Dreams as my Agenda). But, it's not so awesome as to definitely elbow out the old stuff to make room for itself. No more than a solid option.
Paladin - 2 out of 5
A decent card, but I think in most cases I'd rather go with another warship than with this attachment.
Rave - 2 out of 5 rating
I want to try really hard to give this a 3, but there is only a warship or two worth protecting with this. Also the +3 challenge strength is nice, but I feel Greyjoy is strong enough in military to where this is redundant.
SirDuck - 2 out of 5
I still feel like attachments have to be amazing for me to want them in my deck. They can not be played on setup(for the most part), they are easily discarded by tin link, and Targ has multiple easy ways to discard nonunique attachments. Also keep in mind if Meera blanks this it falls off because it no longer can be attached to a location.
ShadowcatX2000 - 3 out of 5 rating
Protecting a warship is good. Adding to the strength during military challenges is good. I'm just not sure there's a lot of room for cards like this in a warship based deck.
[/CRB]
[CRB='forums/uploads/got/sacrificed-to-two-gods-arotd.jpg']
Sacrificed to Two Gods 35 out of 60
clu - 2 out of 5 rating
Neato effects in a narrow field of decks. In those decks (singular for the one I run is intimidating holy folk) these responses are pretty great. Priest of the Drowned God tends to be fragile and the lynchpin in holy decks. The kill effect is doubly interesting because it happens after a challenge resolves, not after you win the challenge. Not quite sure what the impact of that is going to be but I'm incredibly curious.
Darksbane - 2 out of 5
Greyjoy has better ways to kill and save IMO.
doulos2k - 3 out of 5
Outside of Holy decks, I'm not seeing this get much play. The odds of that first ability ever firing are going to be narrow indeed. Now, if you're running Holy and need some additional save - this could be great. In a Greyjoy Holy Rush in Melee... could be helpful (but mainly because those decks run Melisandre out of house).
emptyrepublic - 4 out of 5
I'm liking these events with two different effects. People may not bother to defend if they know they can't deal with the intimidate and if they decide to try you have a window to punish them. In my view this event is a must for holy Greyjoy decks.
Ire & WWDrakey - 3 out of 5
Oh, a dual response, neat. Last time we saw a thing like this was in Weasels way wasn't it? Now unfortunately you will nearly never get to trigger the first response as surprise intimidate is really rare (at least currently) and comboing this with Thuggish Tactics is kinda iffy with a house that has light draw. Still, it's a rare GJ in-house removal. Now the second response can help you accelerate your H decks to faster wins while also saving, should work nicely in Melee.
Kennon - 2 out of 5
I really love me some modal cards, so I'm glad to see FFG introducing more to the game. I feel it's the right direction to go overall, but the abilities here are deceptive. They look awesome to begin with, but analyze the game state that would allow you to play it. How often does your opponent actually defend against your intimidate characters, knowing that their defenders won't count strength? How many of the really key Greyjoy holy characters would you save with this? Almost certainly not Aeron, Tarle, or Moqorro.
OKTarg - 4 out of 5
I really only like events with two effects if both of them are useful, but these just might be. I may be the only one that thinks Thuggish Tactics (ACoS) is good, but surprise Intimidate or STR buffs work great with this. The mere threat of it might give you more unopposed challenges than you might otherwise have gotten. The added bonus of a Holy save and power grab is really nice. Greyjoy Holy is right on the cusp of being truly good.
Paladin - 3 out of 5
I would like to seem more cards like this, with dual effects. If we're not going to have a sideboard in AGoT, dual effect events are a decent substitute, to ensure you don't have dead cards in your deck. This one offers a limited effect ability (intimidate effect) with a broadly applicable effect (save). Very nice.
Rave - 3 out of 5 rating
The first effect seems kind of wonky, since nobody is just going to defend a challenge with intimidate unless challenge effects are involved. The save is also kind of narrow in its use. Solid 3 though, for decks that can make use of it.
Sirduck - 3 out of 5
I really like the dual nature of the event, because it makes it more tool box in certain decks. The deck that comes to mind where this would fit perfectly is a Greyjoy holy melee deck. You have the holy characters to save, and you might even have some intimidate to try to push through challenges. Risen from the Sea is still likely better as an event save.
ShadowcatX2000 - 4 out of 5 rating
Now this, this I can find room for in my warship / intimidate deck. Or in a holy deck (because while yes, Greyjoy may not necessarily need a ton more saves, power claiming isn't bad and this can save out of faction characters).
Tiny Grimes - 2 out of 5 rating
I was tempted to give this card a 1 but I suppose there may be some combos that can make use of the first portion of the card. I simply cannot imagine including this for the second portion of the card as Greyjoy has plenty of saves that do not require an event slot. Let me also say this new dual function event is a cool idea. But be warned the SW:CCG started doing this and are now up to 4 functions on every event. It can be a slippery slope, beware.
[/CRB]
[CRB='forums/uploads/got/flood-waters-arotd.jpg']
Flood Waters 25 out of 60
clu - 3 out of 5 rating
Super cool. Plots are the driving force behind every deck and tout the highest power level. Getting to trigger them again can be devastating. I have been trying to champion the River plots ever since they came out. The worst case scenario is you draw a card, best case is triggering At the Palace of Sorrows mid challenge. How cool is that? This card gets an A++ for themetics, interesting that they are pushing Greyjoy towards these (my personal favorite house to play the river plots).
Darksbane - 1 out of 5
River plots are so so at best, I just don't see why I'd devote even more deck space to them.
doulos2k - 1 out of 5
Why would I run this? Only because I love River plots. But, wait, I don't love River plots. So, why would I run this? Answer - I wouldn't.
emptyrepublic - 1 out of 5
Unless you are in love with the river plots I'm not sure how much value this is. It's really dependent on your Meta on how useful this is.
Ire & WWDrakey - 2 out of 5
This card's success will depend completely on the River plot theme and how it will be supported in future sets. With the current River plots this can do some nice tricks, but since it needs two influence or warships it mostly goes in the Greyjoy direction now and they haven't been too enthusiastic about the plots. Should open up a bit with the next CP cycle though. It is also good to remember that only the first portion of the plot will be activated.
Kennon - 3 out of 5
I'm not really sure what the rules confusion is here. While Flood Waters allows you to trigger the River plot as if you had just revealed it, the plot is still very clearly in your used pile rather than being your revealed plot. The extra "then" text on the River plots clearly states that it only activates if it's your currently revealed plot. There isn't a conflict here that I'm seeing, because the plot never changes its physical location. That said, Flood Waters still offers some interesting use to keep triggering these River effects. So far, I haven't seen those River decks quite come together (aside from one awesome Balerion build) but adding Flood Waters might just be the extra redundancy needing to get something going.
OKTarg - 2 out of 5
More whining about wording: do you get the "when revealed" of the plot in your used pile, or the "when revealed" as well as the "then"? If the former, then there is extremely limited usefulness for this, and I like Rivers more than most. Before the Black Walls could be fun, or maybe Pulled from the Rhoyne, but 2 influence is a lot for the effect. If you get a "when revealed" and the "then," it's better, but still probably a 2.
Paladin - 2 out of 5
I'm not sure why FFG introduced the River plot theme into this cycle, and then failed to offer anything meaningful to do with it. This card would be fantastic if there were more killer River plots or combos, but right now, it is simply not very good. Maybe with the upcoming naval themed cycle this card will get better?
Rave - 2 out of 5 rating
The river plots don't seem strong enough for this to be worth a slot in your deck. Even then, if I'm reading it correctly you only get 1 additional river effect besides the one you chose. Sounds like a lot of setup for a mediocre effect.
SirDuck - 1 out of 5
Until we see some stronger river plot abilities and stats this is not worth a deck slot. Compare the river plots to the city plots and you see a major difference in game defining abilities. The river plots just are not good enough for me to want to include this in a deck.
ShadowcatX2000 - 3 out of 5 rating
Trigger before the Black Walls during the middle of the challenges phase? Seems good. A couple more good river plots could even see this going all the way to 5.
Tiny Grimes - 4 out of 5 rating
I'm grading this card on potential. Let's change one word: river to city. This card would be the most versatile card in the game and would foster an entire new deck type the KotHH city plot deck. Now I realize the river plots are pretty blah right now but there are some decent ones. If even 2 strong river plots get made this decktype becomes a reality and this card is amazing. So yeah, for now it's about a 2 but that will be changing. I haven't seen the plots from the next cycle but in case you forgot it has the naval mechanic so I'm assuming there must be some decent river plots on the horizon.
[/CRB]
[CRB='forums/uploads/got/old-bill-bone-arotd.jpg']
Old Bill Bone 33 out of 60
clu - 2 out of 5 rating
Could they try and stuff more awesome in the two slot? Guess so. I don't think the Dayne archetype is very viable as a top tier deck right now. However, Old Bill comes with his own bag of solid stats to cost ratio. The war crest is intriguing and the Mercenary trait is a positive one in my book because Newly Made Lords like to get paired with Volantis in House Martel that is woefully short of location control. He is a prime example of being a victim to power creep.
Darksbane - 3 out of 5
I'm a fan of House Dayne decks so anything that gives them alittle umph is good in my book. He is a solid character for 2 gold. I think there is also potential to run him OOH in some of the more Shagga decks that like to manipulate the discard pile.
doulos2k - 2 out of 5
Nope - just not getting this one. The War Crest is nice, of course, but that response... discard to put gold and then you can spend it? The gold doesn't do anything else. I guess it's a good card to use with Greyscale... I guess.
emptyrepublic - 3 out of 5
Some potential good synergy with House Dayne. On his own right not too terrible. He's pretty cheap which is a plus. Mercenary trait is not great, but not the end of the world either.
Ire & WWDrakey - 3 out of 5
This one has a clear room in more aggressive Martell builds like the House Dayne that have an built-in gold theme. The War crest certainly is a nice plus and soon we might be able to play Price of War out of Martell if we gain more support. Now also if you are doing some Greyscale trickery out of Martell then you should include this Old Bill there.
Kennon - 3 out of 5
Nothing terribly exciting here. Reasonable enough stats, and solid as a cheap unique for Quentyn Martell builds, but otherwise looks like an interesting build around me card with his first ability, but I think most of the time, you'll find that you want to use the gold tokens on your characters for other abilities. His second ability is basically a coin toss on whether you get +1 gold or not, so it's not something that I'd be excited to write home about.
OKTarg - 3 out of 5
He's fine, but his best utility is probably that War crest. Can Martell build a decent deck taking advantage of that crest now? Probably not quite, but they're getting closer.
Paladin - 3 out of 5
Cheap yet effective character even without considering the abilities. When you do consider them, bump the score to a 4 if playing House Dayne, otherwise he remains a decent character with an ability that may or may not be useful to you.
Rave - 3 out of 5 rating
Weird card. Almost seems too weird to be good. Outside of gimmicks, I guess we're looking at a 2 cost 2 icon moneylender(sometimes) with War? It's alright.
SirDuck - 3 out of 5
I am not sure his ability will ever get triggered, and the negative trait hurts. It does seem like he fits an area that Martell is lacking, cheap but efficient characters. The war crest would mean more to some other houses because they do not generally run war crest decks.
ShadowcatX2000 - 3 out of 5 rating
He's solid, don't get me wrong, and I don't hate self mill. (Heck, it'd even be somewhat good in one of my current decks.) And a warcrest is pretty hard to come by in Martell. And House Dayne loves him. But I'm just not able to get super excited about him.
Tiny Grimes - 2 out of 5 rating
Blah. In a House Dayne deck he'll be good. But he won't be going into my Martell decks. He would probably sneak into a Quentyn deck because he's unique. He will certainly find spots in tier 2-5 decks though.
[/CRB]
[CRB='forums/uploads/got/greenblood-merchant-arotd.jpg']
Greenblood Merchant 47 out of 60
clu - 5 out of 5 rating
Don't think of low cost dude as a dude. Would you play a location that took OR added an icon? You totes would. Since he doesn't have any icons himself don't count him in your character count, he's ancillary. Love him in the one cost slot. Oh, the reason his ability is baller is controlling the challenge phase is great, it's the whole thing that makes you win the game.
Darksbane - 3 out of 5
Challenge control is good, sure it is avoidable but even that could help you as most decks with influence during challenges will be wanting to use it for other things.
doulos2k - 4 out of 5
Amazing ability. I've just started playing a Martell icon control deck and this guy would be an auto-include. I just love what you can do with this. Sure, against Targ or another Martell, this could become useless... but go ahead and "waste" that influence to block it.
emptyrepublic - 4 out of 5
Read carefully here. It can GIVE icons as well. It's repeatable. Only a few deck types go heavy on influence so the cancel will not happen as often as you might think. Also those who are saving influence generally need it for something that is more dangerous than icon manipulation.
Ire & WWDrakey - 4 out of 5
Repeatable icon manipulation is never bad. Especially one that can be used positively and negatively. Opponent having an icon weakness? Take the only one they have. They have a beefier intrigue icon character and you want to play some Cyvasse? No problem. This card is just really flexible. The only drawback is that your opponent can cancel the effect.
Kennon - 4 out of 5
The potential here on giving icons to your own characters is great, and stripping icons from opponent's characters isn't too shabby either. I'd be more excited if it didn't have the built in cancel, but I think most of the time, you'll be able to snipe icons with this ability. Overall, I rate him highly based on sheer versatility.
OKTarg - 4 out of 5
Awesome! To the Spears? Sure, have a MIL icon, Arianne. Power Behind the Throne? See you, Cersei! And so on. Not as good as an orphan, but repeatable, so in some ways better. Also synergy with the Windblown, Maester Myles, etc. It's dead against Targ, but they burn all characters of this size anyway, so I don't think the cancel will happen that much. However, with the other influence costing cards in this pack, maybe influence will see a resurgence all around.
Paladin - 4 out of 5
Icon manipulation that you can do on your own characters or on opponents is very nice. And it's balanced by the fact that it can be cancelled through influence. A great character to throw in to many Martell decks.
Rave - 4 out of 5
Super good. It doesn't matter if it can be cancelled, it is re-usable icon control for any icon. Even without being able to give icons I still think it sits in the 4/5 range. Martell's other 1 cost options (besides the Lost Spearman) also seem pretty lackluster. A fine addition to the house.
Sirduck - 4 out of 5
This card is simply amazing. He has the ability to give or take away an icon and against most decks the influence will either be better used somewhere else, or it will not be on the board. The downside of course is he is a 1 strength ally, so he will not last long on the board. I feel like even if he had an icon it would never be used. It is better to take away a big army's icon, or give one of your key characters an icon. Even useful against another Martell deck that takes away your characters icons with Scourge or Orphan.
ShadowcatX2000 - 2 out of 5 rating
This feels like it is just wasted potential. If the card itself had an icon (any icon) or if there hadn't been the whole "kneel 1 influence to cancel" this could have been great. But as it is it might fit in a very narrow range of decks, but its not something that'll be a consideration for most Martell decks.
Tiny Grimes - 5 out of 5 rating
Wow? Yeah he's pretty bonkers for 3 gold I can have 3 of these dudes wrecking my opponent's world. One of the reasons I loved Martell Maesters was the Black Iron link which gave or took away intrigue icons. This dude can do any icon? Did I say wow yet? That Martell Kothh deck I was building with GG, Scourge and Lhorulu just got another piece that might have pushed it into totally broken. I already liked Maester Myles in this deck and he got even stronger. Repeatable icon removal, yeah I'll take that!
[/CRB]
[CRB='forums/uploads/got/outthought-arotd.jpg']
Outthought 25 out of 55
clu - 1 out of 5 rating
They probably just knelt the character to win the challenge already. Hm, like that it replaces itself I guess. We are now up to six attachments that draw a card giving us 18 total for King Vis which is nice. If you play this make sure to put it on someone without an intrigue icon.
Darksbane - 2 out of 5
Too easy for your opponent to work around.
doulos2k - 1 out of 5
I love some challenge control. I love messing with my opponent's head. I just don't understand why I'd use this. If I'm working on a challenge loss theme, I'm already using Taste for Blood. With the fact that I'm probably already running event heavy... this card would never find a place in that deck.
emptyrepublic - 2 out of 5
If for whatever reason you can't find something else to put in your deck then I guess it maybe worth it. At least it lets you draw. Personally I don't see it being a huge hinderance for anyone. The most you'll do I imagine is encourage the player to use the attached character in their first challenge.
Ire & WWDrakey - 3 out of 5
It seems we are getting more initiative matters cards, excellent. What we mean by this is that this card encourages you to go first and send that courageous House Dayne Knight for a challenge. Win? Claim is always good. Lose? Kneeling their best attacker is always good. Since it cantrips and Martell has very little in-house draw effects it can fit into such decks nicely. Martell is clearly returning back to its roots in creating a win-win situation for itself no matter what happens in the challenge.
Kennon - 2 out of 5
At least it replaces itself when you play it. Again, I like that we're seeing attachments in this cycle that attempt to mitigate some of the inherent drawbacks of the card type, but the ability that goes with it is pretty lackluster. Mostly, your opponent will just use that character in their first challenge. It might, however, be pretty entertaining in melee, if the player whose character this is on hasn't actually gone yet.
OKTarg - 3 out of 5
Adding more 'setup' and self-replacement to attachments is a good move overall. This one is OK, but wouldn't you just rather have Taste for Blood?
Paladin - 3 out of 5
Neat card. A decent effect that encourages you to throw into your deck by adding card draw. I'm liking the ideas FFG is throwing into this pack, even if the cards aren't killer.
Rave - 3 out of 5
I like this. It replaces itself in your hand, and at the very least makes winning as the defender more annoying for the opponent. Nowhere near a staple though.
SirDuck - 2 out of 5
At a glance this card seems better than it is, it replaces itself in your hand thinning your deck and has a situationally useful ability. I feel like the opponent will just attempt to use that character in the first challenge, or find a way to discard this attachment fairly quickly. I do not think this will see play in any top decks.
ShadowcatX2000 - 3 out of 5 rating
I like cantrips and while this might offer a bit of challenge control, I just don't know that it is going to offer enough to deserve a slot. Still, if you find yourself with 2 - 3 slots open in a deck this may be worth a trial, especially as Maesters decrease.
[/CRB]
[CRB='forums/uploads/got/deceit-arotd.jpg']
Deceit 34 out of 55
clu - 1 out of 5 rating
Really cool way to add another element of power rush to Maesters. The second part is very sneaky. I have bluffed many attacks hoping my opponent defended. Now, it's no longer a bluff because I'll sacrifice one challenge to win two. The biggest issue is the slew of other valuable events Martell commands. I just don't see this cardboard seeing any deck any time soon due to relying on your opponent for those keywords.
Darksbane - 3 out of 5
Melee fun times. I couldn't see it being worth a slot in a Joust deck, especally for event heavy martell, but I'd play this in melee just for fun to screw with my opponents.
doulos2k - 4 out of 5
This is a great card, I think. The ability to steal keywords a la Core Set Arya can bolster rush and also win you some challenges by taking Stealth or Deadly. Now, that second response is money. I love standing effects and this is just a nice surprise.
emptyrepublic - 4 out of 5
The problem with new Martell events is the question you end up asking "Is it worth dropping 1 or more copies of Red Vengeance/Burning/He Calls it Thinking/Game of Cyvasse for this?". Usually the answer is no, but I'd make some exceptions for this card in certain decks. It'd be great fun to muck up people in a melee game and I think stealing renown is a big deal.
Ire & WWDrakey - 4 out of 5
That defender there has deadly? Oh how lovely. Another dual effect event. This time the effects are easier to trigger than with the Greyjoy one, but they are most of the time less powerful as well. Switching Deadly will be devastating and Stealth can be useful to push challenges through, or preventing them from hitting you. Considering that one card in this CP it's good that one of the tricks is *not* a response...
Kennon - 3 out 5
Very solid, versatile card. This is a modal card done right, I think. Neither effect is a back breaker like something along the lines of Game of Cyvasse, but both are just good and different enough to make me consider trying this out in some decks. In particular, the first ability could really be a boon in a melee game, but has application in joust as well. I'm a fan.
OKTarg - 4 out of 5
I like it. Keyword control is becoming more of a thing, and it's not bad. Grabbing from Damon-Dance-for-Me or King Stannis is amazing, but taking deadly or renown from someone can hurt a lot, especially if you flip the effect on them. The secondary effect isn't bad either, and the versatility is pretty fun. How about this with War of Attrition?
Paladin - 3 out of 5
More versatility. Neither effect would merit including into a deck on its own, but when you have the option of playing either one, the increased versatility makes this card much more desirable. And it seems ready-made for some Melee shenanigans.
Rave - 3 out of 5 rating
Might be nice to steal deadly from a deadly defender, otherwise, not really worth a slot. Sure, you could always grab King Stannis' keywords or something on the rare game, but otherwise, probably not worth playing. The second ability is also pretty weak.
SirDuck - 2 out of 5
In another house this has the potential to be much better, especially Baratheon. In Martell I do not think this will see play because of their multiple other awesome events. Even in melee where this could really shine, burning on the sand removed from the restricted list(in melee) makes it hard to find event slots in this house.
ShadowcatX2000 - 3 out of 5 rating
Stealing keywords is pretty cool, except the keyword I would want to steal the most in Martell is immune to events. . . C'est la vie. The second ability is weaker than just giving the character vengeful until end of turn. Still, a "surprise, you don't have deadly, I do" effect isn't horrible by any means.
[/CRB]
[CRB='forums/uploads/got/the-brazen-beasts-arotd.jpg']
The Brazen Beasts 40 out of 55
clu - 2 out of 5 rating
The trio of beastmen rock an impressive keyword and trait. Because they are unique I'm inclined to think they won't see play. Or are they better being unique coupled with Tourney Grounds? I think I'm going to stay safe with this pick and just call it not that useful with the glut of four cost actual good cards Targ has access to. I love the idea behind this card.
Darksbane - 3 out of 5
I think these guys have potential. Burn is already pretty effective at killing and challenge control. Now it can get you extra power too and multiple times per turn at that. They are alittle expensive but it could be worth it.
doulos2k - 3 out of 5
I want to love these guys and another Renown Army is awesome and they'll definitely find a place in my Targ Army deck. But the Burn element is strange on this card due to the high cost. They lack the Ambush keyword, so I'm having to spend another 4 gold for an ability that is really only helpful in very specific circumstances.
emptyrepublic - 4 out of 5
A must have for burn decks. You get some gravy with the kill effects you are already doing. Thankfully it's limited to once per phase and is unique.
Ire & WWDrakey - 4 out of 5
Powergain for a burn deck is just great. The stats are solid, but the slot for 4 gold is somewhat occupied already for Targ, especially with its double resource curve. Now this card has great potential as a Shagga card. For a well rounded burn deck and a good situation it could read "claims 1 power during each phase", and let's not forget that you can always make more phases with epic events.
Kennon - 4 out of 5
Very solid power acceleration that burn decks have been looking for. Thankfully, it's unique and limited to once per phase, which limits some wackiness that would have been possible otherwise (tons of power just for revealing Threat From the North, for instance) but it looks just about right at the current power level. Since the limit is once per phase, I look forward to trying out as many different ways to reduce strength in different phases as I can. This is certainly the sort of engine card that Shaggas like to see.
OKTarg - 4 out of 5
I <3 Brazen Beasts!
Power grab is burn's biggest weakness, and lack of Renown one of Targ's house weaknesses overall. This helps with both. It's well-balanced, though, as it is unique and limited to once per phase. And, it's an army but no negative trait! I want to give it a 5 but it is pretty expensive for a burn deck.
Paladin - 4 out of 5
Renown and an ability that nets you more power for playing a burn deck=lots of power gaining for burn. Very nice card.
Rave - 4 out of 5
Very solid. Fits into Targ's gameplan well. I wish it couldn't take attachments, but it's still pretty great.
SirDuck - 4 out of 5
Its a great card all around, especially out of Targ. Power grab is one thing you do not expect from this house, and even with the 4cost/3str bicon renown is a solid card. The ability to claim additional power is amazing. On a Threat from the North turn this could easily net 4 power. One in plot phase, 1 in challenges, 1 from renown and 1 in another phase with a forever burning. Perhaps even more if you get lucky and have 2 or 3 events/flame kissed. Thankfully it is unique!
ShadowcatX2000 - 4 out of 5 rating
Win acceleration for a burn deck. Very good win acceleration for a burn deck. Heck, just the fact that it is a Targ that has renown. And is yet another army for Targaryen. Still the cost is a bit high.
[/CRB]
[CRB='forums/uploads/got/meereenese-fighting-pit-arotd.jpg']
Meereenese Fighting Pit 40 out of 55
clu - 3 out of 5 rating
Yikes, non-unique Dragon standing machine for the low low cost of one. Boom. Thank goodness Dragons aren't that consistent outside of melee. I've seen a couple very good decks and they have gotten better with the restriction of Search and Detained. The weapons thing is alright to down right phenom with Brotherhood. Standing lets you do more with less. Unfortunately all weapons are attachments. This gets a three because this will be an auto-include during melee.
Darksbane - 3 out of 5
Good in a dragon deck or the occasional weapon focused deck. Running this and Alchemists Shop could provide some fun challenges for you.
doulos2k - 5 out of 5
Unbelievably amazing for a Dragon deck. Non-unique stand for any Dragon is just unbelievably good. But, you say, Dragons don't kneel! Only with Dany in play and she gets blanked quite often. This will make Dragon decks all the more powerful.
emptyrepublic - 4 out of 5
This pairs well with the Dragonbone Bow and is a good backup in case your Danny gets killed off. Bonus is that it's non-unique and cheap so it's relatively easy to do multiple times every turn.
Ire & WWDrakey - 5 out of 5
When you compare this card to most Baratheon stand effects you can see that it is very aggressively costed and has its only drawbacks in its restrictions. Weapons might still be rare, but Dragon decks are still as popular as ever, and this gives a really good boost to that decktype, especially since this is nonunique, so you can have multiple of them on the board. We are also sure that a few Targaryen decks will start to use Weapons more just because of this card.
Kennon - 3 out of 5
A very solid option for Dragon decks which makes them less vulnerable to losing Daenerys, which I expect to see make for an even more solid choice in the melee format, but in joust, I'm not as certain. Dragons weren't quite there in joust, but will this be enough to help put them on the map?
OKTarg - 4 out of 5
I like it. Dragons can always use more standing to reduce their dependency on going first and their vulnerability to control effects in Joust. With Long Lances, it could get pretty ridiculous.
Targaryen has some good Weapons as well, so maybe this will help people explore those territories also, though I bet decks built around non-chain attachments won't ever be popular.
Paladin - 3 out of 5
Fantastic in a dragon deck, especially if you play multiple copies of it.
Rave - 3 out of 5 rating
Solid for a dragon deck, and not much else. Good in tandem with Dragonbone Bow too I guess.
Sirduck - 3 out of 5
The card seems very useful, if not amazing. In a dragon deck there are already so many other 1 cost locations that are useful for the dragons. In a dragon/maester deck with steel link this could be out of control good.
ShadowcatX2000 - 4 out of 5 rating
This card gets me excited. Sure, dragons already have Danny, but I know she doesn't live long against me if I can help it, and this helps shoulder a bit of the burden. (Not to mention helps fight off kneel effects.) And it is good during the setup phase. Over all very solid card, worth a look at any deck that runs weapons or dragons.
[/CRB]
[CRB='forums/uploads/got/dragonbone-bow-arotd.jpg']
Dragonbone Bow 40 out of 55
clu - 2 out of 5 rating
This is cool and builds upon a theme started a while ago with weapons and deadly. I might toss one into a deck with the sheer amount of tricons Targ possesses. Less of a hate for attachments here because of Lady Daenerys's Chambers.
Darksbane - 4 out of 5
Rating based on Melee. Dropping a deadly character in to a challenge has the potential to really wreck some plans. Possibly leaving an opponent open to attacks later in the turn from you.
doulos2k - 5 out of 5
I absolutely love this card. This is not exactly surprise deadly, but it's ANY CHALLENGE deadly. Regardless of that characters icons. In Melee, this thing is sick. Incredibly potent effect. It will keep every opponent on edge when they see it. Now, attachment hate probably means I'm rating it too high... but I just love this card.
emptyrepublic - 4 out of 5
If it only had ambush! Nonetheless, a really strong attachment I think. Great way to slip in a deadly and a good threatening mechanic to force a few unopposed challenges.
Ire & WWDrakey - 4 out of 5
This attachment is a good weapon, so it goes well with the previous card. Also it gives the character every icon on attack and it can completely ignore Martells puny icon manipulation attempts. This bow is even more valuable is in melee where you can jump the guy in on any challenge that happens on the table. Just wow.
Kennon - 4 out of 5
This one, I'm rating mostly on melee play. While being able to jump surprise deadly and extra strength into a challenge is solid in joust, opponents can just opt not to defend your incoming challenges. In melee, however, you can jump that character into any challenge on the table, drastically altering combat for every opponent. Be wary that this might make you a target, but it's a very strong ability in melee. People aren't going to quit making or defending any challenges at all due to this card, so you'll almost always have options on who to help or hinder at the table.
OKTarg - 4 out of 5
Threatening Deadly the whole time is a ton of fun. What else is fun is doing this in melee in a challenge that you're not involved in! Defend with King Robert for the renown? Deadly.....and boom goes the dynamite!
Note that this doesn't work with Blue Lipped Warlock's "does not kneel to attack" because the cost printed on the attachment is kneeling. So he will have to attack normally. Same thing with Game of Thrones or Royal Favor.
I think Brown Ben Plumm (Core) was born to have the Dragonbone Bow.
Paladin - 4 out of 5
A fun card to screw up challenge math for your opponents. They'll never rest easy knowing you can jump into a challenge with some deadly in tow. And in melee you can really have fun with it.
Rave - 3 out of 5 rating
This is a neat weapon. Against an opponent that can initiate all 3 challenges, that also has one of these, what do you do? One of your characters will probably die that phase. That said, it doesn't really sync with Targ's general gameplan. Burn is still much better than this.
SirDuck - 3 out of 5
An attachment has to be game changing or be free and have setup, before I will consider it a top card. This is solid and I can see this being a ton of fun in local tournaments, online games played just for fun, but will not make the cut into a top deck.
ShadowcatX2000 - 3 out of 5 rating
This also gets me excited. Surprise deadly in a challenge (especially in a challenge where the equipped character doesn't have the proper icon) is nice. And its a weapon for the fighting pit. Over all very nice, solid card. Pity it doesn't have setup.
[/CRB]
[CRB='forums/uploads/got/little-and-less-arotd.jpg']
Little and Less 54 out of 55
clu - 4 out of 5 rating
See all the reasons I loved Snowed In and add Cannot be canceled. This won't go in every deck but will see considerable play.
Darksbane - 5 out of 5
heh, FU Maesters.
doulos2k - 5 out of 5
I hate this card, but I also love this card. It's got Anti-Maester written all over it. Boom! Nope - no chains this time my friend. Now, it hits you as well, so it'll take careful planning, but I can see someone working a vanilla deck that focuses on non-Response abilities. to just work those challenges against strong Response abilities.
emptyrepublic - 5 out of 5
I'm sure I will hate this card. If you set your deck up for lots of passive effects this is a must have since you will break so much stuff and frustrate your opponents to no end. It kills save effects, thankfully it also kills targeted murder events and character abilities.
Ire & WWDrakey - 5 out of 5
This card is probably the most powerful cad we have seen since TMP was released and what do you know, it completely crushes the Maester builds down. Now this card is also very complicated on how it works, so there will be a future Q&TR issue completely focused on it. One thing to remember is that you cannot use it in the save/cancel window, so if you plan to Valar without allowing any saves, you have to use it before plots are selected... so you are telegraphing your move quite strongly.
Kennon - 5 out of 5
This is going have a huge, huge impact on the game. Saves against Valar are a thing of the past. Play this in response to starting the Plot phase, then reveal Valar and no one can save anything. Play this in response to the start of the Challenge phase and The Maester's Path won't be able to move a single chain.
OKTarg - 5 out of 5
Fantastically amazing. What else is there to be said? No saves, no cancels, no nothing.....
Did you know most of Burn's events are not responses? Did you know most of Stark's kill events are?
Paladin - 5 out of 5
Um, wow, this is quite the card. No cost, and no way to cancel, and you can pretty much lock up a phase. I think it's going to be very popular.
Rave - 5 out of 5 rating
For saves alone, this is pretty ridiculous. In general, this throws a wrench in so much stuff. I love how it can't be cancelled too. If you're running Valar, you will benefit from this card.
SirDuck - 5 out of 5
A friend of mine said something to the effect of I guess they were rooting around in the office of the old designer who came up with the first Jaqen and found this. This card has the potential to be a NPE for anyone. It fits perfectly into Targ, they do not have a ton of saves, they have a few different ways to get this card out of their discard pile and a fair amount of their burn events are not responses. My opinion this card ends up restricted by regionals next year.
ShadowcatX2000 - 5 out of 5 rating
Incredibly powerful card. Prevents all save effects. Prevents all cancels. Prevents Siege and prevents Maesters from grabbing chains. Incredibly powerful card.
[/CRB]
[CRB='forums/uploads/got/house-of-dreams-arotd.jpg']
House of Dreams 53 out of 55
clu - 4 out of 5 rating
Yaargh! This has to be compared to the other agendas unfortunately. I will play this agenda a lot. Constricting your opening hand size and gold is scary however starting with Meraxes or Longship Iron Victory in play far outweighs the negatives. Measuring the benefits is obvious. Measuring the opportunity loss will take some time assessing. Gone are the days of no agenda decks… This agenda isn't the best, just highly usable. Look forward to it being restricted along with a handful of other location cards.
Darksbane - 5 out of 5
I love it. There is nothing better IMO than agendas which open up deck types and this one opens up TONS of deck types, especially for us more Shagga oriented players.
doulos2k - 5 out of 5
Sheer meta-changing greatness. Aegon's Hill will now finally see some consistent play. Bear Island becomes even more frightening and the City plots will suddenly become far more attractive to a wider range of people just so you can get A City Besieged to do some damage against those higher gold locations.
emptyrepublic - 4 out of 5
I think there are better agendas out there but since this one effectively has no downside it's great for decks that have a "must keep" location and no better agenda to play with. There are more than one plot effects though that can hit you so be prepared for those.
Ire & WWDrakey - 5 out of 5
This agenda gives you so much deck building room with barely little drawback. The frightening part is that Bear Island, Aegon's Hill and Dragon Pit from the first turn on will be pure nightmares to play against. While other locations might not be as brutal at the start of the game, they enable great synergy for decks that were lacking solidness. Overall a great agenda which will shape the meta and allow more variety of decks to exist.
Kennon - 6 out of 5
Now, the above rating is based on pure playability. There isn't actually a downside or drawback to this agenda to mitigate the vastly increased efficiency that it brings to the table, aside from opting to utilize this over another agenda. With the current cardpool "no agenda" decks are effectively dead. As well, there will surely be players experimenting greatly with a variety of tier 2 locations, looking to make their favorite theme deck work. Unfortunately, in six months to a year's time (or at least this coming Regional season) the true Jaime players will have narrowed it down to the most efficient, most broken locations to play (most likely including Bear Island and Aegon's Hill) and we'll see an end to attempts to broaden the pool of fun decks that utilize those tier 2 locations. As well, this hampers design of all unique locations going forward and will be a headache for playtesters in time to come.
1 out of 5 for
"should this have entered the card pool as written."
OKTarg - 5 out of 5
Awesome and amazing! Here are just a few locations that aren't often played because of their inefficiency that House of Dreams easily enables:
Highgarden. Longship Foamdrinker. Vaes Dothrak. Seastone Chair. Casterly Rock.
Or just enable GTM or Meraxes first turn. Or Bear Island. Or Iron Victory. Or the Wall. Amazing.
Paladin - 5 out of 5
One of my favorite cards of the entire cycle. For one, I think it really opens up a number of deck designs that previously were not able to be competitive. I mean, just reading the card gives me a ton of ideas for decks that can be built around it. And those decks sound scary (Bear Island!), hence the 5 rating. Another thing I like is that it is not only powerful but also enables some neat Nedly decks built around locations.
Rave - 5 out of 5 rating
So many possibilities. What a cool card. Given the card pool, this can never be bad. Inn at the Crossroads is my favorite combo with this.
SirDuck - 5 out of 5
The design behind this is simply amazing considering it came from a player and not someone that is PAID to design cards. I have played with it and can honestly say that 3 gold seems a bit much for setup, it would be better with 2 gold. There are many choices for players to start with that will be found by creative deck builders. Aegon's Hill and Bear island are the 2 that jump to the top of my list for high level of power. I have constantly got 4 card setups with this agenda out of the deck I have been playing which seems too much. This card may cause search and detain to be unrestricted.
ShadowcatX2000 - 5 out of 5 rating
Another exciting card. This gives great deck building opportunities to several various houses, while not outright killing any of the existing builds. I like this a lot, though I'm not excited to play against a starting Bear Island or The Wall.
[/CRB]
[CRB='forums/uploads/got/lead-by-example-arotd.jpg']
Lead by Example 28 out of 55
clu - 2 out of 5 rating
Really, let's give Martell and Targ burn another cool plot that will nullify challenges. This thing is quite good within some parameters. Here's the draw back. You need lots of dudes to make sure you can attack as well.
Darksbane - 3 out of 5
Melee rating. In Melee I think this can be used as a huge tempo slowdown. It isn't exactly protection but if you time it right then you can take a turn which might have seen 8 or 9 challenges down to 3 or 4, and/or have more go undefended.
doulos2k - 2 out of 5
Weird. That's all I can say really. Oh and... so what? 3-4-1 aren't terrible, so it's not completely unplayable by any means... but I'm struggling to find the specific strategy that this plays toward.
emptyrepublic - 3 out of 5
This plot requires that you run some sort of control to insure that your opponent(s) can't meet the requirement. On its own though it's nothing special.
Ire & WWDrakey - 3 out of 5
A good plot for defensive control decks. With help from icon manipulation or kneel you can guarantee your opponent isn't making challenges. This plot also makes the Melee keyword a lot more powerful and might support it's use more. Speaking of melee this can also have a serious effect on melee tables as your opponents have to invest more on their attacks and subsequently leave themselves open.
Kennon - 2 out of 5
By at large, the stats are unimpressive, and the good, but not amazing ability means that this is competing against a pretty big pool of plots that are better in some combination of that criteria. In joust, I think you're going to need to have a fair bit of control, but the right application of kneel could keep your opponent from participating in challenges. Unfortunately, this also means you need to have quite a few characters available for challenges. I'd be interested in trying this in melee for how it would screw up challenges for all of your opponents, but you still run into that same issue.
OKTarg- 3 out of 5
Good in a kneel or intimidate deck. Decent stats. I'll be trying this out but I think it won't be quite as useful as needed.
I like it a lot in melee with "does not kneel to attack" characters like Dragons, Rickard Karstark, or Cersei.
Paladin - 3 out of 5
Throw this into a Martell icon manipulation deck or a Lanni kneel deck and you'll get a lot of bang for your buck with your challenge control abilities.
Rave - 3 out of 5 rating
Good initiative for a plot like this. If your deck runs a lot of stealth, I could see this being useful. Even then though, it's just 1 claim getting through.
Sirduck - 2 out of 5
Nothing impressive here, this will not see much play because there are better plots. I think that this could work in a few different decks, but I feel like I would always want to play something with better stats or a better ability.
ShadowcatX2000 - 2 out of 5 rating
Mediocre stats with a good ability. Unfortunately there's plenty of plots with mediocre stats and good abilities that already aren't getting played.
[/CRB]
Article: A Roll of the Dice Card Reviews