Welcome to Card Game DB
Register now to gain access to all of our features. Once registered and logged in, you will be able to create topics, post replies to existing threads, give reputation to your fellow members, get your own private messenger, post status updates, manage your profile and so much more. If you already have an account,
login here
- otherwise
create an account
for free today!

1
AGoT Core Set Review: Baratheon!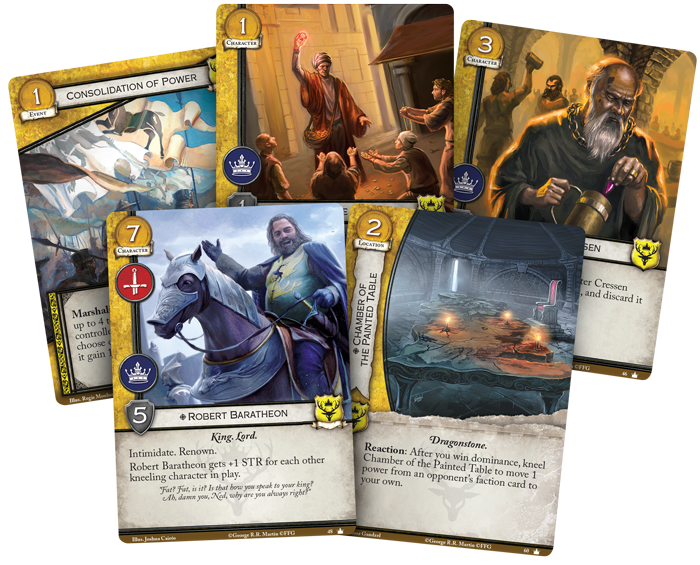 Our staff has put together a first blush analysis of the newly released Game of Thrones LCG 2nd Edition Core Set. We've used a one through five scale; five being the best possible score. The cards are listed in numeric order. Let us know in the comments how you feel about the Baratheon cards from the Core set, and we'll be back shortly with further reviews.
Here's a link to the relevant
preview article
from FFG, where you can read the designer Nate French's thoughts behind the faction.
With 9 reviewers this time, individual card scores are out of 45 possible points. The Baratheon non-reducer/economy cards combined to earn 72.4% (554 out of 765 possible points). By comparison, in previous reviews the scores were: 69.9% for House Stark, 76.3% for House Lannister, and 75.7% for the Night's Watch.
Now onto the cards!
Maester Cressen (39 Total Points)(87%)
Ire & WWDrakey - 5 out of 5
With attachments being a thing, and assuming that Condition also stays relevant, this guy makes you consider grabbing Baratheon as a Banner.
JCWamma - 4 out of 5
Repeatable attachment control is very strong. Milk of the Poppy is a 5/5 card as said, and presumably further strong Condition attachments will follow. I'm keeping him at 4 because he is himself vulnerable, and just expensive enough to feel sad at kneeling him every round rather than using him in challenges. In the early game he should be amazing though, probably worthy of a 5 before he drops down later.
mnBroncos - 4 out of 5
There is a good deal of condition attachments, attachments don't go to discard pile all the time, also three cost three strength even with one icon is a solid enough character to see play.
Oktarg: 4 out of 5
Steals the milk and keeps it for himself.
rave - 5 out of 5
Much better in this format, and he was still amazing before. He's pure gold in a world where attachments are better. No attachments? Oh well, he's 3 gold.
scantrell24 - 4 out of 5
In a hypothetical world without Milk of the Poppy, Cressen would be decidedly average. But in reality, where every deck runs 3 Milks, Cressen demands at least two copies in every Bara deck.
VonWibble - 4 out of 5
Milk of the Poppy is one condition that will see a lot of play, Cressen is worth including to get rid of that alone. Bodyguard and Little Bird are also very likely targets for Cressen.
Siroma - 5 out of 5
With x3 milk and a couple of bodyguards and potential birds in every deck, Cressen's ability will see a lot of play. 3 for 3 monocon is not great, but acceptable with his ability and the maester trait.
cockbongo - 4 out of 5
Currently a strong reusable ability, especially when Bob and Stannis are likely to get Poppied very quickly. Having Cressen means I would be less likely to run the Confiscation plot out of Baratheon, which frees up a slot for something better.
Melisandre (42 points)(93%)
Ire & WWDrakey - 4 out of 5
The Core's premiere Control engine, but one that doesn't really slot in easily, but rather pulls a host of other cards with it.
JCWamma - 4 out of 5
5 gold is a lot, but a kneel every round is worth it. Melisandre isn't quite a kneel every round yet though - you need a steady stream of R'hllor cards to make her work. She does have a "centrepiece" feel for future theme decks, but for general use she's powerful and efficient while being unspectacular. As Castellan of the Rock shows from first edition though, a powerful repeatable effect can carry a deck.
mnBroncos - 5 out of 5
A more limited version of a card that got restricted in first edition. There is a solid number of cards that trigger her ability as well more that surely will come down the line. Non-loyal too I would expect this to be a popular reason to ally with Baratheon.
Oktarg: 5 out of 5
Hovering between a castellan and an enemy informer isn't a bad place to be. Non loyal pushes it to five for me.
rave - 5 out of 5
I'm breaking my own rules here by giving this card a rating based on future effectiveness, but Mel is that good. As of now, she feels like a 4, because there isn't really enough R'hllor out there to make a huge splash. Otherwise, she's going to be a great main house and banner tool.
scantrell24 - 5 out of 5
The current metagame largely revolves around bomb characters (like Robert and Daenerys), answers to bomb characters (like Melisandre and Milk), and answers to the answers (like Illyrio and Cressen). Melisandre provides incredible value mostly because the R'hllor cards that trigger her Reaction are quite good in their own right. Together the entire package makes Banner of the Stag one of the stronger agendas. The "limit once per round" aspect of Mel's ability means you should carefully ration your R'hllor cards throughout the game, and avoid playing them on setup when possible.
VonWibble - 5 out of 5
Repeatable kneel (even if it is once per round) is very powerful.
Siroma - 5 out of 5
There are actually a ton of R'hllor cards available -- Lightbringer, Seen in Flames, Fiery Followers, and Selyse help trigger her, making the kneel very reliable. Being able to repeatedly kneel characters like Euron and the Old Bear round after round is tremendously powerful, and likely will be for a long time.
cockbongo - 4 out of 5
With the current set of R'hllor cards available this maybe isn't yet the powerhouse it could be in future, but it's still going to be a core character to most control decks. Castellan of the Rock was restricted, after all, and coupled with Seen In Flames and future R'hllor events Mel will likely be one kneel per round. Disappointed in the lack of renown, personally.
Robert Baratheon (41 Total Points)(91%)
Ire & WWDrakey - 5 out of 5
One of the few 7-costers truly able to dominate the board alone.
JCWamma - 4 out of 5
This well and truly is a fat Bob. In Joust he's strong, but in a Melee he's ridiculous. He's also 7-cost, and I'm reluctant to give him a 5/5 when the economy is so shaky.
mnBroncos - 4 out of 5
Big strong character that will basically win a challenge on his own. Add two strong keywords and we got a very solid character.
Oktarg: 5 out of 5
Dictates the challenges. Love this guy.
rave - 5 out of 5
I'm comfortable in saying Robert should really define what a 7 STR character should be. He's oddly versatile, which is a trait Robert usually lacks. He's going to be a fun play on the Power behind the Throne turn. Low printed STR for his cost, but this can be offset very well by his passive STR ability.
scantrell24 - 4 out of 5
Robert's a candidate for "strongest text box" in the game, so there's a big target on his back. Milk turns Bob into a mediocre 5 strength bi-con, kneel shuts him down, and Tears of Lys can kill him. So is the risk of playing a 7 gold character worth the reward? Currently, yes.
VonWibble - 4 out of 5
Not much to say, all the printed words on this guy make him useful in many ways. Remember that although his printed strength is 5, chances are if the opponent defends their kneeling character pumps him to 6 straight away. He loses a point because you will often want to go first to get the best use out of him.
Siroma - 5 out of 5
Probably the most dominant 7 cost character in the game right now. He easily hits 9+ str alone and will be able to kneel quite a few characters due to intimidate. Lightbringer also works on him, which is a nice bonus, while cressen helps keeps the milks away.
cockbongo - 5 out of 5
The versatility makes him a 5. Going first? Make Bob your last challenge and hopefully trigger a useful intimidation. Go second and you're guaranteed to win a challenge in defence enough to easily trigger a Put to the Sword/Torch. Pricey but worth it. All hail Fat Bob.
Selyse Baratheon (27 Total Points)(60%)
Ire & WWDrakey - 3 out of 5
One of those cards Melisandre pulls with her. A decent enough card for now, but nothing *too* exciting, except maybe as a solid anti-Tears tech.
JCWamma - 3 out of 5
The effect is fine enough for now - Robert and Davos are the obvious characters worth turning into tricons, but even giving an extra icon to a weenie is efficient. The future is where she will (hopefully) shine, but at the moment I'm looking at the gold cost on the effect, and mentally tallying the gold I anticipate holding spare each round, and not being sure the intrigue icon is worth it. She'd be a 2 if not for the R'hllor trait.
mnBroncos - 3 out of 5
Adding icons is never a bad thing, fair cost character, also triggers Mel. I think will see play for long time but isn't taking over the game either.
Oktarg: 3 out of 5
Not bad. Good ability and traits but needs other things to truly shine.
rave - 4 out of 5
At this stage in the game, I think Selyse is pretty good. There aren't a lot of tricks in the game yet, and a lot of Bara's big characters are missing the intrigue icon. At 1 gold, it's really not a bad price to pay to patch up a potential weakness.
scantrell24 - 3 out of 5
Selyse's ability won't be needed often, and her stats are below average, so the only positive here is her R'hllor trait. I run a single copy in my Baratheon decks.
VonWibble - 3 out of 5
Decent icons for cost, and giving intrigue icons to Robert, Davos, or Stannis has some potential.
Siroma - 3 out of 5
Lady and R'hllor are two good traits, and she offers minor (albhiet expensive) protection against tears of lys. Other than that, her stats are pretty abysmal and she's non-loyal to boot (with an ability that only works on baratheon characters).
cockbongo - 2 out of 5
Weird that he/she is non-loyal, and to be honest it's probably easier to give Fat Bob a Little Bird and play a better character, but i guess the utility is there. Currently good with Mel so he/she's going to be included, but a he/she is a still a little underwhelming.
Ser Davos Seaworth (37 Total Points)(82%)
Ire & WWDrakey - 4 out of 5
Solid for defending and winning those power-challenges, and gets extra points for sticking around.
JCWamma - 4 out of 5
The combination of Stealth and a power icon, along with being unkillable (short of putting his head on a spike), makes Davos one of the best defensive characters in the core set. He's obviously also great on offense, and at 4 cost is cheap enough that Baratheon will be happy to play him repeatedly. Not an outstanding card, but strong and versatile.
mnBroncos - 4 out of 5
You're not going to use this guy every turn for claim soak, but that is good because his stats at his cost are all good. Add in the fact that can get a free save in a sense at the expense of economy will be worth it in many games.
Oktarg: 4 out of 5
Expensive to be your perma-soak, a flexible and dynamic character that shouldn't be sneezed at.
scantrell24 -4 out of 5
Davos is solid character who uses stealth to win challenges by himself and provide marginal card advantage by bouncing back to hand upon dying (but if he dies more than once you're in bad shape).
rave - 4 out of 5
Davos is pretty great because alongside Benjen, he is the easiest unique character to justify running 3 of (because it's going to be rare to see him actually die) and the way dupes are handled in 2nd ed, makes him a huge advantage to have in setup. However, unlike Benjen, you don't need Davos to die for him to justify his cost. You can be just as happy having 2 icons and stealth. However his strength is a little bit low for this slot.
VonWibble - 4 out of 5
If he were cheaper that ability would be really powerful. That said, strength is OK, and 2 icons plus stealth means even without the ability he is worth it. He looks like a good target for Arianne.
Siroma - 4 out of 5
Stealth is huge right now and his ability is great for post-wildfire turns and in general over the later courses of the game. However, with the red keep being such a reliable source of draw you can often find other things to throw your money at. 4 cost, 3 str bicon is still nothing to scoff at when bara has the options to kneel a lot of the characters that might otherwise be able to block davos.
cockbongo - 5 out of 5
Right now he's mandatory as the only Baratheon with stealth, a hugely important keyword this early in the game. I think the cost/strength is bang on since you're going to be paying for him again and again - 5 would have made it difficult to reuse.
Shireen Baratheon (36 Total Points)(80%)
Ire & WWDrakey - 4 out of 5
One of those cards that will be 1x in Stag-containing decks for the foreseeable future.
JCWamma - 4 out of 5
As a unique you want to die, Shireen's not exactly a character you're likely to run more than 1 of. However, as a cheap character who will be insanely annoying for your opponent to deal with, you're also unlikely to run less than 1 of her. Feels like a simple "auto-include" kind of card that will help define Baratheon's playstyle in the months and years to come.
mnBroncos - 4 out of 5
x1 in all Baratheon decks forever unless get a better Shireen in the future.
Oktarg: 4out of 5
I agree with JC and the Finns
scantrell24 - 4 out of 5
Shireen's an excellent claim-soak character that forces your opponent to reconsider making a military challenge, or at least to perform his or her challenges in a sub-optimal order.
rave - 4 out of 5
Very strong in this smaller card pool. A great way to leverage a Wildfire Assault turn by kneeling an obviously key character.
VonWibble - 4 out of 5
Given her weak strength and 1 icon, I think she is claim soak, plus a delayed kneel event with legs. That is not a bad thing at all, and as such I think there will be 1 copy of her in any deck that can include her.
Siroma - 4 out of 5
Easy to include, and great to combo with wildfire. Combined with stannis, it really forces hard choices about what challenges an opponent can declare.
cockbongo - 4 out of 5
Cheap and dirty, and while it's One Use Only it's going to be be irritating enough for your opponent to have to structure their challenge phase appropriately.
Stannis Baratheon (29 Total Points)(64%)
Ire & WWDrakey - 2 out of 5
The problem with Stannis here, is what he assumes about the board state. If spammy, floody, Aggro-y decks are the direction the game will take, then his shares go up, but otherwise his impact will mainly be to keep your opponent from using his 1-cost reducer guys.
JCWamma - 1 out of 5
Going bold here with the rating, but I don't see this working in practice. 6 gold to partially-sorta limit standing, while letting the opponent choose which characters they can stand and which they can keep knelt but continue to use for their effects or claimsoak. Whoop-de-doo. It is worth noting the synergies, because Stannis is full of them (keeping Robert's STR up, Melisandre keeps the pressure on, Davos dodges the kneel if you use him for claim, Fiery Followers stand back up, etc.). However, 6 gold is a lot for synergies alone, and as I said with my Wildfire review, 3 (or in this case 2 plus claimsoak) characters is generally enough characters. If we see an equivalent of Lannisport Brothel or Volantis Inn in the future of this game so that you can literally keep all of your opponent's characters knelt then his value will skyrocket, but right now? No, I'll take literally every other 6-cost character we've seen so far before I take this guy.
mnBroncos - 5 out of 5
Can just take over a game on his own. Add your kneel effects and build around him with stand effects and you got yourself a very strong deck.
Oktarg: 3 out of 5
We have ones and fives! I'll split the middle because he will often help you a lot and sometimes will be the last card you want to see drawn.
rave - 4 out of 5
Stannis is such a wet blanket. This gets a 5 on the Ned factor, but with Bara being the new 1.0 Lannister, this is a pretty solid ability, especially with Robert in tow. Interesting synergy with anything that either functions while kneeling or puts things out cheaply in challenges. My first thoughts are Obara and Arianne.
scantrell24 - 2 out of 5
Stannis requires a deck built around him, and I don't see that deck yet. The double-edged effect reminds me of 1st edition's
Ser Robert Strong
, which was greatly hyped but ultimately made little impact.
VonWibble - 4 out of 5
Not a 5 because you need to build the deck around him to a degree, but that ability is seriously good, especially given the amount of kneel in Baratheon. It allows some very strong control in melee too.
Siroma - 5 out of 5
An insanely powerful ability. With Melisandre or Robert out, Stannis can truly shine, but without them he's kind of a wet noodle. Lightbringer is especially potent while stannis is out, as attachments ignore stannis' ability. He may come at a steep price, but he can shut down games on his own and cressen helps keep him safe.
cockbongo - 3 out of 5
I'm feel slightly cheated at having to pay 6 for an ability that affects both sides of the board regardless of Baratheon methods of mitigating against it. This will be irritating to an opponent to begin with, sure, but he's expensive renown-free Poppy-bait who may struggle to pay for himself against some decks. I appreciate him working in tandem with Bob and Mel, but it's another thing being able to afford getting them on the table...
Bastard in Hiding (28 Total Points)(62%)
Ire & WWDrakey - 3 out of 5
A decent guy, if a bit of a Bastard.
JCWamma - 2 out of 5
Good for filling up spaces in your decks right now (2 cost 2 STR bicon is a perfectly nice statline), unless "Bastard" becomes a thing he won't survive the winter.
mnBroncos - 3 out of 5
You play these vanilla characters to round out your cost curve. Solid body.
Oktarg: 3 out of 5
A vanilla rating for a vanilla card.
scantrell24 - 3 out of 5
Cheap and efficient dude gets 3 spots in decks with the Bara faction card and 2 spots in Bara Banner decks.
rave - 4 out of 5
Your standard faire. At this point and time, very good.
VonWibble - 4 out of 5
A cheap non unique with decent enough icons. It remains to be seen whether Bastard will be good, bad, or meh as a trait. Probably not a long term option unless Bastard is the best trait ever.
Siroma - 3 out of 5
Decent vanilla card with a good icon spread. Easy to slot in as another chud at this point.
cockbongo - 3 out of 5
Solid, cheap bastard.
Fiery Followers (34 Total Points)(76%)
Ire & WWDrakey - 4 out of 5
The most solid and stable of the Baratheon non-uniques (apart from the reducers, naturally). A good set of icons, the all-important R'hllor trait and an ability that will both feed you dominance power, as well as help support Stannis (if you're so inclined).
JCWamma - 4 out of 5
The R'hllor trait and the fact that I think people will seriously underestimate +2 STR for dominance just pushes them up to 4 for me. If you get a couple of these out at once then dominance will soon become tough to lose. Wish they had a power icon to protect the Red Keep instead of the intrigue, if they did they might even be in contention for a 5. Probably for the best though!
mnBroncos - 3 out of 5
Really best for triggering Mel. I am not a big fan of the ability as it only adds two strength for dominance. I do think 3 cost, two icons, two strength is standard though so isn't a weak character either just couldn't rate this character the same as Selyse.
Oktarg: 3 out of 5
Quite solid in a kneel deck, but without melisandre a bit lackluster.
rave - 4 out of 5
+1 for Mel. And not a totally useless ability, but less than interesting.
scantrell24 - 4 out of 5
The Fiery Followers aren't especially exciting, but they get the job done.
VonWibble - 4 out of 5
Works really well with Stannis, and triggers Melisandre. Decent enough icon spread too.
Siroma - 4 out of 5
Priced higher than the bastard, but supports stannis and melisandre well. The +2 str works nicely with the painted table as well. All in all a decent card.
cockbongo - 4 out of 5
Love em. Marshal them to trigger Mel, kneel them for an all important INT challenge, kneel them to boost Bob, stand them for dominance - what's not to like?
King's Hunting Party (21 Total Points)(47%)
Ire & WWDrakey - 2 out of 5
It's hard to get excited by something that (at least for now) mainly amounts to being a high-cost monocon with some STR. With Red Keep looking like a key card for the Faction, it feels like investing your gold into something that most likely won't help you trigger it… is somewhat counter-productive.
JCWamma - 2 out of 5
In the future I think these guys could be pretty good, actually. With the addition of Kings we are looking at a 4-for-6 bicon, which is very impressive (albeit missing Baratheon's most important icon). In the short-term as they sit as an effectively blank 4-for-6 monocon, their impressiveness drops significantly.
mnBroncos - 2 out of 5
I already don't like the "good strength to cost but no ability cards" and this is probably the worse one of all the armies. I don't think will ever put these guys in a deck.
Oktarg: 3 out of 5
It's fine.
scantrell24 - 2 out of 5
Only worthwhile if you're inclined to run Put to the Torch / Sword.
rave - 2 out of 5
Too much gold for not enough. The ability doesn't do anything right now really.. even if King was in the environment now, it doesn't seem that reliable.
VonWibble - 2 out of 5
There aren't many kings around, but those that are will make it into decks for sure. Even without one on the board we have a burn resilient beatstick, which is fine in a core set environment but you can probably do better. Long term this will increase in value.
Siroma - 3 out of 5
There's what, 1 king? We're almost bound to get more, but right now, he's a 4 for 6 monocon, which is pretty impressive actually. A solid body to block a lot of the nasty military challenges that are floating around, and he's a good chunk of strength to keep after a wildfire.
cockbongo - 3 out of 5
The effect is a bit too conditional at the moment, and Bara isn't exactly struggling for decent MIL strength, but 4 for 6 is still strong and if it forces your opponent to reconsider playing their King then fair enough.
Vanguard Lancer (22 Total Points)(49%)
Ire & WWDrakey - 3 out of 5
A solid enough 2-coster, with the ability to burn off some power to give you time… time well spent searching for a Varys for swinging the game back to you, for example.
JCWamma - 2 out of 5
Borderline-1, I gave them 2 because having 2 icons at the low cost point is worth something for the core, and presumably being a Knight is nice longterm. I'm sure I'll regret saying this later when I face some sort of extreme stall deck that constantly re-plays them years from now, but looking at it now the ability strikes me as extremely meh.
mnBroncos - 3 out of 5
I'll play these over the bastards most of the time. Give up only one strength for the ability to slow down your opponent is good, most of the time the one strength difference won't make that much difference.
Oktarg: 2 out of 5
Meh.
scantrell24 - 2 out of 5
I'd rather have the Bastards.
rave - 2 out of 5
1 STR is abysmal in this game. The ability is mildly annoying, but not worth the lack of STR that is supposed to offset it.
VonWibble - 3 out of 5
Very similar to Bastard in Hiding. You are trading 1 strength for the power removal. If you are just planning to play the card for claim soak, this is a better card as a result. If you have other means for this then Bastard in Hiding is better. Chances are for now you will run both, long term probably not.
Siroma - 2 out of 5
Run the bastard. Might see some interesting stuff later with knights and house florent, but the 1 str lower strength really hurts.
cockbongo - 3 out of 5
I like him. The power stall is annoying mid to late game, and i'll sacrifice 1 strength for that over the Bastard.
Lightbringer (28 Total Points)(62%)
Ire & WWDrakey - 3 out of 5
Decent, but not quite all that. With Robert, for example, it feels like Seal of the King is just somewhat *better*.
JCWamma - 3 out of 5
This rating is tempered by the lack of strong targets. In the core set literally only Robert and Stannis can hold this and have it do anything (beyond get effective immunity to Consolidation of Power). In the future, the value will improve, presumably. This would be rated one lower, but in Melee being able to re-use a power-grab character is very powerful.
mnBroncos - 3 out of 5 - Triggers Mel, gives Stannis renown, gives conditional stand to characters with renown. A solid attachment.
Oktarg: 3 out of 5
Like drogo's arakh, held back by lack of targets even though it is a nice ability and trait.
rave - 2 out of 5
Not as strong as I would like. Doesn't work effectively on that many characters. A good tool for Stannis obviously.
scantrell24 - 3 out of 5
The Rhllor trait and fact that it's loyal (reduceable by Fealty) saves Lightbringer from being garbage. I generally don't like attachments that have so few targets, especially when said attachment is useless on a Milked Robert.
VonWibble - 3 out of 5
Only really works on Stannis or Robert, but on either of these characters its great. It also triggers Melisandre. As Baratheon get more characters with renown, this will get better and the score will increase.
Siroma - 4 out of 5
Absolutely monstrous on stannis or robert, and you should be trying to summon out those guys ASAP. A bonus renown and intimidate is exceptionally strong, far outclassing any of the other attachments. Bara is also almost sure to recieve more renowned characters as well in the future, meaning this card will always be relevant.
cockbongo - 4 out of 5
On Fat Bob this is mighty as all hell, and on Stannis it gives him the renown he should have had to start with, but of limited use in the core set. Going to be monstrous later on, i feel - Baratheon kneel AND stand effects? Bring it on.
Chamber of the Painted Table (28 Total Points)(62%)
Ire & WWDrakey - 4 out of 5
It pays to remember that every time this triggers, it's a 2-power swing. Again, good for holding patterns and stall tactics, just like the Vanguard Lancer.
JCWamma - 3 out of 5
I hear DotN Melisandre is good in first edition, and this throws a nod in that direction. A Greyjoy/Bara deck utilising this, Damphair and the Iron Throne and you've already got a pretty strong dominance subtheme just from the core. If we get more cards supporting this we could have a full-blown theme on our hands for the future. In a core-only environment it's okay but far from amazing.
mnBroncos - 3 out of 5
Win dominance = steal a power from your opponent. Seems reasonable to me.
Oktarg: 3 out of 5
This is not the kind of card I use but I can see the utility to the slow, relentless power gain.
rave - 2 out of 5
Could potentially do nothing all game. Otherwise will maybe net you 2-4 power over the course of a longer game? Seems slow.
scantrell24 - 3 out of 5
When paired with the Iron Throne, maybe the inevitable sense of doom pushes your opponent into panicking, quickening his pace and making a mistake?
VonWibble - 2 out of 5
Not much to say here, for now its OK but I'd rather have an extra event or attachment.
Siroma - 4 out of 5
Something that can become an extra power claim, and thus a two power swing, a turn. Between Fiery followers and the variety of kneel effects bara has at its disposal, winning dominance is not too hard for the stag.
cockbongo - 4 out of 5
Loving the dominance sub-theme. You'll always have a chance in dom with a strong Bara deck, and this just adds to the power swing. Again, as with the Vanguard Lancers, this slow bleed of power from the opponent is extremely potent.
The Red Keep (45 Total Points)(100%)
Ire & WWDrakey - 5 out of 5
The real heart of the Baratheon cards in the Core, make no mistake.
JCWamma - 5 out of 5
A genuine contender for best non-character in the core. Both parts of this are amazing - the draw is obvious to anyone who's played Thrones before, but don't underestimate the power challenge buff either, which works on both attack and defence. Especially before this game gets flooded with keywords like Renown and Stealth, the easiest way to win this game will be to repeatedly succeed in power challenges. After we get flooded with Renown and Stealth? Well, you'll still need a card to draw them.
mnBroncos - 5 out of 5
Adds strength during power challenge as well as giving conditional card draw. This will be in every Bara deck possibly for the duration of the game. Probably one of the best cards in the whole core.
Oktarg: 5 out of 5
Draw equals win, and perhaps the least conditional draw in the core.
rave - 5 out of 5
Recurring card draw with a secondary ability that is useful. I like it!
scantrell24 - 5 out of 5
The draw engine combined with the strength boost necessary to trigger the draw engine in one neat package makes The Red Keep my favorite location (perhaps tied with Great Kraken).
VonWibble - 5 out of 5
Double draw = double win.
Siroma - 5 out of 5
+2 strength on the most important challenge and quite possibly the most reliable draw location in game. The red keep is going to be a staple for a very long time.
cockbongo - 5 out of 5
I nearly gave it 6. Worth every penny - the draw is vital in a faction with no in-house Insight, and the power boost makes even your claim soak characters strong enough to win challenges. Working in both attack and defence also makes this unbelievably efficient - I can't imagine a more useful Bara location being printed in the near future. Talk about a core card...
Consolidation of Power (34 Total Points)(76%)
Ire & WWDrakey - 4 out of 5
Flexible, and will likely see quite a bit of play over the years.
JCWamma - 3 out of 5
The first edition player in me is a big fan of this fusion of Harry the Riverlands and You've Killed the Wrong Dwarf!. The second edition player is looking at the word "Marshaling" on this card and finding it slightly wanting. It's still a strong tempo play (provided it's not cancelled) that I expect to see in every Baratheon deck for a while, but it loses a lot of the utility and tricksiness that made Harry the Riverlands in particular so powerful.
mnBroncos - 4 out of 5
Very strong card. Kneel two 2 strength characters, kneel four 1 strength characters, one 4 strength character. Very versatile and at one cost is going to be a strong card for your event slots.
Oktarg: 3 out of 5
It's okay, but you want to be hitting higher value targets for sure.
rave - 5 out of 5
Cheap kneel is very nice, especially in this limited card pool. Lots of disruptive potential.
scantrell24 - 4 out of 5
Consolidation is not nearly as powerful as 1st edition's Harry the Riverlands, and it's restricted to the Marshalling phase which rules out mid-challenge surprises, but it's still reasonably strong and can be reduced by Fealty.
VonWibble - 4 out of 5
Lots of possible uses, but with the gold curve increasing from first edition it is very unlikely you will get more than a couple of characters. Remember you can also use it to win the game for yourself.
Siroma - 4 out of 5
It's especially potent in the early turns and with fealty it's also possible to kneel an opponent's reducer characters, helping a soft choke theme. Marshalling only sets it back a bit, but it's still a great value card that can hit threats like Asha, Arya, Cersei, Jon Snow and Catelyn for a low cost.
cockbongo - 3 out of 5
Will see a lot of play, but Marshalling-only lowers its effectiveness, even at 1 cost. In the long run Melisandre may prove more useful.
Ours is the Fury (21 Total Points)(47%)
Ire & WWDrakey - 3 out of 5
One of those cards whose value will truly be determined down the road. The board-impact is there, but the cost makes it clunky. Still, Baratheon with a Banner of the Lion should love this with Tyrion supporting Robert.
JCWamma - 2 out of 5
If it was cheaper this would be amazing, probably a 4. But 2 gold is a lot to pay for an event that requires certain circumstances before being worth anything. If you squint this is "pay 2 gold to win a challenge and stand a character", but that's not going to be all the time by any means, and unless I'm completely wrong about Stannis Baratheon and he becomes a thing, how often are you going to have strong characters knelt like that while also being able to save the gold? I'd genuinely love to be wrong about this card, for what it's worth, but I think a disappointing amount of the time it will basically be "pay 2 gold if you have it in order to chump-block this challenge and lose it anyway".
mnBroncos - 2 out of 5
Just too conditional. You have to be the defender, has to be a Baratheon character, and cost two. It will probably see play early in the game because works well with Stannis just don't see will see much play after few cycles of cards.
Oktarg: 2 out of 5
Expensive and situational means it's not efficient and will therefore not be widely used.
rave- 2 out of 5
Expensive and situational. The character restanding is nice, but odds aren't great you'll get to use them again. Will telegraphy poorly as well.
scantrell24 - 2 out of 5
I like the ability, but it's too expensive.
VonWibble - 3 out of 5
More stand is very nice, especially with Stannis. Having to save 2 gold is not so nice, but it does mean it's harder to cancel with Hand's Judgement. Its a card I would take 1 of, just to make the opponent think, but not more as it's not a card I want multiples of in hand.
Siroma - 2 out of 5
Works well with stannis and that's about it. On the defense it can sometimes net you another power for renown or dominance, but this is notably inferior to waking the dragon. Being 2 cost means it competes with chuds that can act as claim soak and also competes with lightbringer, which works better while stannis is on the board.
cockbongo - 3 out of 5
Absolutely fantastic if you have Fat Bob already knelt - win, renown, stand. It only gets 3 because of the 2 cost which is tough to hold for the Challenges phase, but I can see Bara/Banner Lannister getting some use out of it.
Seen in Flames (42 Total Points)(93%)
Ire & WWDrakey - 4 out of 5
Tied to the R'hllor theme, somewhat fragile to Supporting the Faith, has a gold cost… yet still a solid way of screwing with your opponent's long-term plans and ability to counter your plays.
JCWamma - 5 out of 5
This rating assumes you run R'hllor characters obviously, which I presume all Baratheon decks (or Banner of the Stag for that matter since out of the lot of them only Lightbringer is loyal) will do so initially. The effect here is very strong, maintaining card quantity but giving you card quality and more importantly card information. Knowing if your opponent has that ambush card, that Like Warm Rain, that Growing Strong... this is how you win tight games. It'll be interesting to see how this scales in the future.
mnBroncos - 5 out of 5
If you are playing enough R'hllor characters to reliably play this event then you put this in your deck. At the cost of one gold you get to look at your opponent's hand to gain knowledge as well as taking away their best card.
Oktarg: 5 out of 5
A great card both for knowledge and for the stealing of their key threat.
rave - 4 out of 5
Excellent card. I like this control feel I'm getting from Bara in the core. Cheap and likely frustrating to deal with. The challenges trigger is what bumps it down to a 4, but still very useful with all these challenge effects.
scantrell24 - 5 out of 5
With Melisandre on the board, this might be the best card in the game.
VonWibble - 5 out of 5
Sometimes in a game you have just 1 card you don't want the opponent to play. This is your answer. Outside of Baratheon I can see it being very powerful in Night's Watch, as a way to guarantee a good target for Yoren ends up in the discard pile.
Siroma - 5 out of 5
Confession was extremely powerful in 1.0, and R'hllor characters are generally more populous than holy crests were in 1.0. 1 gold is a cheap price to pay, and it combos well with melisandre. Also provides great insight and security in terms of knowing what an opponent can pull mid-challenges.
cockbongo - 4 out of 5
Confession was, for me, the most irritating and powerful event in 1.0 - any effect which allows the opponent to physically manhandle and discard your cards is an obvious unfair advantage tantamount to molestation. The R'hllor trait gives it an extra utility, but the Challenges Only restriction *really* hurts.
Thought you were done reading?
Before we award the top 3 and bottom 3 non-reducer cards based on cumulative points, I'd like to take a second to plug the
Community FAQ
. It includes useful information about the game and links to a wide variety of resources such as podcasts, streamed games and player maps, which newcomers and veterans alike will find useful. The community FAQ is a work in progress that receives constant updates, so please share it with friends, and check back yourself every now and then. Also please suggest additions! Now without further ado...
Top 3 Non-Reducer Cards:
The Red Keep (45)(100%)
Melisandre (42)(93%)
Seen in Flames (42)(93%)
Bottom 3 Non-Reducer Cards:
Ours is the Fury (21)(47%)
King's Hunting Party (21)(47%)
Vamguard Lancer (22)(49%)
Feel free to chime in below. Did we nail it? Make any horrible oversights? Let us hear it, and we'll be back on Wednesday with the Targaryen cards from the Core.
emptyrepublic, OKTarg, celric and 1 other like this
Article: AGoT Core Set Review: Baratheon!