Welcome to Card Game DB
Register now to gain access to all of our features. Once registered and logged in, you will be able to create topics, post replies to existing threads, give reputation to your fellow members, get your own private messenger, post status updates, manage your profile and so much more. If you already have an account,
login here
- otherwise
create an account
for free today!

1
AGoT Core Set Review: Greyjoy!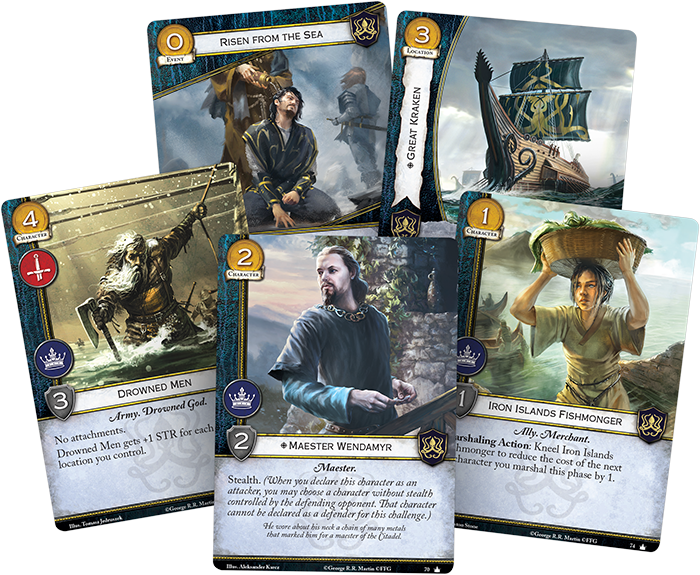 Our staff has put together a first blush analysis of the newly released Game of Thrones LCG 2nd Edition Core Set. We've used a one through five scale; five being the best possible score. The cards are listed in numeric order. Let us know in the comments how you feel about the Greyjoy cards from the Core set, and we'll be back shortly with further reviews.
Here's a link to the relevant
preview article
from FFG, where you can read the designer Nate French's thoughts behind the faction.
With 10 reviewers this time, individual card scores are out of 50 possible points. The Greyjoy non-reducer/economy cards combined to earn 78.7% (669 out of 850 possible points). By comparison, in previous reviews the scores were: 70% for Stark, 76% for House Lannister, 76% for the Night's Watch, 72% for House Baratheon, and 75% for Targaryen.
Now onto the cards!
Aeron Damphair (44 Total Points)(88%)
emptyrepublic - 4 out of 5
Winning dominance in melee as we know is a bit more difficult, nonetheless, this is a powerful effect that is worth the cost even if you only get it off a few times in a game. Euron, Balon, and Asha are all Ironborn. He is also certain to not go obsolete as future expansion cycles come down the line.
Ire & WWDrakey - 5 out of 5
Recursion that only gets better the more Ironborn we get. While winning dominance is not always easy, GJ does have its own share of standing characters. In decks that are not trying abuse him, easy 1x utility slot for the ability.
Istaril - 3 out of 5
A real threat, especially given that all the best characters in GJ are ironborn, but winning dominance (especially if you go first) really isn't all that easy to ensure in GJ - how often can you afford the tempo of holding back/playing an Iron Throne? He's also unable to get himself back out of the dead pile, so running him 3x is a little risky. Overall, I think he's a staple that paints a target on him, but you'll rarely be triggering his effect except when you're ahead enough that it makes little difference.
JCWamma - 4 out of 5
The effect is powerful, but the trigger is unfortunate, both in that you have to win dominance to get to trigger it at all and also in the timing of when you get the character back - right after they would've been useful, right before a potential Varys trigger, a whole round to control them again before they'll be needed. Nonetheless, recurring a 5+ cost character for free is most assuredly not nothing, and he'll be a firm fixture of Greyjoy decks for a while to come.
mnBroncos - 5 out of 5
Being able to get a character back every turn can be a huge swing throughout the game.
rave - 5 out of 5
Huge threat. Only being able to target Ironborn isn't that much of a penalty. Ironborn are a pretty mean set of dudes, and they aren't exactly in short supply. With no easy full reset, there's some swarm potential in Aeron. It's also worth mentioning that he's cheap! Like, really cheap, with what looks to be higher than average strength for his cost bracket. Sold.
scantrell24 - 4 out of 5
What happens when Asha, Balon, or Euron get Milked and you've already used Confiscation? Kill them for military claim, then bring them back with Aeron. Milk free is the way to be.
VonWibble - 5 out of 5
A cheap character who gives you extra use from your Ironborn characters. If you win dominance just once you easily have your money's worth. The Iron Throne feels like a must take for a deck with him in, especially as with so much stealth from other Greyjoys you may find a lot of opponents characters are still standing at the end of challenges.
Siroma - 5 out of 5
Easy retroactive recursion. Ironically he works better when you're second and know how much strength you'll need standing for dominance, but he's still a large threat alone. Also, he's cheap.
cockbongo - 4 out of 5
The trigger might be a pain, but the effect is so powerful, even though that character comes into play after they're useful. If this even works say, twice a game to bring back your claim soak reducers, this is worth it. And there can only be more Ironborn coming...
Alannys Greyjoy (27 Total Points)(54%)
emptyrepublic - 2 out of 5
The cost, icon, STR ratio is what is should be so that's not a factor. We need to look strictly at the ability and and it's a bit weak. Reserve manipulation will no doubt be a thing at some point in second edition but it's not yet. Value might go back up as time moves on. The additional condition of being first player also really puts this back for melee games.
Ire & WWDrakey - 3 out of 5
Ok stats and ability, if we get more choke elements in Greyjoy, then we will also see Alannys rising in value. When your opponent can't play the cards, the reserve hit will kick in stronger.
Istaril - 2 out of 5
While I'm intrigued by the reserve modifier, which has some real potential and could be an interesting mechanic, at the moment she's just an intrigue icon to be replaced if and when we get better versions. It's wholly possible we may never, but I wouldn't bet on that. She's certainly not something you build around or include more than 1 of.
JCWamma - 2 out of 5
She'll see play early on because she's a Greyjoy character with a green icon. The effect is ok, but not fantastic - maybe it'll be better when choke inevitably becomes a thing in the future, but right now 3-for-2 with an effect that won't do much doesn't impress me.
mnBroncos - 3 out of 5
Really not sure why you had to be first player for this effect. Also, if your opponent is just one card away from their reserve every turn and discarding down because of this ability they are probably doing alright. Still fine stats.
rave - 4 out of 5
I see some potential for Alannys here. Early Naval Superiority could be deadly when she's out. Otherwise, I don't know how solid I am on + reserve, but - reserve seems to be a pretty bad thing to have happen to you.
scantrell24 - 3 out of 5
Not exciting. Worth 1x in Greyjoy Fealty for the intrigue icon.
VonWibble - 3 out of 5
I'm almost thinking to treat her as a 2 cost character with decent stats, and a 1 cost event strapped on that makes the opponent lose a card - after all, the first time your opponent has lost a card to reserve there is a good chance they will stay 1 card down thereafter.
Siroma - 2 out of 5
3 for 2 is not great, even as a bicon. Her reserve reduction can be strong against decks with low reserve counts, but most decks can play enough cards to get past a significant portion of the time.
cockbongo - 3 out of 5
Crucial INT icon here, but not Ironborn, and tricky to keep alive through to Taxation. So a 3 for 2 with no immediate effect - she'll be used for claim more often than not.
Asha Greyjoy (49 Total Points)(98%)
emptyrepublic - 5 out of 5
Until the character pool gets deeper in second edition I don't see how she's not an auto include in every Greyjoy deck for the foreseeable future. Three copies? Maybe not. The reaction is not tied to her participation which helps you work around kneeling effects. Stealth keyword is also huge right now given how so few characters have it.
Ire & WWDrakey - 5 out of 5
A complete beast of a character in Melee and she shouldn't be underestimated in Joust either. She will gain you uo power and she will also trigger The Great Kraken for you, what's not to like?
Istaril - 5 out of 5
Stand is great. Stand on a "Cheap" 5 gold character is basically unheard of (the others; Drogo/Jaime/Eddard/Randyll etc) are all more expensive. Stealth is great - arguably better than renown in context of GJ. She does a great deal of heavy lifting pushing challenges through, and can easily help you push multiples (or force "chump' blocking with high-impact characters your opponent would normally have saved).
JCWamma - 5 out of 5
Currently there is no way to give her the Renown keyword. In the future there presumably will be and she'll be amazing, as Jon Snow is now. She's already great now, as a source of stealth on two (potentially three with a Little Bird) challenges that can repeatedly hammer the opponent.
mnBroncos - 4 out of 5
I really like this 5 cost character. Having stealth will let her trigger her effect fairly often. Also, goes well with Greyjoys theme as a whole.
rave - 5 out of 5
Asha is a beast. Her ability really helps control the flow of the challenges phase. Honestly, it may be worth running Little Bird in Greyjoy decks for Asha alone. If Asha catches you with your pants down, it's a 5 power swing, even without Renown. In practice, it's usually not too difficult for her to get at least a couple uses per turn.
scantrell24 - 5 out of 5
Any card that can single-handedly win multiple challenges deserves a perfect rating. Throwing Axe and Little Bird are her best friends.
VonWibble - 5 out of 5
If you are first player there is the potential for 3 challenges from Asha, and with enough stealth from other characters this could happen. 4 challenges are possible with a Little Bird, an attachment that should see play in Greyjoy with so many eligible targets. Living the dream indeed!
Siroma - 5 out of 5
Stealth, and the ability to be used in 3 (4 with little bird) challenges a round is huge. Makes winning those uo challenges much easier, and comes with a solid base strength as well.
cockbongo - 5 out of 5
Stealth, stand and decent strength - slap a Little Bird on her and you're in for multiple challenges. Stealth is so important in the core set, and Asha uses and abuses it in the best possible way. Not a great deal of synergy with other cards just yet, but that's hardly a problem when the package is so good on it's own.
Balon Greyjoy (49 Total Points)(98%)
emptyrepublic - 5 out of 5
A more powerful version of first edition intimidate baked right in. Note that your other attacking characters are not affected. 5 STR is a fairly high threshold right now and even with strength booths floating around he will still remove chuds from the challenge math. Also one of the few characters with renown. Hard to see how he's not a must include at the moment.
Ire & WWDrakey - 5 out of 5
Synergy from Greyjoys best location and a big beefy renowned body to be thrown in challenges for easy wins. Run him.
Istaril - 5 out of 5
This guy pushes UO challenges like nobody's buisness - it's stealth on crack. And renown. And it scales up. And very few characters are even in consideration for winning this. At the very least, you can look at this like a sort of pseudo 1st edition "fat bob" (two power for renown) since he'll win you a challenge with renown and an UO. Throw in the remaining UO tech greyjoy has, and this fellow is stellar. The synergy with Great Kraken is great, but completely unessecary in justifying this character's high rating.
JCWamma - 5 out of 5
With the support you can give Balon with cards like Iron Fleet Scout and Risen from the Sea, this is the best effect for unopposed in the game. Between that and his Renown, Balon will be a way to win games, fast.
mnBroncos - 5 out of 5
This character is so much better than the 1.0 Balon with the exact same ability. 5 strength is way above the average meaning unless opponent has a lot of big characters out or strength buffs you are guaranteed an UO challenge. Combine with your own strength buff and gets even better.
rave - 5 out of 5
Very good, yet fairly costed for his price point. 6+ feels to me like what 5+ gold was in 1.0, and I tend to be picky about those. Yet, Balon is great, gotta love the classics: renown on Greyjoy characters is a bad bad thing, and you're likely to get at least a 2 power swing on this guy.
scantrell24 - 5 out of 5
Much like Asha, he's going to win challenges single-handedly. Winning a two-claim power challenge with Balon can net potentially 5 power (unopposed, claim, claim, renown, Great Kraken).
VonWibble - 5 out of 5
Anyone with renown and a decent chance of unopposed challenges is going to do a lot in the game. Expensive but worth it.
Siroma - 5 out of 5
He's pretty much a guaranteed unopposed challenge while great kraken is out, as there aren't many characters that get past his ability. If we get some silly attachments like support of harlaw, he's going to be almost as good as 1.0 Euron. Expensive but well worth the cost.
cockbongo - 4 out of 5
Renown on Balon can get very out of hand, and once you've pumped his strength with Tyrells or Iron Fleet Scouts the power will pile up. Easily worth the 6 cost.
Euron Crow's Eye (40 Total Points)(80%)
emptyrepublic - 5 out of 5
I'm giving Euron the top rating because in Melee the opportunities for his reaction to be useful will be far more frequent. Tricon with renown was very powerful in first edition and there's no reason to not think the same in second.
Ire & WWDrakey - 4 out of 5
What Euron lacks in a flashy and consistently good ability he makes up for in raw stats. Unlike some other 7-costers, he will still be force to be reckoned with after being Milked. While the ability will not always be that useful, you more often than not will get a Kingsroad from your opponent's discard… or at least stop them from using one.
Istaril - 3 out of 5
Tricon, 6 str, renown. Nothing to scoff at. Those touting the 3 gold advantage from re-using an opponent's Kingsroads are pushing things a little far - Tywin is a better character in reliably netting you 2 versatile gold even when knelt out. When he gets flashy and steals a Ghaston Grey or Red Keep, he can win you a game on the strength of that response - but he's not a 'stable'/reliable element. I applaud FFG for making pillage meaningful in this character, but I think Euron is too RNG (or we-do-not-sow)-dependent to be truly stellar, and is a 'fine' 7 cost character.
JCWamma - 4 out of 5
Pillage is meaningless normally, but the reaction here is actually really good. Typically you should at least be able to take a Kingsroad, meaning Euron kinda-sorta-if-you-squint gives you +3 gold per turn. Sometimes he can get an even better card - taking a Red Keep, anyone? - and he'll always be a high STR tricon with Renown. Fantastic card, even for 7 gold.
mnBroncos - 5 out of 5
6 strength, tricon, and renown is huge. The pillage keyword has yet to prove to be a thing though. However, with The Kingsroad going to be popular in majority of decks, at its worse you get one of those back when he attacks (also when you use it it goes back into their discard pile for you to take again). Even with him just taking Kingsroads he is very strong. Combine with Greyjoy's location control you can get even more strong targets.
rave - 4 out of 5
He's expensive, but he's a tricon with high STR in the house with the most survivability. Pillage doesn't really do anything, but the printed renown is very nice to have. And, yes, the ability is also potentially very good.
scantrell24 - 3 out of 5
Not as good as Dany and Robert, but Euron's on equal footing with Tywin, and better than Olenna, Eddard and the Old Bear.
VonWibble - 4 out of 5
More renown, and although he is expensive you have a decent chance to get Kingsroads off the opponent at minimum.
Siroma - 3 out of 5
He can be really good if you are pulling the kingsroads every single turn, but I haven't really been impressed by pillage. Renown is alright, but overall Balon is better. 6 str is a nice spot as it keeps him safe from dracarys, but unless you're pulling kingsroads every turn, he's not worth the cost.
cockbongo - 5 out of 5
Completely worth it for the endless Kingsroad trigger, Euron pays for himself pretty quickly, and as a 6 STR tricon with renown (and therefore Greyjoys biggest INT threat) he's always a threat. And that's without even mentioning the combo with We Do Not Sow.
Maester Wendamyr (44 Total Points)(88%)
emptyrepublic - 4 out of 5
Cheap stealth is almost always a good deal. He'll be good to pair with one of the bigger players above (particularly Balon). Feels like he would have been better as a mono-icon with intrigue instead of power. Strong nonetheless, probably worth an include until more interesting stuff comes around.
Ire & WWDrakey - 5 out of 5
Cheap stealth goodness, at least 1x in every deck.
Istaril - 5 out of 5
Efficiency. Even just by preventing the chump/reducer block with stealth, he earns his money by either winning you a highly profitable UO, or forcing something big to defend an otherwise meaningless power challenge. Cannot see myself not running him. Is he worse than 2 cost Arya? Only just (and she's stellar), because UO are that much more threatening in GJ.
JCWamma - 5 out of 5
Stealth on a power icon is seriously efficient for such a cheap character. The sort of card that's good to include if you like winning games, which as I understand is accomplished by getting to 15 power first - winning power challenges unopposed seems like a nice first step towards that.
mnBroncos - 3 out of 5
Stealth is key for Greyjoy decks that wants to win multiple unopposed challenges. This little two cost character really helps you win challenges at ease.
rave - 5 out of 5
Cheap! Again, gotta love the classics. With the tendency for huge characters this game seems to have now, this is a huge advantage.
scantrell24 - 4 out of 5
Wendamyr gives Greyjoy extra redundancy in the stealth/power icon department, just incase you didn't get the message. I run two copies in Fealty and one everywhere else.
VonWibble - 4 out of 5
Stealth is great and this guy is perfect to help Asha get an extra challenge or to stealth away the only character that can defend against Balon. He is cheap and a good candidate for Little Bird before it goes to Balon or Asha. If he weren't unique he'd easily be a 5 out of 5.
Siroma - 5 out of 5
Cheap stealth is very good, power is probably the most important icon right now as well, so another bonus there.
cockbongo - 4 out of 5
No other faction has such cheap stealth, and that's reason enough to run Wendy.
Theon Greyjoy (40 Total Points)(80%)
emptyrepublic - 4 out of 5
We still don't know if Ally hate will come back or not. I'm will to bet it will at some point. Regardless, in the present environment his stealth is useful. Reaction is a bit limited requiring unopposed and participation; in theory not too big of a deal in melee.
Ire & WWDrakey - 4 out of 5
Especially good for the more rushier builds and for melee.
Istaril - 4 out of 5
While he's not as flashy himself, stealth and, to borrow a JCwamma phrase, "if you squint at it" renown is an efficient package at this cost slot. Not many characters have 'two' keywords… The Ally trait raises red flags to veterans, but means nothing now, keeping him very desireable in any deck that can run him.
JCWamma - 4 out of 5
The excellent power icon characters with either stealth, power grab or both keep on coming, huh? In the future that Ally trait may hurt, but Theon is a highly efficient character until then.
mnBroncos - 4 out of 5 - Right on par with Asha. You trade stand with renown which sometimes will be worse sometimes better.
rave - 4 out of 5
Theon is good! I feel like we won't see a lot of renown on 4 gold characters, so Theon fits into a special niche with his pseudo-renown. The ally trait doesn't seem like that much of a liability yet.
scantrell24 - 4 out of 5
Theon continues a Greyjoy theme - they aren't super flashy, but have efficient characters by the boatload.
VonWibble - 4 out of 5
A third character with renown - sort of! Good enough icons and more stealth make Theon a good include in any deck which is using Greyjoy.
Siroma - 4 out of 5
Stealth with conditional renown is pretty good. not much else to say.
cockbongo - 4 out of 5
More stealth leading directly to power. I like the cost here - it fills out the curve of unique GJ characters to include someone efficient at every price point.
Black Wind's Crew (26 Total Points)(52%)
emptyrepublic - 3 out of 5
We'll see how pillage works in the long run. Right now I see this a deck filler. It's an Ironborn so Aeron can interact with him now. He's also a Raider so that's a future hook for a sub-theme that will no doubt but further developed in the future.
Ire & WWDrakey - 3 out of 5
While pillage isn't all that great of a keyword they do have great stats and the important Ironborn trait on a reasonably costed character is a good thing.
Istaril - 1 out of 5
Needlessly harsh (he's probably a 2), but honestly… he's directly comparable to many cards and worse than all of them. He's clearly one of the first cards you'll replace with a card that actually *does* something. The Ironborn might be his only saving grace, because other than that I'd much rather play a 2 for 2 bicon, or a 3 cost bicon that does something.
JCWamma - 2 out of 5
Finally, we get to a rubbish card! 3 cost, 3 STR, bicon is fine but nothing special. Pillage is basically blank text unless you have an effect like Euron's to go with it. Incredibly mediocre, almost aggressively so, and once better claimsoak emerges it'll be binder fodder.
mnBroncos - 3 out of 5
Nothing flashing but fills in nicely to the cost curve. I think will be replaced quickly though.
rave - 3 out of 5
It's got good STR for the cost, but that advantage is offset by just having Pillage as an effect.
scantrell24 - 2 out of 5
Passable for now, but not impressive.
VonWibble - 3 out of 5
The Pillage does very little currently but it's still decent enough with 3 strength and bicons.
Siroma - 3 out of 5
3 for 3 bicon isn't bad, though pillage ain't gonna do much. Ironborn is great and works well with Aeron. Solid slot in for fealty decks.
cockbongo - 3 out of 5
Vanilla, Ironborn so can be recurred with Damphair. Hey, look, a stolen Kingsroad will pay for this with no change

Drowned Men (29 Total Points)(58%)
emptyrepublic - 3 out of 5
More fodder for early decks. There aren't a lot of Warships at the moment so the STR boost from the ability won't be huge but will improve as we move on. Drowned God trait suggests the Greyjoy specific holy theme in the future.
Ire & WWDrakey - 3 out of 5
Currently just average, but the army will rise (from the depths?) as the cardpool does.
Istaril - 3 out of 5
I felt like giving him a 2, but only because he's only 1 better than Black Wind's Crew, and I cheated and called them a 1. Average, and a little better than, say, the Tyrell version because I expect the stock of Warships to rise faster (even across factions) than "The Reach".
JCWamma - 3 out of 5
Odds are most Greyjoy decks are running 4 warships currently (not counting extra copies of uniques); in the future who knows what that number will be? These characters are fairly efficient in the right deck, though we're far from them being auto-includes or anything.
mnBroncos - 3 out of 5
Solid stats on the Greyjoy army. Can get up to very high strength depending on the build and how many warships get.
rave - 3 out of 5
Sub-par by itself, at 4 gold. Not too tough to get warships out though, so it feels very average.
scantrell24 - 2 out of 5
In most cases, even if this guy is pumped to 5 strength, I'd rather save 1 gold and play Black Wind's Crew. He can be useful if you're trying to trigger Put to the Sword or Superior Claim, or prevent your opponent from doing the same.
VonWibble - 3 out of 5
To make the card "worth" the 4 cost you need 1 Warship out, and currently you can't have more than 4 in your deck. However, with few resets around for now chances are you will have a boat by the end of the game.Long term with more warships this gets much better.
Siroma - 3 out of 5
We all know how many boats made it into 1.0, and there are certainly going to be more boats coming into 2.0. That being said, the boats are already really good, and more often than not you're going to have at least 1 boat out, making this guy a 4-4 bicon with the potential to go big.
cockbongo - 3 out of 5
Initially a pricey investment but once the Warships start filling up… if ever there was a guarantee in this game it's that more boats are coming, so these are always going to be useful.
Lordsport Shipwright (37 Total Points)(74%)
emptyrepublic - 4 out of 5
In melee it's extremely likely you'll always find a useful target for his ability. In particular ones that affect your board presence or muck with your challenge math (see Ghaston and Highgarden).
Ire & WWDrakey - 3 out of 5
Get rid of some of the pesky locations for a round. While not shiny out of the Core. it will show its worth in the long run, and the green eye -thingy is a rare but enjoyable exception in GJ.
Istaril - 4 out of 5
Shutting down draw locations can be huge - and everyone is running them (and many of them need to kneel). They can also press a resource advantage, especially where you have the initiative, so I feel like they can swing the tide by just enough to make them extremely oppressive to play against. I actually think this card's stock will diminish in the future, as location hate becomes more versatile, but in the meantime - a solid inclusion.
mnbroncos - 5 out of 5
This is a meta defining chud character. For just just two gold you get a character that can shut down reducers (including Kingsroad!) or any key location not named The Wall if you are first player. This is such a huge card and one of the reasons Greyjoy is one of the most powerful main or support house. Being able to shut down a Mander or Red Keep all game is so huge. Also, if don't need to kneel location he has the icon that Greyjoy needs the most help in.
JCWamma - 3 out of 5
Kneeling locations isn't too great by itself, but there are enough strong locations this can kneel to make it worth it - being able to kneel out an opponent's Red Keep if you're going first, or The Mander, is very strong. That is quite situational, but there will presumably be more locations in the future, so the Shipwright will probably fall in and out of favour and thus decklists for a while to come.
rave - 4 out of 5
Threatening. He locks kingsroads and is cheap enough to not really suffer for his low cost.
scantrell24 - 3 out of 5
He's alright, but you have to decide to trigger his ability in the Marshalling phase. No waiting until mid-way through challenges.
VonWibble - 4 out of 5
Being able to kneel any location except the Wall when you are first player is worth the cost of the card alone. If the opponent has no locations to kneel, Greyjoy don't have that many intrigue icons so even at strength 1 you can at least prevent unopposed with him.
Siroma - 3 out of 5
Does nothing to really help shore up greyjoy's weakness in the field of green, and having 1 str is too low to be really meaningful. He can be used to deny draw or plaza of punishment, but why not just have a better character and win the challenge to deny the draw anyways? Can be used to deny kingsroads as well, but overall unimpressive.
cockbongo - 4 out of 5
Like this a lot - plenty of targets for this as long as the benefit outweighs the cost. It'll be claim soak come the challenge phase but kneeling Highgarden of The Red Keep is definitely worth it. Shame he can't touch The Wall.
Salty Navigator (22 Total Points)(44%)
emptyrepublic - 3 out of 5
If being first is important than you need to put him in triplicate. He's a chud that Aeron can bring back. Otherwise, he's more filler really.
Ire & WWDrakey - 3 out of 5
Being a cheap Ironborn that helps you go first makes this a solid weenie.
Istaril - 2 out of 5
If you're looking at this and wishing he were a Burned Men, you're not the only one. And Burned Men isn't that good either.
JCWamma - 2 out of 5
This guy is pretty weak as a 2-for-2 monocon - only the prospect of initiative mattering more in the future and the fact that as claimsoak he at least has the decency to be non-unique keeps him above a 1 rating.
mnBroncos - 1 out of 5
I don't see me ever putting this guy into my deck. Plus one initiative is not worth running this guy. Unless you need a two cost character there is no reason to play this guy.
rave - 2 out of 5
There are enough 2 icon 2 cost guys to make the Navigator feel a little subpar. The initiative bonus is nice, but i'm not sure if it's worth the lack of a second icon.
scantrell24 - 2 out of 5
Should not see play outside of Fealty decks. There are better options.
VonWibble - 3 out of 5
The initiative is definitely useful given you have so many effects improved by being first player. The lack of icons is less so, but it's not exactly an expensive card.
Siroma - 2 out of 5
Greyjoy does like to go first and this guy does have the nice Ironborn trait, but 2 for 2 monocon in a house that is packed with military icons with stealth makes him kind of redundant.
cockbongo - 2 out of 5
Least vital card in the box for Greyjoy - there are better and more effective chuds.
Throwing Axe (43 Total Points)
emptyrepublic - 4 out of 5
Good for helping force unopposed since you will be telegraphing what can happen. You lose the surprise factor but gain value as this is cheaper than Put to the Sword and not tied to a specific challenge type.
Ire & WWDrakey - 4 out of 5
Get those challenges in unopposed, or just punish your opponent.
Istaril - 4 out of 5
A teaching card - this one teaches your opponent how challenge timing works in 2.0. The summary: It favours cards like these, triggered before claim, working like a "deadly" on all challenges, and it gives your stealth a whole new versatility. Clever design, potent and meshes well with the UO themes of the core, it's a strong card.
JCWamma - 4 out of 5
Very potent reason not to block, note that this kills the character before claim. Greyjoy wants unopposed, and this helps them get it, so it'll be a staple of their decks for a time to come.
mnBroncos - 4 out of 5
Helps you push through challenges UO or forces your opponent to allow you to kill a character for only 1 gold. Do have to win the challenge though which makes it a fair attachment.
rave - 4 out of 5
I rated this poorly before.. and then yeah, finding out the character dies before claim makes this a lot more potent. Strong card.
scantrell24 - 4 out of 5
Best on characters that participate in multiple challenges, so… Asha. Cheap on setup and makes the opponent choose between Confiscating the Axe or the Poppy.
VonWibble - 5 out of 5
This is the item to ensure unopposed challenges, especially in military, where the standard practise of chump blocking then killing said chump for claim simply doesn't work here! If winning a challenge to trigger this is so difficult to do I think you may be in a lot of trouble! Not being unique makes it a much easier attachment to take 3 of than most.
Siroma - 5 out of 5
Great at playing mind games combined with the Kraken's Grasp. Killing before claim is a huge boon, and not losing the attachment when the attached character dies means it's always a threat.
cockbongo - 5 out of 5
Yeah, this is going to be nasty, A cheap non-unique way to force unopposed challenges - in particularly in combination with Balon Greyjoy.
Great Kraken (50 Total Points)(100%)
emptyrepublic - 5 out of 5
Super powerful, especially in Melee where you can get unopposed challenges in more easily... which you will since you also give Balon stealth. Reaction can be used twice to get 2 cards or two power so it balances well for early game and closing.
Ire & WWDrakey - 5 out of 5
Might be the best location in the core. GJ has ways to push unopposed challenges and reaping bigger rewards from those is amazing. The stealth for Balon shouldn't be overlooked, since with stealth he becomes quite unstoppable.
Istaril - 5 out of 5
Draw. While the draw component itself might be a bit weaker than Red Keep/Mander, the versatility of being able to grab power should not be dismissed. This is a hard-to-control, hard to prevent triggers location that forms a backbone for Greyjoy decks, cementing their identity as an unopposed faction - and I love it.
JCWamma - 5 out of 5
Great card, up there with The Red Keep and the Mander, sometimes possibly even better as you can't control this by kneeling it. It also has a lot of utility by letting you grab power, making it a wonderful Melee card. You won't always get unopposed, but with a couple of characters out (especially Balon in combination with his ship), it can be very difficult to stop the Greyjoy player.
mnBroncos - 5 out of 5
Make one of the best Greyjoy characters even better. Add on to that the ability to draw a card and a power, or two power, or two cards very strong card.
rave - 5 out of 5
Good utility. Fairly costed, but really nice abilities to have.
scantrell24 - 5 out of 5
Simply phenomenal. There's no other card I'd rather have on setup. Better than Lannisport and Mander, and maybe better than Red Keep. It's a true skill-tester that forces players to make the right choice - draw or power? I generally take the draw early and the power later of course, but there's a fine line in the middle-game where such decisions will separate the contenders from the pretenders.
VonWibble - 5 out of 5
Expensive but worth it, and I like that you have the option to draw or gain power so the reserve isn't even a problem.
Siroma - 5 out of 5
The most versatile location in core. It will almost certainly draw you at least a card a round, and it helps close games with an extra power a challenge in the later stages of the game. Giving stealth to Balon is just the cherry on top.
cockbongo - 5 out of 5
Non kneeling power AND draw, not to mention giving stealth to Balon who doesn't even NEED it. Seriously.
Iron Fleet Scout (39 Total Points)(78%)
emptyrepublic - 3 out of 5
Non-unique! It costs nothing so good for setup but overall it won't greatly impact challenge math with the very notable exception of superboosting Balon.
Ire & WWDrakey - 3 out of 5
Quite handy and annoying to deal with.
Istaril - 4 out of 5
Too easy to place on setup and throw on the board even when economy starved, the STR boost is a meaningful board impact - especially on Balon, the trait matters (a bit), and so the card is basically a 3x auto-include.
JCWamma - 3 out of 5
The effect is nice but minimal; their major points here are being great setup cards. Synergy with Balon and Drowned Men is pretty good too.
mnBroncos - 4 out of 5
Doesn't impact the board too much but is amazing for setup and will help push through some challenges through a game.
rave - 4 out of 5
Great for setup, and great all around in the mid to late game when you've both got duped expensive characters. Madness for Balon.
scantrell24 - 4 out of 5
Cards like Iron Fleet Scout and Castle Black often do work without actually being triggered because the opponent must respect the strength buff in every challenge.
VonWibble - 4 out of 5
A cheap strength pump that can happen at any time (in a challenge), even on defense! Easy enough to include for now and really helpful for setup.
Siroma - 5 out of 5
How many other 0 cost locations that aren't reducers do you see in the game right now? That's right, none. These things are solid and flexible, and are lasting strength even after wildfire turns.
cockbongo - 5 out of 5
A free Greyjoy strength boosting Warship perfect for set up. That's enough boxes ticked for ya?
Risen from the Sea (48 Total Points)(96%)
emptyrepublic - 5 out of 5
At the moment I think highly of free events even if they don't have a huge impact. This has a huge impact as it's one of the few non-dup saves in the game. Glad to see this make a comeback from first edition.
Ire & WWDrakey - 5 out of 5
Saves are good, surprise saves that work against burn are even better.
Istaril - 4 out of 5
I don't think this is as good as it was in first edition, given the 'value' of dupes (setup), bodyguards (setup), and the lack of valar - but that doesn't mean it's not good. Dracarys! is a dangerous card, and being able to save from it without spending gold is important - and I've used this a few times on Aeron to buy me his trigger and turn the board in my favour. I can see myself giving this up for a more impactful card in the near future, but … not today.
JCWamma - 5 out of 5
One of the "faction-defining" cards. A free save plus a STR pump is obviously great, and while it can only go on Greyjoy characters its not being loyal means you can expect to see it a lot.
mnBroncos - 5 out of 5
One cost save that can also help against burn. When we have a full reset like Valar Mongolus this becomes even better.
rave - 5 out of 5
It's free. That's awesome. That means you will often have resource advantage shift in your favor as well as board position after playing this.
scantrell24 - 4 out of 5
A first-edition reprint that saw tons of play, and will continue to protect Balon and Asha for years to come.
VonWibble - 5 out of 5
My favourite cost for an event. The effect is pretty good too.
Siroma - 5 out of 5
Puts a lot of Greyjoy's 4 strengths out of dracarys range, and on demand save that comes with a strength boost for free is as always, extremely strong. Risen is likely going to be played for nearly the entirety of the game's lifetime.
cockbongo - 5 out of 5
Ah, the wet save that puts out fire. Constantly good, will be played forever more.
The Kraken's Grasp (32 Total Points)(64%)
emptyrepublic - 3 out of 5
I don't like the first player condition for melee, but nonetheless it's free and helps with unopposed which has been clearly established as an important theme from the very beginning.
Ire & WWDrakey - 3 out of 5
Great tool to get unopposed and easy to play thanks to the 0 cost.
Istaril - 3 out of 5
While it can net you a challenge win where you would have lost, it'll more often net you an UO where you wouldn't have had one… and if you have Great Kraken on the board, that's basically a cantrip and a power. Probably the only card that really justifies going first (when getting UO is usually easier going second), but just strong enough to do so, so it's a decent card.
JCWamma - 3 out of 5
A very fair, balanced card, off-setting a powerful effect with a need to go first. Greyjoy are fast-becoming my strongest faction the more I look at these cards...
mnBroncos - 2 out of 5
Helps push through a challenge, however, doesn't hit every character and seem like a card that is going to be hard finding deck space in your deck.
rave - 4 out of 5
This is very strong. When smartly played, it's basically trading a card for the challenge win. Greyjoy isn't going to have much trouble going first when they want it.
scantrell24 - 3 out of 5
Kraken's Grasp helps you unexpectedly win a challenge, and your opponent can't see it coming because you don't need to save any gold. But the first-player-only restriction, combined with it's relatively situational usage, means Kraken's Grasp could sit impotently in your hand for a while. This is the type of event that I run 1x, so that after my opponent sees the first copy he's always wondering if I have another ready to ruin his day.
VonWibble - 3 out of 5
A zero cost event that lets you get a challenge through is good enough for me. Needing to be first player is the only reason I'm not rating it higher.
Siroma - 4 out of 5
Easy to play and greyjoy likes going first anyhow. Works great with with throwing axe and it can be a huge swing of strength.
cockbongo - 4 out of 5
This is going to be useful more often than not, and if it forces an unopposed, all the better. Free is nicely balanced with the first player condition.
We Do Not Sow (50 Total Points)(100%)
emptyrepublic - 5 out of 5
This will no doubt be one of those events that sees use years from now. Given the ability to control locations and attachments you need to play this even with the 1 gold cost.
Ire & WWDrakey - 5 out of 5
Control 2 card types with one event? Where do we sign up?
Istaril - 5 out of 5
Stellar. Versatile. Tied to faction identity. Cheap. It won't be easy to stop GJ from getting these off against you, and you're going to have a target that justifies him using it (even a searoad). Auto-include 3x in every GJ deck, possibly forever. I suspect the biggest sign of how times have changed in 2.0 will be how often you use this against attachments. My guess? A lot.
JCWamma - 5 out of 5
The best location hate in the game AND the best attachment hate in the game, wrapped up in one card - and I honestly don't know which part of that is more important. 3x in every Greyjoy deck.
mnBroncos - 5 out of 5
Best location and attachment control card in the game.
rave - 5 out of 5
Dare I say a faction defining card? Awesome utility, and Greyjoy in every way.
scantrell24 - 5 out of 5
Easily triggered, free with fealty, and capable of destroying whatever ails you - draw locations, negative attachments like Milk, positive attachments like Lightbringer, and even economy like an unused Kingsroad.
VonWibble - 5 out of 5
Destroying economy is good, and that is probably the minimum you will achieve. This card has a lot of uses.
Siroma - 5 out of 5
Kill milks, big attachments, economy cards and draw locations, all the while being loyal and reducable by fealty. Not much more you can ask for on a easy to trigger event.
cockbongo - 5 out of 5
A horribly effective, flexible bastard of a card. Say no more.
Thought you were done reading?
Before we award the top 3 and bottom 3 non-reducer cards based on cumulative points, I'd like to take a second to plug the
Community FAQ
. It includes useful information about the game and links to a wide variety of resources such as podcasts, streamed games and player maps, which newcomers and veterans alike will find useful. The community FAQ is a work in progress that receives constant updates, so please share it with friends, and check back yourself every now and then. Also please suggest additions! Now without further ado...
Top 3 Non-Reducer Cards:
Great Kraken (50)(100%)
We Do Not Sow (50)(100%)
Asha Greyjoy (49)(98%)
Balon Greyjoy (49)(98%)
Bottom 3 Non-Reducer Cards:
Salty Navigator (22)(44%)
Black Wind's Crew (26)(52%)
Alannys Greyjoy (27)(54%)
Feel free to chime in below. Did we nail it? Make any horrible oversights? Let us hear it, and we'll be back on Monday with the Martell cards from the Core.
14Shirt and Zilvake like this
Article: AGoT Core Set Review: Greyjoy!