Welcome to Card Game DB
Register now to gain access to all of our features. Once registered and logged in, you will be able to create topics, post replies to existing threads, give reputation to your fellow members, get your own private messenger, post status updates, manage your profile and so much more. If you already have an account,
login here
- otherwise
create an account
for free today!

1
AGoT Core Set Review: House Lannister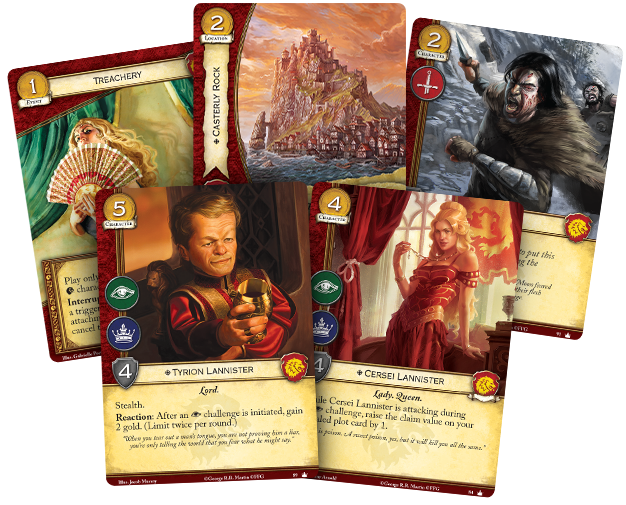 Our staff has put together a first blush analysis of the newly released Game of Thrones LCG 2nd Edition Core Set. We've used a one through five scale; five being the best possible score. The cards are listed in numeric order. Let us know in the comments how you feel about the Lannister cards from the Core set, and we'll be back shortly with further reviews.
Here's a link to the relevant
preview article
from FFG, where you can read the designer Nate French's thoughts behind the faction.
With 8 reviewers this time, individual card scores are out of 40 possible points. For comparison's sake between factions, House Lannister's non-economy cards combined to earn 76.3% (519 out of 680 possible points). House Stark came in at 69.9%.
Now onto the cards!
Cersei Lannister (40 Total Points)(100%)
Ire & WWDrakey - 5 out of 5
An excellent STR-to-cost ratio, at a good price point and with an extremely strong ability. Will likely only get better as the cardpool advances and play rhythm changes.
JCWamma - 5 out of 5
That the comparison to one of the strongest first edition cards there was even exists shows how strong Cersei is. She may not justify this rating until we see a Valar and handsize matters more. Was tempted to put her at a 4 because I think in practice she'll feel like that for a while, but...no, too good, 5 it is.
mnBroncos - 5 out of 5
A reprint of one of the most powerful Martell cards in 1.0 only difference is only works on intrigue challenges. Even with that though this is a card you put in all your Lannister decks and never upset to have.
Oktarg: 5 out of 5
Yep, claim raise is still pretty good
rave - 5 out of 5
Man. Cersei is so solid. Considering cost to effect, I feel she is one of the best cards in the set. Unlike some situations in 1st ed where you come against an opponent with massive card advantage, the reserve value in 2nd ed should keep intrigue a threat throughout the game. You're going to be hard pressed to find a card that does more damage for 4 gold.
scantrell24 - 5 out of 5
So good she'd probably see play in 1st edition (which had a lower gold curve). Cersei also tends to avoid Milk of the Poppy (Tyrion and Jaime get blanked more often) so she'll wreck havoc on your opponent's hand all game long.
VonWibble - 5 out of 5
Claim raising is a really powerful effect, and Cersei is not exactly expensive either. A very easy card to include in any Lannister deck.
Siroma - 5 out of 5
4 for 4, loyal, good keywords, and a great ability. Will likely only get stronger as the game progresses.
Grand Maester Pycelle (38 Total Points)(95%)
Ire & WWDrakey - 4 out of 5
A definite 1x in all Lanni decks for the added draw.
JCWamma - 5 out of 5
The old man teetered between 4 and 5, but ultimately being cheap and having draw was enough to tip him over. Based off spoilers for the first cycle the Maester trait will mean something too.
mnBroncos - 4 out of 5
Solid three cost character that can give you some card draw. My biggest issue is seems like such a waste of a card for a loyal one.
Oktarg: 5 out of 5
Draw is still pretty good

rave - 5 out of 5
I'm proud to have a Pycelle I want to play. Pycelle gives insight without any sort of crazy liability or huge cost, and yet, he's not a worthless character. It's hard to beat that. Again, he's at that sweet spot where he is useful enough to be worth destroying, but cheap enough that him being destroyed wont really set you back.
scantrell24 - 5 out of 5
Pycelle and 1st edition's Tommen are comparable characters - cheap bodies with repeatable draw. Tommen came out in the game's first chapter pack cycle and was still a staple six years later, so that should give you an idea of Pycelle's value.
VonWibble - 5 out of 5
Cheap(ish) bicon with Insight? Sign me up.
Siroma - 5 out of 5
Insight and maester are too big plusses, though the 2 str isn't exactly appealing. Draw has still proven to be quite valuable, so until more options are available, Pycelle is going to be a solid option.
Joffrey Baratheon (27 Total Points)(67.5%)
Ire & WWDrakey - 3 out of 5
Ahh, the classic Joffrey looking to build a deadpile.
JCWamma - 4 out of 5
In the current card pool he's very easy to protect, and despite not being able to trigger off himself is still better than his first edition version in my opinion due to being at the same cost point. With dupes more playable Valar probably doesn't slow him down either; rather, his future power will fluctuate with burn's.
mnBroncos - 3 out of 5
Can gain a lot of power, however, it is dependent on what characters your opponent is playing or you are losing your own characters. Situational but at worst is a fine costed character.
Oktarg: 3 out of 5
I like this guy. With characters being a bit safer for now, you don't need to heavily invest in protecting him to get a solid power gain.
rave - 3 out of 5
Joffrey is a shagga-styled card. The current lack of a reliable blanket reset can make him threatening, but he really isn't that efficient anyway. That said, the gather everyone in wildfire and burn them for the win will never get old.
scantrell24 - 4 out of 5
Effective at closing games more than quickly than your opponent anticipates.
VonWibble - 3 out of 5
Fairly cheap, and there are a lot of eligible targets for his ability. You will only lack targets if facing Night's Watch, and even then you can always profit from losing your own characters. However, he is only a monocon, so I can't rate him higher.
Siroma - 4 out of 5
Outside of Night's watch, almost every deck is going to be packed with lords and ladies, and with a lack of decent targeted removal, it is very easy to keep joffrey on the board. Until a wider character pool is implemented, joffrey can gain power very quickly on wildfire turns and from military claim in general.
Ser Jaime Lannister (33 Total Points)(82.5%)
Ire & WWDrakey - 4 out of 5
A very strong Jaime for Lannister decks wanting to add a little more aggression to their repertoire.
JCWamma - 3 out of 5
He's very expensive. He's also very good, but is he above-average for a 6 gold character? I feel like he's about average, really. The deck I'm most interested in using him in is a Targ Lion deck that combos him with Drogo.
mnBroncos - 5 out of 5
Very strong 6 cost character. Can participate in multiple challenges as well as gain conditional renown. Non-loyal means will see this in every Lannister deck and every deck that allies with Lannister.
Oktarg: 5 out of 5
I feel like a multi-use character that can also claim power is pretty sweet.
rave - 4 out of 5
Too situational to be great at his cost. He suffers from not having printed renown. That said, any character that can participate in a challenge twice (maybe more?) has good potential.
scantrell24 - 4 out of 5
It's hilarious that Jaime is such a "Jaime" card. For the uninitiated: Thrones players are often sorted in a few types. Jaime players look for the efficient cards that win games.;Shagga players look for jaw-dropping combos that don't always work, but are awesome when they do work; Nedly players are concerned with the theme and storytelling aspect of the game.
VonWibble - 4 out of 5
Renown isn't so common thus far, and any character who can participate in multiple challenges on their own is a good choice.
Siroma - 4 out of 5
He's no stannis and certainly no drogo, but more often than not you still will be able to use him for two challenges, which ain't too bad.
The Tickler (28 Total Points)(70%)
Ire & WWDrakey - 4 out of 5
Make no mistake, this would be ok (compared to the other Core cards) even without the ability. Combine him with Bear and the Maiden Fair in a Banner of the Rose deck, and watch your opponent learn to fear him.
JCWamma - 3 out of 5
I really want to rate him higher as I love the effect. In the early pool you'll probably hit more often than not, and I hear you can sing a song to increase the chances. A presumably-negative trait and the prospect of the effect worsening keeps him stuck at 3 though.
mnBroncos - 3 out of 5 - In a Core set only cycle this is close to a 4, however, the larger the card pool grows the less likely the effect will trigger. But at its worse it is a 2/2/2.
Oktarg: 3 out of 5
Stats are good, but ability? Hilarious. Which is not to be confused with efficient

rave - 4 out of 5
Edges out over the usual 2 for 2 icon guys because being unique in Lanni, he helps activate Treachery. Ability doesn't really do much of anything.
scantrell24 - 3 out of 5
Passable for now. Will be phased out within a year.
VonWibble - 4 out of 5
Even if you imagine his text box to be blank he's an easy include in the deck thanks to the efficient cost to strength ratio. The ability is just a cherry on top of a fairly nice cake.
Siroma - 4 out of 5
Nice 2-2 spread. The ability can actually be quite powerful with just core, and lanni banner tyrell or tyrell banner lanni can play the bear and maiden fair for some interesting shenanigans.
Tyrion Lannister (40 Total Points)(100%)
Ire & WWDrakey - 5 out of 5
Likely the best character in the Core. 'nuff said.
JCWamma - 5 out of 5
Best card in the core? Probably. In a very weird way he reminds me of Meera from first edition, in that he's already amazing but then also has Stealth too?
mnBroncos - 5 out of 5
WOW just wow maybe the most powerful card in the whole box. 5 cost, 2 icons, 4 strength, Lord trait, stealth, and bonkers ability. You can gain 4 gold during the challenge phase that you can then use to ambush characters as well as pay for events. Also non-loyal.
Oktarg: 5 out of 5
Perhaps the best in the core. Economy problems reign supreme, and Tyrion helps solve them.
rave - 5 out of 5
Tyrion is amazing, he adds some serious breathing room in the challenge phase for effects at least, otherwise he helps to secure dominance. Not only that, he has stealth and 4 STR, two things that don't seem to go together too often.
scantrell24 - 5 out of 5
Single-handedly makes Lannister one of the best Banner factions.
VonWibble - 5 out of 5
He is not loyal, so any deck that can take him should. I can't add anything to the above reviews, great card!
Siroma - 5 out of 5
Stealth + his ability + a solid 4 str makes him capable of setting up a lot of plays that your opponent might not expect. Very versatile, but a deck needs to make sure it can capitalize on the gold that tyrion can generate.
Tywin Lannister (32 Total Points)(80%)
Ire & WWDrakey - 4 out of 5
Strong enough to evoke respect, helps fuel your economy on the side and works well together with Tyrion. What's not to like?
JCWamma - 4 out of 5
Seen a lot of people underrating the man with "win" in his name. Non-limited gold is a major deal in this environment, and as a renown tricon he's bringing the goods in the challenges phase as well as the marshalling. And an extra potential STR boost on top of that?
mnBroncos - 4 out of 5
Tricon is always good, renown and conditional strength pump is solid. The key is adding two gold. Unless our economy gets drastically better getting a strong character that also adds two gold is very strong.
Oktarg: 4 out of 5
Very, very good. Not Robert good, but very good.
rave - 5 out of 5
Tywin is one of the better 7 cost characters generally because of his high str, tricon status, and printed renown. (Queen of Thorns and Robert are probably a little bit better) But Tywin gets a 5 where those others get 4 because Tywin has good synergy with Hear me Roar. Tywin is a ninja now. Open with A Game of Thrones and Hear me Roar Tywin into play for an easy stall or maybe add a +8 suprise strength boost to your Put to the Sword/Torch challenge. Also, unlike the others, Tywin is immediately useful in setup with the +2 gold bonus, and his cost is negligible if he comes with a dupe, (hopefully with a 1 cost character, because of Marched to the Wall) There is the threat of Heads on Spikes if you plan to run him 3x for the combo, but man, Tywin is a beast, and worth the risk.
scantrell24 - 3 out of 5
Too expensive for too little benefit. Where's the board advantage? He doesn't kneel anyone like Robert, burn anyone like Dany, or steal locations like Euron.
VonWibble - 4 out of 5
He is very expensive, and for that cost I want to be able to use him multiple times. The only thing that makes me give 4 instead of 3 is the extra gold, which helps offset the limited economy in the core set.
Siroma - 4 out of 5
A solid 7 cost character, for me, he's right behind Robert and Dany. His ability will often prove more consistent than that of Euron, Queen of thorns, or the Old Bear, though it lacks their jaw dropping effects.
Burned Men (23 Total Points)(57.5%)
Ire & WWDrakey - 3 out of 5
A really solid infantry backbone, especially good for turning Tyrion's gold into characters.
JCWamma - 3 out of 5
Presumably-positive trait, trading an icon for a keyword, he's about on par with the Tumblestone Knights of the world. More fun, though.
mnBroncos - 3 out of 5
Ambush really helps this weak chud out. Suprise claim soak, defender, attacker can all be key things during a game. Clansmen will probably get further support as well.
Oktarg: 2 out of 5
Whatever. Ambush is cool, but a chud monocon is nothing to write home about.
rave - 4 out of 5
Ambush is great, and the character is very cheap. Not bad to bring out for the chump block, to suddenly have a military presence where you had none, or push enough STR to trigger a Put to the Sword.
scantrell24 - 3 out of 5
Only passable because of Tyrion.
VonWibble - 3 out of 5
The ambush keyword adds 2 to this score, as the threat of this card in hand can make people overcommit in challenges, or spare characters they don't need to defend in military.
Siroma - 2 out of 5
Ambush works nicely with tyrion, but a 2 for 2 monocon simply is not that great. Kind of necessary when you look at Lannister's dearth of military Icons, but their usefulness is still limited without further clansmen support.
Gold Cloaks (25 Total Points)(62.5%)
Ire & WWDrakey - 3 out of 5
Another really solid backbone character for Lannister.
JCWamma - 2 out of 5
I find these guys really interesting, which is absolutely not the same as good. They're not bad either, surprise STR 3 boost is reasonable, but if you think of them as a 2 cost event that pumped by 3 in military or power challenges, would you play them? They're slightly better than that but the point stands.
mnBroncos - 4 out of 5
Really like this character. Being able to but a bicon with three strength into play for 2 gold is going to be a huge swing at times. Also, being able to just play four and keep it into play isn't a bad play either. Solid character.
Oktarg: 3 out of 5
Very nice. Flexible and pretty efficient if not over the curve. It's nice to ambush them to win on offense and take them for claim on defense before they self discard.
rave - 4 out of 5
I have about the same feelings for these guys as the burned men. The drawback of losing him the turn he comes out is offset nicely by the second icon and str increase.
scantrell24 - 2 out of 5
Not my kind of card. He's a short-term solution, and poor on setup.
VonWibble - 4 out of 5
A choice of 2 cards in 1. A 3 strength bicon for 4 cost is fine, a 2 cost event with legs giving +3 strength in a challenge or allowing you a free challenge is arguably better. I can see these guys being very effective if you have some way to stand them as well, as winning 2 challenges the opponent wasn't expecting is game changing.
Siroma - 3 out of 5
Marginally better than the burned men due to the additional strength and icon. That being said, if you're playing lannister, expect to either run neutral military icons or be prepared to start tossing things into the dead pile.
Lannisport Moneylender (14 Total Points)(35%)
Ire & WWDrakey - 2 out of 5
That Limited hurts his prospects quite a bit.
JCWamma - 2 out of 5
Limited is a pain. Cheap gold production should not be underestimated, but limited is a real pain.
mnBroncos - 2 out of 5
Limited really does hurt putting this guy into play. You will probably not want to set this guy up because better off with a roseroad since cost 0. Sure it being a body is nice but also means easier to die. Idk having economy is good but limited does greatly hurt the playability.
Oktarg: 1 out of 5
Maybe that's harsh but these guys suck.
scantrell24 - 2 out of 5
I'm only playing more than 1 of the Moneylenders in Night's Watch (because they don't have an in-faction limited reducer location). Problem with him is you want cheap dudes to die for military claim. But if you kill him, you just lost a body and your economy.
rave - 3 out of 5
It's hard to beat Roseroad and Kingsroad. To be fair, having a character do this is almost always better if the characters can stick around. That said, targeted kill plus vying for the limited spots reserved for Roseroad and Kingsroad make me undervalue the moneylender.
VonWibble - 1 out of 5
The 1st edition moneylender looked exactly like a player from our meta, so my score reflects FFG's poor choice of card art! Arguably this card is better for Night's Watch than Lannister, given he is Limited. Unlike other economy he costs 2 as well, though he can at least participate more in challenges.
Siroma - 1 out of 5
You have Tyrion to provide all the gold you need for ambush. If you need these guys in your deck your curve is too high.
Lannisport Merchant (40 Total Points)(100%)
Ire & WWDrakey - 5 out of 5
JCWamma - 5 out of 5
mnBroncos - 5 out of 5
Oktarg: 5 out of 5
scantrell24 - 5 out of 5
rave - 5 out of 5
VonWibble - 5 out of 5
Siroma - 5 out of 5
The Queen's Assassin (27 Total Points)(67.5%)
Ire & WWDrakey - 3 out of 5
Decent, but that Ambush ain't cheap, nor is Lannisters own draw *that* high. Value down the road depends quite a bit on what new cards are introduced.
JCWamma - 3 out of 5
Ambush 4 for a monocon? If you got to choose the character this would be amazing, but you're picking off a chud at great expense to yourself. If you're able to make the military claim hit hard and are also up on cards in hand...was this assassin necessary? I'm not thick though, I recognise a strong aggro card when I see one.
mnBroncos - 4 out of 5
2 for 2 Strength is playable out of core set and can help setup. However, you're really playing this card for its ability. As long as you're able to trigger this effect (and lannister is suppose to be on top of intrigue) You force your opponent to kill a character.
Oktarg: 3 out of 5
Quite expensive, making it only really good (IMO) late game. I prefer cards that help tempo earlier.
rave - 4 out of 5
In this case, the strong effect helps offset the somewhat unreliable nature of this card. The disruptive effect of playing a character in challenges at the same time as killing another is VERY strong.
scantrell24 - 3 out of 5
Looks fantastic at first glance, but the perfect-world vision in your head and reality won't often converge. Still worth playing a couple for now.
VonWibble - 4 out of 5
Without ambush this, like the Burned Men, is not a good choice. With it, you are doing a lot of damage. The trick is trying to get rid of their chumps first to make them kill something they really will miss.
Siroma - 3 out of 5
Ambush 4 is costly, and the character himself is not that great. There is a great abundance of duplicates and bodyguards in the current meta, and lannister is not set up very well to take advantage of military claim right now. Also note that you need to have 2 cards more in your hand before playing this card to trigger it's ability, and getting that type of advantage isn't very easy when lannisport is not the most reliable source of draw. More often than not this guy will just kill duplicates and be left as fodder.
Widow's Wail (36 Total Points)(90%)
Ire & WWDrakey - 5 out of 5
Think of it as one of the best STR buff events in the Core, what with being permanent and re-usable.
JCWamma - 5 out of 5
I don't like copying reviewers, but... what Ire and WWDrakey said.
mnBroncos - 3 out of 5
Cheap and surprise strength buff. I don't think will see play after card pool grows significantly but wouldn't surprise me if it does either, it is efficient for its cost.
Oktarg: 5 out of 5
If they wanted to make attachments better, they succeeded.
rave - 4 out of 5
Well.. it's a strength buff that sticks around. It can be setup, (it has that advantage over a traditional strength buff). Use it to push through one challenge and get the benefit of it in subsequent turns.
scantrell24 - 4 out of 5
Great for standing Randyll Tarly, winning by 5 to trigger events, and turning a lost challenge into a win. Even when you don't have it in hand, your opponent will have to respect the possibility. Widow's Wail really benefits from the new attachments rules too (can be setup; bounce to hand when attached character leaves play).
VonWibble - 5 out of 5
Because it returns to hand if the character dies this is another card with a lot of threat of activation to force overcommitment to challenges. Because it returns to hand if the character dies, you can play it early, even on a chud, and still get to use it on Joffrey. It is worth taking even if Joffrey isn't in the deck.
Siroma - 5 out of 5
Cheap and cost effective. Even better on the rare times it lands on Joffrey. Recyclable +2 str at will is good, and helps against events like dracarys.
Casterly Rock (30 Total Points)(75%)
Ire & WWDrakey - 4 out of 5
Good? Oh yes. Still, somewhat limited by Lanni not yet having access to intrigue non-kneelers, and will likely need quite a bit of cards to come into the game to reach it's full potential.
JCWamma - 3 out of 5
Let's not get carried away, 2 gold for a location that doesn't do anything unless you have a very strong board position isn't amazing. In the future this could become something seriously powerful, but I'm giving this a more modest rating because it seems like the sort of card I'd only draw when I didn't want it.
mnBroncos - 5 out of 5
This seems like a steal for only 2 gold. Being able to really hit your opponent's hand can be critical to just winning the game. With a one claim plot and Cersie you can easily take away three cards from your opponent. Play two claim plots and can really do some destruction. Also, being able to do two challenges makes it easier to push through at least once since becomes that much harder for your opponent to defend.
Oktarg: 3 out of 5
While this is good, you want a big board to take advantage of it and it offers diminishing returns. That said, if the return is diminished your opponent has an empty hand, so that's not so bad.
rave - 5 out of 5
Wow. Two gold. This is a great setup card. I love the canned combo with Cersei and Power behind the Throne. Having an extra challenge every turn this cheaply is nice to have, especially because Lannister seems to lack in strength overall a little bit. Good application all around: Win an intrigue, queen's assassin, win another. Solid.
scantrell24 - 3 out of 5
Casterly Rock is nice to have but not essential, and you don't need to dupe it, so I've cut down to a single copy in my Lanni decks. This score could improve dramatically if Lannister gets powerful intrigue-based tricks in future packs.
VonWibble - 4 out of 5
This is the card that make Cersei really powerful, along with any other cards that trigger off intrigue wins, given the opponent isn't going to be able to easily defend 2 challenges.
Siroma - 3 out of 5
2 gold for a location that doesn't really change the state of the board is hard to swallow right now. As the game progresses this location will undoubtedly get better, but often times trying to win two intrigue challenges a turn will leave you vulnerable to a lot of your opponent's nasty tricks.
Lannisport (39 Total Points)(97.5%)
Ire & WWDrakey - 5 out of 5
Lanni's draw engine location, and it's a solid and stable one at that.
JCWamma - 5 out of 5
I wanted to give this 4 because I don't think it's as good as some other repeatable draw cards (Mander, Red Keep), but...no, it's still repeatable draw, and I hear that's good, even if there are even better options out there.
mnBroncos - 5 out of 5
Trigger from defender, trigger for each in melee game or for when you have Casterly Rock in play. This is key draw for Lannister.
Oktarg: 5 out of 5
Draw equals win, given economy.
rave - 5 out of 5
Happy to be a Lannister player today. No limit for this is very nice. A fun synergy with this is that it allows you to replace the character in your hand used for Hear me Roar when you use that character to successfully defend intrigue.
scantrell24 - 5 out of 5
Pro tip: Run 3 copies of your draw engine (Lannisport, Red Keep, Mander, Great Kraken). It's fairly easy to trigger once, but the second trigger is more difficult, so you're less likely to get 2 cards per turn than with the other faction's engines.
VonWibble - 5 out of 5
Its cheap to play, and draw = win. I'm already looking forward to drawing an ambush card and then being able to play it in that combat round.
Siroma - 4 out of 5
A little more inefficient and hard to trigger than the other draw locations. 3 gold is a pretty hefty investment, and lanni is not abound with cheap ambushing intrigue characters either to provide surprise strength for a defense. Being able to only trigger it once per turn without casterly rock and the potential of being blocked by either Catelyn or just someone with more strength also makes lannisport a little weaker. Still a good source of draw, just not as great as the other locations.
Western Fiefdom (40 Total Points)(100%)
Ire & WWDrakey - 5 out of 5
JCWamma - 5 out of 5
mnBroncos - 5 out of 5
Oktarg: 5 out of 5
scantrell24 - 5 out of 5
rave - 5 out of 5
VonWibble - 5 out of 5
Siroma - 5 out of 5
Hear Me Roar (21 Total Points)(52.5%)
Ire & WWDrakey - 3 out of 5
Most likely a bit of a sleeper, and will only see it's full potential reached further down the road. Interesting part of Lanni's new Ambush tricks.
JCWamma - 2 out of 5
Into the Breach never saw much play in first edition, and while I do think this can be used effectively, the times when it's truly worth spending a gold, playing an event and losing a further card at the end of phase just for an extra body on the table will be slim enough that I don't think it sees much inclusion, especially in Lanni who have the ambush cards to do this anyway.
mnBroncos - 3 out of 5
The only thing that hurts this card is your spending two cards for an effect that only lasts one turn. However, this can really swing momentum in a game so I think it will be strong for long time. Also triggers enter play effects which can be critical.
Oktarg: 2 out of 5
It seems there is enough gold and ambush to just pay for dudes outright rather than cost you cards.
rave - 4 out of 5
A blanket 1 cost to play anything in house has lots of potential and that potential will always grow. Great mid to late game card when power really starts to matter. Great for the Game of Thrones turn. Great for 2 claim turns, especially military.
scantrell24 - 2 out of 5
Not my kind of card. It's a short-term solution, can't be setup, and generally isn't as powerful as Tears or Treachery.
VonWibble - 3 out of 5
Its another strength pump at worst, and as the game goes on with more enter/leaves play effects it will only get better.
Siroma - 2 out of 5
You could pop in a renown character at the very end, I guess. Overall, not impressed. Most likely you're going to be dropping 2 cards to win a challenge. As the game progresses and we get more draw options, this card will slowly become better.
The Things I Do For Love (30 Total Points)(75%)
Ire & WWDrakey - 3 out of 5
Really interesting and powerful, yet also finely balanced through both of the costs. Just the kind of Core removal card the game should have with both players spending an equal amount of resources.
JCWamma - 3 out of 5
I love love love the design here. Power level...weirdly given which sibling wasn't at the scene of the crime, it's Tyrion who likes this best. Shoving a chud back to hand will be powerful for aggro, but compared to other aggro cards in the core like Winter is Coming it's not too strong. No, what makes this worthwhile is target removal on the heavy-costers.
mnBroncos - 4 out of 5 - Being able to bounce any character your opponent has at anytime in challenge phase is huge. Also, Tyrion is bananas for this event gets you extra 4 gold during the phase that you can spend on this event.
Oktarg: 4 out of 5
It's not efficient but it is strong. One of the very few point and click removal cards should not be sneezed at.
rave - 4 out of 5
This effect is always good, and better now with the reserve value to worry about. Having to match cost is tough though. You're going to have to hold back a lot of gold unless you happen to have Tyrion out. I could be wrong, but it seems like this can be cancelled for free by Hand's Judgment because it's printed cost is X. That's definitely a strike against this card if true.
scantrell24 - 3 out of 5
It's so expensive that you probably can't afford to trigger more than one per game, so I recommend a single copy per deck.
VonWibble - 5 out of 5
Because you kneel your faction card, this event is tough to use in a Fealty deck, but the effect is undoubtedly very powerful, especially with Tywin/Tyrion on the board to fund it. Even the temporary loss of a 1 or 2 cost character for your opponent is well worth it as it could remove a challenge or give you a win/unopposed when you would have lost, and it could also mean they don't have claim soak out, so the military challenge really hurts.
Siroma - 4 out of 5
The cost is high, but so is the reward. Everybody hated ghaston grey in 1.0, and this one is basically ghaston in event form.
Treachery (36 Total Points)(90%)
Ire & WWDrakey - 4 out of 5
Being a cancel, this will likely see a *lot* of play down the years.
JCWamma - 5 out of 5
Cancel is huge, and expect people to frequently forget this card exists. Cancelling your opponent's Varys will make them cry many many tears.
mnBroncos - 4 out of 5
Strong cancel. Shuts down majority of the effects in the game and can really set your opponent back. Varys especially has to be careful when up against Lannister.
Oktarg: 5 out of 5
At first I didn't like this, but it is super annoying. Cancel on a ghaston grey or a key stand effect can be game over.
rave - 5 out of 5
Absolutely amazing. It cancels Kingsroads, Varys, and Bodyguards, and every one of those instances is a huge shift in board position. That alone is great. Everything else is icing on the cake.
scantrell24 - 4 out of 5
In first edition, Greyjoy was the"cancel" House, and it was one of their defining features. Treachery is a bit awkward though -- it's less reliable when you're using Lannister as a Banner, but fantastic with Fealty because you'll almost always have a unique character.
VonWibble - 5 out of 5
There are so many things this card can stop, and for that reason it is tough to ignore this event.
Siroma - 4 out of 5
Bodyguards, Illyrio, Littlefinger, Kingsroads, Melisandre, Euron, Mander/Red Keep, Ghaston Grey, The Red Viper, etc. etc. Treachery can have a lot of uses at a relatively cheap cost.
Thought you were done reading?
Before we award the top 3 and bottom 3 non-economy cards based on cumulative points, I'd like to take a second to plug the
New Player FAQ thread
. It includes background information and general knowledge about the game itself, links to various resources like podcasts and player maps, and much more. It's a work in progress that receives constant updates, so please share it with new players, and check back yourself every now and then. Also please let me know if there's anything you'd like to see added! Now without further ado...
Top 3 Non-Economy Cards:
Cersei Lannister (40 points)(100%)
Tyrion Lannister (40 points)(100%)
Lannisport (39 points)(97.5%)
Bottom 3 Non-Economy Cards:
Moneylender (14 points)(35%)
Hear Me Roar (21 points)(52.5%)
Burned Men (23 points)(57.5%)
Feel free to chime in below. Did we nail it? Make any horrible oversights? Let us hear it, and we'll be back on Friday with Night's Watch cards from the Core.
crimson and Hayati like this
Article: AGoT Core Set Review: House Lannister