Welcome to Card Game DB
Register now to gain access to all of our features. Once registered and logged in, you will be able to create topics, post replies to existing threads, give reputation to your fellow members, get your own private messenger, post status updates, manage your profile and so much more. If you already have an account,
login here
- otherwise
create an account
for free today!

0
AGoT Core Set Review: Plots!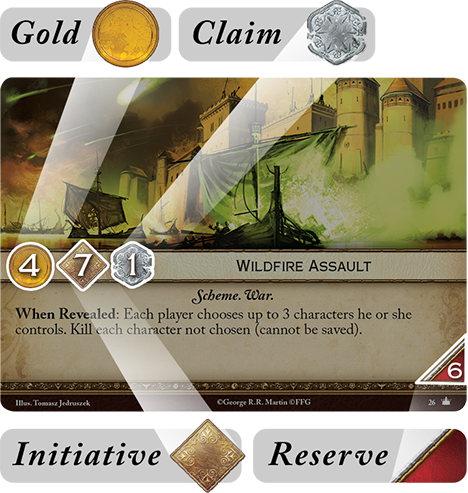 Our staff has put together a first blush analysis of the newly released A Game of Thrones LCG 2nd Edition Core Set. We've used a one through five scale; five being the best possible score. The cards are listed in numeric order. Let us know in the comments how you feel about the plot cards from the Core set, and we'll be back shortly with further reviews.
Here's a link to the relevant
preview article
from FFG, where you can read the designer's thoughts behind some of the cards.
Today we have 11 reviewers today (who you can
get to know better
here), so scores are out of 55 possible points.
A Clash of Kings (33 Total Points)
agktmte - 2 out of 5
Good plot, it will fit in some decks, but I think it's one you can safely overlook unless you have a specific/good reason to use it. This is one that I consider a "win faster" plot.
emptyrepublic - 4 out of 5
With the new Hand of the King title this is an extremely strong finisher plot with a potential power swing of 4. In 2.0, 4 gold seems to be the new '3 gold' from 1.0; which is to say average. It's a high initiative plot though so it gives you a shot to go first and close the game.
Ire & WWDrakey - 4 out of 5
Good for joust, great for melee.
Istaril - 2 out of 5
Don't overlook the fact that it can trigger on defense - or that it's a 9 initiative plot. Still, not a go-to plot, unless you're playing melee. Then it is.
JCWamma - 3 out of 5
Gold is meh, reaction is nice but not amazing. With the high initiative and power-grab reaction the instinct is to place this as a closing plot, but frankly I think a rush deck should be able to do better than this - it's not the scariest plot to have across the table. Where it shines will be in Melee, as a great disincentiviser to attack you while also letting you win initiative most cases.
mnBroncos - 2 out of 5 - Has solid stats, especially if in need of a high initiative plot. However, the ability really is just a two claim during power challenges. I think this plot will be outclassed quickly as the card pool grows. Will see some play in rush strategies.
OKTarg - 2 out of 5
It's not that it's bad, it's just that there are better options. I prefer plots that help me control the board state rather than the power count, since if you can get the board under control the power will take care of itself.
rave - 4 out of 5
The second highest initiative plot in the core set. This plus the psuedo-claim effect for power will make this a strong late game plot. It's relatively low-risk, low-reward, but in a close game, it is a reliable way of shifting the balance in your favor, or closing out the win. Solid.
scantrell24 - 3 out of 5
Winning initiative with extra claim on a power challenge sounds like a great way to close a game. It's not an auto-include, but it's worthy of consideration in decks that can readily win power challenges, like Greyjoy or Targaryen.
VonWibble - 3 out of 5
It's a finisher plot in joust, but chances are it's only 1 bonus power, the opponent isn't going to let you just win on defense after all. However, the only other ways to get claim 2 have either weaker stats or a clear downside. In melee it's great with Hand of the King, but remember you aren't guaranteed that title with the new selection rules, even with high initiative.
cockbongo - 4 out of 5.
Plots plots plots. For me the most subjective cards in the game - work well here, don't work well there, great here, terrible there. Sure, good stats might be good stats regardless, but as they're usually tempered by a contextual effect I always find it hard to rate them on their own. Therefore i'll make this quick and dirty. This one - seems strong. Good reserve and initiative for a reasonable effect.
A Feast for Crows (33 Points)
agktmte - 2 out of 5
I think this is pretty similar to A Clash for Kings in that it can work in some decks, but there's nothing particularly strong about it. Generally, I think that win faster plots aren't going to find a place in most decks.
emptyrepublic - 3 out of 5
The reaction is a bit weak here as you'll need to compete with several other people to win dominance. The other issue with the plot is that the reserve value is one of the lowest we've seen so far. In theory this shouldn't be a big issue as the 6 gold should help you put stuff on the table.
Ire & WWDrakey - 3 out of 5
Great income, okish ability, other than that… unless you're running the Iron Throne for Aeron Damphair, kinda meh.
Istaril - 3 out of 5
If you can trigger this reliably through a non-kneeler, standing character like Fiery Followers, or The Iron Throne, it's quite good - and the 6 gold certainly doesn't hurt. Keep an eye on that reserve though, which will constrain you. Unless you're running The Iron Throne. Hmm.
JCWamma - 3 out of 5
Minstrel's Muse is a powerful plot in first edition. This is not as good as Minstrel's Muse, with low initiative and reserve while gaining you one fewer power, but the high gold offsets it nicely. Between the numbers and effect this seems like a valuable card for a "snowball" control deck, wanting to push to finish with aplomb - a strong plot for Martell?
mnBroncos - 3 out of 5
For players familiar with 1.0 this plot reminds me a lot of The Minstrel's Muse. You are getting more gold, but at the cost of a high initiative and one more power. With that said, The Minstrel's Muse was an almost auto include in all Stark decks with the massive card pool of 1.0. So a slightly weaker version has to be an okay option right? Four reserve could become a problem, though that is the hardest thing to rate on these plots.
OKTarg - 3 out of 5
This is a decent-statted, decent-effect plot. Like JC says, it's a nice boot-on-the-throat card late in the game and I think will see some play.
rave- 3 out of 5
Not as reliable as I would like. The low reserve and Edict makes it a huge risk to put out early. Later in the game, it seems like it would become less of a risk, but Heads on Spikes seems a much better way to try to close out the win. I don't think the extra gold is enough to put it in a regular rotation.
scantrell24 - 3 out of 5
The low reserve rules Feast for Crows out as an opening plot, which is where you really want 6 gold. So instead I'd consider it for a game-ender, but the low initiative hurts in that department. All told, this plot doesn't serve it's purpose well enough to garner regular consideration.
VonWibble - 3 out of 5
Another good finisher like A Clash of Kings above, though weaker in melee. Easier to get 2 power with in general, especially if you have access to stand and don't desperately want to go first or second. Use on a turn where you are aiming to win, so the reserve doesn't hurt you. I see this being one for aggro decks to use after wiping the board with claim 2s.
cockbongo - 4 out of 5
A low reserve puts this into the "late game" territory but could be enough to push through a win.
A Game of Thrones (47 Total Points)
agktmte - 3 out of 5
A great stall plot, I am only rating it a 3 because I don't think this is a plot to consider for every deck, but if you are playing a faction(s) with a strong intrigue presence, you will probably want to include it unless you have a reason not to do so.
emptyrepublic - 4 out of 5
Depending on who you have sitting around you, this is some great tempo control. Probably must include for many Lannister/Martell/Tyrell/Baratheon decks. Doesn't scale in Melee, but if you have 3 intrigue light Stark players at the table, you can definitely put the breaks on them.
Ire & WWDrakey - 5 out of 5
While not the best in a Core-only environment, it should rise in value as more cards enter the environment and more control options are available.
Istaril - 4 out of 5
An absolutely superb control plot, but obviously only playable for some factions, and for those, sometimes the icons will just line up against you. Likely to be a plot to keep on the radar for a long time, even if it only slots into some decks.
JCWamma - 5 out of 5
This core set lacks for solid icon control and challenge denial, but we simply must believe it will arrive at some point, and at that point this will become an amazing plot, as Shadows and Spiders was in first edition. Until then, it remains a tremendous middle-finger to Stark and Greyjoy players.
mnBroncos - 5 out of 5
A better version of one of my favorite plots in 1.0. This will see play and decks that are weak in intrigue have to always be prepared to go up against this plot. Solid reserve too with a very strong effect for the right decks.
OKTarg - 5 out of 5
This 5 isn't to say that it is belonging in all decks but rather that those decks that can play it are getting an amazing control tool. The Core meta will be dominated by the MIL challenge, so this plot will be an invaluable tool for other decks to lock out that critical challenge.
rave - 4 out of 5
Depending on how the icon spread works in this new edition, this is probably the quintessential control plot it has always been: A great tool for houses that have strong challenge phase control and strong intrigue presence.
scantrell24 - 5 out of 5
I've already seen Game of Thrones backfire, but I've also seen it turn lost games into victories. Every faction should consider this plot… except Greyjoy. And given how strong Greyjoy appears, I think we'll see Game of Thrones frequently to counter the Krakens (who should in turn counter with Little Birds). Humorous note: the strongest intrigue characters are all Ladies except Jon Snow.
VonWibble - 4 out of 5
In a faction with good intrigue you are getting a plot with average stats that can lock the opponent's challenges down for a turn. What's not to like? For the 4 factions emptyrepublic mentions above, it's a 5 out of 5 for sure. For the rest, it's between 1 and 3 out of 5, so my score is a crude mean of these.
cockbongo - 3 out of 5
Very house (sorry, faction) dependent but a decently standard stall/control plot.
A Noble Cause (47 Total Points)
agktmte - 4 out of 5
This one is only not a 5 because some factions don't have a large number of Lords/Ladies (thinking of Night's Watch here), so it's not a strict auto-include for all decks, but if you don't have a reason not to use this plot, you should have at least one copy of it in your plot deck.
emptyrepublic - 4 out of 5
Lord/Lady characters (at this stage of the game at least) are going to be center pieces of your board position in 2.0. Anything to bring them out more quickly/efficiently is good. The above average gold is excellent as well.
Ire & WWDrakey - 5 out of 5
Many expensive lords and ladies in the box make this a great starting plot. Value will come down if and when we get more income options, but we expect to see a LOT of this for a while now.
Istaril - 4 out of 5
Economy is rough, and while I expect this one to drop in rating as time goes by (and some factions won't be as good for it), at the moment, it's probably in the vast majority of your plot decks. With good reason, of course, as 7 gold is great.
JCWamma - 4 out of 5
In the early time of this game this plot is a 5 out of 5 without question - I'm lowering it to 4 for posterity's sake here. When economic bases are strengthened the card will lose value, but until then an effective-7 gold plot, specifically designed to help play out your most expensive characters and with above-average reserve to boot, all adds up to a strong plot.
mnBroncos - 5 out of 5
I think this will be a very popular plot possibly for the duration of the game. This plot alone can ensure you get your 7 cost character into play... Only see this not being a 5 if Naval Superiority is very popular, but you still could get a cheap lord into play at times.
OKTarg - 4 out of 5
I tend to think you want about two economy plots in your deck, and for most factions this is the best one. The main drawback is the initiative, and often that's not a giant deal.
rave - 4 out of 5
One of the better openers if you want to risk a Kingdom early: Technically 7 income with no real drawback. The cost reduction effect does soften the blow of Naval Superiority a little if you get unlucky. I don't like the lack of initiative for the mid to late game.
scantrell24 - 4 out of 5
Yes, Noble Cause is good right now. No, it won't stay that way once we see more and better economic options.
VonWibble - 5 out of 5
With limited (no pun intended) economy, at least for now, and lots of characters this reduces, I can't see me leaving it out in a core set environment. Well, maybe Night's Watch - it's probably a lower score for them.
cockbongo - 4 out of 5
Why not? Probably the most common opening plot from the core set for those not worried about going first. If you're Martell you may even pack two.
A Storm of Swords (25 Total Points)
agktmte - 2 out of 5
As you may recall from my rubric, a 2 means I consider it a niche plot. So there are definitely some decks that will want to use this plot, but not many.
emptyrepublic - 2 out of 5
There's one Stark character that can really benefit from this plot. Until and unless Siege of Winterfell makes a comeback, a plot granting additional challenges is going to have little pay off right now unless you can get Master of Ships on the same turn.
Ire & WWDrakey - 3 out of 5
Low gold, but still holds position for high impact with no-kneelers, especially in melee where the initiative matters more and you get the chance for a claim raise with Master of Ships.
Istaril - 2 out of 5
In the vast majority of situations, The Winds of Winter will do the job better - although the initiative here is enough to punish a Wildfire Assault. There are characters this is better with (e.g. Jaime, Drogo+Arakh), and sometimes just throwing more challenges is better (especially in melee) just to kneel out defenders. I expect its stock to rise over time with non-kneelers/standers.
JCWamma - 2 out of 5
The gold is quite low here, and there aren't enough characters who can make true use of the effect (well, not good ones anyway). In the future its stock may rise, but this is practically a direct port of a first edition plot that saw little play.
mnBroncos - 2 out of 5
Only use this plot if you have a lot of triggered effects for winning a military challenge.
OKTarg - 2 out of 5
Too low of gold when you should just run a claim two instead.
rave - 3 out of 5
Probably not too different then it always has been. Good for the decks tweaked to make use out of it. Right now, Stark seems set out of the core to make good use of it with their non-kneeling army. Stark/Tyrell with Oleanna's Informant seems like a useful yet somewhat impractical combo. Also, Stark/Lannister that runs Jaimex3 as part of their Lannister character base to power Treachery, is another combo that is slightly less useful and practical. (But.. AWESOME)
scantrell24 - 2 out of 5
With only 3 gold, will you be able to marshal enough characters to win two military challenges? Maybe if you're trying to use Jaime, Vanguard of the North, or Khal Drogo.
VonWibble - 2 out of 5
Add a bit to that score if using Stark. Good initiative but not an early plot thanks to that mediocre gold and reserve. It's all very well being allowed 2 military challenges, but you have to have enough standing military icons to issue both and win them!
cockbongo - 3 out of 5
With a bigger dependence on characters early in the rebooted game this could well be valuable for those with non-kneeling characters.
Building Orders (38 Total Points)
agktmte - 3 out of 5
I don't think this is a plot you should always consider using, but if you are basing your deck around particular location/attachment, you will want to use this. Martell and Night's Watch are a couple of the most obvious candidates, since both Ghaston Grey and The Wall are locations you will want sooner rather than later and can make a large impact for you. Even outside of those decks, it's essentially a plot that says draw 1 card, so it will find a place in a lot of decks.
emptyrepublic - 3 out of 5
Not so keen on only searching the top 10 cards. Granted that you can now pluck an attachment or a location so the chances of getting something usable goes up. Most useful for decks leaning on key locations.
Ire & WWDrakey - 4 out of 5
Good for finding a key location that you need, or for emergency fetching a control attachment. Will most likely quickly fall to being an enabler for Combo-decks, but should see quite a bit of play in those along the years.
Istaril - 3 out of 5
It's card advantage with perfectly reasonable stats, so by any 1.0 metric, this is great. When digging for a combo piece, or maybe just your draw engine, should do well, but clearly worse than Summons as characters are generally better, and a larger proportion of your deck (so less likely to fizzle).
JCWamma - 3 out of 5
The first thought I had was "well, there are plenty of juicy locations to grab, but the best ones all cost 3 or more and the gold is too low here to truly take advantage of it". However, I then gave it more thought and realised that while fetching a Red Keep or Mander or Wall is a strong play with this plot, its greater utility is doubtless in fetching resource locations early to stabilise your economy, or Milk of the Poppy to sedate a harmful character, and in those cases the slightly low gold isn't such a worry. Additionally, with decks presumably running about 10 resource locations, the odds of one being in your top 10 will be higher. It may be a reasonable 'safety net' plot for the time-being, and as soon as the economy makes it unnecessary in that regard it will revert to being a solid-yet-unreliable fetcher of flashy locations.
mnBroncos - 4 out of 5
Top 10!? That is a huge part of your deck you get to look at. Any deck with a key attachment or location is going to consider this. Also, it only gets better the larger the card pool grows and there are more options for you to search for.
OKTarg - 3 out of 5
Any plot that gives card advantage is good, and this is one of the more reliable ways to fetch an economy location. It's not great since the gold is too low, but I think some decks like Night's Watch will still want to keep that Wall redundancy (as an example).
rave - 4 out of 5
Great plot for Martell to x2 for Ghaston Grey or Targ for Plaza of Punishment. I want to say low impact for everyone else, even with the income you're grabbing.
scantrell24 - 4 out of 5
Building Orders offers incredible versatility. Need money on turn one? Get a Kingsroad. Need to answer an opposing character on turn 4? Get a Milk of the Poppy. Need your draw engine? You can get Great Kraken or Red Keep too.
VonWibble - 3 out of 5
Searching 10 cards means you are virtually guaranteed to hit something as long as you have at least 10 targets. I can't think of decks that won't do this. So, worst case in general I expect you are finding an economy location. Combined with the reserve value that's solid enough.
Building Orders - 4 out of 5
Need that copy of Highgarden? Struggling for economy? Go for it. Solid reserve for the search plots mean this will always be useful.
Calling the Banners (32 Total Points)
agktmte - 2 out of 5
Interesting plot that can really help get you some gold if your opponent has a strong board position, but there are a lot of interesting plots in this set and I think this plot will end up being cut more often than not.
emptyrepublic - 3 out of 5
I'm not sure how this is useful in Joust. In melee the probability of this being useful is much higher, even then I think it's only a marginally interesting effect. It also depends a bit on your meta and how often your opponents like to reset.
Ire & WWDrakey - 4 out of 5
Decent if not exciting in Joust, but in Melee you can always find an opponent who has at least 4 characters on the board, making this one of the best Melee resource plots.
Istaril - 3 out of 5
We can expect this to be about 6 gold, with higher initiative and reserve than A Feast for Crows, and scaleable to boot. Probably straight-up better than A Noble Cause in melee, while in Joust I feel that for most factions this will be considered slightly worse, with its stock increasing over time as we depend less on lords/ladies, and get a few more weenies. Having gold pre-marshalling might be handy too...
JCWamma - 2 out of 5
I think this is a 1 in Joust - why not just play a high-gold plot? - but I'm being generous and giving it a 2 in Melee because you get to choose the opponent, so it's less likely to be rubbish. This gold also gets round Naval Superiority, unlike some of the other high-gold plots.
mnBroncos - 3 out of 5
Very strong while we don't have Valar Morghulis in the game. Also it is a way to give you gold before the marshaling phase which could have impact later on in the game.
OKTarg - 2 out of 5
Saving grace here is in melee, but I don't know why you are playing plots that are only good while you are behind.
rave - 3 out of 5
A later-game plot that is useful enough. 7 initiative is significant, and deadly when backed by the sea of gold this plot can potentially net you. I have a feeling this might be even better in practice, because having this effect on command with the high initiative (as opposed to in your deck where it is more likely to be a dead card) feels like it could make it more useful. Still, it's just income and initiative, and the lack of an effect may weaken it over time.
scantrell24 - 3 out of 5
Like Noble Cause, Calling the Banner sees a fair bit of play now but probably won't once the card pool expands to include better options. I'm not a huge fan even now.
VonWibble - 3 out of 5
Chances are your opponent will have at least 3 characters out in any given turn (except maybe turn 1). That means 6+ gold, 7 initiative, and 6 reserve, all very nice. In first edition early game many people used the Fury plots, which had similar stats and often were blank. The big annoyance to this plot is Wildfire Assault, which could potentially beat it on initiative, and rob you of a lot of gold by resolving first. However, with the exception of Night's Watch, you are probably better off with A Noble Cause. The only caveat to this is Naval Superiority, as this card does a lot to get around it.
cockbongo - 4 out of 5
Great melee plot, also tempting to drop it in when your opponent expects you to Wildfire. Grab some gold and save your reset for next turn.
Calm Over Westeros (42 Total Points)
agktmte - 3 out of 5
This can definitely help you out for a turn if you need to build up your board or hand size and slow the game down a bit.
emptyrepublic - 4 out of 5
This strikes me as a solid "prepare for the end game" sort of plot. You can either secure your board or power tokens. Probably not strong enough to close but not having to suffer the consequences of 4-5 military challenges in one round can be a big relief.
Ire & WWDrakey - 4 out of 5
Holds great value to control decks that want to slow the game, or in other decks for mitigating an icon weakness for a turn. Should also see a lot of play in Melee for helping protect a fragile board (low on M icons, for example) from multiple military challenges.
Istaril - 3 out of 5
The reduced claim can buy you a lot of room. Let's not delude ourselves though, in the core only environment, you'll be picking Military most of the time. This lower-stakes plot isn't really my kind of plot, and claim is only one of the dangers of losing a challenge. However, it is 5 gold and safe from Naval Superiority, which might be a thing (but might not be).
JCWamma - 4 out of 5
Loyalty Money Can Buy was a regular strong card in first edition, and Calm looks to be much the same. It is not as good as Loyalty, but doesn't need to be, and between its non-Naval Superiority-able trait, reasonable gold and reserve and solid defensive effect that's better the fewer meaningful challenges an opponent can make, this seems like an ideal opening plot for a lot of decks.
mnBroncos - 3 out of 5
2.0 Seems to be more about the challenge phase than 1.0 was so shutting down a challenge for a turn can make a big impact. However, there are a lot of good plots even with only the core set so I think only control centered (or decks very weak in one area) are going to run this.
OKTarg - 4 out of 5
This is one of my favorite plots due to the high gold and flexibility. I open with it quite a bit (spoiler alert)
rave - 4 out of 5
Looks like a strong control plot with application similar to A Game of Thrones. If playing heavy control, I could imagine flipping this first turn, choosing intrigue, and just playing out my control base as needed. This plot is also interesting in that it is probably a great card on the second go-around of plots too. Could be key for the late game power challenge. It also avoids the threat of Naval Superiority. The lack of Kingdom or Edict on a 5 gold plot is noteworthy as well. And depending on how Naval Superiority takes off, this could be one of the stronger setup plots.
scantrell24 - 3 out of 5
It's a solid opener if you want to avoid Naval Superiority and/or need to time setup a long-term strategy, but for most decks there are better options.
VonWibble - 4 out of 5
Add 1 to this for Martell and other long game control decks. Good gold and reserve, and played early it can mitigate some military claim from heavy aggro decks, or intrigue claim if you desperately need to keep a card in hand. Doesn't directly add to your position though, so some decks can leave it out.
cockbongo - 3 out of 5
Boring but functional I suppose. Instead, play something with an effect that helps you win.
Confiscation (46 Total Points)
agktmte - 4 out of 5
This plot is a near auto-include and if you don't have it, you will wish that you did. Attachments without the Terminal keyword and no Valar Morghulis means that it can be quite hard to get rid of an attachment when you really need to do so.
emptyrepublic - 4 out of 5
Given that attachments will now be much more durable, targeted attachment control will be much more important than in 1.0. Enough said.
Ire & WWDrakey - 5 out of 5
If you don't have built-in attachment control in your deck, you will most likely need to use this.
Istaril - 5 out of 5
Attachments are a thing now - a real thing. If you have trouble wrapping your head around that, imagine if this plot let you choose and destroy a location. While I'm not sure it's 2x status, I think your plot deck starts with one of these, and works from there. And that's going to carry on well beyond the core.
JCWamma - 5 out of 5
One thing this core is missing is an abundance of negative attachments. We have Milk of the Poppy, which is nasty and arguably reason alone to run this card, but it has the Terminal keyword. I'm rating this a 5 because I'm anticipating non-terminal negative attachments in the future, and if you don't have the space in your maindeck to run attachment hate (for instance, you aren't running Baratheon, Greyjoy or Targaryen) then this is going to be pretty vital. It's also obviously great for removing your opponent's positive attachments - sorry Jon Snow, seems like you aren't meant to hold Longclaw after all. Big thumbs up.
mnBroncos - 4 out of 5
This is a great plot and is needed for the game right away. Attachments will see play and I am assuming some factions will be very weak at removing attachments permanently and will need this sort of plot. Solid stats to go with it.
OKTarg - 4 out of 5
It's not a five since it has a chance of being dead, but I believe that Milk of the Poppy will be one of the meta-defining cards in the Core. If you have other ways to deal with it, then you can skip this one, but point-and-click removal is always good.
rave - 2 out of 5
Average stats and may very well do nothing. If there is any card in your deck that you don't want to do nothing, it is a plot. Think to yourself what attachments would be so worth teching against that you need to commit a plot slot to it? And what attachments of those aren't dealt with by character control (that is now available to every house)? Often times having to replay an attachment off a dead character should be tempo change enough. In short, it's a useful effect but I would argue one not necessarily one needed on demand.
scantrell24 - 3 out of 5
Most decks run 5 to 8 attachments right now, so you'll usually have a target, but spending a plot card just to remove a Milk or Bodyguard seems steep, and I don't think the more expensive attachments see enough play yet.
VonWibble - 5 out of 5
Solid stats, and given the changes to attachment rules I'm prepared to believe the effect is well worth it. A deal-making card in melee.
cockbongo - 5 out of 5
I'll be packing it in most plot decks this early in the card pool. Will pretty much always come in handy.
Counting Coppers (44 Total Points)
agktmte - 4 out of 5
Great way to refill the hand and high reserve means you can hold on to them. But the gold value is so low. My first edition sensibilities want this to be something to play early game to draw into more stuff sooner than your opponent, but with reserve and the new economy, that way of playing it is mostly terrible. I think this is a good mid-to-late game plot choice when you start to run out of steam but have built up some economy. I think every deck can take this one into consideration, especially if you are playing a faction without much (reliable) draw.
emptyrepublic - 4 out of 5
There is not a huge amount of draw from other cards in the core set and not that many characters with insight. I can see lots of first time decks using this plot. The low gold can be tough, but it's offset by the massive 10 reserve value.
Ire & WWDrakey - 3 out of 5
"Draw = Win" was the fundamental basis of 1.0, and there this would have been an immediate 5/5. However, in 2.0 the bad tempo and low resources just matter a lot more than one would expect. Now, that may change along the years (making this awesome), but we may just as well get our hands on better methods for drawing cards (making this obsolete).
Istaril - 3 out of 5
I think in the long term this only gets better, and climbs to a comfortable 4, but right now the economy makes it difficult to play when the drawn cards can best snowball, and the inability to leverage hand-size against board position with a Valar Morghulis also diminishes its value. Still, dismiss 3 cards at your peril.
JCWamma - 5 out of 5
This was borderline between 4 and 5 out of 5, but what tipped it into 5 territory for me is that it isn't limit one per deck. The low gold hamstrings it for now and if I was rating solely on the core set without considering future cards then it would be a 2, but if we see non-limited economy in the future then it will become obscene, fast. As the first edition saying goes, draw equals win.
mnBroncos - 5 out of 5
There is a very limited number of card draw in the core set and with that assumption I am going to assume design team is trying to make sure draw isn't as key to winning in 2.0. With that said, many strategies are going to be okay with giving up a good amount of gold for 3 cards any day.
OKTarg - 3 out of 5
The resources aren't good, which makes the tempo hit almost unbearable in a variety of instances. The high reserve is nice, but can you really "skip" a turn and eat challenges in the face just to draw three cards? Perhaps you can, and then you'll run this, but most often you'll want something else
rave - 5 out of 5
On-demand card draw is always great. This is probably going to be a pretty popular plot. Great to play when your board position is already ahead. That reserve value means if you can survive one turn, you can just as easily turn your newly acquired treasures into pain on the following turn.
scantrell24 - 4 out of 5
Not every deck can afford the low gold, but late-game when have money and just need bodies, Counting Coppers is a fantastic plot. In certain circumstances, like setting up a Kingsroad but finding no other money, I might even open with it.
VonWibble - 5 out of 5
I'm sure someone once said "Draw = Win". Definitely not a turn 1 plot, but great for any deck that wants to refuel their hand. Which, in an environment without Valar Morghulis, is a lot of decks indeed.
cockbongo - 3 out of 5.
Yes, good, but i can't help thinking it won't be popular once better ways to draw cards come along. That reserve is almost comically big - if you're holding on to 10 cards you must have a pretty slim board presence….
Filthy Accusations (43 Total Points)
agktmte - 4 out of 5
This plot is great, it really helps to be able to control the strongest character on your opponent's board whenever you want. Excellent for helping to win a challenge and get your events through, such as Put to the Sword/Torch or Tears of Lys.
emptyrepublic - 4 out of 5
Again, high cost uniques are going to be center pieces for many decks. At least in the early days of 2.0. This is probably a must have in Martell decks or other decks that play a longer game.
Ire & WWDrakey - 4 out of 5
On-demand soft control effect without restrictions, what's there not to like?
Istaril - 4 out of 5
Point. Click. Problem solved (at least for a turn).
JCWamma - 3 out of 5
This feels asinine to point out, but it depends a great amount on what you can kneel - and this isn't just down to cost. At only 4 gold and effectively blank after the plot phase the effect really needs to count, so your target has to be worth it. This feels like a card that will ebb and flow in power in accordance with the importance of the big characters, and also of factions - kneeling a big Stark seems somewhat pointless, but kneeling a big Greyjoy?
mnBroncos - 3 out of 5 - Solid plot but nothing spectacular. Bara with Stannis is obviously going to love this though and is a nice way to stop key characters for a turn. I think it will see a lot of play out of the core set but I am trying to rate plots how I think they will be even down the line and I think when we have more options to control characters in our deck, this will see less and less play.
OKTarg - 5 out of 5
I think it is hilarious that people complain that this game comes down to whoever draws and plays their biggest guy first when there is a tool to solve that sitting right there that you can use two times in your plot deck! I think you need a really good reason to not run this.
rave - 4 out of 5
Average stats with no drawback. Solid board swing with broad usage.
scantrell24 - 4 out of 5
Don't overthink it. This is good.
VonWibble - 3 out of 5
Add 1 to this for heavy control. Stats are OK, we know that taking someone like Queen of Thorns out for a turn is going to have a big influence on the game. However, some characters aren't too bothered by it, Stark for example. Generally very similar to Calm over Westeros.
cockbongo - 5 out of 5
Put those big 7 cost characters out of action for a round. This will never not be useful.
Fortified Position (27 Total Points)
agktmte - 2 out of 5
I think this is a plot that will end up becoming better later in the life of the game to help combat specific characters and/or combos, but for now most decks won't be using this since they are too reliant on their own characters' text.
emptyrepublic - 2 out of 5
We'll see how things work out with the card pool in the long run, but it's hard to see how beneficial this will be right now.
Istaril - 2 out of 5
Don't get me wrong, I'm very happy to see this plot, and it'll have its place in the meta (allows you to leverage quantity against quality, basically), but I think this one is going to see very little use in the core, until we flesh out the character base further and aren't so dependent on our own character's flashy abilities.
Ire & WWDrakey - 3 out of 5
Get rid of those pesky character abilities for a turn. Not for every deck, nor every Meta, but those who want it will use it well.
JCWamma - 4 out of 5
A very difficult card to play well, but a highly rewarding one to do so. This is a plot where well-timed use of it can turn a game - consider blanking Stannis for just one round and freeing up all your knelt characters, for instance - but equally it could be useless, or more pertinently it may well hurt you just as much. Nonetheless, this will be a potent card in the future, once we build up enough characters that can take being blanked for a turn.
mnBroncos - 3 out of 5
This will be a strong card at some point in the game. Aggro decks are going to like this as well as some control builds. Only problem is right now everyone is going to build decks with characters with key abilities.
OKTarg - 2 out of 5
I think this will rise as the game goes on, as it rewards (as Istaril noted) a swarm-tactics approach, but with the Core not lending itself to such builds this will be bindered until that day comes.
rave - 2 out of 5
Niche, and though the gold is above average, there are better plots at that gold point with more overall effective abilities like Calm over Westeros.
scantrell24 - 3 out of 5
Fortified Position will get better with age, but right now it's difficult to leverage the ability without undermining your own plans.
VonWibble - 2 out of 5
Good gold, good long game or come from behind card. Martell running this as the 7th plot could work, bearing in mind Areo is effectively blank once in play, and in that turn Doran also is, and Viper still has massive strength. Not a plot to easily include currently though.
cockbongo - 2 out of 5
There'll be uses for it, i'm sure, but i can't see it making core set plot decks very often.
Heads on Spikes (50 Total Points)
agktmte - 5 out of 5
This should probably be a 4, but I like it so much I am rating it a 5. Pretty much a default inclusion in your plot deck unless you have a reason not to use it. At its worst this is an intrigue claim on your opponent, at best you get to put Tywin or Melisandre or Jon or Daenarys into your opponent's dead pile before they even get to put them into play AND claim 2 power. The only question I am left asking myself is one copy or two?
emptyrepublic - 5 out of 5
At the absolute worst you discarded a card, which is still decent. It's a plot with effectively no downside. A little luck in plucking a key high cost unique and you've probably already won the game (not even counting the 2 power you get). Not quite as potent in melee as there are other people to deal with but still real strong; no doubt a beast in joust.
Ire & WWDrakey - 4 out of 5
Great if you can hit something with it, most likely it won't hit anything that meaningful… and the low income means it needs to compete with other high-impact effect plots.
Istaril - 5 out of 5
Tempted to rate it a 4 out of stubbornness. In the core only environment, though, pulling one of their very few unique characters into the dead pile is phenomenal. In the long run, I see this fading to a 4, then a 3 - it's not quite an ideal opener if you pull a non-unique, and in the late game it's less likely to pull a character. Higher initiative than Summons though makes it much more damaging that it seems at first glance. Oh, and since nobody has mentioned it: that art is Nate French himself, staring out at us from his spike.
JCWamma - 4 out of 5
I've heard this touted as a strong opener, but I think it depends a lot on your setup because 4 gold is a touch on the low side - if you set a Kingsroad up this becomes far more appealing. The effect is strong, if not quite that "military, intrigue and power claim all in one!" that was touted. At worst it's intrigue claim still though; at best, you kill a 7 cost character and leave them with a dead dupe in hand. This is also a nice cheeky power grab in Melee, with reasonable initiative to boot. Happy spiking!
mnBroncos - 4 out of 5
I am just not as high on this as everyone else is. Don't get me wrong it is still strong, it's not like I am rating it a 2. However, you're only going to hit a key character about ten percent of the time, the rest of the time it is basically just a random discard that you can maybe gain power from. Yes it will see a lot of play though especially early in the game so be careful with who you decide to play in your setup.
OKTarg - 4 out of 5
Basically I agree with JC and Istaril.
rave - 5 out of 5
In practice, this seems really useful. It really is almost a free challenge phase by itself. With the reserve limit keeping people's hand in check, random discard effects seem like they would be much stronger than in 1.0. The chance for 2 power bumps this up to a 5. It makes this plot strong play for a game winner, and the odds you will pull a character are high enough to warrant the slot.
scantrell24 - 4 out of 5
I'm not a fan of extra randomness. We already have random intrigue claim and randomly shuffled decks to keep games fresh and allow weaker players to win once in while. Now with Heads on Spikes, a 6 or 7 gold bomb could be dead before the first Marshaling phase. So, yes, it's quite strong, but I have to question the design.
VonWibble - 5 out of 5
The only plot that can finish the game just by being revealed. My feel is that this is a stronger plot in intrigue heavy houses as the discard has a bit more bite. Especially potent with Ghaston Grey bouncing a big character to your opponent's hand. Arianne Martell hates this card.
cockbongo - 5 out of 5
Yep. Why wouldn't you? Two please.
Jousting Contest (34 Total Points)
agktmte - 2 out of 5
Great plot if you are outnumbered on the board, but it doesn't do enough to help you if you are in that position against your will. So this is mostly for those decks that plan to use a small number of good/strong characters and need help overcoming the swarms. This also works very well with non-kneelers and stand effects.
emptyrepublic - 3 out of 5
Lukewarm on this one as the core environment seems to encourage committing multiple characters to a challenge. In that regard it might be a sort of soft control. Might be a plot that becomes more useful as we move forward.
Ire & WWDrakey - 4 out of 5
One of Drakey's favorite 1.0 plots for combining with soft-Control effects to create full lockdown turns. Cards like Highgarden already allow us to go down that route with the Core, and this should see play during the full lifetime of the game.
Istaril - 3 out of 5
It will gain versatility as we gain ways to milk it offensively with a big non-kneeler, or gain a need for it, with swarms of weenies, or need to constrain renown power game quickly - but none of those seem to be the case yet. Right now, it's a pretty decent control plot for Martell and Tyrell, with Areo Hotah, Ghaston Grey and Highgarden proving particularly effective.
JCWamma - 4 out of 5
A direct reprint of what I consider a highly-underrated first edition plot in Desolate Passage, this plot already has a fair few cards that interact strongly with it - Jon Snow; The Things I Do For Love; STR pump effects like Margaery and Growing Strong; and STR-reducing effects from Targaryen. It's a plot you can only include if you plan on winning tight games though - this won't give you an advantage or help you recover from a difficult position, short of that difficult position allowing you to get a Little Bird on Eddard and defend all three challenges.
mnBroncos - 2 out of 5
It is just a very weird plot that you will need to be able to really build around. I feel this is a plot that if your deck runs one of them you will probably pick it as your second one as well due to your deck being able to capitalize the most on this plot.
OKTarg - 3 out of 5
I would want it to have a bit higher stats for more broadly applicable usage, but this will be great in control decks. Happy to see it back in the game!
rave - 3 out of 5
If the initiative was higher on this, I would rate it a 4, because it's a great segue into challenge events. But, because this affects both players and you probably won't dictate initiative, I feel this has the potential to backfire. It's worth saying though, that the this effect is probably stronger in 2.0 than 1.0.
scantrell24 - 3 out of 5
Here's another excellent plot to have in the evergreen Core box, because it will get better with age as we see more control effects like Highgarden. Certainly not for every deck though.
VonWibble - 3 out of 5
Tyrell, Targ and Martell all like this, Tyrell with high strength, Targ with burn, and Martell with ways to remove characters from a challenge. I'd say it's 4 out of 5 for these factions, otherwise probably not worth it.
cockbongo - 4 out of 5
Tyrell are going to love it.
Marched to the Wall (47 Total Points)
agktmte - 4 out of 5
The "cannot be saved" condition on the discard is a great way to cut through duplicates and Bodyguards. Don't forget that this can also be used to severely punish an opponent for placing only one (high cost!) character in setup.
emptyrepublic - 4 out of 5
I fear the melee game where 2 or 3 of these get flopped at the same time, especially if a Wildfire Assault also gets flopped on the same turn.
Ire & WWDrakey - 5 out of 5
While playing this will not fit all decks, the existence of this plot will force players to play differently and re-evaluate their setups. It is quite a gamble to setup only one character, especially if it is a high cost one. We can also see Aggro decks wanting to run this 2x to follow-up high-claim turns with even further board attrition (and non-saveable one at that).
Istaril - 4 out of 5
My rating is a touch inflated by being happy to see this come back. Punish greedy setups, escalate by following up high claim with this, or even put a character in your discard instead of the dead pile by beating out Wildfire Assault's initiative. Realistically, probably a 3 and in about a third of decks, but it has sentimental value too.
JCWamma - 5 out of 5
Without Valar Morghulis (for new players: a "kill all characters" plot from first edition), this a highly, highly effective plot that may well be the most reliable way of removing big characters from play. Compared to the first edition of this card the plot is VERY aggressively numbered, and being able to run two copies of it is going to make for some seriously mean aggro decks.
mnBroncos - 4 out of 5
Great to have this back in the game. It makes dropping your 7 cost character alone on set up a huge risk and I like having that in the game.
OKTarg - 4 out of 5
This is a real skill-testing card that rewards careful planning over a few turns. The stats are nice to make you control initiative, and I think we'll see it in quite a few plot decks before that drops off to about a third, as Istaril projects.
rave - 4 out 5
I love this card. I'm happy a new generation of players gets to cut their teeth on losing a setup Tywin or some other huge character to this plot. Amazing card for control decks.
scantrell24 - 4 out of 5
Worth including in almost every deck. Some character control decks like burn, murder, and icon manipulation will consider two copies. However, the 1 gold weenies are too prevalent for Marched to be considered an auto-include.
VonWibble - 4 out of 5
The reason not to set-up a duped Robert Baratheon with no backup, this plot gets particularly interesting when combined with Wildfire Assault (especially in melee!). This will be especially effective on the back of claim 2 military challenges that leave the opponent's board short of characters.
cockbongo - 5 out of 5
An auto-include this early in the game. The stats are better than they have any right to be.
Marching Orders (29 Total Points)
agktmte - 4 out of 5
This will end up seeing a lot of play until we get more cards. The drawback is pretty restrictive, but it may be necessary until we get a better handle on the economy of second edition. Some decks may even use two of these. I'm rating it a 4 for now, but I think this one is going to quickly fall off the radar (into the 2 zone) as we get more cards and learn how to manage our resources.
emptyrepublic - 2 out of 5
I think Naval Superiority will be too common in Melee to make this a "safe" play; in particular if you lock yourself out of options during the marshalling phase when you don't have the income to play your big characters. Maybe it works as an opening plot assuming you got your locations/attachments out in setup.
Ire & WWDrakey - 3 out of 5
Decks that can handle the downside will reap great rewards.
Istaril - 3 out of 5
Flooding the board is great, although being vulnerable to Naval Superiority might be very bad. All that gold, though, does nothing for your events, and the inability to put in place locations also hurts your long term economy. The worst is that your turn becomes very predictable to your opponent. In a Valar Morghulis-less environment where over-extending isn't punishable by loss, definitely has a strong place in the meta, but I see this as a staple in most decks to start adjusting to the curve, and then later consigned to decks with ambush (Wolfswood, Lannister) that can make use of the gold in the challenges phase.
JCWamma - 2 out of 5
For the first 6 months or so of the game this plot will probably see a lot of play, but as resource curves straighten out over time this is only going to get worse. It is however very well-worth pointing out that this dodges Ambush, so perhaps if we see more cards like The Wolfswood in the future this will stick around at least a bit longer. This would be a 3 if not for the next plot...
mnBroncos - 2 out of 5
I just don't like a card that forces what I can play during a turn (also allows my opponent to know what I will be playing that turn), also if you're up against Naval Superiority that really destroys your turn.
OKTarg - 2 out of 5
I actually think this card is a giant trap. It seems like an easy button but basically requires that you overextend to take advantage of its ability....do yourself a favor and play something else.
rave - 3 out of 5
That's a lot of gold, but with all of those limitations it really has the potential to backfire.
scantrell24 - 2 out of 5
Without locations, attachments, and events to support them, most of the 6 and 7 gold bomb characters aren't as scary. A few of them, though, stand alone well enough -- Tywin, Jaime and Olenna for example. So whether you run Marching Orders depends on whether you absolutely that bomb on your board. However, in a meta where Heads on Spikes and Milk of the Poppy are everywhere, relying to much on your bombs doesn't seem wise.
VonWibble - 2 out of 5
It's only 2-3 more gold than other "high gold" alternatives. Less than this if you have an income location in hand. I'd really rather not broadcast to opponents that I'm not planning to play an event, or that I can't use Hand's Judgement to cancel their events. Even without the existence of Naval Superiority I'd pass on this.
cockbongo - 4 out of 5
This is going to be handier than people think. Non-tricksy aggro factions are going to make serious use of this in the late game.
Naval Superiority (29 Total Points)
agktmte - 2 out of 5
I would rate this higher (about a 4 because it has such a strong effect/impact), but the level of skill needed to use this plot well is high enough that it won't be in a lot of decks. If you plan to use A Noble Cause or Marching Orders as an opening plot, watch out!
emptyrepublic - 4 out of 5
With multiple players the probability of hitting someone goes up. This will be a plot that particularly clever players will learn how to use well.
Ire & WWDrakey - 3 out of 5
Not fit for every deck, even if you know it would hit your opponent.
Istaril - 2 out of 5
The forgotten plans of 2nd edition. A plot that rewards a very good knowledge of the plot pool and the game, but the penalty for guessing wrong is not negligible. In the core environment, where this is easier to use, I expect it to be quite strong (but not terribly popular), and as the plot pool expands I see it relegated to the plot decks of fewer and fewer players.
JCwamma - 2 out of 5
Oddly I'm giving this a low rating, despite it being a card that helps define a lot of ratings I'm giving other plots. I think it will be enough of a presence to matter, but the times it backfires will just make you sad. The 7 initiative and solid reserve make for a reasonable consolation prize though.
mnBroncos - 3 out of 5
I think this is a plot needed for the game or else 100% every opening plot would be a Kingdom or Edict plot (they give the most gold) with this in the meta though it keeps people on their toes. Decks like Greyjoy and Martell that want to win initiative have added reason to include this.
OKTarg - 2 out of 5
Even if you hit your opponent, what have you gained? A low-gold plot yourself? For this reason, it's a better midgame play, but I really prefer plots that I'm not locked into an order....I don't know; this seems like the kind of card that I won't use because of the variance and then will always hit me from across the table. I hate cards like that

rave - 3 out of 5
Wooow. Not nice! The plot thickens

)) Really clever plot implementation here. Still… the gold seems maybe 1 too low for something wildly risky like this.
scantrell24 - 3 out of 5
I'm glad Naval Superiority exists to keep the turn-1 Edict and Kingdom plots in check, but hit or miss plots aren't my style. I want more consistency and flexibility.
VonWibble - 2 out of 5
There are a lot of targets for this. However, even if you hit a target, in general the result is you will have a little bit more gold than them and probably win initiative, in exchange for whatever effect they still get. I'm not convinced that's worth it. In melee, you are more likely to hit something, but also more likely to have someone at the table who avoids it. This will become powerful if choke becomes a thing, and we are already seeing a few signs of this in Greyjoy with their anti location effects.
cockbongo - 3 out of 5
Target dependent. Would struggle to fit it in over something that will definitely have an effect. Lannister will probably enjoy it though.
Power Behind the Throne (38 Total Points)
agktmte - 3 out of 5
Stand is very powerful and I am tempted to rate this higher, but there are just so many other plots that can provide you with much better utility that I think this one will be mostly an afterthought outside of decks that are pursuing a Voltron strategy.
emptyrepublic - 3 out of 5
Nothing wrong with this but it strikes me that it's not strong enough to always make its way into a deck. It's also a plot that may be driven by your meta. Lots of kneel going around? At least there's a short term fix.
Ire & WWDrakey - 3 out of 5
Bad stats, but the ability will come in handy. Most likely to see play in Rush.
Istaril - 3 out of 5
Awkward use of stand tokens aside, the plot is on-demand stand. It's priced right (see Filthy Accusations, its counterpart), it's useful, and it's going to be fun to play with, especially with cards like Dany. Overall, a solid card to have in the meta-game, and improves with the quality of your best character on the board.
JCWamma - 5 out of 5
One of the cards I was on the fence of 4 and 5 with, but being able to run 2 copies pushed it over the top for me. This has worse numbers than Filthy Accusations so the disparity in rating may seem weird, but let's get this straight - stand is far, far better than kneel. This lets you time that stand for the most key moment in the round, getting double use out of any character you need. It's great for challenge-focused control decks, getting an extra use of their Robert Baratheon or Daenerys Targaryen; it is great as an answer for Baratheon kneel; and it is in my opinion the best rush plot in the core set - the clue is in the name really, this gets you power, fast. Standing a renown character can give a surprise extra push that makes the difference between winning and losing. Compare this to A Clash of Kings, which typically gets you one extra power - this gets you one extra power in practice, plus an extra body for challenges generally, with a host of tricks on the side to boot.
mnBroncos - 3 out of 5
Stand is a strong ability. Some decks are really going to love this plot that are driven off key characters. Also, good plot to go with Stannis.
OKTarg - 4 out of 5
In a meta defined by big characters, using yours extra times can be the difference. Great as a stall plot, or as a closer, or really anywhere in between.
rave - 4 out 5
With characters that can draw cards after winning challenges, and characters that can kneel other characters after winning challenges, restanding characters seems to have gotten a lot stronger. Not to mention the threat that renown brings. Fairly costed with high potential for effect.
scantrell24 - 3 out of 5
Power Behind the Throne makes a strong case for filling the "closer" role, especially in decks with Robert, Euron, or the Red Viper. The low initiative and gold means you need to already have a solid board position though.
VonWibble - 4 out of 5
Getting to make 2 challenges with characters like Robert Baratheon or The Red Viper is a big effect. Use it to finish the game off.
cockbongo - 3 out of 5
Stats are a bit poor, but you can't deny it's usefulness. The key is being able to choose when and where you use the stand - but don't wait too late: you may not have anyone useful left to use it on….
Rebuilding (24 Total Points)
agktmte - 2 out of 5
Good stats on this plot and if you are playing a deck that uses some powerful events or characters/locations that discard for their effect, this plot is fantastic. First edition reference in-coming: Blessed by the Maiden in plot form? Yes please. Definitely a niche plot though.
emptyrepublic - 3 out of 5
Strong stats joined to a 'meh' effect. I don't see anything wrong with this plot, but I doubt I'll use it much.
Ire & WWDrakey - 3 out of 5
While not the best plot with a small card pool, the value of this card should rise once the cardpool grows and it's already good for getting more than 3x triggers of Dracarys! in a game.
Istaril - 1 out of 5
I have to rate something a 1, don't I? The gold isn't great and remains Naval Superiority-vulnerable, the effect is only playing for a long-game in marginally improving your chances to redraw something. Early in the game's life, where card power level is spread out more and games are slower, this might actually be quite good (especially for otherwise clunky modules like Burn), but as the cardpool improves, this winds up solidly in my binder. Unless Mill really really becomes a thing. Which it better not.
JCWamma - 3 out of 5
This rating might be a touch high, but I'm a sucker for stacking the deck in your favour. Shuffling key events back into the deck is a very powerful play, and particularly the first year or two of this game being able to reduce variance will be vital - I can see myself using this to put Kingsroads back in my deck on a regular basis. It's not the most exciting plot, but I see myself using this fairly often.
mnBroncos - 2 out of 5
By far the worst plot early in the game. Only slightly gets better longer the game goes....Really wish this was one card put back into hand.
OKTarg - 2 out of 5
Recursion is good! Weak recursion? Eh. Maybe in the future when we can draw more and control this effect more, but for now I'll look for more impactful plots.
rave - 2 out of 5
Above average gold and initiative. Kingdom plot. Ability that doesn't affect much of anything.
scantrell24 - 1 out of 5
Right now it's rubbish. Later once Pillage is more of a threat, or if there are powerful events you want to recycle, or if you're trying to setup a combo… it will still be rubbish. I'm at a loss for why this doesn't shuffle cards back then let you draw a card or something.
VonWibble - 2 out of 5
OK, long term a control deck is going to love this, getting a strong chance to get their 3 most powerful events back. In the current game, I'm less convinced.
cockbongo - 3 out of 5
With my Bara recursion head on, I love this. In practice, it might not end up being as useful as you need it to be. Now if they'd made it dead pile as well….
Reinforcements (27 Total Points)
agktmte - 2 out of 5
Seems stronger than it is on first glance. Obviously the ability to return something from the discard pile is good, and while the combo of discarding a character for reserve turn 1 and putting it into play turn 2 is clever, you're probably better off using something else. The best case scenario is essentially a 6-0-1-6 and I just can't imagine you get more value from this plot (consistently) than from Calling the Banners or Taxation.
emptyrepublic - 3 out of 5
This plot strikes me as conditional on the number of sacrifice based characters you use. Clearly then you want access to get Bran or whatever character back. I'm scoring it the same, but I think this is more useful than Rebuilding.
Ire & WWDrakey - 2 out of 5
This plot might see the light of day at some point, sadly not yet.
Istaril - 2 out 5
There's a lot going on here: The interaction with reserve from the previous turn, the safety from Naval superiority, the low initiative relative to a Wildfire Assault or Marched to the Wall (so you won't get a fun bonus if your opponent flips them), the card advantage. Overall I'd probably rather run Summons every time, at least until we see more targeted discard-from-play effects. Unless Mill is a thing. I hope not...
JCWamma - 2 out of 5
5 is a large number. 1 is a small number. If you squint this looks like a 6 gold plot, but underestimate the hoop you have to jump through at your peril - typically you won't have that 5 gold character in your discard pile, and if you're only putting one in from your hand then why not just run a higher gold plot that offers more flexibility? This does have the advantage of resisting Naval Superiority somewhat, I suppose... I would have given this a 1, but the prospect of some sort of sacrifice engine in the future tempers the rating.
mnBroncos - 3 out of 5
This is basically a 6 gold plot that can give you semi card advantage from getting a character from the discard pile. I really like this plot as you can get the character that you need at the moment back.
OKTarg - 4 out of 5
You people are crazy. This plot is great! It is fantastic to respond to claim, reserve kickdown, or even just something from hand. Even if you get Varys'd you can hop Littlefinger in for your gold bonus in marshalling. 6 gold and a card? Yes please.
rave - 3 out of 5
As far as the base set goes, effortlessly dodges Naval Superiority. But this will just get worse as the game goes on. Way worse.
scantrell24 - 2 out of 5
Somewhat flexible in that you can recur whichever character you need most, but until late-game there won't be many options (unless you have ways to discard your own characters). At least its a counter to Pillage, one of my least favorite mechanics.
VonWibble - 2 out of 5
Getting characters like Jorah or Bran back is OK. Or you could just draw another copy of them. Too situational.
cockbongo - 2 out of 5
Meh. Many better options.
Sneak Attack (39 Total Points)
agktmte - 3 out of 5
Istaril wrote his review (see slightly below) before me and I have nothing more to to say than what he has said, I still don't think you need to consider its use in every deck though, so that's a 3 for me.
emptyrepublic - 4 out of 5
The highest initiative plot we've seen thus far and one of the few two claim plots available as well. This is a closer. The single challenge condition is a bit of a danger if you muck things up, but you shouldn't be playing this unless you have confidence in your end game.
Ire & WWDrakey - 4 out of 5
How to steal a win in Melee, with one last alpha strike. Also not a bad Joust opener (since power and intrigue Challenges are not that important Round 1 in 2.0).
Istaril - 4 out of 5 - A closer and an opener. On the first turn, power and intrigue (relative to reserve) matter less, so 5 non-kingdom/edict gold, initiative win and 2 claim military challenge is perfectly acceptable, and the reserve isn't punishing. On later turns, claim 2 power to seal the game might be all you need. In some factions, like Night's Watch, you might only be initiating one challenge after you've finished defending anyway. Finally, do not underestimate the benefit of being the single highest initiative plot in the game, be you Martell, Greyjoy, or … anyone at all (especially in melee).
JCWamma - 4 out of 5
A plot that will fall into insignificance in the future. It gets a 4 here because it's one of only 2 plots in the core set to have claim 2, and with strong gold and extremely high initiative you will almost always be able to push through a 2 claim challenge. For many aggro decks this will be a go-to opener, methinks.
mnBroncos - 2 out of 5 - Should have been 3 claim. Right now I personally would never play this. You get to go first but then your opponent can react to what you marshall and do their best to stop your one challenge. There are enough control effects just in the core set that makes this much bigger a risk than I want to take. The one more claim than the standard isn't worth it. Trap card to me
OKTarg - 4 out of 5
I really like this card. Early in the game, hitting harder in one challenge beats a medium blow in 2-3, and the gold and initiative are hard to overlook. It'll get phased out as we get better 2 claim, but I like it a lot better than Winds of Winter.
rave - 3 out of 5
In practice I've never really had good luck with these. You're trading 2 potential unopposed power + effects to push through a single challenge. This is also apparent to your opponent from the get go, which is a big disadvantage.
scantrell24 - 3 out of 5
Most decks running Sneak Attack will choose the same challenge every time. Stark and Targ decks want to murder. Lanni decks want to empty the opponent's hand. Greyjoy decks want to rack up power quickly. The flexibility to deviate from your normal choice is nice though.
VonWibble - 4 out of 5
Great for aggro turn 1, when you probably only want to defend intrigue and don't need to bother with power. Or, great as a finisher with a power challenge, where the near guaranteed initiative also helps.
cockbongo - 4 out of 5
This is going to be used heavily. Good stats, and early game challenge restriction doesn't hurt too much.
Summons (45 Total Points)
agktmte - 4 out of 5
A great plot, opening with this plot makes sense, but being able to play that character is not a guarantee (especially with Naval Superiority), so you may want to wait for a later turn to use it. Several decks will absolutely need to use this plot (possibly even twice), Baratheon kneel will need to get Melisandre ASAP, Targaryen decks using Daenarys will also need her right away. Probably not an auto-include, but definitely closer to it than Building Orders.
emptyrepublic - 4 out of 5
Better than Building Orders because characters are more important than attachments and locations. Searching top 10 isn't such a hindrance. You're being encouraged to use high cost uniques so this is a good way to find a duplicate.
Ire & WWDrakey - 5 out of 5
Makes running a key character and finding a fast dupe for it easy. Should see a good amount of play down the years, both for duping key characters and enabling Combos.
Istaril - 4 out of 5
Bordering on 5, here, because it's not only draw, but high-quality draw (best of your next 10 cards), can set-up combos, and has perfectly good reserve, and can help you dig for a dupe if you don't have the economy for anything else. Watch for Heads on Spikes, though. This card is going to stay good a long time - even post-Valar Morghulis, as it's the most reliable way to get a character on the board.
JCWamma - 3 out of 5
High reserve, average gold, strong effect but wholly unreliable - if you open with this to find the copy of Daenerys that you entire deck hinges on and miss it, you'll be a sad camper. This has a greater upside than Building Orders, but less utility, so let's rate it the same and move on.
mnBroncos - 5 out of 5
Get a character, high reserve, good gold, good plot.
OKTarg - 4 out of 5
Nothing wrong with this plot at all. Characters are better than locations and attachments, obviously, so this is better than Building Orders. The high reserve is nice, and can be a good leadin to Reinforcements or even Sneak Attack turn 2-3.
rave - 5 out of 5
A free character of your choice in 10 cards of deck is huge. Also has the bonus of higher than average reserve which is nice. Plus, if you can't find a single character in a stack of 10 cards, except in rare cases, your deck probably needs to be tweaked a little bit.
scantrell24 - 4 out of 5
There's never a bad time to have an extra character available. Probably best in decks with character-based draw, like Night's Watch.
VonWibble - 4 out of 5
Like with Building Orders, its basically a free card. Literally free to play if it's a dupe.
cockbongo - 3 out of 5
Prefer location search to character, but still, never a bad thing.
Supporting the Faith (40 Total Points)
agktmte - 3 out of 5
A higher than average gold value means that this plot will be considered in a lot of decks, but the inability to carry gold over into challenges means that only some decks (hello there Tyrion!) will be able to use this well. With the low reserve you might as well be using A Feast for Crows unless you can capitalize on the effect.
emptyrepublic - 4 out of 5
Brilliant if you are heavy on the zero cost events (or just light on events in general). Big dividends in melee as the card pool at the beginning is limited so you can shut out "Put to the Torch", "Put to the Sword", and Tears which will be very common in early melee games. Will very likely remain a key core plot for the long term.
Ire & WWDrakey - 4 out of 5
Good stats and will stop any nasty effects (like Ambush) that would happen during challenges. Would expect this to get better, instead of worse, down the years.
Istaril - 3 out of 5
Good gold, and a fairly 'safe' challenges phase, free from your opponent's scariest tricks. Obviously the kind of card you have to build around (with Tyrion, free events, etc), but in the right match-ups, this could really force your opponent's hand while treating you to a fairly decent statline. A meta-dependent plot - but could conceivably be your 2x in the right meta. Great card to have in the core (and fun too).
JCWamma - 4 out of 5
With events costing gold in second edition, the effect here is huge. The gold is very accessible here too, so this is a card that benefits aggro in a big way. The combo with Fealty is very nice too - you can still play your 1 cost loyal event, and your opponent won't have the gold to cancel it with Hand's Judgement. The perilously-low reserve stops this one from being a 5.
mnBroncos - 3 out of 5
Making your opponent unable to play any powerful events/ambush is great for certain decks.
OKTarg - 4 out of 5
I love that this card exists as it adds a mild Fear of Winter effect to the challenge phase without overly choking things out. 6 gold is a lot to boot! Who knew that Paxter Redwyne and Tyrion Lannister were so pious!
rave - 4 out of 5
Not bad if you don't use a lot of gold effects in challenges. It's only going to hurt them, and it's good defense and good gold.
scantrell24 - 3 out of 5
Low reserve hurts and probably means you won't double up on Supporting the Faith, but decks with Tyrion, Paxter or Fealty will love it.
VonWibble - 4 out of 5
I like this a lot, for the exact reasons I dislike Marching Orders, namely that it narrows down the possible events I can face. For maximum power use in combination with one or more of Tyrion, Paxter Redwyne and Fealty to get more powerful events out. I'm probably rating it too high but I can see decks emerging built around 2 of these for sure.
cockbongo - 4 out of 5
Now, i like this a lot. Annoys Lannister and hurts those who want to ambush mid challenges phase. Levelling the playing field is always a good thing.
Taxation (28 Total Points)
agktmte - 3 out of 5
I think this plot will be considered for inclusion in many decks, especially since the economy locations are all stuck with the Limited keyword. If you are not considering this plot, you probably will after a few games. It has solid stats and the ability to jump ahead of your opponent economically, all of which are good things.
emptyrepublic - 3 out of 5
This will help boost your economy on the next turn, not the current turn. It's still a 5/6/1/6 so the stats are decent. I don't foresee myself using this though.
Ire & WWDrakey - 3 out of 5
Might be useful to get more out of limited locations, CCG players probably know this card's value better.
Istaril - 1 out of 5
Ok, I really really really don't know here. This might just be first edition sensibilities gone horribly wrong, and I know the economy is primarily Limited, but for this to justify its place over Noble Cause, it has to generate me the equivalent of 3 more gold (and 1 card) over the course of the game. That means it *has* to be played early, or I have to expect the game to go long without the help of this being a control plot. I hope to be proven wrong (or see more limited cards than we have).
JCWamma - 3 out of 5
If and when we see non-limited economy, this basically becomes worthless. With the current cardpool it's a powerful opening plot, as economy is everything in this game. A very competent stopgap that you may well hate having to include but will nonetheless appreciate the value of.
mnBroncos - 4 out of 5
This is a very good plot. Getting to play two gold producing locations on the first turn can be very critical. This plot allows you to play more limited cards in your deck without the risk they provide and this can put your economy above your opponents' from the very first turn that can be critical for the entire game.
OKTarg - 2 out of 5
I'm with Istaril. Eh. I'd rather play something that affects the boardstate directly rather than just an extra Limited.
rave - 2 out of 5
Nah. Vulnerable to Naval Superiority and tries to fix something that with good deckbuilding really shouldn't be a problem anyway.
scantrell24 - 2 out of 5
So best case you open with Taxation turn 1 and play 2 limited cards, gaining a moderate economic advantage. Worst case though? You don't see two limiteds turn 1, or there's another plot that's more important. Then later on you have to reveal Taxation when it's not optimal. I'll pass.
VonWibble - 3 out of 5
You get to play 2 economy locations early game, since these are the limited cards. Early game you don't necessarily need a plot that does anything more than provide strong economy, so I think it's OK. It may well be the plot we need to run rather than the plot you want to run.
cockbongo - 2 out of 5
Sure, limited seems to be a bigger thing in 2.0, so this will be helpful, but more so than another copy of Marching to the Wall? Nooope.
The Winds of Winter (35 Total Points)
agktmte - 3 out of 5
Two claim is nice, but nothing exciting about this plot (other than the Winter trait). If you want high claim in your deck, you got it.
emptyrepublic - 3 out of 5
High claim plots quietly encourage you to "overcommit" to a challenge in order to get the claim. This can be dangerous in a multiplayer game especially if you are early in the turn order. Unlike Sneak Attack you still get all your challenges so perhaps you can still close with it if you are particularly good at scheming and working the table.
Ire & WWDrakey - 3 out of 5
Smashy smashy 2 claim challenges.
Istaril - 3 out of 5
A plot suited to exploit an opening. Don't delude yourself into thinking this has no effect; claim 2 is very strong. If you can win at least 2 challenges as the attacker here - whether they're two of the same or two different ones, the board swings widely in your favour (depriving your opponent of twice as many cards as they drew, for instance). Throw in a Khal Drogo or a Casterly Rock and you can leverage a small advantage into a quick, crushing victory.
JCWamma - 3 out of 5
The only 2 claim plot that lets you get more than one challenge in, but it's still pretty "meh". The low gold and lack of effect hurt, and unless you've been able to turbo-charge your economy you'll struggle to take advantage of the extra claim. This will see play for the time-being in heavy hitting plot line-ups (though I'm guessing people will run 2x Sneak Attack before this), but in a couple of cycles' time it'll see about as much play as Mutual Cause did in first edition (not much).
mnBroncos - 3 out of 5
We'll need the baseline for what a 2 claim is. Obviously they are designing 2 claim plots more carefully in 2.0. I'd always play this as my two claim over sneak attack.
OKTarg - 3 out of 5
Yep.
rave - 4 out of 5
Fairly costed. Great plot to twist the dagger a little bit. Probably a solid choice to 2x until the card pool gets a little bit bigger.
scantrell24 - 4 out of 5
Two claim is powerful. The low-gold means you're restricted to using it mid-game to take charge of the board, or late-game to put the finishes touches on a victory. A candidate for 2x.
VonWibble - 3 out of 5
The only 2 claim with no downside - apart from the below average gold. I think there's a good chance if you include this you have 2 of them and Sneak Attack to keep the opponent's board clear. Otherwise I think there are better finishers. Stark and Greyjoy both look like they want this plot.
cockbongo - 3 out of 5
Folk attracted to the shiny shiny 2 claim will pack it but may find better utility elsewhere. I'll wait for them to reprint Retaliation

Wildfire Assault (39 Total Points)
agktmte - 4 out of 5
This will be in most decks, but won't necessarily be an auto-include like Valar Morghulis was in first edition. I'll rate it a 4 because you should probably consider it for every deck.
emptyrepublic - 4 out of 5
The only significant reset available. Even though it leaves everyone with up to three characters on the board in my view it's absolutely necessary. You need to cut through the chaff in order to take out the big center piece characters and without at least a partial reset it'll be far too hard.
Ire & WWDrakey - 4 out of 5
A good equalizer plot, which makes sure that the boards don't grow out of hand.
Istaril - 3 out of 5
A great thing for the game, a very important plot to stabilize board situations for control decks but not as useful as it might seem for a military aggro deck - just doesn't cut the board position down to something you can clear in a turn given they can re-marshall. If you've depleted their hand, though… it gains a lot more value. Necessary for the game, satisfying to play, and the stats (and traits) are great for it. Will be in more decks than it ought to be, though, so I'm giving it a cautionary 3 despite it being almost a 4.
JCWamma - 3 out of 5
As the only plot reset in the core, this is obviously an important card that a lot of decisions will depend around, and in the short-term will be a highly important card. In the long-term, after we inevitably get Valar Morghulis? Meh. I don't think the game is fundamentally going to be different enough from first edition that this will matter. Three characters is still enough characters, generally. This will be strong in Baratheon though, where the high initiative lets you go first and put Robert's Intimidate to good use on a smaller board.
mnBroncos - 3 out of 5 - Right now it's a four maybe five, but I think it won't go in every deck right out of the core set and will just gradually see less and less play.
OKTarg - 2 out of 5
I hate this card. It never does enough to actually reset the boardstate and I would rather do without it in my plot decks, quite honestly.
rave - 5 out of 5
Solely out of necessity. It's possible I'm rating it too high, but without the threat of this, you risk letting your opponent take over the game by freely overextending. With the lack of resets all around, and the threat of the reserve value, I feel like it could get crowded pretty quickly. This is pretty much just my sensibilities after 10+ years of 1.0 though… not sure how it will apply in this new version.
scantrell24 - 3 out of 5
The threat of Wildfire, much like the threat of Marched, often accomplishes the same thing as actually running it. I think a majority of decks should run it, but I haven't worked out which ones yet. It's never going to kill anything important - just clear the chaff.
VonWibble - 3 out of 5
With no Valar Morghulis, you need a reset to punish anyone who tries to just play all their cards too early. However, there have been times in 1st edition where I tried to run it instead of Valar, and it didn't reset the board enough to really change the outcome of the game back then. You really have to make sure your 3 best characters are better than their 3 best!
cockbongo - 5 out of 5
Yes. A must.
Thought you were done reading?
Before we award the top 5 and bottom 5 cards based on cumulative points, I'd like to take a second to plug the
New Player FAQ thread
. It includes background information and general knowledge about the game itself, links to various resources like podcasts and player maps, and much more. It's a work in progress that receives constant updates, so please share it with new players, and check back yourself every now and then. Also please let me know if there's anything you'd like to see added! Now without further ado...
Top 5 Cards:
Heads on Pikes (50)
A Game of Thrones (47)
A Noble Cause (47)
Marched to the Wall (47)
Confiscation (46)
Bottom 5 Cards:
Rebuilding (24)
A Storm of Swords (25)
Reinforcements (27)
Fortified Position (27)
Taxation (28)
Feel free to chime in below. Did we nail it? Make any horrible oversights? Let us hear it, and we'll be back on Friday with neutral cards from the Core.
bigfomlof, Kennit, emptyrepublic and 3 others like this
Article: AGoT Core Set Review: Plots!