Welcome to Card Game DB
Register now to gain access to all of our features. Once registered and logged in, you will be able to create topics, post replies to existing threads, give reputation to your fellow members, get your own private messenger, post status updates, manage your profile and so much more. If you already have an account,
login here
- otherwise
create an account
for free today!

1
Lions of Casterly Rock Review: Part 1
Nov 01 2016 12:00 AM | scantrell24 in
Strategy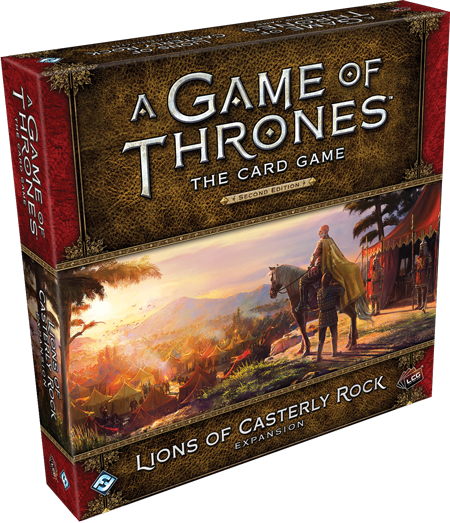 "You ask that? You, who killed your mother to come into the world? You are an ill-made, devious, disobedient, spiteful little creature full of envy, lust, and low cunning. Men's laws give you the right to bear my name and display my colors, since I cannot prove that you are not mine. To teach me humility, the gods have condemned me to watch you waddle about wearing that proud lion that was my father's sigil and his father's before him. But neither gods nor men shall ever compel me to let you turn Casterly Rock into your whorehouse."
Our staff has put together a first blush analysis of the newly released "Lions of Casterly Rock", the second deluxe box following Wolves of the North. We cover the Lannister cards only here in part 1. Cards are listed in numeric order and scored on a scale ranging from one through five, with five being the best possible score. We have 5 reviewers this time around, so the maximum score per card is 25 points. Here's the
unofficial Rules FAQ
for this box put together by mplain.
Also, please extend a warm welcome to our newest reviewers!
Ben Barnhart (Gingerben) from Minneapolis won the 2014 Worlds draft tournament and once claimed victory at a stacked Melee table featuring Bruno, Ryan Jones, and Ryan Ritter.
Martin Widjaja (Milchtee) from Singapore has won a Regional with Lanni Wolf and top 4'd at Nationals with Night's Watch Lion, along with several Store Champ titles.
Kenno Nishioka (Kennish) is a Lannister loyalist and leader of the Philippines meta, a 1st edition National champion, and a 2nd edition store champion.
Now onto the reviews, starting with....
Cersei Lannister (22 Total Points)
Gingerben - 4 out of 5
This is a very solid card. She'll be the centerpiece for the Lannister Rains of Castamere deck. In other Lannister decks she might not always win the choice between her and the 4-cost Cersei. Lannister is reaching critical mass with its 7-costers and cannot afford to run all of them. However, decks like Lanni Dragon have shown that running 8 or more copies of 7-cost characters is viable, so there will definitely be decks where you see this Cersei alongside Tywin and Gregor. At least for a few weeks until we get Valar. This card's best use is in melee, where she will be an almost guaranteed 3 power every round.
kennish - 4 out of 5
At 7 cost, Queen Cersei will be the centerpiece of a number of intrigue-based decks in when the box comes out, as well as in the future. She opens up interesting Intrigue synergies in an otherwise Military-centric house. However, that's not her only strength. SInce Lannister can afford to run multiple high-cost characters, we may see a miser's copy of Queen Cersei, just for value. And of course, she is also a huge target in Mêlée games.
Quill & Tankard Curmudgeons - 5 out of 5
A centrepiece that baits you into running all the intrigue tech (Without his Beard!), and triggers Rains effortlessly, but that shines even with just the occasional Heads on Spikes. Lannister's fastest card, and their first real entry into the melee metagame. May be less potent than people think in Joust - if you think 7 is a fair price for power grab that doesn't have a military icon or a kill effect, we hope you're playing Wolves Catelyn over Core Catelyn! - but that Melee potency pushes her up to 5 still (unless you're cynical like Drakey).
VonWibble - 4 out of 5
Lanni has a lot of expensive yet effective characters and this is another one to add to the list. The price point really isn't an issue as we already know, but the card pool will get to the point where even Lannister can't take them all! What goes in Cersei's favour is that she is stronger in intrigue than pretty much every other option so far, with strength 6 and non kneeling. The only cards likely to beat her on strength are core Tywin (and let's face it, you are probably taking him as well as Cersei) and non core Catelyn (which is a very specific deck). Whilst Rains of Castamere may be an obvious agenda choice, it isn't the only one. Any hand destruction deck is going to be a natural home for Cersei - so Banner of the Sun and Banner of the Stag ar both decent options, though it could well be that core Cersei is an even better pick in such decks. This competition is the only reason I'm not giving 5 out of 5.
Milchtee - 5 out of 5
Two of the best icons IMO with an ability that is almost always going to net more power than Renown in a deck built to exploit it. In a post-Valar meta the Intrigue challenge and discarding cards in general will be more important, and Cersei will be the queen of it all.
Tyrion Lannister (18 Total Points)
Gingerben - 4 out of 5
As with some of the other cards in this box, the worst thing about this card is its name. The Core Set Tyrion is one of the best cards in the game, and not being able to run him hurts. However, I think that the Clansman deck has potential to be absolutely disgusting, especially with Harrenhal. This 7-Cost Tyrion is a very powerful engine in that deck. The fact that he doesn't need to even participate in the challenge to trigger his ability makes things even more disgusting.
kennish - 3 out of 5
Unlike Queen Cersei, which we may see as a cheeky copy, this version of Tyrion has a lot going against him. First, it doesn't help that he shares the name of one of the strongest cards in the game, Core Set Tyrion. Second, this dwarf will require a clansman-centric deck to be utilized to the fullest -- the power of the deck, we will have to see.
Quill & Tankard Curmudgeons - 4 out of 5
As a Tyrion based around challenge phase jumping, he has to work really, really hard to justify a spot above the Core Tyrion. He stands a chance, as a tricon offering claim-raise, card advantage and a fair amount of versatility (with potential Valar protection to boot)... however, the vast majority of Lannister decks won't even consider him, and even Clansman decks - decks we do not have any guarantee will actually be consistently good, remember - will need to actually justify the choice rather than taking it as a given. He's still good enough to be a 4, simply because Core Tyrion is that good that there's a lot of wiggle room beneath him. So to speak.
VonWibble - 3 out of 5
Core set Tyrion is possibly the strongest card in the game, so a card named Tyrion Lannister needs to be good to consider taking over him.
The best case potential of this card is undoubtedly very high. Claim raising is always strong - there is a reason for all the claim 2 plots having some sort of drawback. With Valar to come soon and hand destruction being a thing now, draw is stronger than it ever was. Oh, and you could always have some gold - more than core Tyrion gives per challenge. But what balances this out is the fact you have to win a challenge with a participating clansman, which makes this a clear choice in clansman heavy decks, and a poor one in any other type. Given we don't know how good a Clansman deck is as yet I am hedging with my score, but will add the caveat that if clansmen are consistently supported throughout the game then this card clearly becomes much stronger.
Milchtee - 4 out of 5
A centerpiece card like this is only as good as the support cards it requires. Other than Burned Men from the Core set, every other Clansman character is from this Lanni deluxe box. It's a good thing then that the Clansmen are in general pretty good, and synergize well with the bonkers ability on this Tyrion. Note that Tyrion himself is not required to participate in the challenge, which makes it very, very flexible and easy to trigger more than once. The only thing holding him back is the fact that you don't get to play core Tyrion when you play him, which hurts a lot.
Ser Kevan Lannister (20 Total Points)
Gingerben - 5 out of 5
I really really dig this guy. The pure efficiency he can give you from recycling Kingsroads is wonderful. His ability gets around the Limited Keyword, so you can use a Kingsroad to play him, get that Kingsroad back, and play an additional Limited card that round.
I've been messing with different Lannister builds focused around Tower of the Hand, and I think that's where Kevan really shines. The ability to play a 6-cost Intrigue icon for 3 gold (with a Kingsroad), get that Kingsroad back, and then bounce him back to your hand in challenges to bounce a 5-cost character back to your opponent's hand is really strong. And doing that every round begins to create an economic efficiency gap between you and your opponent that can be very difficult to recover from.
Even in decks where he's not the main focus, there aren't very many reasons to not run at least 1 copy in most Lannister builds.
kennish 5 out of 5
We need to talk about Kevan
. Look at this guy. Look at other six-costers in the game. Look at this guy again. This card screams value, and you'd be hard-pressed not to include him at least as a one-of in many decks. His ability to recur Kingsroads will be a common play, but don't forget that we can also fetch discarded attachments such as Milk of the Poppy and Seal of the Hand.
Quill & Tankard Curmudgeons - 3 out of 5
You have dreams of re-using him turn after turn with a Tower of the Hand, and don't get us wrong, that's pretty damn good. Recycling a milk is value too - but the oft cited "Kingsroad makes him a 3 coster!" is not really enough reason to run him. Even with The Kingsroad, he's not going to change the tide of battle, and without one, he's a pricy textless card. A 1 of in some decks, but mostly value in a Tower of the Hand deck. Later in his life he may creep into a 'GoodStuff' deck (when those start featuring stronger locations & attachments), but right now the location hate just doesn't exist to justify him.
VonWibble - 4 out of 5
I really like this card. I'll start with the negatives - 6 cost is a lot up front, and the lack of location hate at the moment means your discard pile doesn't tend to have too many of them. With 1 exception.
If you have a Kingsroad in your discard pile and get it back, you have effectively got 3 gold back. Assuming you had 6 gold up front, you have now in real terms paid 3 gold for a 4 strength bicon with 3 good keywords, which is decent efficiency.
That's the "safe" play. The synergy you could achieve however is to get a big location like Harrenhal into play, which would be particularly annoying for your opponent if they actually had discarded it with We Do Not Sow. I can see Kevan fitting very nicely into a winter deck where you choke your opponent with a plot such as Wraiths in Their Midst or Famine, discard your own Harrenhal to reserve, then put it into play with Kevan.
Finally, he is non loyal. Whilst there aren't necessarily that many Lannister locations as targets for his ability under such circumstances, neutral locations are still fair game. Time for the Eyrie?
Milchtee - 3 out of 5
This has good value in a deck running stuff like Seal of the Hand, or any one of the 3-4 cost neutral/Lanni locations and attachments. I'd liken the card to Littlefinger, as a kind of 1-of card that provides cards.
Timett Son of Timett (17 Total Points)
Gingerben - 3 out of 5
I might be underestimating the power of the Clansman deck, but this seems overcosted to me. Especially if you are bouncing Clansmen back to your hand to trigger Tyrion, you're going to need a lot of economic power to be able to have enough Clansmen on the board for this to make an impact. That said, there are already Lannister decks that leverage high claim on small boards, and those are very scary decks. So the combination of that tech and the Clansmen package might be a monstrosity. We'll have to see.
kennish - 4 out of 5
I may be overestimating this guy, but I see so much potential in him, even in non-clansman decks. I think he's a definite threat in Lannister decks which aim to pressure via military claim on small boards. I'd say X = 2 would be already be a good benchmark for him, so that wouldn't be that hard of a condition to achieve, specially because of the other clansmen we'll get in this box.
Quill & Tankard Curmudgeons - 4 out of 5
Kill pre-claim. Even if it's just clearing the chaff, that's... very good - and Clansman decks need every icon they can get, so his two will be a welcome draw whenever you see him. Efficient and somewhat boring, but efficient nonetheless.
VonWibble - 3 out of 5
With mediocre strength for the cost and no keywords, the power of this card is pretty much entirely determined by the value of X. Given that usually this ability will go off before military claim is applied, I'd say that claim is going to really hurt unless your opponent has some chuds on the table, especially if claim raising Tyrion is on the board. With that in mind, I think X = 2 is usually good enough, and that really should not be difficult to achieve in a clansman deck. In other decks, you are probably using Burned Men but may be limited on clansmen elsewhere, so I think there are better choices in the cost slot. As with Lions Tyrion, that limits my score, with the same caveat.
Milchtee - 3 out of 5
His ability is pretty neat, even when he's attacking alone to kill an extra chud/reducer. A little on the expensive side at 6 gold, but he's likely to still make the cut in most Clansmen decks (given the lack of choice) as well as certain character-removal type Lannister / Banner of the Lion decks.
Ser Jaime Lannister (9 Total Points)
Gingerben - 1 out of 5
This rating might increase in the future, but right now I see no reason to ever run this Jaime over the 6-cost version. It seems like FFG is seeding the Lannister pool for a Knights archetype in the future, and this Jaime could very well be a centerpiece for that deck. But right now I see very little value in this card, especially since his Kingsguard ability isn't very useful to Jaime himself.
The Shagga in me can envision a Lanni/Rose knights deck that utilizes this card, but Knights decks are inherently fragile in the current meta, and we already have a plot that gives your Knights renown without Jaime's restriction.
kennish - 2 out of 5
He might be good in the future when we reach a critical mass of Kingsguards, but even then, I'm not sure if you'd run him versus the Core Set version.
Quill & Tankard Curmudgeons - 3 out of 5
A seed card. The abilities are both solid, and, like Cersei, he's got the potential to accelerate a Lanni deck (something they lack) - but right now, too many knights have renown, too few Kingsguards matter. More of a Banner card for a deck that doesn't exist yet. Be ready to dust him off in 2 years though - unless the seeds fell on barren ground, of course.
VonWibble - 2 out of 5
Inevitably this card invites comparisons to his core set counterpart. 1 less cost for 1 less strength is OK. Knights gaining renown is nice, but in a Knight power rush deck you want lots of renown happening at once, which can't happen if they go into challenges alone. An intrigue icon is nice, providing some safety from Tears and Martell, but a lack of Kingsguard in the card pool means it is nothing special for now. Overall an OK card with nice abilities, competing with core Jaime, a strong card with a great one. This will definitely improve with more Kingsguard, but even then I'm not sure it beats core Jaime.
Milchtee - 1 out of 5
How is it that Jaime is only at 4 STR instead of 5 here? Is that a nod towards how his 'strength' is mostly just for show?
The ability is very conflicted - most big Knights have their own Renown, and you won't be winning any challenges attacking alone with small ones (exception: Arbor Knight / Mare in Heat). The icon-granting ability is also pretty marginal in usefulness, with so few Kingsguard characters released.
Tywin Lannister (12 Total Points)
Gingerben - 1 out of 5
Honestly this card probably deserves a 0. The Core Set Tywin is arguably the best character in the game, and I can't envision a competitive deck that runs this Tywin over the 7-cost version. If he was named literally anything else, he would be a very solid character just for the cost/strength/icons.
I know that it makes no sense thematically, but I wish they had made this guy non-loyal. Then at least he could have seen some play in a Banner of the Lion deck.
The only use I see for this guy is in a Shagga Lanni/Kraken Pillage deck. Which I will obviously be playing, because pillage is dumb and fun.
kennish - 4 out of 5
Okay, so hear me out. I know he suffers the "same-name curse" as Tyrion and Jaime of this box, but I honestly like this version of Tywin. Core Set Tywin is far superior stats-wise, but I love that they've made a version of Tywin is not in direct competition with the version that we already have. With cost curves going down, and when we reach the point in the game where economy is not the end-all-be-all, I'd be happily pillaging your characters with LoCR Tywin and Gregor side by side.
Quill & Tankard Curmudgeons - 3 out of 5
Istaril loves this card and wanted us to go higher. We wrote
an entire article
about it. As rules lawyers, we're obviously thrilled that FFG invented new deck-discard terminology just for exactly one card. Tywin and The Tickler are buddies where The Reader and the King of Salt and Rock aren't, 'parently...
VonWibble - 2 out of 5
I like this card a lot more than my rating suggests. Decent strength for the cost, and I am certainly looking forward to taking a deck based around him and the Mountain. There are arguments for using Banner of the Rose for deck filtering with Bear and the Maiden Fair, or Kraken for more pillage. However, I'm not convinced such decks are at the top tier, and core Tywin is so good. That said, with Valar out I can see cost curves possibly going down and economy being less important. For that reason I'm not giving 1, I think it's worth another point.
Milchtee - 2 out of 5
There's nothing wrong with him per se, but the core set Tywin surpasses him in almost every way. The only deck I could possibly think of that might want this Tywin instead of core Tywin would be some kind of extremely low curve deck that has a special reason to do so. The ability is interesting, but the disparity in power versus core Tywin is apparent, which is a testament to the strength of core Tywin. (PS: He's so strong he made me write more about him than new Tywin.)
Chella Daughter of Cheyk (18 Total Points)
Gingerben - 4 out of 5
Chella is great, and is probably worth a 1x in most Lanni decks. Lannister needs more characters at the 4-cost slot, and Chella fits nicely into what most Lannister decks are already trying to do. She combos nicely with Trial by Combat, and her passive keyword gain means she can pull off a surprise Intimidate during an intrigue challenge if your opponent isn't paying attention.
kennish 4 out of 5
Chella has the advantage of being a four-coster, which Lannister lacks a lot. She will probably be a one-of til whenever, and with each passing turn, she just becomes a bigger threat. Now, where are my ear tokens?!
Quill & Tankard Curmudgeons - 3 out of 5
A good cost point for Lannister to get power cards in, which may see her break out of just being a Clansman tool (neat though the combo with Shagga is). The effect is a fun 'bonanza' one that will be tougher to trigger than you'd like in most cases, but will be really great that 1 time in 10 it works for you!
VonWibble - 3 out of 5
First thing to note is that the character doesn't have to die in a military challenge, Trial By Combat sees to that. My concern with Chella is that if there are saves around it could take a while for her to power up, and she really needs at least 2 ear tokens on her to justify the cost. I'd only consider her in decks with good claim, or Clansmen decks where her intrigue icon is really needed.
Milchtee - 4 out of 5
This card is pretty good on its own, but probably will find its true calling in a Rains deck. Going all-in on the intrigue challenge with Chella in a Rains deck, then flipping Wildfire, lets her easily acquire her requisite 3 ears, which then triggers the Intimidate and Renown on that same challenge. I eartily recommend Intimidating the military threat, then going for Military afterwards. (and then Marched the next plot)
Ser Gregor's Marauders (15 Total Points)
Gingerben - 3 out of 5
I like these guys. Their best feature is the cost/strength/icons. The ability is just gravy and isn't the main focus of the card. I especially like this in decks like Martell/Lion where you're seeking to wipe their board after First Snow. I wish they were an Army, but you can't have everything.
kennish - 4 out of 5
Efficient cost-to-strength ratio with an upside which is just gravy. It's also at the perfect cost slot.
Quill & Tankard Curmudgeons - 3 out of 5
Lanni is hard pressed to find good cards in the 4 cost slot (outside of the lovely Cersei), and these are quite reasonable even if you factor in they'll only trigger occasionally. Combine them with Tywin and they get excellent (for the deck manipulation more than the stand). A strong mid-range body all-round.
VonWibble - 3 out of 5
The Mountain and Lions Tywin have a friend to go pillaging with! This card has decent strength and an intrigue icon and as such is a decent choice in a Lion Banner, particularly out of Greyjoy, where Euron gets some compensation if his ability misses. Most decks run less than 10 events, so the chances of standing aren't that high in general however.
Milchtee - 2 out of 5
Most decks run something like 5 to 12 events, so on average you will expect to get the stand effect less than 20% of the time, which is pretty poor. Also susceptible to Ward and other attachment shenanigans due to the lack of No Attachments.
Shagga Son of Dolf (17 Total Points)
Gingerben - 3 out of 5
He's an excellent 1x in the Clansman deck. Most often you'll want to be ambushing him into play, which means you'll need to have a ready supply of chuds to pay his Forced Reaction. A few notes about that reaction: You can kill a Lannister character that you previously put into play with Harrenhall. Since that character dies at the end of the phase anyway, it's a win-win. Additionally, since the ability does not say (Cannot be Saved), you can pay the cost with a Dupe on one of your other uniques. Finally, during a Fortified Position turn, you can ambush Shagga in for 0 gold and avoid paying his cost.
kennish - 5 out of 5
I heard Lannister likes to run three copies of Tyrion Lannister and Burned Men. Free cards are nice, and Shagga's bulk just pushes the military theme of Lannisters even harder.
Quill & Tankard Curmudgeons - 3 out of 5
Shagga no like gold, Shagga like Axes. Shagga big. People say Shagga killing puny people can be bad for morale, so Shagga feed complaining people thingies to goats. Oft people just pay Shagga beforehand, and not ask for a "Shagga surprise". Shagga surprise has more axes though, so Shagga approve!
VonWibble - 3 out of 5
Not terrible if played out of hand as normal, but clearly Shagga is intended to be ambushed in. Unlike Timmett, Shagga looks like he will fit into a non clansmen heavy deck (you'd still need at least 5 imo) thanks to the fact that Tyrion is in x3. Killing one of your own guys isn't great, but there are scenarios where it isn't a problem - it could be a 1 cost reducer, it could be a character who will die to Tears or Harrenhal at the end of the round, it could be that ambushing Shagga in does enough to allow you to win a 2 claim military challenge on defense, or provides strength to enable/deny Put to the Sword. Easy 1, maybe 2 of in clansmen, possible 1 of elsewhere. Although he isn't loyal I'd leave him out of any non false banner.
Milchtee - 3 out of 5
It's...okay? Clansman decks would play it, and non-Clansman decks probably wouldn't. Don't quote me on this, but I *think* there's something with Fortified Position here.
Taena Merryweather (14 Total Points)
Gingerben - 2 out of 5
Not bad. Falls in the same sort of slot as Shae and Grand Maester Pycelle, and they're both better than her. She's a Lady, which helps out the potential Lanni/Rose Knights deck they seem to be hinting.
kennish - 2 out of 5
There's not much to say about her, other than just she's a cheap power icon. She also has an upside of cycling through your deck in case you really need a certain card. Potential combo piece in the future.
Quill & Tankard Curmudgeons - 3 out of 5
Fine-though-unexceptional body with a fine-though-unexceptional ability. Yup, sounds like a 3 to us. Now, the question then lies in the dowry...
VonWibble - 4 out of 5
A power icon for 3 cost is good in Lannister, and cycling through your deck to find a key card could be clutch, especially out of Lannister who aren't the heaviest draw house. There is also a nice synergy with Kevan Lannister. This card isn't likely to be in at more than 1 of, but is a solid enough choice at that.
Milchtee - 3 out of 5
Her ability is actually really useful and almost a full draw if you discard dead cards (literally in the case of dead uniques) in certain matchups. Still probably just a 1-of though.
Moon Brothers (22 Total Points)
Gingerben - 5 out of 5
This is the gas that makes the Clansmen deck a thing. Without this, it wouldn't be impactful. This is a definite 3x in that deck, and you'll wish you could run 5.
kennish - 5 out of 5
This card is insane. How can they give the Lannisters more free cards?! At the cost of a faction card kneel, you get a disposable character, which can potentially boost your strength for two challenges. Perfect claim soak, perfect Marched target. I'm not complaining.
Quill & Tankard Curmudgeons - 4 out of 5
Another 'free' character. The comparison point is Dolorous Edd; this is more niche than Edd but can be just as impactful and has the advantage of being non-unique, so 4 sounds right to us. If the game moves towards smaller boards the dark side of the Moon Brothers will be on display as you may not have the Clansman to trigger them - although their larger impact may well cancel it out.
VonWibble - 4 out of 5
The fact the Moon Brothers enter for free, and are standing yet participating in the challenge, makes them a very potent +3 strength pump waiting to happen. If you go first, they are available to defend military, and sometimes they can attack in military again - if you are actually making an intrigue (Chella) or power (Timmett) challenge, or running Storm of Swords. They work really well with Lions Tyrion, providing the boost needed to win challenges, and getting to go back to hand ready to use next turn as well. They would be 5 out of 5 for sure if there were more Clansmen to work from, and will be 5 out of 5 if more support is printed.
Milchtee - 4 out of 5
This card is REALLY good. It's a 3-STR addition to any challenge in which you have a Clansman participating (not limited to MIL!). It also comes in standing, which is great. There aren't quite enough Clansmen yet though.
Red Keep Spy (15 Total Points)
Gingerben - 3 out of 5
This is interesting. I really love the concept. I feel like this card and Queen's Assassin are both very powerful cards just waiting for a few more pieces to supplement them. It seems difficult to build a deck around these cards right now, but this may be exceptional in the future.
kennish 3 out of 5
The ambush cost is pretty high for what she does. However, having redundant copies of an effect is always welcome, specially for the impending Hyper Intrigue deck, which I'm sure, we will all build. However, I think she (and the deck in general) suffers from too many moving parts to work.
Quill & Tankard Curmudgeons - 4 out of 5
The key aspect of this bizarro-Queen's Assassin is the fact that you get to choose who bounces, making this not only a board-thinning effect but a challenge maths manipulation one too. Woe betide the sanity of an opponent who knows you have this in your hand, and immediately has to think through an extra magnitude of complications, in the style of first edition Ghaston Grey.
VonWibble - 3 out of 5
An upmarket version of the Queen's Assassin. +1 cost and +1 strength, so setup is a terrible idea, but that's not really why you'd use her. In general I like the ability better. The key thing that helps it is the fact you choose the target, and there are plenty of good targets at cost 3 or lower - Bran, Rhaegal, Arya, Sansa, Hodor, Margaery, Aemon, Caleotte, to name but a few. In a deck where you are going for hand destruction, there is a fair chance said character will effectively be discarded since there's a fair chance you want to use this when they have no cards in hand, and you are about to make an intrigue challenge. Since you can't have more cards than yourself you unfortunately can't use it to return your own Hound, but you can't have everything. Like the Queen's Assassin, the ambush cost is high though.
Milchtee - 2 out of 5
I don't think she's very good. The most obvious comparison would be to Queen's Assassin, but that is better in setup and more useful in general as a 2-for-2 rather than this 3-for-3. Doesn't play well with FSOW too, which is generally the point of ambush shenanigans.
Alayaya (20 Total Points)
Gingerben - 4 out of 5
A 2-cost Unique Lanni character that can actually do something? Fantastic! Solid 1x in many decks.
kennish - 4 out of 5
Cheap cost, with an upside which could potentially mess up your opponent's challenge phase math. Pretty good. Definitely a one of to pad out the curve.
Quill & Tankard Curmudgeons - 3 out of 5
A 2 gold swing is nice. The times this will actually be bothersome for your opponent are rarer than, say, White Tree's swing, but as a disposable 2-cost unique you're only really looking for 'occasional niceness' in most cases. At the Quill & Tankard we're in the habit of calling this sort of companion a "serviceable body"...
VonWibble - 5 out of 5
Winning intrigue challenges should not be too difficult in general, and often intrigue is the opening challenge (unless you expect to win mil and have Tears), so you'll have plenty of potential uses for that gold. Definitely a card that rewards going first, and likely one that will make your opponent reconsider their spending. Together with Brothel Madame you can create some decent "gold for events" choke. I'd find it hard not to have 1 in any deck.
Milchtee - 4 out of 5
An easy 1-of slot in to most Lannister/BotL decks at 2 cost with an icon a lot of other houses lack in their low-cost units. Companion is also a great trait in The Year Of Our Lord Hot Pie. Her ability is also great at forcing opponents into doing something they might not be doing otherwise.
Ser Lancel Lannister (19 Total Points)
Gingerben - 4 out of 5
The best thing about this guy is that he's a 2-cost Unique Lord. He enables that much more redundancy for Treachery and TTIDFL, but you'll never want more than 1x of him. Also Blood of the Dragon makes him sad. But on those turns where you have him, Tywin, and a bunch of gold saved up, you'll be smiling.
kennish - 3 out of 5
He has high potential, but could also be worthless when you get more lords and ladies out (and you have plenty of those). He seems to fit right into a banner package with Tyrion or Mountain, and other non-royalty Lannister cards.
Quill & Tankard Curmudgeons - 4 out of 5
As with Alayaya, you only look for occasional niceness from your 2-drops. Lancel takes that to heart, having the opportunity to be the most efficient card in the game and being easy cannon-fodder otherwise. Note that with the likes of Widow's Wail, A Song of Summer and their ilk, you can even wring use from him when he's in "hair-shirt contriteness" mode.
VonWibble - 3 out of 5
Really interesting card. Pointless in a deck with no lords or ladies, but in any deck running even 1 I'd consider him. In general the abilities of the Lannister lords and ladies trump the +X strength and as such I'd just consider Lancel to be claim soak once I already have a lord or lady out and have another good one in hand ready to play. But the potential in setup is very high - Lancel + core Jaime + reducer could be very strong indeed. If you like consistency I can't see you wanting this though.
As a non loyal card that only keys off Lannister cards, he could be worth the place in a banner package. I'd certainly consider it if the Mountain is also in your deck.
Milchtee - 5 out of 5
In a deck built to abuse his ability, it's a 2-drop with the potential to absolutely tear a game open. Copying something that's 5 STR and above (not to mention Tywin at like 8+) breaks certain matchups that rely on absolute strength to push through triggers like Rains or PttS.
Tommen Baratheon (12 Total Points)
Gingerben - 2 out of 5
I'm underwhelmed, but if King tech turns out to be good he might see play. Like Lancel, his best attributes are his Unique star and his Traits. He's also a power icon, which is needed. He'll be tons of fun in melee!
kennish - 3 out of 5
The Prince that was Promised, Ser Pounce. He's a cheap power icon! He can shut down opposing King tech for cheap. He has an ability which will probably be relevant once in a hundred games. Wouldn't be opposed to him just being claim soak.
Quill & Tankard Curmudgeons - 2 out of 5
The Things Tommen Does for Love… In all seriousness he has more application than that (although not much), and in Melee he actually has the ability to be downright annoying. We were tempted to go to 3 for the kitties.
VonWibble - 3 out of 5
Cheap power icon whose ability may do something occasionally. As a King he can weaken the power of cards like Beggar King. He's OK.
Milchtee - 2 out of 5
No, thank you. His only use is as a cheap King character and at that point he's just a very weak 2-for-2.
Lannisport Guard (17 Total Points)
Gingerben - 3 out of 5
Lannister's density of 2-cost, 2-strength, mil + int bicon characters grows. This one is better than most. Card draw is always good, and in an Intrigue heavy deck, just go second and discard the card that you give your opponent. FFG is pushing an Intrigue deck focused on keeping your opponent's hand empty. If you can reliably do that, these guys are worth it.
kennish - 3 out of 5
I believe a set of these cards will almost always be the 61st to 63rd card in your deck, since its effect requires a bit more planning. I could be wrong, though, just like how we were all wrong with Trading with the Pentoshi.
Quill & Tankard Curmudgeons - 3 out of 5
The stats are fine. The ability is niche, but a Lannister player building a deck with little draw might feel like their card can go further than their opponents... and an intrigue-heavy build might even fancy their chances of pulling the card straight back out of the hand. Most of the time you'll struggle to make space ahead of Red Cloaks though, we'd wager.
VonWibble - 5 out of 5
If you are marshalling second, and have already reduced your opponent's hand to a very low level, they won't get that much from their card. You, on the other hand, will. Throw in the solid cost to strength and icon ratio and it's all good. Again, no power icon, so there is a bit of competition with other Lannister 2 costers, but draw in a faction lacking it can't be ignored.
Milchtee - 3 out of 5
I do think it has niche usage, perhaps in a Cersei deck that needs opponents to always have a card in hand to discard at all times. In any other deck, it's worth noting that the draw is controlled by you even though it's symmetrical, meaning if you go second you are able to utilize the draw 'first', so to speak.
Golden Tooth (12 Total Points)
Gingerben - 2 out of 5
Yayyyyyy more economy. Unfortunately the cost on this one is prohibitive. It takes 3 turns to see a return on it if your opponent has any cards at all. But if you are able to make a deck that can reliably empty the opponent's hand, this is hands down the best economy in the game. Also, if your opponent has no cards in the plot phase, you can get your gold before they draw. Works well with Heads on Spikes.
kennish - 3 out of 5
We all need more economy cards. Unfortunately, this one's also limited. Might find space as a one-of in several Lannister decks, just because it increases the density of your economy cards. You never want to draw it late, though. Will be nuts in the Hyper Intrigue deck.
Quill & Tankard Curmudgeons - 2 out of 5
Inefficient if the opponent has cards in hand, but literally the best economy in the game if they don't - the stall for what deck this goes in is pretty obviously set out from the off. Since this is an Action you can trigger it in Taxation, making sure you have gold in the Plot phase (for Treacheries and the like). Even in the intrigue-heavy deck it probably only goes in at 1x, however - you don't want to dedicate multiple cards in your deck to a unique, limited economy card that might be significantly worse than a humble Roseroad.
VonWibble - 3 out of 5
More options for economy. In general this pays for itself at less speed than a Roseroad, and you really don't want to see it too late. But if you can get an opponent down to no cards, it is ridiculously good. Clearly for 1 deck type, probably not worth it elsewhere.
Milchtee - 2 out of 5
It's an interesting card for sure, but getting the opponent to 0 cards is no easy task, and at that point I'm not sure what an extra 3g (which you can take with you to the next turn by doing the Action after taxation) will be doing for you. It's also limited, which hurts.
Mountains of the Moon (16 Total Points)
Gingerben - 4 out of 5
I really love cards like this. Part of me wishes that it was nonunique, but then it would be broken, so. Super fun in Lanni Clansmen. Probably not more than a 1x.
kennish - 3 out of 5
The low cost helps out a lot, in case we see a huge surge of Clansmen goodstuff presence in otherwise conventional Lannister decks. However, outside of that, this card will only really see play in a Tyrion - Clansmen themed deck, maybe as a two-of.
Quill & Tankard Curmudgeons - 2 out of 5
As a location for one very specific deck that only has true combo potential with a couple of characters in that deck, this is as niche as it gets. But for that deck, it's still an important card, allowing the Clansman to become a surprisingly rounded challenge machine. We expect it will feature at 2x in that deck. Don't miss out on the boundless opportunities to trigger this bad boy uselessly in Marshaling!
VonWibble - 4 out of 5
In a clansman deck this is clearly very strong. Those Moon Brothers that enter pay standing now have a choice of challenges to attack or defend (its almost like they intended a synergy there!). Shagga and Burned Men can now affect your challenge strength in all challenges. There is no limit on the number of triggers and 1 cost seems really cheap to me. I normally give no higher than 3 out of 5 for cards that support a theme not known to be tier 1, but this looks so strong in a Clansman deck that it's worth that 4.
Milchtee - 3 out of 5
I'd probably play at least 1 in a Clansman deck, and then never in any other deck.
Lannisport Treasury (21 Total Points)
Gingerben - 5 out of 5
This is absolutely incredible. If you've got Tywin out you usually have 2-3 gold left over in taxation, and this will just tick up slowly until you need it. Great for Varys decks, and really good with Valar. Martell Lion loves this card as well.
kennish - 5 out of 5
In dire times where nonlimited economy is needed, this card shines. The low-cost means that you will never regret seeing it during setup. Since Core Set Tyrion is extremely ubiquitous in Lannister (and Banner of the Lion), it's probably not rare to have a gold or two left by the taxation phase. If you don't have any gold left, then good for you -- you must have murdered something good.
Quill & Tankard Curmudgeons - 2 out of 5
Non-limited economy! ...If you routinely have the gold remaining at the end of your round. Sure, Tyrion produces gold, but as we recall the reason his ability is so powerful isn't because you get gold for dominance but rather because you spend it. Not always the best metric, but the equivalent first edition card, Lionstar, saw zero play.
VonWibble - 5 out of 5
With Tyrion (either) on the board, and core set Tywin around, plus Alayaya and Brothel Madame, there's a fair chance you will have gold left over, at which stage this card becomes non limited economy. Which, I hear, is good. In a Lion Banner, it is worth considering - Night's Watch can use Old Forest Hunter to generate that gold if they are above reserve, and Tyrell usually have gold to spare. Final point, saving gold on this can really help with repopulation if a reset hits the board.
Milchtee - 4 out of 5
I think this card is really good. Non limited economy in any form is great, and this card brings it in a way that carries over challenge-phase gold into Marshalling gold. Easy 1-of in any deck running some kind of challenge phase gold generation.
Shield of Lannisport (10 Total Points)
Gingerben - 1 out of 5
Sorry, but nope. Potentially this could be good in a Melee deck on Cersei, since there's less single-character removal in Melee, but I don't think I'd ever play this in Joust. Seal of the Hand is objectively better.
kennish - 2 out of 5
When I saw this card spoiled, I really couldn't make a fair judgment of it, because I can never see myself slotting this into any of my decks. I'd give it a one, but economy and renown seem pretty nice. Might be played in a Tyrion - Clansmen deck, but that might just shoehorn you into playing no other noble, which I think, is just bad.
Quill & Tankard Curmudgeons - 2 out of 5
The second non-limited economy card in a row we're unimpressed by. The renown bit is nice for some characters but not others - certainly not worth giving up all the other Lords/Ladies for. Unlike Lancel it's an expensive tempo hit when it doesn't work, and not ultra-efficient even if it does - compare to Disputed Claim later in this box, for starters!
VonWibble - 3 out of 5
This has a home in decks where you only have a couple of high cost lords and can place it on one of them. Clansmen spring to mind as they are likely to have Tyrion and Tywin and little else. With economy provided the attachment slowly pays for itself, and only needs to see play for enough time to get 1 gold back in order for it to be a good investment. However, in decks where you have a lot of lords, it isn't doing much for you.
Milchtee - 2 out of 5
Not a weak card per se but is mostly outclassed by Seal of the Hand. A big portion of +gold modifiers' usefulness is being able to set them up, then immediately gain that gold in the first marshalling phase. This is a card that will almost always fail to deliver on that promise, while providing minimal upside compared to something like Ser Lancel Lannister.
Valyrian Steel Dagger (9 Total Points)
Gingerben - 1 out of 5
If this was 1 cost, I'd run it in some decks. But 2 gold is way too much for this.
kennish - 1 out of 5
Sure, it's a Rains enabler, but I'd rather have Syrio in my deck. Might be a nice meta-call to stealth Core Cat in case Stark Fealty runs rampant once more.
Quill & Tankard Curmudgeons - 1 out of 5
So this is like Old Bear's Raven or Widow's Wail, only worse. Cost 2 for an attachment that does nothing outside of one challenge, and even in that one challenge isn't groundbreaking. Unless of course you're Istaril, who believes the way it fills in a Lannister gap & supports Rains are enough reasons to make it a 3 out of 5. For the rest of us, we feel that to get your money's worth, you need to land this on what… the Cersei in this box? Mirri Maz Duur (who would rather you were running an extra Syrio Forel instead)? Meh, pass. On top of that, this is dead if your intrigue icons have stealth, knelt, you're playing against Martell… the more we look at it, the worse it gets - no wonder it couldn't even kill a small comatose boy!
VonWibble - 3 out of 5
Stealth in intrigue challenges cannot be underestimated as it gives you a way round core set Catelyn (or a way to protect her if you banner to Lion for this). Cersei likes this a lot, Alayaya can use it well, even Jaime or Tywin can get uses out of it. Decent call in a Rains of Castamere deck as it becomes easier to win by 5. I am being mean giving it 3, I just see this as the 62nd card in the deck unfortunately.
Milchtee - 3 out of 5
I guess this is great if Rains becomes popular. +2 STR and Stealth is a big swinger in games where both sides are trying to get the same type of challenge through one another.
A Lannister Always Pays His Debts (13 Total Points)
Gingerben - 2 out of 5
I love cards like this because they're fun, but sadly this one is not good. Sure, there will be games where you're able to perfectly set up this situation and get five challenges off in a row. But those games will be few and far between.
kennish - 2 out of 5
It's definitely a bomb when it goes off, but requires so many cards like Core Set Jaime and Lions Cersei. However, it'll significantly help in closing out a lot of games for Lannister. Perhaps other reviewers view this as an aggro card, I see this as an end-game card for Lannister Fealty / Crossing, where your opponent might think they still have one turn to stop or rush you, but you have two extra challenges to close out the game.
Quill & Tankard Curmudgeons - 3 out of 5
In the best-case scenario (you have Core Jaime and Lions Cersei, plus Tyrion to fund this), this event is just downright mean. But there's a fair few hoops to jump through there. This is fighting for event space in that mean Aggro deck with the likes of Trial by Combat and Put to the Sword, and really... ask yourself, do you drop either for this? The prospect of quick power grab in Melee keeps the rating from dropping lower though.
VonWibble - 4 out of 5
Big cost, massive effect, especially if you have Core Jaime and Lions Cersei out. If you happen to have 3 gold spare in challenges, which is something Lanni can manage quite well, you are really going to scare your opponent with the threat of this. To take full advantage without non kneelers is much harder to achieve as chances are your board is big enough you could just win everything, but the existence of this card alone adds an extra dimension to facing Lannister. I'm glad it's loyal as I don't fancy facing Martell Lion with this.
Milchtee - 2 out of 5
Not absolutely terrible, but really requires a lot of moving parts. Obviously amazing with characters like core Jaime and big Cersei, but requiring those specific characters on top of 3 gold spare is asking for a little too much.
Insidious Scheme (15 Total Points)
Gingerben - 4 out of 5
This is very good in the right deck. Which is Lanni Rains.
kennish - 2 out of 5
Card draw is always welcome in Lannister, but the triggering condition is just too much to ask for. And then you also have to consider which cards to cut for this. Lannister already has a whole arsenal of sweet events, so I'm not sure if this warrants a spot. Will see fringe play in Hyper Intrigue decks, but when the opponent doesn't have a hand anymore, this card is just win-more.
Quill & Tankard Curmudgeons - 3 out of 5
5 or more is just such a tough condition, it almost kills the card. The upside is pretty awesome, as Lannister seriously lack reliable draw, and being able to hoover up 4 cards is amazing - even 2 is solid enough, honestly. But that condition, though. And with nobody ever winning "accidentally" on offense in intrigue by 5 (with the exception of the new Cersei), it'll be pretty telegraphed…
VonWibble - 4 out of 5
I like that this is after claim, as it gives a greater chance to draw 4 cards. Paying 1 for a net draw 1 card effect isn't bad at all, it thins your deck out quite nicely. In a hand destruction deck this is a 5 out of 5.
Milchtee - 2 out of 5
When your opponent has 0 cards in hand, it's usually in exchange for something else, either being dangerously close to 15 power or overwhelming board advantage. At that point, drawing cards isn't the priority. At 1 gold and a less strict requirement, a certain other card exists that guarantees death to unintriguing fellows...
Daring Rescue (12 Total Points)
Gingerben - 4 out of 5
I'm giving this card a point or two more than it probably deserves because I love jumper decks. I also have dreams of jankey Martell/Lion Knights decks that abuse this to get multiple uses out of Hotah, Oakheart, and Starfall Bannermen. This card is also great with Harrenhall, which is one of my favorite Lannister cards.
kennish - 2 out of 5
It's a unique addition to Jumper decks, since it can give you another round with the character you jumped into the challenge. You can also save characters jumped in by Harrenhal, so that's a plus. Gaining power in Melee without doing anything is also welcome, and along with Lions Cersei, introduces Lannister as a legitimate threat in multiplayer tables.
Quill & Tankard Curmudgeons - 2 out of 5
A divisive card among the Curmudgeons, as our loves of jank and efficiency came at loggerheads. While leaping out as being a highly-inefficient combo tool that invites Tier 2+ deckbuilding, the card has a genuine application in Melee as powergrab that doesn't require you to do anything and that shouldn't be thrown out with the bathwater.
VonWibble - 3 out of 5
This is strong with Harrenhal as it lets you return the character you put into play. It could also be effective with some Tyrell knights with their enters play effects, House Florent Knight in particular springs to mind. You have to have a knight on the board to make it work, but there are plenty of serviceable choices that don't require a huge amount of changes to your deck - Kevan (also with an enters play effect if you are feeling flush), Gregor and Ilyn all see play. I like this, I'm just not sure it does enough compared to other events.
Milchtee - 1 out of 5
If this worked as an interrupt to something else it might be worth playing to 'save' certain characters from targetted effects. As it is it's absolutely miserable to be playing 1 gold for an event that bounces the character back to hand. As a negative attachment control card, it's worse than Arya's Gift.
Lions of the Rock (9 Total Points)
Gingerben - 2 out of 5
I really really doubt this will see play. Better initiative than Noble Cause, but not really worth the restriction in my book.
kennish - 1 out of 5
Why would you ever play this card over existing options like A Noble Cause and Calling the Banners, or upcoming cards like Littlefinger's Meddling? This plot requires a special niche to be considered -- and I can come up with some uses, trust me -- so I would much rather have the flexibility of other plots to work with.
Quill & Tankard Curmudgeons - 2 out of 5
The competition here is what, A Noble Cause? Both give out 7 gold but with a stipulation attached on how to use some of it… And with Lannister having plenty of Lords & Ladies, unless you need the initiative why would you dedicate a plot slot to this over Noble? Even the Clansmen tend to be cheap (often free) on their base-cunning ambushes.
VonWibble - 2 out of 5
Its a 7 gold plot that gives you the money in installments. It is vulnerable to Naval Superiority, though you do still get the 3 gold in challenges. Its initiative and reserve are OK. Trouble is, Lannister have plenty of ways to get gold in the challenges phase and could in any turn be in a position where they need more money in marshalling instead. This plot is good in a jumper heavy deck, where it is effectively a 7 gold plot and beats all other economy plots (at least, the ones that don't give your opponent anything). If you wanted money for events, Littlefinger's Meddling is better. If you want money for marshalling there are plenty of better options. Can you fit this plot in a deck that wants economy plots, resets, and nice effects? I'm not convinced.
Milchtee - 2 out of 5
Kingdom is purely negative as a trait right now so that's a minus. For gold, it's mostly inferior to 'pure' gold plots like Calling the Banners, A Noble Cause, Trading With the Pentoshi, and Summer Harvest. The gold also can't be used in marshalling so it's mostly worse than real gold, except to dodge effects like Supporting the Faith and sometimes Brothel Madame.
Total Pack Score:
61.4% (384 out of 625 possible points)(compared to 68.5% for Stark cards from Wolves)
Top Cards:
Cersei Lannister
Moon Brothers
Lannisport Treasury
Bottom Cards:
Ser Jaime Lannister
Valyrian Steel Dagger
Lions of the Rock
If you're hungry more content, check out the list of podcasts, articles, game video and more in
the Community FAQ
. Let us know in the comments how you feel about the cards in this box, and then check out the rest of the
non-Lanni cards in part 2
.
Zouavez and KruppSteel like this
Article: Lions of Casterly Rock Review: Part 1