Welcome to Card Game DB
Register now to gain access to all of our features. Once registered and logged in, you will be able to create topics, post replies to existing threads, give reputation to your fellow members, get your own private messenger, post status updates, manage your profile and so much more. If you already have an account,
login here
- otherwise
create an account
for free today!

1
Lions of Casterly Rock Review: Part 2
Nov 01 2016 12:00 AM | scantrell24 in
Strategy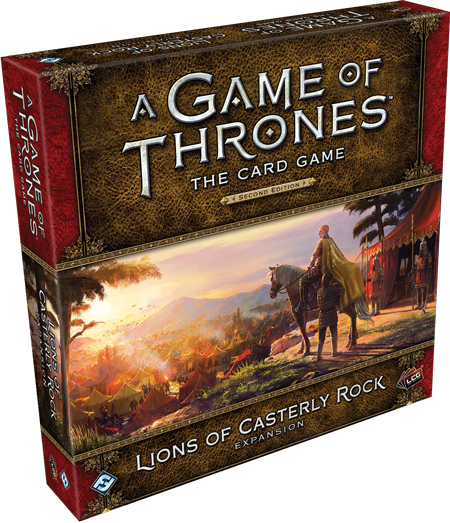 Jaime, meantime, had spent four years as squire to Ser Sumner Crake-hall and earned his spurs against the Kingswood Brotherhood. But when he made a brief call at King's Landing on his way back to Casterly Rock, chiefly to see his sister, Cersei took him aside and whispered that Lord Tywin meant to marry him to Lysa Tully, had gone so far as to invite Lord Hoster to the city to discuss dower. But if Jaime took the white, he could be near her always. Old Ser Harlan Grandison had died in his sleep, as was only appropriate for one whose sigil was a sleeping lion. Aerys would want a young man to take his place, so why not a roaring lion in place of a sleepy one?
Our staff has put together a first blush analysis of the newly released "Lions of Casterly Rock", the second deluxe box following Wolves of the North. We cover the non-Lannister cards here in part 2 (if you missed it,
here's part 1
). Cards are listed in numeric order and scored on a scale ranging from one through five, with five being the best possible score. We have 5 reviewers this time around, so the maximum score per card is 25 points. Here's the
unofficial Rules FAQ
for this box put together by mplain.
Now onto the reviews, starting with....
Edric Storm (13 Total Points)
emptyrepublic - 2 out of 5
Cheap uniques can be useful for other potential combos (can't think of any particular relevant at this moment for this guy) and his ability isn't entirely useless. The problem becomes a matter of deck space and the value he brings over non-unique 2 cost characters.
JoefromCincinnati - 3 out of 5
Gendry already triggers from winning dominance, and Edric (also with the Bastard trait) works well with him. The question is whether Edric helps you win dominance more efficiently than a R'hllor card like Asshai Priestess or Fiery Followers. The dominance module continues to separate from the kneel module, but I am not convinced that Edric is worth the deck slot over the alternatives.
OKTarg - 2 out of 5
This seems...not that great. I agree with Joe that kneel is just as good if not better for dominance, and while redundancy is great, most BaraDom (BoreDom?) decks tend to have a pretty easy time locking up the phase. So, we're left with a 2 for 2 monocon with no keywords. Meh. Pylos is as good/better and doesn't see much play.
Quill & Tankard Curmudgeons - 3 out of 5
Edric's a serviceable chud who importantly doesn't need to do anything to trigger, it just happens - this makes his effect pretty darn efficient, compared to your Ticklers and the like. Worth cutting a Bastard in Hiding for in your dominance deck, though probably not much more.
scantrell24 - 3 out of 5
He's a fine 1x in decks with Gendry, Armory, etc., and has room to improve with the release of more dominance-winning triggers.
Disputed Claim (17 Total Points)
emptyrepublic - 3 out of 5
I'm imagining this will be potential fodder for Banner Stag decks in order to distribute renown to houses that lack it. The problem is the condition puts this card into the "win harder" category and if you are significantly behind it doesn't help you catch up. It also works against you if you have too much renown on your board.
JoefromCincinnati - 4 out of 5
Disputed Claim is an interesting card. With Chamber of the Painted Table, a lot of great effects for winning power challenges (including kneel) and their strength in the dominance phase, I don't think it is very difficult for a Baratheon player to have more power on their faction card than their opponent. However, with Valar Morghulis right around the corner, renown will see its value decline over time. Of course, that is completely dependent on Valar's impact on the meta. In a vacuum, this is a very good card with an easy trigger and a significant benefit.
OKTarg - 4 out of 5
I actually like this card a lot, for some reason. I think it's hilarious on Gendry, but also Melisandre would really like some extra Dracarys! protection (and renown for more closing speed). It would be extra nice in a Wolf banner, because currently Bara doesn't have a ton of useful in-house targets (lol Renly) but I think it's pretty okay.
Quill & Tankard Curmudgeons - 3 out of 5
A curious card that is both versatile (can be a combo card, can be cheap non-unique renown-granter, can be an important STR pump) and rigid (win-more that only goes on certain characters). We feel like a deck designed to push the "more power" aspect of Bara should fairly consistently have this turned on in the early and mid-game, where the STR will be valuable. A poor late top-deck though.
scantrell24 - 3 out of 5
It's literally a win-more card (and those are generally derided), but the potential for combos and Voltron towers has piqued my interest.
Victarion Greyjoy (25 Total Points)
emptyrepublic - 5 out of 5
I've barely played Greyjoy since 2.0 released so I'm honestly not sure how he will fit into most decks in the long run. That said, by printed specs alone he has the hallmarks of a top tier character. The intimidate will be rough given Greyjoy's ability to push through unopposed.
JoefromCincinnati - 5 out of 5
Victarion is fantastic. Finally, a Greyjoy card that gets a review of more than "It'll be somewhat useful as a 1 or 2x." This hasn't happened since Iron Mines of the 5th chapter pack in the first cycle! Victarion brings almost everything that Greyjoy values. Renown for faster rush. Strength that is not immediately Dracarys!-able. The 2 icons they value most. A save effect that will be relatively easy to use. The lord and Ironborn traits. And, as an added bonus, intimidate, which will only make getting unopposed challenges easier after his challenge! One of the best non-Lannister cards in this deluxe box and it's evergreen. Greyjoy players must be very happy with this card.
OKTarg - 5 out of 5
So, there are some things that make Tywin Lannister great. One of them is built-in resistance to all the removal in the game (he can defend MIL for PTTS, has an INT icon for Tears, etc.). As such, he's a very sticky character and a great sink for power.
Victarion, while not quite Tywin of course, is likewise Sticky and resilient to removal. He does what he does, with two keywords, providing presence and control for Greyjoy. They're not exactly flush with great top-end characters over there in the House of the Kraken, so I think Viccy is an easy x3 in a lot of GJ decks for a long time.
Quill & Tankard Curmudgeons - 5 out of 5
Very probably the best card in the box. Pure efficiency (the comparison to Rakharo is laughable), he'll be a mainstay of Greyjoy moving forward. And while his textbox isn't exactly "light up the game!" levels of interesting, we appreciate that he's nothing to do with unopposed. Maybe Greyjoy will finally have another deck type... one day?
scantrell24 - 5 out of 5
Greyjoy needed a 3rd high-end character with Renown (much like Tyrell needed Renly). Intimidate fits nicely with Greyjoy's "go first" theme too. I'll probably run him at 2x in most decks.
Old Wyk (9 Total Points)
emptyrepublic - 2 out of 5
Currently suffers from lack of relevant cards to make it work. It'll be around forever so potentially its value might go up thus just barely staying out of the garbage pile.
JoefromCincinnati - 2 out of 5
I'm not very impressed with Old Wyk. In some ways, it's very good. Recursion from the dead pile is nice, especially with Valar coming up. It is essentially a strength buff to any power challenge, as long as there is a drowned god character in your dead pile. But that's the big hiccup, in my opinion. There aren't too many drowned god characters in the game; Only 3 of them right now. Unless you're intentionally choosing them as claim in order to use them with Old Wyk, you won't be using this location all that often. It has the potential to improve once Drowned God decks can become a full theme, but for now I don't see many decks using this card.
OKTarg - 1 out of 5
That seems ….. Not that great, huh? A conditional STR buff in challenges, with a conditional card advantage on top of that. Too bad the Drowned God characters are few and far between, and location competition within Greyjoy being very strong. This almost feels like it should have been a part of the Drowned God cycle rather than a permanent part of the pool… I won't play it for now. Needs moar Drowned God.
Quill & Tankard Curmudgeons - 2 out of 5
This definitely gets style points. Keep it in your binders for now though, you need a deck of Drowned God characters to remotely justify this. You don't just need to see them, you need to get them in your dead pile AND win power challenges by 5+ before this card really does anything. That said, an Evergreen is a good place for a sleeper card.
scantrell24 - 2 out of 5
What do we say to Old Wyk? Not today! ….but maybe later. Future House of Dreams agenda choice?
Trystane Martell (16 Total Points)
emptyrepublic - 3 out of 5
He fills out a space cost in the Martell pool in my opinion. It's an interesting ability that might have a potential exploit. I'm not overwhelmed but I see potential. He doesn't make much sense unless you can consistently go second.
JoefromCincinnati - 3 out of 5
A 4 strength intrigue power bicon Lord for 4 gold is a good deal, especially in Martell where the Lord trait makes him synergize with Doran very well. As for his ability...eh. The equivalent of permanent stealth on one character a la Ghost that requires losing a challenge first. He'll be played, but he won't be a game changing character.
OKTarg - 4 out of 5
This may be a tick high, but he's quite sneaky in terms of small things you like. 4-4 cost/STR, Lord trait (man one day I want to use Doran!) for Noble Cause, sticky for First Snow…..but he doesn't DO anything amazing. The ability is okay, but perhaps a bit niche in its application. Perhaps claim raising with Sunspear will help this seem better? I'll give Trystane a four because I'll play him in most Martell decks.
Quill & Tankard Curmudgeons - 3 out of 5
Important for Martell in the NW match-up, which otherwise is a nasty hard-counter for Martell currently. Past that, he's kinda 'fine'. As a general rule, we prefer our 4-costers to have military icons in the current meta.
scantrell24 - 3 out of 5
Solid character, will see a fair bit of play as 1x. He's similar to Caleotte in that you can create win-win situations with strategic play. My Greyjoy Sun unopposed deck might make a comeback.
You Murdered Her Children (12 Total Points)
emptyrepublic - 2 out of 5
A Shagga card through and through. It's not going to see much play, but it will haunt you that one time you play against someone and they manage a hyper-Viper play by grabbing 10 power at once from the Viper's reaction. Outside of that it might be useful in a few niche combos.
JoefromCincinnati - 3 out of 5
Another card that would go fantastically in a Red Viper combo power grab deck. In fact, that is probably its primary purpose. Get a bodyguard or dupe on the Red Viper, get him to 17 strength with Doran and Dawn on plot 6 and do an intrigue challenge for a ton...double his strength, do a Doran's Game to get 5 power and collect 5 to 6 renown on him from having a 34 strength character…
That's an awfully janky combo haha. Probably best to just use it on Arianne and pop her back to hand before she dies. Cards that manipulate challenge math are always a good thing, after all. Just watch out for your opponent using Nightmares on her before she can jump back

.
OKTarg - 3 out of 5
Fair Warning: lots of my life over the next few weeks will be devoted to making this card work. It's a Shagga player's dream--obviously it's built for the Viper but it works well with Arianne, perhaps not as well with Trystane, but maybe it could be worth it in Crossing decks or other 'finishers' with Street of Sisters, Superior Claim, and Doran's Game. Raekob and I had a very nice Crossing out of Martell awhile ago and this could fit in a variant of that. The cost is kindof a problem, for sure, but I think I love the idea behind this card. It's great to see the delayed rush ideas from the Core not get left completely behind. Oh, and it seems Quentyn would like this as well, wouldn't he! (if you're feeling tricky. Know thy rules!)
Quill & Tankard Curmudgeons - 2 out of 5
Don't let our low rating mislead you, we love this card. Love it to bits, with all of its fun & cooky combo potential with the Red Viper for that one epic final push. It's just that even then, you're dancing one Nightmares away from killing off your own centerpiece for no actual profit (I hope you have a save!). It's one of those "dream big" cards where if it were really efficient, it might create other kinds of problems. If you fail to line up your geese then the likes of Arianne and Quentyn can bellow this in a pinch too, though it really needs the Viper's rasping tones to justify the deckspace.
scantrell24 - 2 out of 5
Thematic, powerful, and just plain cool….but a tad over-costed and too niche for most tournament-level decks.
Sweet Donnel Hill (18 Total Points)
emptyrepublic - 4 out of 5
I'm just barely going for a 4 here. Wish he was a bi-icon natively. You are going to need Allister or a practice blade to turn off pillage, renown, and intimate. Turning off insight can be a big deal but not as big of a deal as turning off renown. In classic wall decks he'll likely see a copy or two.
JoefromCincinnati - 4 out of 5
He's a 2 for 2, which is nice, but only 1 icon means his ability will normally only work in intrigue, which happens to be the one challenge that has the fewest keywords associated with it (not many renown characters or intimidate characters with an intrigue icon). It does stop a fair amount of insight, such as Dany or Doran. The key is when you equip him with a practice blade. Then he can lend this keyword denial to military challenges as well. The only hold up there is that most opponents shy away from military attacks against The Night's Watch because of Maester Aemon and The Watcher on the Walls. He still stops Gregor Clegane's pillage murder, Jaime's renown and at least syphons most renown keywords onto the power challenge which makes them more predictable. All said and done, he is a good 1x in many decks. But that's only because the Night's Watch has gotten a lot of strong cards this cycle. As my friend Daye Kaniel said, if Dolorous Edd didn't exist, he could see himself running this guy at 3x. Keyword denial is strong.
OKTarg - 4 out of 5
I think he's quite good, for all the reasons Joe said, but I think I'm more fearful of the way he can help lock out Renown against the Watch, taking away one of the ways you can beat a Wall deck. All these little steps will add up to an impenetrable fortress from the Night's Watch. And, I don't like NW

Quill & Tankard Curmudgeons - 3 out of 5
What keeps Donnel short of being a truly sweet card is that lonesome intrigue icon, and the fact that most keyword based shenanigans happen in other challenges. Especially as it does nothing to Stealth. The keywords Donnel really wants to stop - that is, renown and intimidate - are almost entirely present on characters without an intrigue icon. Still, a Practice Blade or Ser Alliser Thorne'll remedy that, and with another icon Donnel will face down a Mountain.
scantrell24 - 3 out of 5
A potent ability that requires other pieces to make it shine. Worth 1x if you're running 2x Practice Blade.
Bridge of Skulls (16 Total Points)
emptyrepublic - 3 out of 5
A good way to bait people into your Watchers on the Wall. Also a random discard is not nothing. If the ability allowed the discarding player to choose then it wouldn't be very powerful. That said if your opponent has decent draw going then the penalty isn't likely to affect their tempo that much. I'm on the fence and need to see it in action to get a feel of it.
JoefromCincinnati - 4 out of 5
I've given this card a lot of thought since I spoiled it on my podcast and I think I initially underestimated it. There is a glorious combo piece with this card between Qhorin Halfhand (coming out in CP 6), Thoren and The Watcher on the Walls. When you have either Qhorin or Thoren out and another ranger, you are basically forcing your opponent into one of three options: 1. Commit a military challenge with a weenie, in which case you will be able to defend it and win to either gain a power or kill one of your opponent's characters. 2. Commit a military challenge with the intention of winning, in which case you may kill their army with Watcher on the Walls or 3. Decide not to declare a military challenge and, instead, just take the equivalent of an intrigue claim. All 3 options sound good to me. In addition, it's a 1 cost location that is nice for set up, nice for use with Halder and has a meaningful effect after it has been played that does not require kneeling it. I think I may love this card. I probably won't play it until Qhorin comes out but once that day comes...Watch out

. Just...maybe don't play it in Melee. You don't need the entire group attacking you every turn.
OKTarg - 4 out of 5
See what Joe wrote; he's smarter about this than I am. However, I will wonder to myself just exactly where in my deck I'm finding space for this. Do you put it in over Shadow Tower? Haunted Forest? Probably not.
Quill & Tankard Curmudgeons - 3 out of 5
On one hand, this is the card that those Watchers on the Wall have been waiting for… but on the other, it doesn't distinctly do much of anything in a Defense deck without combining it to win on defense-based effects… or in any way help you actually keep the Wall standing. Still, the kind of incentive NW needed to help force their opponents to run into their surprises. We've seen people call this a Melee card, although we're not exactly sure what masochists want three opponents hammering them for military claim.
scantrell24 - 2 out of 5
Once again, we have a combo card. Outside of a pairing with Thoren, Watcher, etc. there's little reason to incentive your opponent to attack you. Maybe in Martell Banner Watch with Ghaston and Vengeance?
Jeyne Westerling (18 Total Points)
emptyrepublic - 4 out of 5
A character version of Seal of the Hand. The important difference is the target can vary and not be dependent on the character it's attached to. She won't make/break decks but just amplifies already strong combo characters like Fast Ed.
JoefromCincinnati - 4 out of 5
A pretty easy 1-2x inclusion in many Stark decks. Kneel a 3 cost 1 strength nobody to stand Fast Eddy for another crack at 2 renown. Stand Blackfish for another renown to get to that 4 power trigger. And with the Wolf King coming out in CP4, you can give the king trait to any Stark character (that allows attachments). Any card that offers the ability to stand a character is great. I wish the Night's Watch could get a card that provides on demand stand like this...
OKTarg - 4 out of 5
Standing is good. For sure. Yeah, it's trait-limited, but there are so many good Stark Lords you want to be standing again. One of my favorite things is Nymeria on Fat Cat, and if I can get Wolf King on her then….! This is a fantastic card, you guys.
Quill & Tankard Curmudgeons - 3 out of 5
A fun tribute to 1.0 Marya Seaworth (who was a Baratheon mainstay), but less of an auto-include due to Stark already being choked full of good choices at the generally unfavorable 3g unique slot. Still, should be able to find itself into the Rushier Stark decks to help push the power-gain just that little bit further.
scantrell24 - 3 out of 5
She's great for powering up the Blackfish quickly and countering Bara kneel. But 3 gold is the worst slot for characters (maybe First Snow takes a back seat to Valar and that changes next month).
Last Hearth Scouts (17 Total Points)
emptyrepublic - 3 out of 5
It's meta dependant. It will serve a strong counter for highly bouncy Lannister decks, but outside of that it doesn't have much value. It's a card that rewards players who can make a good meta call; otherwise it doesn't do anything.
JoefromCincinnati - 3 out of 5
More challenge control for Stark. A 4 for 4 military power bicon non unique is a nice body on its own, but hard countering ambush as well as a bunch of the clan stuff that Lannister is getting is a welcome gift as well. And it isn't only useful against Lannister. Night's Watch, Martell and Baratheon each have a relatively impactful card or two that has some sort of ability to enter play during the challenges phase. He isn't a must play, but is a very nice meta call, especially since Harrenhal (Lannister) was just released which will surely bring the Leaping Lion decks back in full force.
OKTarg - 3 out of 5
This is fine. I don't like "hard counters" to certain things, because usually the counter is too weak on its own to be useful including it in your deck. This, however, is perhaps efficient enough to be worth it in a jumper world. I'd rather be playing something else, but this seems fine.
Quill & Tankard Curmudgeons - 4 out of 5
In many ways this is a card that the more Aggro-focused end of the Stark Faction has been waiting for, that solid Aggro heavy-lifter just above the First Snow waterline. And that's really just based on the general stats of the card, and not taking into account how it can cause headaches for both NW (Arry) and Lannister (Burned Men, The Hound). If that new Lanni Harrenhal is scaring you, this card should be looking like a pretty nice choice for your curve-filler… and will likely only become more important with the introduction of Valar.
scantrell24 - 4 out of 5
Love the stats and effect. Sign me up for 1-2x in most Stark decks going forward.
Ser Barristan Selmy (18 Total Points)
emptyrepublic - 4 out of 5
I think he's quite efficient for what he is. Self stand is very good (ask Greyjoy). It's a bit conditional, yes, but it doesn't take too much imagination to figure out how he can be useful in Targ prime builds and Banner builds.
JoefromCincinnati - 4 out of 5
As I said in the review of Jeyne Westerling, stand is very powerful. This stand has a few more conditions, as you need to win the challenge that he is participating in and you need to have fewer cards in your hand than your opponent, but those restrictions aren't prohibitive enough to make him not worth playing. His stats are relatively underwhelming though, as a 4 strength bicon for 5 cost and no keywords. If only he had renown...
OKTarg - 4 out of 5
Stand is good. Unlimited stand is great. Unconditional stand is even better, but you can't have it all. You basically could win four challenges with this guy if you have a small hand….if you get some way to get Renown on him, look out! (There's a Plot for that…)
He's fantastical with Daenerys' Favor from this box, and a great mid-range guy if you don't want to sell out on the Bloodrider tech or Summer plots. Happy to have him in the arsenal.
Quill & Tankard Curmudgeons - 3 out of 5
One should never really belittle a card with a self-standing ability, even if it seems a bit hit and miss, due to the fundamental way of how characters that are able to participate in several challenges can cause pressure like no other type of card. Barristan, obviously, is one such card. What brings him a bit down is the current inability to stick good keywords (renown, Intimidate, stealth) on him easily… if only those Dothraki Steeds weren't so picky on who they carry! Regardless, we expect to see him as a 1x in some Targ decks for now, and possibly even more further down the line.
scantrell24 - 3 out of 5
Selmy fits into Crossing decks for the multi-challenge ability, much like Aggo, but he's a bit expensive for lacking an intrigue icon (Tears/Tyene protection) or any keywords.
Daenerys's Favor (12 Total Points)
emptyrepublic - 2 out of 5
I don't think this worth it given it affects your own people making it harder to push through your own challenges. Most chud blocking is with a 2 STR character so it's not like you'd get the unopposed. If you are the burn loving sort it clears some hurdles for Dracarys.
JoefromCincinnati - 2 out of 5
Hmmm...Whenever I see a card like this, I assume I must be missing something (hence the 2, instead of a 1)...This affects your other characters too. So, really, you need to have fewer participating characters than your opponent in order to get a sizable benefit out of it. It works well with Mirri Mazz Duur and it helps get those 5 or 6 strength characters down to Dracarys! range but then...so does Dragon Sight. And nobody runs that card. This is essentially Dragon Sight printed on an attachment. Maybe in the future there will be enough burn effects that this will be significant, but that time probably isn't now.
OKTarg - 4 out of 5
I like it. Positive attachments are great, and burn in second ed needs stacking effects to hit anything that matters (well, not anything, but you know what I mean). Dragon Sight stinks because it's a one-off effect and card disadvantage, but this is repeatable and double-uppable. Can you imagine three on Ser Barristan from this box? This, Unsullied, Dany are starting to make the passive burn actually matter in challenges again, and perhaps putting stuff in Plaza range.
I still think they could be more aggressive with burn in 2.0, but of course I think that

Quill & Tankard Curmudgeons - 2 out of 5
Two gold… is pretty much right, for a pseudo-Unsullied (or Dragon Sight) on a stick. Obviously the prime usages are to drop this down on a character able to participate in multiple challenges (Dany or the above Ser Barristan… or anybody else via Illyrio) or Mirri for just being able to brute-force her through. For all that, these wide -1 STR effects do very little as long as the Meta is saturated with 6 STR big 'uns that take them in stride… and Valar likely won't be doing this card any favors. Of course, the benefit of an evergreen card is that it'll still be around if-and-when burn becomes a thing.
scantrell24 - 2 out of 5
Not good now, but if we ever see another widespread terminal ability like Blood of the Dragon, then watch out. Or more pro-attachment abilities would help, like 1st edition's Lady Daenerys's Chambers.
Alerie Tyrell (16 Total Points)
emptyrepublic - 2 out of 5
Useful for getting Marg, but so are several other card effects. Stats are okay otherwise. Not garbage but not rocking my socks off either.
JoefromCincinnati - 3 out of 5
Solid card to go get a smaller character. Card draw is never a bad thing. I think Margaery is probably the card you're most often looking for when you play Alerie, but you'll be happy to settle for an Arbor Knight or Butterbumps. Other than that, her stats aren't great. 4 for 3 with no keywords. It's really all about that reaction. I see this being a common 1x card for a while.
OKTarg - 3 out of 5
It's fine. It won't get a great character but it might match your Left/Right or, perhaps, grab a Lady in Waiting, which isn't awful. Cards are never a bad thing, and characters that survive first snow are always worth looking at. But: low impact on the board. One of in my deck

Quill & Tankard Curmudgeons - 4 out of 5
Tutorable cantrip is good. Another Lady, which matters for Tyrell who have all this synergy but only Margaery and Olenna to use it with - to top it off Alerie can even do an impression of Arya Stark and fetch a Lady-in-Waiting to dupe herself with. If you're the kind of scumbag that plays Left and Right (doubtless at least somebody will take offense at that, though hopefully because they're a scumbag rather than because they play those two!) then the reliability in fetching the second one is a pretty major application too. An intrigue icon at over 3 gold, unbelievably only the 5th Tyrell have received so far, is highly welcome in the Rains box.
scantrell24 - 4 out of 5
A 4 gold Lady with intrigue fits perfectly into most Tyrell decks, especially Crossing and Summer. The search ability is obviously excellent too.
A Rose of Gold (11 Total Points)
emptyrepublic - 1 out of 5
Not sure why this is challenges action only. If it was any phase you could rationalize putting it in so you could optimize marshalling a bit better. I don't believe this is worth it at all.
JoefromCincinnati - 2 out of 5
At first I thought this was okay, but then I saw it was a challenges action. That is not an insignificant weakness for this card. It basically means you're spending 1 gold to play an event that will likely not help you the turn you play it. Sure, there's a chance it'll be an event or maybe something with ambush. But that's not exactly something to plan for and, even if it is, you will have had to save the gold in anticipation of that. Plus, Tyrell already has plenty of better card draw than this.
OKTarg - 2 out of 5
In a vacuum I think it's worse than both Arbor Red and Maiden Fair, not least because of the gold cost. It's not card disadvantage, but it is phase-limited, which I think is a bigger drawback for Tyrell. I don't think I'll play it unless I wanted like six deck stacking things….and I don't.
Quill & Tankard Curmudgeons - 3 out of 5
The obvious comparison points are "The Bear and the Maiden Fair" and A Gift of Arbor Red, but what Rosey does is something different - it allows you a small-scale tutor effect that doesn't create card disadvantage, and that's the key part here. If you're not a miser like Drakey, Tyrell can afford that 1 gold to thin the deck, and have a few cards they'd love to draw into in the challenges phase (your Growing Strongs, Sansa's Roses, Olenna's Informants and the like). It's also a fine banner card - consider it in a Lanni Rose with the new Harrenhal or I Never Bet Against My Family, for example, or in a Targaryen deck to filter aggressively for Dracarys!. Where the card suffers is the lack of versatility, in that it costs a gold and can only be played in a single phase - no desperate digging for the Arbor or Varys here.
scantrell24 - 3 out of 5
Seems solid, but a strange design choice considering the amount of draw/search/filter that Tyrell can already access.
High Septon (9 Total Points)
emptyrepublic - 2 out of 5
Single target effects are extremely common and the pool of them will grow greatly which makes the effect really useful. However, do you feel it's potentially worth 6 goal to have him soak a Put to the Sword instead of Tywin, Ed, or Balon? Be honest because unless you stack your deck with "seven" characters it's this guy that's eating it.
JoefromCincinnati - 2 out of 5
Currently, including the Septon and the Devout Freerider, there are 6 "The Seven" Characters in the game. 4 of them are Stark characters. There is a third neutral The Seven Character coming out in the 5th chapter pack, so they look like they're growing that theme a little bit but, for now, the High Septon is probably taking whatever hit you're moving for at least the next few chapter packs. The word "eligible" also throws a bit of a wrench in it as well. Seastone Chair, for example, cannot be redirected to him if he happens to be carrying some kind of attachment. Same for Dracarys! If he is not participating in the challenge. Redirect is strong, but let's wait to see if The Seven characters actually become relevant before we consider this a significant card in the meta.
OKTarg - 2 out of 5
I think it seems neat. It's nice to have some protection against some of the tricky effects your opponents are surely packing, but I just wonder if instead of playing out this guy if you should just go ahead and play a six gold threat of your own instead. Some of this may come down to playstyle, but I prefer giving my opponents hard questions to answer to answering the questions they are posing. It's basically the Hand's Judgement debate writ large--sometimes you'll want this guy, but I think it's too expensive and unreliable to make it worth it.
Quill & Tankard Curmudgeons - 1 out of 5
Frankly… the question here seems to be: "What are they smoking?". 6 gold for a blank body, that redirects targeted effects… usually to itself, and still can't even protect your Balon/Eddard/Randyll from a Tears of Lys? Pfft. Frankly, the weird targeting restrictions and related rules issues make us so mad, we'd give this one a 0 if possible. Well, maybe 0.5 due to the art. The definition of a binder-fodder card.
scantrell24 - 2 out of 5
Only in the jankiest of Voltron/tower builds that need a 3rd or 4th layer of protection.
Devout Freerider (8 Total Points)
emptyrepublic - 1 out of 5
What Joe and OKTarg say.
JoefromCincinnati - 2 out of 5
Consider this a signed apology from FFG for Core Set Tyrion. They could have just errata'd Tyrion but, yea, this is just as good...I guess…
Seriously though. If Tyrion weren't so broken, this card would not even need to be printed. Even still, with such a narrow target base, I don't know if this makes it into most decks.
OKTarg - 1 out of 5
Weak. See above where I said I don't like hard counters because usually the card itself isn't worth playing on its own. I guess I sort of like that they have anti-Lannister effects built into the off-faction and neutral cards in this house, but this is a bit too niche for my tastes. Let's see if The Seven trait goes anywhere (other than my binder), but for basically a card blank in all matchups save Lannister….no thanks. (But it is pretty sweet against Lannister, isn't it!)
Quill & Tankard Curmudgeons - 2 out of 5
Devout, but at the unfortunate 3g slot so won't see much play until First Snow rotates. So… mostly follows it's drug-addled leader (see above) into the binders. Well, if you really hate Tyrion, at least now you can tech against him a bit?
scantrell24 - 2 out of 5
An incredibly specific silver bullet, with a small amount of future potential based on traits (Mercenary and The Seven).
Wilding Bandit (16 Total Points)
emptyrepublic - 3 out of 5
A good cheap character to fill out wilding focused decks. Left over gold is not uncommon and of course Tyrion is common MVP. Beyond that it's a competent chud that works just fine in several decks.
JoefromCincinnati - 3 out of 5
More Wildling fodder for Mance decks, should they come to exist in the near future. It's a good price and icon combination. The +2 strength is purely conditional, but it should happen fairly often.
OKTarg - 3 out of 5
I like Wildlings. I really miss my first ever 1.0 deck, which was Targ Wildling Burn. Man alive, those were the days (I had one Core and one cycle and I was completely hooked). It's a conditional boost, but it's a body which is priced right. I think it could be okay-ish in Crossing decks, and it is of course great with Mance. This is a playable card, for sure.
Quill & Tankard Curmudgeons - 3 out of 5
At a much more viable cost-slot than the previous card, and we'd expect some of the more monocon laden Factions, especially GJ, to give him a twice over and consider whether he'd help fix some issues in their icon spreads. Oh, and a Wildling for Mance, so there's that. The actual effect is kinda the definition of 'fine'.
scantrell24 - 4 out of 5
Mance Rayder decks have already been a thing here and there. A cheap bicon makes the King Beyond the Wall even better.
Ocean Road (21 Total Points)
emptyrepublic - 4 out of 5
It's good in many decks but it really depends on your philosophy of economy. I think it's important because it supports banners and neutrals which I think might see less and less play as we move forward.
JoefromCincinnati - 5 out of 5
Banner cards and neutral cards get a reducer! It creates interesting deck building options, especially for Banner of the Watch, who do not have their own reducing location. However, the real stars here are Wildling decks and Varys decks. The biggest problem with Varys and Mance is their costs are so prohibitive, but having 1 or 2 of these on the board may be enough to make them more accessible characters, as you will no longer be required to play a big money plot or a king's road in order to afford them. Expect to see Wildling decks start becoming relevant now that they have their own reducer.
OKTarg - 3 out of 5
It's fine, I guess, but I think the times in which you will want this instead of your main-faction reducer are not that many. Then again, it's another piece for those of us who like to fiddle with optimizing their economy base. It's certainly not exciting, but Limited economy is actually meant to temper our excitement. (By the way, I'm one of those in favor of keeping all/most economy limited).
Quill & Tankard Curmudgeons - 5 out of 5
Remember back in the core set reviews where all the foundational limited economy cards were obviously 5s that we didn't bother actually going into detail on? Yeah, that, again.
scantrell24 - 4 out of 5
An obvious include in some, if not all, Banner decks. Makes re-playing Arianne every turn more feasible for Banner Sun.
Appointed (10 Total Points)
emptyrepublic - 2 out of 5
Little Bird is probably still better because it's more versatile. The calculus on this only changes if the Small Council trait starts to really matter. Also this card is one in an increasing pattern recently that trait manipulation is creeping back into the game.
JoefromCincinnati - 2 out of 5
This is basically a little bird that is harder to remove (not a condition) and also gives a trait. It even has the same gold cost...Only downside is you can't give it to a non-unique character...Okay...I don't really understand the logic there haha. It could be good if small council decks become a thing. There isn't enough there yet so we'll have to see what FFG's got in store for us.
OKTarg - 3 out of 5
As Joe said, it's just a usually-better LIttle Bird. Would you play one of these in a Bara deck so you can also use Council Consents to stand Stannis, Robert (with this attached) and perhaps Littlefinger? Seems fun, and I AM usually looking for ways to protect Robert from Tears.
Don't get me wrong, this won't actively slot into decks and it isn't quite worth building all the way around it. Maybe a heuristic is "If my opponent plays this card do I think they are a bad player?" and this card says…."Maybe?" So let's go with a generous three of five.
Quill & Tankard Curmudgeons - 1 out of 5
While we kinda see what this card is peddling, we ain't buying it, despite the cookie-cutter combo with The Council Consents (below). Honestly, the biggest advantage this obtains by its limited target audience over Little Bird (a card that's largely already phased out) is the lack of that irritating Condition trait! Straight from the ever-positive Istaril's mouth: "It's dull, god it's dull".
scantrell24 - 2 out of 5
Not very interesting, or good. Little Bird main advantage is that it can be setup on a chud, then returned to hand and replayed on a better target later. You can't do that with Appointed, unless you setup a cheap Lord like Bran Stark.
The Council Consents (11 Total Points)
emptyrepublic - 2 out of 5
The target scope on this is weird both on triggering and effect. It's one of those events that seem like it might interesting but after some thought probably isn't. There aren't a lot of Small Council characters right now and of those that are available the vast majority wouldn't be on the board together in the same deck. It's one of those that might get better one day but isn't worth event space right now.
JoefromCincinnati - 2 out of 5
Again, dependent on how many Small council cards we get in the near future. If this is it, then both the Council Consents and Appointed are, generally, bad cards. This is still stand, so if you do run more than the average number of small council characters it'll be very good. Baratheon, for example, has Stannis (Core), Barristan and bad Renly. Being able to stand them and Littlefinger could work out very nicely. Or, in Stark, standing Fast Eddy is nice. Of course, the biggest weakness of each of those decks is they are not particularly proficient in intrigue challenges...You'd basically need an Appointed or two in order to pull it off with any consistency, but that is a combo that isn't quite strong enough to dedicate 4 to 6 slots in a deck for.
OKTarg- 3 out of 5
Just because all stand is good. It seems that Joe has expanded on my argument for Appointed above, and I think he's right. It's more "fun" than "good" to run 5-7 slots for Small Council tech alone. That may not stop me from trying it, though, because Stand is Grand! (™)
Quill & Tankard Curmudgeons - 2 out of 5
While Appointed is likely to be going on a long trip to the binder, from where it will never return, there's a bit more beneath the veneer of this other new Small Council card that could amount to something. The key part here is really the "when a player" (i.e. not just you), which means that there's a lot more ways to skin this cat. One simply cannot completely dismiss a multi-character stand effect… no matter how niche it may seem at the time of publication. Of course, it might end up that even when there's a good amount of targets finally available, all decks are running them (and this stands opponent's characters too), so there's less benefit to be had!
scantrell24 - 2 out of 5
All good Voltron decks need a stand engine, but post intrigue win stand isn't that exciting because not many intrigue characters have Renown or Intimidate. This box is just full of seed cards and obvious combos. That's not necessarily a bad thing, as I enjoy building jank just as much as tourney decks.
The Rains of Castamere (19 Total Points)
emptyrepublic - 4 out of 5
This agenda will be as powerful as the player's ability to use it properly. It's not a rote as Crossing. Obviously you have to make sure you can get your intrigues through, otherwise you are wasting your time. There are lots of good scheme plots and there will no doubt be more in the not too distant future. There's a vague analogy that could be made with The Maester's Path from first edition in that you are able to build an on-demand toolbox. I think it will be powerful but trip up players who aren't strong at think through plot progression in game.
JoefromCincinnati - 3 out of 5
Rains definitely has its advantages. You have more plots at your disposal and can use them as a 'surprise' in the challenges phase, making the deck more flexible and unpredictable, but then it restricts your schemes to only be in the side plot deck, which makes the main plot deck less flexible...You need to win that intrigue challenge by 5 or more, which is very predictable and should be planned for by your opponent...I could see Lannister using this effectively and perhaps Martell. Other than that, I'm not sure many factions can guarantee consistent +5 on intrigue challenges. And not being able to include schemes in your normal plot deck does make for some awkward deck building situations. Martell can no longer use the Long Plan normally, you can't play Varys' Riddle to counter Marched and Summer Harvest on turn 1, you can't have Filthy Accusations or Wildfire Assault as a normal plot. It'll be good to see some often unused plots see play, such as Power Behind the Throne and A Game of Thrones, but I dunno if this will be enough to make the agenda worth it. I did enjoy watching the spit take reactions on the Facebook group when it was first spoiled though haha.
OKTarg - 5 out of 5
This agenda rules. And it will only get better. And it scares me. Let's count a few scary ways:
Further pushing INT as a challenge you HAVE to have. Already Tears and Tears protection limits the donut you can have at the Green dot, making houses like Greyjoy really tough to run at the top levels. And now here this agenda exacerbates such a problem, making you super vulnerable if you don't run heavy intrigue.
Plot Cycling. This always got out of hand in 1.0, and while there's more brakes and guardrails on this type of scheme-cycling (with the downside of not being able to reveal schemes on demand), it's still quite a strong effect. Reveal Valar and spin into claim? Sure. Reveal Wildfire and then use Trial by Combat to get them down to two dudes, one if you had Cersei attacking? Yep, Lannister needed another blowout play, right? Sigh.
Entrenching Lannister. Who's the House best placed to benefit from this agenda? And were they good already? Sigh again.
All that said, it does seem fun, and fun is a good thing. Congrats to Alvaro on a great design, even if I don't love my prediction about what it will do to the meta it arrives in.
Quill & Tankard Curmudgeons - 3 out of 5
This agenda is being overhyped. It may not have a significant drawback (although not having access to Schemes during the plot phase is not nothing), but it does have the opportunity cost of not being able to run an economy agenda or GoodStuff efficiency module. It also requires a significant change to the way you build and play your deck - winning intrigue challenges by 5 or more STR is a lot more work than people seem to be thinking… and with a small selection of Schemes opponents will quickly learn to gauge whether any of them can really cause much of an issue.
scantrell24 - 4 out of 5
Props to Alvaro for an interesting design. I've play-tested Lanni Rains a little and got the feeling that it's solid but not incredible. Wildfire, Filthy Accusations, Power Behind the Throne, and Varys's Riddle are great choices, but they're also fairly predictable.
Unexpected Delay (11 Total Points)
emptyrepublic - 2 out of 5
I think we've gone back to being super light on attachments in decks. Also renown is not super wide spread so I'm not sure how you exploit this as well as you can with First Snow (which at least gave you some good initiative).
JoefromCincinnati - 1 out of 5
In most cases, this plot has you and your opponent put their best character with no renown back to hand...if they don't have attachments. So you can't return your own milked Nymeria to your own hand or anything like that. When paired with the bad stats, I don't really know what kind of deck would run this plot...Maybe one that has a ton of attachments for their own characters? I just can't come up with any use for this plot that isn't super conditional. I look forward to someone doing something with this plot though. Prove me wrong.
OKTarg - 3 out of 5
Perhaps the best use of the plot is preventing your opponent from marshalling something good they wanted to since you can just put them back to their hand if they do….unexpectedly delaying their marshalling by a round. If you have a wide character base, like say the Night's Watch or Martell Crossing, this won't hurt you as badly. It's certainly not for every deck, but anything that can remove a Tywin from the board is worth looking at.
Quill & Tankard Curmudgeons - 3 out of 5
With 2.0 being all about economy, a plot providing a measly 3 gold needs to really provide potential board impact. Unexpected Delay brings some interesting mind games, decision points and bluffs with the order people choose targets, and feels like it wants to be run in a deck featuring heavily into Ghaston Grey, Heads on Spikes or Things I do For Love and all that jazz. Even if you're a downer like Drakey and feel that the 3g just won't fly, there's enough interesting complexity here to make us want to give it wings.
scantrell24 - 2 out of 5
Too few gold dragons for too wonky of an ability. If you squint really hard, it's almost like another Marched for character removal decks, but we can already double up plots in 2nd edition.
Summoned to Court (10 Total Points)
emptyrepublic - 2 out of 5
What's interesting about this plot is that everyone *has* to reveal a card and given the effect you are incentivized to show a character lest someone drops a 7 cost character by chance on the table because you didn't want to reveal your random 3 cost. Most likely scenarios are cost reducers getting play for free which hardly is overwhelming. Interesting but too unpredictable to be useful.
JoefromCincinnati - 2 out of 5
Summoned to Court is good in a few specific scenarios, I'd say. When you have knowledge of your opponent's hand, from things like Seen in Flames or His Viper Eyes, this could be good. Then, in a hand destruction deck like Lannister, this could also see some play. But, ultimately, I fear it may just be too random to be of any consistent value. You either have to go way low each time you use it, in which case you're only really increasing your gold by 2 or 3 (to which I'd say...just play a better plot). Or, you can go all out and attempt a 4 or 5 coster, hoping your opponent only has high cost characters in hand. Either way, it's unreliable and, in some scenarios, could end up benefitting your opponent. I don't really like it. The stats are okay, though...
OKTarg - 1 out of 5
Gambling plots are no fun. Sure, maybe you can empty their hand and drop a big guy in for free…..and that's what we call "win more". I can't really see anything that I want to use this for currently. It's cool, and 'casino-y', which I guess is a Lannister thing, but I don't like effects like this in general.
Quill & Tankard Curmudgeons - 2 out of 5
The reason we're going with a 2 out of 5 here is mostly that 5 gold, which means this card can at least be considered for decks. Whether it ever really actually sees the light of day, and what build can create enough board & hand control to leverage it… is another other story. Ever the flower boy, JC's already dreaming of a Tyrell deck running Bear and Maiden Fair, Caswell's Keep from the upcoming pack four and intrigue effects, so he can 'rig' the effect in his favour...
scantrell24 - 3 out of 5
Just reveal Summoned to Court when your opponent has zero cards in hand and you've stacked their deck with Captain's Daughter and/or Bear and the Maiden Fair. It's super easy…. Oh wait, no it's not. Still, it's a 5 gold plot so there's potential here.
Littlefinger's Meddling (20 Total Points)
emptyrepublic - 4 out of 5
Clearly a must have for event heavy decks. The 4 gold is fine because you don't need to save any to play events! Additionally, it's not limited to one copy so you can use one early and have a hold out copy to play again depending on the state of your hand. I can't imagine a faction that won't find this plot useful.
JoefromCincinnati - 4 out of 5
I foresee event heavy decks loving this plot. Imagine a Tyrell deck that wins an intrigue challenge and then uses Olenna's Cunning to go get a Tears of Lys to kill your best character and then does a big military attack for a Put to the Sword or Put to the Torch all for 0 gold...Or a Lannister deck that gets a free Trial by Combat...or a Martell deck that gets a free Vengeance for Elia...Free Ours is the Fury and Even Handed Justice...Free Dissension. Lots of useful things to do with this plot. Conditional, yes, but not "jump through a bunch of hoops and hope it all works out conditional," unlike some plots from this pack...I will say that, outside of using it in a Rains deck (which it appears to be designed for, primarily) it is a rather large tell. If you flip this plot normally, you're telling your opponent that you plan on playing some events this turn. The only thing left for your opponent to do is figure out what events and act accordingly...
OKTarg - 4 out of 5
This plot rules. You can pose untold threats with this flopped out there...your opponent might know you are planning an event, but they won't know which one! I think it will be fantastic in a multi-threat deck, like a Martell Crossing with You Murdered Her Children, Vengeance, and Tears--the economy that this can provide is downright Tyrion-esque! I'm a big, big fan since I love swingy events.
Quill & Tankard Curmudgeons - 4 out of 5
Now Littlefinger's Meddling is an interesting card, and one that might help support decks with a more… eventful, approach to the game. One key part to note here is that there's no cap on how many times you can get the reduction - allowing you to spam multiple 2g events f.ex. by playing all three 'You Murdered her Children' on your Viper in one round. The second key part is that there's no "limit 1 per plot deck", meaning that decks structured around running a large amount of high impact events can rely on a lot more economic support. Whether his plans will come to fruition in the meta now, or further down the road, Littlefinger's Meddling will likely impact how the game is played.
scantrell24 - 4 out of 5
I already love bluffing kills with Tourney Grounds, but Littlefinger's Meddling telegraphs Vengeance, Sword, etc. even more, so you're opponent has to assume you've got them in hand…. even if you don't.

Gossip and Lies (15 Total Points)
emptyrepublic - 3 out of 5
Low gold aside it's a plot that can have high impact, with new or core Cerci among other characters, in particular if you have Casterly Rock and Crossing. Annoying that it doesn't work at all with the new agenda though it's perhaps for the best. Nontheless, it build specific and probably even faction specific (Lannister / Martell).
JoefromCincinnati - 3 out of 5
Hello LoCR Cersei Casterly Rock decks. Do you enjoy making your opponent hate you? Then we have the plot for you! High initiative, non-kneeling attacks and can't be turned off by Forgotten Plans because it's a scheme. I'm very happy they made this a scheme though, because this would be way too good if it was a normal plot for a Rains of Castamere deck!
OKTarg - 3 out of 5
Not a plot for all (or most) decks, but a GREAT plot for a few of them. Intrigue decks out of Lannister, Crossing decks using the Viper, and any deck with a character you really want to win extra challenges with, such as Tyrell Renly. Non-kneeling renown as a closer is just so juicy. But, it is pretty niche….
Quill & Tankard Curmudgeons - 3 out of 5
There's two ways of looking at this card - either it's an incentive to run non-Rains intrigue-based decks… or it's a "Screw you" to the Agenda in general, by creating a strong intrigue-focused Scheme that just doesn't work with what a Rains deck wants to do. The big problem here is that 3 gold thing again, meaning that this plot will tend to get relegated to a "finisher" role in decks that can bring a good amount of renown / power-gain in their intrigue icons (and there aren't many of those yet). Of course, such a role is much more important in Melee, where this would likely see even more play.
scantrell24 - 3 out of 5
Right now, I can't think of many decks that want it. Viper, Mirri, Robert, Balon and Blackfish are some of the game's best characters for attacking multiple times, but a few of them require adding an intrigue icon through Little Bird, Appointed, or Selyse.
Time of Plenty (19 Total Points)
emptyrepublic - 4 out of 5
A good generic summer plot for summer decks. Hard to say much more than that with the exception that giving your opponent a free card is annoying. Sometimes it won't help them and sometimes it will; variance is just that way. Perhaps if your ability to discard their cards is strong it doesn't matter.
JoefromCincinnati - 4 out of 5
Good economy and additional card draw. Yes, you are giving your opponent draw too, but that's the game, guys. If you want more cards, you gotta sacrifice something. The reserve is also nice. I may be tempted to run this in a Night's Watch deck under the right circumstances.
OKTarg - 4 out of 5
Six gold and a card in Summer is….just exactly what Summer decks want to do! I might even run this out of Stark Fealty since those decks can often be card poor and they don't care as much what threats your opponent is posing. A good card and an option for many decks.
Quill & Tankard Curmudgeons - 3 out of 5
Time of "Kings of Summer filler plots", more like. Now, that combination of non-Navalable/Kings of Winterable 6 gold & 7 reserve makes this a plot worth considering for decks that like both their resources & reserve… but mostly we'd expect this to just become a 1x filler card in KoS decks for the foreseeable future. Oh, and then there was a "both players draw a card" thing here as well. Now that didn't excite us a-plenty - it tends to be harder to leverage giving both players something than it is to take something away… (This is unsubtle foreshadowing for the next plot.)
scantrell24 - 4 out of 5
Time of Plenty probably replaces the 2nd Song of Summer in my Tyrell deck. The higher gold and bonus draw should speed things up a bit for a deck that I consider delayed rush (the turn 1 or 2 Arbor-induced tempo hit often leads to a long game).
Early Frost (21 Total Points)
emptyrepublic - 4 out of 5
Really good plot to put the squeeze on your opponent, especially if you hit them hard the previous turn or conversely put the pressure on them early with limited draw and aggro. This confirms a thought I've been having lately that Winter decks in 2.0 are just more interesting than Summer with stronger effects and more interesting play.
JoefromCincinnati - 4 out of 5
Hey look, more choke. A 2 claim winter plot with decent initiative that restricts card draw. This will go fantastically as a turn 2 plot after Wraiths in Their Midst on turn 1. Cut them down to a hand size of ~3, then only allow them to draw 1 card. If you're able to establish a board state such that you could win a military challenge on that turn, you could be ending the game early. Other than that, it's a Winds of Winter with the added reduced draw for all players that turn. I don't know how much play it will see, but in the deck type that loves using Wraiths, Varys, Famine and other dirty tricks to keep the opponent's board thin, this will fit right in.
OKTarg - 4 out of 5
I think this plot is quite good. In a Winter deck looking for an early blowout, this is a great option. It's also a better midgame squeezer than Winds of Winter, so I think it can slot right in there. Having helped with the Winter Jumper deck that came out recently, I can say for certain that restricting your opponent's hand as you hit them with two claim can just win you the game. And, options in your plot deck that can win you games are things you want!
Quill & Tankard Curmudgeons - 4 out of 5
Where its positive sister plot feels like a warm but unexciting breeze, Early Frost feels like a spear of ice ready to impale your enemies. Just shy of a perfect 5 out of 5 due to that low reserve (although even there drawing 1 fewer card makes it kinda-sorta-if-you-squint feel like 5 reserve), this is a brutal plot to pull on your opponent once you've got them on the ropes and just want to deprive them of any chance to get back into the game. We expect to see quite a bit of this one...
scantrell24 - 5 out of 5
We're quickly reaching the point where a deck could run 4-5 high claim plots. Early Frost looks like a direct upgrade from Winds of Winter, and a great counter-play to Valar.
Total Pack Score:
60.4% (408 out of 675 possible points)
Top Cards:
Victarion Greyjoy
Early Frost
Ocean Road
Bottom Cards:
Devout Freerider
High Septon
Old Wyk
If you're hungry more content, check out the list of podcasts, articles, game video and more in
the Community FAQ
. Let us know in the comments how you feel about the cards in this box, and we'll see you again in a few weeks to review the There Is My Claim (including Valar Morghulis!).
Article: Lions of Casterly Rock Review: Part 2