Welcome to Card Game DB
Register now to gain access to all of our features. Once registered and logged in, you will be able to create topics, post replies to existing threads, give reputation to your fellow members, get your own private messenger, post status updates, manage your profile and so much more. If you already have an account,
login here
- otherwise
create an account
for free today!

2
No Middle Ground: AGoT Chapter Pack Review
Mar 24 2016 08:00 AM | scantrell24 in
Strategy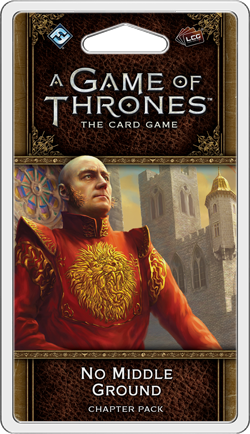 The queen stood. "And what of my wrath, Lord Stark?" she asked softly. Her eyes searched his face. "You should have taken the realm for yourself. It was there for the taking. Jaime told me how you found him on the Iron Throne the day King's Landing fell, and made him yield it up. That was your moment. All you needed to do was climb those steps, and sit. Such a sad mistake.""I have made more mistakes than you can possibly imagine," Ned said, "but that was not one of them.""Oh, but it was, my lord," Cersei insisted. "When you play the game of thrones, you win or you die. There is no middle ground."
Our staff has put together a first blush analysis of the newly released "
No Middle Ground
" chapter pack. Cards are listed in numeric order and scored on a scale ranging from one through five, with five being the best possible score. We have 4 reviewers this time around, so the maximum overall score is 20 points.
You may notice a few familiar faces missing in action. We've decided to rotate reviewers to accommodate everyone who wants to participate, while also slimming the article to a more reasonable length.
Now onto the reviews, starting with....
Hodor (14 total points)
Alexfrog - 3 out of 5
We have alternatives like Hedge Knight now, that are usually 3 strength bicons for 2, that don't have drawbacks and can contribute to dominance. Still, Hodor is a good blocker, and he is a Stark character which is relevant for many Stark effects. I see him as a probably 1-of.
scantrell24 - 4 out of 5
Hodor? Hodor, hodor hodor! Hodor! Hodoooooor….
Cheap characters with multiple icons that can win challenges by themselves (or at least make it difficult for your opponent to win by 5) are generally worth including. Case in point: Ser Jorah Mormont. This Hodor looks similar to a 1st edition character that earned frequent playing time despite having a negative trait (several cards removed Ally characters). So, slot one copy into most Stark decks.
JoefromCincinnati - 3 out of 5
Hodor is cheap and good for setup. He doesn't count for dominance, so you may as well use him in a challenge each round, but he can't attack unless you control Bran Stark. The only version of Bran so far is a 1 strength power icon for 2 gold that has an ability that causes him to leave the board. So, even if Hodor and Bran were out at the same time, it probably won't be for long. Hodor's a good card in some circumstances, but with a lot of weaknesses. I love the flavor text though.
rave - 4 out of 5
You can't argue with the stats. He's a good defensive card for just a small investment, just like the previous iteration.
Wardens of the North (20 total points)
Alexfrog - 5 out of 5
You are going to play this in Stark decks. It's a solid 5 gold economy plot which is not hit by Naval Superiority, and really ruins your opponent's combat math, pulls characters into challenges they don't have icons for, etc. Having played against Winterfell Kennel Master now, and seen how annoying it is to have the threat of pulling in Grey Wind and activating his Intimidate, this is definitely a powerful effect.
scantrell24 - 5 out of 5
Amazing. It's kinda like turning every Stark character you control into Margaery Tyrell.
JoefromCincinnati - 5 out of 5
The Starks have really come on strong in the past couple chapter packs. Winterfell Kennelmaster has become a staple in Stark decks and it is (now) obvious why. Turns out, challenge math tricks are way better than anyone on this review board previously thought. The Kennelmaster got a lot of bad grades (I gave him the highest grade at 3 out of 5

) and many said direwolves are just too niche. Well, it turns out they aren't bad. And this plot is an even better version of that challenge math trick. Expect to see this as an auto include in most Stark decks for a long time.
Rave - 5 out of 5
I'm a big fan of 5 gold plots with strong abilities, because strong abilities are a rare thing above the 4 gold threshold. Versatile.
Ser Horas Redwyne (15 total points)
Alexfrog - 4 out of 5
Built in stand effects are amazing. Standing Margaery is awesome, but standing Dany is even better. There's also an upcoming 7 cost Caitlyn.
scantrell24 - 4 out of 5
Repeatable stand was traditionally quite strong in first edition. However, I'm worried that the 5 gold cost (the high end is getting crowded) and scope (only Ladies) are too limiting. He doesn't fit into every deck, but Targ Rose is a serious contender.
JoefromCincinnati - 4 out of 5
Strong card in many cases. Horas works especially well with Margaery, who can kneel to use her ability then, when you declare an attack with Horas, she'll stand and you can use her ability again. Stand is absolutely never a bad thing. His brother fetches the Lady, Horas stands her up. They make a good team. He's also a knight, so there's more Lady Sansa's Rose & Mare in Heat synergy.
rave - 3 out of 5
Doesn't seem worth it. How many Lady characters change the game enough by restanding to warrant putting this guy in your 5 slot? For those few that do, is it worth the risk of having a 5 cost character that does nothing useful by himself? I don't think so.
The Arbor (14 total points)
Alexfrog - 4 out of 5
Getting this one card fixes your economy for the entire game. If you manage to get it in setup it's really overpowered. Its not as great late in the game, so you will want to play this in decks that expect the game to take a while. The extra gold can help win dominance as well. It's hard to judge a card that is so high variance based on how early you draw it, but when someone plays this card in setup it will feel "broken".
scantrell24 - 3 out of 5
I'm interested to see how The Arbor changes Tyrell deckbuilding, if at all. It's obviously fantastic on setup or turn 1, but less good thereafter. Be careful not to include too many "early game only" cards or you'll fall victim to variance.
JoefromCincinnati - 4 out of 5
Gold is good. Pay 4 gold this turn (3 with fealty), get 3 gold each turn for the rest of the game. The Arbor can't be discarded by Newly Made Lord because it costs greater than 3, but We Do Not Sow punishes this hard. I expect this card to see a lot of play, especially in Fealty where it frees up some neutral slots by replacing a Rose Road or two. Card slots are becoming more and more premium as more great cards come out, so any card that makes room in your deck is a good card.
rave - 3 out of 5
Overkill. Good deckbuilding solves the problem this card tries to fix. Using this to offset Pleasure Barge seems more trouble than it's worth.
Halder (9 total points)
Alexfrog - 2 out of 5
Eventually he'll get stronger as the card pool grows, but now he's mediocre at best.. Practice Blade and Longclaw are the only things you'll want to kneel for Halder's ability. The locations we have coming (Brandon's Gift/Rookery) are horrible.
scantrell24 - 2 out of 5
Meh. Threat of activation can give your opponent trouble, forcing an over-commit, but the 3 gold for 2 strength mono-con body is awful.
JoefromCincinnati - 3 out of 5
I'm not super excited by this card. He will be pretty good someday, but he's just average right now. There aren't enough attachments and locations that are worth playing that can be knelt. Halder will see play, but not because of how good he is. It'll be mostly because Night's Watch needs more cheap power icons. Especially NW Fealty, which will become a thing now with this next card in this list…
rave - 2 out of 5
All of the math is already out there on the field for your opponent to see. Underpowered. Monocon.
The Watcher on the Walls (14 total points)
Alexfrog - 3 out of 5
It will mostly sit impotently in your hand, but the effect it has on the game of requiring your opponent to never attack you in military with 2 or more characters if you have 1 gold and 2 standing Rangers will be important. I feel like you should try to play it enough times during practice games that your entire meta knows you play the card and then cut it from your deck before the tournament. It seems like something that your opponent has to play around due to the threat of it, more than something you want to draw.
scantrell24 - 3 out of 5
The previous iteration, Lethal Counterattack, required a cost of any 2 Stark characters, whereas Watchers needs a specific subsection of Night's Watch characters, so it's more difficult to trigger. I'll take a single copy, so once my opponent sees it, he'll have to worry about another copy that isn't coming.
JoefromCincinnati - 4 out of 5
I really like this card. I believe Night's Watch needed some kill to slow down renown characters, and this is some impressive kill. The two ranger kneels is a steep cost a lot of the time and it can be predictable when you have 2 rangers out, but it's cheap (goldwise) for its effect and, with the Old Forest Hunter, is always a threat to occur if you have 2 cards in hand, since Old Forest Ranger can turn a card into a gold. I wouldn't expect too many heavy military attacks against you as long as you have 2 rangers and a gold/fealty. I look forward to some way to turn a character into a ranger, whether that be an Agenda or an Attachment (preferably a Weapon) or maybe even a Plot?
rave - 4 out 5
Solid 1 of. Watcher has potential to sit around in your hand for awhile, so there is risk to running more than a single copy. Great potential and little investment.
For the Watch! (12 total points)
Alexfrog - 2 out of 5
The opponent's first attack of the turn will shove some little guy at you, so For the Watch! is basically a 4/6/1/6 plot that forces them to kneel a small character, thus making it worse than Filthy Accusations. Of course there are situations where it's better, like when they cannot afford to spare 1 character on such an attack, or when they played Game of Thrones as their plot for the turn, but usually it's an inferior Filthy Accusations. Therefore, this will not make the cut in your plot deck, unless there's future 'Siege' plot synergy.
scantrell24 - 3 out of 5
It's fantastic when paired with Sword in the Darkness (the opponent chump attacks, you oppose with force), but "meh" otherwise. Maybe there's a place in Melee decks? I mean, who wants to waste limited resources on an attack that can't possibly win?
JoefromCincinnati - 4 out of 5
A 3rd Night's Watch card? Nice! For the Watch! is very strong, as it makes it so you only have to defend 2 challenges that turn (assuming they don't have some way of getting a 4th challenge off), but they could also just throw their worst challenge first, like a 1 strength intrigue challenge out of Greyjoy from the Shipwright. I would have preferred it be "You may cancel any 1 challenge each phase." But I suppose that may have been too strong? Although, it would be nice if the Night's Watch could get at least 1 card that is "too strong." It'll require testing to see how often scenarios where this card is useful come up. I'm hopeful. Special Bonus: It's great against Epic Phase challenges, if they're ever revived from the first edition scrap pile.
rave - 3 out of 5
More of a brute force Calm over Westeros, which it is unfortunately outclassed by. That 1 extra gold Calm gives you, goes a long way to rebuild or stall, which is what I would imagine the primary use of this plot is. Could be fun to catch Sneak Attack with.
Gendry (11 total points)
Alexfrog - 2 out of 5
Most similar cost/strength characters, like Cersei, have a pure upside ability. Gendry's mixed ability demands a commitment to ensure that it works more often than it fails, but sometimes it'll be worthwhile to your opponent to forgo challenges to win dominance and force Gendry to be sacrificed. I'd rather pay 1-2 more gold to marshal a stronger character with Renown.
scantrell24 - 3 out of 5
Solid stats, and he's non-loyal like Fiery Followers and Painted Table (but not the next card, also dominance-related). We've already seen decks with Sansa, etc. that put a clock on the opponent. Gendry fits there, but not in regular Baratheon decks.
JoefromCincinnati - 3 out of 5
I like the dominance theme that's being built in Baratheon. It may even make me consider playing Baratheon some day. Probably not, but there's a chance! Extra power for winning dominance is so nice. Ask my favorite plot, Feast for Crows. Probably best in a deck with more disposable bastards, in case you lose dominance. Martell perhaps? It seems super janky because it probably is, but if Jumping Lions can work, then Dominant Stags can work too.
Rave - 3 out of 5
Very thoughtful and honest card design. Unfortunately thoughtful and honest doesn't get you far in the Game of Thrones setting. The threatening drawback is not offset by the mildly useful ability.
Tobho Mott's Armory (13 total points)
Alexfrog - 2 out of 5
It's a draw location so it's worth something, but this effect definitely seems worse than Chamber of the Painted Table except on turn 1 of the game. The first activation pays you back the card, and at the second you are up a card for 2 gold which isn't really being up yet, so really you need three activations before you start to make a gain from it. Having to win Dominance three times to make a payoff on this makes me think it will be very hard to find room for this card. It's just clearly worse than Painted Table.
scantrell24 - 4 out of 5
Redundancy is a good thing. I want multiple draw engines in my decks, so Tobho Mott's Armory doesn't replace any copies of the Red Keep; it compliments them.
JoefromCincinnati - 3 out of 5
As I said above, I really like the dominance theme for Baratheon. Card draw is awesome, but I'm only giving it a 3 because it's only good in a dominance themed deck. You'll never see this card in a deck without the Iron Throne.
rave - 4 out of 5
Recurring draw, yet not cheap nor particularly reliable. Still, recurring draw.
The Red Cloaks (16 total points)
Alexfrog - 4 out of 5.
Red Cloaks are one of the best non-unique 2-gold characters. My Lanni Crossing deck was waiting for this. The potential combat trick of pumping his strength will force your opponent to overdefend sometimes.
scantrell24 - 4 out of 5
Solid in every way. Note that gold on Red Cloaks doesn't leave during taxation, but it cannot be used to marshal cards.
JoefromCincinnati - 4 out of 5
Cheap body. Multiple icons. Friendly on set up. Something to do with excess gold that Lannister always has. Yep. Another winner for Lannister. You can move a gold onto him during marshalling, during the challenges phase after you declare the intrigue challenge (assuming you have Tyrion out), and then during the dominance and standing phases. So good. And they're a cheap army, which could make the army plot, Muster the Realm, work pretty well in the next few packs.
rave - 4 out of 5
This icon/cost/strength setup is never bad. Ability is odd for a character that you play for the purpose of being killed for claim. Nice boost for Fealty.
Paid Off (13 total points)
Alexfrog - 3 out of 5
I like Paid Off because target kneel is strong, but its conditional, so you have to work for it. The ambush keyword makes it playable, as it's a solid trick when your opponent is out of gold. Still, deck space is hard to come by.
scantrell24 - 3 out of 5
Interesting card. Note that the opponent can satisfy Brothel Madam by giving you a gold with Paid Off's ability. My best guess is that many deck-builders will slot 2 copies into rough drafts, then end up cutting them, as it's good but relatively situational, much like Throwing Axe.
JoefromCincinnati - 3 out of 5
I like the card, but I wonder how much space there will be in most decks for it. Seems kind of conditional. Still, kneel is never bad. And Lannister doesn't have any issues winning intrigue challenges.
rave - 4 out of 5
Strong. Disruptive via ambush on the turn it is played. Not terminal. You can put it on anybody that takes attachments. Great on defense.
Priest of the Drowned God (14 total points)
Alexfrog - 4 out of 5
Probably just 3 out of 5 for now but will definitely go up with the printing of any more decent Drowned God characters. He may eventually become a powerhouse. He pumps himself into a 3 strength character right away so he is a reasonable way to get intrigue icons into Greyjoy, while also boosting Aeron and Drowned Men. Drowned Men can easily turn into a super Ranging Party with these and some warships, and we all know Ranging Party is a nice card.
scantrell24 - 3 out of 5
With the addition of a moderate-strength, low cost intrigue icon character, maybe Greyjoy Crossing becomes a thing?
JoefromCincinnati - 3 out of 5
Tribal cards are nice. Intrigue icons for Greyjoy are also nice. There aren't enough Drowned God characters to make this card great yet. As more are released, you'll see an upswing in this kind of tribal effect. Until then, this is just a solid intrigue icon that will occasionally power up a character or two (including itself). Not a terrible deal for one of the most intrigue deficient factions in the game.
rave - 4 out of 5
Solid stats. A welcome solid/cheap intrigue icon in Greyjoy. Nice if you have multiples, but again, these low cost guys are meant to die. Will get worse.
Loot (7 total points)
Alexfrog - 2 out of 5
Seems too conditional. I doubt the Milling effect will ever be a real thing, the main purpose of this is to deny your opponent their gold for the rest of the challenges phase. I don't see how I find room in the deck to fit this in.
scantrell24 - 1 out of 5
Pure jank. I'll admit it improves dramatically once there are more effects like Euron, or first edition's Fishmonger's Square.
JoefromCincinnati - 3 out of 5
Pillage and other mill type cards are starting to pop up, like Gregor Clegane, the Crone of Vaes Dothrak etc and this card will help with that. It'll also help eat up your opponent's gold to win dominance or stop events and ambush. All not bad. A true mill deck still is not going to work, but it can be a fun high variance deck that can really frustrate your opponent.
rave - 1 out of 5
Weird. Why? You could potentially never get a chance to trigger this, and even if you did, would you care? Not worth the deck space.
Dothraki Outriders (8 total points)
Alexfrog 2 out of 5
Just ok for now, could eventually become incredibly efficient given enough good Dothraki. You really need about 3 Dothraki in play before this becomes efficient at a 5 cost to 7 str ratio. Requires too many Dothraki already in play to really become efficient.
scantrell24 - 1 out of 5
Surely a printed 7 gold cost would have been fine? Yes, it's a giant beatstick, but it lacks an intrigue icon (and can't be protected from Tears by a duplicate or Bodyguard), and it lacks an impressive ability. Even with more Dothraki, the Outriders are probably a 2 at best, unless future Dothraki triggers require massive wins by 10+ strength or something.
JoefromCincinnati - 3 out of 5
Very big body. I don't think there are enough dothraki to build an entirely separate Dothraki deck yet. But with a Crone or two, a Braided Warrior and Drogo, this 7 strength body could hit the table for 4 or 5 gold. Not a bad deal. And another army makes Muster the Realm a possibility again. It's a dead card in set up, bad early game until you get some other dothraki and can be tears of Lys'd with ease, so it's not perfect.
rave - 2 out of 5
Dead setup card. Not an overwhelming challenge presence, which is odd, considering he costs 8 gold. Doesn't do much of anything warranting his cost, really.
Blood of the Dragon (14 total points)
Alexfrog - 3 out of 5
3 of 5 for now and hard to fit into your plot deck, but I expect this card will eventually become a key staple and seem overpowered. Maybe not amazing right away, but the strength reducing effects are going to keep coming. Unfortunately it hits you as well, effects Dany (wtf), is bad in Mirror matches, etc. In time this will probably become the card that you play, blow your opponent out that turn, and effectively win the game. So with a big enough card pool I expect this to be a 5/5 card.
scantrell24 - 4 out of 5
*Sigh* One "burn" effect by itself is rarely problematic. The real danger happens when they're combined, so it's hard to look at a single burn card in a vacuum and call it overpowered or broken. This one's close though.
Also, if you're new to the game, note that duplicates and most other saves cannot prevent a "terminal burn" ability like Blood of the Dragon from killing a character.
JoefromCincinnati - 3 out of 5
Bad stats make it a 3 for me. I have no doubt many Targ players will run it. But Targ is already one of the factions that runs Winds of Winter and Counting Coppers the most. Some run 1 of the 2, others run both. I wonder if they have space for another low gold plot. Regardless, it's a strong effect that will put typically safe characters in danger of burning to death. It amuses me that it lowers Daenerys' strength too. So Unnedly.
rave - 4 out of 5
It's harder to hit with burn now, but put this in a deck with Dornish Paramour, (which is already a great house pairing) and you have one of the few reliable ways to burn 5 strength characters. Good potential.
Maester of Starfall (8 total points)
Alexfrog - 2 out of 5
Mainly he counters Ser Gregor's ability. One icon and having to kneel to negate one ability makes him not very efficient. His other use is to serve as a backup to Maester Caleotte in a Martell only deck playing Here to Serve.
scantrell24 - 2 out of 5
A useful ability, but the body is unfortunately overpriced. Maester of Starfall would have been playable at 2 gold for 2 strength.
JoefromCincinnati - 2 out of 5
A good stalling technique for Martell. I really like the patience that Martell plays with. Removing renown can slow a turn down. Removing insight can remove a deck's primary card draw, like Daenerys. But kneeling him is a steep cost.
rave - 2 out of 5
Slow and unwieldy. If you really want this, Milk of the Poppy is a better alternative.
Condemned (7 total points)
Alexfrog - 1 out of 5
The least important icon to make a character lose. Losing intrigue lets you play Tears, losing military counters scary characters like Ser Gregor and Jaime. I'd definitely be playing the others first and not find room for this card.
scantrell24 - 2 out of 5
Non-setup cards have to fill a glaring need or pack major punch to warrant their deck space. This one doesn't. Maybe it worth a single copy in something like Greyjoy Sun that wants unopposed, or Bara that wants to draw with Red Keep. And maybe it will improve with more impactful "win a power challenge by 5" triggers.
JoefromCincinnati - 2 out of 5
The reason Attainted is so good is it removes intrigue icons, which makes the character susceptible to one of the best kill cards in the game, Tears of Lys. There is no Tears of Lys that targets characters with no power icon, so this card will not be nearly as impactful. It'll be good to remove a power icon from a big character, but will you find the deck slots for that? That remains to be seen.
rave - 2 out of 5
Terrible card for the early to mid game. OK in the late game, but outclassed by other effects. No synergy to speak of outside of that, so not really worth the deck space.
Wildling Scout (14 total points)
Alexfrog - 4 out of 5
A useful neutral intrigue icon that helps your setup. His ability is actually super relevant near the end of the game, and can get you the challenge win or unopposed power you need to close the game out. The ability makes him one of the most relevant 2 cost characters late in the game, while many others are dead draws.
scantrell24 - 3 out of 5
A useful chud who helps push through key challenges, win unopposed, or prevent your opponent from doing the same.
JoefromCincinnati - 4 out of 5
You cannot understate the value of low cost neutral characters. You also cannot understate the value of neutral intrigue icons, as there are a lot of factions that suffer from bad intrigue. The stealth sacrifice is gravy, and makes Wildling Scout a valuable card when deck building.
rave - 3 out of 5
The effect is only useful when you can afford to sacrifice a 2 cost character outside of claim, which because of the threat of Marched to the Wall, is a tough thing to justify, unless you're way ahead on board position. No military icon for chump blocking. Monocon.
The First Snow of Winter (20 total points)
Alexfrog - 5 out of 5
The big new monster of the metagame, this card will really impact everything about the game. It rewards duplicates, rewards ambush, rewards being strong in military challenges, rewards large characters, and rewards save effects like Risen from the Sea/Iron Mines/Maester Aemon. It punishes decks that rely on 1 and 2 cost chuds to provide claim soak each turn.
This plot seems good for Lannister, Targaryen, Stark, and Greyjoy, while being bad for Tyrell, Martell, Baratheon, and Night's Watch. For the most part, it seems to help the factions doing well already, except Baratheon, and hurt the ones doing poorly. It also looks like it will have the effect (when it works), of allowing one player to completely blow the other out of the water, by bouncing all their small characters and killing their large characters. Rather than making games interesting, I think it will prematurely end them.
Therefore I have to say that I think the printing of this card is an absolutely horrible design decision. My hatred for it is not based on thinking it will harm my personal game results, as all the decks I like to play seem to be the ones benefitting from this card.
scantrell24 - 5 out of 5
I'm amazed and slightly upset that First Snow escaped playtesting in this form. It will almost certainly be restricted, errata'd, or banned eventually.
Aggro decks already attack impactful characters with targeted kill effects like Put to the Sword, but once the chuds bounce to hand, they can start whacking away at the high-end characters with military claim as well. Duplicates and Bodyguards have never been more important.
As to which Faction benefits most, my money is bet on Targaryen. Khal Drogo, Dracarys, and Crown of Gold, followed by Blood of the Dragon or Marched to the Wall will clear a lot of boards.
JoefromCincinnati - 5 out of 5
This card fundamentally warps the entire meta. Low cost characters were great once upon a time because they could satisfy military claim, initiate chump challenges, and chump blocking to prevent or gain unopposed power. Not anymore. This card instantly forces a complete reevaluation. It's possible that 4 or 5 card set ups will be more rare following this release, as many players will remove a portion of their lower curve.
Best factions: Lannister and Greyjoy. Lannister has Ambush and challenge gold to re-populate the board and Greyjoy has stealth and good 4-6 costers with stealth to really take advantage of the lack of claim soak.
rave - 5 out of 5
Probably the most impactful card yet -- will change the flow of the game. Strengthens Marched to the Wall quite a bit. Great for Lannister and their Tyrion Ambush engine. Also gives Martell a draw boost with Greenblood Trader.
Wraiths in their Midst (9 total points)
Alexfrog - 2 out of 5
Seems pretty unexciting. You put yourself at a disadvantage (lower gold / initiative / lack of good plot ability), in order to cost your opponent 2 cards of their choice at end of turn, maybe.
scantrell24 - 2 out of 5
Wraiths feels decidedly average. The mediocre stats and marginally useful ability mean this plot is relegated to only specific decks that need to control the opponent's hand size. But I'm not sure if those decks exist yet.
JoefromCincinnati - 3 out of 5
Average plot that will probably see use in some janky Greyjoy reserve deck. I do think it's odd that the initiative is 1, since Alannys Greyjoy only reduces the reserve of opponent's plots when you are first player. When else would you realistically play this plot other than to abuse Alannys? I guess it could be a tricky opener, reducing your opponent's hand to possibly 4 (if they start with the standard Noble Cause or Calm Over Westeros). But then you have 5 reserve and only 4 gold to play 4 cards or you have to discard as well...We'll see where this catches traction.
rave - 2 out of 5
Poor stats. Significant drawback with dubious benefit.
Conclusion
That wraps up our review for No Middle Ground, the 4th chapter pack in the Westeros cycle. For more discussion, you can check out
this forum thread
or comment below. For more content -- podcasts, game video, and more -- head over to the
Community FAQ
. We'll return in two weeks with thoughts on the game's first deluxe expansion, Wolves of the North. Thanks for reading!
Total Pack Score:
63% (252 out of 400 possible points)
Top Cards:
Wardens of the North
First Snow of Winter
Bottom Cards:
Loot
Condemned
Dothraki Outriders
Maester of Starfall
JCWamma, Ire and TreyAlsup like this
Article: No Middle Ground: AGoT Chapter Pack Review