Welcome to Card Game DB
Register now to gain access to all of our features. Once registered and logged in, you will be able to create topics, post replies to existing threads, give reputation to your fellow members, get your own private messenger, post status updates, manage your profile and so much more. If you already have an account,
login here
- otherwise
create an account
for free today!

1
True Steel: Thrones LCG Pack Review
May 19 2016 09:00 AM | scantrell24 in
Strategy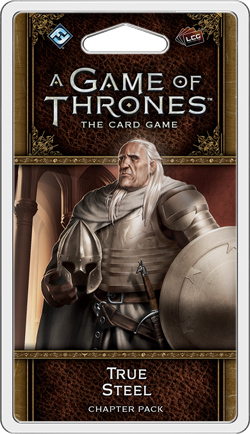 "The Kingsguard—""A paper shield," the eunuch said. "Try not to look so shocked, Lord Stark. Jaime Lannister is himself a Sworn Brother of the White Swords, and we all know what his oath is worth. The days when men like Ryam Redwyne and Prince Aemon the Dragonknight wore the white cloak are gone to dust and song. Of these seven, only Ser Barristan Selmy is made of the true steel, and Selmy is old. Ser Boros and Ser Meryn are the queen's creatures to the bone, and I have deep suspicions of the others. No, my lord, when the swords come out in earnest, you will be the only true friend Robert Baratheon will have."
Our staff has put together a first blush analysis of the newly released "True Steel" chapter pack. Cards are listed in numeric order and scored on a scale ranging from one through five, with five being the best possible score. We have 4 reviewers this time around, so the maximum overall score is 20 points.
You may notice a few familiar faces missing in action. We've decided to rotate reviewers to accommodate everyone who wants to participate, while also slimming the article to a more reasonable length.
Now onto the reviews, starting with....
Septa Mordane (13 Total Points)
kidohearts - 4 out of 5
I think this will be 1x in Stark decks for a long time. 1. Stark desperately needs the Septa's Intrigue icon. 2. Core set Sansa with renown will give 2 power per turn to a rush deck. 3. With both Septa/Arya and Luwin/Bran, Stark players have 2 characters who are immune to opponent's plots. So now they can keep 5 on Wildfire and extra characters on First Snow. And not losing that Arya dupe on a First Snow turn should not be overlooked.
scantrell24 - 3 out of 5
She's slightly worse than her counterpart, Maester Luwin, because most Stark decks run fewer copies of Arya/Sansa than they do Bran/Robb. But the ability combined with Septa Mordane's respectable strength/icon make her worth a look.
JoefromCincinnati - 3 out of 5
If this card were released in the first few chapter packs, I'd have rated it higher. Core Set Sansa gaining renown and more strength(up to 3 power per turn; 2 from renown if stood with Lady in addition to 1 from her printed reaction) and Core Set Arya gaining intrigue and immunity to plots (making her potentially a tricon with stealth) would have been an amazing boost to Stark decks early on. Now, after the Wolves of the North release, you have so many characters to build around, that Septa Mordane just doesn't seem all that necessary, especially considering most decks don't run more than 1 to 2 Aryas and/or Sansas.
Alexfrog - 3 out of 5.
Reasonable when she works in combo with at least one Stark girl. Intrigue icons are sparse in Stark decks, so her monocon status isn't as bad, you will usually be needing more intrigue. I wouldn't play more than 1 copy, and I expect I will struggle to find room for her.
Ward (20 Total Points)
kidohearts - 5 out of 5
It will be quite the hit to have a 4 gold investment taken so easily, and you know when your opponent sees Stark, they will save their Confiscation. Which is also good as it can protect your Ice. That is also another advantage, as it's yet another Stark card that gives you the "threat" of what can happen. I think Stark will wait on it for like a Gendry or Theon to build up power on them and steal for the win.
scantrell24 - 5 out of 5
Expect to see
more Wolf Banner
, and less 4 gold characters like Theon and Cersei, all because of Ward. Flipping a character around is more impactful when boards are small, so Ward fits best in board clearing decks with removal like First Snow, Wildfire, etc. Like Crown of Gold, it's expensive and can't be played on setup, and sometimes you won't have a great target.
JoefromCincinnati - 5 out of 5
So, when First Snow of Winter came out, 3 cost characters became much worse and the 4 cost slot became king (not affected by FSoW, but not expensive enough to be restrictive when deck building). Well, now they have a weakness. Makes characters like Cersei, Catelyn, Gendry, Davos, Theon (so Nedly btw) and Will a little worse. Play this on a First Snow of Winter turn and follow it up with Marched to the Wall to make your opponent flip the table. Or, just use the character as Jon Snow sacrifice bait. Whichever you fancy more.
Alexfrog - 5 out of 5.
Not only do you get to steal a character, but you can even utilize Stark faction synergy effects on them. The standard play will be to use Marched to the wall the next turn to remove the borrowed character before a Confiscation can remove Ward. It greatly aids the Stark murder plan, in combination with Marched, to remove two of their characters while removing none of yours. I am very scared of this card and it will be impacting all my deckbuilding decisions. This card is enough to make me downrate cards like Theon, Cersei, and Jhogo.
Butterbumps (15 Total Points)
kidohearts - 3 out of 5
He'll be a 1x in Tyrell main faction decks, but Tyrell doesn't lack for draw. But if you like Moon Boy, you like Butterbumps. They need more cards to make players want to play Tyrell as a main faction.
scantrell24 - 4 out of 5
What's not to like? Tyrell's already solid in the draw department, so Butterbumps just adds a touch more consistency. What they really need are better high-end characters that are worth drawing.
JoefromCincinnati - 4 out of 5
I hear card draw is good. Unfortunately, he can be pulled into a challenge by the Dornish Paramour, but that won't happen often enough that it counts as a strike against him. Butterbumps' counterpart, Moonboy, benefits from the Red Keep's +2 strength bonus which makes Moonboy more likely to win his challenge, unless you use Heartsbane, Growing Strong or Margaery on him. He's probably a 1x in most Tyrell decks.
Alexfrog - 4 out of 5.
Solid draw for Tyrell. This should help them out a bit.
Gift of Arbor Red (10 Total Points)
kidohearts - 4 out of 5
Much and More was in a lot of good/winning decks if memory serves. Just pair it with Bara or Martell and then remove the card you give your opponent, lol. I expect this to be a card that people hate right away and then jump after people see what can be done with it.
scantrell24 - 2 out of 5
As with first edition's Much and More, you pay a price (giving your opponent a card and having a non-setup event in your deck) to grab a card that you hopefully need. This reprint isn't great yet, but it improves once there are combos worth digging for, and once
Dark Wings
returns.
JoefromCincinnati - 3 out of 5
I think this card can be good. Yes, you're giving your opponent a card, but you get to choose what card they get. So if there's a dead character or a location they already have out, give them that. Or give them a reducer or a low cost chud. Then you can choose your big character/location. Obviously it pairs well with Bear and the Maiden Fair. My question is, in a faction that already has so much card draw (including getting more card draw in this pack in Butterbumps) do you need to include this card in your deck? I'm not sure.
Alexfrog - 1 out of 5
In the best case, you give your opponent a copy of a dead character, while you get a filtering effect and pick 1 out of 4 cards. In a more normal case, you have to give your opponent a card that is of some use, and therefore your opponent gets +1 card while you get +0. Why do we have to kneel our faction card for this? I wouldn't play this card even without having to kneel the faction card. Its worse than Bear and the Maiden Fair, which also has the potential to stack your or your opponent's deck for certain effects (mostly Lannister).
Given that the rest of the reviewers aren't also showering this with 1s, I had to triple check that I hadn't misread the card. Nope, it still looks terrible. It does have value in Melee games however, as you can gain diplomatic points with others by giving them cards they need, and make deals. It's probably actually a good card in melee, but I am rating cards for value in joust.
Sworn Brother (12 Total Points)
kidohearts - 3 out of 5
I like this guy. He can be brought into many houses with the Watch banner. You could have a nice defense deck out of Tyrell and Highgarden would be cheaper. Also combine that with Veteran Builder and get 2 actions out of HG. He only gets better in the long run as more locations are released. So many good locations he combos with.
scantrell24 - 3 out of 5
A solid chud that's gives Night's Watch cheap military-claim soak and economy. He's also another step in the right direction for
Jon Snow voltron
decks.
JoefromCincinnati - 3 out of 5
I'm glad that I can reduce the Wall by 1 or 2 gold. Maybe get a Shadow Tower or Castle Black for free, which is amazing as well. Economy cards are rarely bad. Plus, he's a chump block for the most important challenge in the game. He may even be worth bannering if you want to play cards like the Eyrie or Winterfell. All that said, his stats are pathetic, which is a shame. I'll still play him though.
Alexfrog - 3 out of 5.
An okay economy choice if you have enough locations, it becomes like an economy reducer character that doesn't kneel to give you the bonus. However, given that people are going to try to put out bad cards like Northern Rookery with it in order to utilize it, it's probably going to end up being worse than this in practice. Night's Watch are hurting for economy, so this probably sees play.
Old Bear's Raven (14 Total Points)
kidohearts - 4 out of 5
Going to really make NW main Wall decks a more formable thing. Just throw in a Chett or two and don't worry about it getting discarded. Also strangely combines with Old Bear and Street of Silk, lol. And just put it on Sam until Old Bear shows up and draw away.
scantrell24 - 2 out of 5
Too situational. The design team should have tacked on a +1 strength bonus or something as well.
JoefromCincinnati - 5 out of 5
I love this card. It is 2 gold to solve 2 of Old Bear's 3 weaknesses (the other being kneel). That's a big deal. I've already written an article about how good Old Bear actually is. This only makes him better. But it has application even if you don't run Old Bear. Although there aren't too many Night's Watch characters that can carry it (would it seriously have been too overpowered to just make this card a weapon?), I still have 14 targets that don't already have stealth. And, more importantly, it is non-loyal and has no restrictions on who to attach it to, so you can banner the Watch and give your best characters stealth, such as Tywin, Randyll, Fast Eddy, Robert etc. A few more cards like this and you could justify a non-Wall Banner of the Watch deck build.
Alexfrog - 3 out of 5.
Companion is a useful trait (street of silk, hot pie), and this gives a relevant ability that Night's Watch badly needs: Stealth. However, so many of the Night's Watch characters can't be attached with it, which is some anti-synergy. Its pretty much only useful on Lord Mormont. If it could be equipped on more Night's Watch characters I'd give this a 4. Maybe in the future.
Ser Barristan Selmy (12 Total Points)
kidohearts - 3 out of 5
I think I'm more like a 2.5 on Selmy. He's going to make an impact for sure, but he's somewhat conditional, doesn't protect himself, and there are no protections for him outside of duplicates. But I do like the strength and power of him for Bara. He could also see play out of house and might begin the transition out of Bara kneeling everything.
scantrell24 - 3 out of 5
Great ability, but overpriced, especially considering he's not a Lord who can be reduced by Noble Cause and he's vulnerable to Tears/Tyene. 6 gold cost would have been correct.
JoefromCincinnati - 3 out of 5
When I first saw this character, I thought he was incredible. Basically, makes your most important characters invulnerable. Repeatable save that does not require sacrificing? What a deal! Then I noticed that Barristan himself is not a lord. So, if your opponent wants to kill Robert with a Put to the Sword or Mirri, he instead can just kill Barristan. Either way, you lose 7 gold's worth of characters and perhaps some renown. Since Barristan is not a lord, he cannot have any bodyguards so his only protection from death is duplicates. What are the odds you're running 3x of him, plus 3x of your other 7 cost and 3x of your 6 cost etc. That can top load a deck in a hurry. I think Barristan, in combination with the Eyrie, will be a very interesting combo (use Eyrie on Barristan, use Barristan to protect everyone else). But that's expensive as hell. If we see an attachment in the future that makes the attached character a lord, I think this guy is suddenly a 4 or a 5. But until then, I am not sure many decks will find space for him. Some people say they are going to remove Stannis for this guy, to which I say "Do you promise!?!?! Tell your Bara friends to do the same!"
Alexfrog - 3 out of 5.
Kill effects are a huge deal in this game, and he will save your key characters from them while getting a free stand. You might even be able to kill your own characters in some way in order to stand him! However, there are ways around him. Selmy cannot trigger if he's already standing, so if you Stealth past him on military and play Put to the Sword, he will not be able to save. He also cannot save against Targ's terminal burn effects. While he can save someone else against Tears of Lys, instead he'll be targeted first and won't be able to save himself. What he seems best at is shutting down military claim, as you can claim a Lord/Lady and then use it to stand Ser Barristan instead, so he may end up just shutting down your opponent's military challenge entirely like Maester Aemon. In the end I think he is a useful character, but not on the level of the best 7 cost characters like Tywin and Dany. I think this card has the potential to turn out way better than we all expect, so he might be underrated. It's hard to know how good unusual abilities like 'stand this character to save someone' are until you play them.
City Watch (13 Total Points)
kidohearts - 3 out of 5
Again I think City Watch is more like a middle of the road 2.5. They will help against First Snow for sure, especially if you Ambush them in with Lannister money. I'll be curious to see if Bara Fealty players fit them in.
scantrell24 - 2 out of 5
Looks overpriced again. I'm not excited by big dumb bodies that don't give an additional ability beyond their strength and challenge icons.
JoefromCincinnati - 4 out of 5
Ranging Party is a 4 cost for 5 strength and that card is excellent. So I can only imagine a 5 for 6 is just as excellent. The possibility of a reduced ambush cost is just gravy. Especially in a faction that has a location that steals power from your opponent's faction card, making the conditional ambush cost reduction more likely.
Alexfrog - 4 out of 5
Decent efficiency even without ambush, if you manage to surprise ambush him in for only 4 gold it's a great value. He gives Baratheon a great way to use extra Tyrion money and might make Stag/Lion more of a major deck. It shouldn't be hard for Baratheon to have more power on your house, at which point ambushing this for 4 is like a super-Ranging Party.
Ser Ilyn Payne (16 Total Points)
kidohearts - 3 out of 5
It looks like Scrooge needs a big sword to fend off the beggars… I think Ser Payne might be one of those overhyped cards that's more flash than impact. He's expensive, and Lanni has many high cost characters already, so I can't see running more than 1 of him. There are for sure some great combos (stand like Illyrio), but I think he fades out after a while. He'll be an interesting mix between clearing out claim or being used in challenges. I love that he has a power icon which Lanni needs. I think he'll end up in more control decks.
scantrell24 - 4 out of 5
A single copy goes into board clear decks
like Martell Lion
. Compared to Grey Wind, Ser Ilyn targets printed cost, not strength, and there's no way to manipulate printed cost to bring a larger target into range. He's also a Marshalling action, which means you have to make the decision earlier when you have less information available.
JoefromCincinnati - 4 out of 5
Obviously, 3 cost or less characters are rarer now than they were pre-First Snow of Winter, but there are still some high impact characters in that range that it would be nice to just straight up kill them. Plus, every deck has claim soak built into their deck, so taking a claim soak each round is never a bad thing. Illyn will be used much like Greywind is often used; to clear out the chud before a big military attack. At 6 cost, he's a little expensive, but you'll make the gold up within just a few turns. He is weak to Crown of Gold, which would suck for the Lannister player, but Targ isn't as dominant as they used to be, so that isn't as much a consideration now as it was a few months ago.
Alexfrog - 5 out of 5.
Scary targeted kill effect to remove chuds and mid size characters, making military claim painful. Add in Illyrio to stand him and you can kill two characters! Payne is non-loyal, so he makes the Lion banner even more attractive. I think the others are underrating him here. Ilyn is going to be a character that you stare at in terror when he drops on the other side of the table, and starts murdering half your deck's characters and making every military claim extremely scary. Sometimes a player will simply collect a bunch of guys in their hand instead of playing them to just die, so Ilyn might seem like he isn't doing anything, but he is!
Small Council Chamber (10 Total Points)
kidohearts - 2 out of 5
I just don't see Lannister paying 3 for this. It can still be hit by Newly-Made Lord and it comes in the same pack as Dagmer. If Lannister wants a rush build, then 2 Int challenges and this could be an interesting way to get there.
scantrell24 - 2 out of 5
That's too much gold to invest in a card that doesn't improve my board position. In the future (maybe after
House of Dreams
gets reprinted), intrigue power rush might become viable with Small Council Chamber as the centerpiece, but not yet.
JoefromCincinnati - 3 out of 5
So, you have the best intrigue faction in the game, with a location that grants them a second intrigue challenge each round. The control there is already massive. But then you give them a location that can quickly accrue power that cannot be destroyed by events? There is currently no card that can remove power from this location and there are 3 cards that can affect it once you have it on the board: Dagmer, Newly Made Lord and Frozen Solid. So it is a major weakness versus Greyjoy. However, it'll likely accumulate every turn, because Lannister is so dominant in intrigue challenges. I could see a deck being built around this and Casterly Rock easily. It doesn't fit into the current Lannister decks though, so I wouldn't be surprised if people overlook it for a few months before someone builds a deck for it and showcases its power at Gencon or Nationals.
Alexfrog - 3 out of 5.
It's not loyal so every faction that's good at intrigue can now play it to make a win condition out of their intrigue challenges (Because let's face it, every faction is bannering Lion already). All you have to worry about is Dagmer Cleftjaw stealing it. It's a liability against Greyjoy. The effect is strong but it might be overcosted.
Dagmer Cleftjaw (13 Total Points)
kidohearts - 4 out of 5
Simple: people were underwhelmed by Mirr and Gregor. How did that turn out, lol. I know that they are kill, but there are a lot of good 3 or lower locations to take. GJ has many ways to help this guy win on his own and continues to beef GJ Fealty.
scantrell24 - 3 out of 5
He's expensive, lacks the Lord trait, lacks an intrigue icon (even more relevant post-Tyene), and you're entirely dependent on your opponent playing good targets. That said, in certain matchups Dagmer puts a lot of pressure on the opponent, namely against Baratheon and other Greyjoy decks.
JoefromCincinnati - 3 out of 5
These "win on their own characters" are interesting. It has worked for Mirri, who is currently everywhere in many metas. But killing any character you want is decidedly more impactful than stealing a location of cost 3 or less. There is no doubt that Dagmer has a place in this game, especially since Small Council Chamber comes out in this same chapter pack. But you'll probably need to build your deck a little differently in order to use Dagmer to his fullest. He doesn't have Stealth, so there will be games where you don't get many opportunities to trigger him. There will be other games where your opponent won't have anything worth stealing. But if they do, he is a constant threat that they have to account for each turn and, for that, he's worth considering, based on the meta.
Alexfrog - 3 out of 5.
He is highly meta-dependent, and in some meta's might be a 1, and in others a 5, based on what factions and locations are being played. Against Baratheon he is great if he manages to steal the Red Keep. He isn't good against Martell however, they will Gashton him before he can steal it. Against many decks he won't do anything however. I think in the current meta he is bad, but there will likely be a meta where he shines in the future.
Drowned God's Blessing (11 Total Points)
kidohearts - 4 out of 5
I think this card is very good. I really like what it can do for Balon, Asha, and Theon. It helps out Whiskers as well because the initiative boost makes 2 Snowed In viable. I know it
doesn't save from Tears
, but there are other saves for that already.
scantrell24 - 3 out of 5
Cheap positive attachments are great for setup and protecting from Seastone Chair, Plaza of Punishment, etc. I'd throw a copy or two in a Crossing deck where you're running 3 Priest of the Drowned God to take advantage of the strength boost.
JoefromCincinnati - 2 out of 5
I thought this card was great when it was first spoiled. Then I read that, due to the wording on Tears of Lys (It does not say you "choose" a character), it does not stop said kill effect. Stupid wording, but the law is the law. Needless to say, I'm much less enamored with the card now. It still isn't horrible. It'll stop a few commonly-played events, such as Confinement, Dracarys, Put to the Sword, Nightmares and Like Warm Rain (Had to double check to make sure the word "Choose" is in all those cards' text.) I think this card has a place in a deck that is all about protecting your top characters, but Iron Mines and Risen from the Sea already do that better.
Alexfrog - 2 out of 5
It stops Dracarys and Put to the Sword, but apparently not Tears of Lys, because the rules in this game are very strange.
Jhogo (14 Total Points)
kidohearts - 3 out of 5
I just don't see it yet -- maybe in the future. There are 2 other Bloodriders that give him that Stealth, and the additional STR is only on attack. I do only think he will get better over time, and he does help the Dothraki build by surviving First Snow unlike the Braided Warrior and Crone.
scantrell24 - 4 out of 5
Targ Crossing
with Aggo, Jhogo, Rahkaro, Khal Drogo and Mirri might have just turned the corner.
JoefromCincinnati - 4 out of 5
Probably the best of the Bloodriders. All Targaryen builds are based around kill. Daenerys and her dragons burn, Mirri kills directly, Drogo gets up to 4 military claim per turn. So, no matter the case, Jhogo should be racking up the strength relatively quickly. Having stealth when any of the other Bloodriders out is also very good. These three Bloodriders all synergize very well with each other and I believe they will make a pretty powerful deck with Drogo and a few Rakharo at 6 and Mirri at 7.
Alexfrog - 3 out of 5.
With Aggo and a Summer plot, you can make a high-strength & stealth military attack and a power attack as well, which is quite good for a 4 cost character. He should get very strong late in the game. However, Ward makes me very afraid to play him.
Funeral Pyre (16 Total Points)
kidohearts - 4 out of 5
Targ needed draw, and now they have some. The only downside I can see, is where to fit it in.
scantrell24 - 4 out of 5
High-risk for high-reward. I built a
fun Targ Wolf deck
that's packed with Lords & Ladies to minimize the (substantial) variance as much as possible.
JoefromCincinnati - 4 out of 5
Just what the doctor ordered for Targaryen --draw. I am not giving this a 5 because you still need to work for the draw, as killing a lord/lady is not always easy (especially when facing the Night's Watch), but even 1 dead lord/lady can generate more than enough card draw for that game. My fear is that this card is too combo reliant and people are just too excited for the card draw to analyze it appropriately. Dracarys is on a downturn because FSoW hurts Targaryen so much (I haven't seen a dragon based Targ deck in over a month) and then you have the fact that you need this card and a kill card at the same time to ever reliably get it off (unless you want to kill your own lords/ladies). Do you hold off on the Dracarys until you draw this card? Does that mean you want 3, even though it is pretty hard to trigger? How often is it a dead card in your hand if your opponent only has their hard to kill lords/ladies out? We'll have to see.
Alexfrog - 4 out of 5.
Amazing but I doubt you want to put three of them in your deck, drawing multiples might end up being disappointing. In most games it shouldn't be too hard to find a trigger for this, and if you can't manage to kill an enemy Lord or Lady, you can just try to claim Viserys. I think she will be very scary, but there will be a few ways to handle her.
Tyene Sand (19 Total Points)
kidohearts - 4 out of 5
I think she is amazing and the combination with Tears of Lys is incredible. Being able to "double" Tears is awesome. It also makes Martell Fealty really strong and can shake up the meta. My only concern is her weak strength. There are ways to deal with a character with such small strength, especially out of Stark which is hot right now.
scantrell24 - 5 out of 5
Yes, she's vulnerable to many different forms of control, but the effect does
work
. Thankfully Tyene and Casterly Rock are both loyal so we won't see them together. I think 2 copies will be right for most Martell decks.
JoefromCincinnati - 5 out of 5
Beyond the Wall coined this card "Walking Tears of Lys" and that sounds about right. Repeatable murder has worked for Mirri and I imagine it'll work for Tyene too. Not much else to say. If you print one of the best events in the game onto a character, that character is most likely going to be pretty damn good.
Alexfrog - 5 out of 5
Martell has enough ways to strip intrigue icons off key characters to make this very scary against anyone. However, like Nymeria, she is weak to Milk and Dracarys. That didn't stop Nymeria from being an amazing card, and I doubt it will stop Tyene either. Even better than Mirri imo, because of cost 6, and more easy to support. Also she doesn't replace the normal claim effect of the challenge.
Imprisoned (11 Total Points)
kidohearts - 3 out of 5
I think it's very solid, just not sure how or where to fit it in. It is hard to take away all icons and Nymeria can take the M that you need. Being able to slow down those big hitters and shut off their PttS can't be overlooked. With the amount of targeted kill around, maybe this takes the place of Condemned.
scantrell24 - 2 out of 5
No thanks. I have better options for non-setup card almost always.
JoefromCincinnati -3 out of 5
Great against the Mountain, Jaime, Drogo, Areo, WotN Jon Snow, Stonesnake and a handful of other mono-con characters. Its dominance against Lannnister alone makes it worth playing.That said, I do think it's, in general, the weakest icon removal attachment. Attainted facilitates Tears of Lys and now Tyene, Condemned made it harder to win the most important challenge in the game. But military...I've won several games where I've never even initiated a military challenge. I played a very close game recently where my opponent never did a military challenge because I had Robb Stark waiting to stand my army, and it didn't hurt him much at all. Unless you have a Put to the Sword, or unless you gear your deck around First Snow of Winter and high attrition via military challenges, this card may be trivial in the grand scheme of things. With chud everywhere, military challenges are only important in very specific situations. Great for neutering Lannister. Okay against everyone else.
Alexfrog - 3 out of 5.
Very good against Ser Gregor, which is my main reason for considering playing Imprisoned. However, Martell is already strong against military challenges as a result of Vengeance for Elia, so it's unclear if you need this unless you are facing Ser Gregor all day. It might be better for Martell banner decks than main house, due to lack of Vengeance for Elia. I'm way more excited about this one than Condemned.
Maester's Chain (7 Total Points)
kidohearts - 1 out of 5
If and when Maesters become a thing, I'm sure I will be very wrong. But I just don't see it getting played right now. I can't see taking up a card slot on this card in the current environment.
scantrell24 - 2 out of 5
Too conditional (get it?) now, but nice to have in the card pool if/when Condition attachments start dominating the meta. Oh, Ward is Condition? Too bad your stolen character is long gone by the dominance phase thanks to Jon Snow.
JoefromCincinnati - 2 out of 5
Maester decks are not viable yet, as they do not have a real win condition. So, in order to play this card, you'll need a maester out, you'll need to attach this card to that maester and then you'll need at least 1 condition that you want remove. I'm not saying it definitely will never be useful, but I question how often this combo comes around without committing your deck to said combo. Also, if you are really worried about conditions, you can always just play Maester Cressen. Or any other kind of attachment removal.
Alexfrog - 2 out of 5
Okay, it's quite bad in the present, but I'll bump it up a bit for good future potential once Maesters become a viable deck. Requiring a Maester and being Dominance phase to activate, and only working on certain cards make this pretty limited in use, but at least it removes Milk, if you really need that. For now I'd choose to play Rattleshirt's Raiders over this.
Street of Silk (11 Total Points)
kidohearts- 2 out of 5
It's a form of card advantage which is good. I just can't see people finding a spot in their decks for this.
scantrell24 - 3 out of 5
Here's the real Targ draw card of the pack (Just kidding. Kinda. Maybe not actually). They have Handmaiden, Ser Jorah, and the Targaryen Loyalist already before even counting Neutral/banner cards….
JoefromCincinnati - 2 out of 5
There are some useful Companions and Allies in this game. Syrio, Littlefinger, Jorah and Greenblood Trader come to mind. Many reducers are also allies, so it's not bad to go grab them as some artificial card draw. But, as with many cards coming out nowadays, the biggest issue with this card is deck space. If you do find space in your deck for this card, it will likely be the first card you'll take out once better cards come around. It's conditional card draw that is, at this time, not extremely impactful. Street of Steel (also not played much right now) can get you your best item or weapon. Shadowblack Lane can get you your most impactful event. This can get you a marginally useful character sometimes. Scaling this one down to top 5 cards rather than top 10 didn't do it any favors either.
Alexfrog - 4 out of 5.
For decks with enough targets, and who don't need to kneel their faction card for other uses, this will be useful. It's mostly a card for Banner decks with two factions of characters to draw from, and not for Fealty or Crossing decks. To play this you need to meet the requirements of having at least ~12 characters it can find, but preferably 15, you need to have plenty of Lords and Ladies, and you need to not need your faction card kneel for other things. In that deck it's great, but that is very niche. I have a feeling that some deck in the future will be made to trigger this successfully every turn, and it'll be a key card. I wrote an article about
the math of this card
.
Forgotten Plans (13 Total Points)
kidohearts - 4 out of 5
Plot spot selection is very tight. I think the effect is awesome and definitely will swing some turns. This will benefit the more strategic players right away and when people see plots getting shut off, they will jump on board. Noteable plots it hits: First Snow, Noble Cause, Jousting Contest, Famine, Clash, Feast, Blood, For the Watch, Fortified, Weapons, Wards, Muster, Rise and on and on. Even more than I originally thought.
scantrell24 - 3 out of 5
I never played Forgotten Plans in first edition, and I still don't like it unless you have a compelling need to counter a specific plot. Fun note, we're getting closer to a complete gambler's plot deck with Heads on Spikes, Naval Superiority, and FP.
JoefromCincinnati - 4 out of 5
At first glance, this is just a First Snow counter. It has decent stats, with average gold, average reserve and slightly below average initiative. So, even if you miss, you're not punished as heavily as when you miss with similar cards such as Naval Superiority. Plus, this plot has so many targets that it can very easily hit, even if you predicted their plot incorrectly. A Clash of Kings, A Feast for Crows, A Noble Cause, A Song of Summer, A Storm of Swords, A Tourney for the King, Blood of the Dragon, Famine, For the Watch!, Fortified Position, Jousting Contest, Ranger's Cache, Rise of the Kraken, Supporting the Faith, Taxation,The First Snow of Winter, The King's Peace, Wardens of the North, Weapons at the Door, Wraiths in Their Midst. There are some very impactful plots in that list not named First Snow of Winter. But I'm going to play it because of First Snow of Winter.
Alexfrog - 2 out of 5
It's main use is as a 'guess when the First Snow is coming' game, and if you guess right you counteract the First snow, and otherwise you played a weak plot. Not very exciting, but some decks might fear First Snow so much that they decide to include it. Most of the time I think people are going to end up wasting it at the wrong time, and then it's just a weak plot.
Close Call (14 Total Points)
kidohearts - 4 out of 5
I really like this plot and think it really helps out some houses without protection against kill. It can also help you against HoS hits. I just think it will be hard to fit into your plot selection. And it's another Summer plot. I really think it could be huge, but again it will be tough to figure out which plot to drop. It fits decks like Stark, Bara, NW, and Lanni.
scantrell24 - 4 out of 5
Possibly best in Targ to keep Dany alive, or even revive Viserys so you can kill him again to both remove an attachment and trigger Funeral Pyre. Also good in Baratheon to keep Melisandre out of the dead pile, in Martell for Nymeria, and in Lannister for Tyrion or Tywin . I'd like it in Greyjoy more if the initiative weren't so low.
JoefromCincinnati - 3 out of 5
Good gold and counteracts your game being screwed by an unlucky Tears or Gregor Clegane trigger. If you built a deck that relies on a single character, such as a Balon Greyjoy deck or...another potential voltron deck, this plot will be really helpful to you. Plus, it's a summer plot, so it can fit into the next cycle's Kings of Summer agenda. You might even get card draw out of it!
Alexfrog - 3 out of 5
If you save it until you have drawn a duplicate of a dead character, and you get the card draw bonus, then you essentially net 2 cards (one from making your dead card playable again), and 5 gold, which makes it a decent plot. Kindof like a mini counting coppers with much better gold. However, it won't do much without a character in your dead pile that you drew a duplicate of.
Total Pack Score:
69% (276 out of 400 possible points)
Top Cards:
Ward 20 pts
Tyene Sand 19 pts
Funeral Pyre 16 pts
Ser Ilyn Payne 16 pts
Bottom Cards:
Maester's Chain 7 pts
Small Council Chamber 10 pts
Gift of Arbor Red 10 pts
If you're hungry more content, check out the list of podcasts, articles, game video and more in the
Community FAQ
. Let us know in the comments how you feel about the cards in this pack, and we'll see you again in a few weeks to recap the entire Westeros cycle!
14Shirt and BananaKing like this
Article: True Steel: Thrones LCG Pack Review