Welcome to Card Game DB
Register now to gain access to all of our features. Once registered and logged in, you will be able to create topics, post replies to existing threads, give reputation to your fellow members, get your own private messenger, post status updates, manage your profile and so much more. If you already have an account,
login here
- otherwise
create an account
for free today!

1
Watchers on the Wall Review: Part 2
Apr 07 2017 08:00 AM | scantrell24 in
Strategy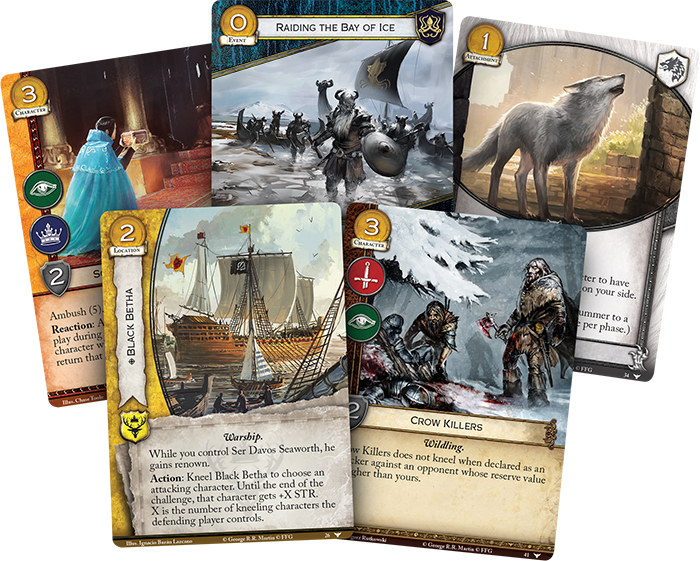 "Can a man still be brave if he's afraid?" he heard his own voice saying, small and far away.
"That is the only time a man can be brave," his father told him. "Do you understand why I did it?"
"He was a wildling," Bran said. "They carry off women and sell them to the Others."
His lord father smiled. "Old Nan has been telling you stories again. In truth, the man was an oathbreaker, a deserter from the Night's Watch. No man is more dangerous. The deserter knows his life is forfeit if he is taken, so he will not flinch from any crime, no matter how vile. But you mistake me. The question was not why the man had to die, but why I must do it."
Our staff has put together a first blush analysis of the newly released "Watchers on the Wall", the third deluxe box following Lions of Casterly Rock and Wolves of the North. We cover the neutral and non-Night's Watch cards here in part 2 (if you missed it, here's part 1). Cards are listed in numeric order and scored on a scale ranging from one through five, with five being the best possible score. We have 4 reviewers this time around, so the maximum score per card is 20 points.
You can check out the
rules FAQ for these cards here
, and on the individual card pages on thronesdb.com as usual. Now onto the reviews, starting with....
Marya Seaworth
(14 Total Points)
Barnie25 - 4 out of 5
The cost / str / icon ratio is exactly what Bara wants, the reaction is not that difficult to trigger. Stealth is quite easily to get nowadays which makes this card both good in house as in a banner. Very solid with good upside.
OKTarg - 3 out of 5
I like her, but Baratheon is not blessed with much stealth. Davos, Pylos are about it, and while you can banner in some stealth or run Syrio or some Wildlings and such the fact that you need other cards on the board to get the privilege of paying for her ability keeps her below the top-tier. I do like how her ability works against the Watch specifically, though.
scantrell24 - 4 out of 5
Bara Banner Lion was my 2nd edition Worlds deck in 2015, so I have a soft spot for that combination. Marya combos nicely with Tyrion, and of course Greyjoys. The dream is having Marya, Esgred, Robert, and Victarion, attacking first, and kneeling the opponent's entire board.
VonWibble - 3 out of 5
Compare this card to core Ghost - you get 1 more icon, and if you are first player instead of just preventing the character from defending you also prevent it attacking - short of stand tech. And she doesn't even have to be in the challenge. This card is all fine and dandy with Davos and Pylos in Baratheon, throw in a banner of the Kraken and it gets really silly with Esgred, to the point where it will not be fun to face. The only thing stopping me giving 5 is that it really is only working well in 1 deck type, good as that deck is - if you see no stealth she doesn't do much alone. The need to save some gold up to get Marya going is also worth pointing out, though it is often a good play to bluff events anyway.
Black Betha
(12 Total Points)
Barnie25 - 3 out of 5
I would have liked to see this card cost 1, but the reaction is certainly something. This card doesn't have a home in a traditional Bara deck, I see this card being strong in a mini-curve style decks being able to push challenge with minimal resources.
OKTarg - 2 out of 5
You know what card I really like? Yep, King Robert's Warhammer. This, along with Robert's Intimidate and Marya's kneel effect, hint a bit at a Bara-go-first style of deck that Betha will slot really well in. The problem is that the go-second stall and control Bara decks are just a lot better. So I don't think Betha will see much play, especially since it only works on offense. Of course it's better in Banner Kraken or main Greyjoy with Banner Stag (Balon, for one, would love this) but overall it's not setting my world on fire.
scantrell24 - 3 out of 5
The repeatable strength pump is a decent effect to help win challenges, especially in Salladhor Saan decks. In addition to turning a loss into a win, you can also turn a win into an even bigger win for Intimidate, Red Viper, Put to the Sword, etc. Black Betha has a place in both Tyrell (for Randyll or Ser Jon Fossaway) and Greyjoy decks (for Balon).
VonWibble - 4 out of 5 - Bam-ba-lam
Does anyone get the impression that the design team are subtly hinting we should take Baratheon Banner of the Kraken? Or just writing it in big letters on a neon sign? Not only are we getting clear synergy with Marya above, this also keys nicely off of intimidate provided by the Reeves and Mortimer of the Thrones world (that's Vic and Bob!). In other decks it's decent threat of activation especially for a 3rd challenge if the opponent defended earlier on - or even just used a reducer. Repeatable strength pumps, even visible ones, seem so much stronger (no pun intended) in 2nd edition, and its applications to win challenges by 5, and to help Balon, Mirri, Spearmaiden, Roose, Jaqen, and of course Roose, cannot be ignored, especially given it is non loyal. This is not a Bara Fealty card however.
Salt Wife
(8 Total Points)
Barnie25 - 2 out of 5
Reasonable reaction, poor str, one icon, nothing to see here.
OKTarg - 2 out of 5
Things that eat your own board aren't horrible in the Valar meta, but at a certain time you'll want your stuff to stick. She's like a sacrifice-for-one-use Ghost, which isn't awful, but I think you'll be reaching for repeatable stealth more often than not. I'm also not sure she favorably compares to Captain's Daughter either.
scantrell24 - 2 out of 5
Did Greyjoy really need a counter to Wall decks? I guess Salt Wife helps if you get Benjen-locked. She's kinda similar to a Wildling Scout that only works offensively, but I think Greyjoy prefers the Intrigue icon.
VonWibble - 2 out of 5
It can be a horrible play if opponents are relying on 1 key card, and it is OK for setup. If you were offered a 2 cost event that let you bypass a defender on 1 turn and had less ways to be cancelled (Treachery isn't as widely available as Hand's Judgement), plus could be setup and provided a weak icon and dom, would you take it? Or would you hope to go first and use Kraken's Grasp instead, which works just as well most of the time? With more and more str 6 characters, maybe it is time for this card, but Greyjoy aren't so heavy on unopposed these days. I'm on the fence to be honest.
Raiding the Bay of Ice
(15 Total Points)
Barnie25 - 4(5) out of 5
I kind of cheated with my score and here is why. This card is the first real answer to locations, it's not that difficult to trigger and very potent. Lots of people will probably say how good this combo's with pillage but even without pillage having someone skip their draw or 50% of it at least is very good in a tempo-oriented deck. Against the location heavy decks this is a clear 5, but since not every deck runs heavy locations, this is actually a 4.
OKTarg - 4 out of 5
I love this card--reliable location control that maximizes one of the things about Thrones that I love (tempo control). Yeah, it's not permanent removal unless it dovetails with Pillage, but non-unopposed stuff for Greyjoy is fantastic, in my view. I like this card a lot and am very happy it is in the pool!
scantrell24 - 4 out of 5
The combo with Pillage, and Euron specifically, is gravy on top of some already tasty turkey. Raiding looks fun, and has enough practicality to be worth deck slots in location-heavy metas like where we're at now. Sea ***** and Great Kraken can both pay the cost with zero opportunity cost because they don't kneel to trigger themselves.
VonWibble - 3 out of 5
Obviously it only goes in a deck with enough warships to reliably trigger, and that is impacting on the rating for me. The effect is certainly worth it. Yes, the opponent can draw and play the location again, but if a pillager won the challenge you are getting rid of it first, and if Euron is involved that means it's all yours. In the case of an expensive location it's a serious tempo hit too. It's an enabler for King of Salt and Rock too, if that sort of thing floats your boat (pun intended).
Ulf Son of Umar
(14 Total Points)
Barnie25 - 4 out of 5
His cost to str ratio is reasonable, what makes me rate him a 4 instead of a 3 is the intrigue icon on him. Many clansman only have a single icon which really hurts their stock, his reaction is not that difficult to trigger and will enable the clansman lists to be more well-rounded.
OKTarg - 3 out of 5
It's hard to rate these cards that are very good in the deck they go in and not good at all outside of that deck. If you're playing Clansmen Jumpers, he's a 1x or 2x; if you're playing Normal Jumpers, he might be a 1x; and if you're playing No Jumpers he' s a 0x. He may be a particularly good one to pull out of play with Clansmen Tyrion since he has a come-into-play ability, but that seems like a lot of work.
scantrell24 - 4 out of 5
The deck with deluxe-box-Tyrion and Harrenhal becomes more consistent with another intrigue-icon Clansman. Ulf doesn't do much outside of that specific build, but he's great value there.
VonWibble - 3 out of 5
A decent beatstick that can get lots of "surprise" strength pumps, including using himself if he is put into play in challenges somehow. Lots of competition in Lanni though so I can't see him making every deck.
There Are No Men Like Me
(6 Total Points)
Barnie25 -
2 out of 5
The card is not bad, it just doesn't have a place in the meta at the moment. This is a tyrell card in lanni, which is not great. Maybe the tyrell lion knight deck might become something in the future.
OKTarg - 1 out of 5
I just can't see this getting slots in most decks. The first edition version did more and was STILL marginal (albeit much later in the cardpool) so I struggle to see when you would want this. I think I saw someone on the Facebook group holding this up as an example of 'yet more overpowered Lannister cards' and I am not yet sure if they were serious or trolling. Which means they either need to raise their troll game or that I need to raise mine….
scantrell24 - 1 out of 5
The first edition No Men Like Me also granted a military icon, so this iteration looks rather tame by comparison. It's not useless, but it's not even close to the same tier as Nightmares, Treachery, or Hand's Judgment, so you need a damn good reason to run it, and that reason doesn't exist yet.
VonWibble - 2 out of 5
This is one for the banner deck, strong as it is on the Mountain. The combo is to pull this off with Knighted to get a fast power grab engine like Fast Eddie going, and the Knight of Flowers is a great choice. Overall it just doesn't have quite a wide enough set of targets just yet though - long term it could be well worth it.
Southron Messenger
(13 Total Points)
Barnie25 - 3 out of 5
The card should have been pushed much harder, Martell is in a bad spot right now and this could have been one of the components of a future build. Sadly the ambush cost is too high to have it trigger easily. But still it is a step into a direction.
OKTarg - 3 out of 5
I feel like the design team is worried that if they give Martell cards that are actually good, the house will get out of hand. They might be right, but this is quite underpowered compared to, say, Things I do for Love, which is a Core card with a similar effect. Martell ticks one step closer to relevance, and this isn't a bad card by any means, but it's no bomb either.
scantrell24 - 3 out of 5
Good ability but overpriced. Martell needs another Arianne-like ability to cheat characters into play. Sadly, there's no combo with Prince's Pass, which doesn't trigger until you've already lost the challenge.
VonWibble - 4 out of 5
If you are running Areo Hotah or Arianne then you should run this, given its effect is stronger, albeit more conditional, than that of Areo. There are plenty of monocons that you can happily return to hand - the Mountain, Wolves Jon Snow, Septa Mordane, Grey Wind, lots of Night's Watch, … And that's before you consider any icon removal. The presence of this card in the meta is going to scare big hitting bicons like Lions Cersei, Victarion, and Fast Eddie as long as you have something like Caleotte or Nymeria out. Even if your opponent doesn't know about it you could play some mind games by setting them up or marshalling them as 3 cost for a bicon in Martell isn't terrible after all. Having a Ghaston-lite that can work even on attack seems perfectly good to me. Finally, this card can send your own characters back to hand if needed for Valar protection or Milk removal in Nymeria's case.
Lingering Venom
(11 Total Points)
Barnie25 - 2 out of 5
The rating on this card has good upside but for now I don't know how this card will catch on. Triggering this card is easier than it looks, this card finds a home in high claim aggro Martell builds where killing a low str character can be a prelude to claiming more important characters.
OKTarg - 2 out of 5
I feel like this card is pretty bad, but I'm not sure. Kill is not something we should take lightly, but at the same time, I think I'd rather run icon attachments or use Tears of Lys for my kill. It'll need testing, but I feel like the cards you want to hit are out of range or No Attachments.
scantrell24 - 5 out of 5
I like Lingering Venom even without burn combos (although that's where it shines). Non-setup and Terminal is a drag, but it's a free, flexible kill that whacks chuds quickly, or even something decent like Tyrion, Mel, or Nymeria within a turn of marshaling it.
VonWibble - 2 out of 5
This could be nasty with Wolves of the North, Targ burn or even Visited by Shadows. As with the Messenger above I feel that you can get a perfectly solid result just removing chuds to force them to kill something good for military claim, but are chuds really a big problem for Martell? One nice thing about this is that it can eat through dupes and saves over time making normally safe characters like Asha that much more vulnerable. I think I'd usually prefer to remove icons or blank the characters though as there are times where a couple of crucial lost challenges can swing a game. I really wanted this to be a weapon so Martell could actually do something to Night's Watch defenders...
Jeyne Pool
(10 Total Points)
Barnie25 - 3 out of 5
For those decks that really want a certain lady on the board, say Danny or Tinder Marge, being able to get them back is strong. The icons are good, the strenght is bad but then again, she costs 2. In a Stark list she allows you to claim Arya over, and over, and over.
OKTarg - 1 out of 5
She's kind of bad. She's not even card advantage, and while I can see her value in getting Dany or Cat or someone back after a Varys, I don't think I'll play her.
scantrell24 - 4 out of 5
Jeyne is weak and doesn't have the Lady trait, but she's good on setup, brings two challenge icons, and offers Stark decks with Fat Catlyn some consistency as both recursion and on-demand sacrifice.
VonWibble - 2 out of 5
A 2 gold intrigue icon, even at 1 strength, is good for mono Stark. Trading Jeyne off for a dupe for a bigger lady isn't bad either, especially if a reset is about to hit and kill Jeyne anyway. She's insurance against having your key lady discarded for intrigue claim too. But Jeyne has a lot of competition even in a banner deck. I think she sees play in a deck that is built around a lady character. However she doesn't see play otherwise. With Tinder Marge and Fat Cat around, that means she isn't completely unplayable.
Summer
(8 Total Points)
Barnie25 - 3 out of 5
This card will get a bad rep, seeing how strong core Summer is. Even though core Summer is obviously better, this card is no joke either. I can see this card seeing play in a Stark Winter aggro build, if not now then in the future.
OKTarg - 1 out of 5
It's a permanent Wardens of the North, but it faces such stiff competition both from Core Summer and from attachment slot competition that the dream of putting it on Catelyn probably won't happen very much.
scantrell24 - 3 out of 5
Challenge bluffing is strong, and at 1 gold this attachment version of Summer is great on setup. The cheap cost also means you don't mind sacrificing him for the Stark cancel event. You could potentially run 1 copy of each Summer, because neither is likely to stick around long anyways.
VonWibble - 1 out of 5
Core Summer is such a strong card that this Summer would have to be amazing to replace it in a deck - and whilst you could run a split of both I wouldn't want to as I don't want to be in position to get Bran back only to be prevented by my own attachment. This card is solid, nothing more, and doesn't do anything that Stark can't already achieve with Kennel Master or Wardens. If it weren't named Summer it would be 3 out of 5, but it is.
Dothraki Honor Guard
(14 Total Points)
Barnie25 - 4 out of 5
The first 10 str bicon in the game, though often this card will range from 5 to 8 str. This card is efficient in what is does, which is something that Targ likes. I see a lot of potential in this card and don't be surprised when this card will show up in multiple different decks, both in a banner as in Targ main house.
OKTarg 4 out of 5
I like this card a lot. It hits super hard through the mid-to-late game, when often forcing an important Power challenge is the difference between winning and losing. It's great fodder for Plaza of Pride if your hand is full, and, honestly, I don't worry too much about a giant handsize as Targ. It may not be for every deck, but in my style of Targ stuff it fits.
scantrell24 - 3 out of 5
Honor Guard is a vanilla beatstick, so, not exciting at all but decent for pushing through a key military or power challenge. They're certainly an improvement on the Dothraki Outriders, too.
VonWibble - 3 out of 5
In a deck where you go for low card numbers or try to draw then play out aggressively, these guys will be at strength 7+ when it matters most. Together with Barristan we are getting a good theme going for Targ, playing plots like Famine to put the hurt on the opponent too. I think they are OK now, and potentially a very strong card later on - a couple more cards like this and the rating goes to at least 4.
Plaza of Pride
(20 Total Points)
Barnie25 - 5 out of 5
This card is the real deal, being able to trade cards for challenges is amazing, or pitching a card to stand machine gun Illyn. This is exactly what I like, trade cards for being able to push challenges. Watch out for this card.
OKTarg - 5 out of 5
5 may be a bit high, in reality, but I'll round up for the excitement factor. Standing Dany, Mirri, Drogo, or a Dragon are all really, really good things. Standing a Blood of my Blood-ed Rakharo for double surprise intimidate might be the best thing

This is a great card and I'll run it a lot for sure.
scantrell24 - 5 out of 5
Stand for any character? As an any phase Action? That you can repeat every round? That your opponent has to account for even if you don't intent to use it? Yes, please.
VonWibble - 5 out of 5
Stand is really powerful. Repeatable stand even more so. Repeatable stand that can work out of faction and isn't loyal is worth Bannering exclusively for. Yes, you have to lose cards, but Targ have access to draw if needed. I particularly like that with this on the table the opponent can't feel safe from Dracarys! if you kneel your dragons to make challenges, with said Dragons generally being cheap enough that any pitched card will work. I didn't think of this myself, but the idea to use this with Princes Plans so it is effectively a 1 gold stand is a great one.
Ser Jon Fossoway
(13 Total Points)
Barnie25 - 3 out of 5
Easy to trigger, boring otherwise, very solid for Tyrell Crossing rush.
OKTarg - 3 out of 5
He's fine--first snow-free conditional renown. I'm not excited, but then again, Tyrell Crossing rush stuff is very potent so one more card that adds to that is….fun!
scantrell24 - 4 out of 5
Nothing flashy but excellent value. 1 copy goes into most Tyrell decks, especially those with Core Margaery, Growing Strong, Renly's Pavilion, Heartsbane, and/or Song of Summer.
VonWibble - 3 out of 5
Easy enough to switch on French vanilla character with a positive trait and an intrigue icon to help Tyrell on that front. Nice 1 of, probably not more.
The Honeywine
(11 Total Points)
Barnie25 - 3 out of 5
As with the previous card this card also empowers rush, it doesn't specify which challenge you win by 5, just that you do. That seems fairly doable, I am afraid the card is overcosted by 1 though.
OKTarg - 3 out of 5
This is a bit of a weird card. I've learned that winning by 5 isn't as easy as it seems, and often it's better to invest in cards that get you there (like Renly's Pavilion) rather than cards that benefit from the trigger (like The Mander). In this case, though, with Tyrell Crossing decks, you may like the extra acceleration….but I'm not sure why you'd not just take Street of the Sisters at that point, other than the challenge flexibility. Hm. Let's go 3 out of 5 as the best mix of flexibility within its preferred deck but also niche because of its limited preferred decks.
scantrell24 - 3 out of 5
Unfortunately, because of the prevalence of Night's Watch decks and Chair/Table decks, there's also a surplus of location control in decks right now. I don't feel comfortable stacking power on a vulnerable location. The Honeywine will have a place eventually though, when the meta shifts. And even though it only works on attack, it can trigger multiple times per challenge phase, so if you go all-out on attack it can grab 2 or 3 power.
VonWibble - 2 out of 5
Strength matters out of Tyrell apparently. You are paying 1 more than a Street of Sisters for the ability to trigger it in any challenge type, albeit with a bigger risk as the power goes to the location not the house card. In a Tyrell deck not going for banners this shouldn't be so hard to trigger and is a nice tool to add to the other rush. I can't see it making the cut in non-rush decks however. It's OK, I think I like Street of Sisters more though.
Rattleshirt
(16 Total Points)
Barnie25 - 4 out of 5
This card will probably see play in a multitude of decks or at least will be considered for them. Non-bodyguard attachments are seeing less and less play which makes Rattleshirt very solid. He enables all sorts of win by 5 stuff. I really like Rattleshirt out of Targ.
OKTarg - 4 out of 5
I think he'll be considered for a lot of decks. Obviously he's conceived of as anti-Watch tech, though Practice Blades and such mean that might not be as effective as I wanted it to be. Since he can trigger Win-By-5 on his own, any deck running Put to Something will want it probably 1x. I remember when 1.0's Euron came out that couldn't be defended, and it resulted in a lot of digital ink being spilled but an underwhelming, underplayed card at the end of the day. I still think Rattleshirt will be stronger than that, and I'm excited to try him out.
scantrell24 - 4 out of 5
In addition to that potent ability, the Wildling trait is super positive right now thanks to the other cards in this box, plus Ygritte. The only downside is that you're spending 6 on a character who can't accept Bodyguards. For that reason, and the synergy with unopposed tech, I like him in Greyjoy with Iron Mines.
VonWibble - 4 out of 5
Whilst Bodyguards can ruin this guy's day, the fact is that he puts Fishwhiskers to shame. He is strong enough to trigger win by 5 conditions alone, and should go in decks aiming for these for sure. Decks that just want to win challenges and accrue power through renown don't want to run him though since he has to attack alone, and attachments are prevalent enough that Rattleshirt isn't going to entirely get his own way in attack.
Dalla
(12 Total Points)
Barnie25 - 3 out of 5
Neutral draw is good, she is not as efficient as Littlefinger but provides more potential upside.
OKTarg - 3 out of 5
It's like LIttlefinger got sent to the wall but ran off to join the wildlings, losing his money in the process. Draw is very good of course, and I love the 'glue' cards that tie themes together, but she's pretty expensive for not-that-great of a challenge body. Wildling stuff seems pretty aggro, but I think you'll still want to play her in Wildling decks.
scantrell24 - 3 out of 5
Draw is good, but 5 gold is a touch expensive for a neutral character that can't be reduced by the in-faction chuds and locations. Wildling-heavy decks will choose her over Littlefinger, but that's her only home (shocking, right?).
VonWibble - 3 out of 5
A gift that keeps on giving? She triggers off herself for a mini-Littlefinger effect (should that be little-Littlefinger?), and gives more when you ambush a Wildling in through Mance or Last of the Giants. Chances are she will provide more cards than Littlefinger, and the Wildling trait is very useful. However, Littlefinger provides gold, is stronger, and is a lord, so looks pretty good out of the deal. In a Wildling deck I'm using her though.
Crow Killers
(11 Total Points)
Barnie25 - 3 out of 5
If you really want to trigger them, it's probably not hard unless your opponent actively tries to do the same. This is more ammunition for the mini curve aggro winter decks out there.
OKTarg - 3 out of 5
Wildlings as a group seem to get random benefits when you're behind in some way, which is an okay theme, and these guys will get 2-3 challenges against Night's Watch as often as not. The underwhelming 3 for 2 mean they'll remain niche, but high-claim low reserve aggro decks like Kings of Winter will probably want it also.
scantrell24 - 2 out of 5
Decent but inconsistent, as they're pretty good when "active" and pretty bad when not. 3 gold characters are in that awkward spot between being good on setup and surviving First Snow.
VonWibble - 3 out of 5
Strong choice for an aggro deck running the 2 claim plots, or for a Crossing deck. If you want Wildlings in the deck for other effects they are good enough too as a cheapish bicon that might get to make multiple challenges.
The Frozen Shore
(9 Total Points)
Barnie25 - 2 out of 5
This card might see play in the future, as of yet I don't think there are enough good targets you want to stand. Color me intrigued for the future.
OKTarg - 2 out of 5
It seems pretty good to be able to stand some stuff, but Mance and Rattleshirt are really the only ones worth it….and the conditionality and the cost mean that it likely won't make too many decks.
scantrell24 - 3 out of 5
Can Winter decks afford 2 gold for a location like Frozen Shore and 6 or 7 gold for Rattleshirt, Mance, or Jon Snow? That's questionable. I can see a Greyjoy Winter deck built around re-using Rattleshirt to get unopposed challenges, but otherwise the applications are few.
VonWibble - 2 out of 5
I can see this forming a few deck archetypes for sure. Even standing 1 character per round is worth it, and again Crossing decks will like this. You need winter plots to get the effect but the wildling characters are working well with these anyway so that is no loss. However the cost of 2 is quite steep. One question - will NanterShore (using Old Nan to use this to stand 2 Wildlings per round) be a thing?
Weirwood Bow
(16 Total Points)
Barnie25 - 4 out of 5
Daenerys Targaryen welcomes the NW into the fold. This card is amazing in combination Plaza of Punishment, do you give me a free power challenge or do you want to have your board gutted? Yes please.
OKTarg - 4 out of 5
Repeatable burn? Yes PLEASE! I could see a Targ burn with a Wildling package as well as a Targ Banner Watch that wants this guy. It may just be the best burn card this side of Dracarys!, so you better believe I'll be trying it out! Outside of that deck, it's okay, and might help burn past some NW monocons, but since it remains pretty niche in terms of decktype I'll keep it at a 4.
scantrell24 - 4 out of 5
Excellent in Targ and Greyjoy, and against Wall decks. Better when you have multiples on the board, so worth 3x if you're going to run any.
VonWibble - 4 out of 5
It may look neutral, but this card is definitely Targ, as the first non loyal burn in the game - and non unique to boot! There are just enough wildlings out now that this could see play in Targ fealty, and the alternative option, Targ Watch, was seeing play before the box came out. Stark could use this in a direwolf based deck to make Grey Wind's threat range that much bigger. Niche card, but one that will see play.
Scaling the Wall
(15 Total Points)
Barnie25 - 4 out of 5
Finally some neutral location hate that is not tied to any challenge type or win by 5 type of shenanigans. You only need to have some pesky Wildlings on your side, that's doable I think.
OKTarg - 4 out of 5
The conditional win is the thing here, but this is very, very solid location control. It's not as good as Raiding the Bay of Ice, but then again it's neutral...can you imagine popping Chambers, Walls, and Boneways with this thing? Harrenhals? Yes please!
I'm not sure it will see play over Put to the Torch, but it just might since it can be triggered on any challenge type. We'll see how it shakes out, but more location control is something I'm happy to see I think.
scantrell24 - 4 out of 5
I'm in favor of more neutral location control, even if it's bounce rather than discard. Scaling will see a bit of play, and could be a game-changing move against a 3 or 4 gold location like The Wall or Harrenhal. There's beautiful artwork too.
VonWibble - 3 out of 5
A relatively easy to trigger neutral event that helps deal with locations is a good thing, even if it does only key off winning with Wildlings. The opponent can play the location next turn but takes a tempo hit if it is something like Harrenhal or Highgarden, and that's assuming you don't take it for intrigue or see it discarded to reserve. This sees play for now in any non Greyjoy wildling deck, but not otherwise.
The Last of the Giants
(14 Total Points)
Barnie25 - 3 out of 5
This card has been covered already, cheeky Varys for the board wipe or a cheeky Jaqen, don't mind that?
OKTarg - 4 out of 5
See Quill and Tankard, but man alive: Surprise Varys is a Surprise!
scantrell24 - 3 out of 5
Flexible in some ways (any phase action) but with a limited range of targets - Varys, Jaqen, Rattleshirt, and Wildling Horde mostly. There's potential for some nasty plays but will it be consistent enough?
VonWibble - 4 out of 5
Quill and Tankard went over this very thoroughly, it provides a lot of strong options and is helped enormously by being an any phase event. What I really want to see is if anyone can intimidate someone with Hot Pie!
Retaliation
(19 Total Points)
Barnie25 - 5 out of 5
This card is being good, people will tell you that 4 reserve is a problem but unless it is turn 1 and you are playing against a winter deck, reserve doesn't do jack ****, please give me 2 claim with these stats.
OKTarg - 5 out of 5
The fact you can run this in a Summer deck is...crazy. And I can run two? And in decks that want to go second, I can get average gold and high claim? Yes, please! (and then add a Sunspear….) The 4 reserve holds it back from being an auto-include/auto-opener, but I think it still warrants consideration in most decks.
scantrell24 - 5 out of 5
There are few downsides here. You can't go first to close the game when you want, and you can't play it turn one without tossing a couple cards to reserve, but Retaliation offers a lot of upside in the mid-game.
VonWibble - 4 out of 5
It's sort of a reprint of a first edition plot. The gold is technically lower as 2nd edition is a higher curve, and the reserve is poor. However, 2 claim with high initiative and average gold cannot be ignored, especially if you play a faction that likes to go second - which is most of them! The existence of this plot makes cards like Sunspear, Milk of the Poppy, and Melisandre so much stronger, and it isn't even limit 1 per plot deck. Strong in melee too where the only time you do want to go first is when you are finishing the game! However, there are plenty of times where a game is tight and the winner is the person who reveals the highest initiative plot and goes first. This plot is not good in that situation.
Whisper Campaign
(14 Total Points)
Barnie25 - 4 out of 5
Solid stats, interesting reaction. I am very interested in how this card will be received. This will for sure be a main stay in some type of wonky deck, I am calling it.
OKTarg - 4 out of 5
This seems very, very good in a deck built to take advantage of it, and very, very bad in a deck not built that way. I love that kind of plot, so I'm a fan here.
scantrell24 - 4 out of 5
Can any faction but Lannister rely on this plot? And does Lannister not have better options? Whisper Campaign seems powerful in theory, but I'm not sure if practical uses exist. Maybe in a Tyrell deck with Arbor Knights and the newly spoiled Knights of the Reach from the next chapter pack? Maybe in a Martell deck with Palace Spearman, Ricasso, Doran, and the Lords and Ladies? I'm giving the plot an optimistic 4 based on power level alone despite some reservations.
VonWibble - 2 out of 5
Black Betha likes it. So do Stannis and Robert Baratheon. It could be very effective as a way to make sure your own Selmy is knelt and can prevent military claim if your opponent won initiative. In a Rains deck you might consider it to restrict opponent's ambush options once you have won the intrigue challenge. Outside of this, I think I'm only running this plot if the meta goes heavily Night's Watch, Stark and Greyjoy. Even in factions where I don't suffer the effect, I can't guarantee the opponent will, and revealing plots with mediocre stats that do nothing isn't really something I want. That's the reason Game of Thrones doesn't see play (outside of surprises in Rains), and I think it hurts this too.
Called Into Service
(14 Total Points)
Barnie25 - 4 out of 5
This card has interesting upside, for those who are not familiar, this card is made for a Banterbridge type deck, a deck that is stacked with big guys, add some deck manipulation, and you will have a merry fun time.
OKTarg - 4 out of 5
I LOVE this card. It's a card advantage plot with huge upside that rewards deck manipulation. What's not to love there? (I hear someone saying 'randomness is not to love' but I feel like they're just sore

)
scantrell24 - 3 out of 5
It's not bad, but it's unreliable unless you've literally stacked your deck with Bear and the Maiden Fair. The worst case scenario is revealing a 1 gold chud character, but the best case scenario is a 7 cost bomb, giving your plot 9 gold effectively. The average lies somewhere in the middle of course, with plus 1 card and 5-6 gold still an acceptable outcome. However, it also has low initiative, which seems par for the course for card advantage plots. Is a 5 initiative +1 card plot too much to ask?
VonWibble - 3 out of 5
If the card is a non character then I think I'd rather have Time of Plenty even if the opponent does draw too. If it is a character this looks stronger - a 6 or 7 coster is giving you effectively an 8+ gold plot with no downside - as long as no-one is Barring the Gates (boy did I get the review on that one wrong!). If you have tech to manipulate the deck to ensure this happens, this seems strong, certainly worth running in a Tyrell rush for example where you are unlikely to get to the 7th plot, or a Banterbridge deck where all characters are expensive anyway. Very niche otherwise though. Seems good in melee for the same reasons as rush - this alone is why I am going up to a rating of 3.
The White Shadows
(8 Total Points)
Barnie25- 2 out of 5
I have no idea what this card will do, my best guess is that the card will remain an enigma for the remainder of the life of the game.
OKTarg - 2 out of 5
This feels a bit over-statted for what it does, since it's functionally card advantage and claim reduction if you can get it to go off. But, getting it to go off is a bit wonky, so I don't know if I'll be playing it.
scantrell24 - 1 out of 5
It's thematic, but the zombie characters only stick around for one phase, so in the best case you kill a couple dudes and they help you win another challenge. It's not bad per se, but there will always always always be a better alternative when deckbuilding.
VonWibble - 3 out of 5
Solid stats, and if you are going first you can at minimum use your opponent's claim soak against them. Things get particularly interesting when you reveal this in a turn where your opponent wanted to use Rains to trigger Wildfire - will they be happy to do so now? Quentyn may not be quite so happy to take a hit that turn either. On the other hand, if your opponent has a way to return cards to hand such as Red Keep Spy they could cheat death. I'm giving a 3 because I really don't know how good this is going to be.
Name Day Tourney
(11 Total Points)
Barnie25 - 3 out of 5
Solid gold and initiative with a fine reaction, but if it's good enough I don't know, attacking alone is not really all that hot.
OKTarg - 2 out of 5
It's okay, but if I want a plot to help me get power, this isn't very good by comparison to Clash,etc. Or, if I want a Summer plot with 5 gold, wouldn't I want Calm over Westeros? I don't think it will see play even though there's nothing 'wrong' with it.
scantrell24 - 3 out of 5
The two-for-one package of high-gold Summer plot along with power gain means it's good-ish overall, but there are better options for high gold, and better options for power grab, so this plot is stuck in the middle. Blackfish voltron decks want it maybe.
VonWibble - 3 out of 5
A summer plot that actually provides something beyond gold is certainly a novelty! It is one that Tyrell, Stark, Lannister and Baratheon could consider, though it's a less conventional build in some of these. The threat of extra power means that you could force your opponent to overcommit on attack or defense. I like it, but only in certain decks, Blackfish particularly sticking out in these. The fact this gives you power whilst not being cancelled by a winter plot makes it an interesting alternative to Winter Festival.
Frozen Expanse
(9 Total Points)
Barnie25 - 2 out of 5
This plot is reasonable I guess, but very boring. If this card is good, it's probably really good. But I don't know how often you will have to face this card.
OKTarg - 2 out of 5
Man, this is hilarious in certain decks--kneel decks, choke decks, etc. It still is a bit niche, so I don't think you'll see it too often, but if it catches you unprepared it can blow you out. Unrelated, I think I want this art on a Lord of the RIngs: LCG playmat.
scantrell24 - 2 out of 5
I'm fine with this plot existing to counter swarm decks, if they ever find a prominent place in the meta. But leave it in your binders for now, except maybe in the no characters Martell Stag deck - but doesn't First Snow do the job better? Or maybe we'll see something like Dragonpit return from first edition, that gave a blanket -1 to opponent's characters.
VonWibble - 3 out of 5
As with Name Day Tourney, this is very effective in decks built around it. Decks running Winterfell or the Wall to provide a +1 boost to their own characters can run this and lose very little out of it - reducers, Old Forest Hunter, and Bran. Any deck planning on having few characters out at a time (or no characters) will want this, and it increases the importance of cards like the Iron Throne.
Total Score Non-NW Cards:
62.4% (337 out of 540 possible points)
Total Score All Cards in Deluxe:
64.2%% (747.5 out of 1,165 possible points)
Top Cards:
Plaza of Pride
Retaliation
Rattleshirt
Weirwood Bow
Bottom Cards:
There Are No Men Like Me
The White Shadows
Summer
Salt Wife
If you're hungry more content, check out the list of podcasts, articles, game video and more in
the Community FAQ
. Let us know in the comments how you feel about the cards in this box, and we'll see you again in a few weeks to review the Guarding the Realm.
Article: Watchers on the Wall Review: Part 2